This Crispy Beer Batter Fish Recipe is made with basic ingredients and creates a crunchy coating around flaky, tender white fish! Fried fish is great with homemade Tartar Sauce or used to make crispy fish tacos!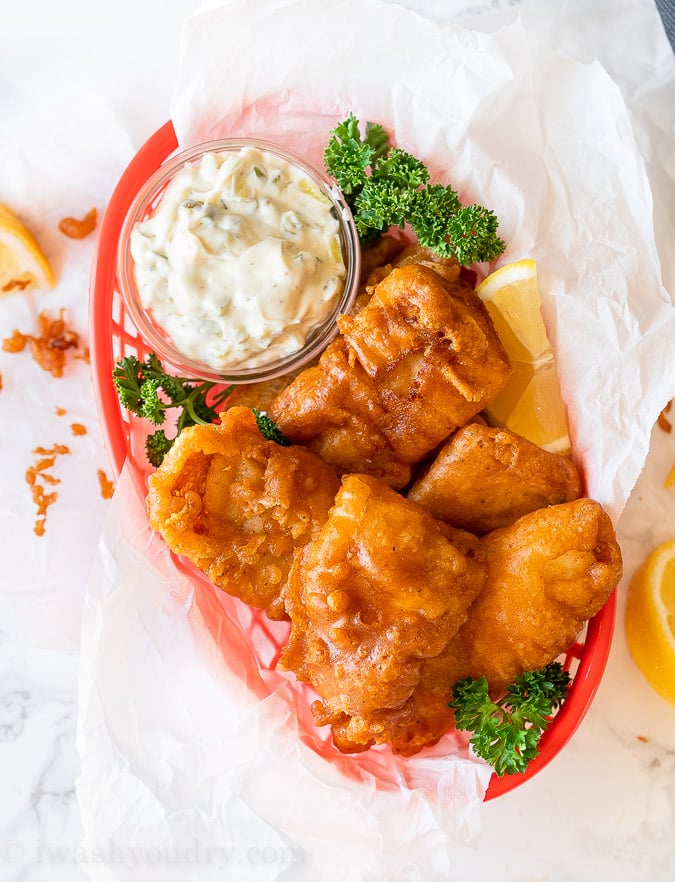 We've been on a mission to clear out our freezer, so when I came across some fish that my husband had caught last year I knew exactly what I wanted to make!
Gone are the days of boring, soggy fish sticks, these crispy coated fish are flaky, crunchy and perfectly seasoned!
How To Make Beer Batter Fish Fry
I'll be honest, I am NOT a drinker, so while I don't ever have beer in my fridge, that won't stop me from buying it specifically for this recipe. The beer gives the batter that light airy texture, creating a thin, yet crispy coating that's totally crave-able.
Here's what you'll need for the beer batter:
All Purpose Flour
Garlic Powder – adds great flavor to the batter
Paprika – gives the batter a nice flavor, while also helping give a nice golden brown color
Seasoned Salt – feel free to adjust salt levels to taste
Egg – helps to create a nice texture and bind things together
Beer – the type of beer doesn't really matter, I like to use a dark amber beer like Dos Equis
*There's no need to be concerned with alcohol consumption and this recipe, as the alcohol will get cooked off when the fish is fried in oil.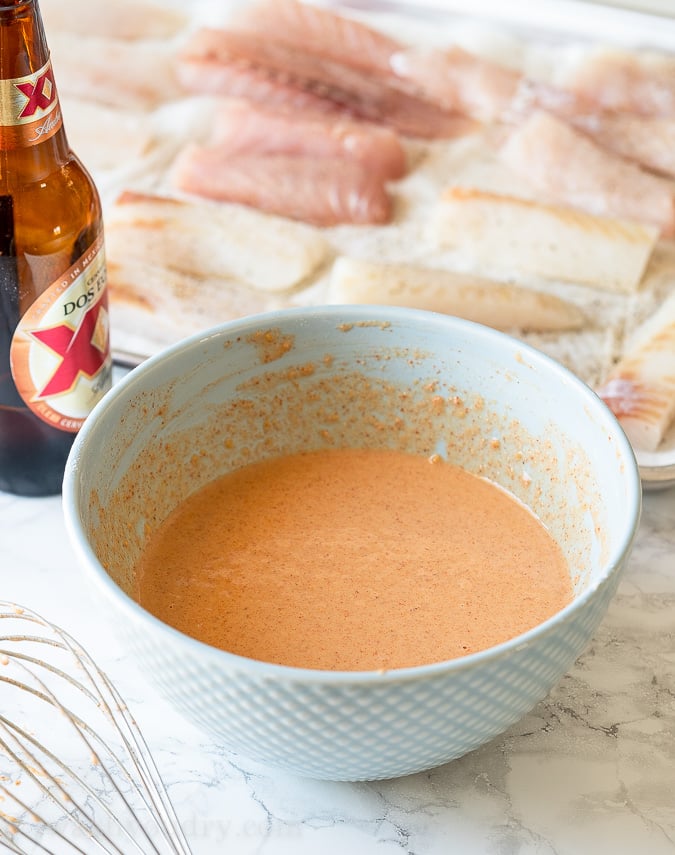 What Type of Fish is Best For Frying?
I have tested a few types of fried fish and I've had the best results with white fish, namely using an Alaskan COD FISH. The cod fish had the best flake and texture in my opinion. Here are some other types of fish that would work great:
Alaskan Cod
Tilapia
Halibut – also one of my favorites, but can be a bit pricy
Striped Bass
Shrimp – use raw shrimp, not precooked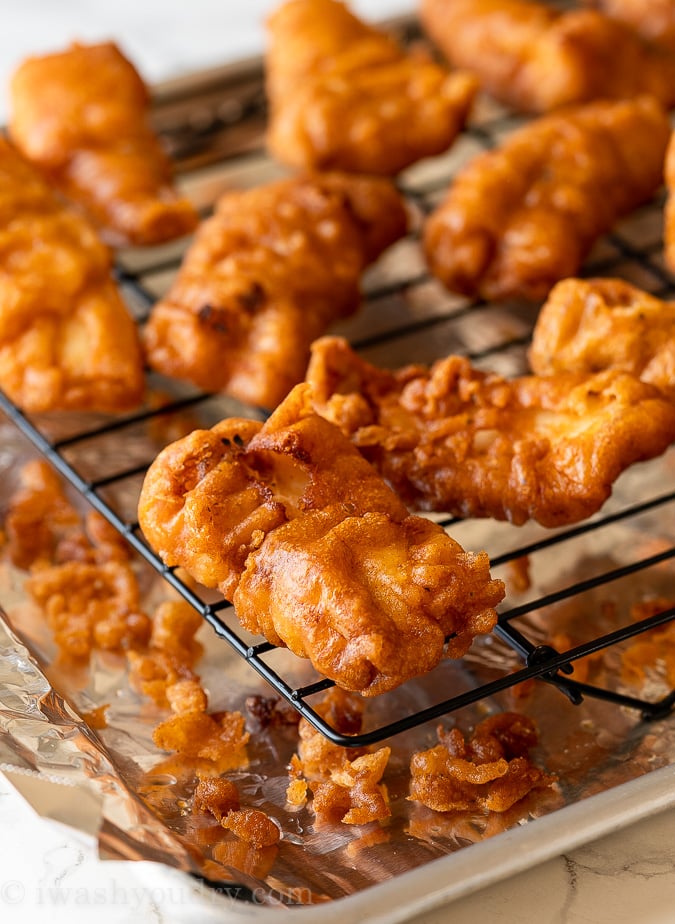 How To Get Crispy Fried Fish Every Time
There are a few things to watch out for in order to get perfectly crisp and flaky fried fish. Don't worry, it's actually super easy and results in success every time!
Dry and Season – Pat down the fish with paper towels and then season each piece of fish with salt and pepper prior to being dipped in the batter.
Oil Temperature – If your oil is not hot enough, you could end up with an oversaturated coating that is soggy and unappetizing. If your oil is too hot, you'll end up burning the outside of the fish coating, not giving the fish inside enough time to get cooked and flaky.

If your fryer doesn't keep track of the temperature for you, invest in a cooking thermometer to keep your oil at a constant temperature of 375 degrees F.

Don't Over Crowd – Placing too many pieces of fish into the fryer at a time will quickly drop the temperature of your oil, which is no good. Start with just a few pieces of fish at a time, giving them ample time to fry and get nice and crispy.
Use a Cooling Rack – You worked hard (ok, not too hard) to get that crispy fish coating, don't lose it by setting the fish on paper towels or newspapers to drain. This action will cause steam to form between the fish and the coating, making your fried fish quickly lose that crisp coating. Use a cooling rack to keep that coating nice and crisp!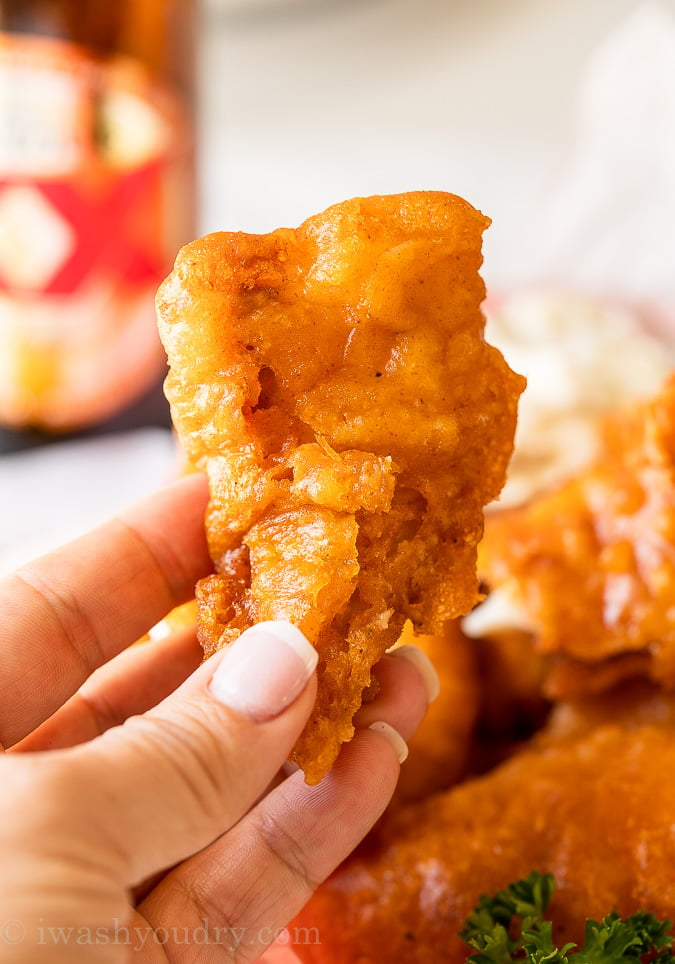 Can you just hear that crunchy coating? Oh man, this fried fish is seriously so delicious!
What to Serve with Fried Fish
Homemade Tartar Sauce – seriously the best!
Make your own french fries or use the frozen kind and toss in the oil with the fish.
We love wrapping the fish up in flour or corn tortillas and serving with coleslaw and pickled onions for a quick crispy fish taco!
Creamy Corn Salad or Classic Macaroni Salad would pair perfectly with this fish too.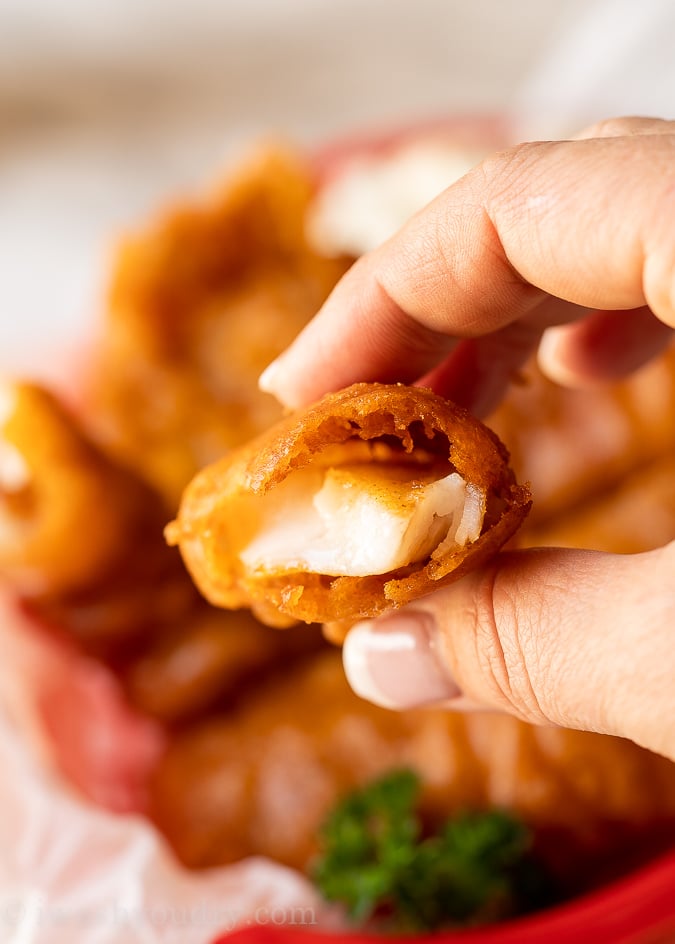 Are you ready to get your fish fry on?! This Crispy Beer Batter Fish recipe will blow you away! Hope you enjoy it!
PS – I also have an incredible Fried Chicken Recipe that I'm sure you'll love!
Crispy Beer Batter Fish Recipe
This Crispy Beer Batter Fish Recipe has a light and airy coating with tender and flaky fish on the inside!
Instructions
Add oil to a large, heavy bottomed pot or deep fryer till it's about 2 to 3  inches deep. Heat oil to 375 degrees F.

Meanwhile, cut fish into stick shapes, about 1 inch wide and 3 inches long. Pat dry with paper towels and season with salt and pepper.

To make the beer batter, whisk together the flour, garlic powder, paprika and seasoned salt. Stir in the lightly beaten egg, then gradually whisk in the beer until the batter forms and is no longer lumpy.

Quickly dip the fish one piece at a time into the batter, then place in the hot oil. Cook for 3 to 4 minutes, or until the fish is a nice golden brown. Drain on a wire rack and enjoy while hot!
Notes
Fried fish can be reheated in an air fryer or toaster oven at 325 degrees until heated through.
Nutrition
Calories:
262
kcal
|
Carbohydrates:
20
g
|
Protein:
34
g
|
Fat:
4
g
|
Saturated Fat:
1
g
|
Cholesterol:
103
mg
|
Sodium:
1256
mg
|
Potassium:
546
mg
|
Fiber:
1
g
|
Sugar:
1
g
|
Vitamin A:
614
IU
|
Calcium:
27
mg
|
Iron:
2
mg
Keywords:
Beer Batter, Crisp, Crispy, Fish Fry, Flaky, Fried Fish