When I think of comfort food, I think of roasted garlic and tender pork tenderloin—and my Creamy Garlic Pot Roast is the result of all those dinner daydreams.
This slow cooker pork roast pairs beautifully with my Superfood Salad and this Parmesan Roasted Cauliflower.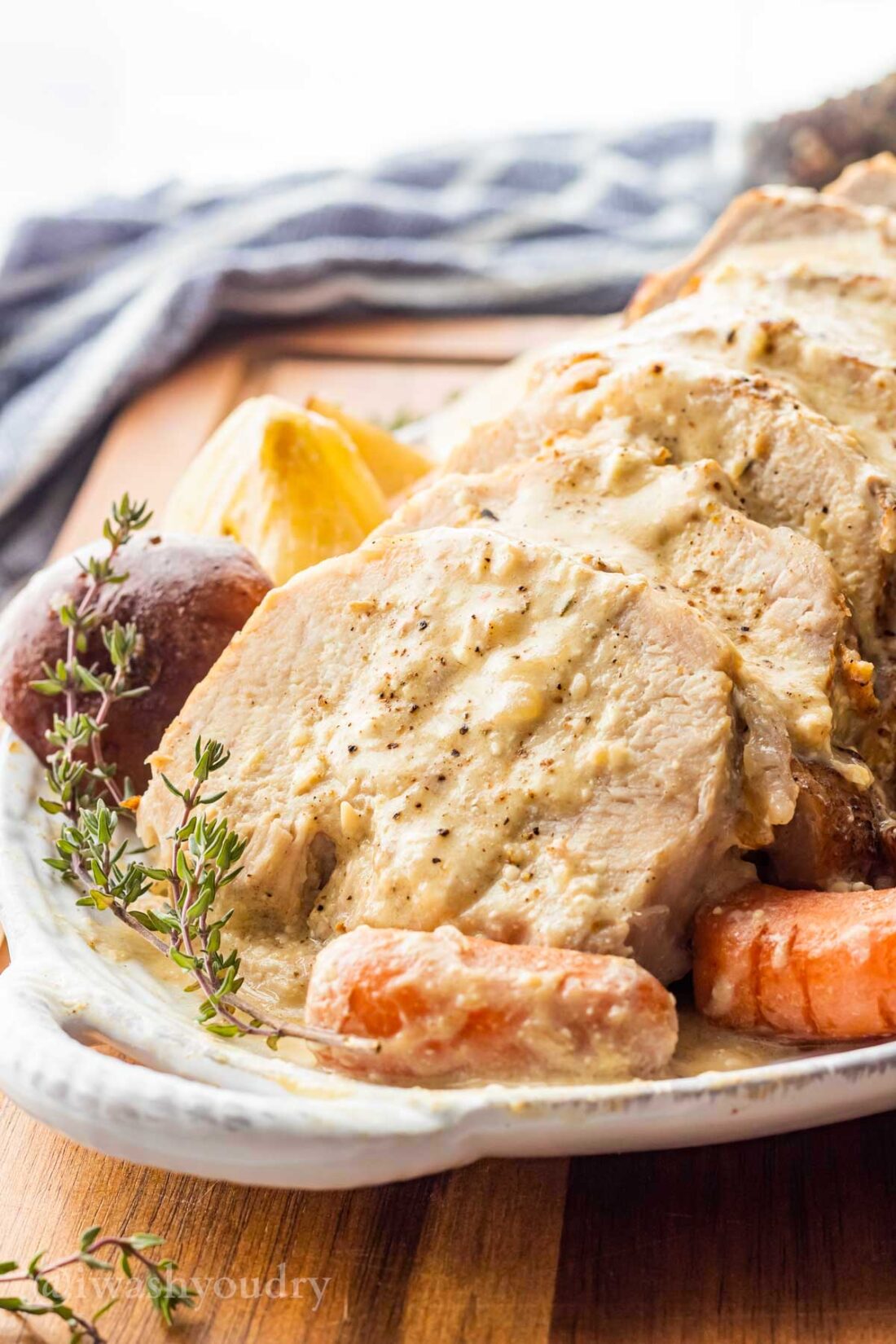 Creamy Garlic Pot Roast
Decadent, creamy, and a crowd-pleaser at both a family dinner and a fancy dinner party—this easy weeknight meal is made in the slow cooker to give you more valuable time with your loved ones.
Ingredients for Creamy Garlic Pot Roast
This easy recipe comes together with simple ingredients like quality pork and red potatoes.
Ingredients
Pork Roast – different cuts of meat, like pork tenderloin or pork shoulder, are delicious choices.
Red Potatoes – roasted potatoes balance the rich flavor of the pork.
Onion – we can never leave onions behind.
Baby Carrots – or large carrots chopped into equal pieces.
Thyme – bring a nice aromatic flavor to the pork.
Cream of Chicken Soup
Cream Cheese – adds even more creaminess.
Garlic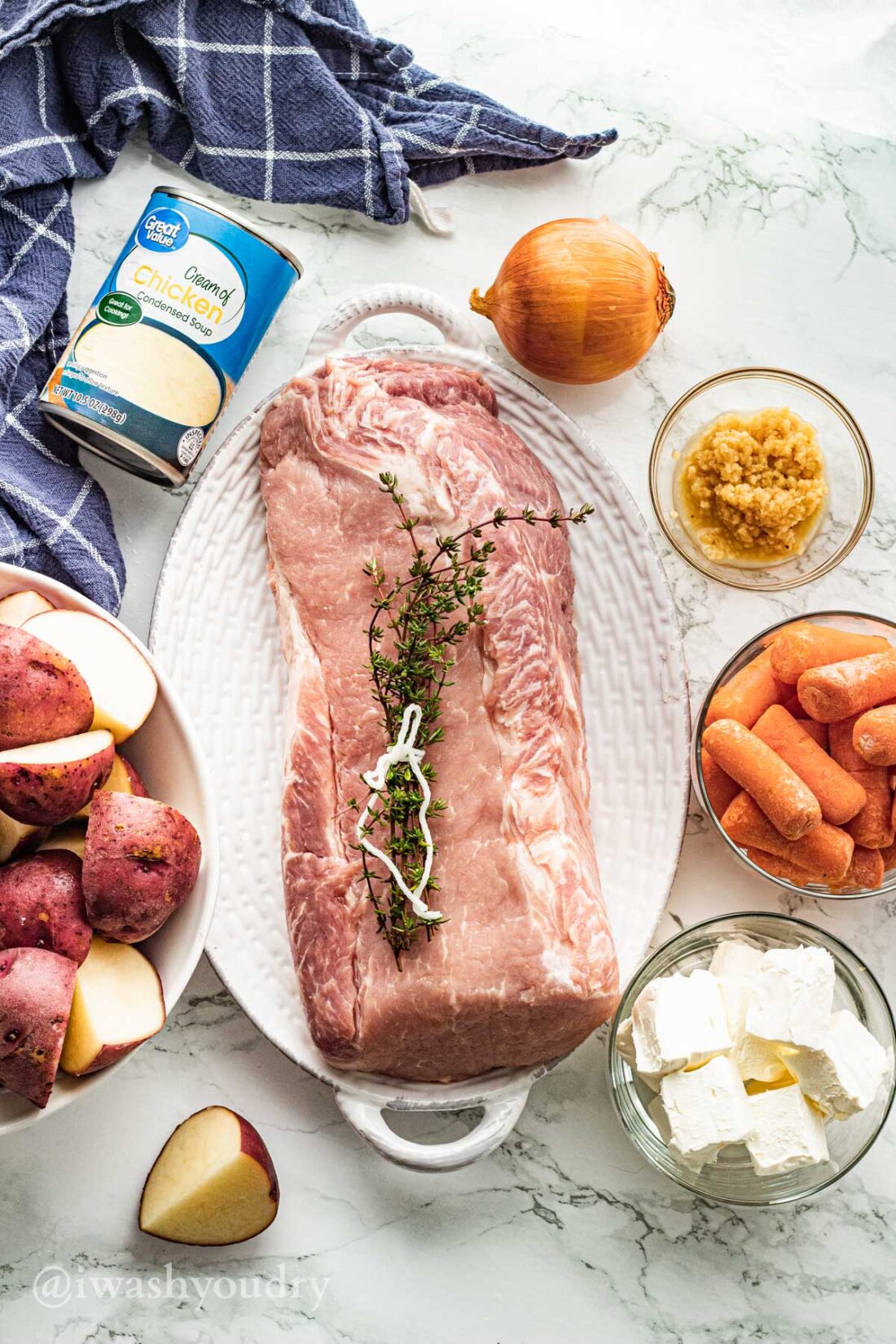 How to Make Creamy Garlic Pork Pot Roast
Don't let the six-to-eight-hour cook time intimidate you; most of that is the slow cooker working its magic.
SEASON AND SEAR
Heat a large skillet over medium-high heat and coat it with nonstick cooking spray.
Season each side of the pork roast with salt and pepper and place in the skillet. Sear each side for 1 to 2 minutes each until golden brown and full of extra flavor.
PRO TIP: It's important to sear the outside of the pork before placing in slow cooker so it will be able to lock in juices and keep the roast nice and tender throughout the cooking process.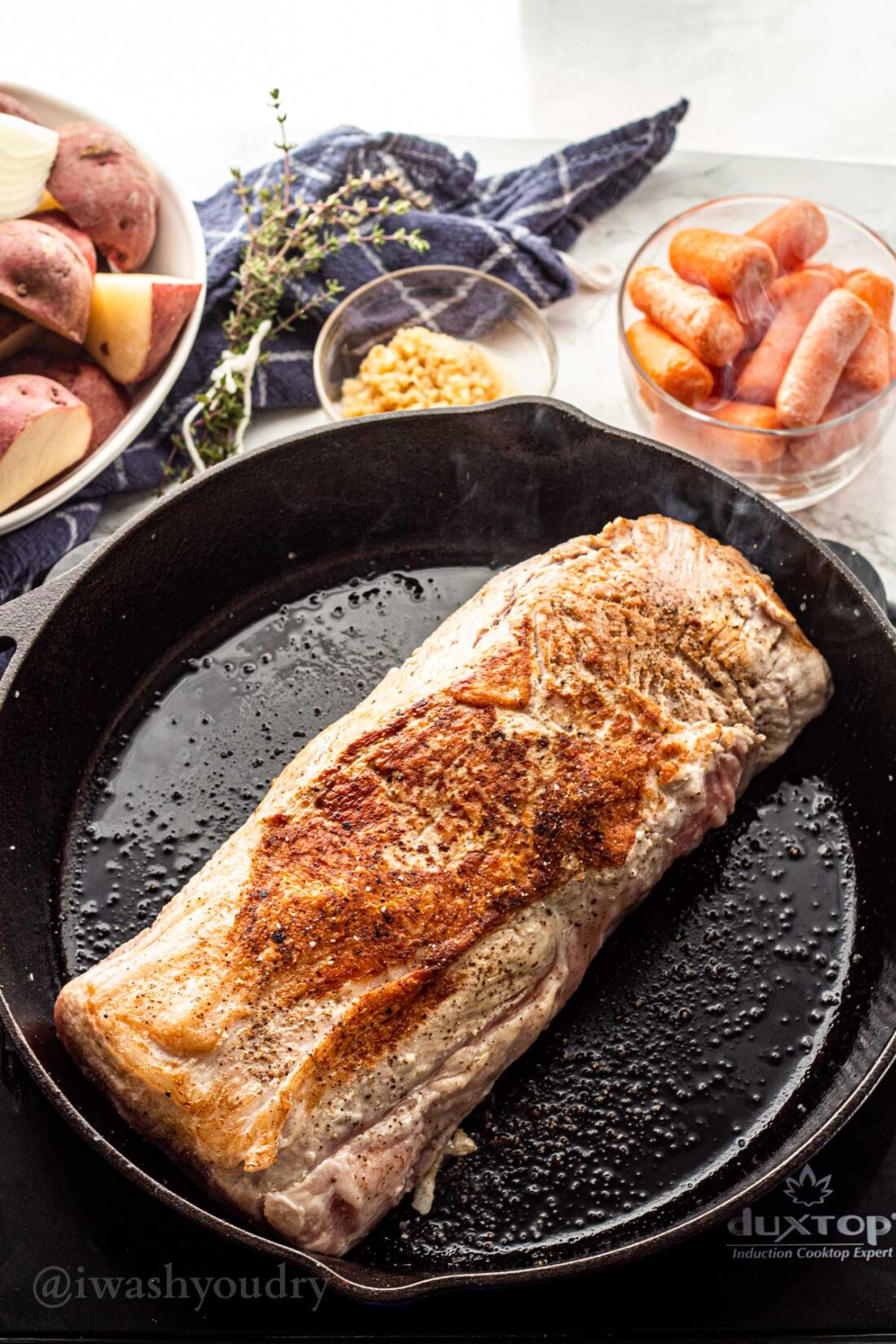 PREPARE POTATOES AND ONIONS
These rich ruby-red beauties are ready to hit the cutting board. Quarter each into equal-sized pieces and do the same to your onion.
Mince the garlic cloves and cube the cream cheese.
ADD TO SLOW COOKER
Place potatoes, onion, and carrots at the bottom of the slow cooker.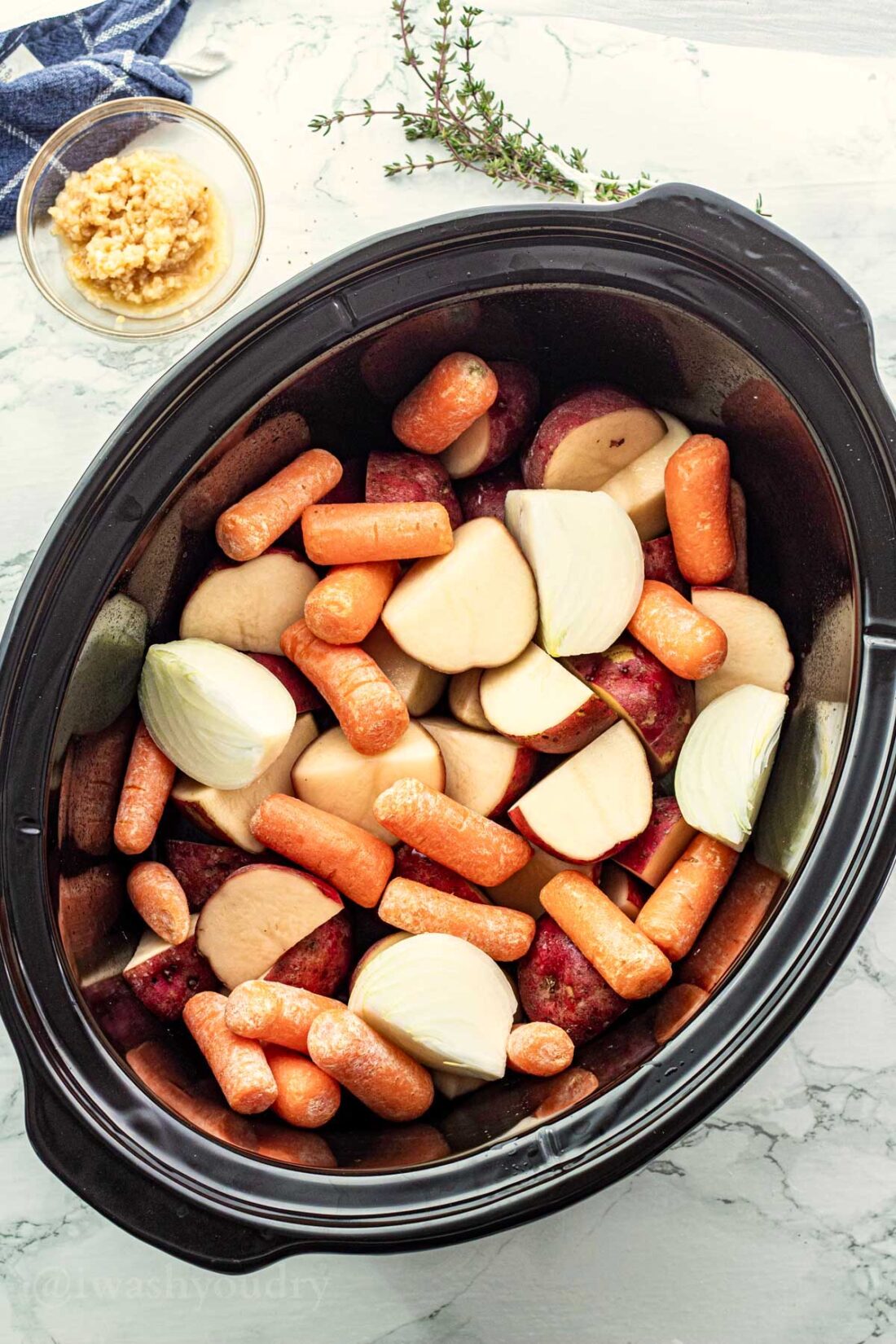 COMBINE GARLIC SAUCE
In a large bowl, combine Cream of Chicken soup and minced garlic together. This combination, along with the cream cheese will create a delicious sauce that really compliments the potatoes, onions and pork roast.
Place the seared pork roast over the vegetables in the slow cooker and then pour the garlic sauce over the top.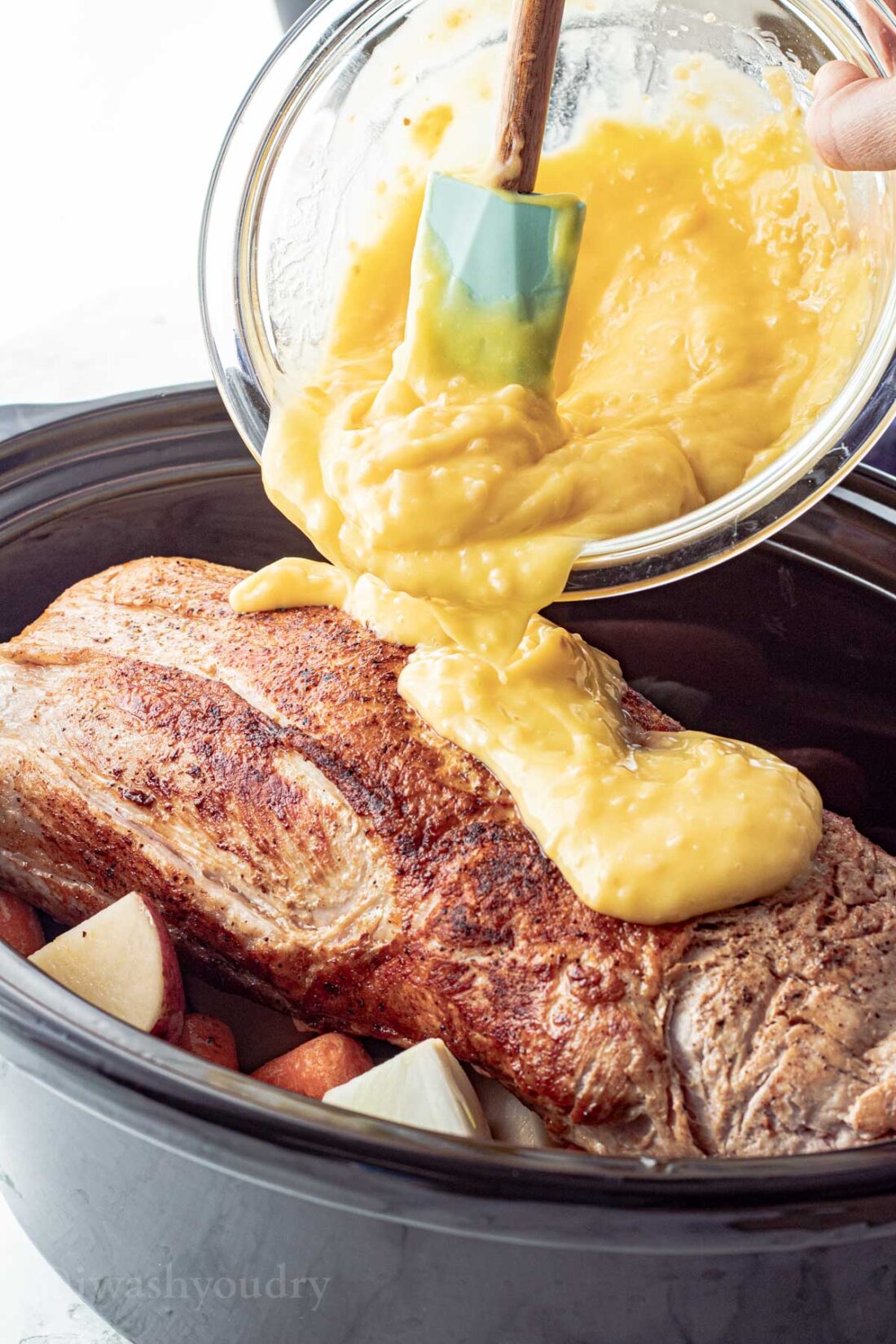 COOK ON LOW
After topping the sauce with the cubed cream cheese, place your thyme bundle on top.
Cover and cook on LOW heat for 6–8 hours.
The longer you can let the pork cook over low heat, the more tender it'll be. Be patient and don't rush the cooking process!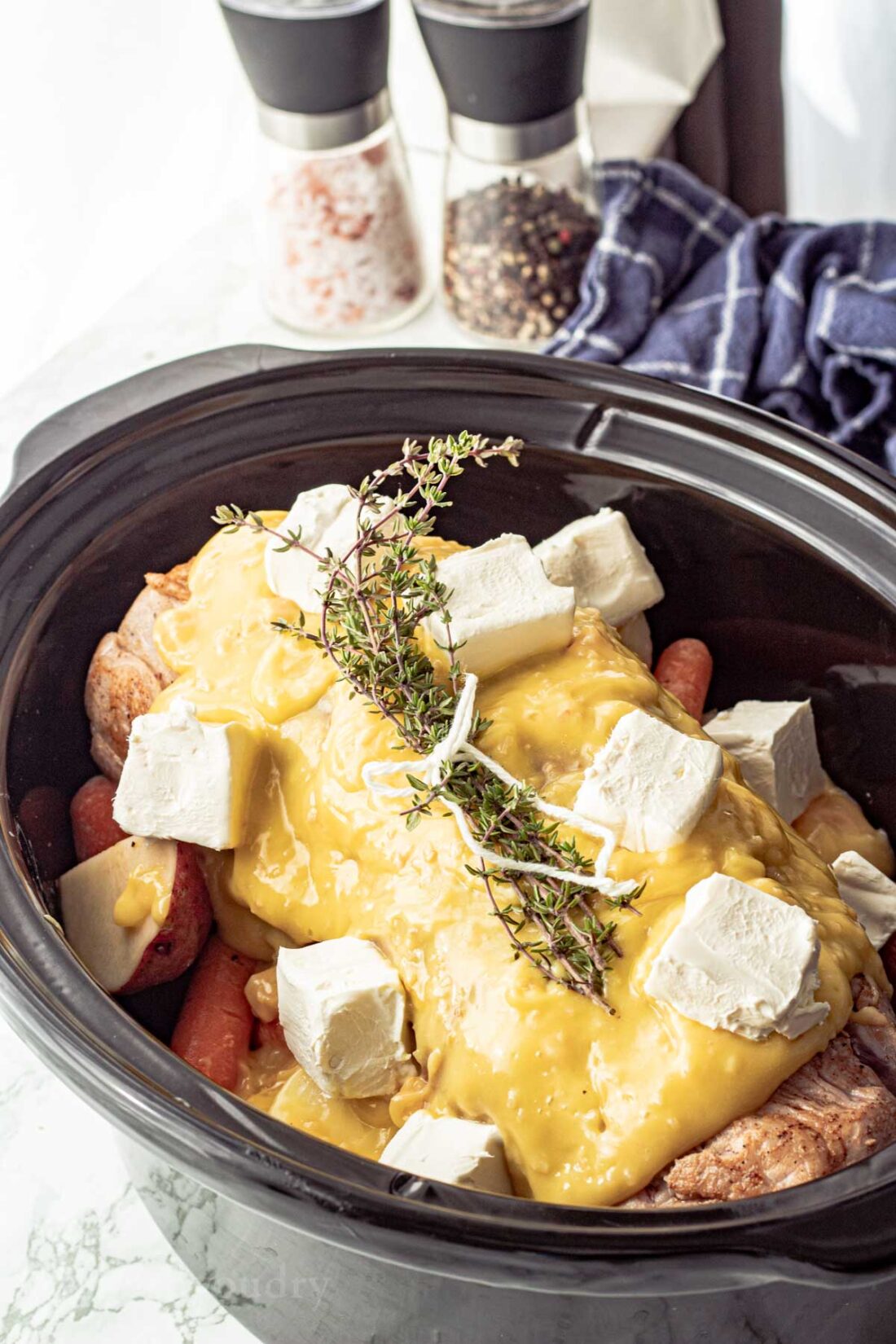 SLICE AND SERVE
Once those heavenly smells have infiltrated your house and the timer buzzes, cut into thin slices and serve to the whole family.
Carefully remove the roast from the slow cooker and place on a cutting board. Slice into thin pieces. Stir the creamy sauce if needed to help incorporate the cream cheese into the sauce and then spoon the sauce over the pork and veggies.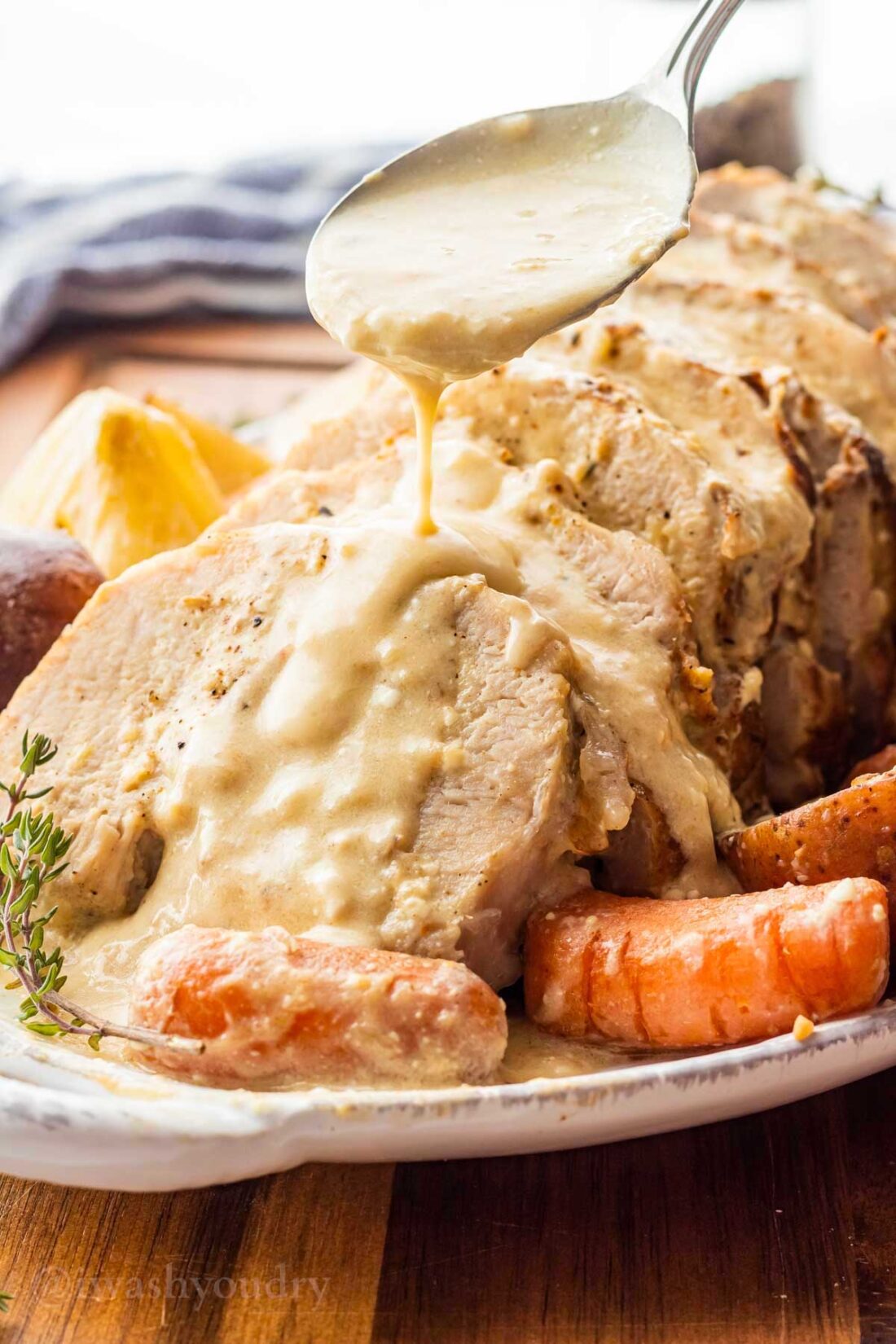 Tips and Tricks
This classic pork roast recipe delights everyone at family dinners—and can be used as a base for future ones.
There are so many cuts to choose from! Try pork shoulder, or pork butt for this recipe. Pork tenderloin could be used in a pinch, but is much better for a quick sear in recipes like this.
Try different cuts of meat altogether—like quality chuck roast or a top round roast.
Use the pan drippings to make gravy for tomorrow night. You can even freeze them in an airtight container to use later!
This recipe works best in a 6 to 8 quart slow cooker. Don't have a crock pot? A quality roasting pan will do the trick! Keep it covered with aluminum foil as it cooks for maximum tenderness.
Can I make Creamy Garlic Pot Roast ahead of time?
One of the best parts of pot roast is that you smell it cooking over that low heat all day long. While you can freeze the pork itself in an airtight container, I don't recommend freezing the roast vegetables as their tender texture can turn to mush when thawing.
Should I add Liquid?
No need! As the hours go by, the roast will create its own cooking juices to keep the meat hydrated and tender.
Should I Marinate My Pork Roast ahead of Time?
There is no need to marinate the pork roast ahead of time. The best thing you can do to add extra flavor is sear the pork before adding it to the slow cooker.
Do I Have to Sear the Pork First?
Absolutely! Well, not really, but I highly recommend doing so.
As it sears, the natural sugars in the meat caramelize and become that beautiful golden brown crust that adds so much flavor and texture.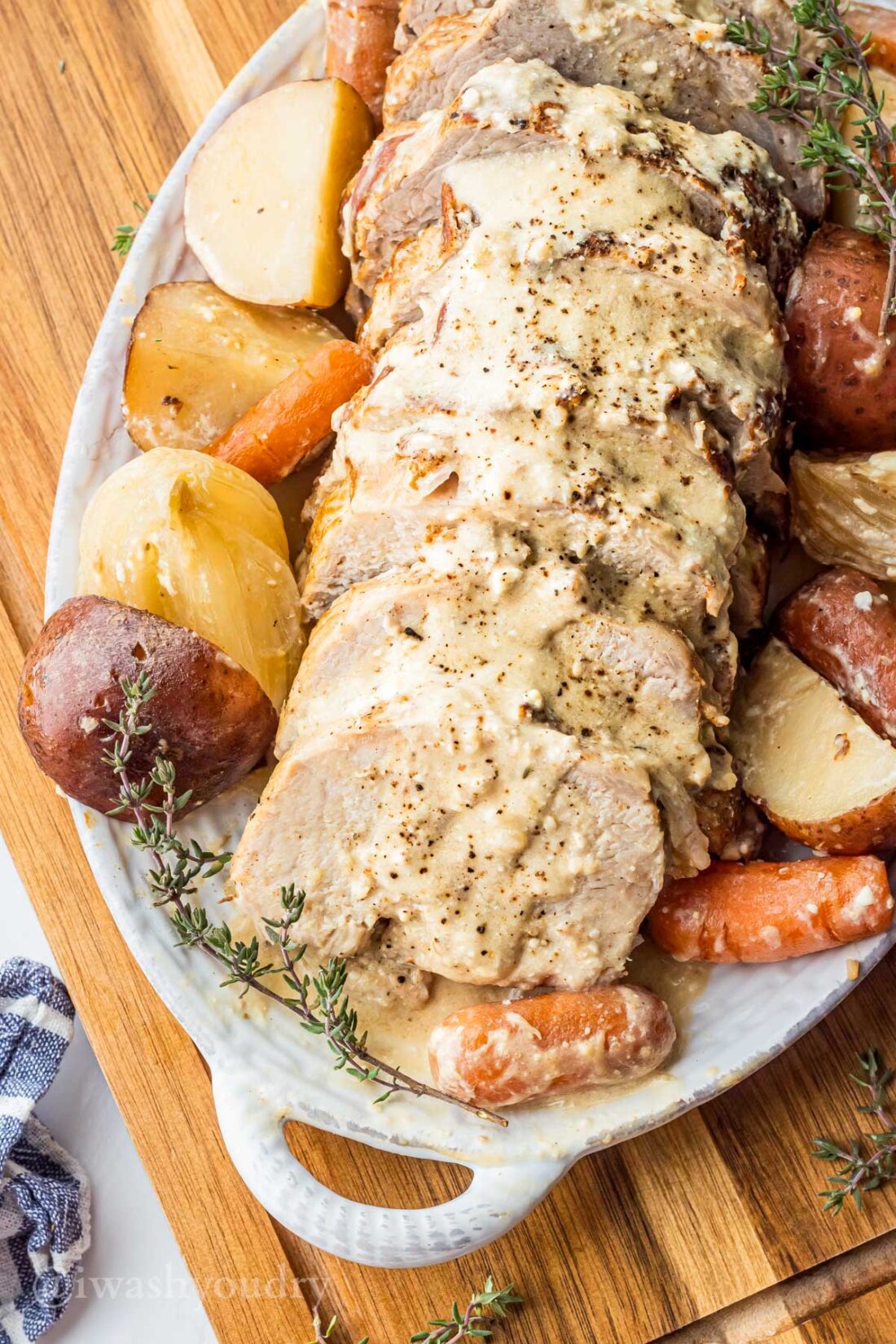 What to Serve With Creamy Garlic Pot Roast
This pork roast is comfort in a bowl and in need of a little balance. Enter: A large helping of the color green. Any one of these delicious sides will pair perfectly with this creamy garlic pot roast recipe.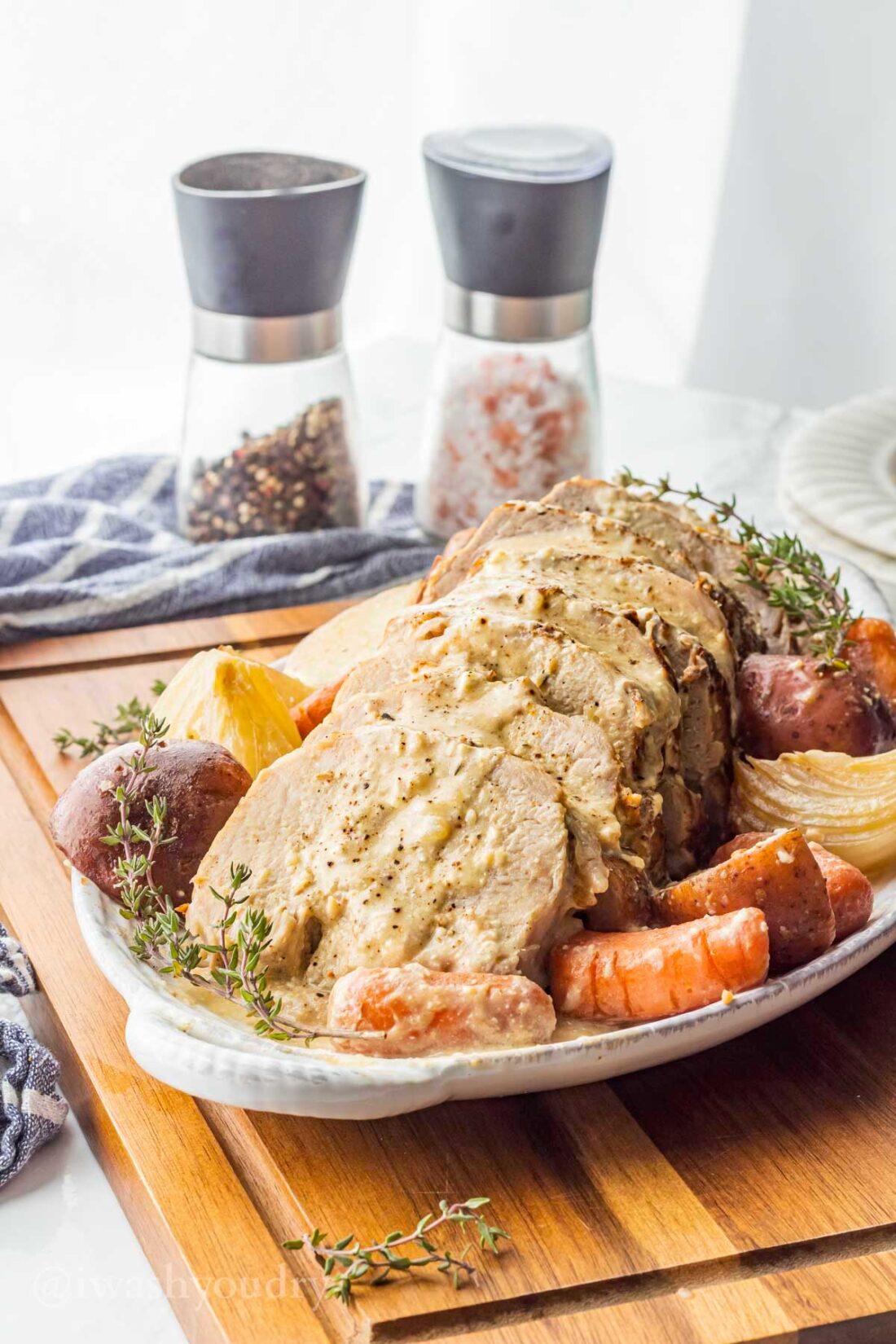 This classic never goes out of style in my eyes! Try it out and let me know what you think.
Creamy Garlic Pot Roast
This Creamy Garlic Pot Roast is seared and then slow cooked with potatoes and carrots in a creamy garlic sauce that's to die for.
Ingredients
1

tbsp

olive oil,

or avocado oil

3

lbs

pork roast

½

tsp

salt

½

tsp

black pepper

8

small

red potatoes

,

cut into quarters

1

medium onion

,

quartered

1 ½

cups

baby carrots

1

bunch

Thyme

10 3/4

oz

cream of chicken soup

8

oz

cream cheese

,

cut into cubes

2

tbsp

garlic

,

minced
Instructions
Heat the olive oil in a large skillet over medium-high heat.

Salt and Pepper the roast on both sides. Place the roast in the skillet and sear on all sides. (about 1-2 min. per side) Quarter the red potatoes and onion. Add potatoes, onion and carrots to the bottom of a crock-pot. Place the seared pork roast on top.

In a bowl combine cream of chicken soup and garlic. Pour over the roast and vegetables. Top with the cubed cream cheese. Using kitchen string, tie a small bunch of fresh Thyme together and place in crock-pot.

Cover and cook on low for 6-8 hours. Once cooking is complete, remove Thyme and discard.

Cut roast into thin slices, serve over vegetables with the creamy sauce on top. Enjoy!
Notes
While it may seem like an unnecessary step to sear the pork roast, I highly recommend it to give the pork extra flavor throughout. 
Nutrition
Calories:
494
kcal
|
Carbohydrates:
35
g
|
Protein:
44
g
|
Fat:
19
g
|
Saturated Fat:
9
g
|
Polyunsaturated Fat:
2
g
|
Monounsaturated Fat:
6
g
|
Cholesterol:
139
mg
|
Sodium:
490
mg
|
Potassium:
1554
mg
|
Fiber:
4
g
|
Sugar:
5
g
|
Vitamin A:
3796
IU
|
Vitamin C:
18
mg
|
Calcium:
75
mg
|
Iron:
3
mg
Keywords:
Cream Cheese, cream of chicken soup, garlic baby carrots, pot roast, thyme
PIN THIS IMAGE TO SAVE THE RECIPE: