These quick and easy Air Fryer Mozzarella Sticks are crispy on the outside with a gooey cheese filling!
Using an air fryer to make easy appetizers is the best because it cooks super quick and doesn't make a mess.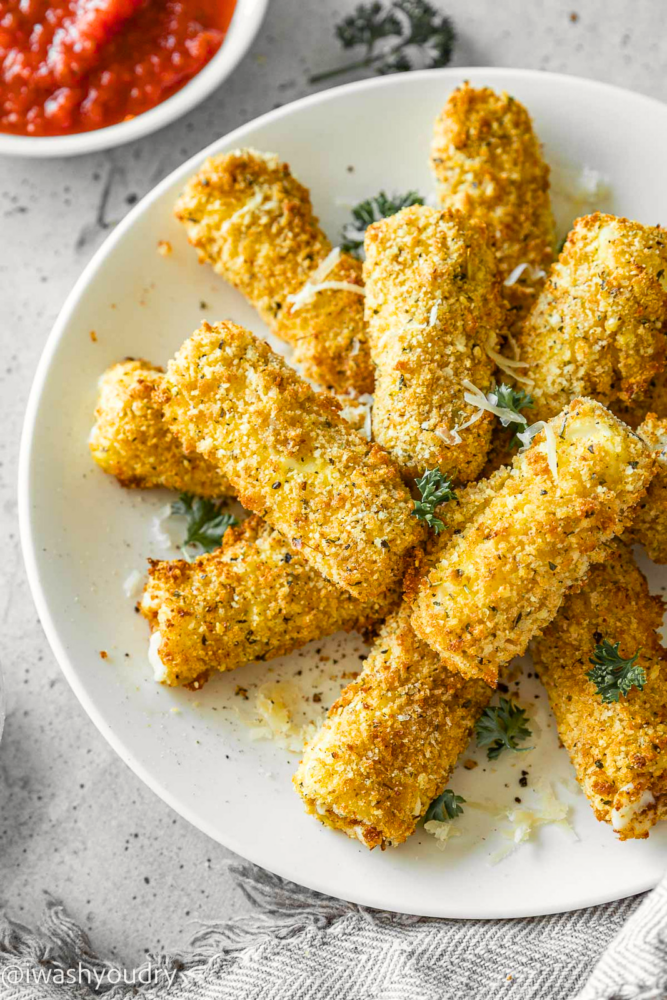 The best thing about these easy mozzarella sticks is that you can prep ahead of time, store them in the freezer for months and then pull out a few at time to enjoy hot and fresh.
Air Fryer Mozzarella Sticks
When you're looking for a classic pub-style appetizer, these mozzarella sticks are the way to go.
Mozzarella Sticks Ingredients Needed:
You only need a few ingredients to make these crispy mozzarella sticks in the air fryer. Here's a basic list of the ingredients you'll need. As always, you can find a full list of the ingredients in the printable recipe card below.
Mozzarella Cheese Sticks – cut in half
Egg – for binding the crispy coating to the cheese
Plain Breadcrumbs
Panko Breadcrumbs – found in the Asian aisle
Italian Seasoning – try my homemade blend!
Garlic Salt
Vegetable Oil – you can use avocado oil too
All Purpose Flour – used to help create that crispy coating
Salt and Pepper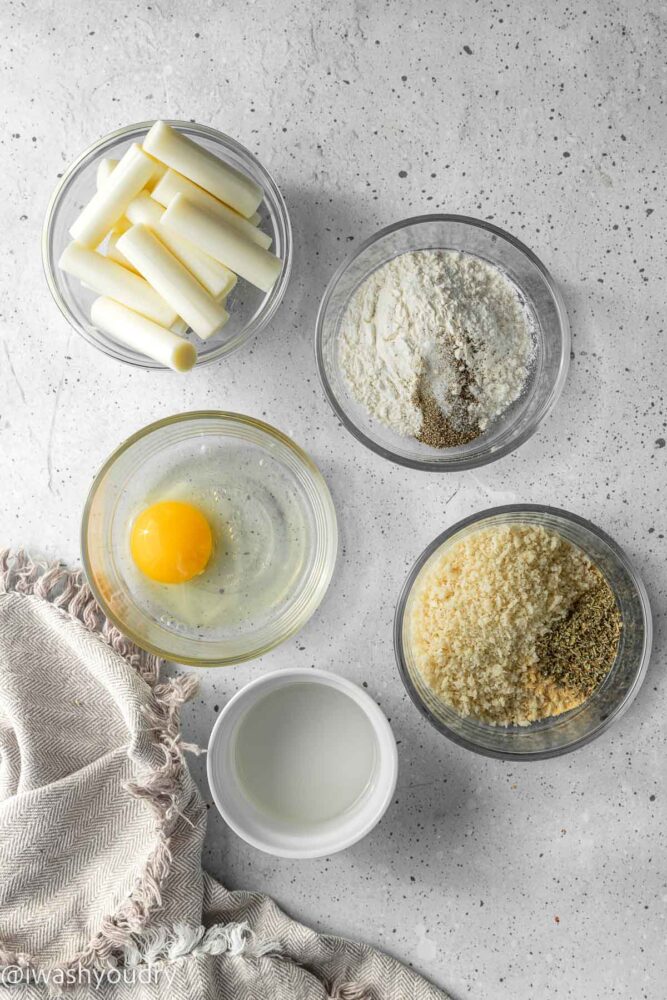 How To Make Air Fryer Mozzarella Sticks
It's actually super easy to make mozzarella sticks in the air fryer. The trick is to prep them ahead of time and keep them in the freezer until you're ready to cook them up.
CREATE YOUR WORK STATION
Start by taking out three small bowls to build a work station for assembling the mozzarella sticks.
FIRST BOWL – Add the egg and 1 tbsp of water and whisk until combined.
SECOND BOWL – Combine the flour, salt and pepper and whisk together.
THIRD BOWL – Add the plain breadcrumbs, panko breadcrumbs, seasonings and oil then combine together.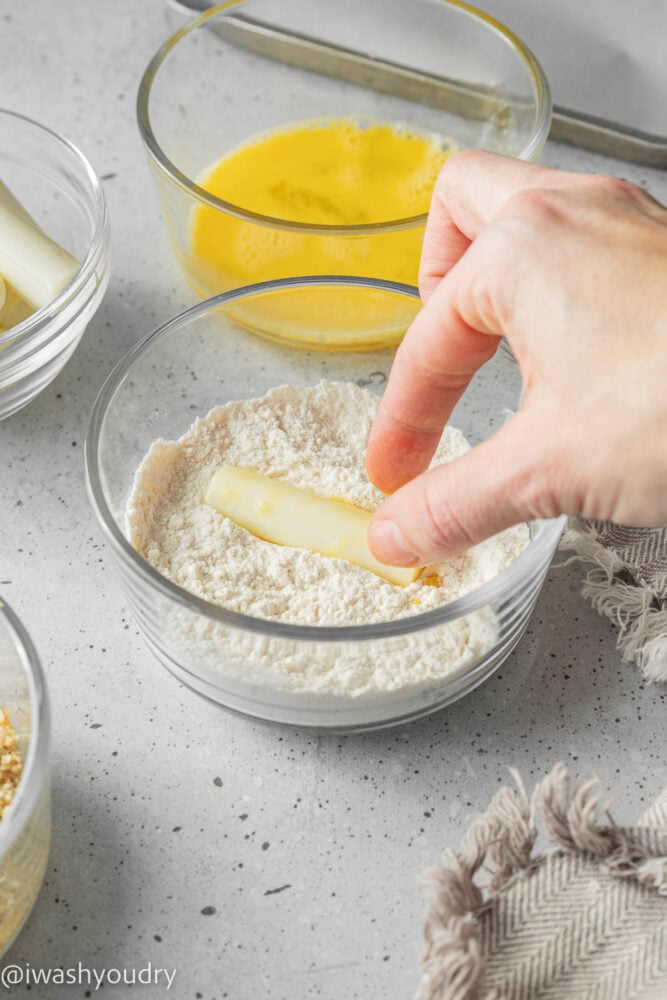 COAT CHEESE STICKS
In order to get a good, thick coating on the cheese sticks, you're going to do a little dance between the eggs, flour and breadcrumb mixture.
Start by dipping the cheese stick into the beaten egg, then shake off any drips.
Coat the cheese stick in the flour mixture, then dunk back into the egg mixture one more time.
Finally, place the cheese stick into the breadcrumb bowl and press evenly onto the cheese stick.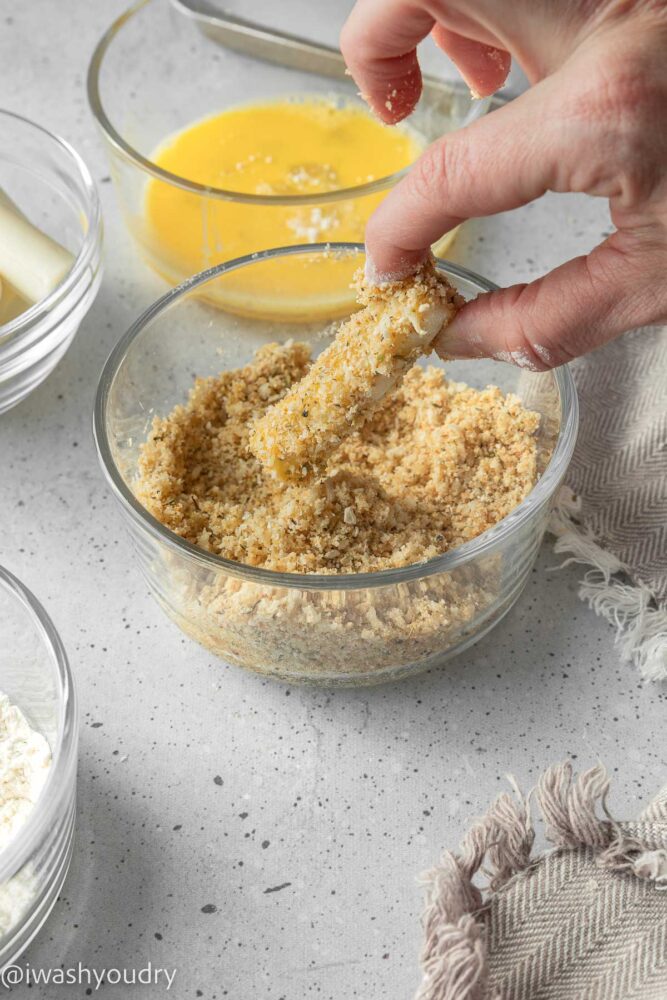 FREEZE MOZZARELLA STICKS
As I mentioned above, the key to making the BEST mozzarella sticks is to freeze them.
This will allow you to blast the outside coating with high heat, getting them nice and crispy on the outside, without the inside cheese melting and oozing out.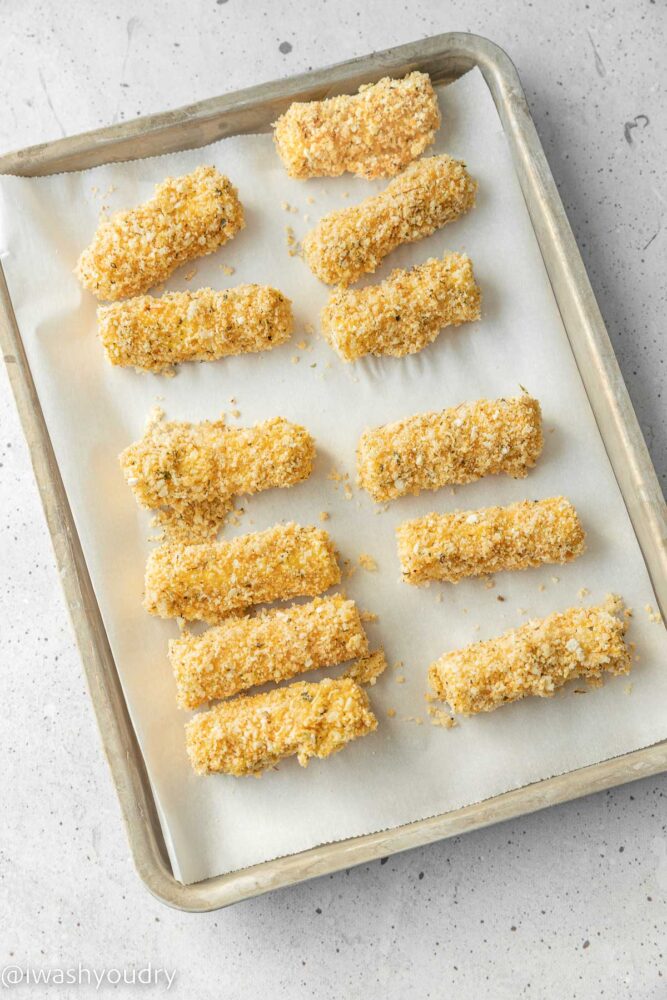 Flash Freeze Method
You're going to want to "Flash Freeze" the mozzarella sticks on a baking sheet first.
Flash freezing means to place the item you are wanting to freeze in a single layer on a baking sheet, then placing that baking sheet in the freezer for at least 30 to 40 minutes. This allows the item to freeze all the way around on the outside, so you can then package multiple items together in a single bag and store longer in the freezer.
Basically all your mozzarella sticks wont freeze together and you can take out as many as you want at a time.
AIR FRYING MOZZARELLA STICKS
Preheat your air fryer to 400 degrees and place the frozen mozzarella sticks into the basket of your air fryer.
Lightly spritz with non-stick cooking spray and then cook for just 5 to 7 minutes, until they're golden brown and crispy.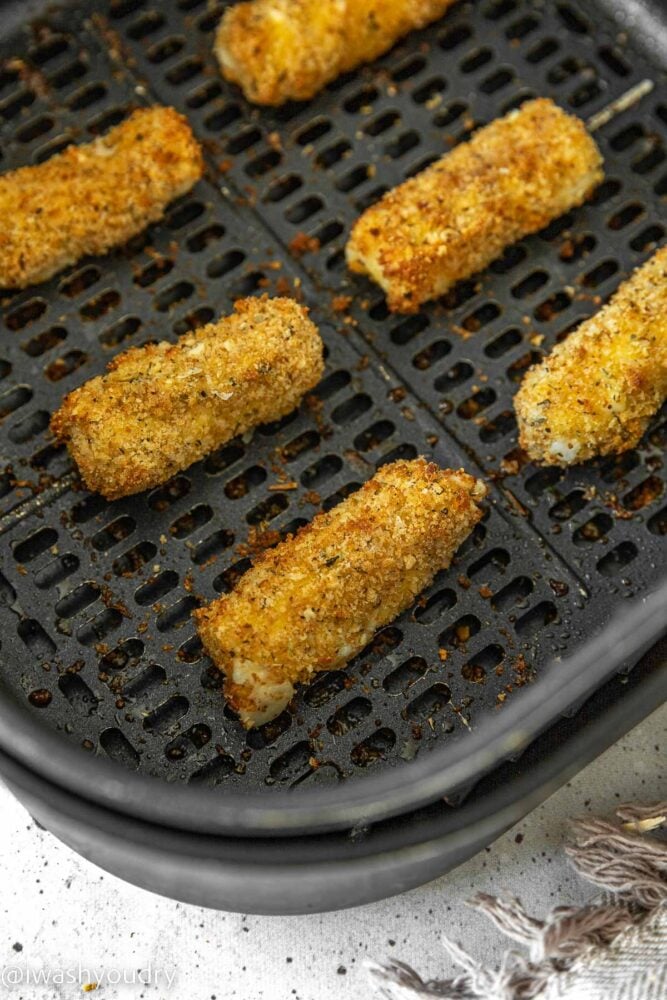 Make Ahead Mozzarella Sticks
These mozzarella sticks cook up super quick in the air fryer, but do take extra time to prepare.
In order to make these ahead of time, you'll want to do the prep, then freeze them and store them in the freezer until you're ready to cook them up.
The cheese sticks can be stored in the freezer for up to 6 months!
Due to the nature of cheese sticks, I do not recommend cooking the cheese sticks ahead of time and serving later. They are best when served right after being cooked.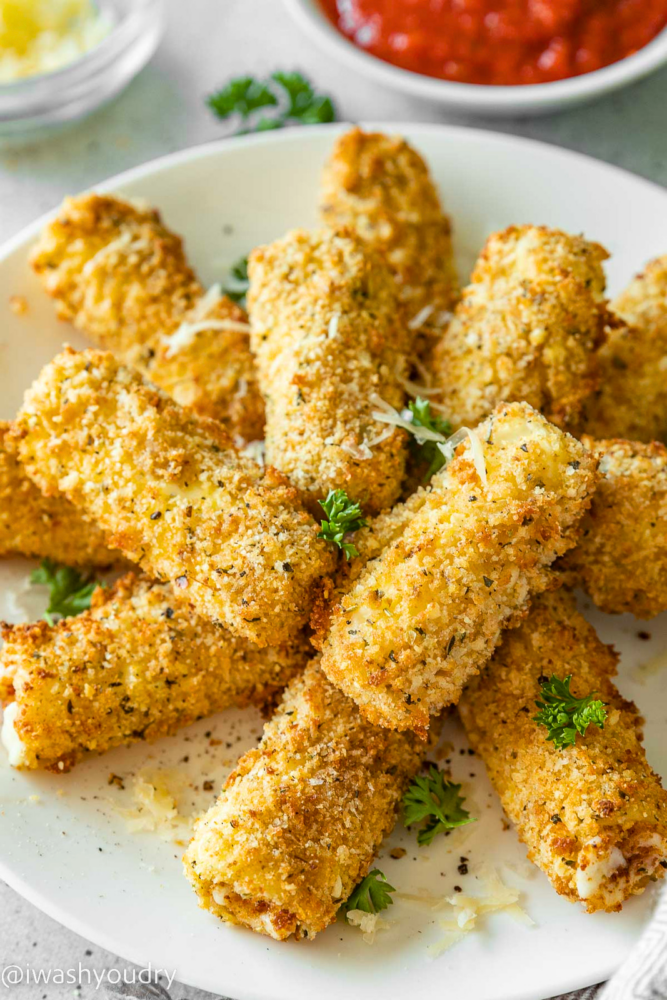 Additional Cooking Methods
I'm sure there will be plenty of questions about how to make these air fryer mozzarella sticks in the oven or frying, so here ya go…
OVEN – I would bake these in the oven on a raised rack at 425 degrees F. for 10 to 12 minutes, until crisp.
FRYER – You could deep fry these or pan fry in at least 1 inch of oil. I would use either canola or vegetable oil for frying and keep it at 375 degrees F.
Which Air Fryer To Use?
I get this question about which air fryer to use all the time. Honestly now a days, there are so many great products on the market that are easily available.
This is the Air Fryer that I use and have used it for years. I love it so much and can typically find it at Costco for a great deal.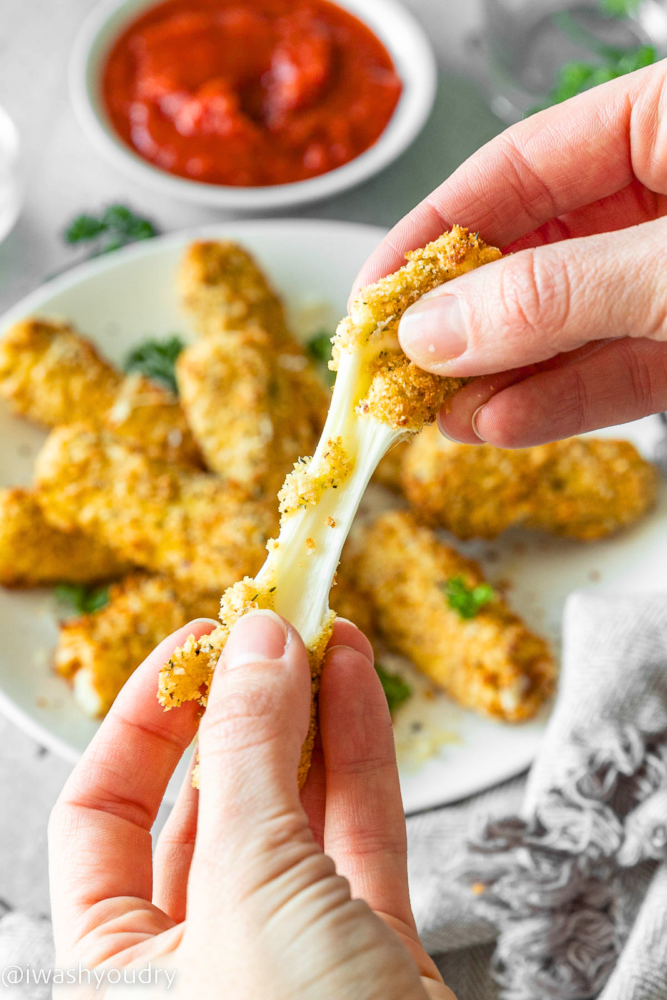 What To Serve with Mozzarella Sticks
You can never go wrong with a classic Marinara Sauce and crispy mozzarella sticks.
More Air Fryer Appetizers
Whether it's game day snacks or party finger food recipes you're after, I have a slew of tasty recipes in the air fryer you're sure to love.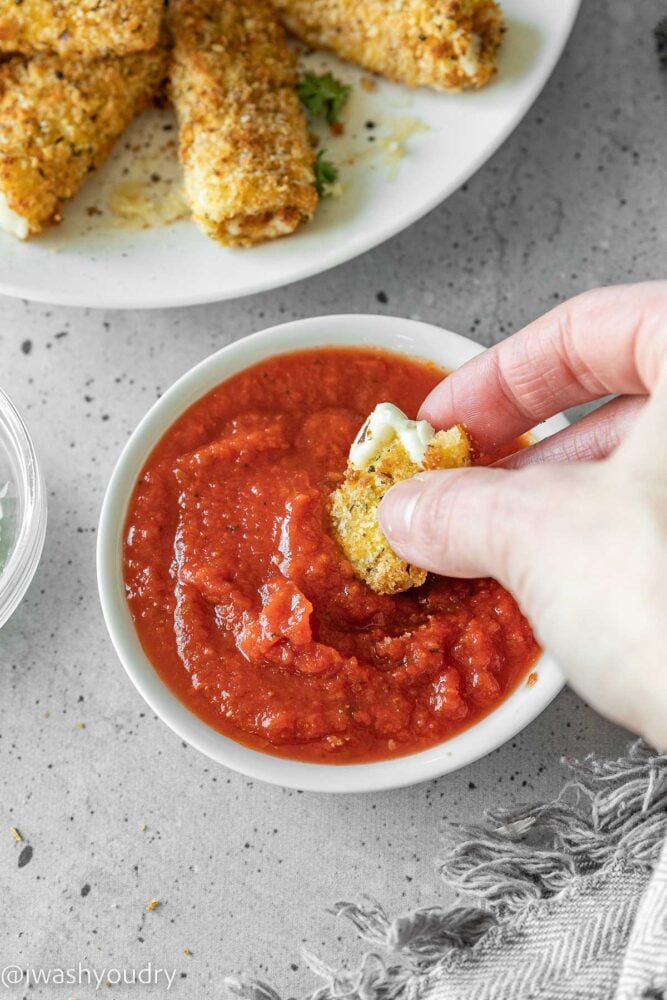 Air Fryer Mozzarella Sticks
These quick and easy Mozzarella Sticks are perfect for an appetizer or game day!
Instructions
Use three separate bowls to create a breading work station: -In the first bowl: add the egg and 1 tbsp water, then whisk until blended.

-In the second bowl: add the all purpose flour, salt and pepper, whisk to combine.

-In the third bowl: add the plain breadcrumbs, panko breadcrumbs, Italian seasoning, garlic salt and vegetable oil, then mix to combine.

Line a cookie sheet with parchment paper and set aside.

Dip each halved cheese stick in the egg mixture, then dip in the flour mixture, coating evenly. Return the flour coated cheese stick to the egg mixture and coat again. Then place it in the bowl with the breadcrumbs and coat evenly. Place the breaded cheese stick on the parchment lined sheet and continue with the remaining sticks until finished, spacing the breaded cheese sticks at least 1 inch apart.

Transfer the cookie sheet with the mozzarella sticks to the freezer for at least 40 minutes.*

Preheat your air fryer to 400 degrees F. Lightly spritz the frozen mozzarella sticks with non-stick spray and cook for 5 to 7 minutes in an even layer until golden brown. Some cheese may escape if the cheese sticks were not frozen completely first.

Serve right away with marinara sauce for dipping. Enjoy!
Notes
Once frozen for at least 40 minutes, the mozzarella sticks can be placed in an airtight container and frozen for up to 6 months. Pull out as many mozzarella sticks as desired at a time and cook in the air fryer when ready. 
Nutrition
Calories:
69
kcal
|
Carbohydrates:
5
g
|
Protein:
4
g
|
Fat:
4
g
|
Saturated Fat:
2
g
|
Polyunsaturated Fat:
0.1
g
|
Monounsaturated Fat:
0.2
g
|
Trans Fat:
0.001
g
|
Cholesterol:
19
mg
|
Sodium:
251
mg
|
Potassium:
16
mg
|
Fiber:
0.3
g
|
Sugar:
0.2
g
|
Vitamin A:
21
IU
|
Vitamin C:
0.003
mg
|
Calcium:
21
mg
|
Iron:
0.4
mg
Keywords:
Air Fryer, mozzarella cheese, Mozzarella Sticks
PIN THIS IMAGE TO SAVE THE RECIPE