This ultra-moist Tres Leches Cake Recipe is soft and fluffy, and soaked in a sweet milk mixture, then topped with a gorgeous amount of whipped cream.
You're going to love this classic Mexican dessert, the cinnamon throughout reminds me of these delightful Churro Cream Puffs!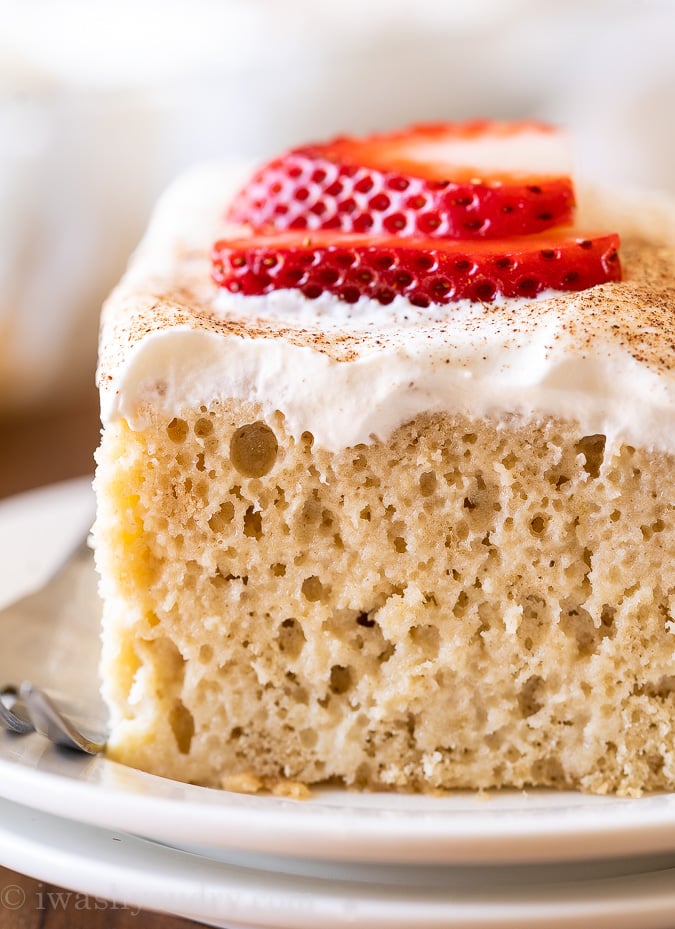 One of my favorite desserts is this moist and luscious Tres Leches Cake.
I took my Tres Leches Cupcakes recipe and converted it into a 9×13″ sliceable cake, and it's just oh-so dreamy!
Tres Leches Cake Recipe
If you're not familiar with this interesting cake, let me explain what tres leches is…
Tres = Three
Leches = Milks
This light and fluffy cake has a spongecake-like base, that's then infused with three types of milk, creating a unique texture and taste that's truly unforgettable.
Ingredients For Tres Leches Cake
Here's a basic list of the ingredients you'll need in order to make this recipe. As always, you can find the printable version in the recipe card below.
All Purpose Flour
Baking Powder
Cinnamon – gives the cake a lil something extra
Eggs
Sugar
Whole Milk – you can also substitute with coconut milk
Vanilla Extract
Heavy Whipping Cream
Sweetened Condensed Milk
Evaporated Milk
Powdered Sugar
Strawberries or Raspberries – optional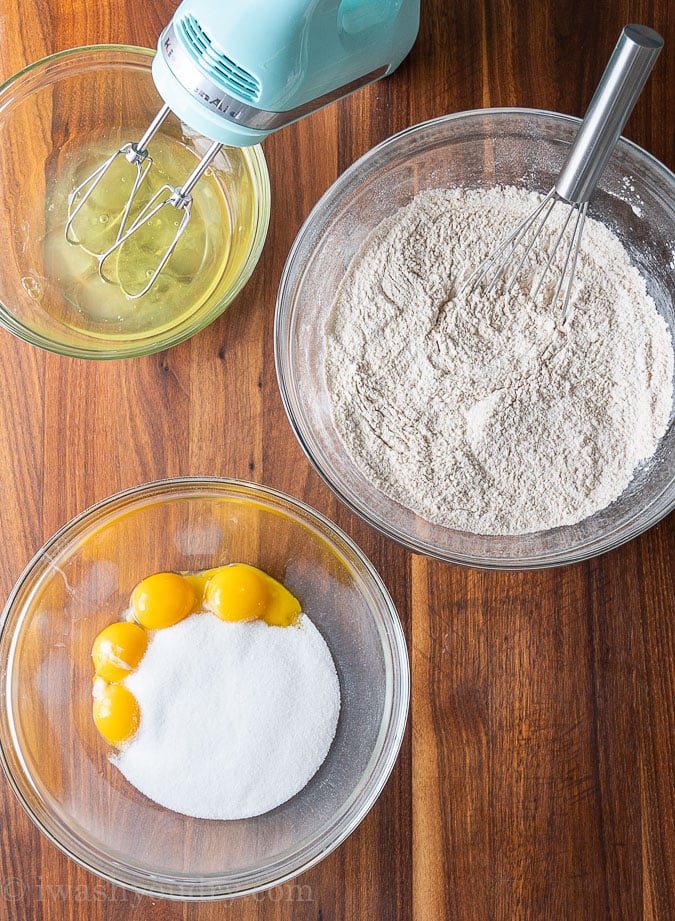 How To Make Tres Leches Cake
While this recipe requires a few bowls to mix everything together, it is actually a quite simple process to make.
COMBINE DRY INGREDIENTS – Mix together the flour, baking powder, salt, and cinnamon in a bowl and set aside.
SEPARATE EGGS – Carefully separate the egg yolks and egg whites into two bowls.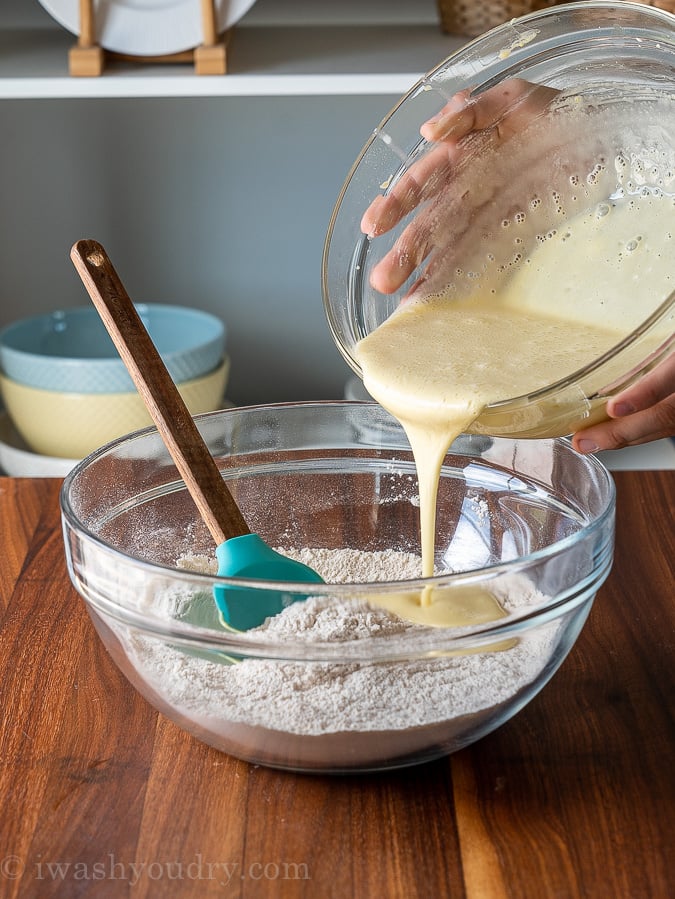 BEAT EGG YOLKS – Use a hand mixer or stand mixer to combine the egg yolks and sugar until the mixture is a pale yellow, and the mixture is silky smooth.
WHIP EGG WHITES – Using clean beaters, beat the egg whites until they form soft peaks, while adding a little more sugar to them.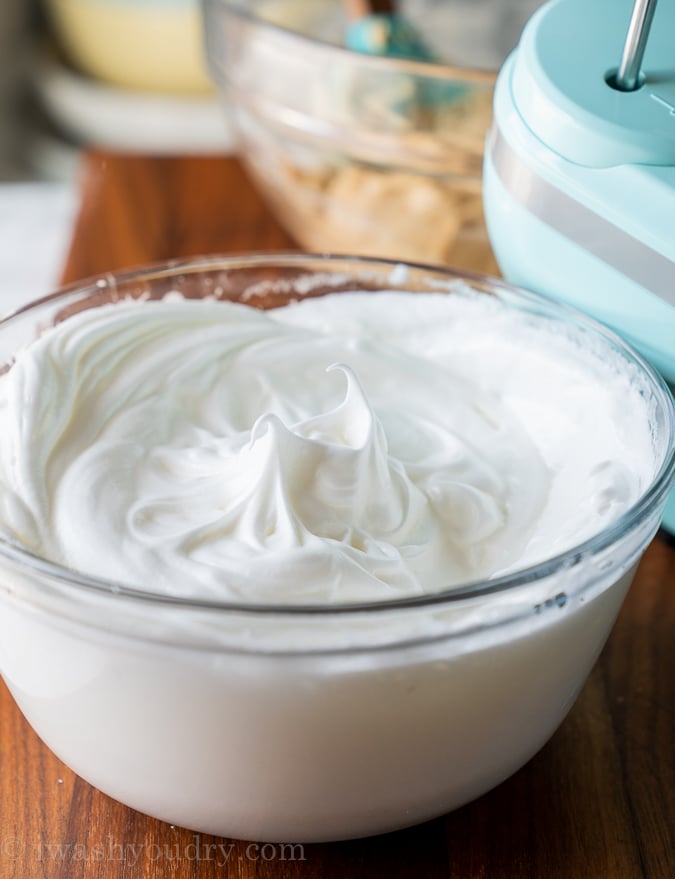 MIX BATTER – Stir the egg yolk mixture into the flour mixture until it's smooth and no more flour clumps. Then gently fold in the egg whites until the batter is nice and thick.
BAKE – Bake until the center of the cake is set, and a toothpick inserted in the middle comes out clean.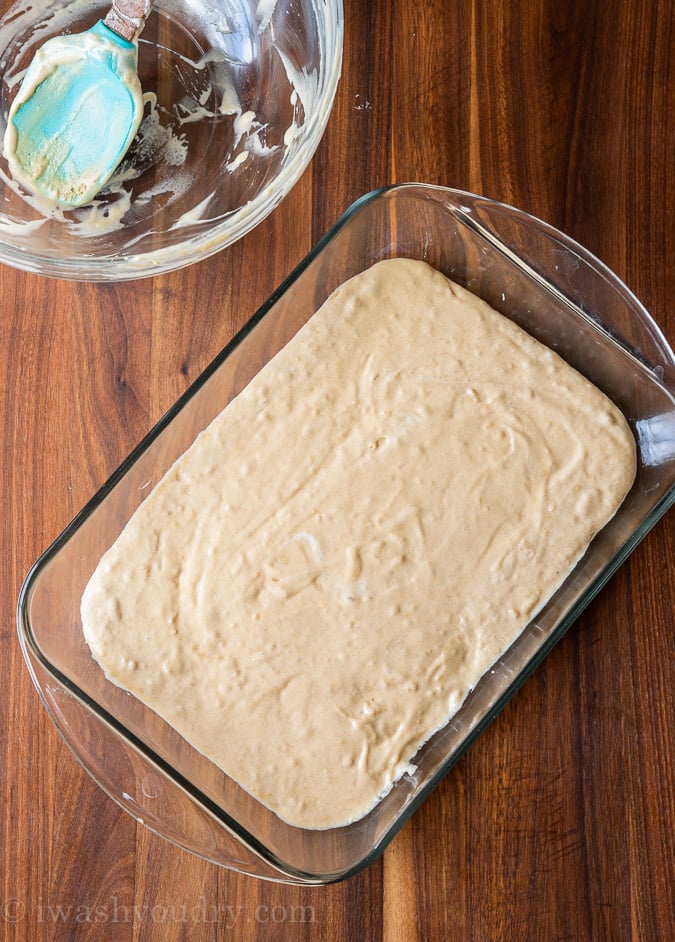 THREE MILKS – Combine the three milks in a large measuring cup, then poke holes all over the slightly warm cake with a fork. Pour milk mixture into cake and let it fully absorb.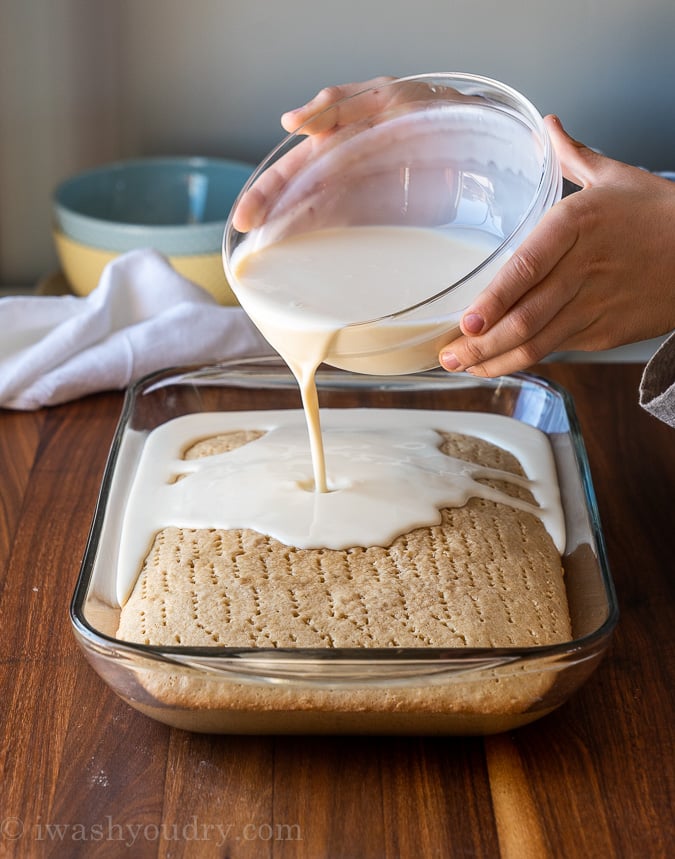 FROST – Make a simple whipped cream frosting, top the cake, slice and enjoy!
One thing that really sets this Tres Leches cake apart from all the other is the addition of cinnamon.
Wow, it really makes this cake pop in flavor!
What Type Of Milks Should I Use?
For my Tres Leches syrup, we're using: Evaporate Milk, Sweetened Condensed Milk and Heavy Cream.
When making the base for the cake, you'll also use whole milk. I've successfully used canned coconut milk in place of the whole milk.
Dairy-Free Tres Leches Cake?
YES! You can make this recipe dairy-free.
Will it change the flavor? Yes, it will have more of a coconut tres leches flavor to it, but it's still ridiculously delish!
Swap out the whole milk for canned coconut milk.
Try this: Canned Coconut Evaporated Milk, Coconut Sweetened Condensed Milk and use Coconut Cream in place of the Heavy Cream.
As for the whipped cream topping – try using a dairy free, Coconut Whipped Topping (check out the freezer section of your local grocery store).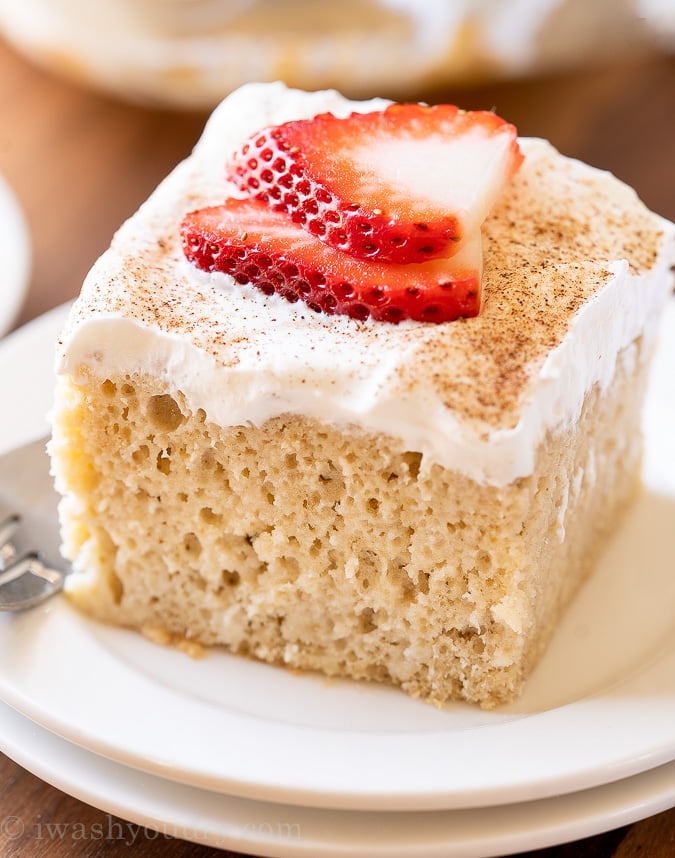 How Long Does It Last?
I love this simple cake recipe because you can easily make it up to 48 hours in advance!
After you've soaked the cake with the milk mixture, cover it tightly with plastic wrap and store it in the fridge. Once you're ready to serve, simply uncover, frost and enjoy!
Personally, I think the flavor gets better after a day in the fridge.
Enjoy this cake within 5 days for optimal results.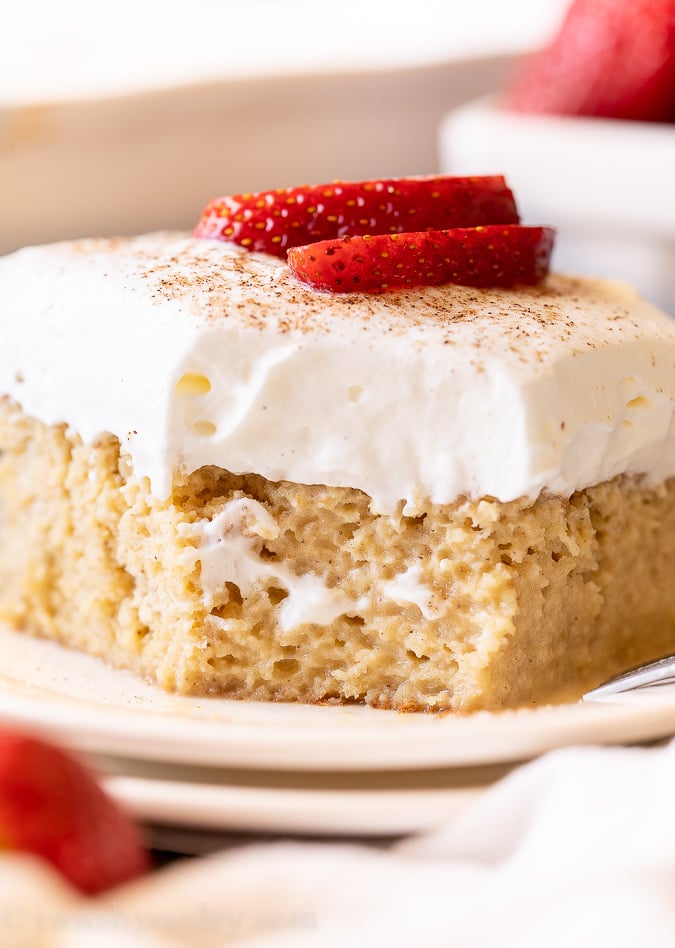 More Mexican Dessert Recipes To Try
These delicious treats are perfect any time of the year, not just around Cinco de Mayo!
Tres Leches Cake Recipe
This homemade Tres Leches Cake recipe is soft and fluffy and soaked in three types of milk, for an easy Mexican dessert you won't be able to resist.
Ingredients
For The Three Milks
8

oz

evaporated milk

14

oz

sweetened condensed milk

½

cup

heavy cream
For The Frosting
2

cups

heavy cream

3

tbsp

powdered sugar

1

tbsp

cinnamon sugar

2

cups

strawberries

,

sliced, optional
Instructions
Preheat oven to 350 degrees F. Coat a 9x13" baking dish with non-stick spray or butter and set aside.
For The Cake:
In a large bowl combine the flour, baking powder, cinnamon and salt, whisk together.

Separate the egg yolks from the egg whites and place each in a separate bowl. To the egg yolks, add in ¾ cup of granulated sugar and beat with a mixer until light pale and silky. Stir in the milk and vanilla extract until smooth and silky.

To the bowl with the egg whites, use clean beaters to beat until soft peaks form, while adding in the remaining ¼ cup of granulated sugar. The egg whites should fold over themselves when you lift the beaters out of the bowl.

Pour the egg yolk mixture into the bowl with the flour and use a sturdy rubber spatula to mix the two together until no flour clumps remain. Add in the egg whites and gently fold the batter over until the egg whites are incorporated. Make sure not to over mix the batter, as this can result in a flat cake.

Scoop or pour batter into the prepared baking dish and smooth out top. Bake for 30 minutes, until toothpick inserted in center comes out clean. Let cool until only slightly warm.
For The Milks:
Combine the evaporated milk, sweetened condensed milk and heavy cream in a large mixing bowl (or measuring cup for easy pour). Poke several holes over the top of the cake, all the way to the bottom, using a fork. Slowly pour the milk mixture over the cake and allow it to absorb completely.
For The Frosting:
In a chilled glass or metal bowl, beat the heavy whipping cream until stiff peaks form, adding in the powdered sugar as you go. Spread over the tres leches cake and top with cinnamon sugar and freshly sliced strawberries if desired.
Video
Notes
Tres Leches Cake can be made up to 48 hours in advance. Store covered in fridge until ready to enjoy! 
Nutrition
Calories:
452
kcal
|
Carbohydrates:
50
g
|
Protein:
9
g
|
Fat:
25
g
|
Saturated Fat:
15
g
|
Trans Fat:
1
g
|
Cholesterol:
163
mg
|
Sodium:
215
mg
|
Potassium:
267
mg
|
Fiber:
1
g
|
Sugar:
40
g
|
Vitamin A:
986
IU
|
Vitamin C:
2
mg
|
Calcium:
227
mg
|
Iron:
1
mg
Keywords:
cake, Evaporated Milk, frosting, Sweetened Condensed Milk, Tres Leches
PIN THIS IMAGE TO SAVE THE RECIPE: