I'm in cream puff heaven with this delightful cinnamon and sugar dusted Churro Cream Puffs!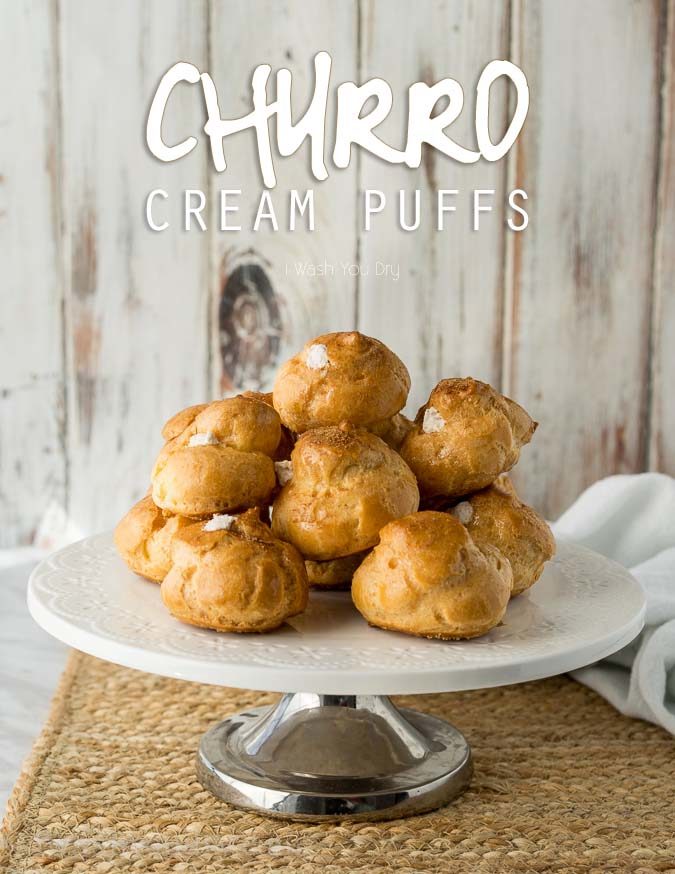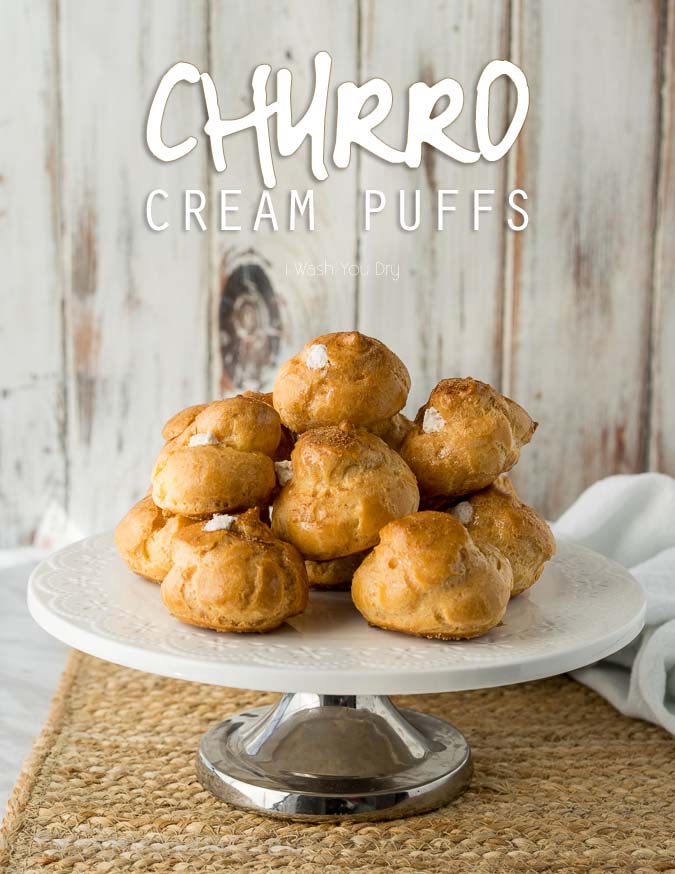 Have you ever made a cream puff before? I hadn't until just recently, and now I am hooked!
It's all because of my friend Barbara and her new cookbook, Simply Sweet Dream Puffs!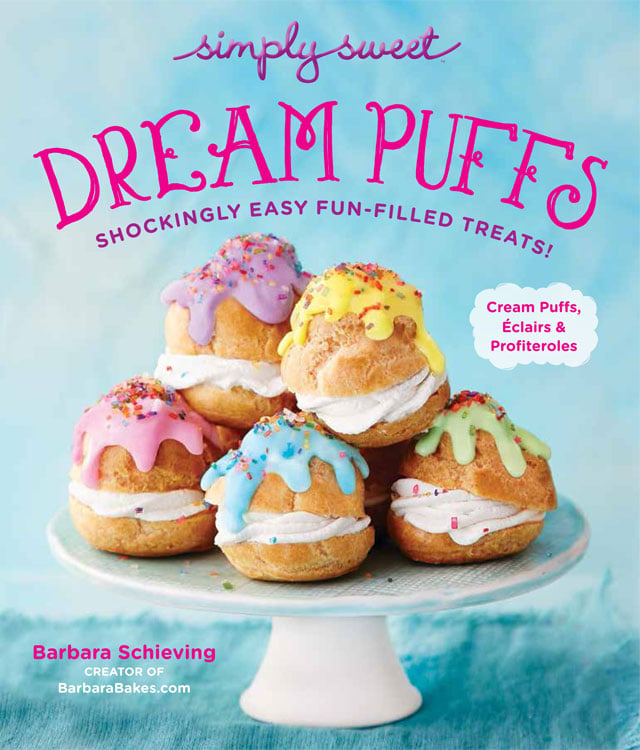 I never knew how easy it was to make cream puffs, eclairs or profiteroles. Barbara's book not only has recipes to so many wonderful variations of cream puffs, but she also shares a step by step picture tutorial on how to make them.
There are even free templates in the back of the book so you can easily pipe the cream puffs, eclairs or profiteroles. She takes the time to describe in detail each step, and process so you feel confident in making them.
There is even a gorgeous picture for each of the recipes! Here are a few more examples…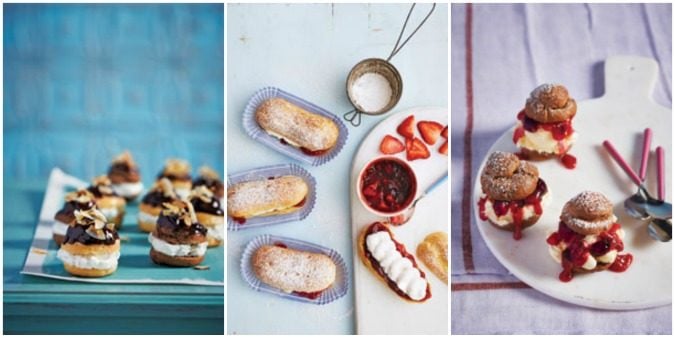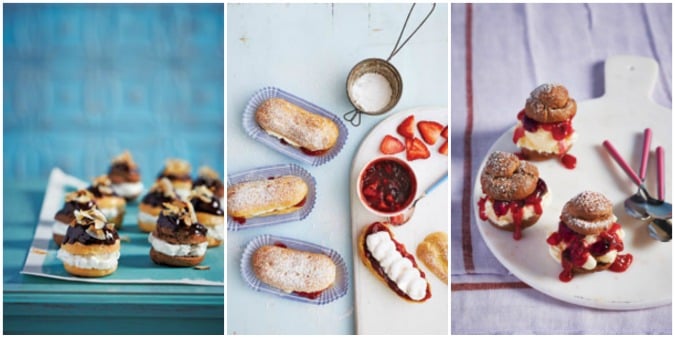 Coconut Almond Cream Puffs, Strawberry Cheesecake Eclairs and Black Cherry Profiteroles!
They all look so amazing and are perfect for any occasion. I made these Churro Cream Puffs on Saturday and invited some friends over for dinner, then enjoyed these for dessert. Everyone loved them! Sunday was my nieces' birthday so my daughter and I made another batch of cream puffs, but this time we made the ones on the cover! Oh my, they disappeared so fast!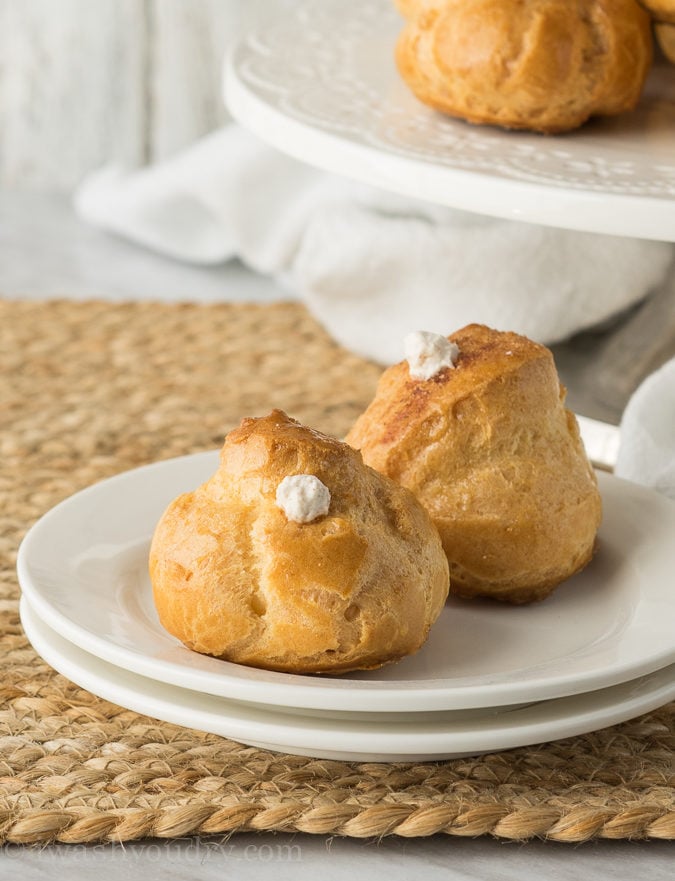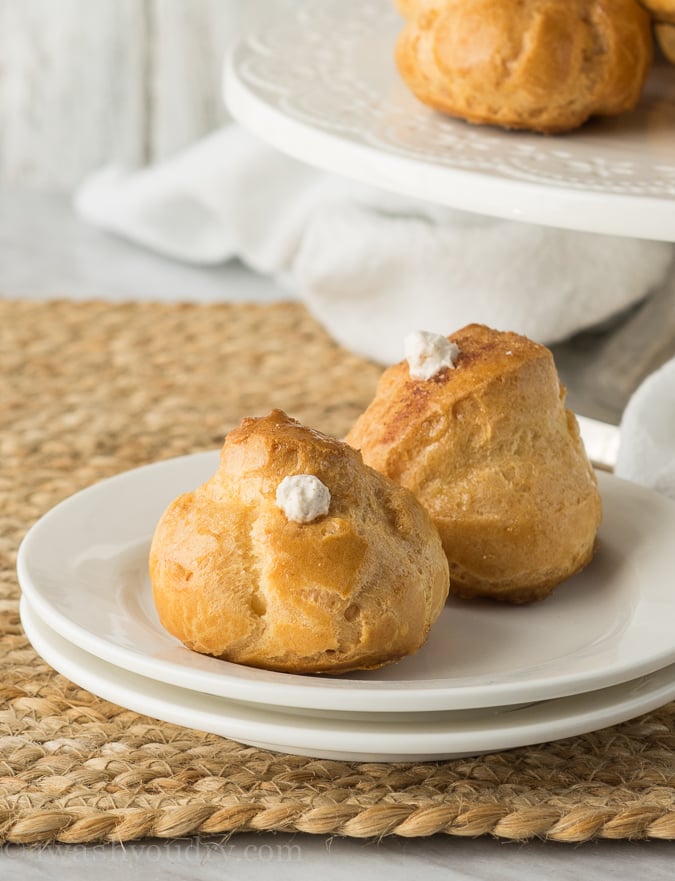 These Churro inspired puffs are just as delicious. My favorite part is the cinnamon flavored whipped cream that's piped into each one!
Watching the cream puffs puff up in the oven was pretty fun too.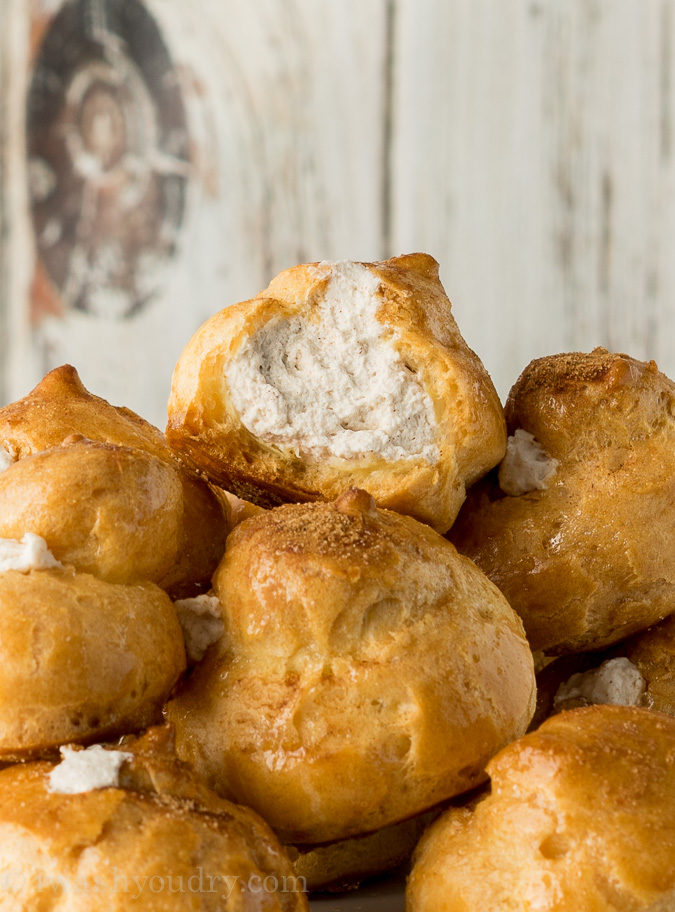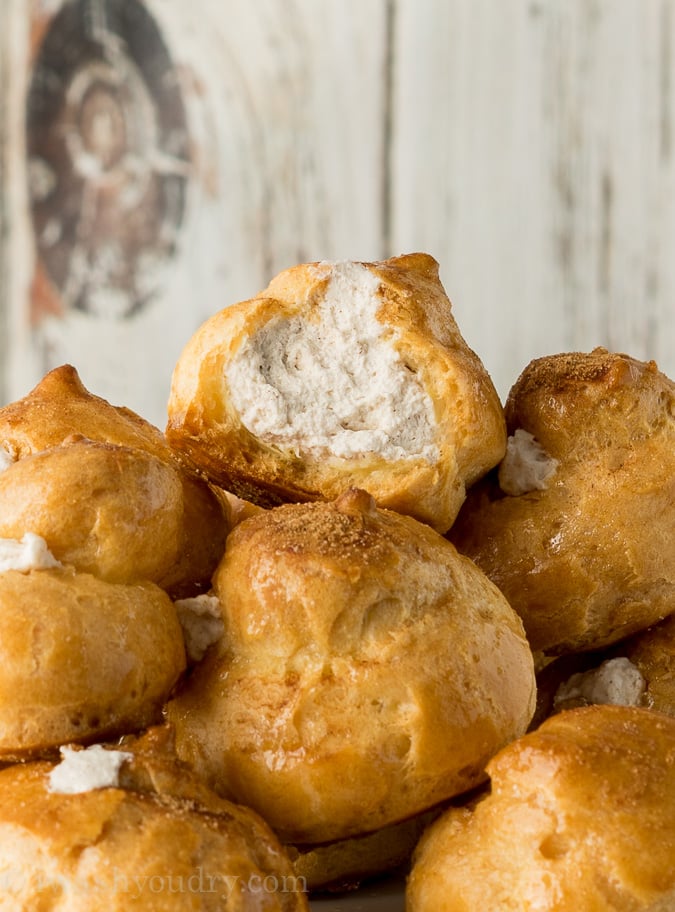 If you've never made cream puffs before, or if you have but are looking for some more fun flavors to try, make sure you go download a copy of Simply Sweet Dream Puffs today! Right now it's only available as an ebook on Amazon, but the more interest it get, it might be released as a paperback too! And trust me, this is one book you want on your kitchen counter!
Make sure you don't miss a thing! Follow I Wash You Dry here:
FACEBOOK | PINTEREST | GOOGLE+ | TWITTER | INSTAGRAM | BLOGLOVIN
Churro Cream Puffs
These delightful little Churro Cream Puffs are dusted with cinnamon and sugar and leave you wanting more!
Ingredients
3/4

cup

all purpose flour

6

tbsp

unsalted butter

,

cut into 6 pieces

1

tsp

sugar

1/4

tsp

salt

4

large

eggs

,

at room temperature (divided)
For the Churro Topping:
2

tsp

ground cinnamon

,

divided

1

tbsp

granulated sugar

2

tbsp

honey

1 1/2

cups

heavy cream

pinch

salt

1/3

cup

powdered sugar
Instructions
Preheat oven to 425 degrees F. Lightly grease or line a baking sheet with parchment paper. Measure your flour and set aside.

Bring butter, salt, sugar and 3/4 cups water to a boil in a large saucepan over medium-high heat, stirring occasionally. Immediately remove from heat and stir in flour all at once. Return to heat, and stir with a wooden spoon for 1 to 2 minutes, or until dough is smooth and forms a ball. Transfer dough to the bowl of a stand mixer and let rest for 5 minutes.

Add 3 eggs, 1 at a time, beating until mixture is smooth and glossy. Spoon into a pastry bag fitted with a tip.

Pipe dough onto prepared pan into 1 1/2 inch rounds (1 1/2 inch high). Smooth out peaks and round tops with a moistened finger.

Whisk together remaining one egg and 1 tsp water. Brush tops of dough with egg mixture. Bake at 425 degrees F for 5 minutes, then reduce heat to 375 degrees F and bake an additional 30 minutes, or until puffed and golden brown. Turn oven off and let sit in closed oven for 10 minutes. Remove from oven and let cool completely on wire racks.
For the Churro Topping:
Preheat oven to 350 degrees F. Combine 1 tsp ground cinnamon with 1 tbsp granulated sugar in a small bowl and set aside.

Microwave honey in a microwave-safe bowl on HIGH for 20 seconds, or just until it starts to boil. Brush tops of cream puffs with honey and sprinkle with cinnamon-sugar mixture. Place cream puffs on a parchment lined baking sheet in an even layer and bake for 5 minutes. Let cool for 30 minutes.

Whisk together cream and salt in a large bowl. Beat cream mixture at medium-high speed with an electric mixer until foamy; gradually add powdered sugar and 1 tsp cinnamon, and beat until stiff peaks form. Cover and chill until ready to serve.

Spoon whipped cream into a pastry bag fitted with a small round tip. Pierce the top of each cream puff with a knife to create a small hole. Insert the pastry tip and fill with whipped cream.
Nutrition
Calories:
177
kcal
|
Carbohydrates:
11
g
|
Protein:
3
g
|
Fat:
14
g
|
Saturated Fat:
8
g
|
Cholesterol:
89
mg
|
Sodium:
63
mg
|
Potassium:
40
mg
|
Fiber:
1
g
|
Sugar:
6
g
|
Vitamin A:
529
IU
|
Vitamin C:
1
mg
|
Calcium:
27
mg
|
Iron:
1
mg
Keywords:
churro, Cinnamon, cream puff, whipped cream