Last month Carnival Cruise Lines took a handful of food bloggers on an 8 day Eastern Caribbean cruise..
I was lucky enough to be one of them, and of course, now I am here to show you all the amazing Dining Options on Carnival Sunshine!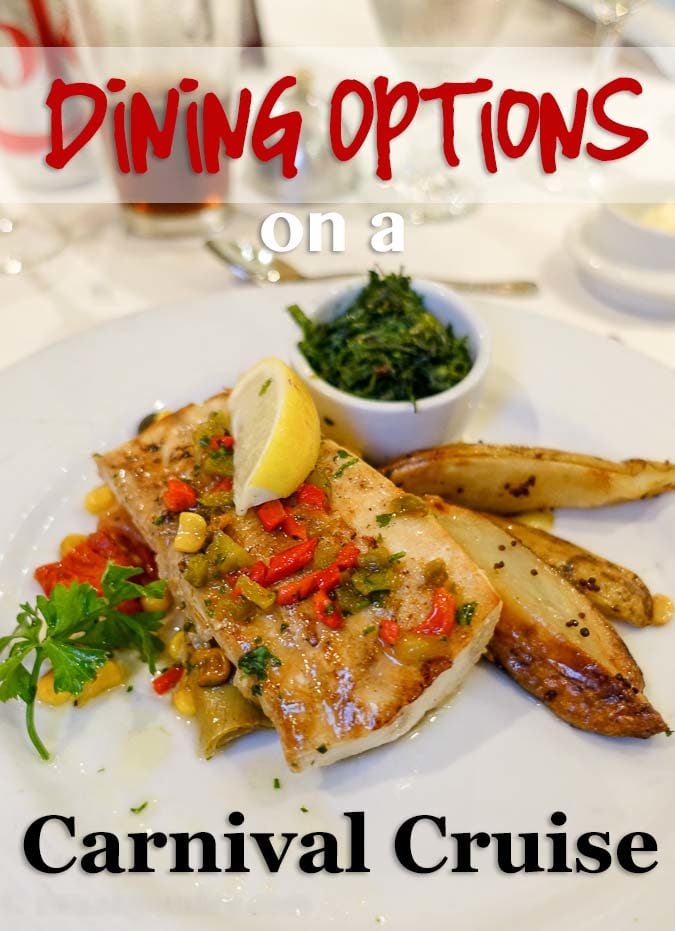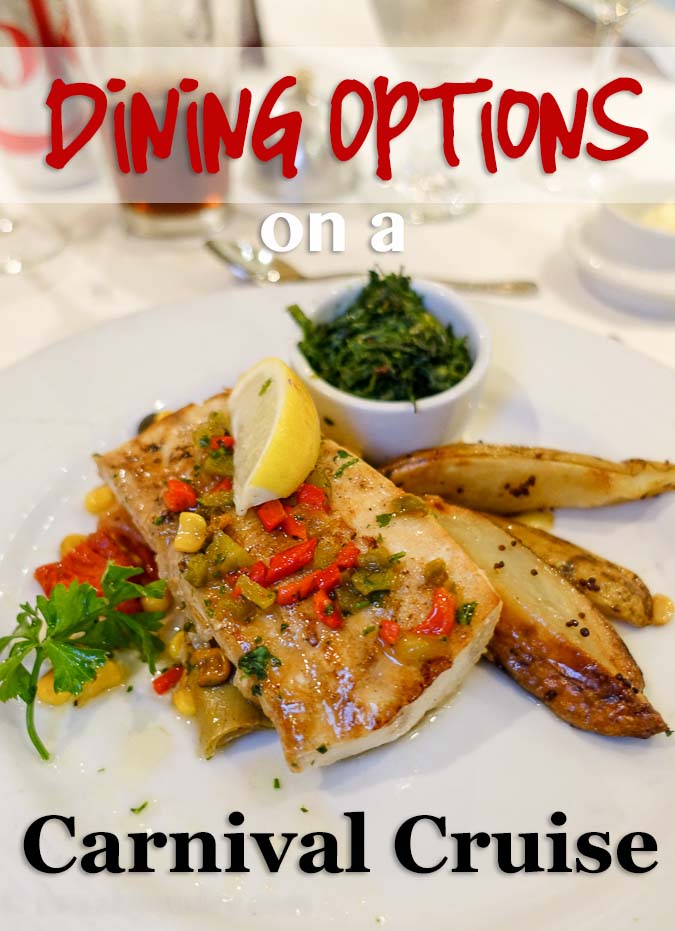 The coolest thing about this whole trip was that I got to surprise my 11 year old daughter. She had NO IDEA that I was taking her with me on this journey until we pulled up curbside at the airport. I had secretly packed her bags and surprised her with (what I think is) the best birthday present ever!
She was thrilled and shocked and excited and I… well, I was just so happy to have her with me. Talk about mom-daughter bonding time!
I brought along my husband's GoPro camera and captured all the fun times we had in little bursts of video and pictures. If you're considering bringing your children on a Carnival cruise and worried there isn't enough to keep them entertained… you'll be pleasantly surprised at all there is to do!
Besides water slides, ropes courses and mini golf, there are also loads of fantastic dining options scattered all throughout the Carnival Sunshine.
There are tons of free dining options like the main dining room with servers who will remember you and exactly what you like to drink and how you prefer your chocolate melting cake (extra ice cream please!). The Lido deck with a never ending buffet of delicious foods and treats. Fresh pizza made 24 hours a day! A deli to make your favorite cold cuts and two of my favorites… Guy Fierri's Burger Joint and the Blue Iguana Cantina.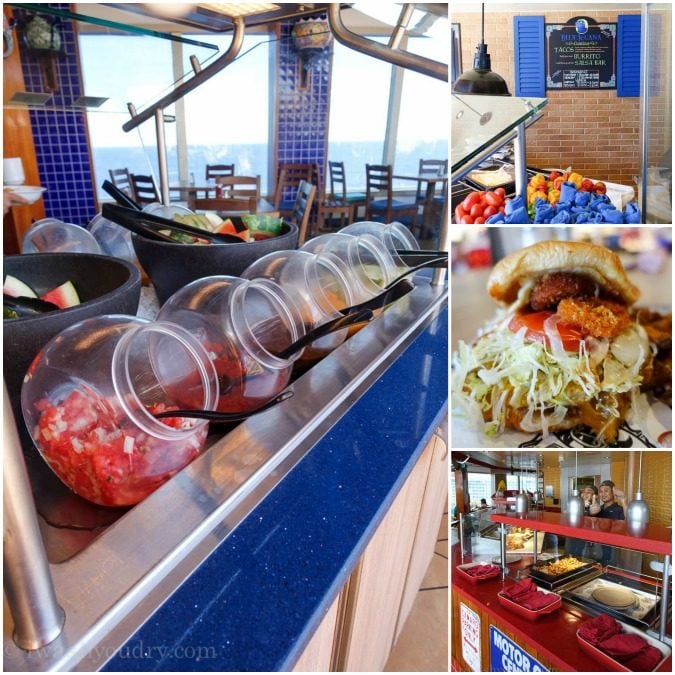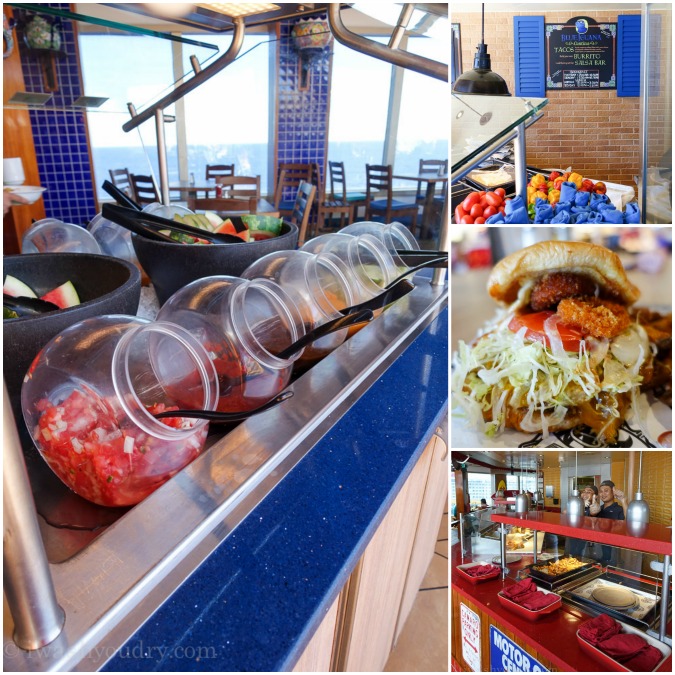 The Blue Iguana Cantina serves the most amazing breakfast burritos in the morning and to-die-for tacos during the day. Plus you can get all the salsa you want at the salsa bar that's filled with loads of fresh ingredients.
Guy's Burger Joint is open for lunch with out of this world burgers that will rock your socks… or flip-flops… There's also a burger toppings bar that you can customize your burger with. Let's not forget the fries… oh mama! On a couple occasions I requested a plate of fries and then topped them with crispy bacon, chipotle mayo and a drizzle of ranch dressing… You need to try it!
Here's the best part… these are all included with the cruise at no additional charge!
Now, if you're in the mood for something a little different, there are loads of specialty dining options available to you for a small price.
The first night we dined at JiJi Asian Kitchen!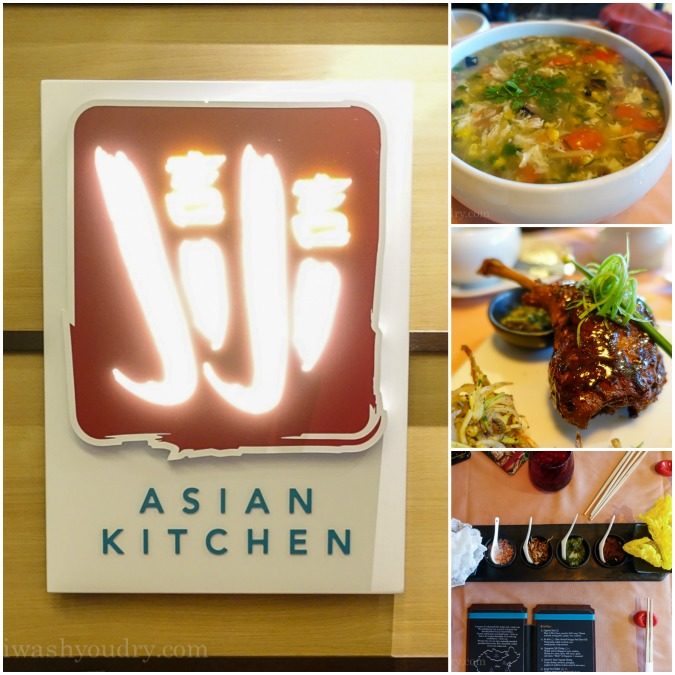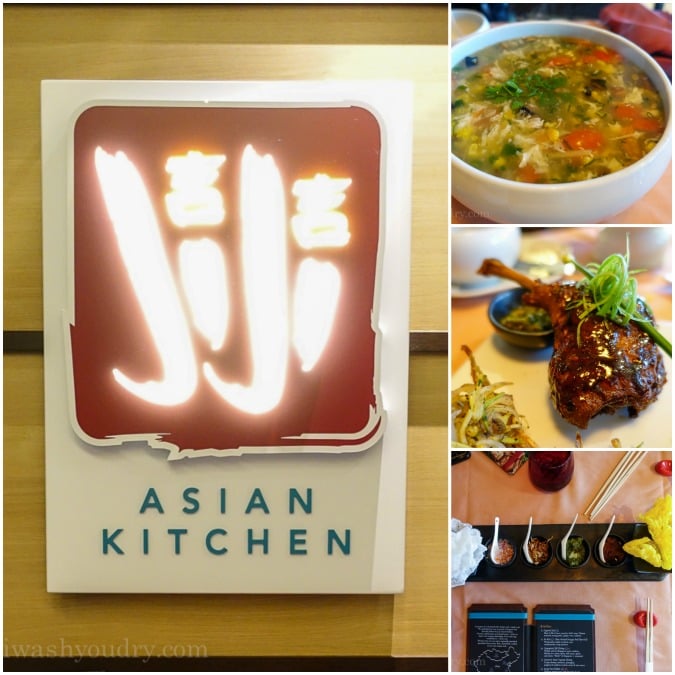 JiJi means lucky lucky, and boy are they right. This place was so amazing we actually went back another night to get more of the delicious food! It's just $15 per person, and you'll have the whole menu at your fingertips. The crispy duck, pot stickers, and sweet and sour shrimp were some of my favorites. My daughter really enjoyed the Chicken and Egg Soup.
The next night we tried out some Italian fare at the Cucina del Capitano.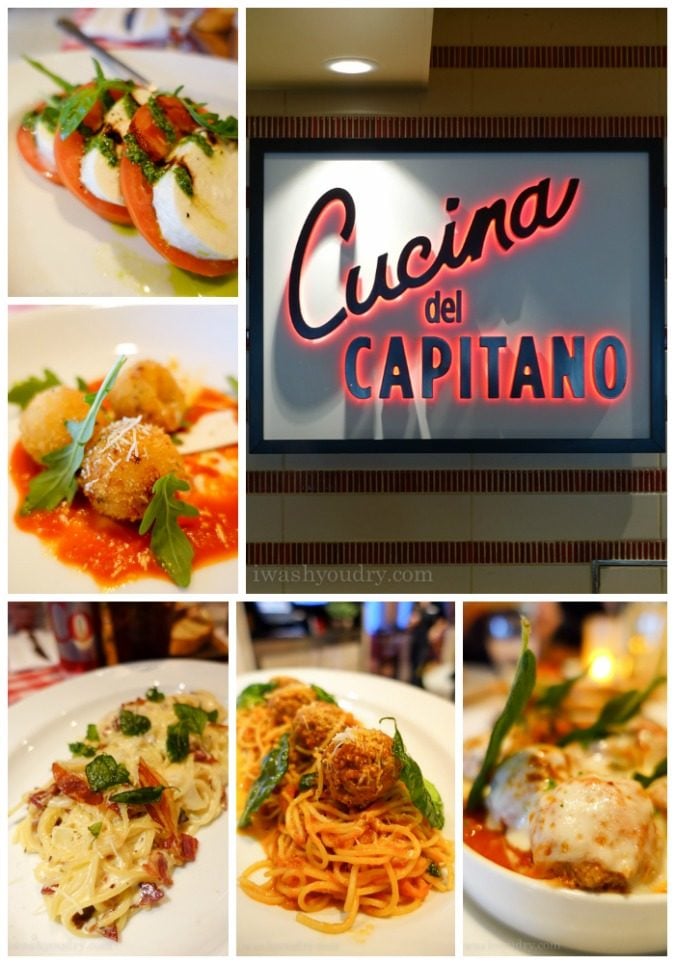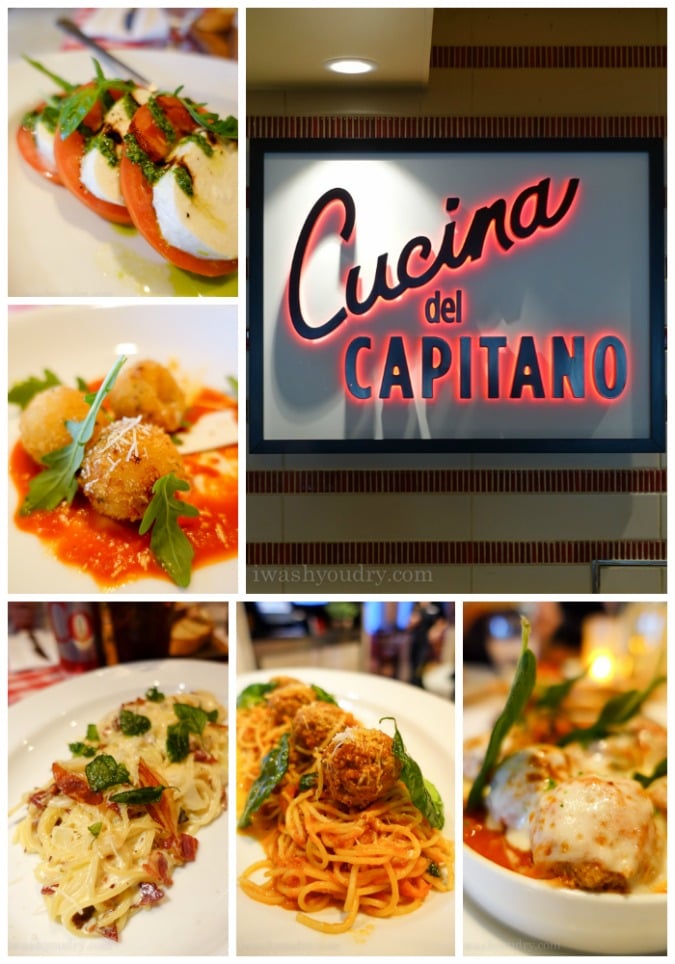 You guys!!! Everything on the menu was incredible! Again, all you can eat for just $15 per person. The Carbonara was probably the most popular, but I couldn't get enough of their cheese covered meatballs and fried arancini. All the food was just amazing and it even came with dessert!
During the day we had the opportunity to try out the Bonsai Sushi Bar too! I am so lucky my daughter is a sushi fan like me, because we pigged out on a BOAT FULL of sushi for just $17! It also came with a bowl of the most amazing Miso soup for each of us and a delicious salad!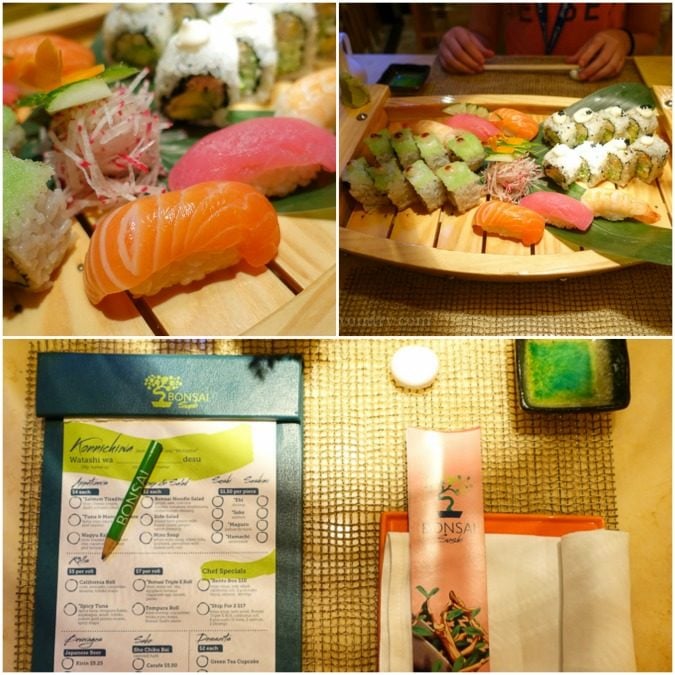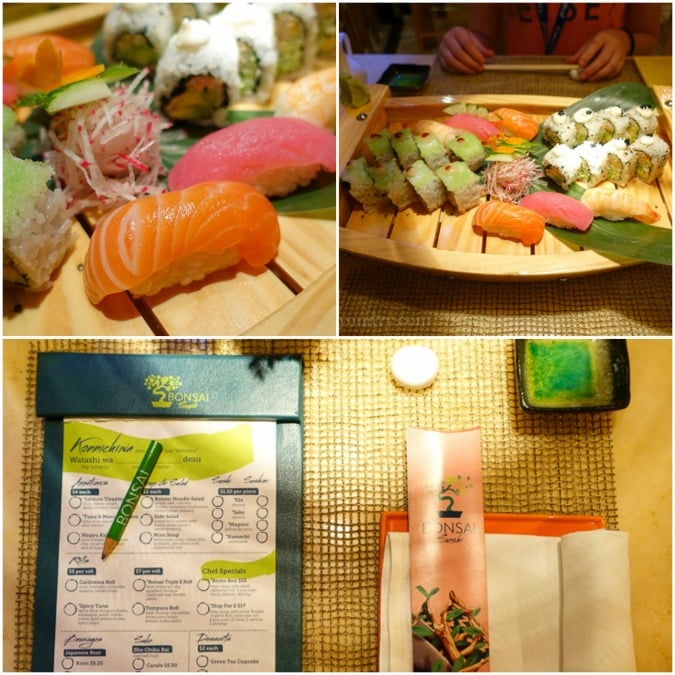 If you're a sushi fan, you know how expensive it can be. Everything is so affordable, it's hard not to order it all! This was one of my favorite places to try!
If you're a steak fan, you'll want to try out Fahrenheit 555 Steakhouse.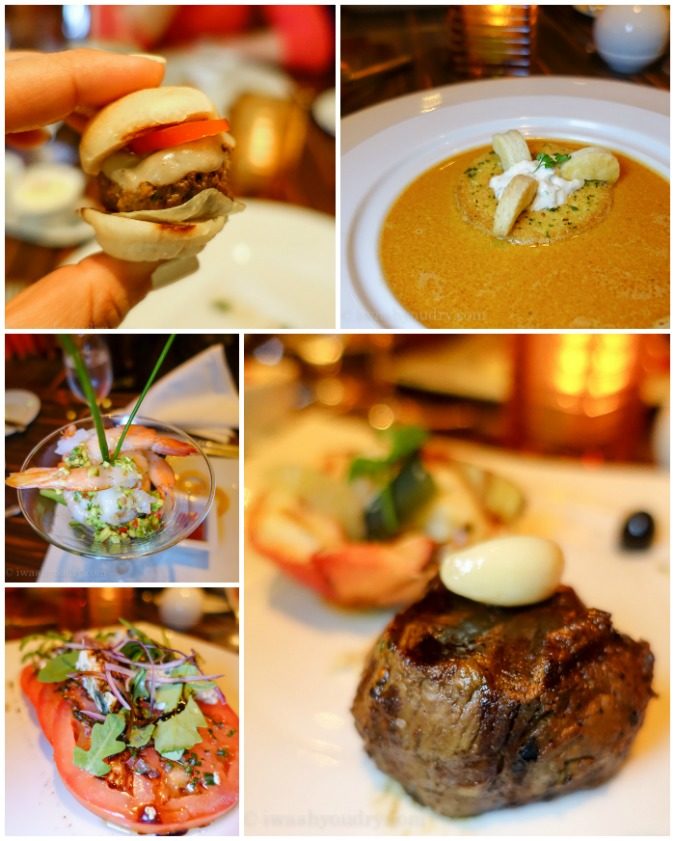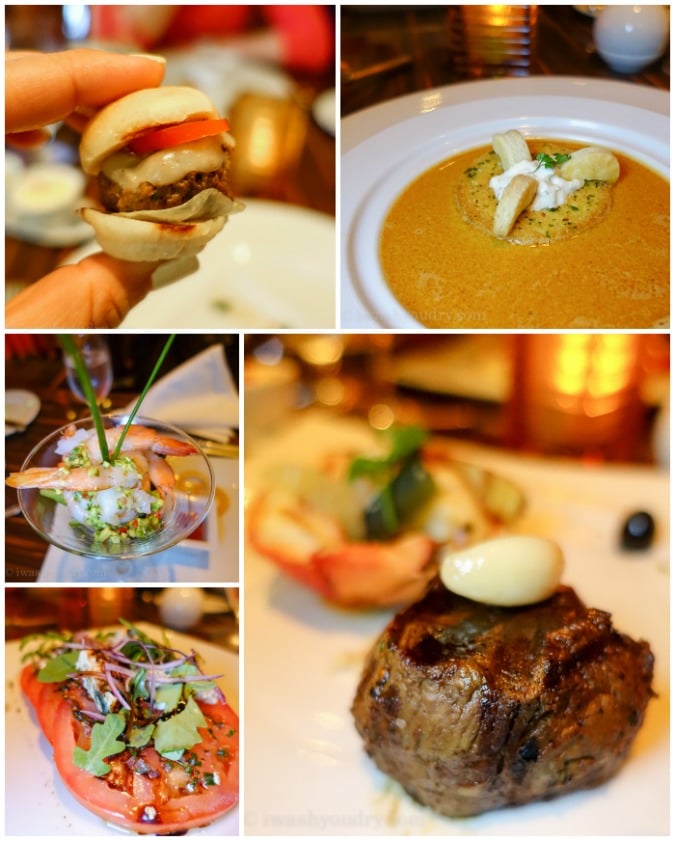 The filet mignon and lobster tail was perfect, and I could not get enough of the Lobster Bisque. My daughter ordered the shrimp cocktail and loved it. The beefy tomato salad was also one of my favorites! It was all just so so good. You'll get your fill and more at this restaurant for just $35 per person. Well worth it for some amazing beef!
Now if you really want the ultimate dining experience, you have to make reservations for The Chef's Table.
For just $75 per person, you'll be taken on a culinary journey. From a behind the scenes tour of the kitchen and galley, to a cooking demonstration and enjoying 9 courses of food so well thought out and executed, you'll forget you're in the middle of the ocean.
This is a small and intimate gathering of only a handful of people at one time. The head chef puts together an amazing menu of gastronomical proportions. Each item on the menu has so much detail. The pairings of every component of food is brilliant. I wanted to lick the plate clean for EVERY COURSE! You need to make reservations for this right when you get on the ship. You don't want to miss it! That tomato soup… I'm still dreaming about it.
And because you're probably thinking the same thing we all did when we were presented with what looks like a raw egg yolk on top of a cracker… it's not an egg yolk. It's a feat of molecular gastronomy and the chef explains exactly how he did it… which is amazing. It's mango juice. Brilliant.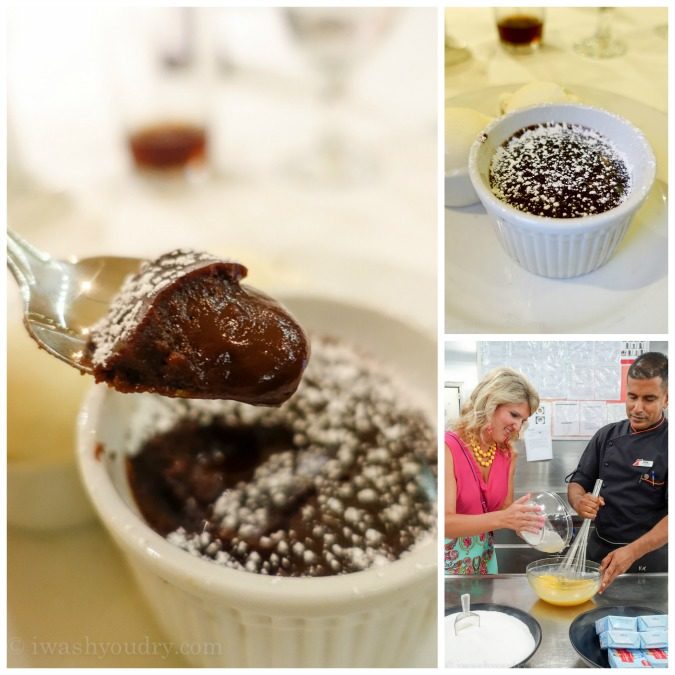 I'm telling you… this Chocolate Melting Cake is incredible! Not only did the Chef show us how to make it, but he also gave us the recipe!
Do you guys want it? Let me know in the comments and I'll get to work making it and taking photos for you!
On the last day we enjoyed a Cat and the Hat Brunch with a very decked out dining room. The kids had a blast, and heck… so did I!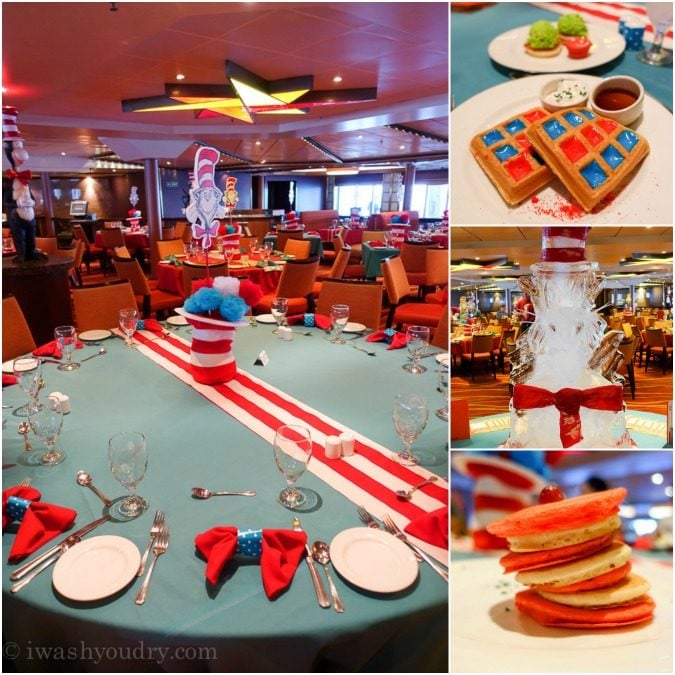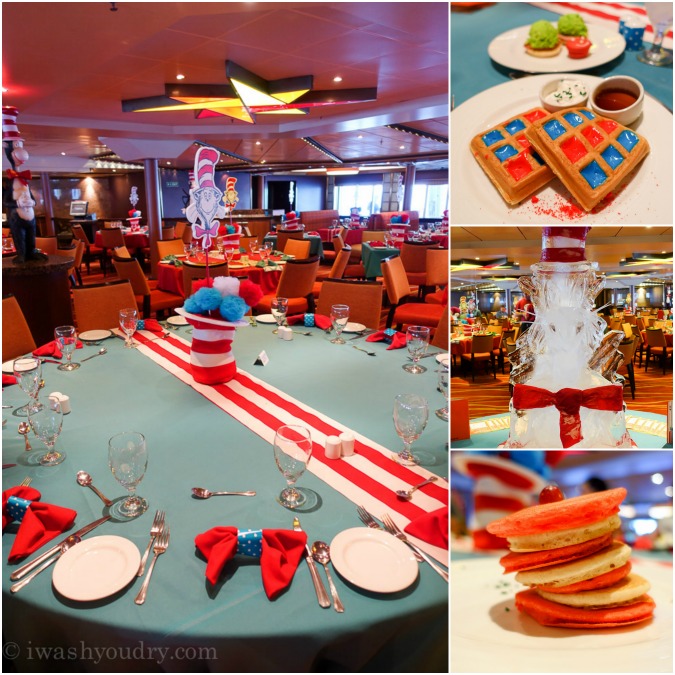 The menu was adorable and food just as cute! There was even a Cat in the Hat ice sculpture! They stop at nothing to give you the ultimate experience.
My daughter and I loved every minute of it.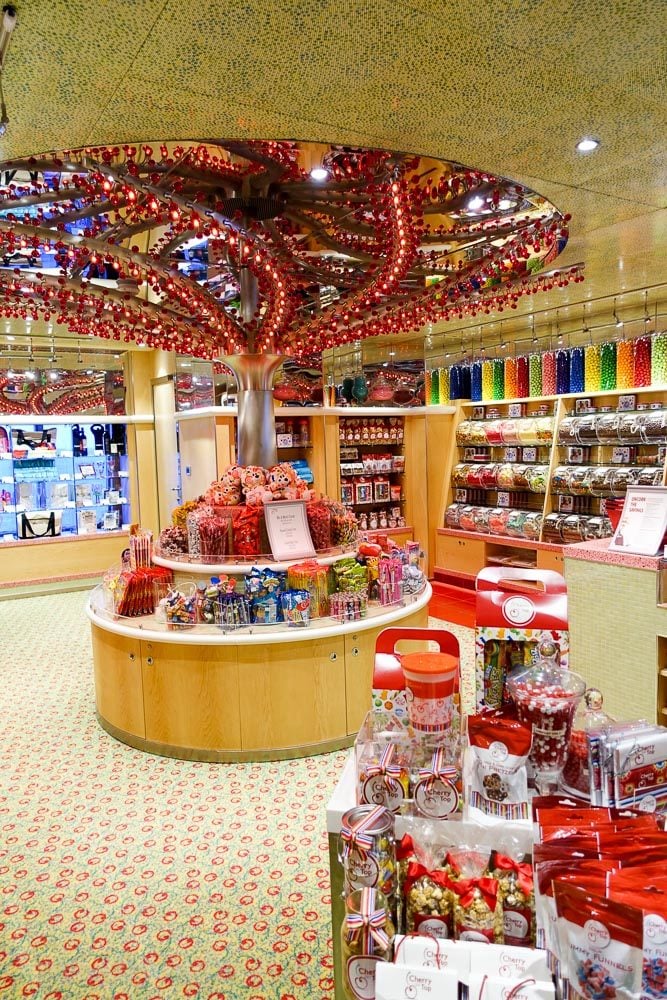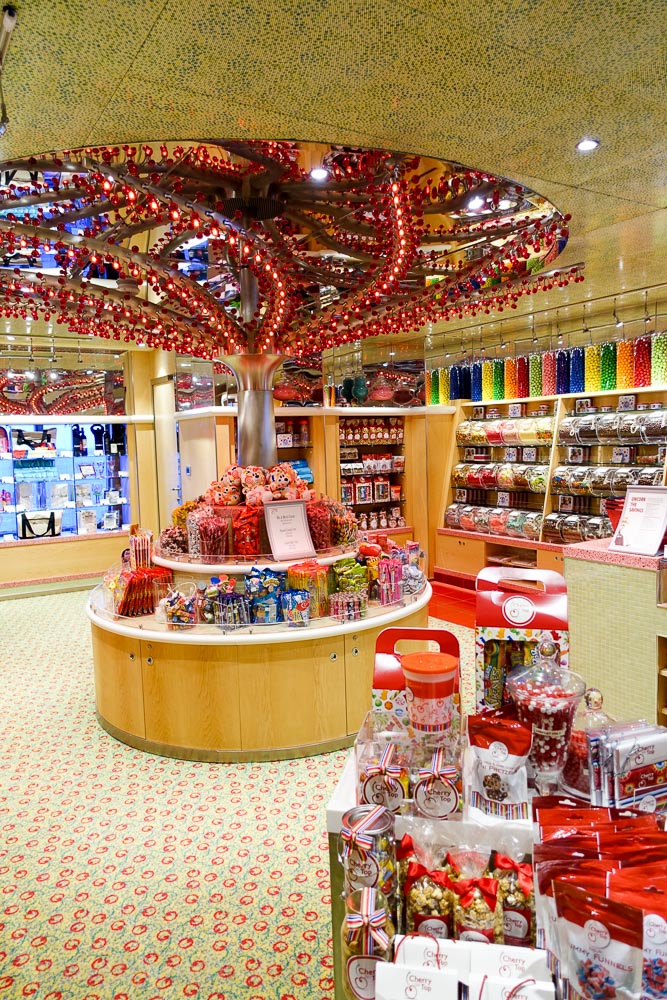 Of course there are tons of places to shop and browse aboard too. My daughter found her happy place at the candy shoppe!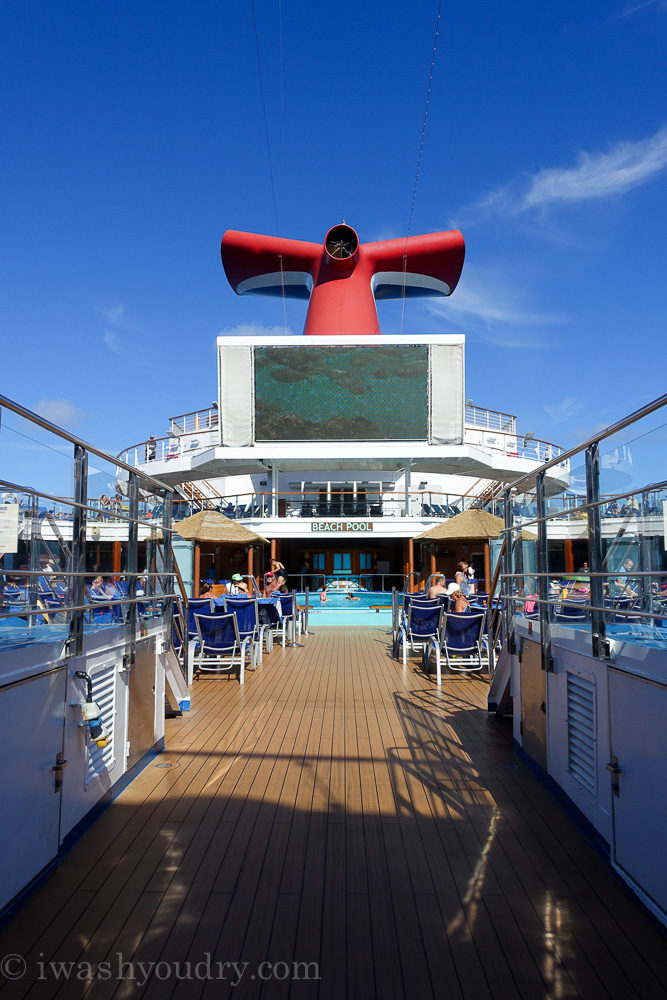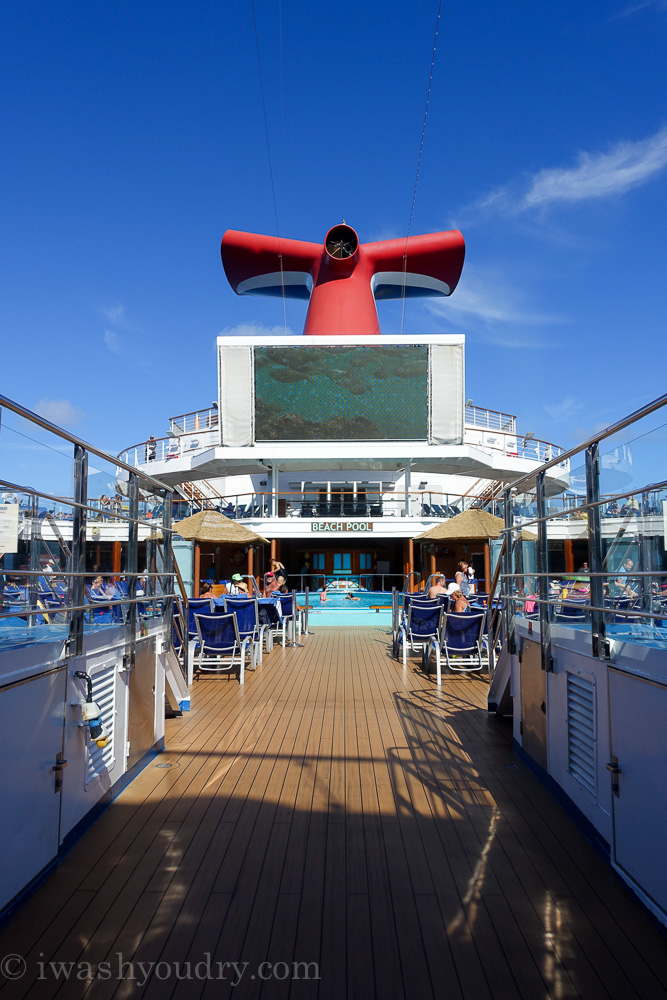 Every night they played two full length feature films on the Lido Deck and served freshly popped popcorn.
You guys… seriously… my daughter was here every night.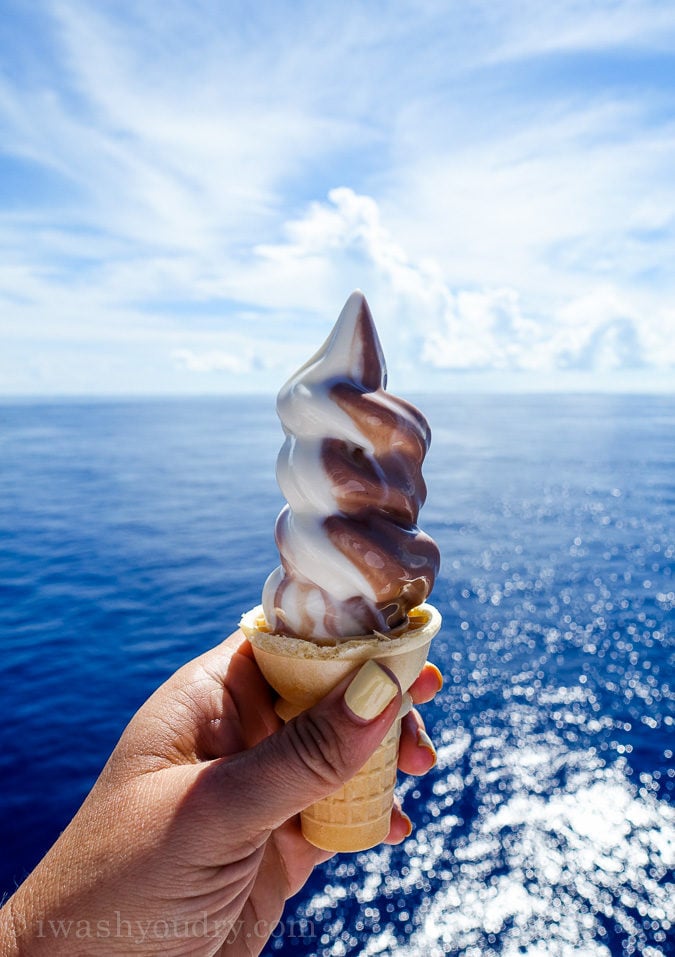 Last but certainly not least… all you can eat ice cream and frozen yogurt. We definitely had our fair share of these refreshing cones.
If you're considering going on a cruise, definitely check out the Carnival Sunshine for the ultimate food experience, fun, sun and relaxation!
Make sure you don't miss a thing! Follow I Wash You Dry here:
FACEBOOK | PINTEREST | GOOGLE+ | TWITTER | INSTAGRAM | BLOGLOVIN