This Spinach Artichoke Dip is cheesy, delicious, super easy to throw together and perfect for any gathering. 
Let me tell you a little bit about the town I'm living in right now…
It's small… really, REALLY small.
You see, I was born in Los Angeles, grew up in Phoenix, and went to college in Houston. Those three cities right there are probably in the top 5 largest cities in the United States.
Now, I'm putzing around a town (village??) of less than 10,000 people.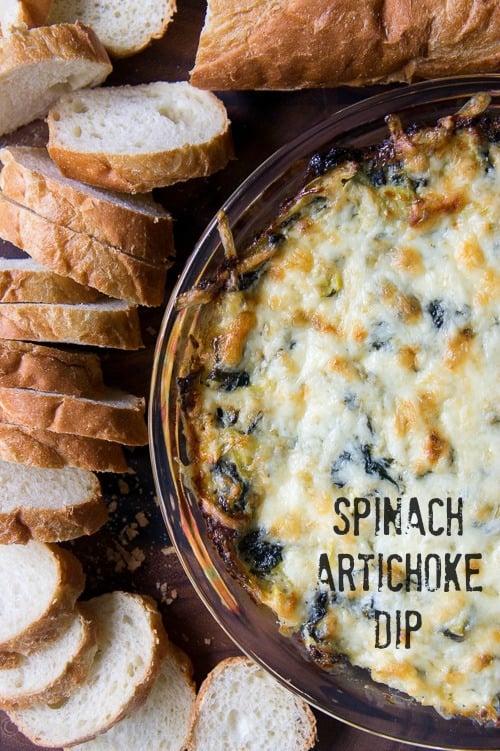 It's perfect if you're in to things like fishing or hiking in the summer, and snow shoveling in the winter… but other than that, it's seriously lacking in the entertainment department.
We've exhausted every restaurant in this tiny town, and I'm fairly certain that 90% of them are only still in business due to the lack of choices. It's depressing at times.
There is no movie theater here. The closest one is about 50 minutes away and it's nothing to get excited over.
We rent movies. A LOT.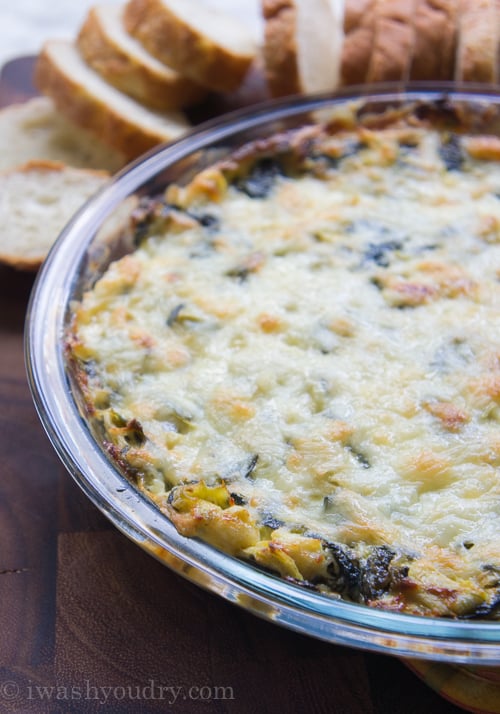 No, we don't have a Red Box here either, we have to pay $6 for a two night rental. And every time I go in there, I swear it smells like mothballs.
The other night we rented this movie called, Mud with Matthew McConaughey based on a suggestion from one of you on my Facebook Page. My husband and I watched it, and after it was over I said to him that it had sort of a "Stand By Me" feel to it.
He looked at me blankly and said, "Haven't seen it."
Whaaaaaatt??!?!?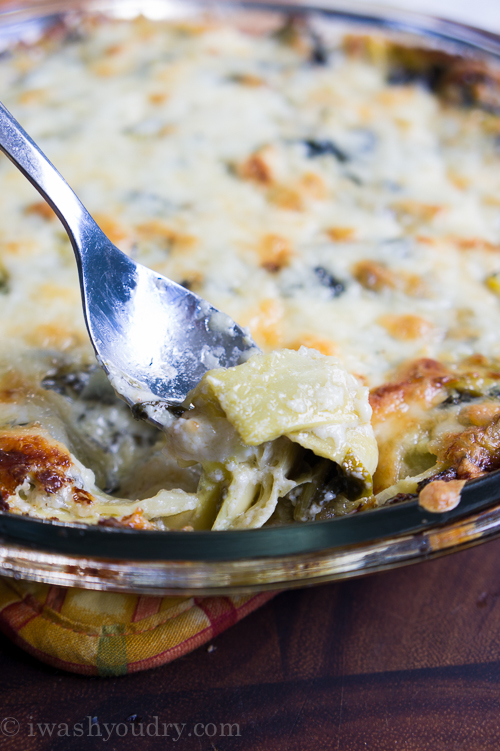 You think you know someone after nearly 10 years of marriage…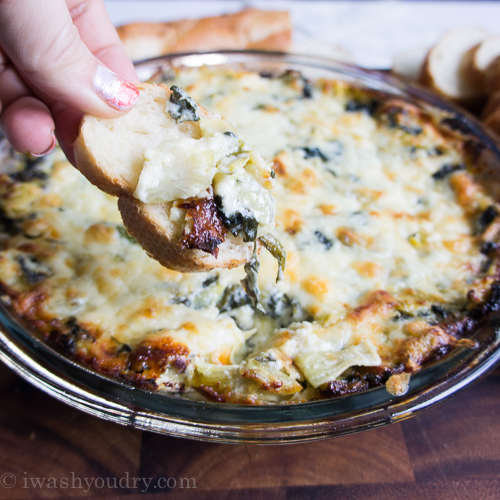 I jokingly said, "Next thing you're going to tell me is that you've never seen Little Shop of Horrors."
"Little Shop of what??"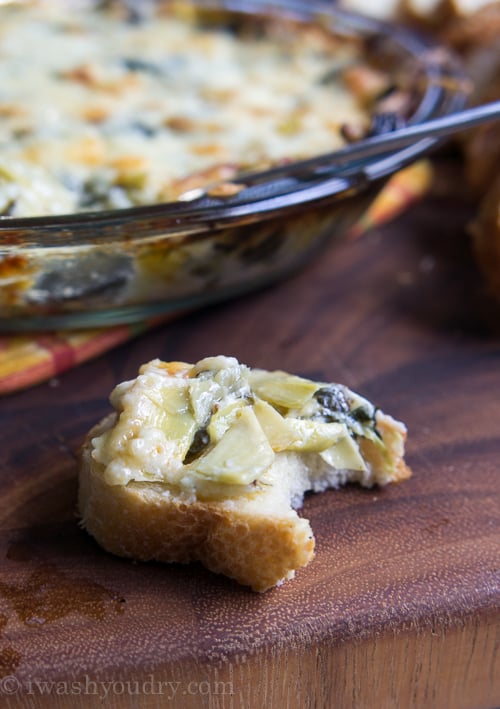 I literally jumped up, threw my arms in the air, and starting yelling at him.
Maybe I was a bit over dramatic, but seriously?! 
Those movies are iconic. I can't believe he forced me to watch movies like Over The Top and Overboard, when we were first married when he hadn't even watched classics like Stand By Me or Little Shop of Horrors. 
I basically had to make this Spinach Artichoke Dip to drown my sorrows.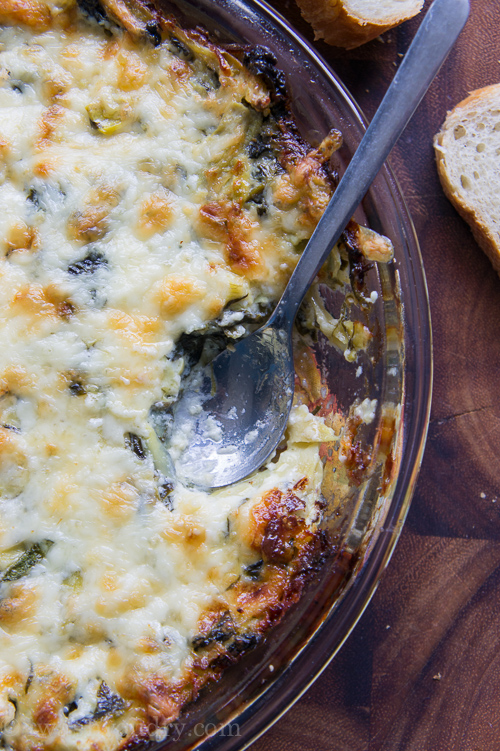 It's cheesy, spinachy,  artichoky, and super easy.
You see those little bits of browned cheese around the edges? That's my favorite part. I seriously love this stuff! It's the perfect crowd-pleasing appetizer, and also a staple at all our family gatherings. You'll love it too.
Make sure you don't miss a thing! Follow I Wash You Dry here:
FACEBOOK | PINTEREST | GOOGLE+ | TWITTER | INSTAGRAM | BLOGLOVIN
Print
Spinach Artichoke Dip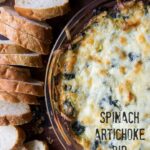 Ingredients
1 cup frozen spinach, thawed and chopped
1 (15 oz) can artichoke hearts (packed in water), drained and chopped
3/4 cup mayonnaise
3/4 cup parmesan cheese
1/2 cup plain greek yogurt
1 1/2 cups mozzarella cheese, divided
1 tsp garlic powder
Slices of crusty bread or crackers for serving
Instructions
Preheat oven to 425 degrees F.
Combine the spinach, artichoke hearts, mayo, parmesan cheese, plain greek yogurt, 1 cup of mozzarella, and garlic powder in a large bowl, mix until evenly combined. Pour into a 9″ pie pan or small oven safe dish. Top with remaining mozzarella cheese. Bake for 20-25 minutes or until bubbly in center and cheese is slightly browned.
Serve hot with slices of crusty bread or crackers. Enjoy!