This quick and easy Smoky Pork Tenderloin Recipe is seared on the stove top, then finished cooking in the oven. Serve with a cool and refreshing Mango Salsa and my Cilantro Lime Rice to really compliment the smoky flavors of pork.
Follow my simple and straight-forward steps to create a juicy, flavorful and mouth-watering slice of pork.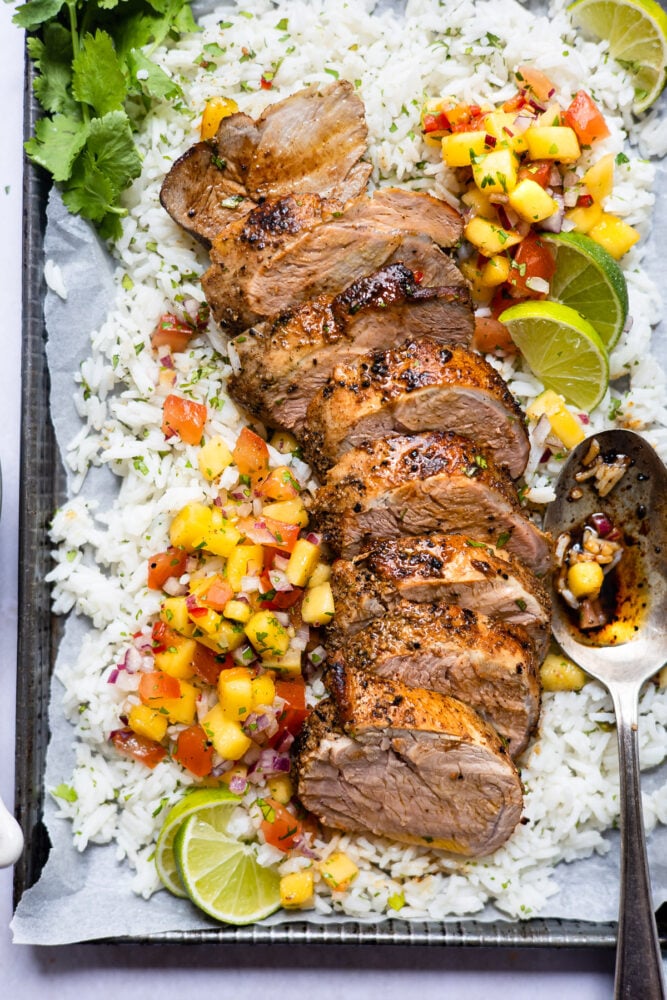 Cooking a pork tenderloin can seem intimidating, but it's actually super easy and when cooked properly is very tender, juicy and flavorful!
Smoky Pork Tenderloin Recipe
I've been making pork tenderloin like this for nearly 10 years now and I haven't looked back. It's a simple four-step cooking method that works with just about any cut of meat.
Ingredients Needed for Seared Pork Tenderloin
Here's the basic list of ingredients you'll need in order to make this simple pork tenderloin recipe. As always, you can find the full list of ingredients in the printable recipe card below.
Pork Tenderloin – this is a long, thin cut of pork, not to be confused with a pork loin
Garlic Powder
Cumin
Smoked Paprika – you can swap with sweet paprika but it will change the flavor
Salt and Pepper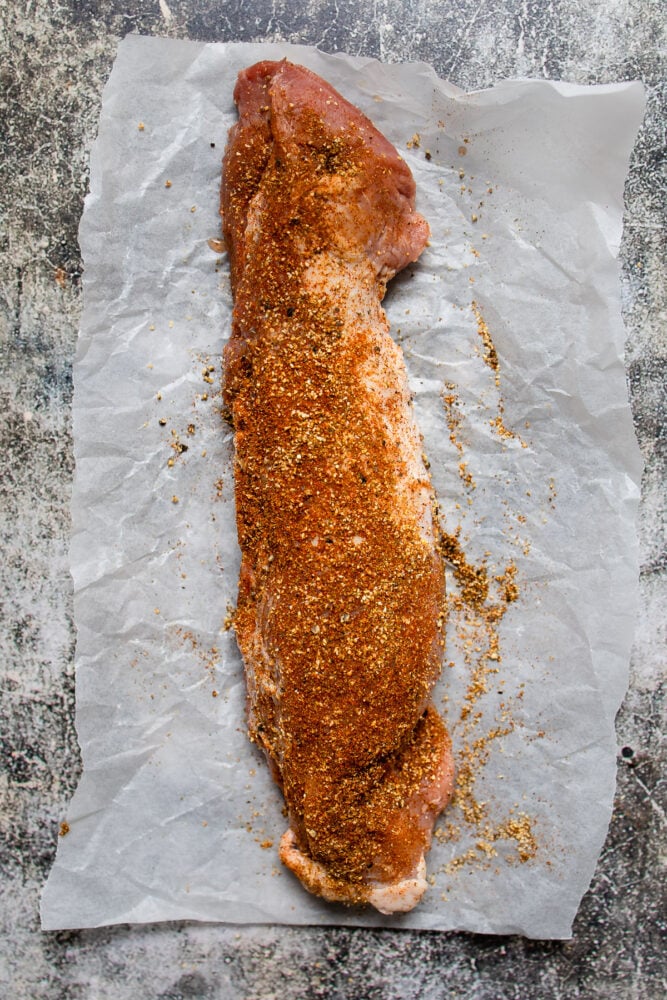 How To Cook Pork Tenderloin
When it comes to cooking a pork tenderloin there are 4 simple steps to remember…
SEASON   –   rub it down with the seasonings (this blend is smoky and so flavorful).
SEAR    –     Heat oil in an oven safe skillet until it's nice and hot and then sear the pork on all sides to form a nice crust
BAKE    –    Finish cooking the pork in the oven until it reaches an internal temperature of 145 degrees F.
REST    –     Pull out the pork and let it rest for at least 5 to 10 minutes to allow the juices inside the pork to redistribute, before slicing.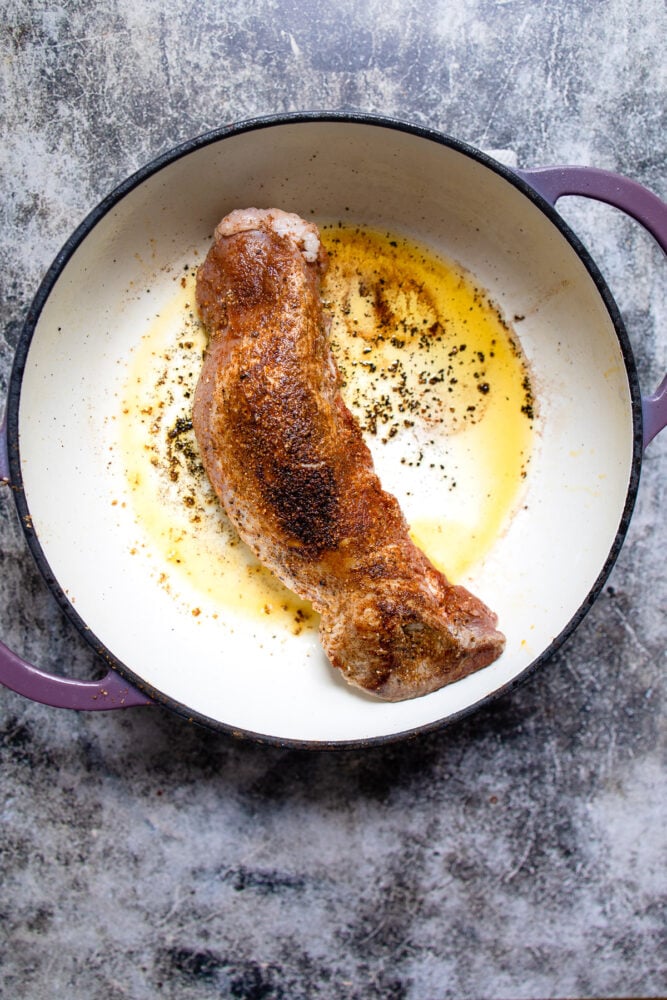 What Temperature Should Pork Tenderloin Be Cooked To?
Just like all pork, the safe temperature to cook to is an internal temperature of 145 degrees F.
This is my favorite tool for quickly checking the internal temperature of meats.
Why Is My Pork Still Pink?
Pork can still be slightly pink in the center and safe to eat as long as it's reached the proper temperature. Don't be alarmed if you see some pink!
If you overcook pork it can become tough and chewy, and just miserable to eat.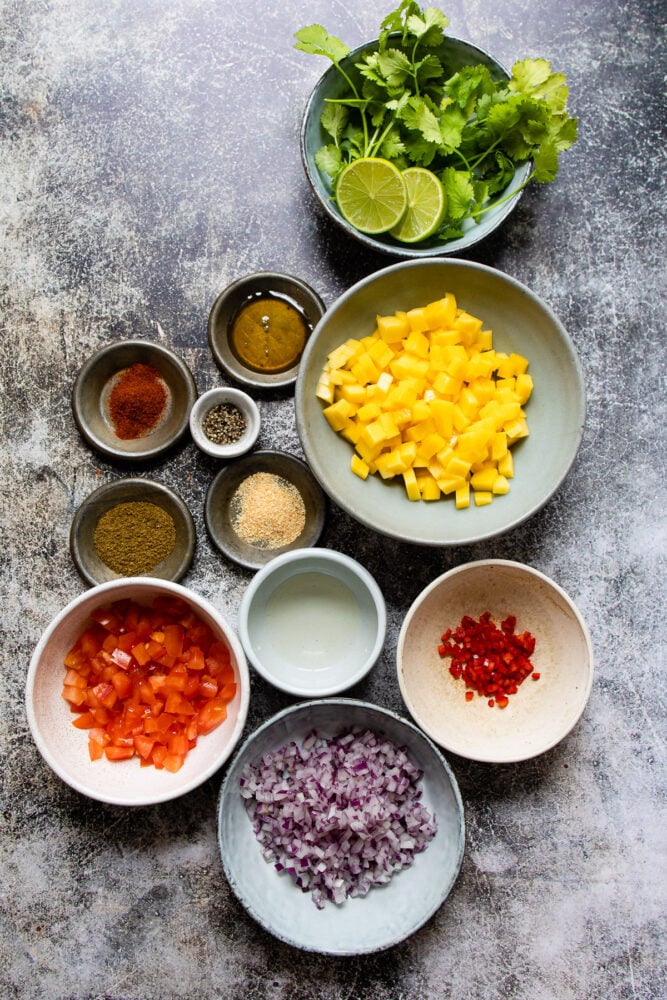 Simple Mango Salsa Recipe
There is nothing better than topping a smoky meat with a sweet and tangy fruit salsa. My kids are BIG time fans of mango, so preparing a quick Mango Salsa to accompany my smoky pork was a no-brainer.
Ingredients For Mango Salsa
Here's what you'll need to make this quick Mango Salsa…
Mango
Purple Onion
Serrano Pepper – or jalapeno pepper
Tomato
Cilantro
Lime Juice
Honey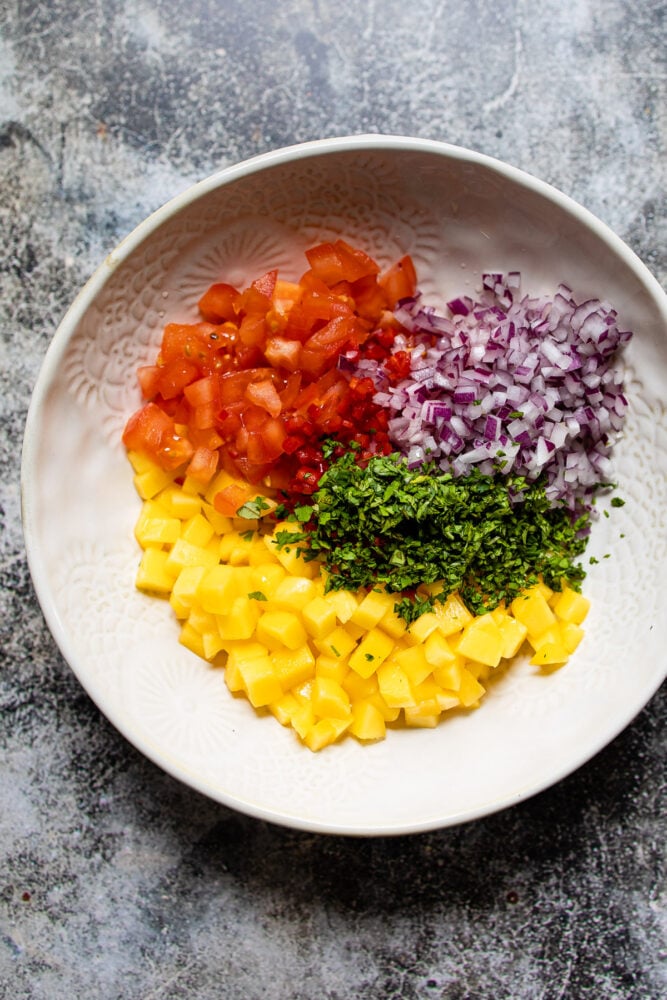 How Long To Bake Pork Tenderloin
Since we are searing the pork tenderloin on the stove top first, you should only need to bake the pork tenderloin for an additional 10 to 15 minutes at 350 degrees F., depending on how large your pork tenderloin is.
I love using my enameled cast iron pan for this because I can seamlessly transfer the pan from the stove top to the oven.
If you do not have an oven-safe skillet, after searing your pork, transfer it to an oven safe dish to complete cooking.
Difference Between Pork Loin and Pork Tenderloin?
While they sound very similar, these two cuts of pork are actually quite different.
These two cuts of pork come from different parts of the pig. The pork loin is a fatter, wide cut, while the pork tenderloin is a long, thin cut of pork.
Pork loin is best for slow-cooking and roasts, while pork tenderloin is a quick-cooking cut and best when cooked at higher temps.
Can I Swap Pork Loin for Pork Tenderloin?
No, these two types of pork are not very interchangeable due to the nature of the cut and how they are cooked.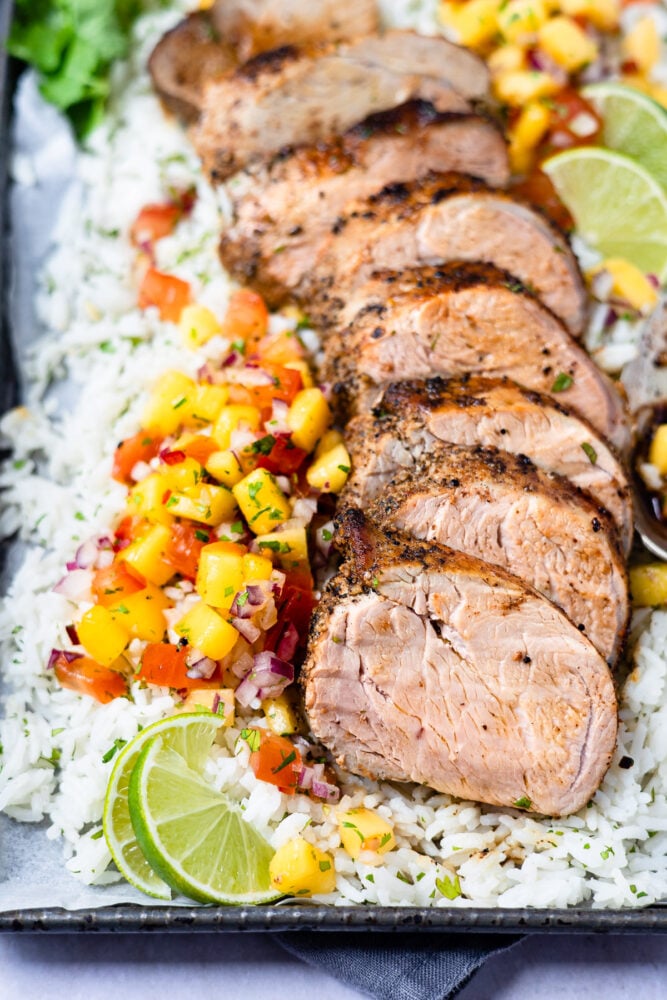 What To Serve With Pork Tenderloin
I'm pairing this smoky pork tenderloin with my sweet Mango Salsa and Cilantro Lime Rice for a flavorful and quick meal. Here are some more great side dishes to try…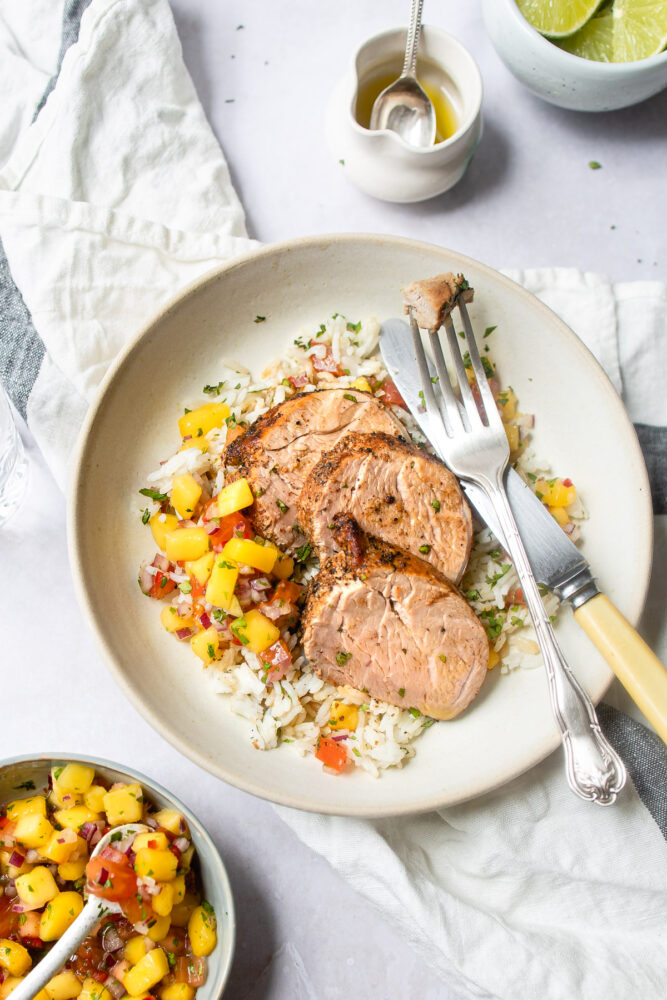 More Pork Tenderloin Recipes To Try
I really love cooking pork tenderloin and I think you'll enjoy it too. Here are some more tasty recipes using pork tenderloin to try out…
Smoky Pork Tenderloin with Mango Salsa
This whole dish will take you less than 35 minutes. From start to finish.
Ingredients
1

lb

pork tenderloin

1/2

tsp

salt

1/2

tsp

freshly ground pepper

1/2

tsp

garlic powder

1/2

tsp

smoked paprika

1/2

tsp

cumin

1

tbsp

olive oil
For The Mango Salsa
Instructions
Preheat oven to 350 degrees.

Combine 1/2 tsp salt with the pepper, garlic powder, smoked paprika, and cumin. Rub the seasonings evenly all over the pork tenderloin. Heat an oven-safe skillet over medium-high heat and add in 1 tbsp of olive oil.

Once skillet is hot add the pork tenderloin and sear on each side for 3-4 minutes, making sure all sides are browned.

Place the skillet into the oven (or if you're using a non oven safe skillet, transfer to a baking dish) and cook for an additional 10 minutes. Or until the internal temperature of the pork reaches 145 degrees.
For The Mango Salsa
Combine the mango, onion, serrano pepper, tomato, cilantro, lime juice, salt and honey in a large bowl. Stir until all flavors and ingredients are combined.

Remove pork tenderloin from the oven and let sit for 10 minutes before cutting into. Cut into 1/2 in thick slices and enjoy with the mango salsa on top.
Nutrition
Calories:
219
kcal
|
Carbohydrates:
4
g
|
Protein:
32
g
|
Fat:
8
g
|
Saturated Fat:
2
g
|
Polyunsaturated Fat:
1
g
|
Monounsaturated Fat:
4
g
|
Trans Fat:
1
g
|
Cholesterol:
98
mg
|
Sodium:
372
mg
|
Potassium:
687
mg
|
Fiber:
1
g
|
Sugar:
2
g
|
Vitamin A:
323
IU
|
Vitamin C:
8
mg
|
Calcium:
21
mg
|
Iron:
2
mg
Keywords:
mango, onion, pork tenderloin