Hold onto your hats for this ONE SKILLET Cheesy Chicken Nacho Supreme. It's another one skillet dinner recipe that will bring a smile to your face!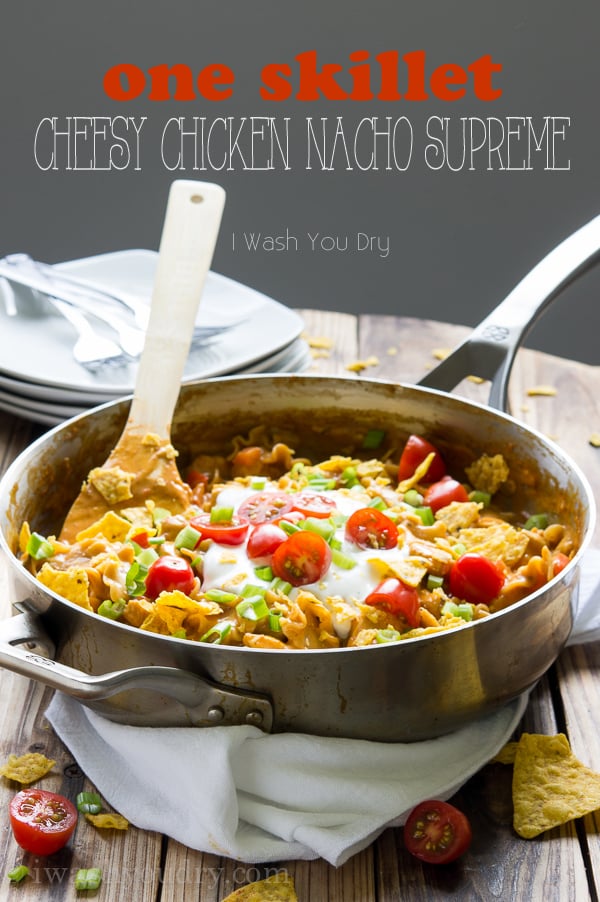 It's summer! Woot woot!
Time for the bah – zillion commitments of soccer, gymnastics, science camp, swim lessons, park play dates, bottle collecting, yada yada yada to overly consume your days. Then 5 o'clock rolls around and everyone stares at you like, "Yo lady! Make us an awesome dinner, stat!"
You reach into your cabinet and pull out your trusty skillet. Because you know what time it is… it's time for a VELVEETA Cheesy Skillets dinner. Toss in some extra veg, a drizzle of Liquid Gold, a sprinkle of crunchy chips and in less than 20 minutes you're once again queen of the castle.
… that happens to everyone right?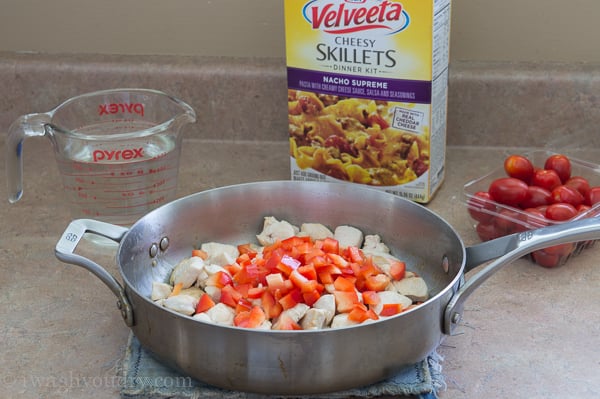 Last year I did a whole series on how to spruce up your mac and cheese, with things like taco toppings, french onion soup, a little cajun spice never hurt, everything's better with bacon, oh and don't forget about the buffalo!
So when VELVEETA asked me to jazz up one of their Cheesy Skillets to remind you guys what that skillet in your cabinet is for, how could I say no?! They're serious about this skillet business guys. They noticed that on all those online auction sites there were THOUSANDS of skillets for sale. So they did the logical thing and bought over 1,000 of them and sent them straight back to their owners with a couple boxes of VELVEETA Cheesy Skillets to remind them just how useful that skillet really is.
Honest! I even saw someone on their Facebook Page thank them for sending their skillet and a VELVEETA Cheesy Skillets Dinner Kit back to them! Crazy right!?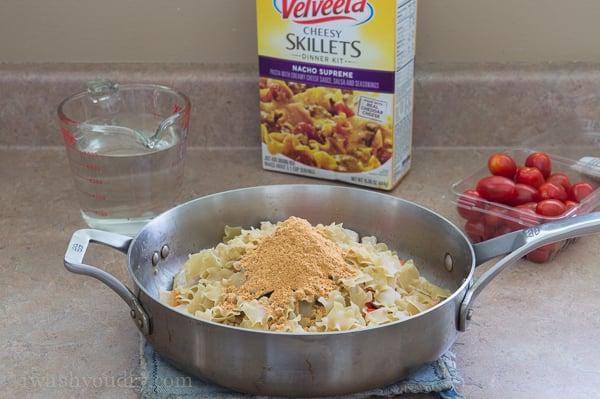 The Liquid Gold brand even made a website called What My Skillet Is For, because they knew once people realized that their skillets are for making VELVEETA Cheesy Skillets, they'd be happy to have their skillets back.
They sent me 4 kinds of VELVEETA Cheesy Skilletss to choose from, and although it was difficult to choose just one to share, the Nacho Supreme was practically calling my name. We have a long standing tradition in our house that every Sunday after Church we build ourselves a big family size plate of nachos and dig in.
Together.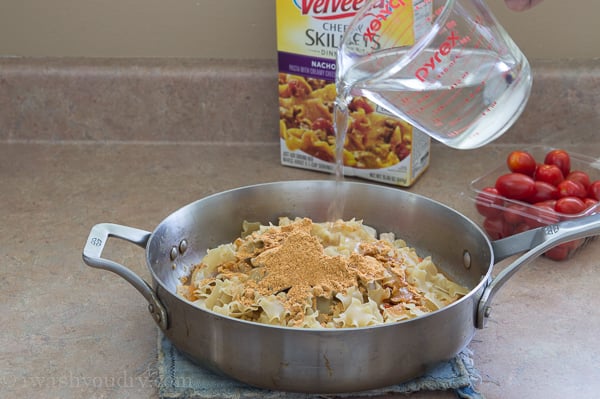 I loved the idea of taking nachos and making it into a quick, weeknight dinner!
The recipe on the box calls for beef, but I used chicken instead. I also plumped it up with some diced red bell peppers before letting the noodles get cooked.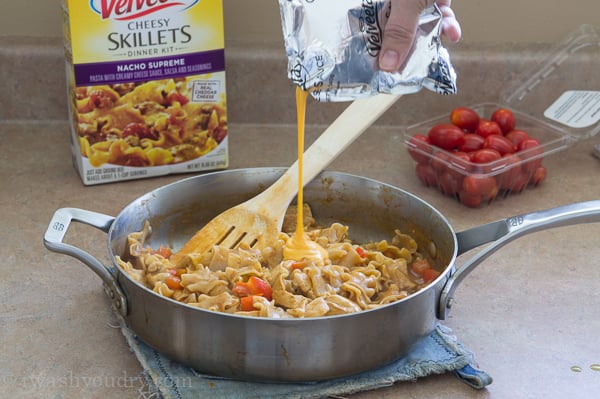 Once the noodles were done, I added the VELVEETA Liquid Gold. YES!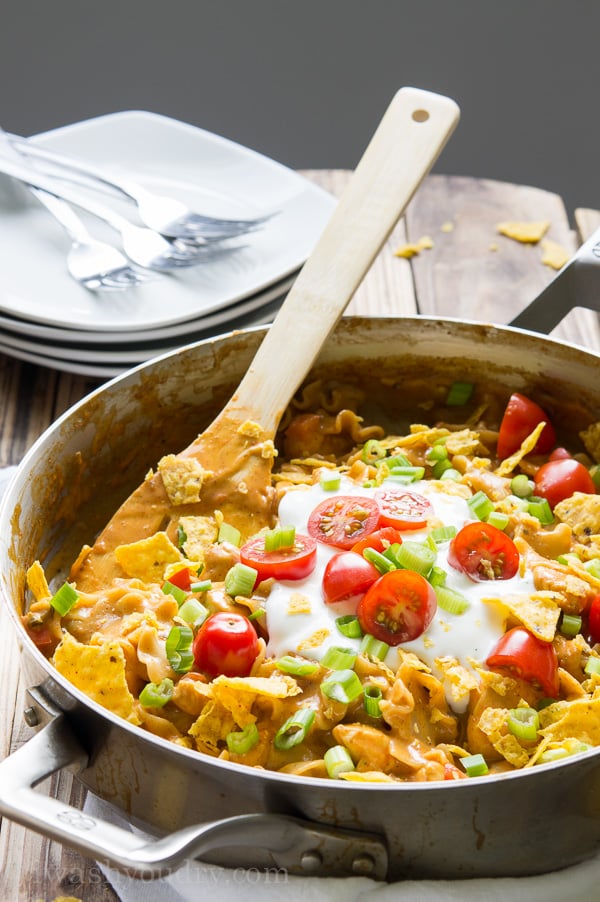 I added all the classic nacho toppings that would make any nacho lover weak in the knees – sour cream, tomatoes, green onions, and some crushed corn chips for the perfect crunch! #whatmyskilletisfor #booyah!
This 20 minute, one skillet dinner recipe was rich and creamy with the perfect amount of cheese and spice. My whole family gobbled this up!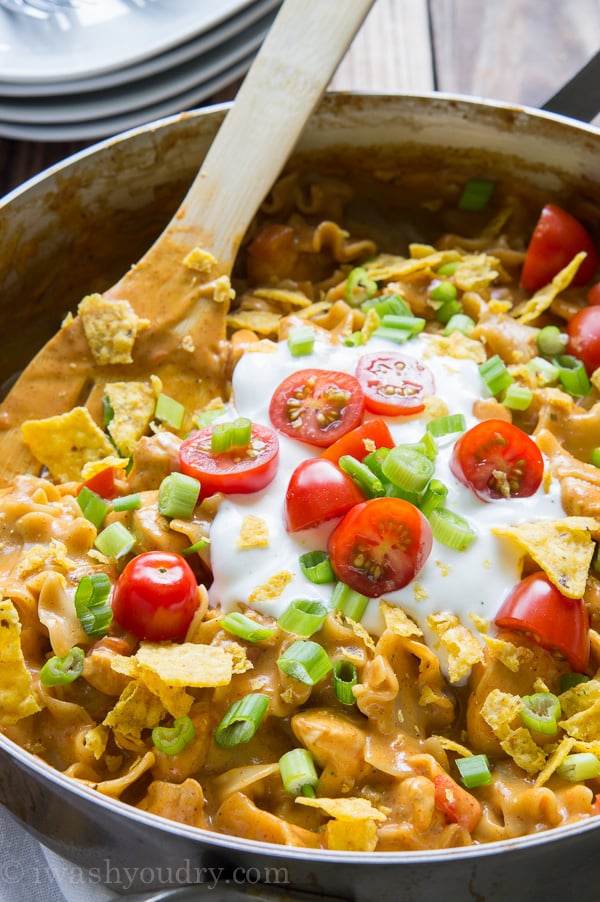 What are you waiting for!? Go grab your skillet, and smite the busy-summer-mykidsaredrivingmecrazyandnowtheywantdinner dragon!
Make sure you don't miss a thing! Follow I Wash You Dry here:
FACEBOOK | PINTEREST | GOOGLE+ | TWITTER | INSTAGRAM | BLOGLOVIN
One Skillet Cheesy Chicken Nacho Supreme
One Skillet Cheesy Chicken Nacho Supreme is an all in one dinner full of bold flavors!
Ingredients
1

box VELVEETA Cheesy Skillets "Nacho Supreme"

1

lb.

chicken breast

,

cut into bite sized pieces

1/2

cup

diced red bell peppers

2

cups

water

1/2

cup

sour cream

1

cup

diced tomatoes

1/4

cup

diced green onions

crushed corn tortilla chips

,

optional
Instructions
Heat your skillet over medium heat, then brown your chicken until cooked through, about 4 to 5 minutes. Toss in the red bell peppers, noodles and seasoning packet from the box, and 2 cups of water. Give it a good stir and bring to a gentle boil. Reduce heat to a simmer, cover, and stir occasionally until noodles are tender (about 9 to 11 minutes).

Drizzle in the Liquid Gold and salsa packet from the box and stir to combine. Top with the skillet dinner with the sour cream, diced tomatoes, green onions and crushed tortilla chips. Serve immediately and enjoy!
Nutrition
Calories:
308
kcal
|
Carbohydrates:
26.7
g
|
Protein:
31.6
g
|
Fat:
7.7
g
|
Cholesterol:
93.1
mg
|
Sodium:
736.2
mg
|
Sugar:
3.5
g
|
Vitamin A:
7
IU
|
Vitamin C:
37
mg
Keywords:
Cheesy, Chicken, nacho, One skillet, Pasta
Disclaimer: I have been selected by Kraft Foods to be a spokesperson for VELVEETA Cheesy Skillets. While I have been compensated for my time, my opinions are my own. Find out more about what they're up to on their Facebook Page or follow them on Twitter.