Your backyard bbq just got a little more exciting with these Avocado Chicken Kabobs!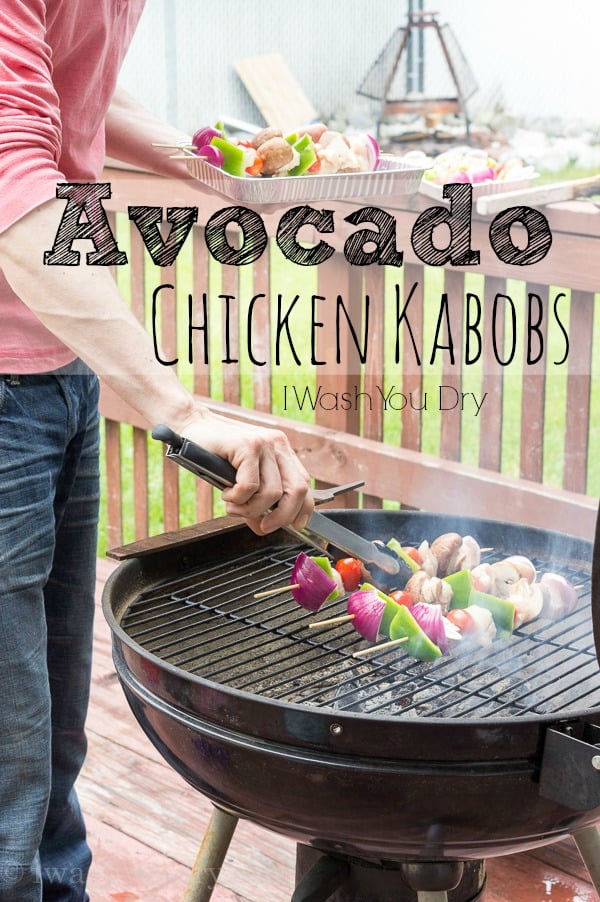 Can I just say that being a food blogger is an awesome thing. You get to try so many new and exciting products. Some are good, some not so good, and then there are those products that stand out above the rest. And the coolest thing about all of that, is that I get to tell you all about them!
Well, a few weeks ago I received an email from one enthusiastic dude, who was raving about his salad dressing. I do love salad dressing… but the name is what really peaked my interest – Alpine Avocado Vinaigrette.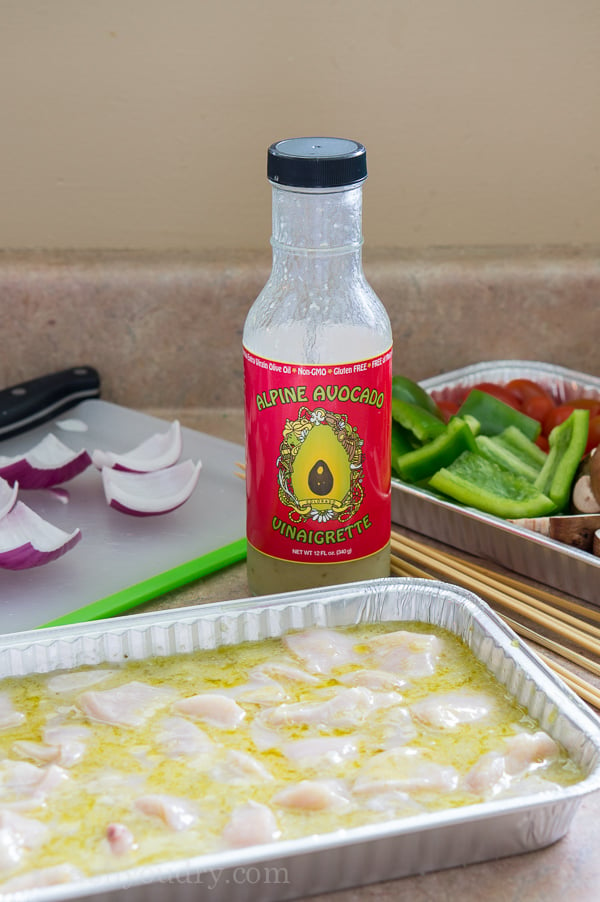 Hold the phone!
Avocado… Vinaigrette?!?!
Yes. Yes. and YES!
He sent me over a bottle to try with a fair warning, "you'll want to have it on everything."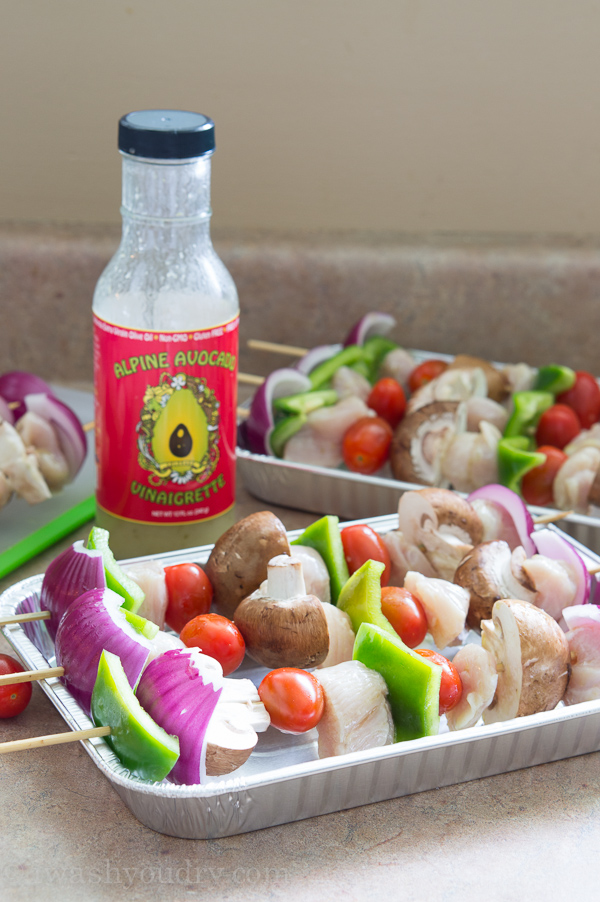 Oh boy was he right.
If you're a fan of the creamy texture of a California Avocado, but love the zip from a good vinaigrette, then you're seriously in need of this dressing.
Here's what sealed the deal for me – they only use California Avocados and 100% California Extra Virgin Olive Oil. It's also gluten free, dairy free, and contains no GMO's.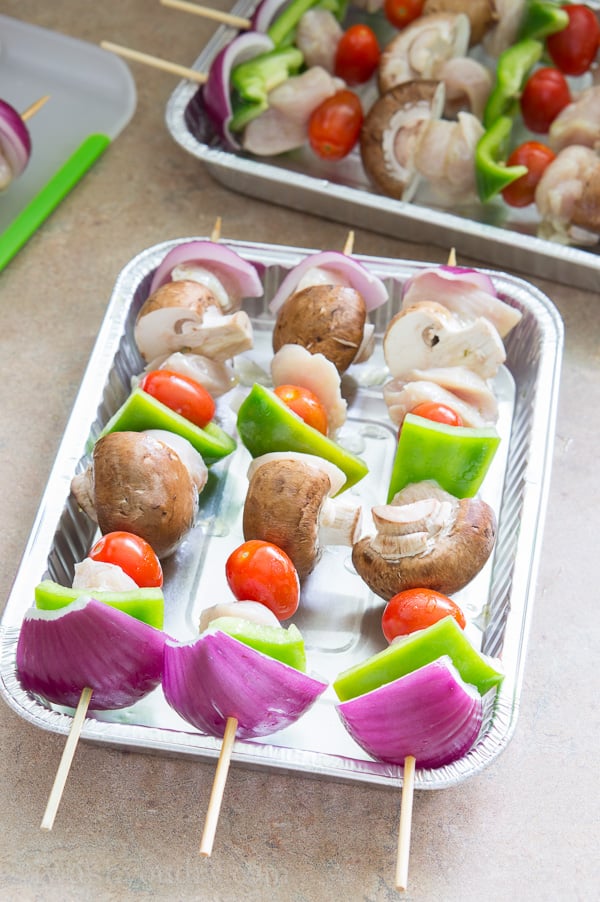 When I was making these Avocado Chicken Kabobs my husband was home from work. I asked him to crank up the grill, and him being "the grill master", happily obliged.
Then, bless his heart, he asked if I wanted to take pictures of him putting the kabobs on the grill. 🙂
Of course! He's a handsome grill model if I do say so myself.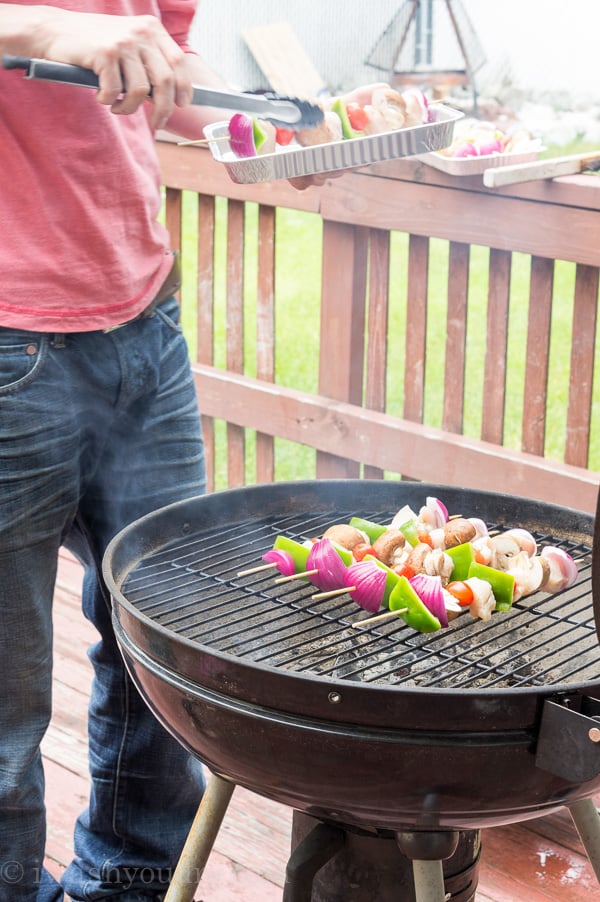 I marinated the chicken pieces in the Alpine Avocado Vinaigrette for 30 minutes (but the longer the better, so if you want to marinate overnight – go for it!)
Then I skewered them on a stick with some green bell peppers, purple onions, cremini mushrooms, and grape tomatoes. I love the taste of grilled tomatoes, and they pair perfectly with the robust chicken.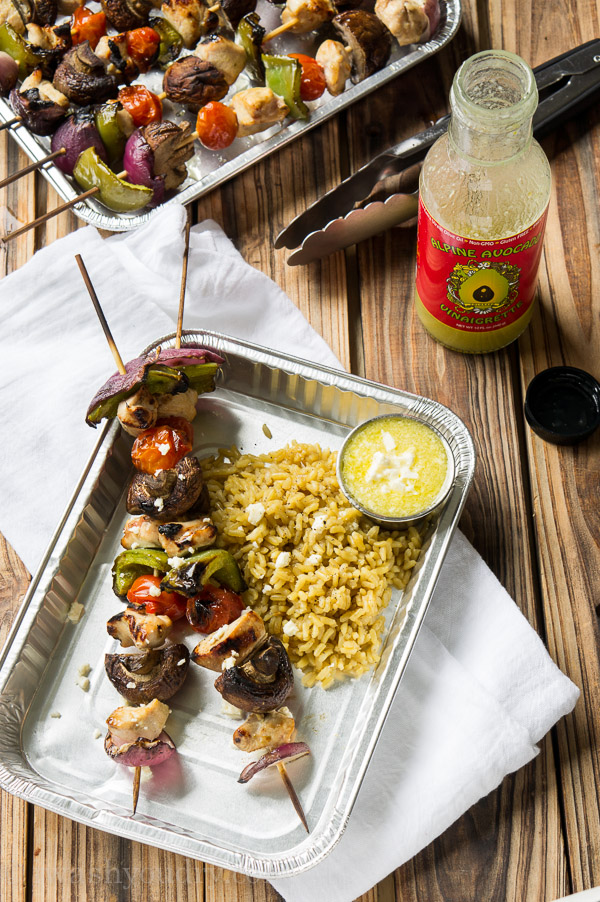 Once the chicken was done grilling I sprinkled it with just a little feta and served it with a side of the Avocado Vinaigrette, cause you seriously want to dip everything in it! I also added more crumbled feta to the dressing, which was a wonderful combination.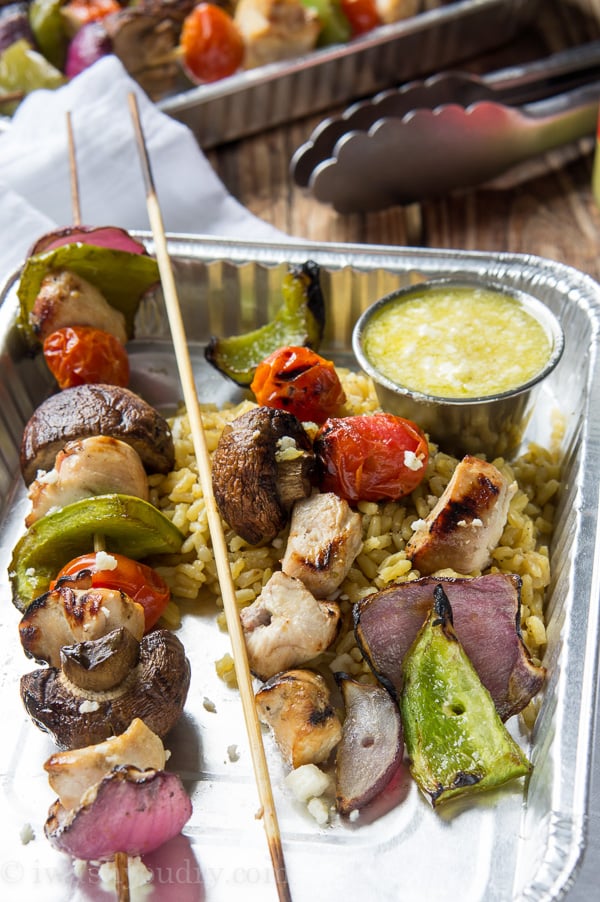 You really need to try these easy and delicious Avocado Chicken Kabobs.
But first go and grab a bottle of Alpine Avocado Vinaigrette! They sell at Whole Foods (Rocky Mountain Region and select southern California stores), AJ's Fine Foods, Natural Grocer's and Bristol Farms. BUT they also sell online with FREEEEE shipping! Plus, because I love you, if you use the code: iWashYouDry at checkout, you'll get a FREEEEE bottle with your order!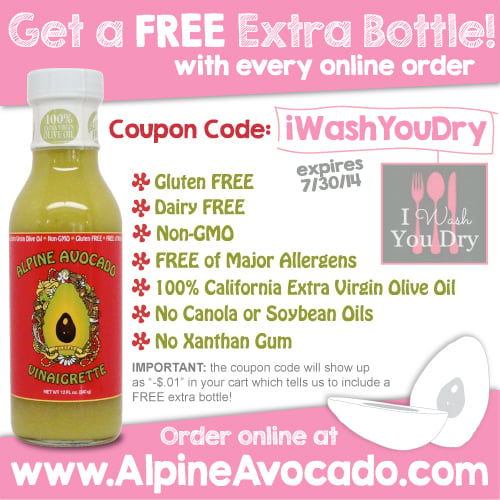 You're going to LOVE this stuff!
Oh yeah, here's the Kabob recipe too! 🙂
Make sure you don't miss a thing! Follow I Wash You Dry here:
FACEBOOK | PINTEREST | GOOGLE+ | TWITTER | INSTAGRAM | BLOGLOVIN
Avocado Chicken Kabobs
Your backyard BBQ just got a little more exciting with these Avocado Chicken Kabobs!
Ingredients
2

boneless

,

skinless, chicken breasts, cut into 1 inch cubes

3/4

cup

Alpine Avocado Vinaigrette

1

green bell pepper

,

chopped into 16 larger pieces

1/2

of a purple onion

,

quartered

8

large cremini mushrooms

,

halved

16

grape tomatoes

1/4

cup

feta cheese

,

crumbled
Instructions
If using wooden skewers make sure to soak them in water for at least 20 minutes.

Combine the Avocado Vinaigrette with the cubed chicken in a zip close bag and let marinate for at least 30 minutes. The longer you can marinate the better, so plan ahead.

Heat the grill to medium heat, and brush grates with olive oil to prevent sticking.

Skewer on the veggies and chicken in a rotating pattern, then grill for 5 to 6 minutes, turning halfway, until chicken is fully cooked.

Sprinkle the kabobs with the crumbled feta and serve with additional Avocado Vinaigrette on the side for dipping. Enjoy!
Nutrition
Calories:
179
kcal
|
Carbohydrates:
4.9
g
|
Protein:
9.7
g
|
Fat:
13.8
g
|
Cholesterol:
30
mg
|
Sodium:
63.2
mg
|
Sugar:
3
g
|
Vitamin A:
2
IU
|
Vitamin C:
35
mg
Keywords:
avocado, Chicken, kabobs, mushrooms, onions, tomatoes
Disclaimer: Alpine Avocado Vinaigrette compensated me for my time, however all thoughts and opinions stated here are (and always will be) my own. Thank you for helping to support brands that make I Wash You Dry possible.