I'm head over heels in love with this super easy Honey Butter Crêpes Recipe.
A restaurant down the street from where I live called 'The Crêpery' makes a version of these called "The Sweet Bee". You guys… I'm so obsessed.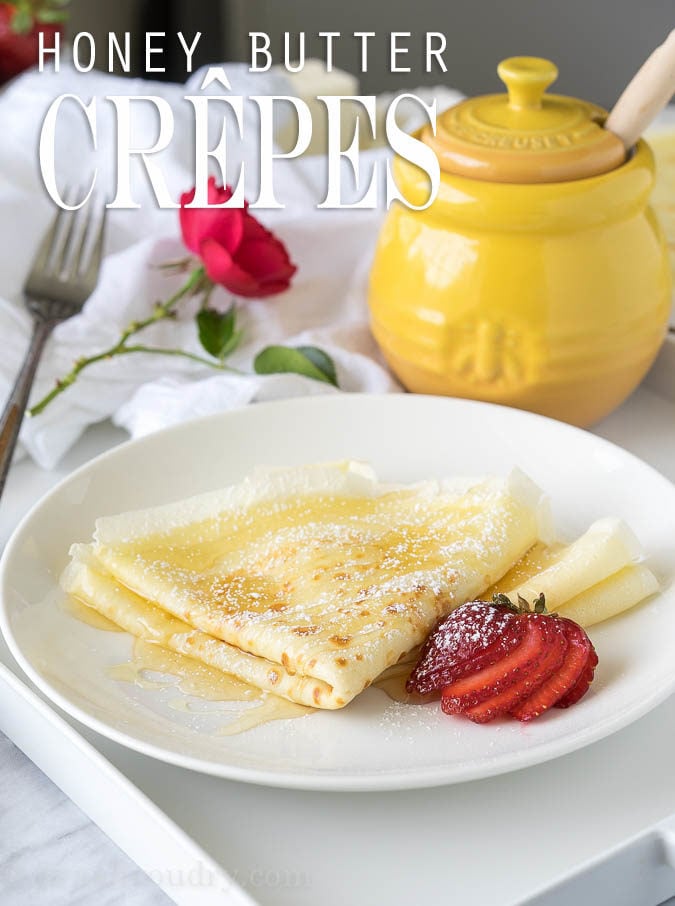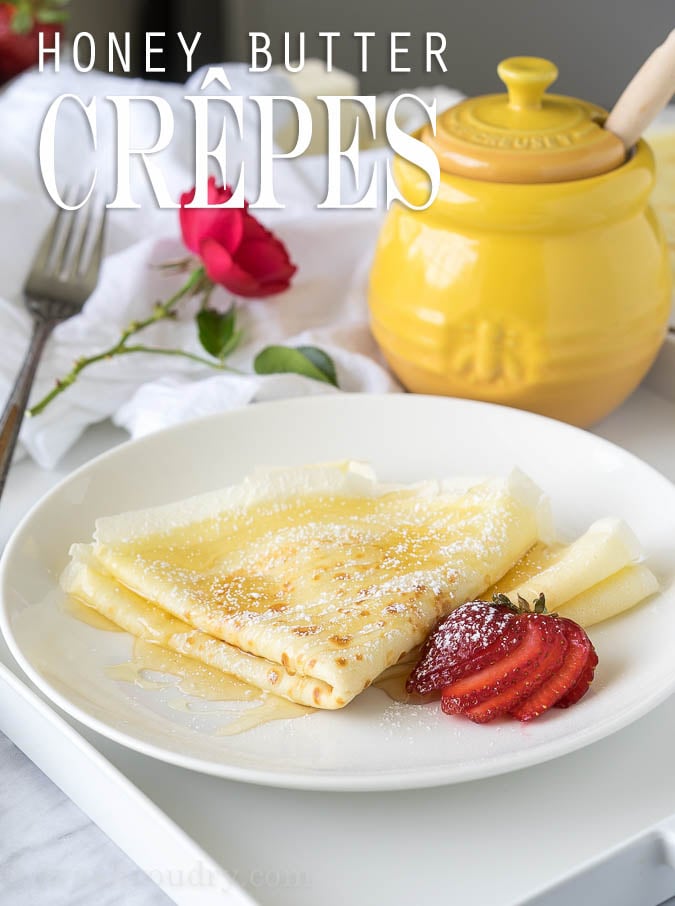 So obsessed that I had to make my own version. Because I'm sure my bank would break if I kept buying one crepe for $4 a pop.
I can make 12 of these crepes for less than that amount and store leftovers in the fridge to enjoy all week long!
What Are Crepes?
So what are crêpes? Glad you asked!
Crêpes are a very thin pancake that can either be served sweet or savory style. The batter itself is not very sweet, only calling for 1 tbsp of sugar for the whole batch.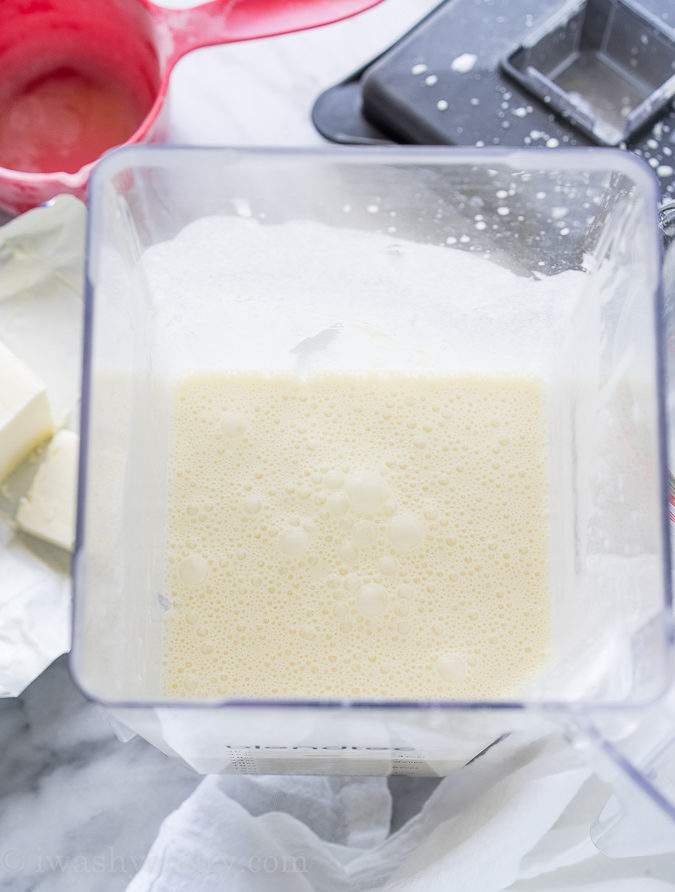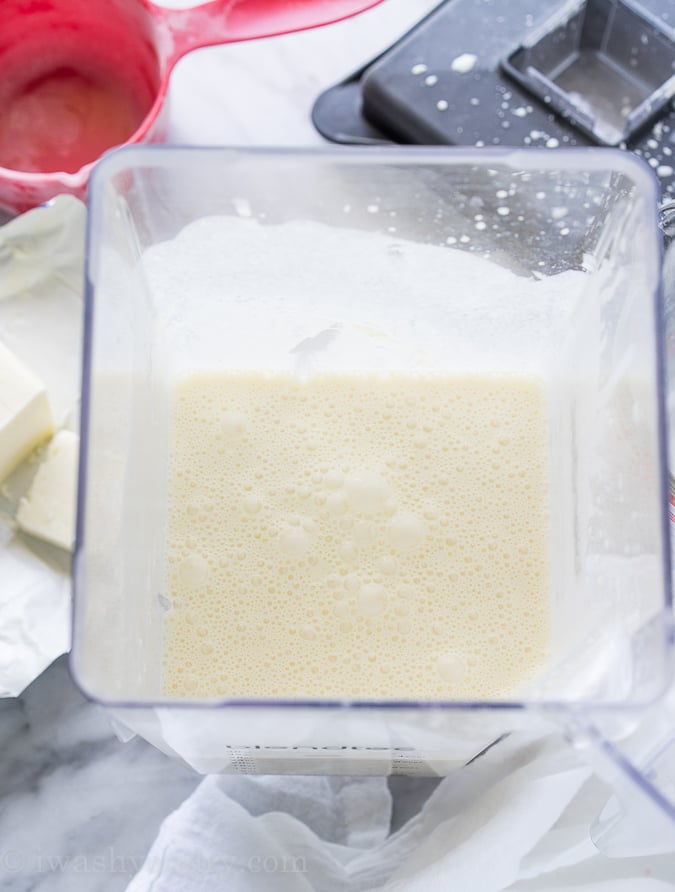 How To Make Honey Butter Crepes Recipe
Let's talk logistics of making this Honey Butter Crêpes recipe. They're so simple!
BLEND Just place all the ingredients into the blender and give it a whirl until it's all mixed and there are tiny, gorgeous bubbles on top.
SETTLE From there you'll let it sit for 15 minutes to settle. Just before making the crepes you'll give it another stir.
COOK Pour the batter into a hot skillet and swirl it around until the edges form a lacy, slightly crisp edge. Use a thin spatula to get under the crêpe and then use your fingers to gently flip it over.
I took a very basic Crêpes recipe from Martha Stewart, but tweaked it ever so slightly to fit my needs and what I had on hand. In her recipe she calls for 1 1/2 cups whole milk. I didn't have whole milk on hand, but I recognize that the fats in the milk are vital for crepes to obtain that richness.
So I used 1 1/4 cups of 2% milk and 1/4 cup of heavy cream.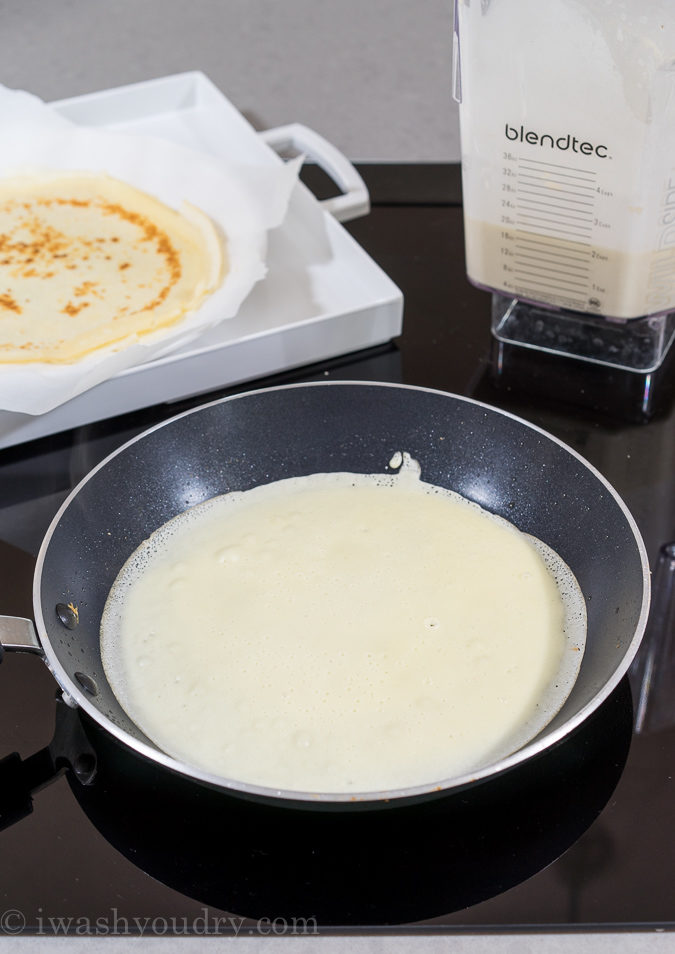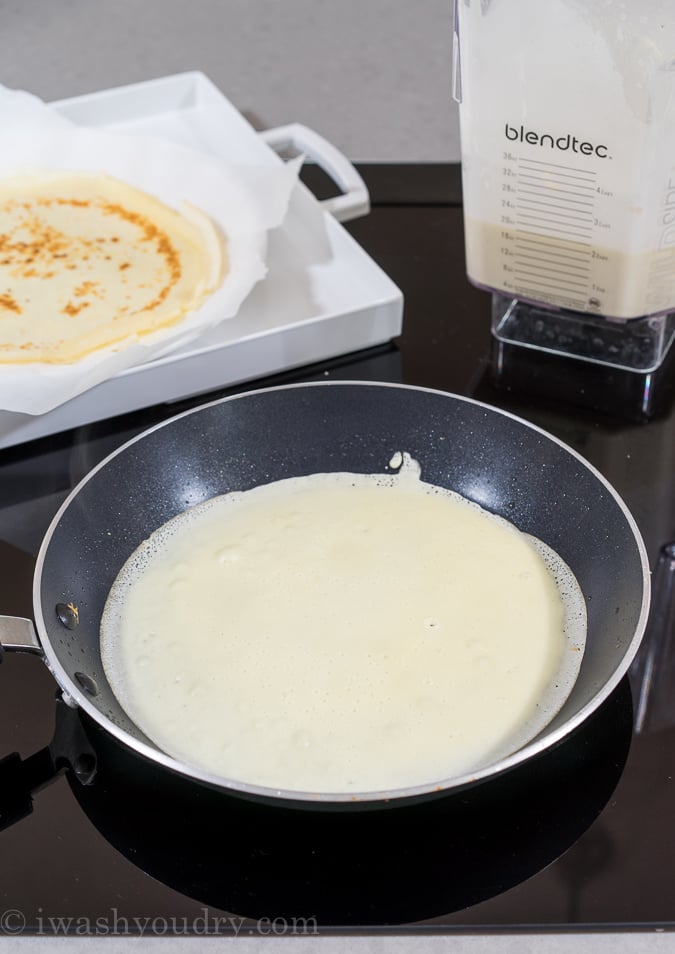 As with most pancakes, the first crêpe is usually a loss. Well, I definitely eat it, but it's not as pretty as the others. 😉
So don't get disheartened if the first one doesn't come out gorgeous!
What Tools are Needed To Make Crepes?
You really don't need anything fancy, however, these tools can make it just a little more simple to make delicious crepes at home.
BLENDER: a blender will make it very easy to whip up the batter and create a silky consistency.
CREPE PAN: You can get specialty crepe pans, but all you really need is a small 8″ or 10″ skillet with shorter sides. This is the pan that I use.
SPATULA: I use an offset spatula like THIS ONE to slide under the crepe and carefully flip it over in my pan.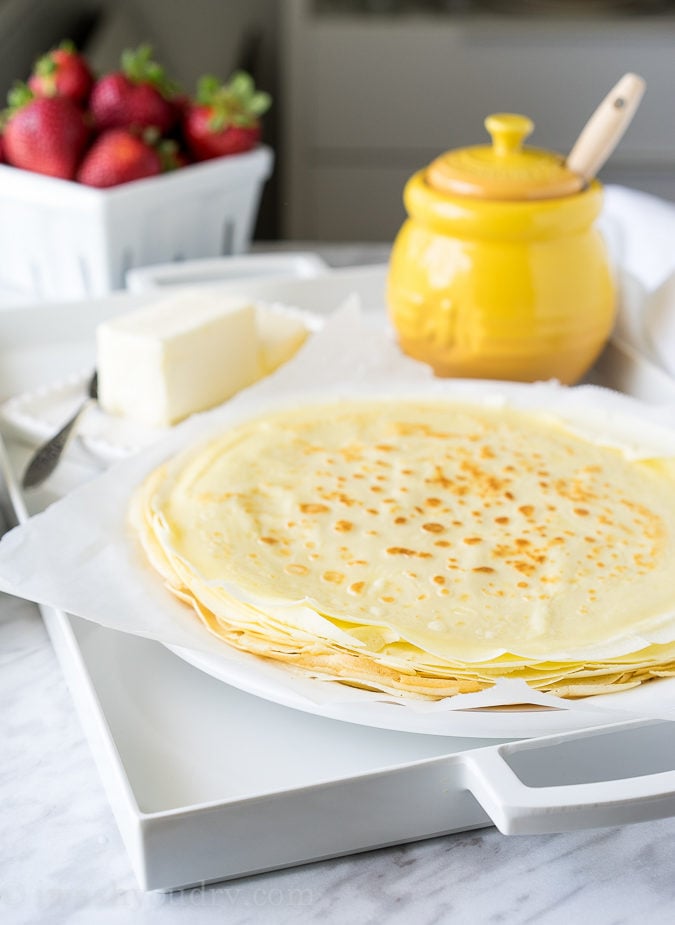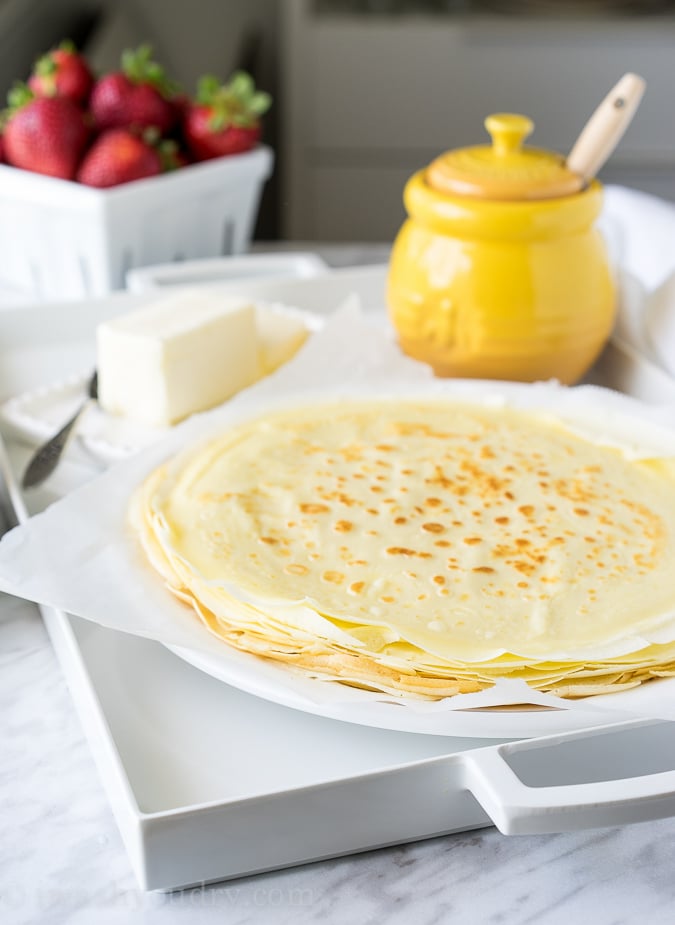 How gorgeous are these!?
The simplest way to eat them, which will also completely blow your tastebud's mind, is with butter and honey.
SERIOUSLY!!
I can't get over this crazy simple combination. It's divine, gorgeous, elegant, and of course… tasty.
Perfect for a Mother's Day breakfast or brunch, if I do say so myself!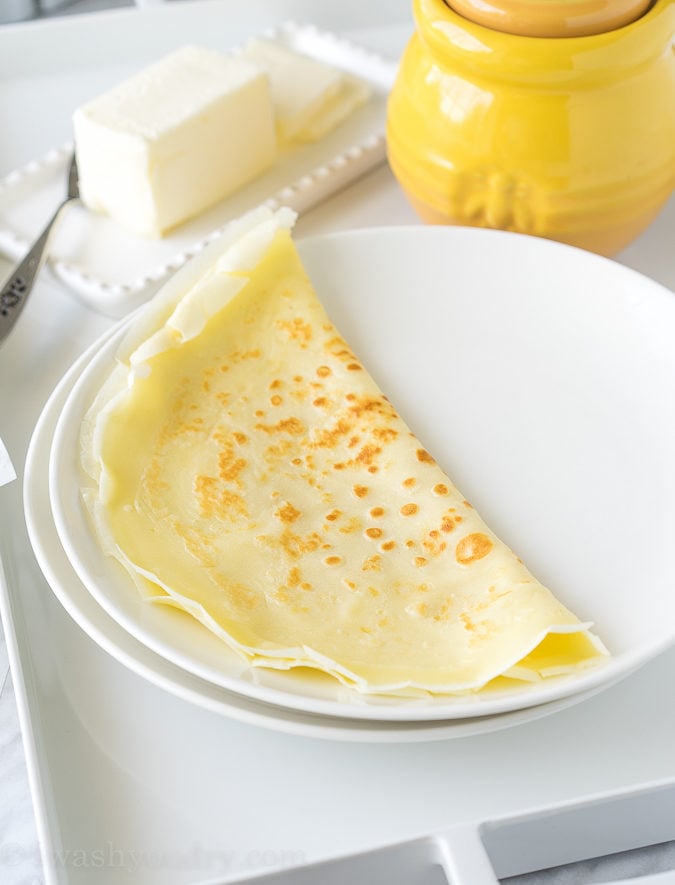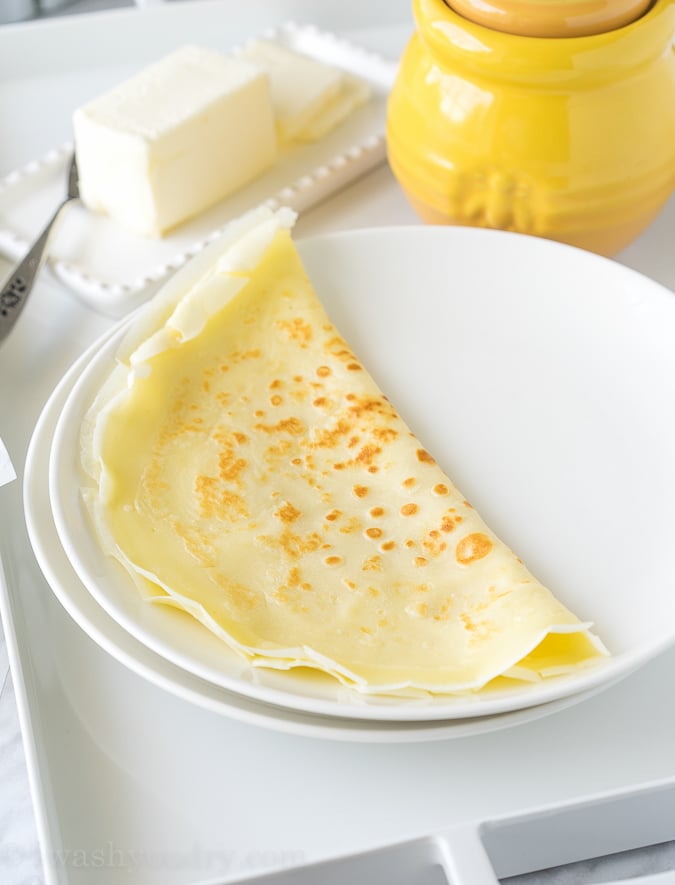 Slather the inside of the crêpe with softened butter then fold in half, and then half again to make a triangle.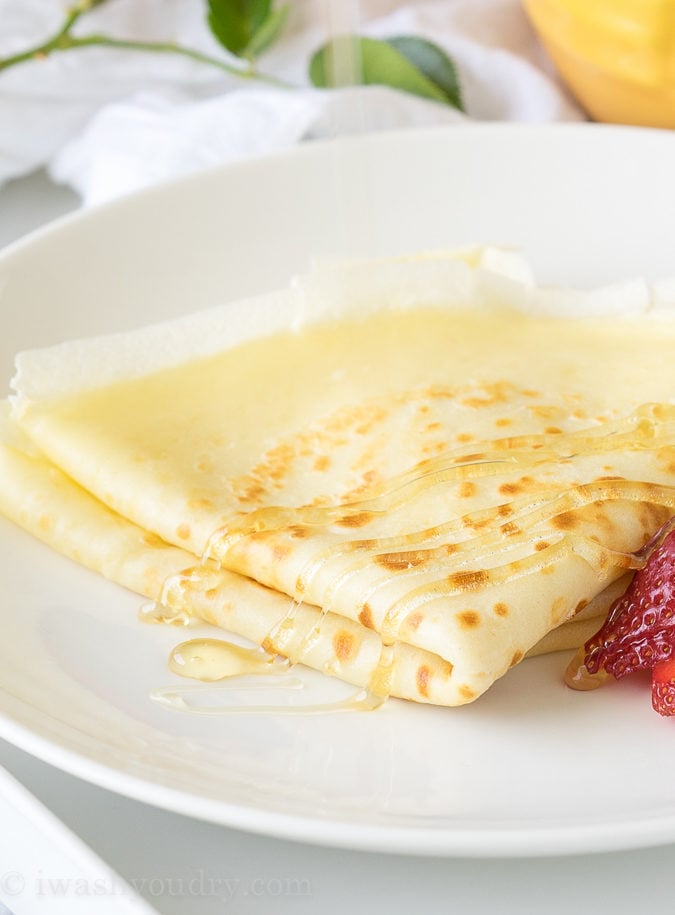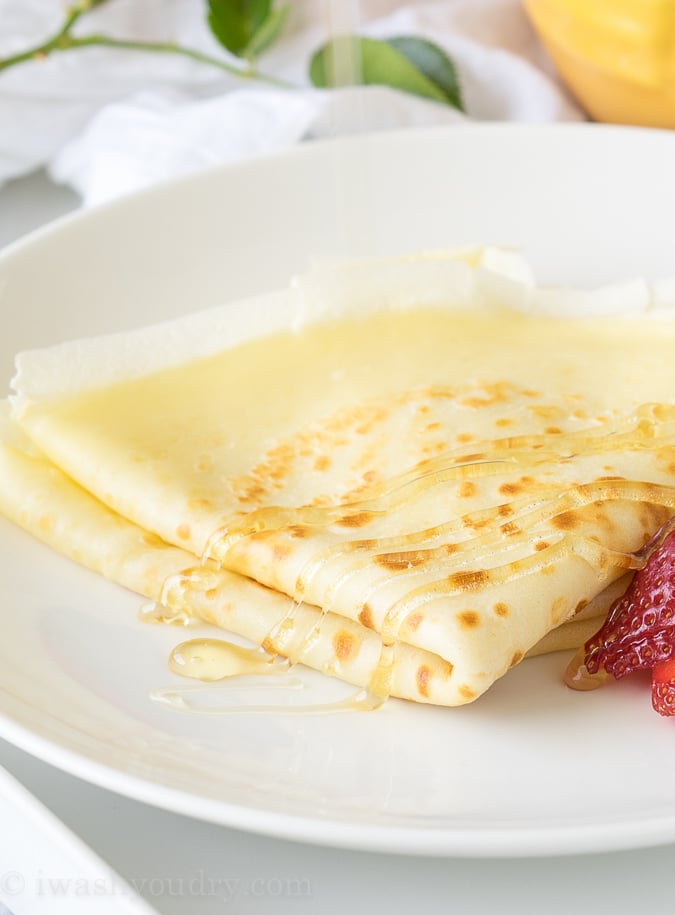 Drizzle with a little honey…
Then give it a light dusting of powdered sugar if you want. A sliced strawberry on top makes for a beautiful presentation too!
But here is what I love the most…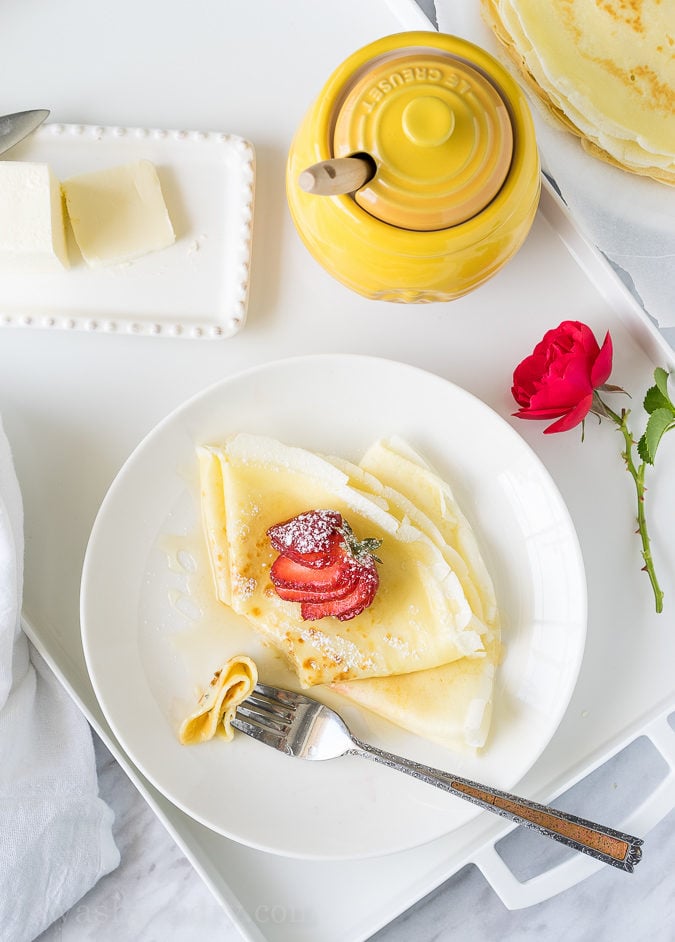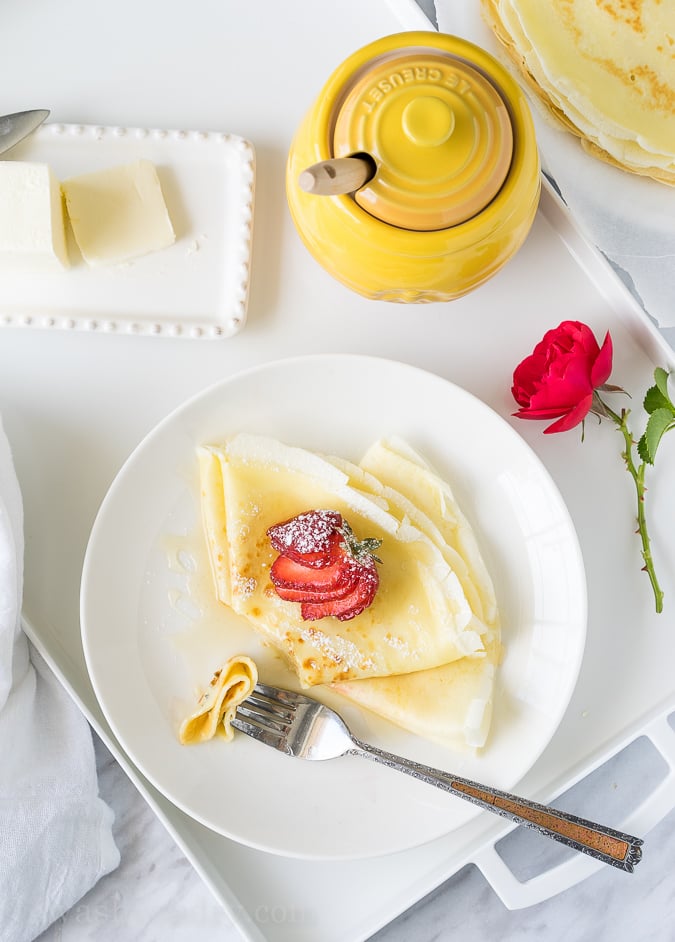 Breakfast in bed!
Now, doesn't that special someone in your life deserve a little something sweet when they first wake up?
With all the layers of tender crêpe, butter and honey… it's sure to bring a smile to their face!
Just look at all the butter oozing out!
More Simple Breakfast Recipes To Try
Craving more? I've got you covered with these super easy and always delicious breakfast recipes…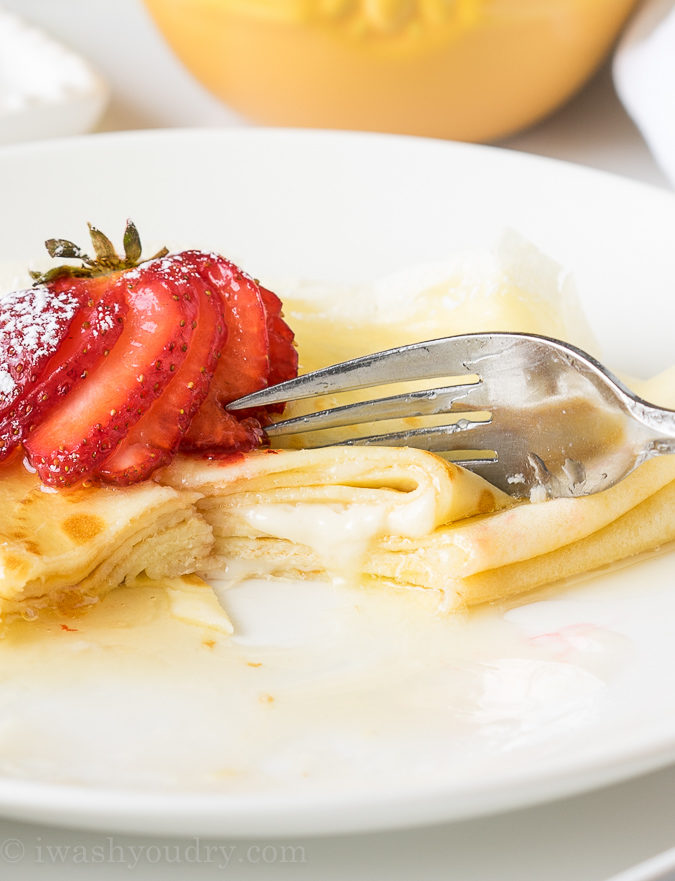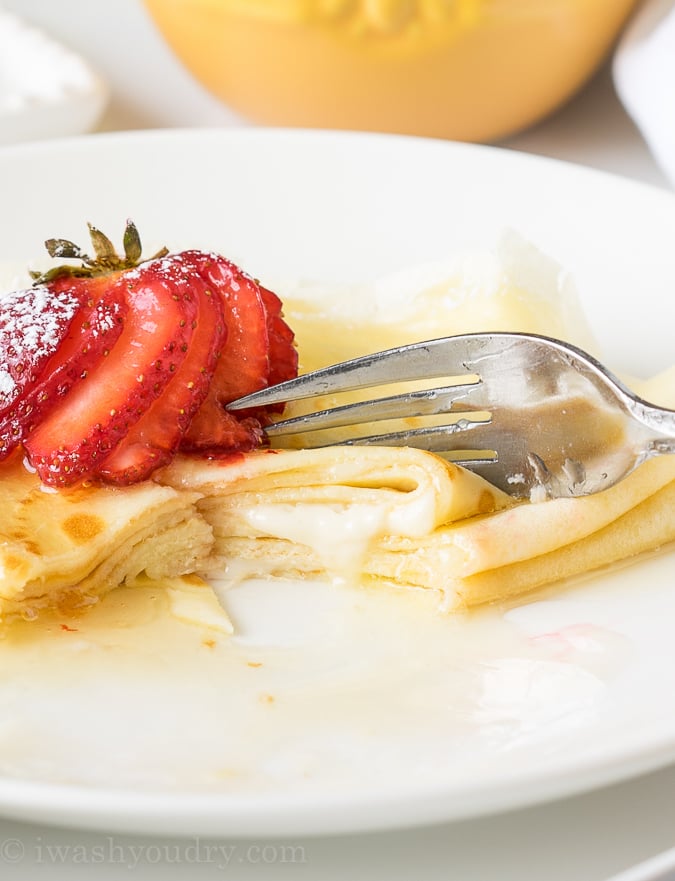 Come to mama!!
HELPFUL PRODUCTS TO MAKE THIS RECIPE:
Last updated on December 6, 2023 11:32 pm
Make sure you don't miss a thing! Follow I Wash You Dry here:
FACEBOOK | PINTEREST | TWITTER | INSTAGRAM | BLOGLOVIN
Honey Butter Crêpes
The best way to eat these Honey Butter Crêpes, which will also completely blow your tastebud's mind, is with butter and honey.
Ingredients
For the Filling:
6

tbsp

butter

,

softened (room temperature)

Raw Clover Honey
Instructions
For the Crêpes:
Combine the milk, heavy cream, flour, eggs, sugar, butter and salt in a blender and process until mixture is fully combined. Let sit for 15 minutes (or store in an air tight container in the fridge for up to a day). After 15 minutes, stir and heat a 10 to 12 inch non-stick skillet over medium heat. Lightly coat with butter.

Pour 1/3 cup of the batter into the skillet at a time, swirling the pan around to coat in an even layer. Once the edges are crisped slightly and the center has set (about 30 to 45 seconds), carefully lift the edges of the crêpe and flip over, cooking for an additional 20 to 30 seconds. Remove from skillet by simply sliding it out onto a plate to keep warm.
Filling the Crêpes:
Spread 1/2 tbsp of room temperature butter onto half of the crêpe, then fold over. Fold over again, making a small triangle shape. Drizzle with honey and lightly dust with powdered sugar. Serve warm. Enjoy!
Notes
*Rather than using milk + heavy cream, you can use 1 1/2 cups of whole milk.
Recipe adapted from Martha Stewart
Nutrition
Calories:
171
kcal
|
Carbohydrates:
10
g
|
Protein:
4
g
|
Fat:
13
g
|
Saturated Fat:
7
g
|
Cholesterol:
94
mg
|
Sodium:
162
mg
|
Potassium:
72
mg
|
Fiber:
1
g
|
Sugar:
2
g
|
Vitamin A:
454
IU
|
Calcium:
46
mg
|
Iron:
1
mg
Keywords:
Butter, crepes, Easy, eggs, Honey, milk