I am pretty much obsessed with these Boston Cream Pie Crepes. Each buttery and deliciously light crepe is filled with a light and fluffy cream filling and topped with a silky chocolate ganache.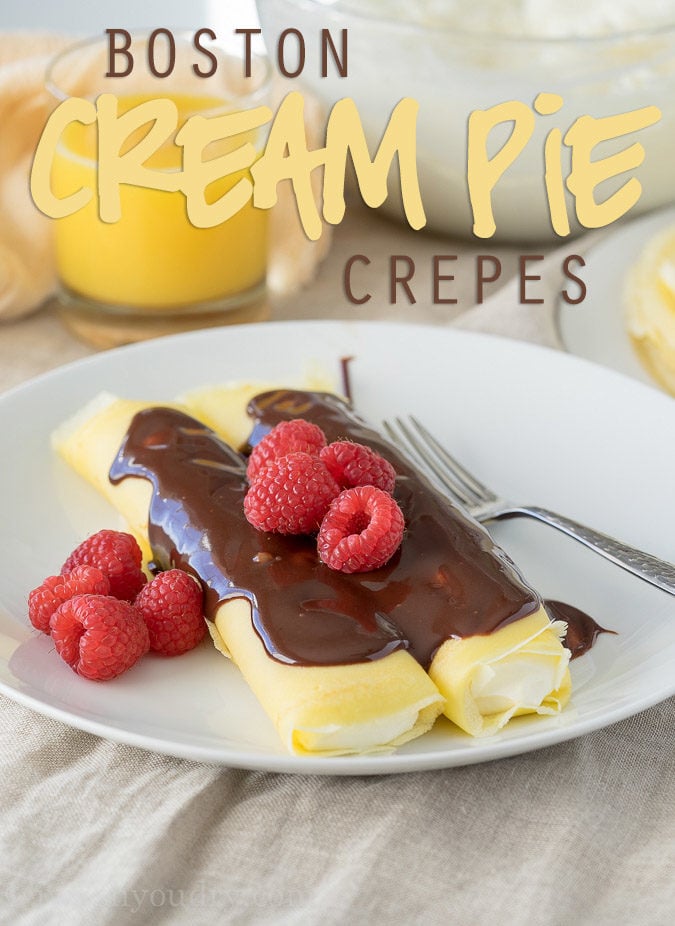 Today is a special day! It's my husband's birthday!
I've been married to this guy for over 13 years now, and while we have some major differences (he doesn't think donuts are an acceptable breakfast food), we both agree that crepes are the bees knees.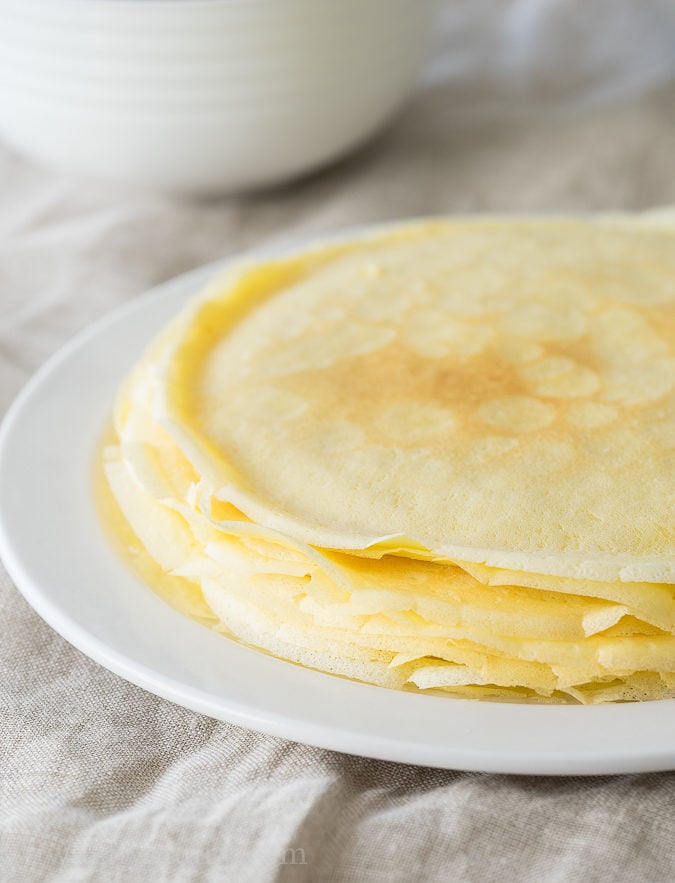 There is a crepe restaurant not too far from our house and we often go there for breakfast during the week while the kids are at school. They have all sorts of sweet and savory crepe options, but I think my favorite ones are the sweet.
They don't have a Boston Cream Pie option on their menu, so when this idea came to mind, I knew I wanted to make it.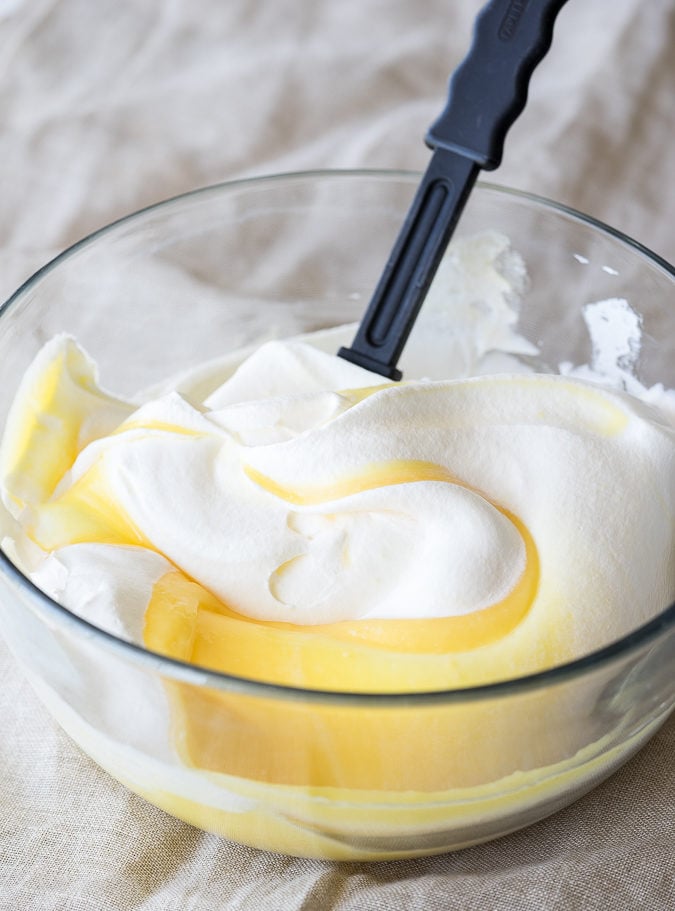 I used my basic crepe recipe for the crepes, then whipped up a light and fluffy cream pie filling to stuff inside.
It's super simple to make! Vanilla pudding mix, milk and some cool whip (you can use whipped cream instead of the cool whip if you want).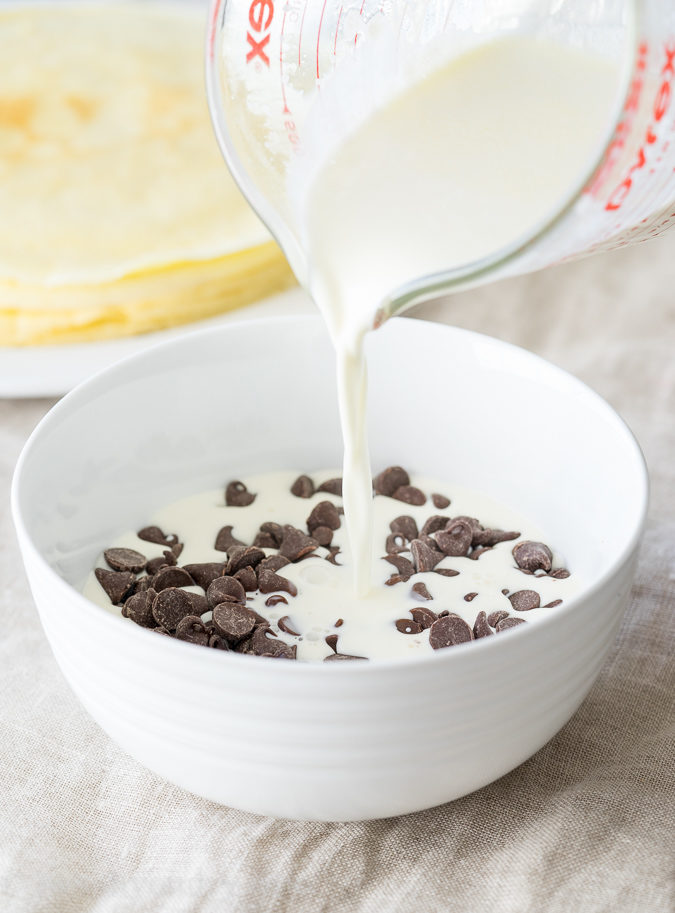 The silky chocolate ganache is just heavy cream and chocolate chips!
I warmed up some heavy cream in the microwave and poured it over the chocolate chips, then stirred until it was silky smooth.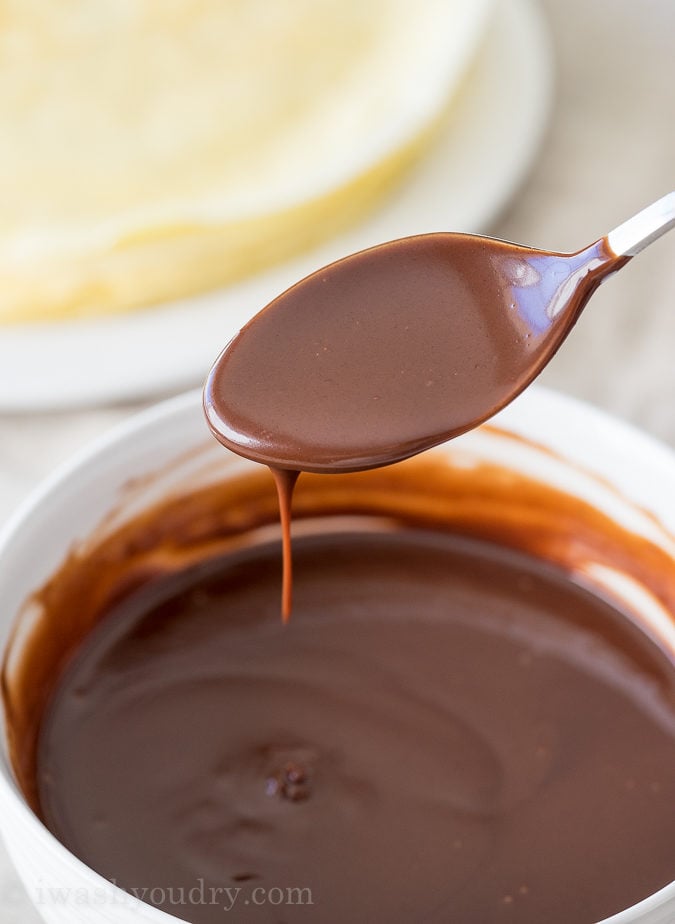 All that's left to do is fill each crepe with the cream pie filling and top with the chocolate ganache!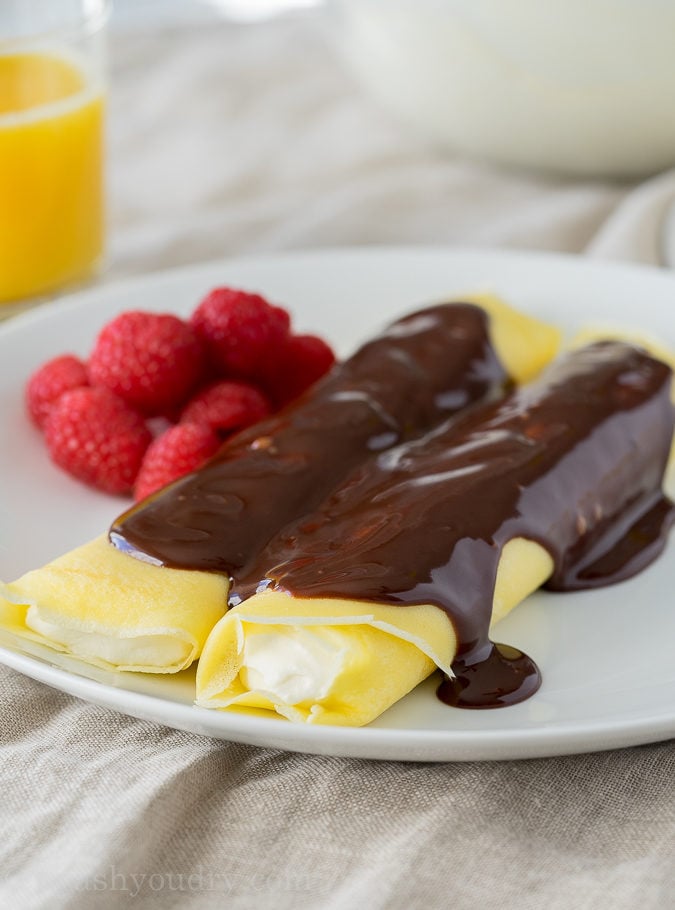 You can serve the crepes in the rolled up style, or you can serve them French style with them folded in half and then folded in half again.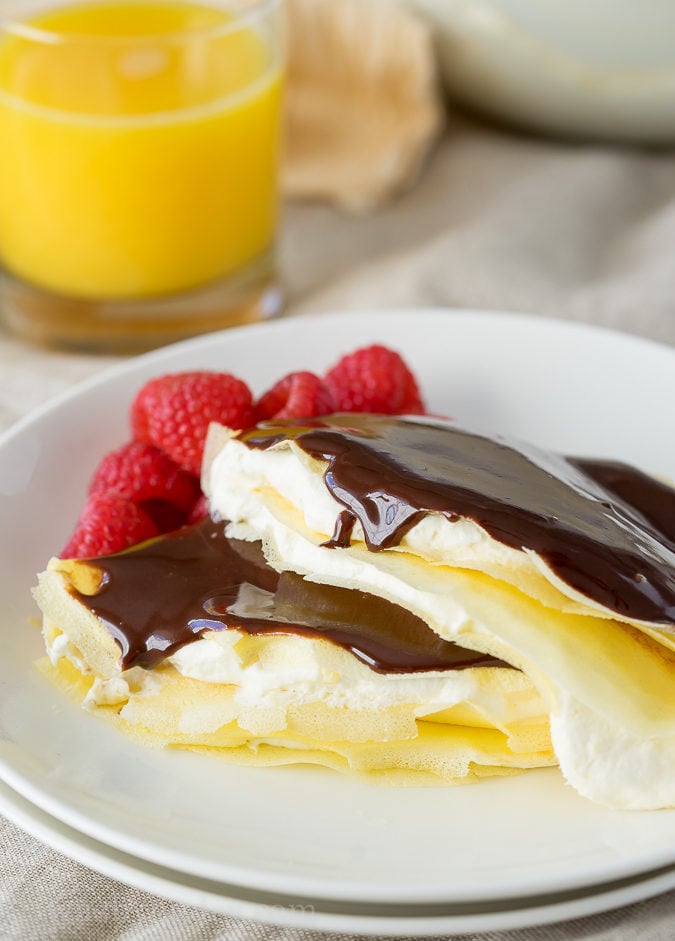 Either way you fold them, you're going to love them.
Naturally since it's my husband's birthday today I whipped him up these gorgeous crepes with a few fresh raspberries and a cold glass of OJ.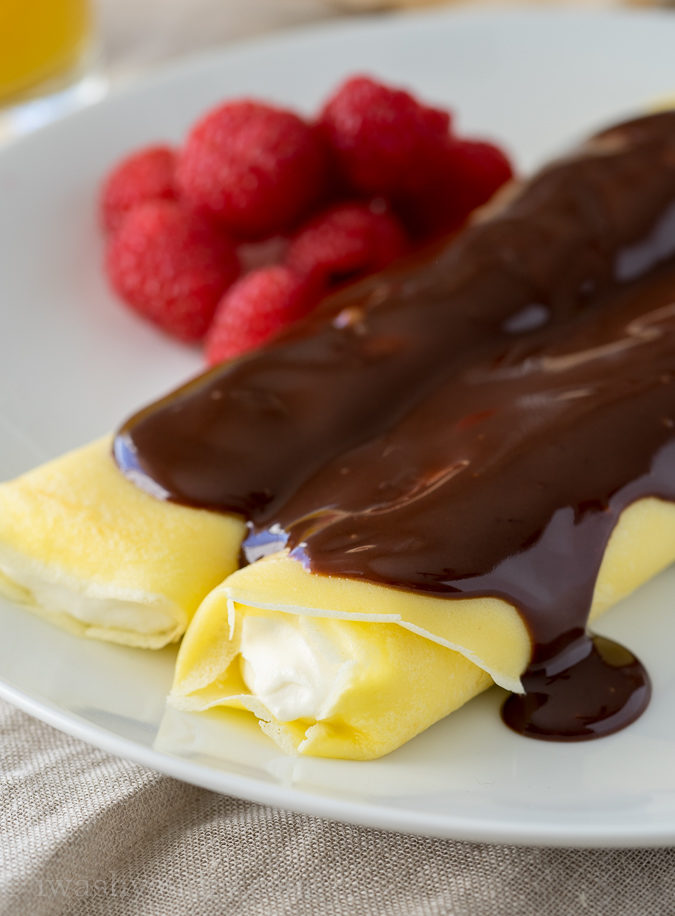 He was definitely happy to see these first thing in the morning.
Now if only I could get him behind donuts…
Make sure you don't miss a thing! Follow I Wash You Dry here:
FACEBOOK | PINTEREST | GOOGLE+ | TWITTER | INSTAGRAM | BLOGLOVIN
Yields about 10 to 12 crepes
Boston Cream Pie Crepes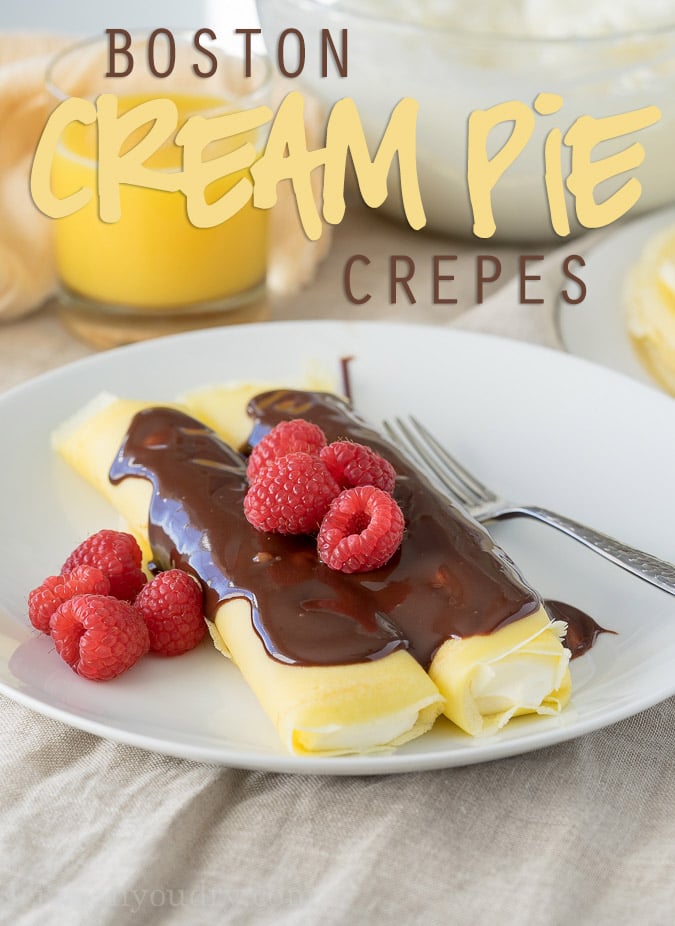 Ingredients
For the Crepes:

1 1/4 cup milk
1/4 cup heavy cream
1 cup flour
4 large eggs
1 tbsp sugar
3 tbsp melted butter
1/4 tsp salt

For the Cream Pie Filling:

1 (3.4 oz) box instant vanilla pudding mix
1 cup cold milk
8oz. frozen whipped topping, thawed

For the Chocolate Ganache:

8oz. semi sweet chocolate chips
1 cup heavy cream
Instructions
For the Crepes:

Combine the milk, heavy cream, flour, eggs, sugar, butter and salt in a blender and process until mixture is fully combined. Let sit for 15 minutes (or store in an air tight container in the fridge for up to a day). After 15 minutes, stir and heat a 10 to 12 inch non-stick skillet over medium heat. Lightly coat with butter.
Pour 1/3 cup of the batter into the skillet at a time, swirling the pan around to coat in an even layer. Once the edges are crisped slightly and the center has set (about 30 to 45 seconds), carefully lift the edges of the crêpe and flip over, cooking for an additional 20 to 30 seconds. Remove from skillet by simply sliding it out onto a plate to keep warm.

For the Cream Pie Filling:

Combine the vanilla pudding mix and cold milk in a bowl and whisk to combine, until slightly thickened. Fold in the thawed whipped topping until completely combined.

For the Chocolate Ganache:

Heat the heavy cream in the microwave or over the stove top until hot, but not boiling. Pour the hot heavy cream over the chocolate chips and let sit for 20 seconds. Stir until smooth.

To Assemble:

Scoop about 1/3 cup (or more if desired) cream pie filling onto the center of each crepe. Roll or fold the crepe, then drizzle the top with the chocolate ganache. Enjoy!
7.6.7
1523
https://iwashyoudry.com/boston-cream-pie-crepes/
PIN THIS IMAGE TO SAVE THE RECIPE!