This Spinach Artichoke Fettuccine Alfredo is a combination of two of my favorite things – spinach and artichoke dip and ultra creamy Alfredo sauce, all on top of a bed of hot fettuccine noodles!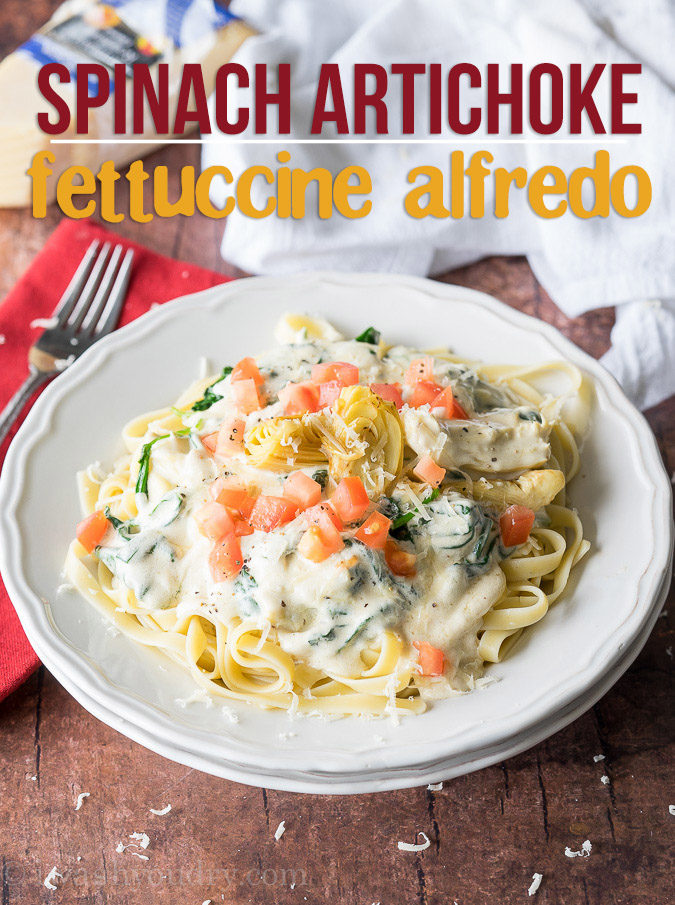 This past week has finally started to feel like the beginning of Spring weather for us! The sun is finally shining, and if you stand in the sun it actually feels somewhat warm outside!
Spring reminds me of two years ago when we bought our first 5 chickens. They were just one day old when we brought them home. Over the past two years we've lost two birds, and our chicken coop has felt so empty with just 3 birds. Well, not anymore! We went out and bought 4 brand new baby chicks and I am so smitten!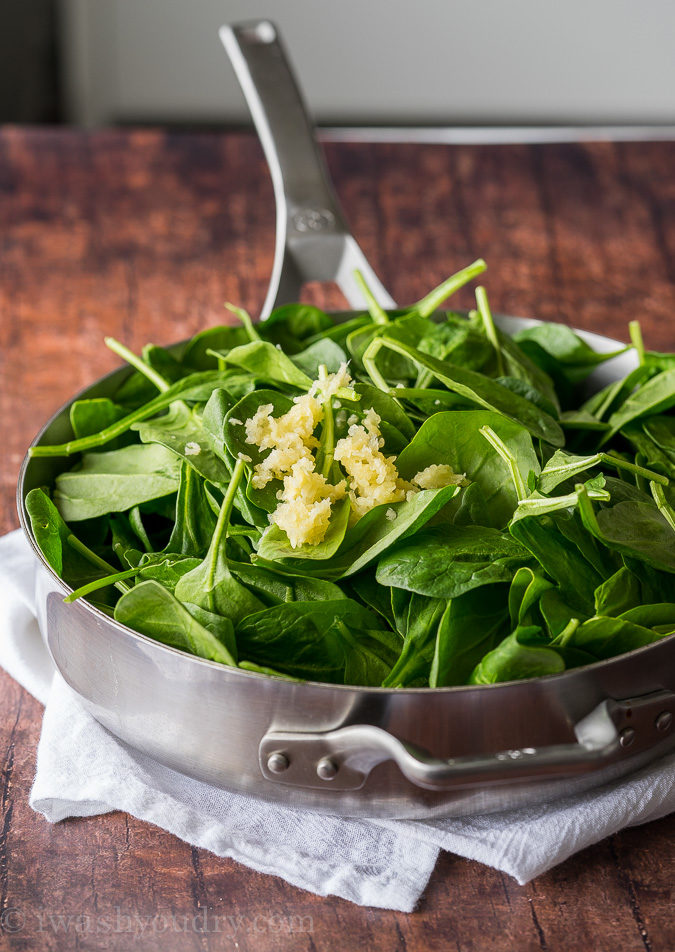 We have the babies in a big box in our laundry room until they're big enough to make it on their own outside. They're so cute, but DANG! I forgot how loud they are!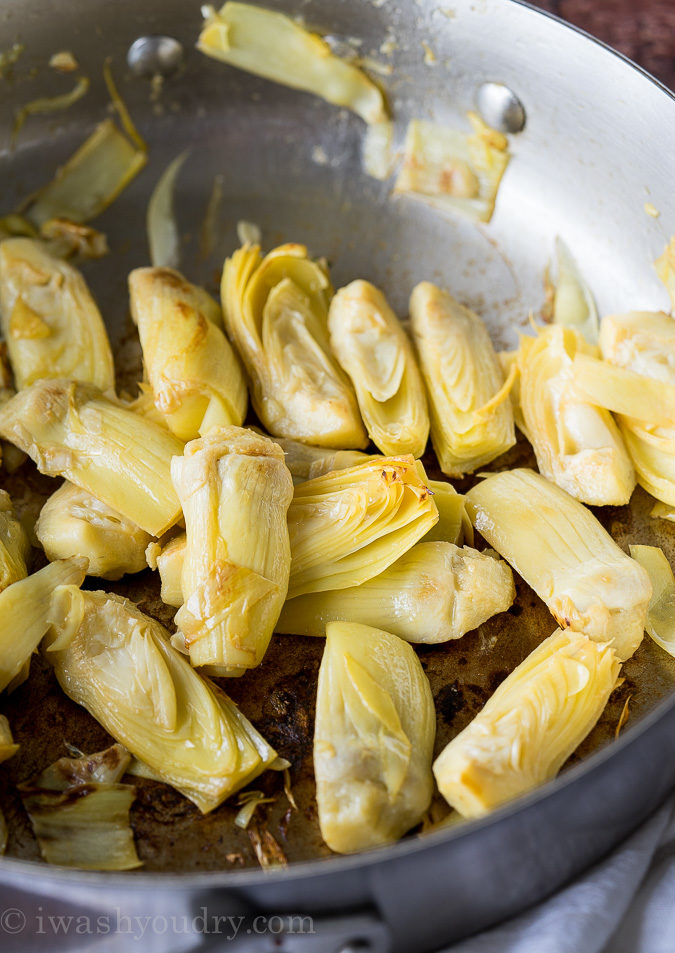 Last night they kept me up, with their adorable chirps and constant pecking on the cardboard walls.
I'll let this slide because they are seriously so cute.
And eventually they will bring me lots of eggs, so yeah… I'll deal.
You know what else is also completely awesome? This Spinach Artichoke Fettuccine Alfredo!
I've married my two favorites into one amazing dinner!
It couldn't be easier, either! I used a whole bag of fresh baby spinach and I wilted it down with a bunch of garlic. I use a handy garlic press to quickly mince up my garlic, it's such a time saver!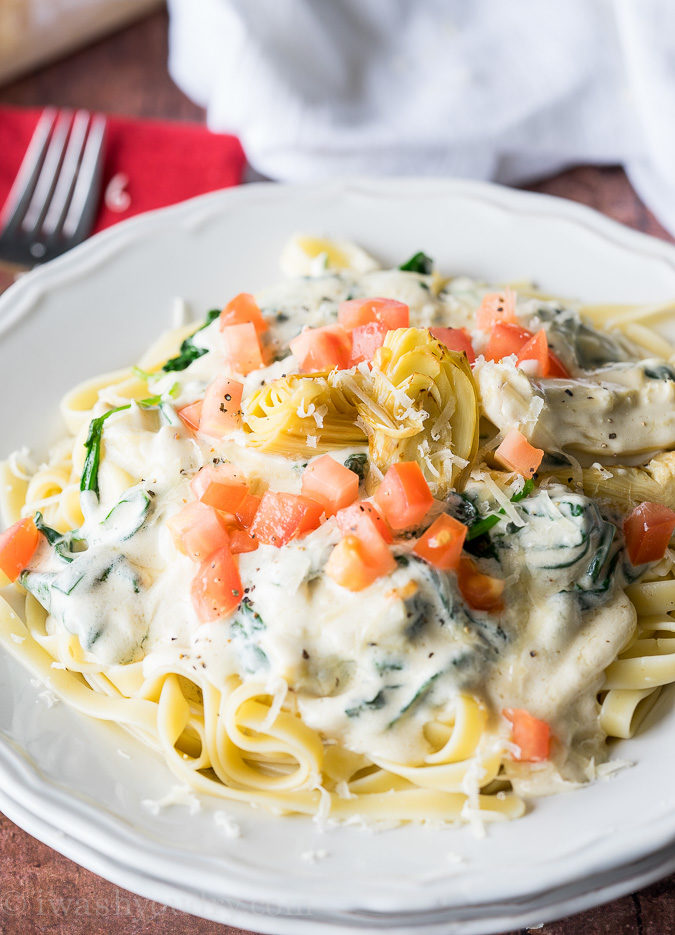 Once the spinach is wilted, toss in the artichokes and let them get a little browned.
Finally, whip up my ultimate Alfredo sauce with some butter, cream cheese, heavy cream and parmesan cheese. Seriously so decadent and finger-licking-good!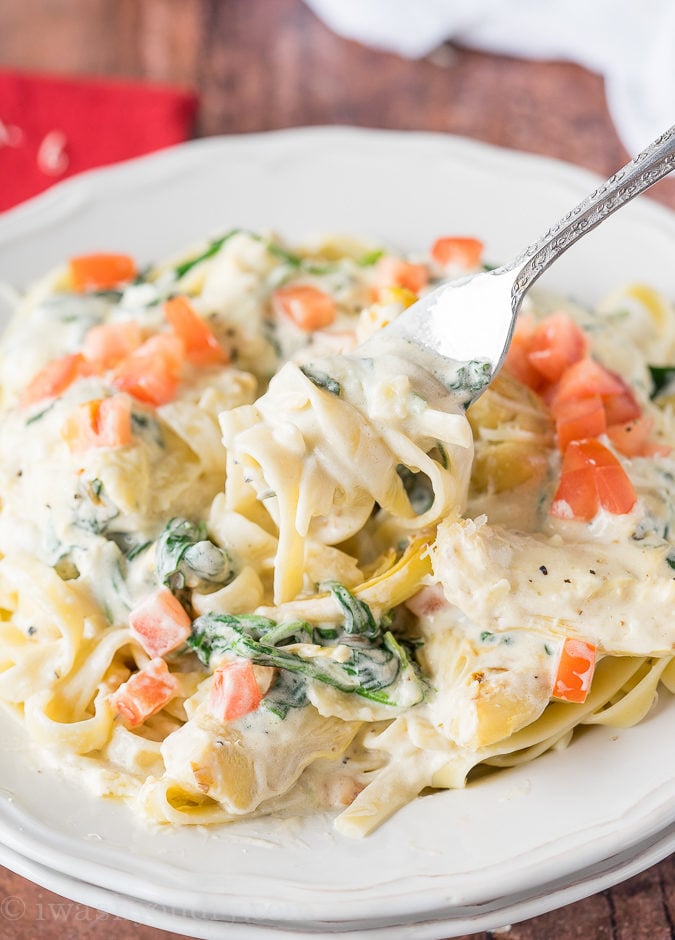 Toss the artichokes, spinach and Alfredo sauce together and then serve it on top of a plate of freshly boiled fettuccine noodles.
You could even add some grilled chicken to go along with it, or serve this as a delicious and hearty meatless meal.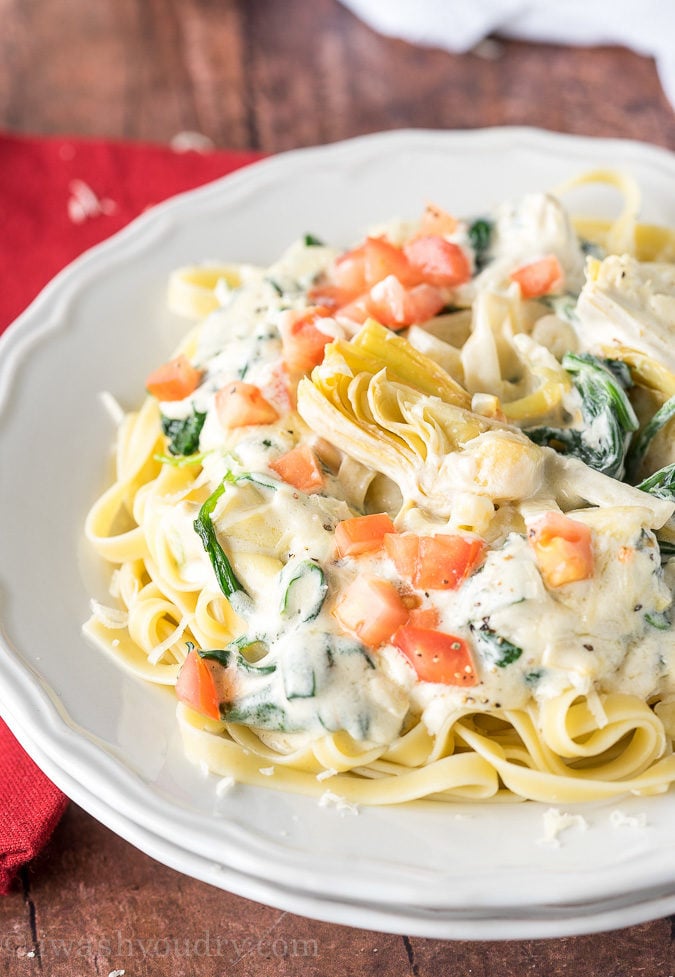 My whole family loved this one, especially my husband who said that they artichokes were a very nice addition to the sauce!
Make sure you don't miss a thing! Follow I Wash You Dry here:
FACEBOOK | PINTEREST | GOOGLE+ | TWITTER | INSTAGRAM | BLOGLOVIN
Yields serves 6 to 8
Spinach Artichoke Fettuccine Alfredo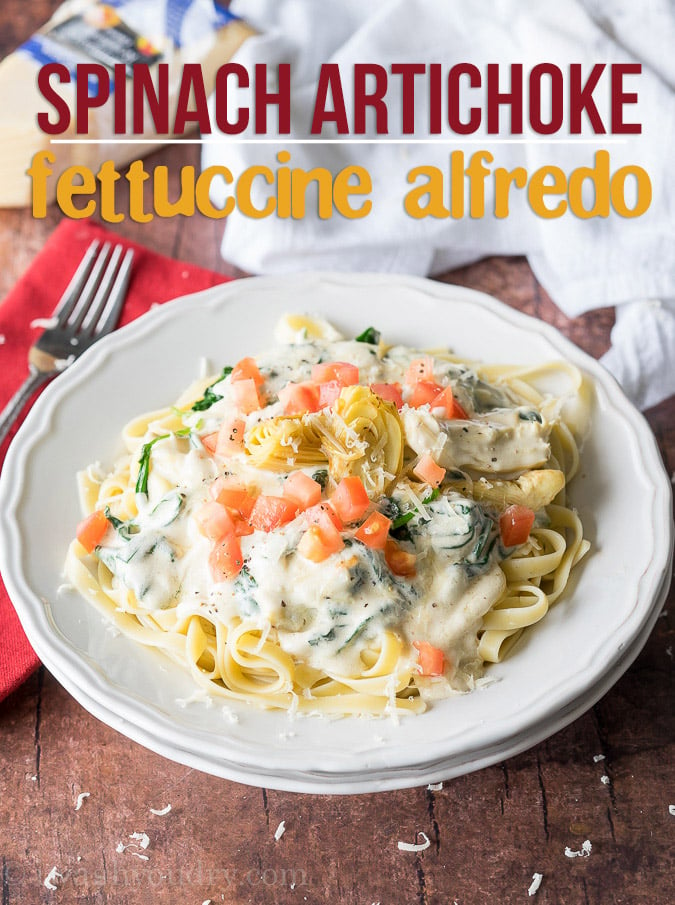 Ingredients
1 lb. fettuccine noodles, cooked according to package instructions
2 tbsp olive oil, divided
10oz. bag fresh baby spinach leaves
5 cloves garlic, minced
1 (14oz) can quartered artichoke hearts, in water or brine, drained
1/2 cup salted butter, (I prefer Challenge Butter)
8 oz. cream cheese, softened, (I prefer Challenge Cream Cheese)
1 1/3 cup heavy cream
1 cup grated parmesan cheese
1/4 tsp salt
1/4 tsp black pepper
pinch of red pepper flakes
1 cup diced tomato, for garnish
Instructions
Cook fettuccine according to package instructions.
Meanwhile heat a large skillet with 1 tbsp olive oil over medium heat. Add all of the spinach and garlic and stir until spinach is wilted down. Remove spinach to a bowl/plate and keep warm.
Add the remaining 1 tbsp olive oil to the pan and heat over medium high heat. Toss in the drained artichoke hearts and let cook, shaking the pan often, until the artichoke hearts are lightly browned and heated through. Remove from skillet and keep warm with the spinach.
Return the skillet to the stove top and heat over medium heat. Add the butter and cream cheese and whisk until smooth. This will take a moment as the fats in the butter and cream cheese break down, just keep whisking. Slowly whisk in the heavy cream, then add in the parmesan, salt, pepper and red pepper flakes. Stir until smooth.
Add the spinach and artichokes to the sauce and stir to combine. Serve the sauce over hot noodles and top with diced tomato and extra parmesan cheese if desired. Enjoy!
Notes
To reheat leftover Alfredo sauce, place sauce back into a skillet over medium heat and add a few tablespoons of milk. Whisk until smooth and creamy and heated through.
7.6.7
1521
https://iwashyoudry.com/spinach-artichoke-fettuccine-alfredo/
DON'T FORGET TO PIN THE RECIPE TO SAVE IT!