This Homemade Turkey Noodle Soup is made with delicious savory broth, homemade noodles, and plump turkey and veggies.
There is nothing more comforting than a warm bowl of Homemade Turkey Noodle Soup!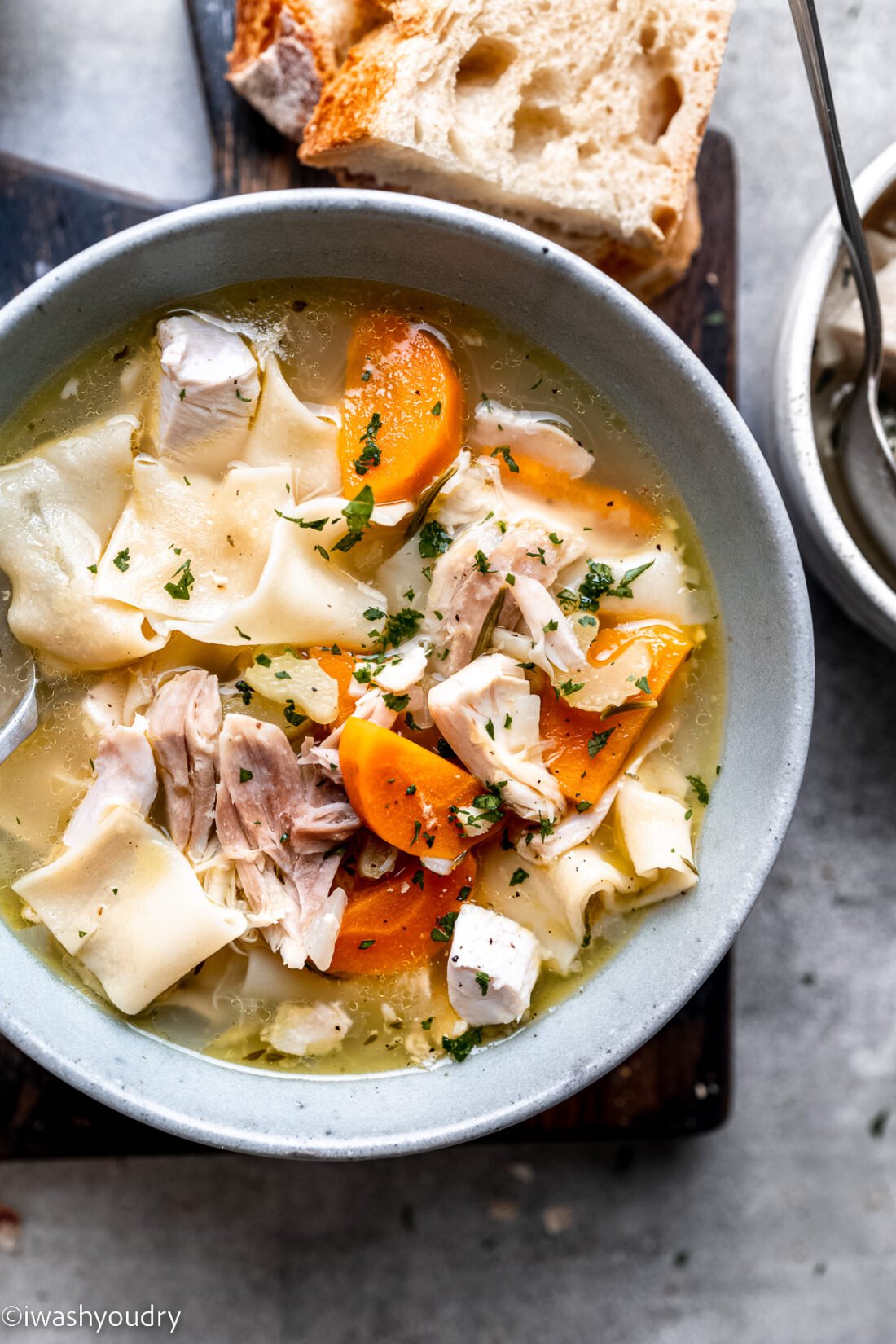 This turkey soup recipe is a long-time family favorite, I'm so excited to share the recipe with you! This is a fancier version of Easy Chicken Noodle Soup, with homemade egg noodles that are to die for!
Homemade Turkey Noodle Soup
If you've never made turkey soup with homemade noodles before, let this be the time! It's pretty simple to whip up homemade egg noodles, and they are 100% worth it.
This is an easy Thanksgiving leftover recipe. So don't toss that turkey carcass!
Ingredients Needed
Here's the basic list of ingredients you'll need in order to make this homemade turkey noodle soup. As always, you can find the full list of ingredients located in the printable recipe card below.
Turkey – or chicken carcass
Onion
Carrots
Celery
Chicken Bouillon
Garlic
Thyme
Bay Leaves
Rosemary
Ingredients for Homemade Egg Noodles
Here's what you'll need for the homemade egg noodles.
Flour – all purpose
Salt
Eggs
Milk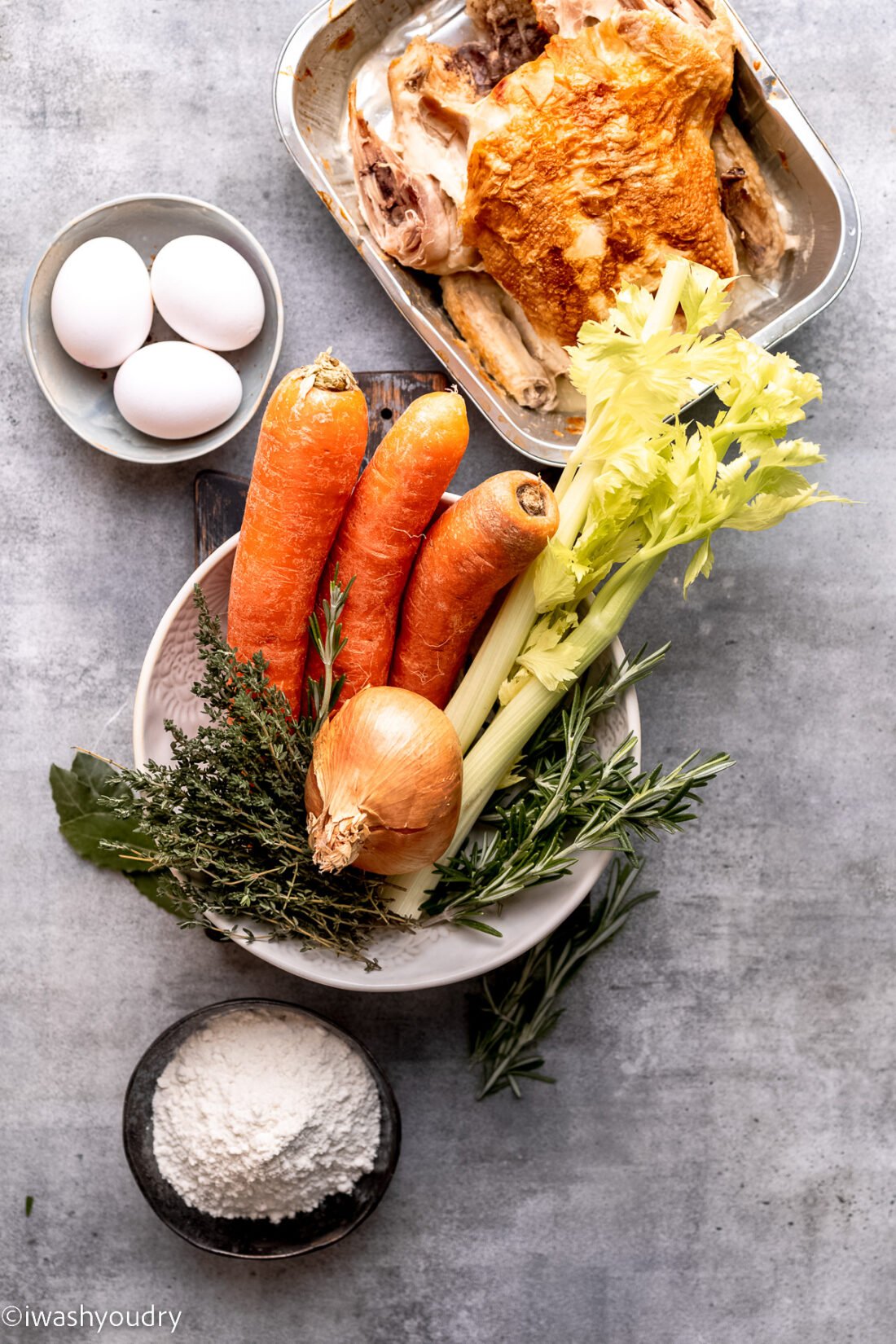 How To Make Homemade Turkey Noodle Soup
Have you ever had a bowl of old-fashioned turkey noodle soup? Or maybe chicken noodle soup? It's like a hug in a bowl!
I started this soup with the carcass of a turkey, but if you don't have a turkey carcass to work with, you could use a chicken, or just skip this step and use chicken stock as your base.
MAKE STOCK In a large pot, place the turkey or chicken carcass in and cover it with water. Put in some onion, carrots, and celery to flavor the stock as well. Bring to a boil then reduce heat to medium and cook at a steady boil for 1-2 hours.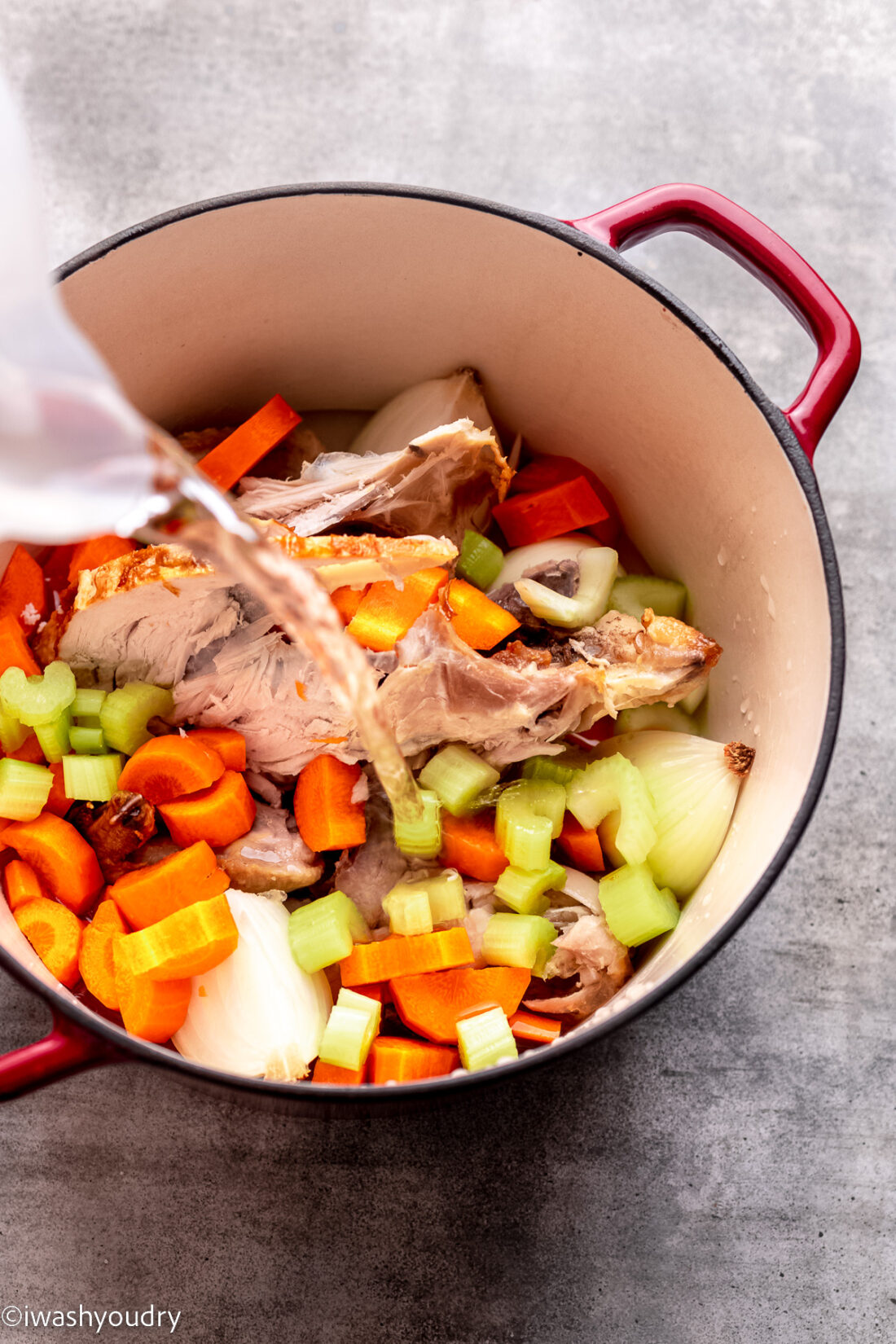 STRAIN STOCK Once the meat has fallen away from the bones, you want to place a fine mesh strainer over another large pot and pour everything through it. All the broth should go into the new big pot, and everything else will go into the strainer. Chop up any meat that has fallen off the bones and discard the rest. Taste the turkey (or chicken) stock you just made. If you feel it needs a little boost of flavor, add in a chicken bouillon cube and season with extra salt.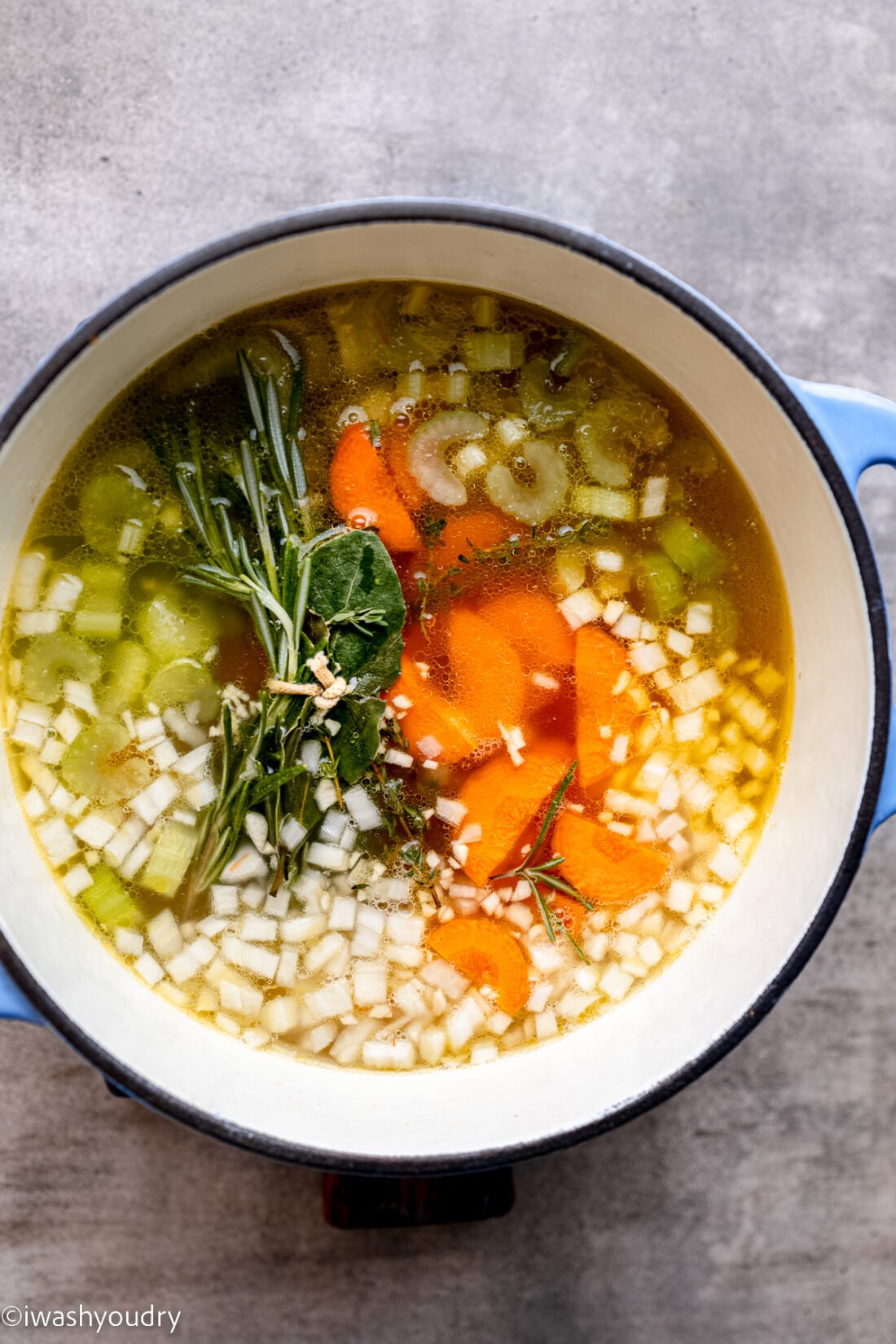 ADD VEGETABLES Once your broth is to your liking, go ahead and bring it to a simmer and add in your veggies and herbs.
Homemade Egg Noodles
MAKE NOODLE DOUGH In a food processor, add flour, salt, and eggs and pulse until just combined. Add milk until the dough ball forms.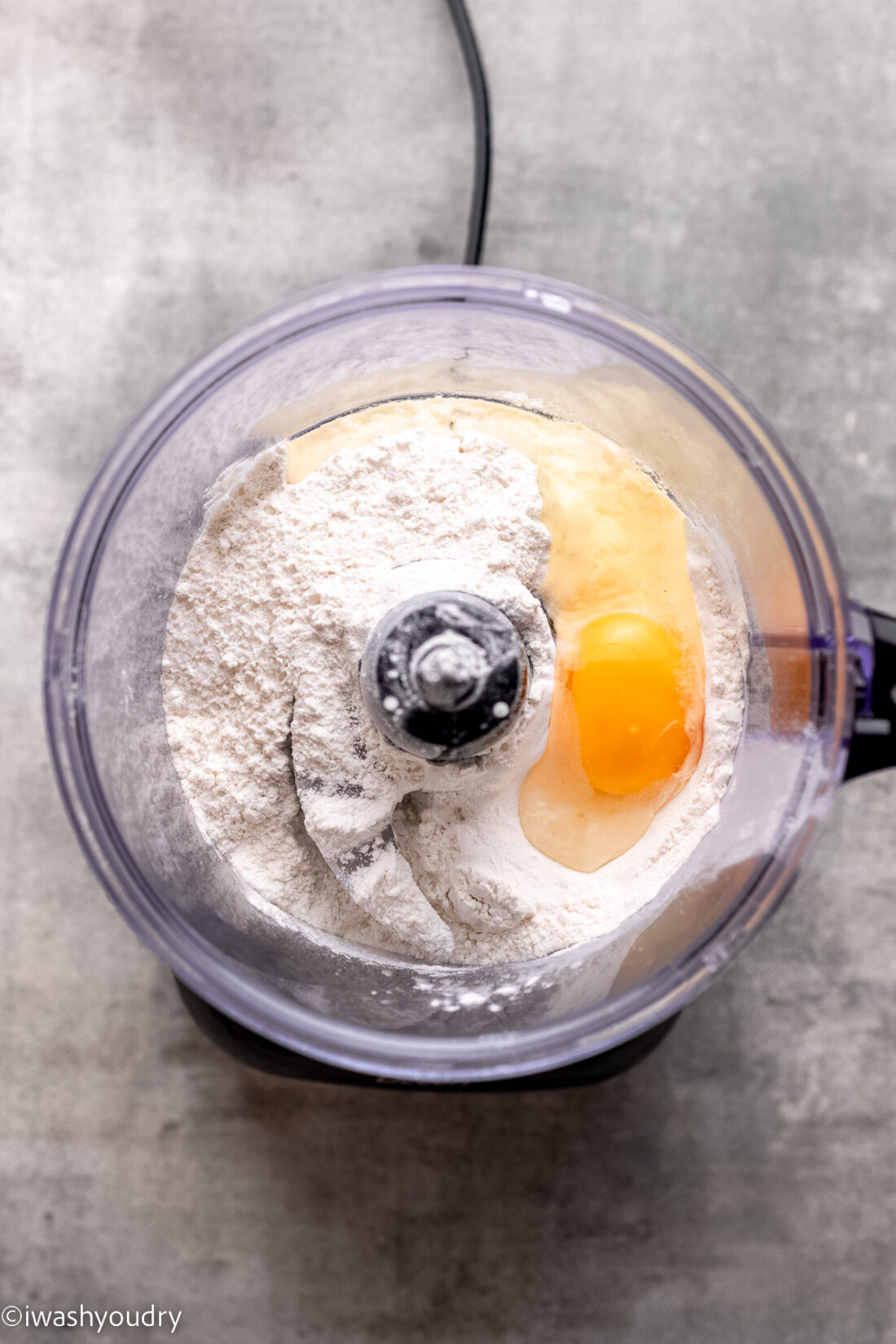 ROLL OUT NOODLES Place the dough ball on a lightly floured surface and roll out the dough until the noodles are close to 1/8th inch thick. The noodles tend to puff up a bit in the soup, so the thinner you can make them the better. Cut the noodles into strips. I like a wider noodle, but I also cut them short so that you can get them in your mouth too.
PRO TIP Using a pizza cutter to cut the noodles speeds up the process!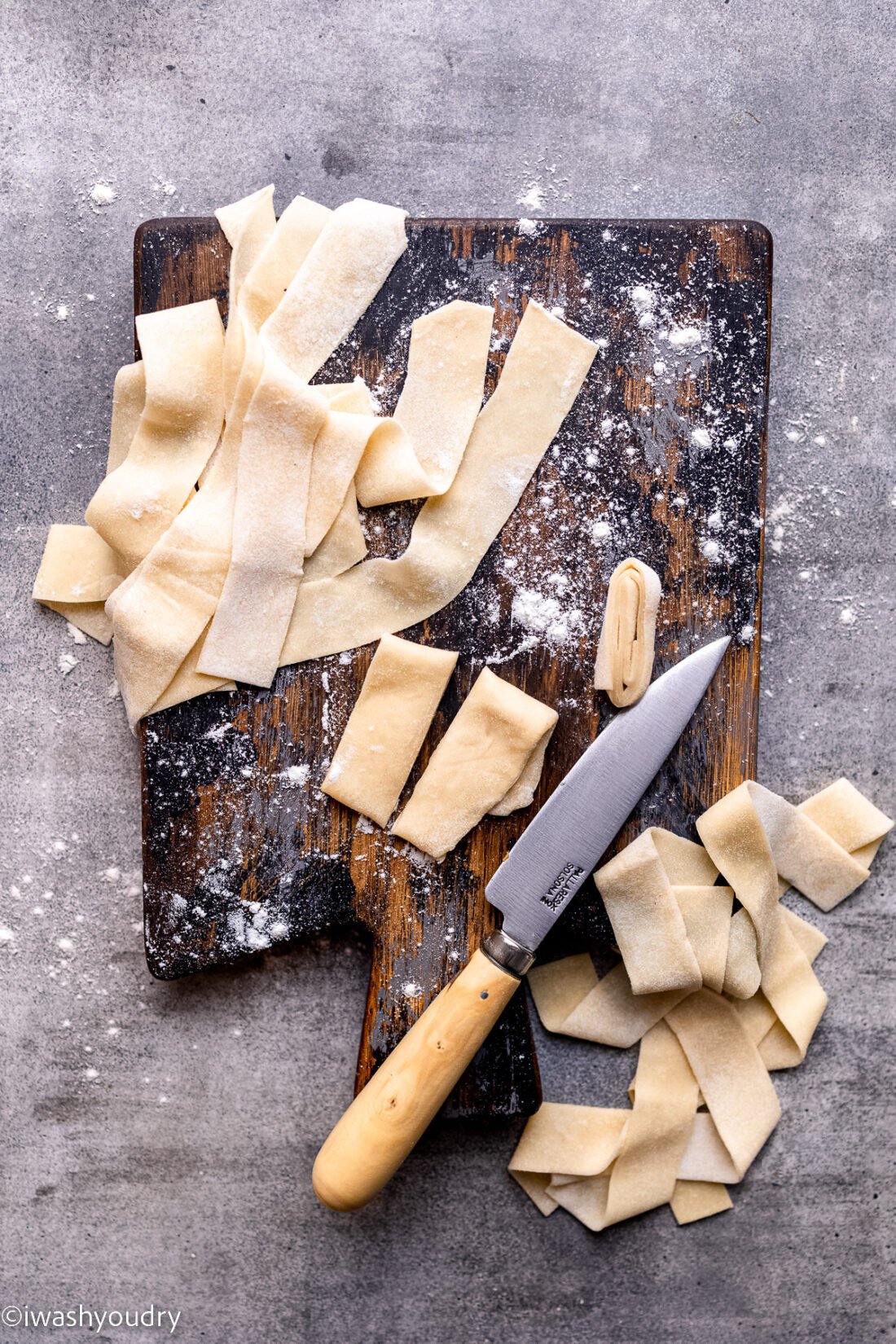 COOK NOODLES Once your noodles are ready, just toss them into the simmering soup a few at a time, being careful to separate them, and let them cook for about 15 to 20 minutes, or until they're tender to the bite. Then add back in the turkey (or chicken) and remove the herbs. Once you get efficient at making the noodles, you can whip up this delicious soup in less than an hour.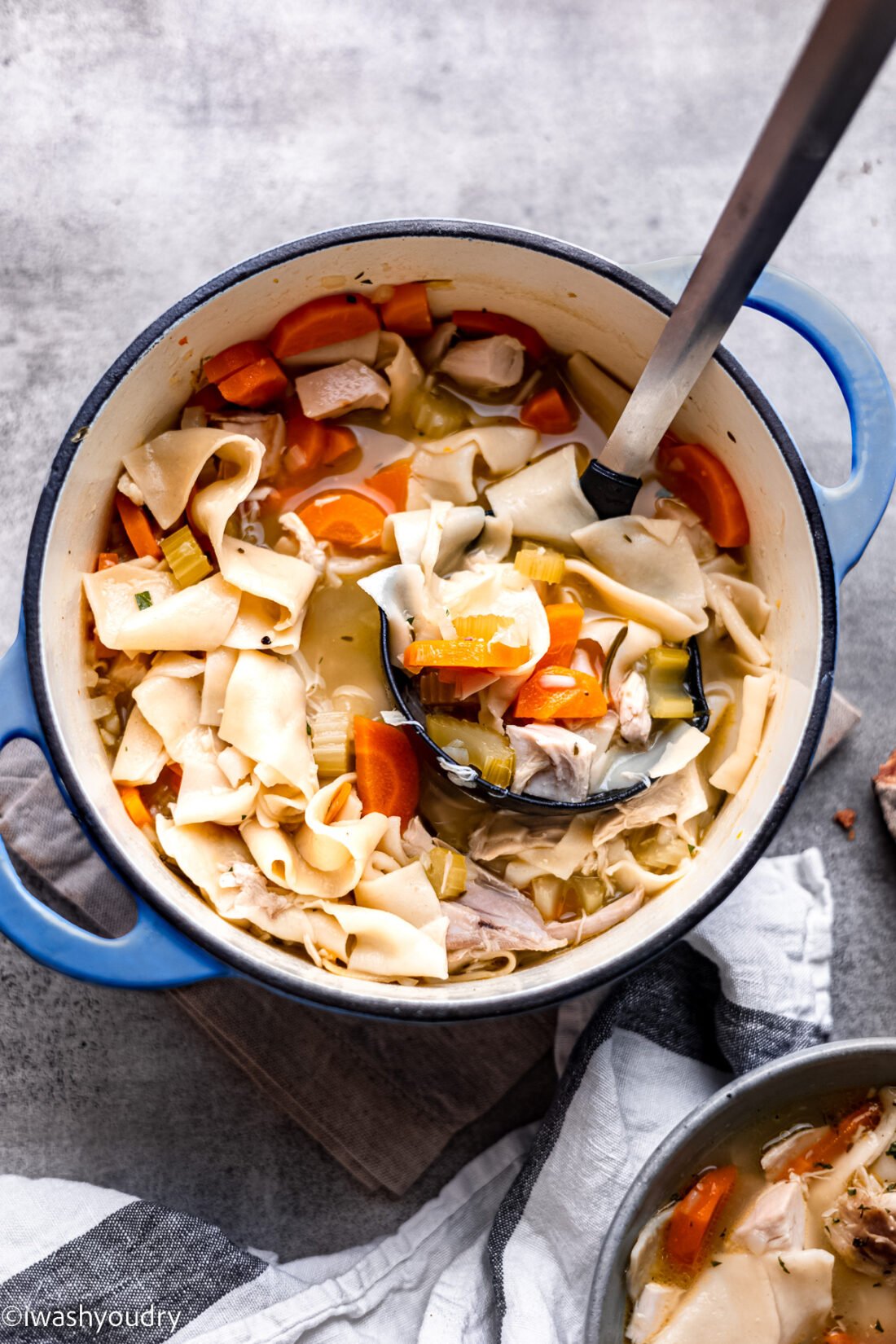 Do Homemade Noodles Have To Be Dried?
Some recipes for homemade pasta do call for drying. However, this recipe is for homemade egg noodles and does not require drying. Just pop them straight into the soup to cook!
Why Are My Egg Noodles Tough?
There are a couple of different reasons that egg noodles can turn out tough.
Over-mixing the dough can cause the noodles to be difficult to roll out and slice, resulting in tougher noodles.
Not cooking at a high enough temperature! Make sure your soup is at least simmering before putting in the noodles to cook, and keep it at a steady boil throughout the cooking process.
Storage
To store this soup or make it ahead of time, once it's made, cool and transfer it to an airtight container and refrigerate for up to 5 days.
Keep in mind that freezing the soup may change the consistency of the noodles and make them more tender or cause them to fall apart once thawed.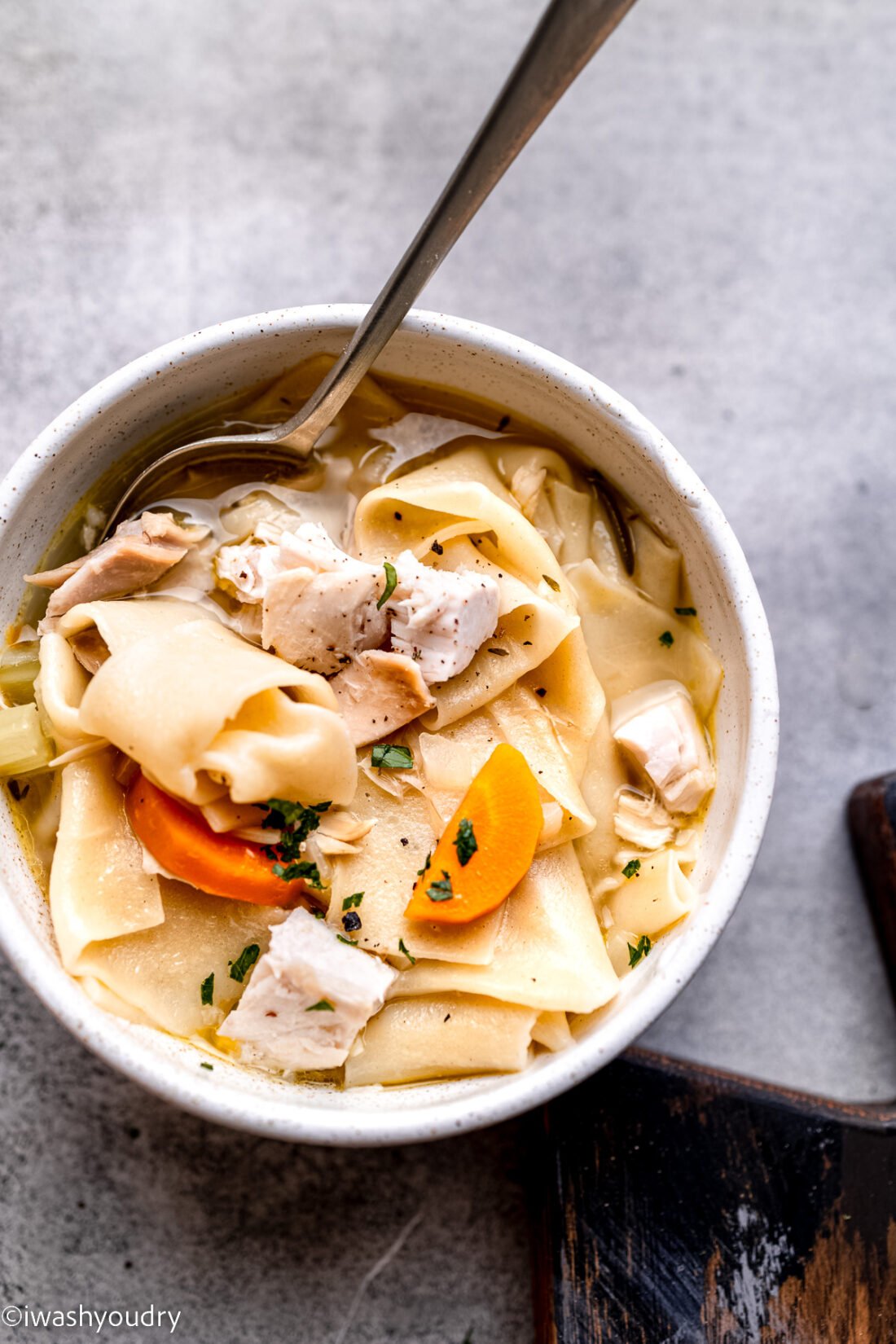 Leftover Turkey Recipes
Need some ideas about what to make with leftover turkey? I have a few ideas for you…
Homemade turkey noodle soup is one that the whole family will love! I can't wait for you to try it out!
Homemade Turkey Noodle Soup
A from-scratch version of a comforting classic. See the notes for some quicker tips.
Ingredients
For the Stock:*
1

turkey

,

or chicken carcass

1

onion

,

quartered

2

medium

carrots

,

coarsely chopped

2

stalks celery

,

coarsely chopped

1

chicken bouillon cube

,

if desired

salt and pepper,

to taste
For the Soup:
2

cloves

garlic

,

minced

1 1/2

cups

carrots

,

sliced

1 1/2

cups

celery

,

sliced

1

cup

onion

,

diced

4

bay leaves

2

sprigs of fresh thyme

2

sprigs of fresh rosemary

2

cups

turkey

,

diced (or chicken meat)
Instructions
For the Stock:*
Place the turkey (or chicken) carcass, onion, carrots and celery in a large pot and cover with water. Bring to a boil and then reduce to medium heat so it is still a steady boil. Let cook like this for at least 1 to 2 hours or until any excess meat is falling off the bones. Carefully remove the carcass from the pot and discard the bones.

Place a fine mesh strainer over another clean, large pot and strain the turkey stock into this pot. Pick out any meat and set aside for later, discard anything else.

Taste the stock and add a chicken bouillon cube if desired. Turn heat to medium low and stir until dissolved. Taste and add more if desired. Season with salt and pepper to taste.
For the Soup:
Add the garlic, carrots, celery, and onion to the stock. Add in the bay leaves and use twine to tie up the thyme and rosemary together then add to the stock. Simmer for 15 to 20 minutes. Meanwhile make the noodles.
For the Noodles:**
Add the flour, salt and eggs to a food processor and pulse until combined. While mixing, stream in the milk, one tablespoon at a time until a soft dough ball forms.

Turn out onto a lightly floured surface and roll to 1/8" thick. Use a pizza cutter to cut noodles that are about 1/2" wide and 2" long.

Add the noodles to the soup and cook an additional 15 to 20 minutes or until the noodles are tender. Add in the diced turkey and cook until warmed through, then remove and discard the bay leaves and tied up herbs. Season with salt and pepper and enjoy!
Notes
TO MAKE THIS EVEN QUICKER
Use 10 cups of store-bought chicken stock in place of making your own turkey stock.
Swap 4 cups of prepackaged egg noodles in place of making your own.
Nutrition
Calories:
263
kcal
|
Carbohydrates:
37
g
|
Protein:
16
g
|
Fat:
5
g
|
Saturated Fat:
1
g
|
Polyunsaturated Fat:
1
g
|
Monounsaturated Fat:
2
g
|
Trans Fat:
0.02
g
|
Cholesterol:
84
mg
|
Sodium:
501
mg
|
Potassium:
506
mg
|
Fiber:
3
g
|
Sugar:
6
g
|
Vitamin A:
6778
IU
|
Vitamin C:
6
mg
|
Calcium:
59
mg
|
Iron:
3
mg
Keywords:
carrots, celery, Homemade, noodle, Soup, Turkey