Homemade Greek Seasoning is an aromatic blend of herbs and spices, the perfect way to add Mediterranean magic to your meat and veggies.
This homemade greek spice blend is so versatile, and is the perfect way to make the flavors pop in any Greek-inspired dish.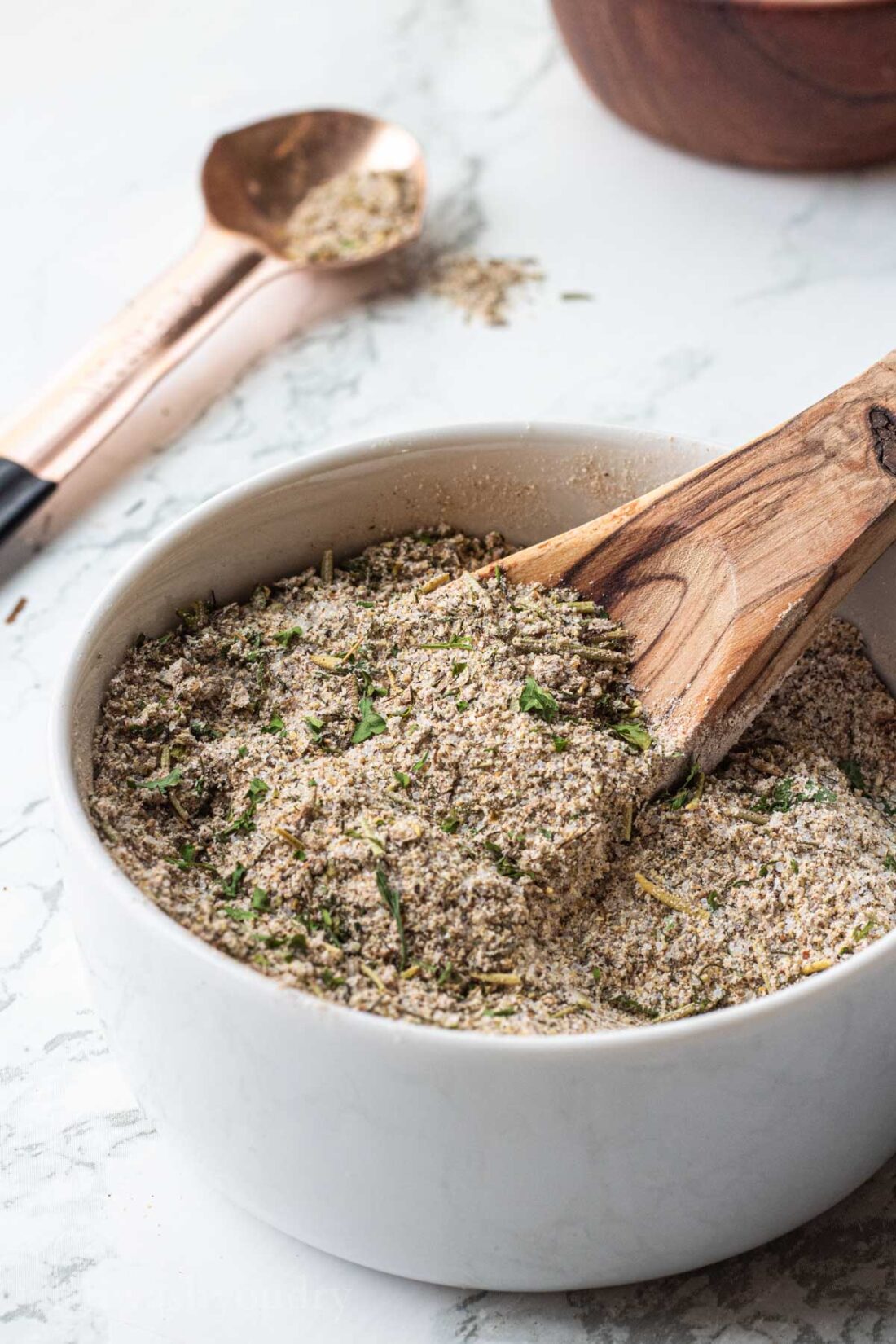 Greek Spices
This is a curated spice blend inspired by my favorite Greek flavors. It's made with earthy herbs and spices known for their depth of flavor. Many Greek recipes use what the Western world knows as "sweet" spices like cinnamon and nutmeg in their stews and for meats, especially in the northern parts of the country.
What Is Greek Seasoning Made Of?
This mix is made of classic common spices that we all know, like salt and pepper, parsley, garlic, and onion powder. There are also herbs that create that lovely "Greek" flavor. Oregano, dill, rosemary, nutmeg and cinnamon. A little sugar is also added to balance out the deep flavors of the strong spices, but it's only a little.
Why You Need This!
There are a few reasons why this is an ESSENTIAL spice mix to add to your kitchen rotation.
Easy to make – It takes 5 minutes!
No preservatives like in store-bought spice blends.
Easy to store – In a jar, for up to 3 years.
SO versatile – you can use this in so many recipes!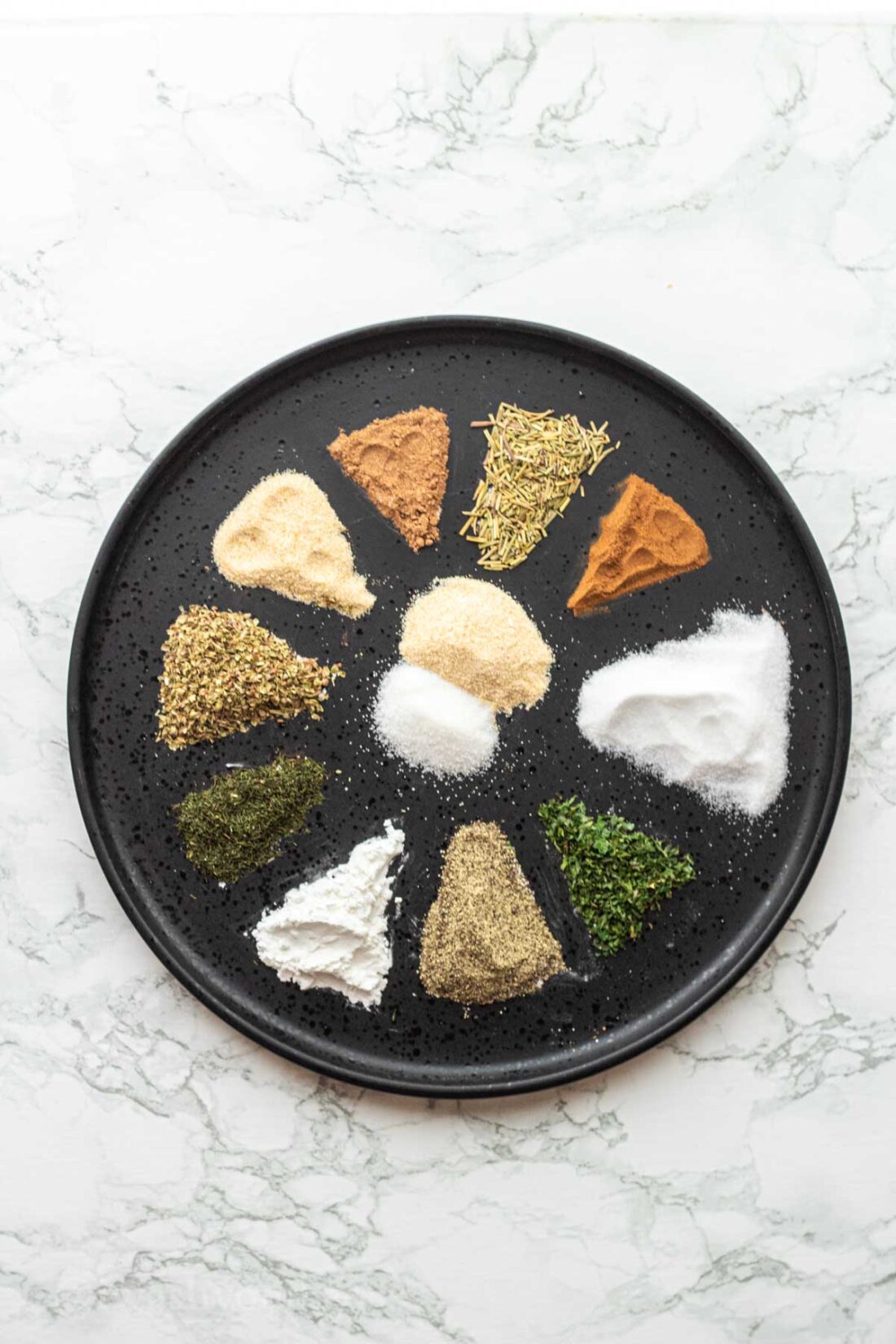 Ingredients Needed
Here's the list of spices and herbs, along with salt and pepper, you'll need for making homemade Greek seasoning. As always, you can find the complete list of ingredients with quantities located in the printable recipe card below.
Cornstarch – adds stability for sauces, vinaigrettes, and juicy meat to keep the flavor in.
Oregano – deep and earthy flavor.
Garlic Powder – made from dried ground garlic, make sure not to use garlic salt!
Sugar – to balance out the deep flavors of other herbs and spices.
Onion Powder – a pantry staple made from dried onions.
Dried Parsley – a regional favorite that is added to many vegetable and meat dishes.
Dill – light and almost citrusy, a classic herb in Mediterranean and Greek dishes.
Rosemary – floral notes, nice and strong bright flavor.
Ground Cinnamon – usually a "sweet" spice, but adds a lovely flavor to the mix.
Nutmeg – a strong spice that is used in many meat and stew dishes in certain regions of Greece.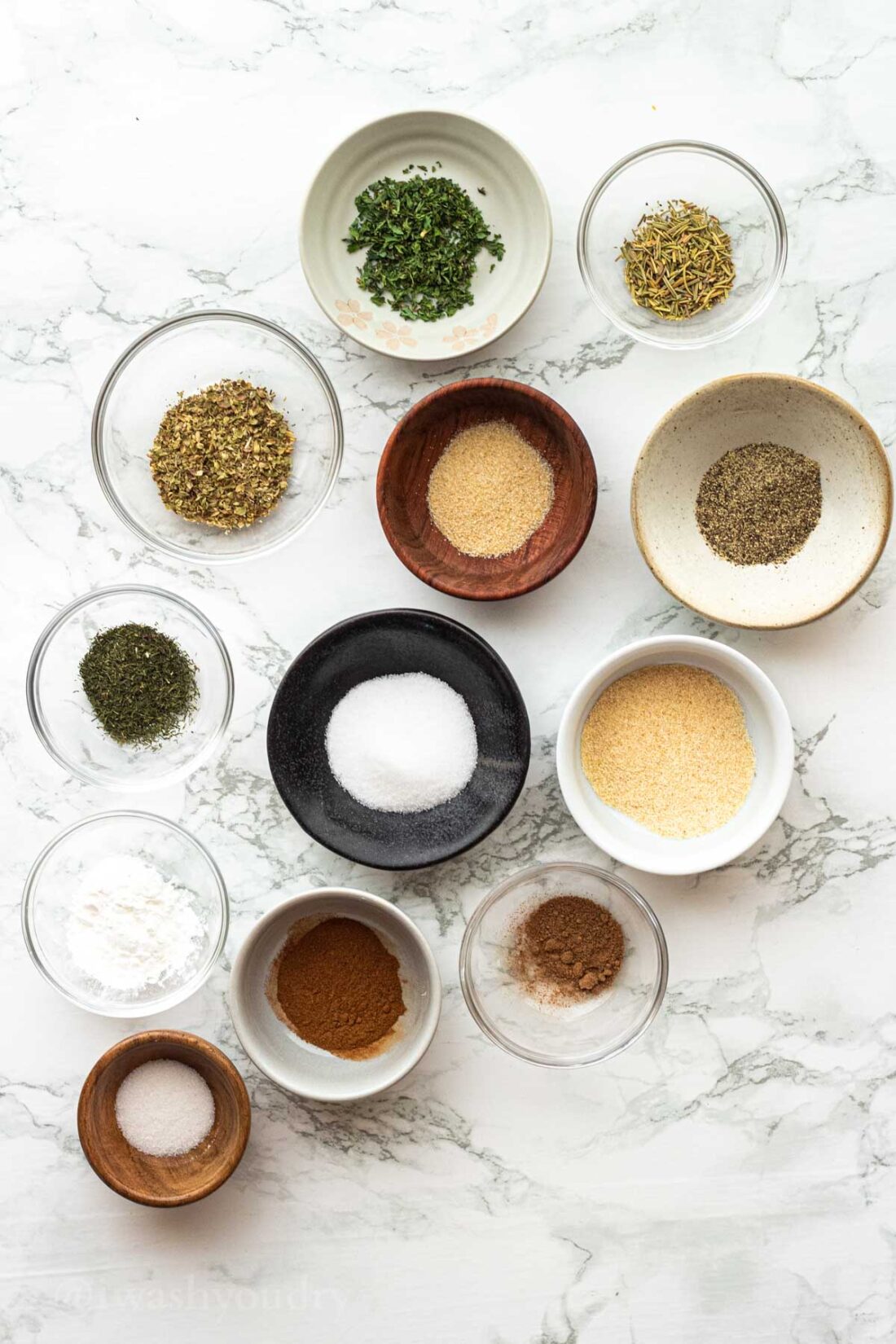 How To Make Greek Seasoning Blend
It doesn't take long to make this homemade Greek spice mix. You can measure out each spice into a bowl super quick!
Mix All Dry Ingredients
Combine all dry ingredients in a bowl and mix together. You can also pulse in a blender 4-5 times for a finer texture if desired. You can add less salt, pepper, or sugar if you like but don't skimp on the other spices, or the mix won't turn out as well.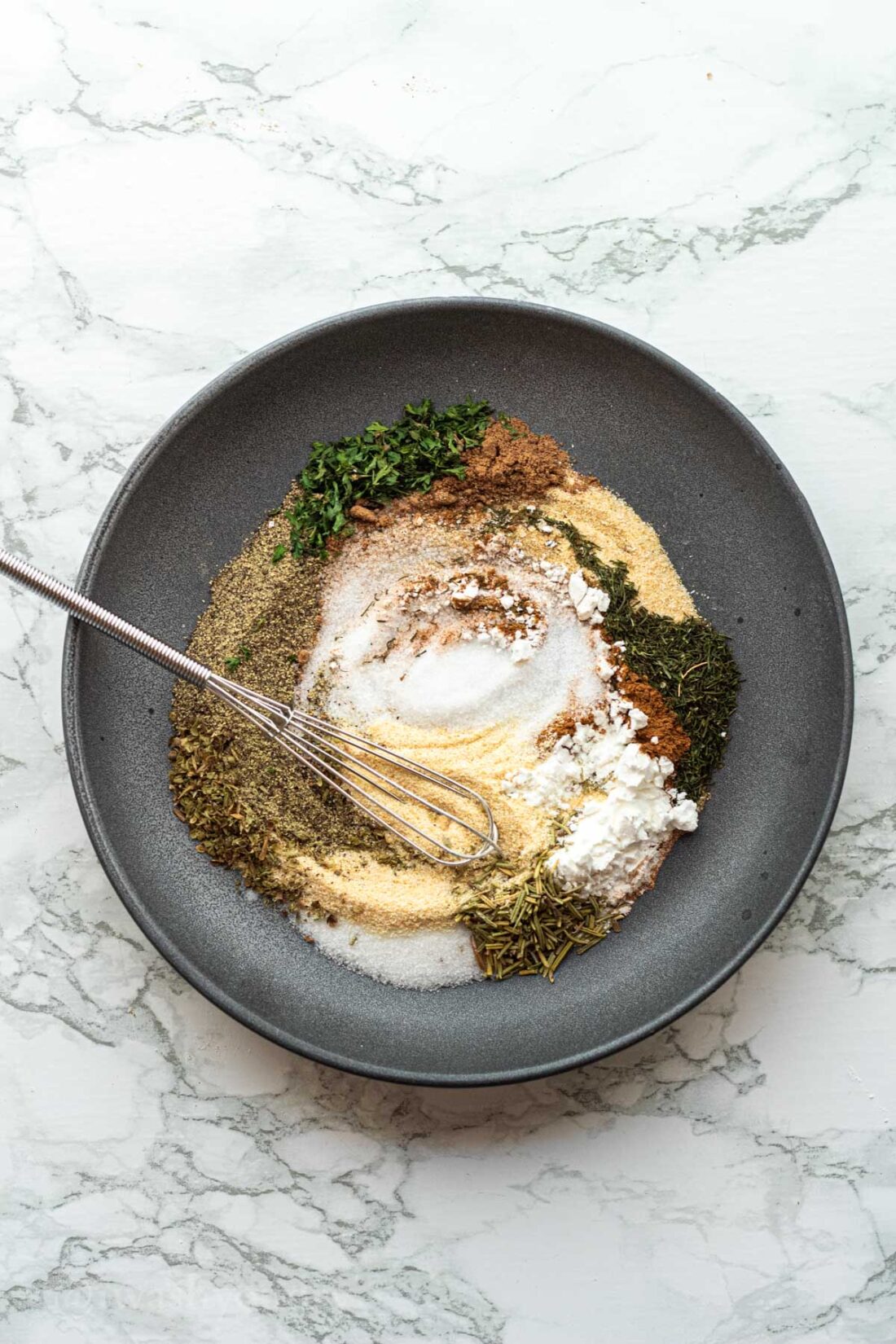 How To Store
If you are not planning on using this spice mix right away, transfer it to a small airtight jar for storage.
Make sure to store it at a cool, dry, room temperature (65-78 degrees F) for best results.
Don't store over the stove as it gets hot and humid from cooking and can compromise the length of time it will last, and the flavor of the spice mix.
PRO TIP: Make sure to use DRIED spices only for this recipe so you can store it! While I usually love using fresh, fresh herbs would use different quantities than dry and would not store well.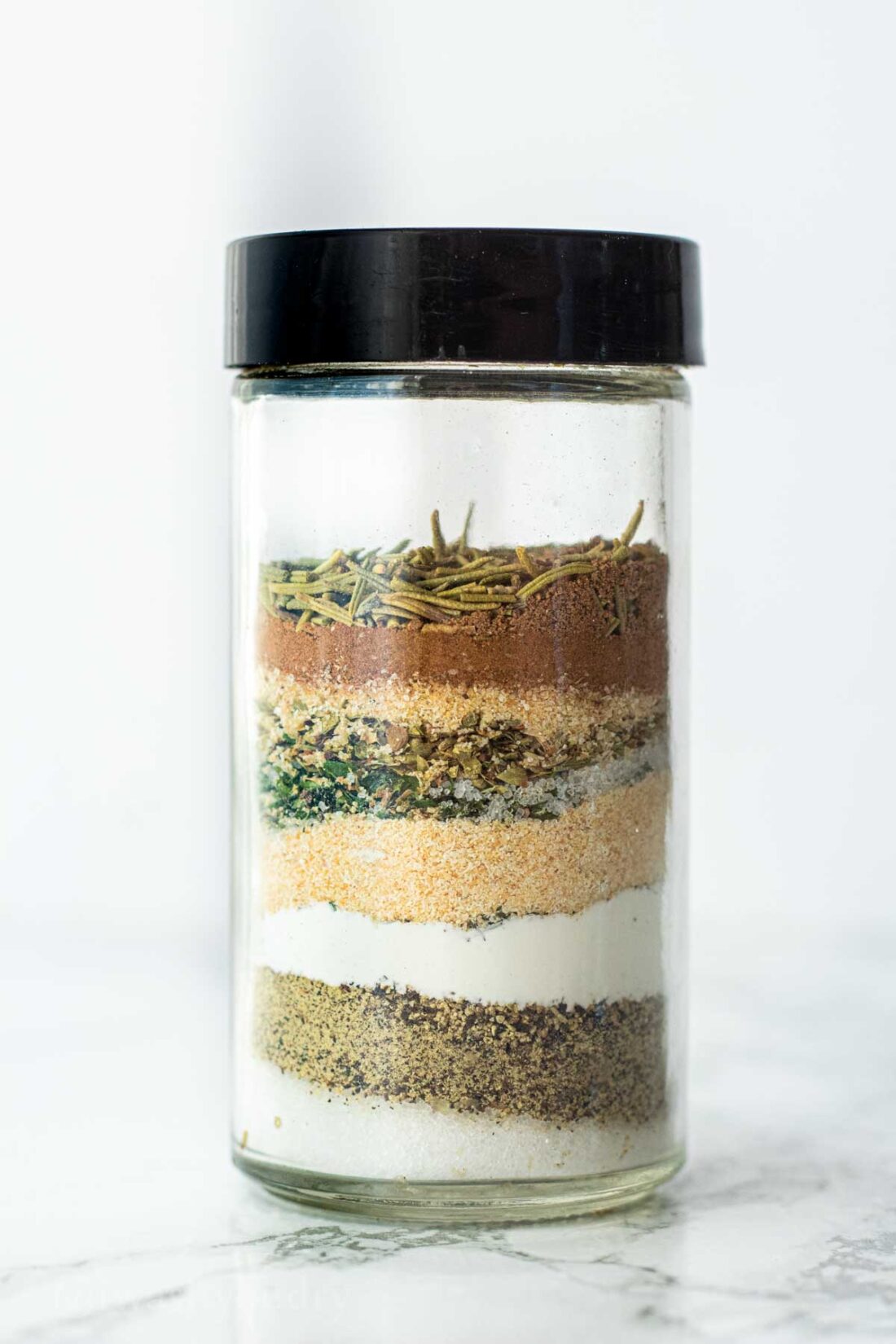 How To Use Greek Seasoning?
This greek spice blend goes amazingly well with so many things!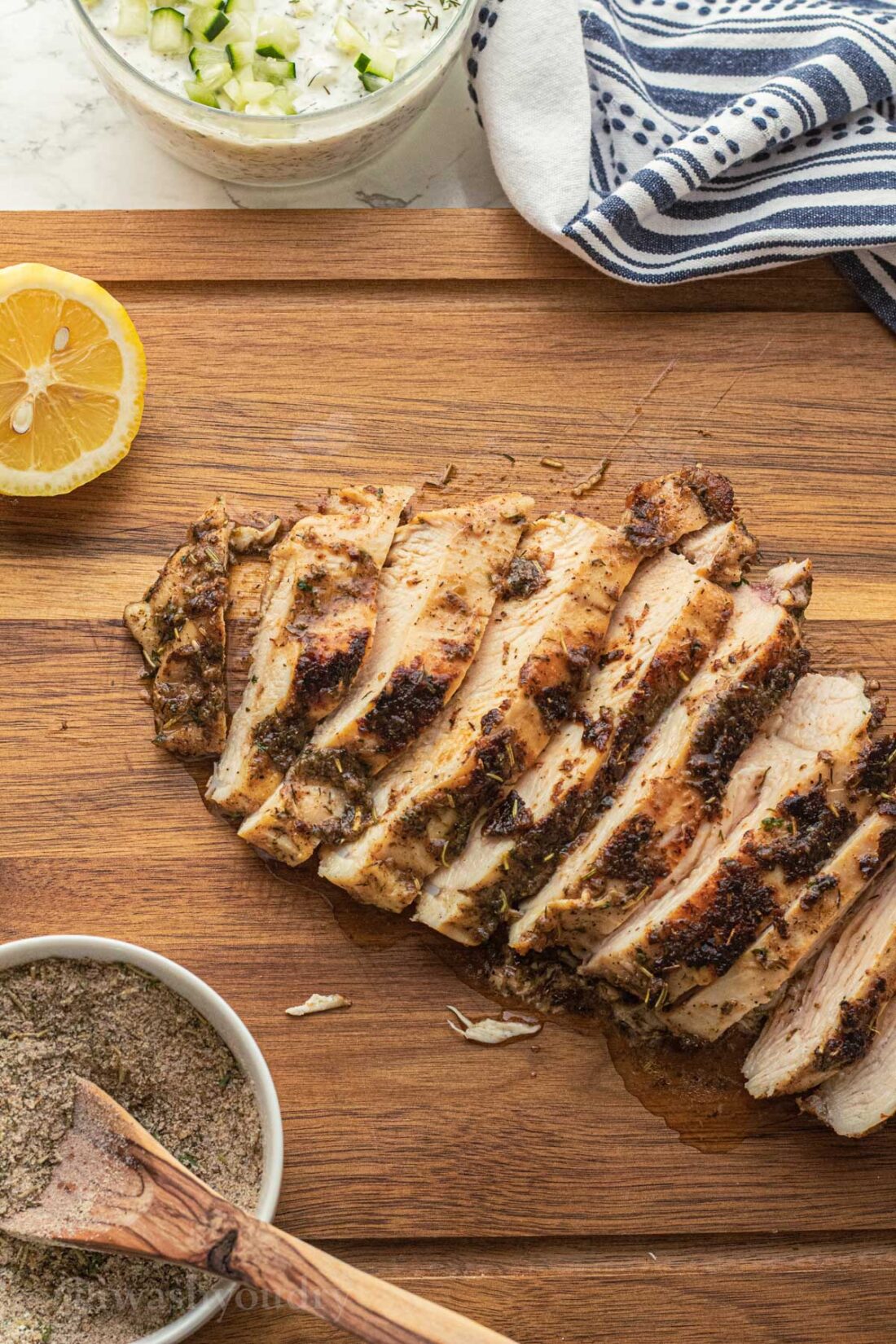 Simple Greek Food Recipes
Greek food is a beautiful cuisine with simple but delicious and bright flavors! Here are a few of our family favorites.
I hope you enjoy this versatile, easy to make DIY greek seasoning! It's quickly become a family favorite and we use it on EVERYTHING. Let me know how you like it!
Homemade Greek Seasoning
This quick blend of herbs and spices is fantastic on chicken, lamb, potatoes and more!
Ingredients
3

tsp

salt

2

tsp

black pepper

2

tsp

cornstarch

2

tsp

oregano

2

tsp

garlic powder

1

tsp

sugar

1

tsp

onion powder

1

tsp

dried parsley

1

tsp

dill

,

dried

1

tsp

rosemary

½

tsp

ground cinnamon

½

tsp

nutmeg
Instructions
Combine all ingredients in a small bowl and whisk together.

Store seasoning in an airtight container and it can last up to 1 year.
Notes
Nutrition facts are for 1 tsp of seasoning.
Nutrition
Calories:
5
kcal
|
Carbohydrates:
1
g
|
Protein:
0.1
g
|
Fat:
0.05
g
|
Saturated Fat:
0.03
g
|
Polyunsaturated Fat:
0.01
g
|
Monounsaturated Fat:
0.01
g
|
Sodium:
437
mg
|
Potassium:
13
mg
|
Fiber:
0.3
g
|
Sugar:
0.3
g
|
Vitamin A:
7
IU
|
Vitamin C:
0.1
mg
|
Calcium:
7
mg
|
Iron:
0.2
mg
Keywords:
greek seasoning