This Garlic Mushroom Steak Recipe is a quick and easy ribeye steak dinner that's easily cooked on the stove top.
I love to serve these steaks with a side of steamed broccoli and a crispy baked potato for a complete meal.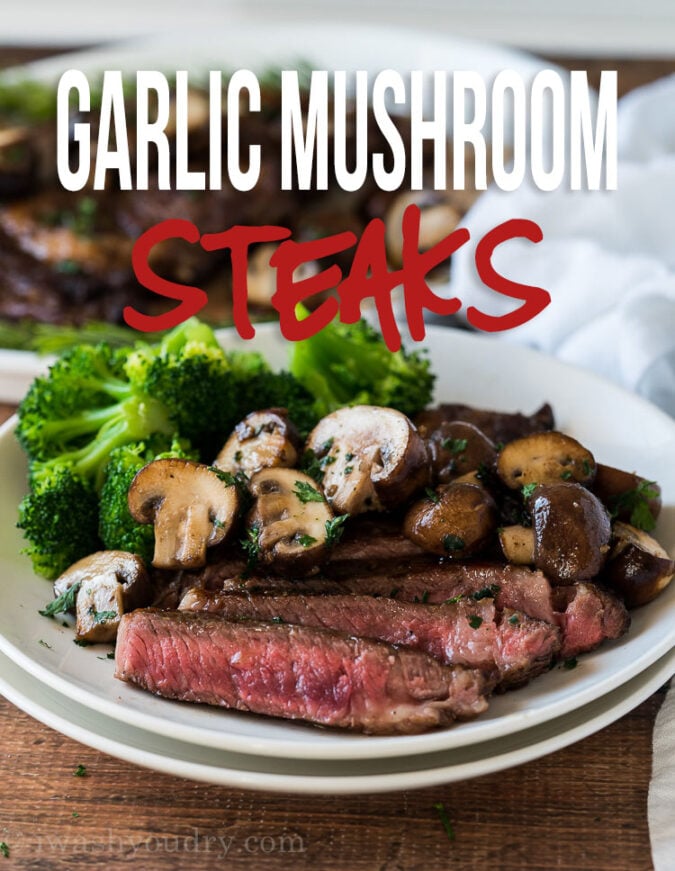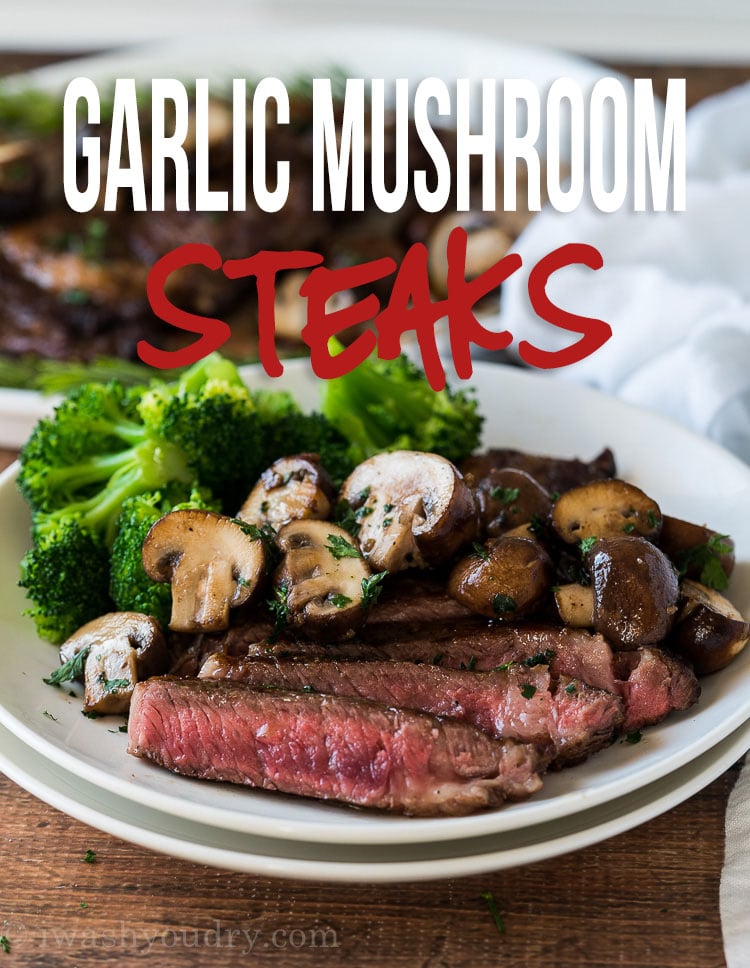 Cooking steak on the stovetop is a delicious way to prepare your favorite cuts of beef when it's too cold to grill outside. This simple steak recipe is taken to the next level with the addition of Garlic Butter Mushrooms and fresh herbs like thyme and rosemary. The best part is that everything is cooked in just one pan, making it a super easy clean up afterwards.
Garlic Mushroom Steak Recipe
When the weather just isn't cooperating, cooking a steak on the stove top instead of the grill is the next best thing. It's actually quite easy to do, just make sure to follow the steps listed below. Pay attention to the cook times to make sure you don't over cook your steak!
What Type of Steak Should I Use?
How many types of steak are there? Believe it or not, there are just 4 main types of steak to choose from.
Tenderloin – other names for tenderloin include: Filet Mignon, Châteaubriand, fillet, and filet.
New York Strip – other names for NY Strip include: Strip, Manhattan, Kansas City strip, top sirloin, top loin, and contre-filet
T-Bone – other names for T-Bone include: Porterhouse
Ribeye – other names for Ribeye include: Spencer, Entrecôte, Delmonico, Scotch fillet, Market, and Beauty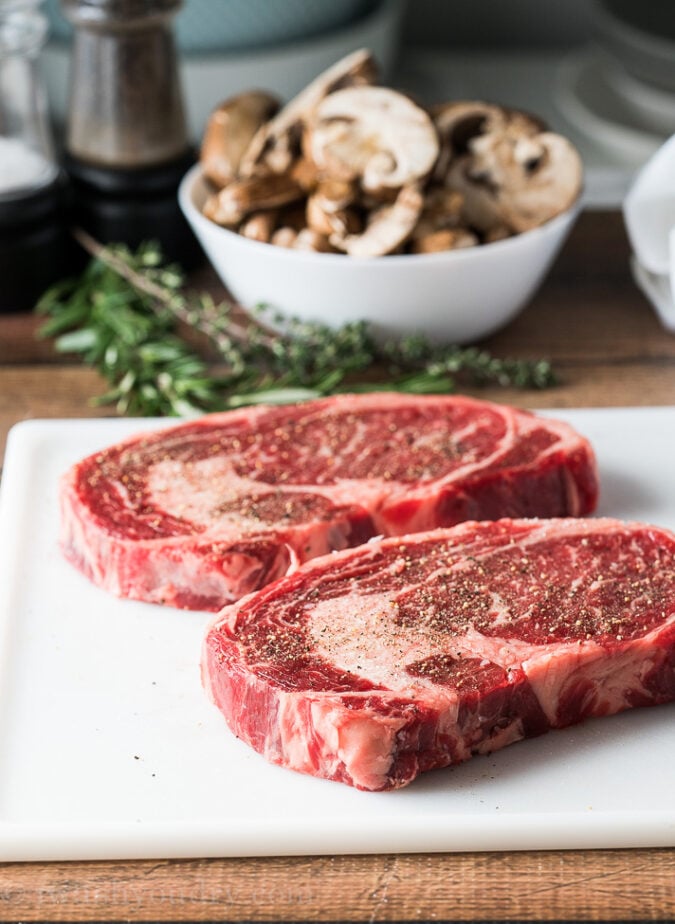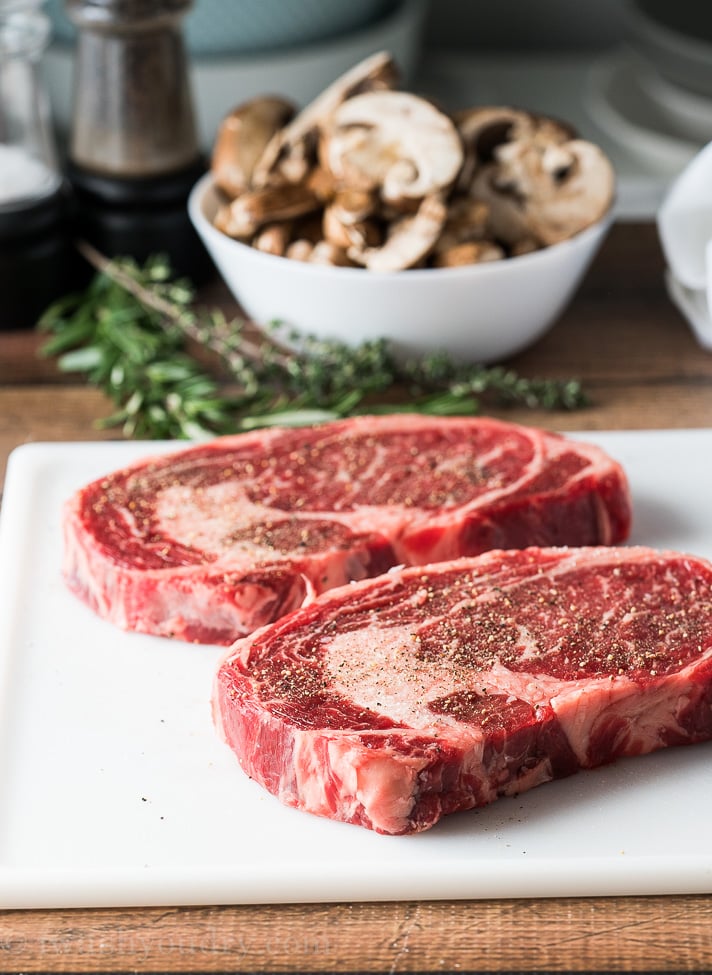 For this recipe, I chose to use a boneless Ribeye because they're my absolute favorite steak. They have more fat marbled throughout the steak, which makes the steaks extra juicy and flavorful, in my opinion. Since they are heavier in fat, they aren't the healthiest steak choice. If you're looking for a slimmer cut, you'll want to choose a tenderloin cut of steak. The tenderloin is more tender without all the fat, but also tends to be a little pricier.
How To Cook The Perfect Steak On The Stove Top:
In order to get the best results from a cast iron steak recipe, you'll want to make sure you take the steaks out of the fridge to let them come to room temperature before cooking. Season the steaks generously with salt and pepper and let come to room temperature.
Cast Iron Steak Recipe:
When cooking steak you'll want to pick a heavy bottomed skillet, such as a cast iron skillet.
Use a combination of butter and extra virgin olive oil to coat the skillet.
Heat the cast iron skillet to a high temperature before adding the steaks to get a good sear.
DON'T overcrowd the steaks in the skillet to prevent steaming the steaks.
Use fresh herbs such as rosemary and thyme to give the steaks more flavor.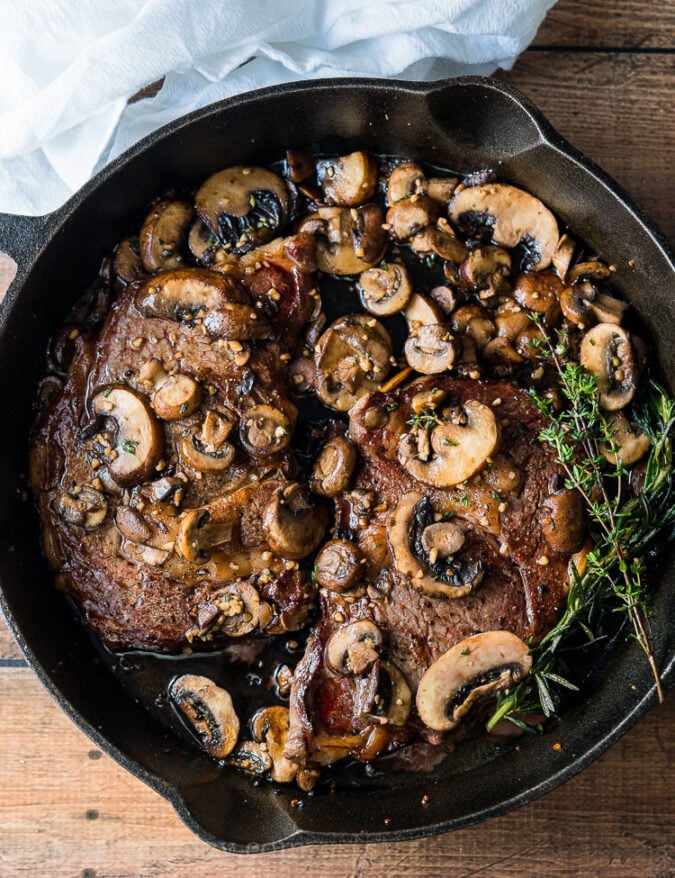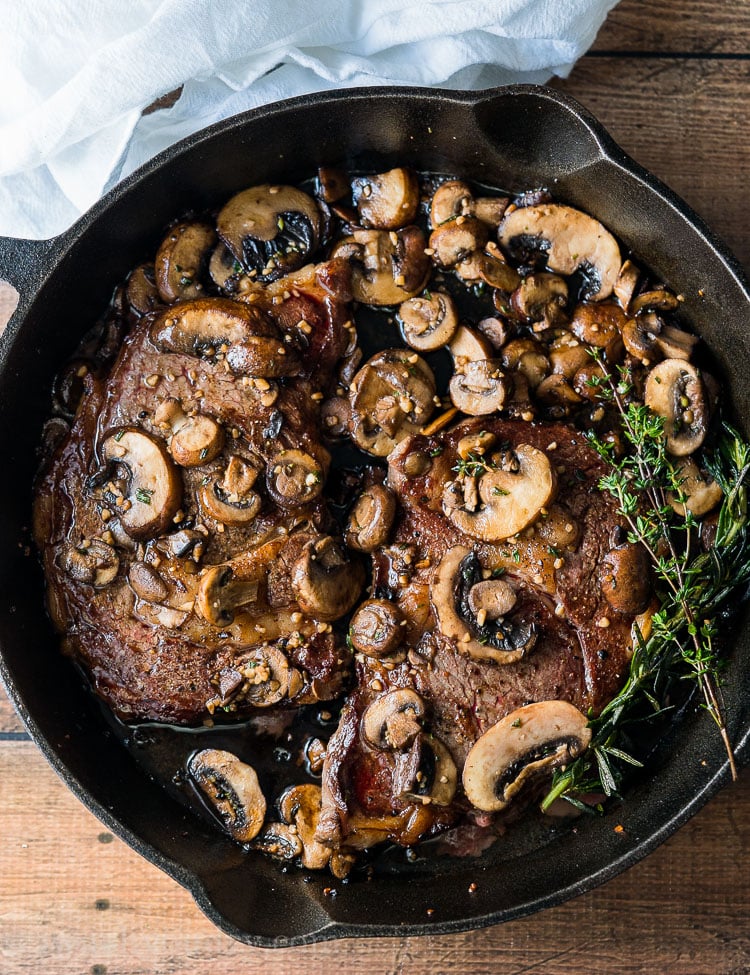 How Long To Cook Steak on Each Side:
There are a lot of things to consider when cooking the best steaks. How thick is your steak? Is your steak cold or room temperature? Do you prefer your steak rare, medium-rare, medium, medium-well, or well done?
The best no-fail way to get the correct temperature of your steak is with an instant read thermometer. Give the steaks at least a minute or two on each side at high heat to create a caramelized crust on the steak, then test for your internal temperature.
What Temperature is Steak Done?
For a RARE STEAK cook to 125 degrees F.
For a MEDIUM RARE STEAK cook to 135 degrees F.
For a MEDIUM STEAK cook to 145 degrees F.
For a MEDIUM WELL STEAK cook to 155 degrees F.
For a WELL DONE STEAK cook to 165 degrees F.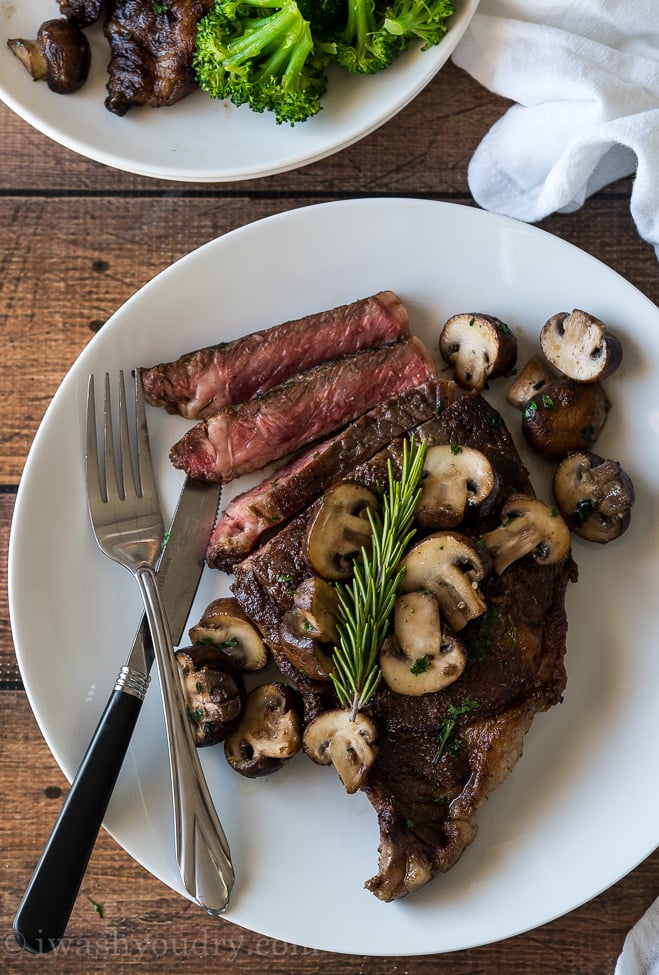 Cooking Steak Without a Thermometer
If you're feeling confident enough to cook those steaks without a thermometer, just remember to err on the side of less done than what you're going for. Once you cook the steak too long, you can't go back and cook it less, but you can always put the undercooked steak back on the stove top to cook it longer.
Test the doneness of a steak by pressing the center of the steak with your finger.
The softer the steak, the more rare it is. If it's firm to the touch, it's more well done.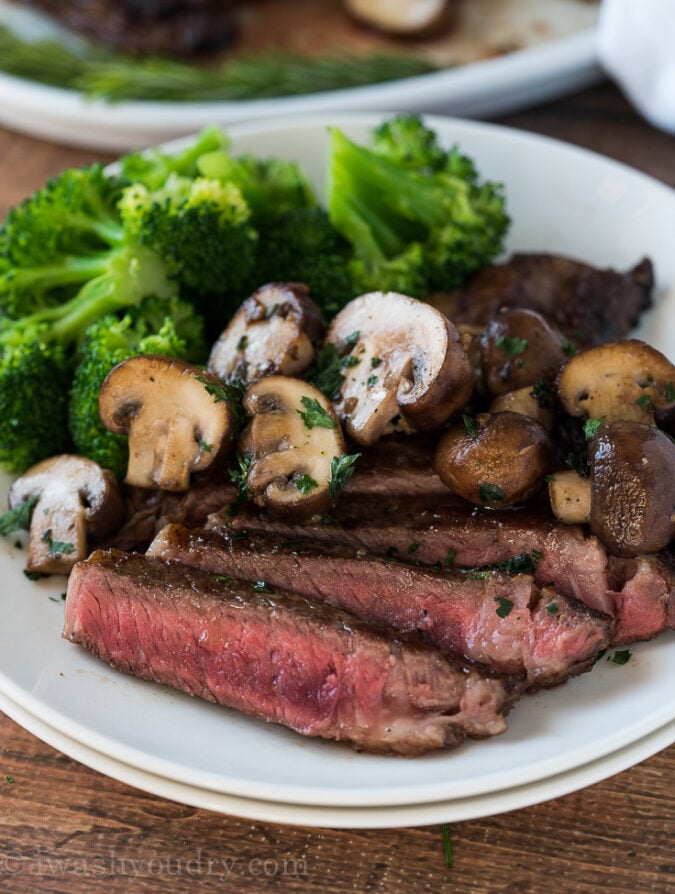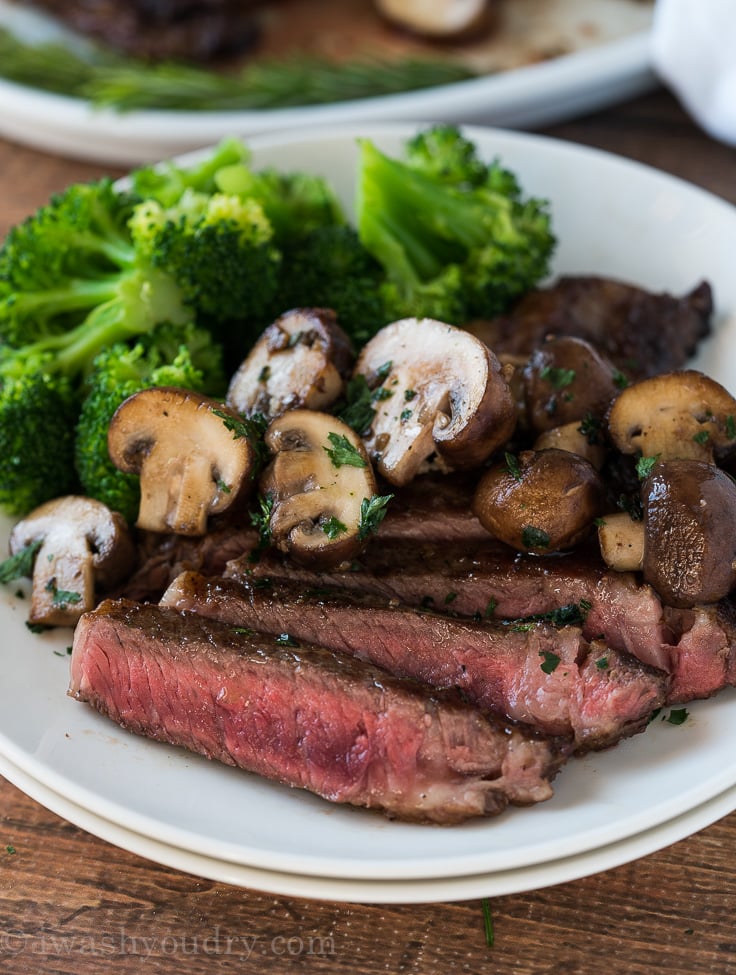 The pan cooked garlic butter mushrooms are the perfect steak topper for your perfectly cooked steaks.
What to serve with Garlic Mushroom Steak Recipe:
You're going to love this super simple steak recipe!
HELPFUL PRODUCTS TO MAKE THIS RECIPE:
Last updated on September 25, 2023 10:33 pm
Make sure you don't miss a thing! Follow I Wash You Dry here:
FACEBOOK | PINTEREST | TWITTER | INSTAGRAM | BLOGLOVIN
Garlic Mushroom Steak Recipe
This super simple Garlic Mushroom Steak Recipe comes together in just a few minutes with minimal ingredients.
Ingredients
8

oz.

mushrooms

,

halved

2

tbsp

olive oil,

divided

2

tbsp

butter

,

divided

3

garlic cloves

,

minced

1

tsp

freshly minced thyme

2

sprigs of fresh rosemary

2

8oz ribeye steaks, or steak of choice
Instructions
Bring the steaks out of the fridge and season with salt and pepper to taste. Let sit at room temperature for at least 20 minutes.

Meanwhile heat 1 tbsp olive oil and 1 tbsp butter in a large cast iron skillet over medium-high heat. Add the mushrooms, garlic and thyme and season with salt and pepper to taste. Cook until mushrooms are tender, about 3 to 5 minutes. Remove from skillet and keep warm.

Return skillet to stove top and add the remaining butter and olive oil over medium-high heat. Once skillet is hot add the steaks and sear for at least 1 to 2 minutes per side, until desired internal temperature is reached. While steaks are cooking, use tongs to hold the fresh rosemary in the oil, then pat on top of steaks, repeat to add extra flavor to steaks.

Let steaks rest for 5 minutes before cutting. Serve steaks with mushrooms. Enjoy.
Nutrition
Calories:
729
kcal
|
Carbohydrates:
6
g
|
Protein:
49
g
|
Fat:
58
g
|
Saturated Fat:
24
g
|
Cholesterol:
168
mg
|
Sodium:
226
mg
|
Potassium:
984
mg
|
Fiber:
1
g
|
Sugar:
2
g
|
Vitamin A:
436
IU
|
Vitamin C:
5
mg
|
Calcium:
24
mg
|
Iron:
5
mg
Keywords:
Garlic Butter Mushrooms, Ribeye, Stove top
PIN THIS IMAGE TO SAVE THE RECIPE: