Buttery Chicken Cordon Bleu Sliders have layers of swiss cheese, thinly sliced deli ham and chicken with an irresistible honey mustard sauce on buttery soft roll, then baked till hot and extra gooey.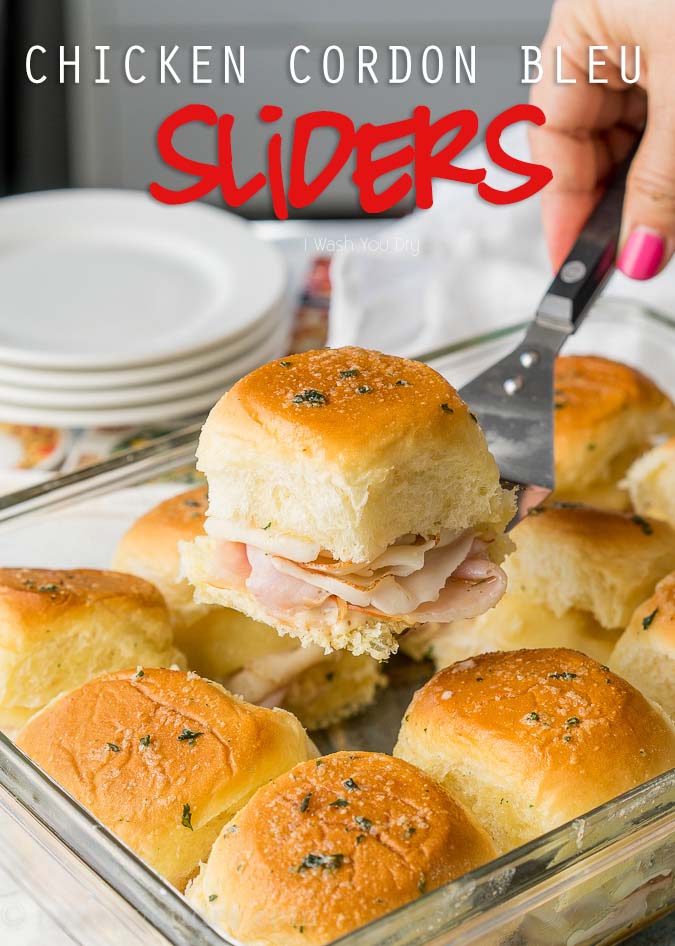 Buttery Chicken Cordon Bleu Sliders are so easy, they're perfect for any pot luck or party, but definitely acceptable for a quick weeknight dinner!
If you're looking for a super quick dinner/lunch/appetizer/snack that tastes amazing, look no further!
I feel so lucky to know the author of the cookbook that these yummy sandwiches come from. Mary is the lady behind the blog Barefeet in the Kitchen and new author of the book The Weeknight Dinner Cookbook. Mary has three handsome young boys at home, so she knows the importance of good food prepared quickly. That's why I love this cookbook. It's sectioned off into different chapters like, "15-25 Minute Meals," "30-45 Minute Meals" and "5-10 Minute Prep (Meals Cook On Their Own)". She even has loads of side dishes, and stress free desserts to accompany your quick dinners!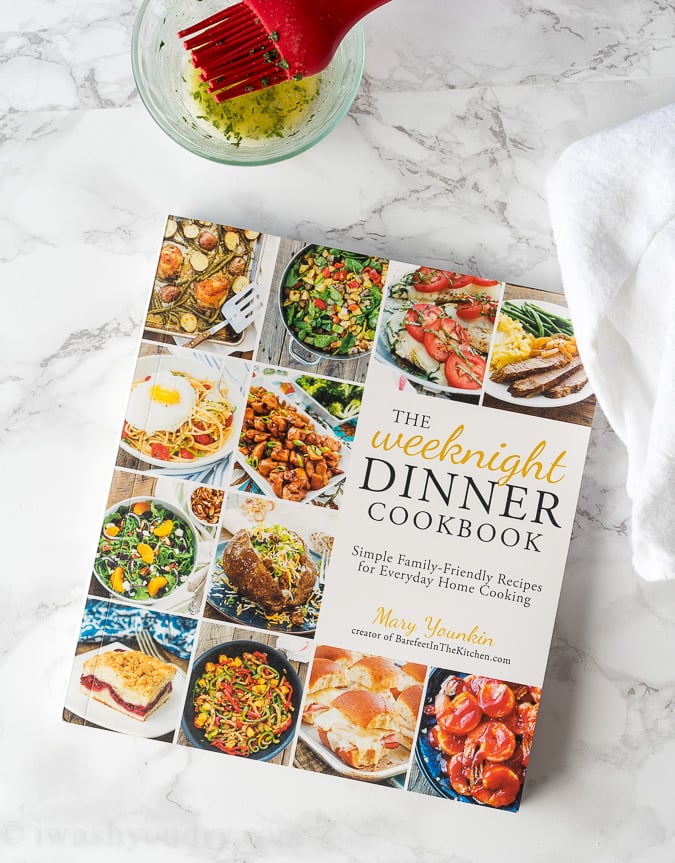 I've made a few recipes from the book already, and every single one was a success. All of my kids enjoyed them.
But these buttery Chicken Cordon Bleu Sliders were probably one of my personal favorites!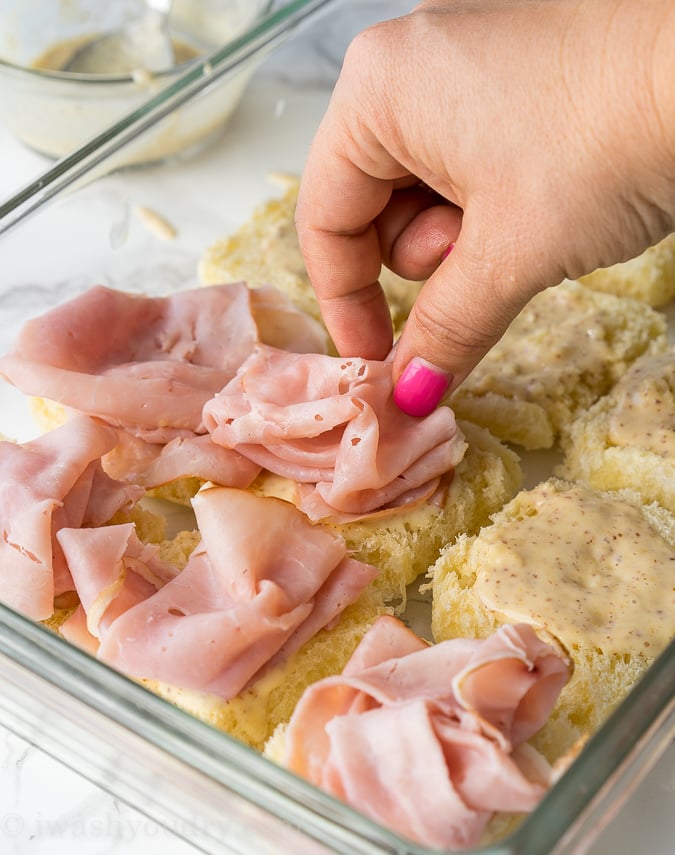 Mary took the traditional chicken stuffed dinner and turned it into a fun and easy slider, complete with a deliciously creamy honey mustard sauce!
All you need to do is halve some rolls (I went with those sweet Hawaiian ones), and then mix up your quick sauce. Spread it on the bottoms, top with ham and sliced swiss cheese.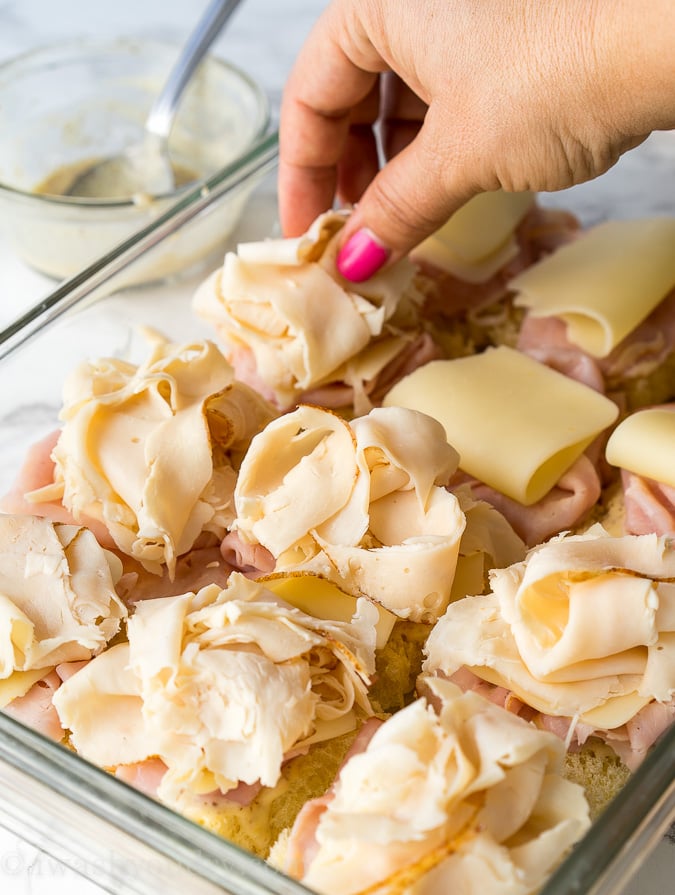 Throw a little sliced chicken breast on top of that, followed by even more cheese!
Because we all know cheese is king.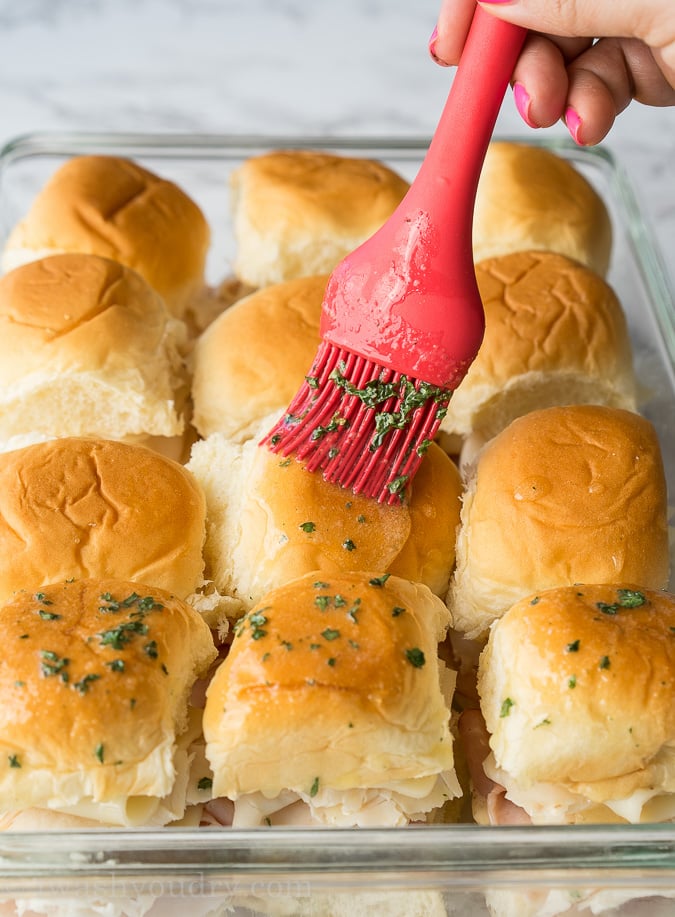 Mary's recipe doesn't call for adding the melted butter on top before baking, but I couldn't resist.
These sliders are begging for that delicious garlic butter to seep into the soft rolls.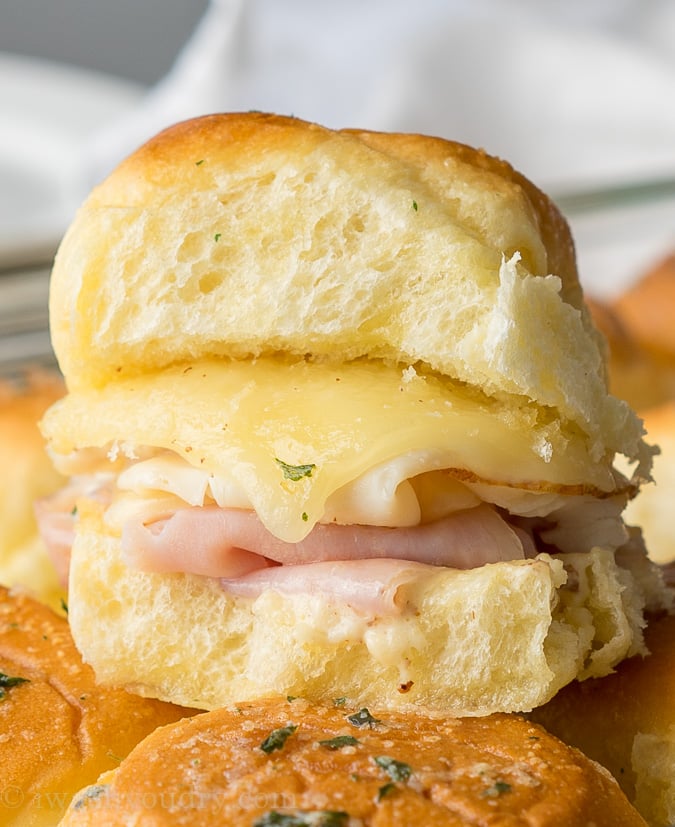 These sliders are perfect for game day, don't you think?! All of them can be ready at the same time. Hot, cheesy, and buttery!
Touchdown!
These Buttery Chicken Cordon Bleu Sliders would go perfectly with these delicious sides: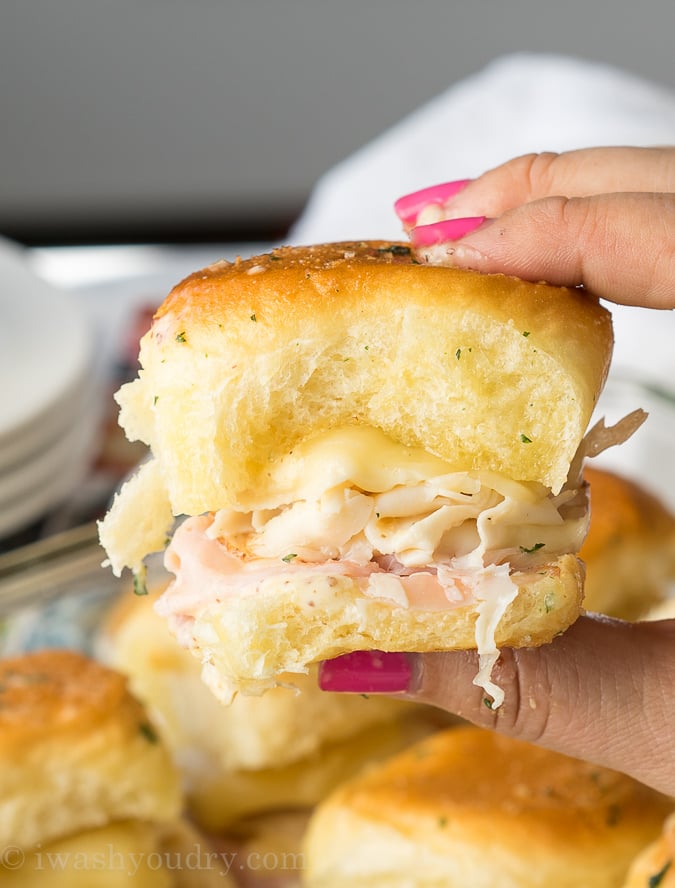 The Weeknight Dinner Cookbook would be a perfect gift to yourself or a loved one this holiday, don't you think?!
Buy it HERE. You won't be sorry.
Make sure you don't miss a thing! Follow I Wash You Dry here:
FACEBOOK | PINTEREST | GOOGLE+ | TWITTER | INSTAGRAM | BLOGLOVIN
Buttery Chicken Cordon Bleu Sliders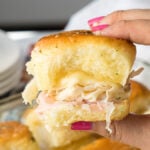 Ingredients
For the Honey Mustard Sauce:
1/4 cup mayo
1 1/2 tbsp Dijon mustard
1 1/2 tbsp honey
1 tsp fresh lemon juice
Pinch of kosher salt
For the sandwiches:
1/2 lb. deli black forest ham, very thinly sliced
1/2 lb. Swiss cheese, thinly sliced
1/2 lb. deli chicken breast, very thinly sliced
3 tbsp butter, melted
1/2 tsp garlic powder
1/2 tsp dried parsley
Instructions
Preheat oven to 400 degrees F. Slice the dinner rolls in half and place them cut side up on a large baking tray.
To make the sauce, whisk together the sauce ingredients and spread about 1 tsp of sauce on each half.
Place a life of ham, draped and folded, into a pile, on one half of each roll. Place a half slice of cheese over the ham. Layer a slice of chicken, again draped and folded into a pile, over the cheese. Place the second half slice of cheese over the chicken. Divide any remaining cheese between the rolls and place the top roll over each slider.
Combine the melted butter, garlic powder and parsley in a small dish and brush over the tops of the rolls. Bake the sliders for 5 to 6 minutes, until the cheese has melted. Remove from the oven and serve with extra honey mustard sauce, if desired. Enjoy!
Disclaimer: This post contains affiliate links. I was provided a free copy of this cookbook, but was not required to write a review. All thoughts and opinions are 100% my own.