This Quick Shrimp and Broccoli Stir Fry recipe features plump, seasoned shrimp with tender broccoli and carrots in an Asian-inspired sauce that's to die for.
Pair this quick dinner recipe with some steamed rice and my Crispy Chicken Egg Rolls or Cream Cheese Wontons for an epic meal.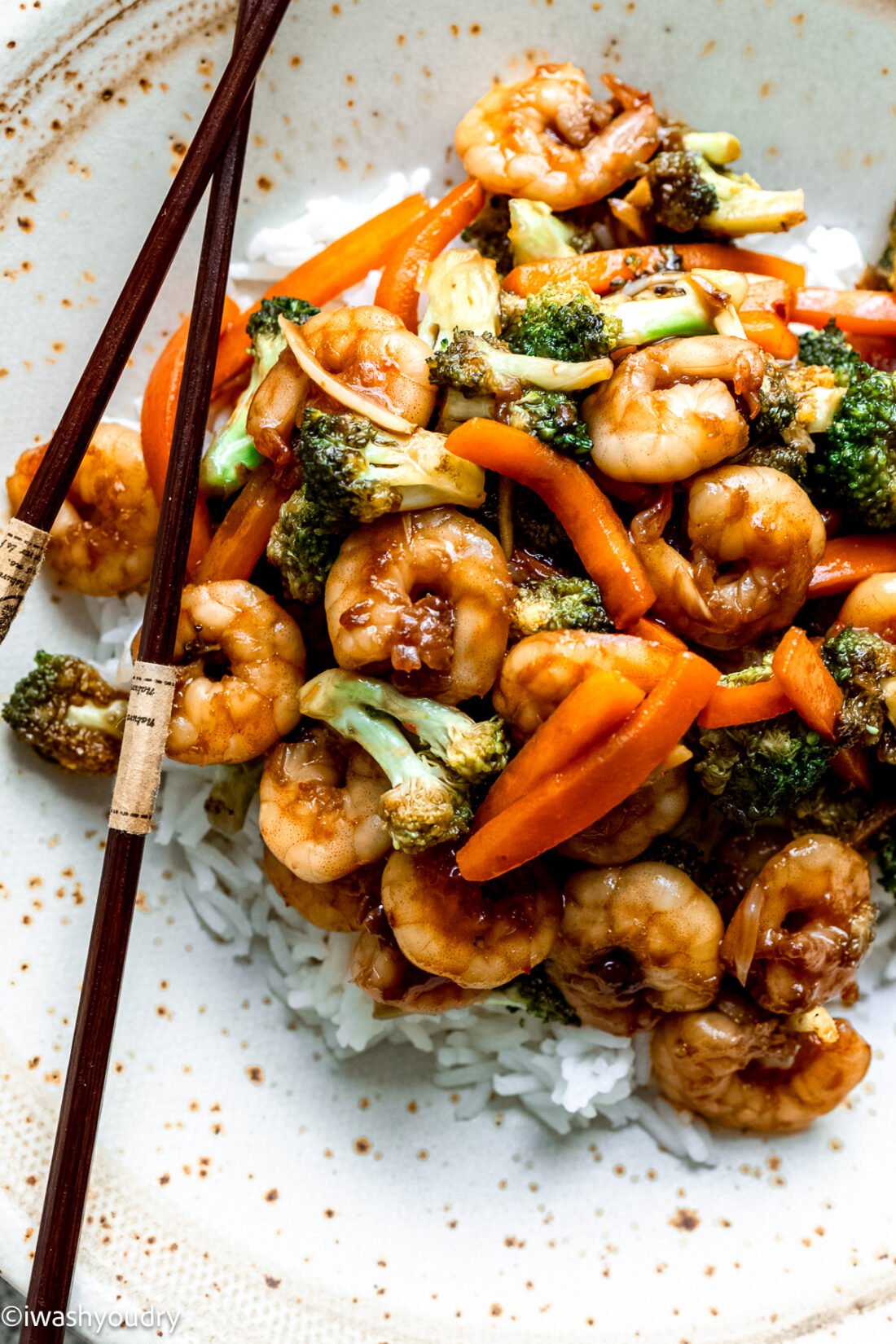 I'm a big fan of making stir fry recipes when I'm in need of a quick dinner. I always have a bag or two of frozen shrimp on hand ready for such an occasion.
Shrimp is an excellent choice for a quick-cooking meal because they defrost in no time and cook up even faster.
Shrimp and Broccoli Stir Fry
I chose broccoli and carrots for the vegetable portion of this stir fry because they're something I know my kids will always enjoy, however you can easily substitute these veggies for whatever you have on hand in your refrigerator.
Ingredients for Shrimp Stir Fry
Here's the basic list of ingredients you'll need in order to make this quick shrimp stir fry recipe. As always you can find the full list of ingredients located in the printable recipe card below.
Large/Jumbo Shrimp – peeled and tails removed
Soy Sauce
Cornstarch – to help thicken the sauce
Hoisin Sauce – you can swap with oyster sauce if that's what you have
Sugar
Rice Vinegar
Broccoli
Carrots
Garlic
Ginger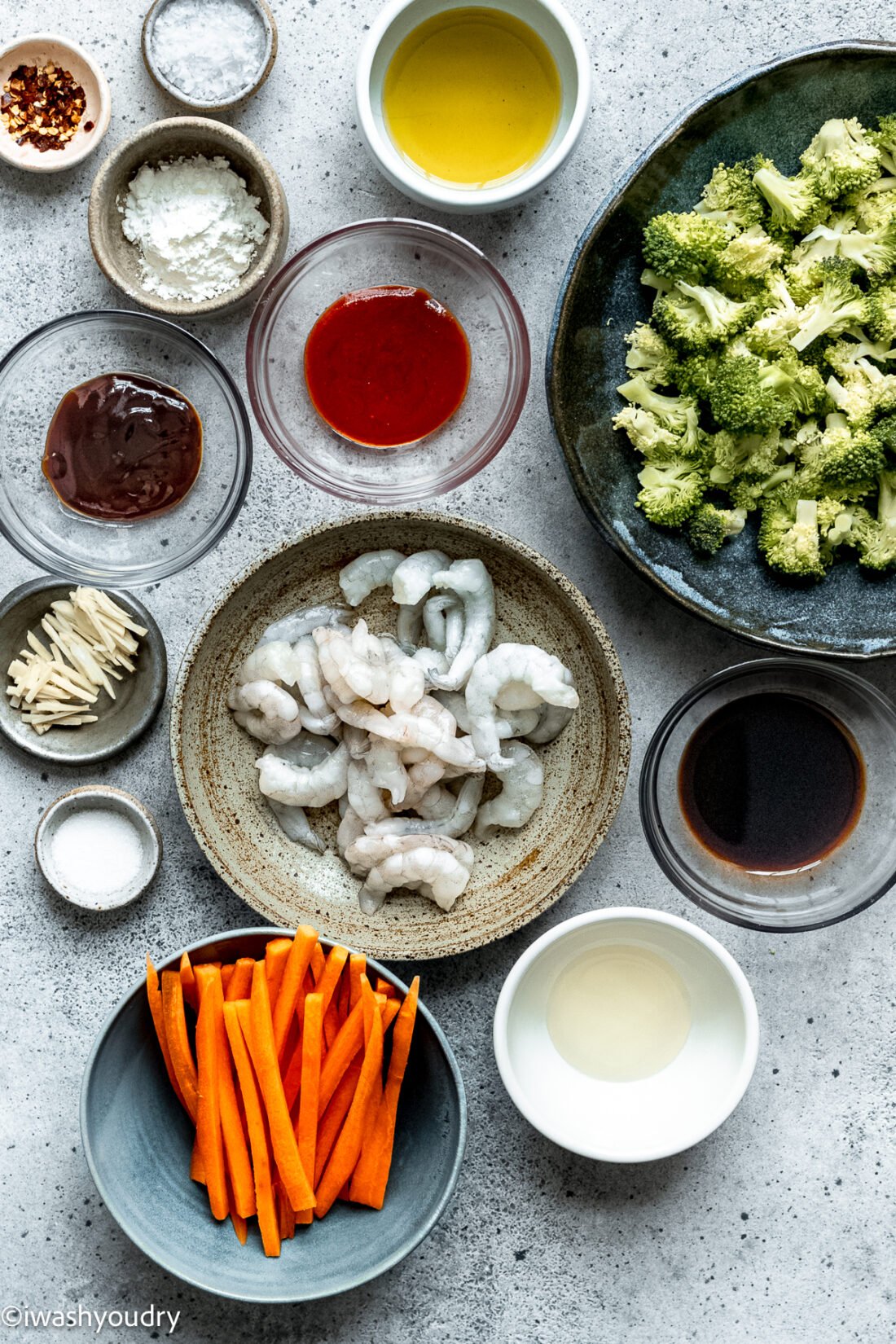 Ingredients Swaps & Tips
When certain vegetables are in season, I'll be sure to use those for the freshest of dinners. Here are some easy swaps you can make for this stir fry recipe.
Shrimp – swap with small diced chicken breast
Vegetables – you can swap out for chopped zucchini, squash, bell peppers, onions, green beans, etc.
Soy Sauce – make sure you're using a low sodium soy sauce so the end result isn't too salty.
Sriracha – we're only using a little bit of hot sauce, which adds great flavor to the final dish. Feel free to reduce, increase or omit based on your taste preference.
How To Make Shrimp Stir Fry
As with most stir fries, there is a method to making them that is crucial for optimal results.
PRO TIP: Make sure to prepare all your ingredients prior to the start of cooking, because once you start, it will all cook very fast.
MARINATE SHRIMP
Start by adding your defrosted shrimp to a bowl and combining them with soy sauce, cornstarch, salt and red pepper flakes. Give it all a good mix so the shrimp are coated in the sauce.
Now set the shrimp aside for later.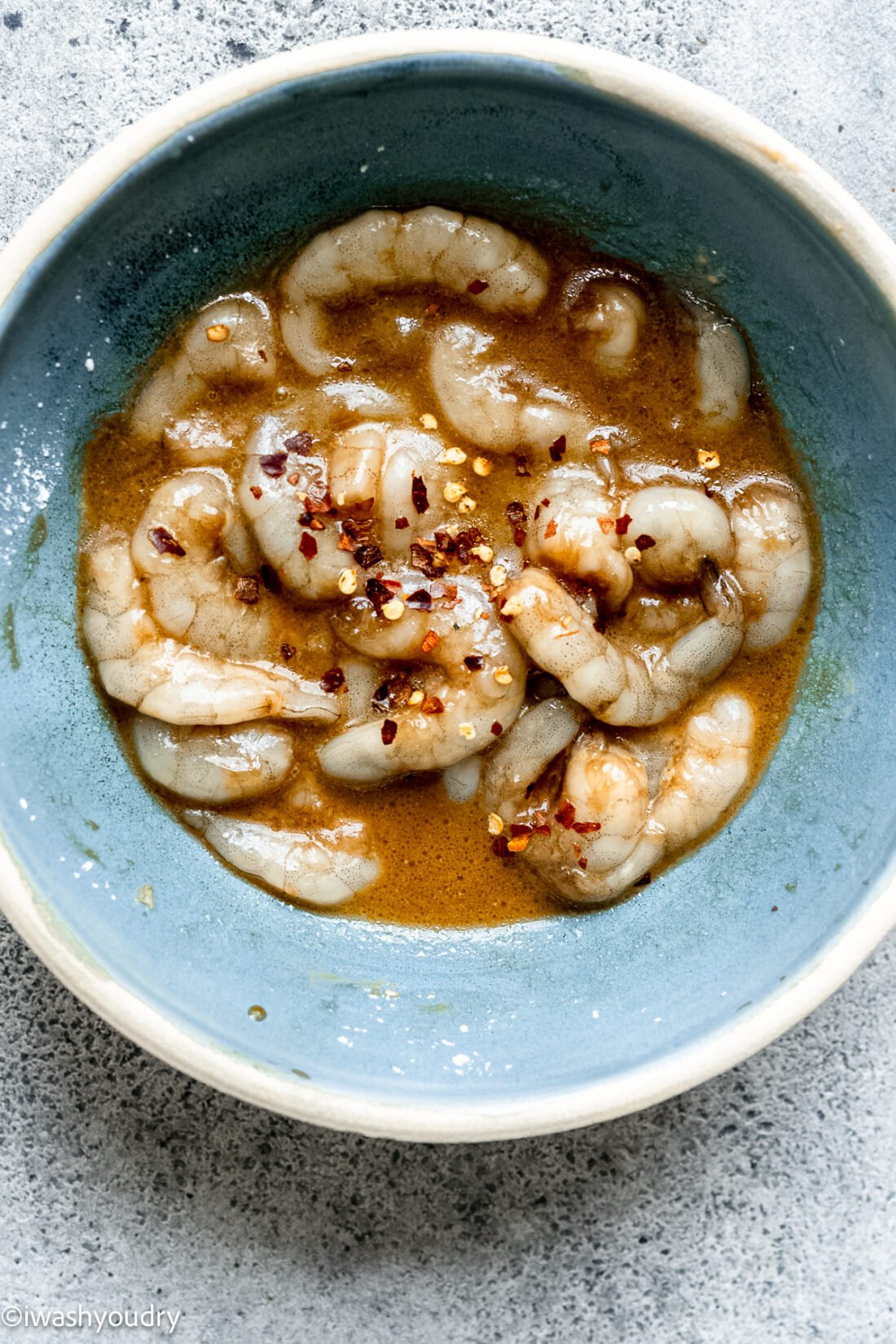 CREATE THE STIR FRY SAUCE
In a separate bowl combine the stir fry sauce ingredients (soy sauce, hoisin sauce, Sriracha sauce, sugar and rice vinegar) and whisk till combined.
You'll set this sauce aside until later as well.
COOK VEGGIES
Now that your protein and sauce are prepared, let's get cooking the vegetables in a hot wok.
It's important to get the pan nice and hot and add some oil. Once the oil is shimmery, it's time to add the veggies.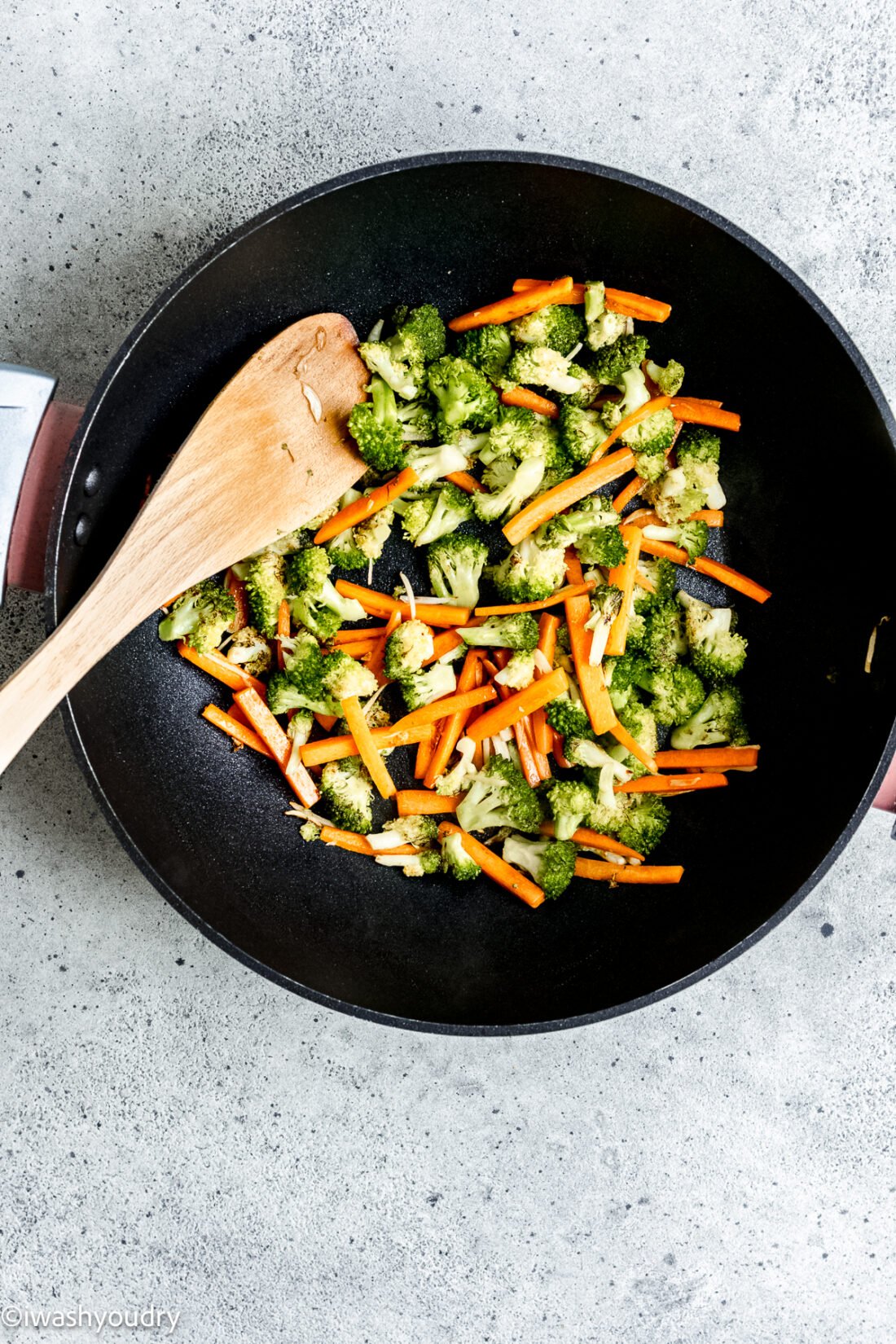 Keep the broccoli and carrots moving in the hot pan so they don't burn. You just want them to be tender-crisp in texture. This should take approximately 5 minutes, depending on the size of your vegetables and how hot your pan is.
Once the broccoli and carrots are to your liking, toss in some garlic and ginger and cook just until fragrant, about 30 seconds.
Quickly remove the veggies from the pan to a large plate or bowl and return the pan to the stove top.
COOK SHRIMP
Keep the heat high on the wok and add in the remaining avocado oil. Once it's nice and hot add the shrimp, gently to the pan.
The cornstarch mixture around the shrimp should create a nice browned crust, giving the shrimp a slightly crispy texture on the outside, while remaining nice and plump on the inside.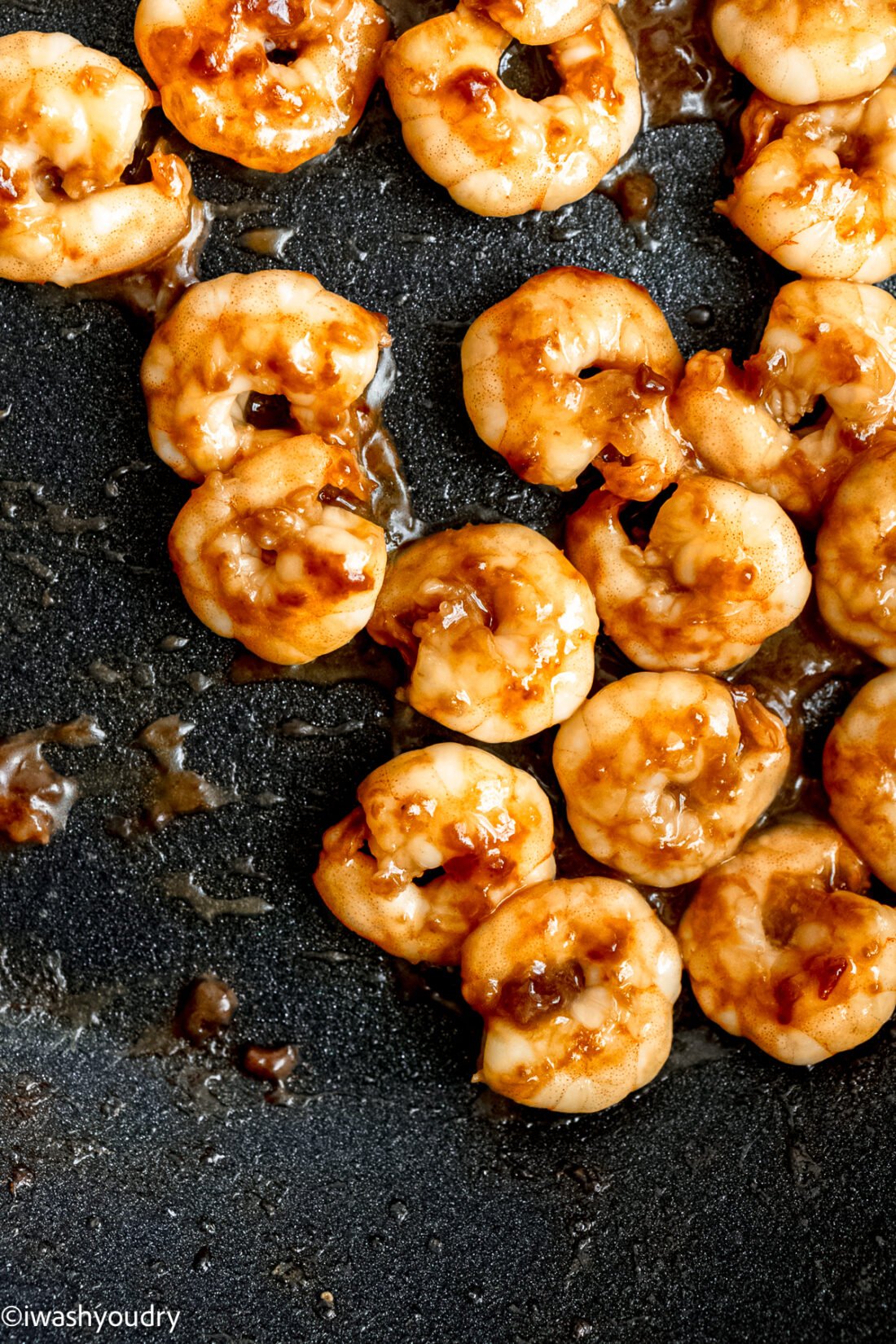 PRO TIP: Shrimp cook real fast in a hot pan. It should only take a few minutes till they curl in on themselves. Try to avoid overcooking the shrimp, or they'll become tough and chewy.
BRING IT ALL TOGETHER
Quickly toss the cooked vegetables back into the pan with the shrimp, along with the prepared sauce and stir it all together.
The cornstarch from the shrimp should help to thicken the sauce and coat everything nicely.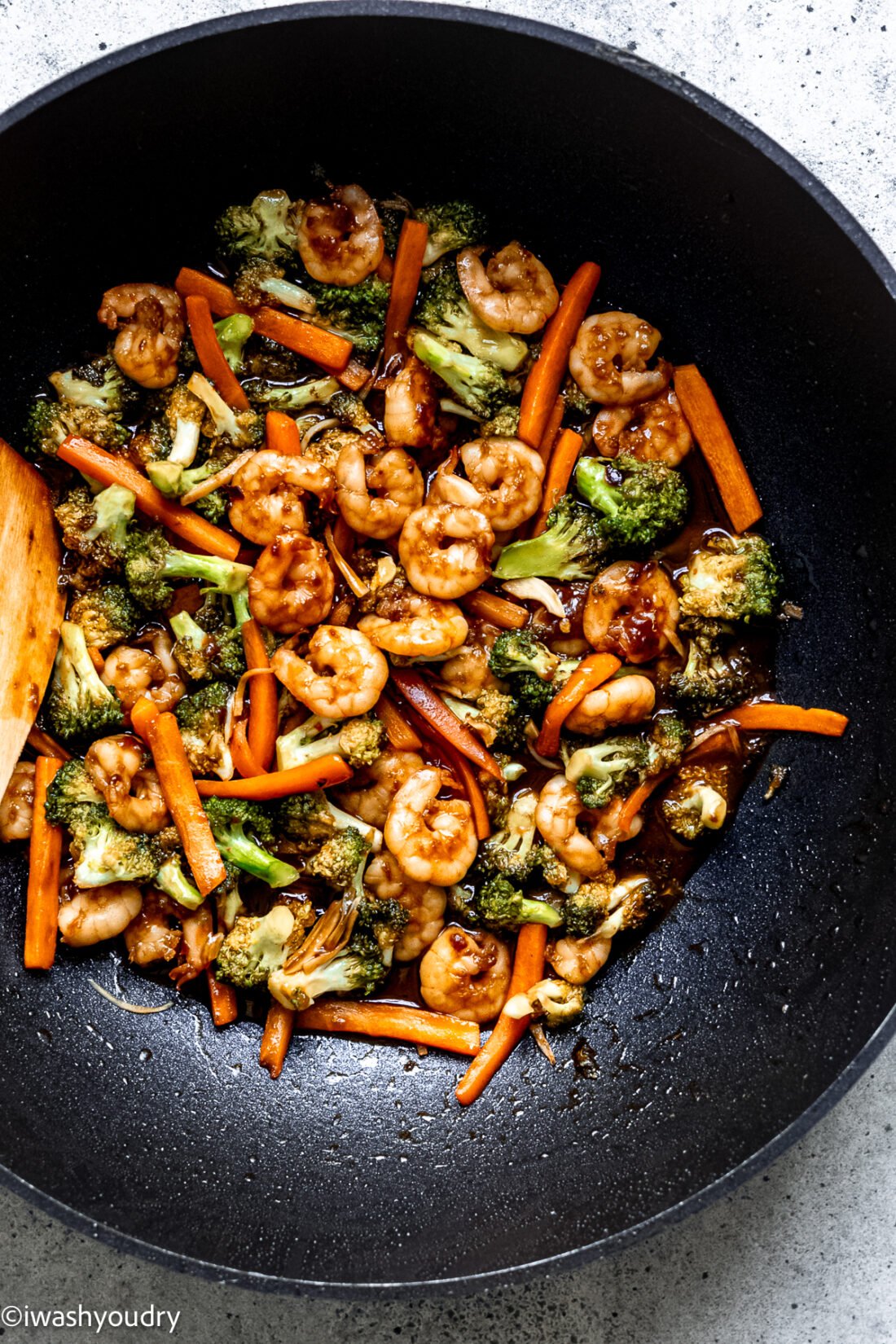 Once everything is coated in the sauce, you're ready to enjoy!
This easy stir fry is ready in less than 30 minutes, making it an awesome choice for a busy weeknight.
What To Serve With Stir Fry
Stir fry recipes are great for using up leftover vegetables and even proteins out of the fridge. You can serve them over steamed rice, cooked noodles or by themselves for a more low-carb option.
Here are a few easy side dishes that compliment a stir fry…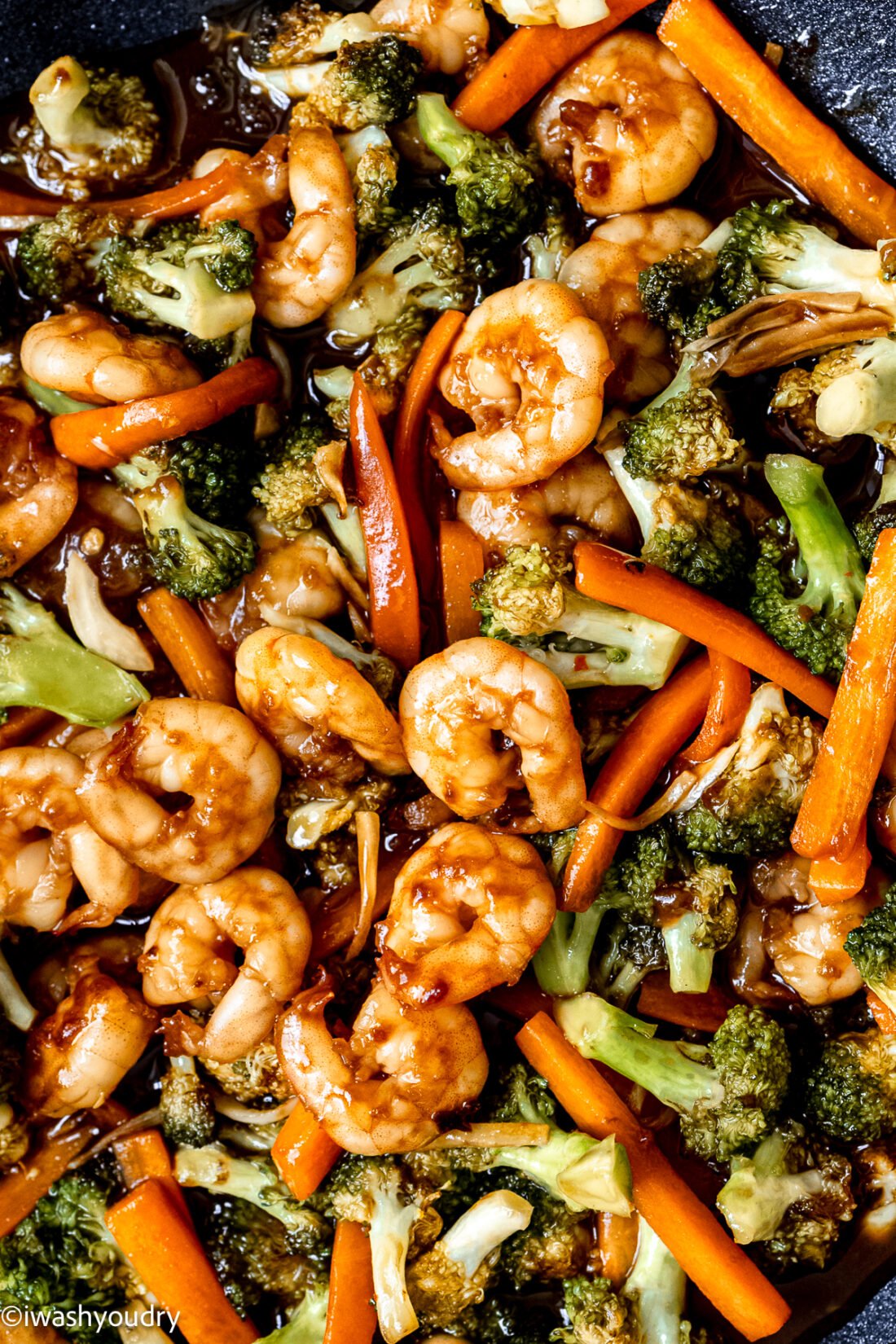 Make Ahead and Storage
I firmly believe that stir fries are best enjoyed fresh, so making this recipe ahead of time isn't advised.
However, you can definitely prep ingredients ahead of time, making assembling the recipe a breeze. Marinate the shrimp up to 24 hours in advance of cooking.
Store any leftovers of the stir fry in an airtight container in the fridge for up to 3 days.
More Stir Fry Recipes
I'm a sucker for a good stir fry, so here are a few more that I think you'll really enjoy.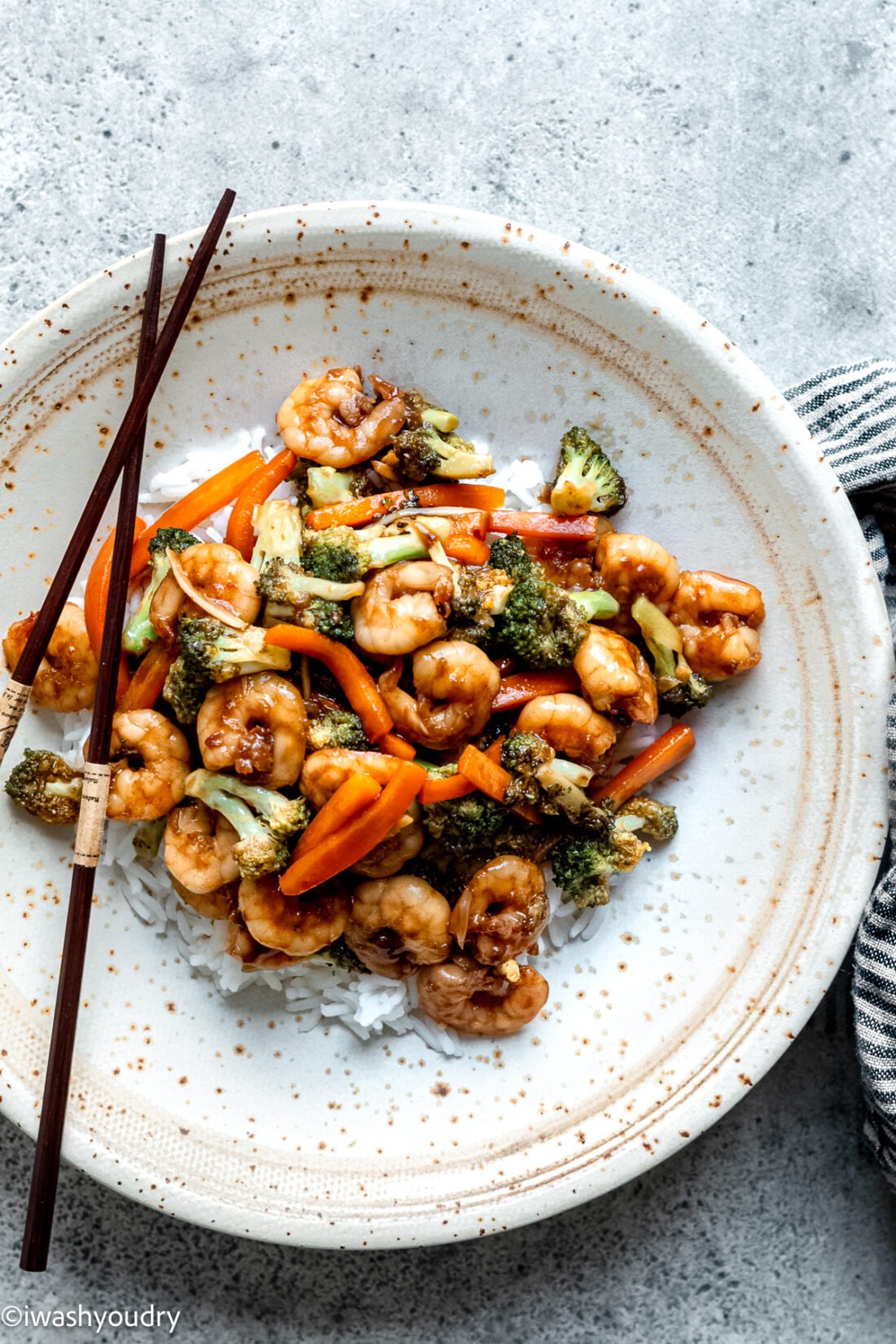 I can't wait for you to give this easy and quick Shrimp and Broccoli Stir Fry recipe a try. I know you're going to love it as much as we do!
Quick Shrimp and Broccoli Stir Fry
This quick and easy stir fry is filled with crispy and tender shrimp with broccoli and carrots in a slightly spicy sauce.
Ingredients
For The Shrimp
For The Veggies
1

tbsp

olive oil

3

cups

broccoli florets

1

cup

carrots

,

sliced thin

1

tbsp

garlic

1

tsp

ginger
Instructions
For The Shrimp
Combine the shrimp, soy sauce, cornstarch, salt and red pepper flakes in a medium size bowl and toss to coat. Set aside.
For The Sauce
Combine all sauce ingredients in a small bowl and whisk to combine. Set aside.
For The Veggies
Heat a large skillet or wok over high heat and add in 1 tbsp olive oil. Once hot, add in the broccoli and carrots and stir fry until crisp tender, about 5 minutes. Keep the broccoli moving so it doesn't burn.

Add in the garlic and ginger and cook until fragrant, about 30 seconds. Remove veggies from pan to a large bowl and set aside.

Return the skillet or wok to the heat and add in the avocado oil over high heat. Once hot, add the coated shrimp a few at a time and cook until crisp on both sides and cooked through, about 4 minutes.

Stir in the sauce and cooked veggies and toss to coat. The cornstarch from the shrimp should help to thicken the sauce as it heats up.*

Serve hot over rice or noodles. Enjoy!
Notes
*If you would like the sauce to be thicker, simply mix up 1 tsp of water with 1 tsp of cornstarch and pour this into the stir fry. Continue cooking until the sauce thickens more. 
Nutrition
Calories:
166
kcal
|
Carbohydrates:
11
g
|
Protein:
13
g
|
Fat:
8
g
|
Saturated Fat:
1
g
|
Polyunsaturated Fat:
1
g
|
Monounsaturated Fat:
5
g
|
Trans Fat:
0.01
g
|
Cholesterol:
95
mg
|
Sodium:
1187
mg
|
Potassium:
356
mg
|
Fiber:
2
g
|
Sugar:
5
g
|
Vitamin A:
4037
IU
|
Vitamin C:
44
mg
|
Calcium:
77
mg
|
Iron:
1
mg
Keywords:
broccoli, carrots, shrimp, stir fry