This easy Sesame Chicken recipe makes crispy chicken breast bites in a sweet and nutty sauce, perfect for serving over steamed rice.
We love to pair this yummy sesame chicken with my Crispy Chicken Egg Rolls or my easy Egg Drop Soup and steamed edamame for a complete meal.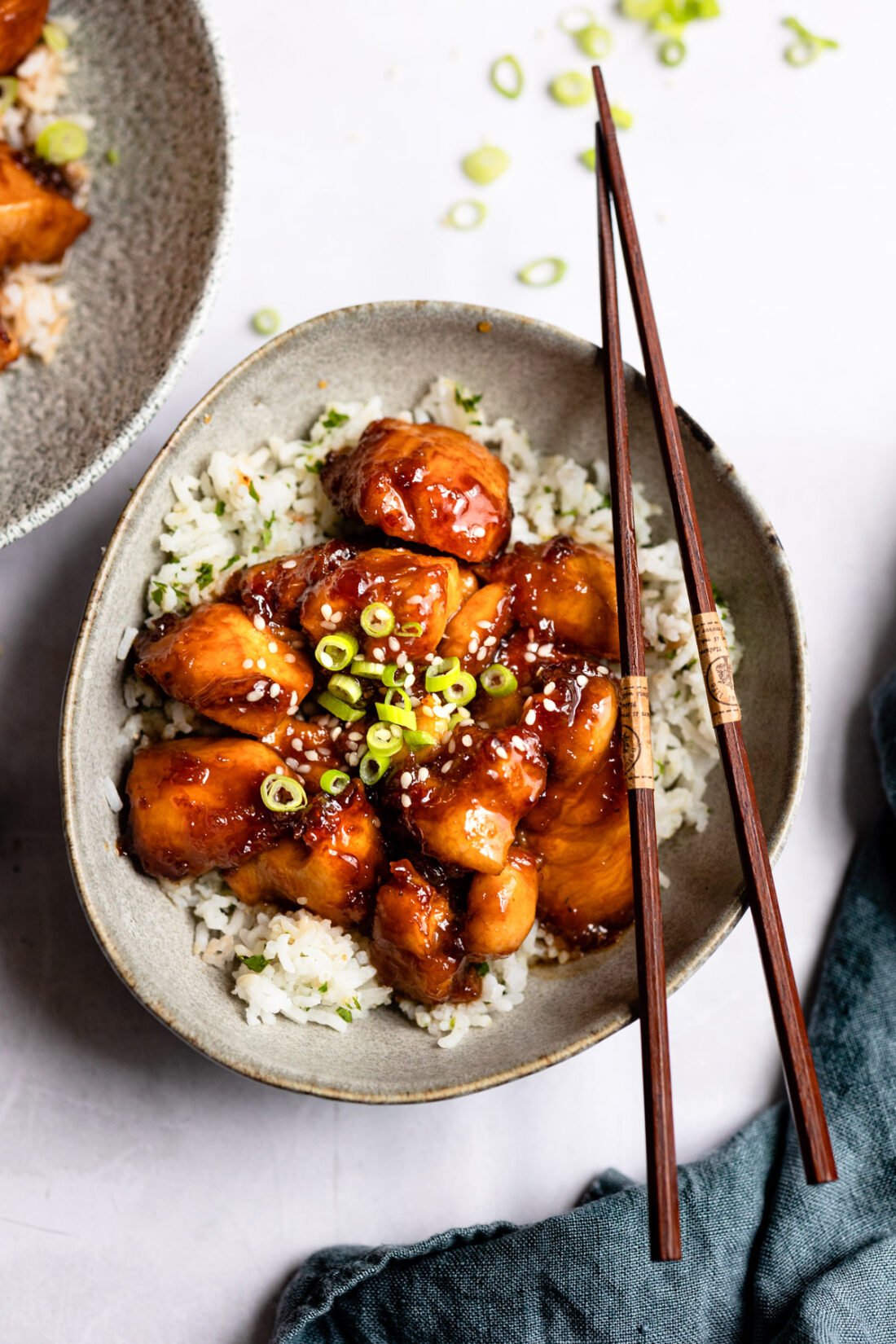 It's amazing how good this Asian-inspired recipe is, with it's sticky sauce that coats the chicken breast bites perfectly.
Sesame Chicken Recipe
Whenever I'm craving a copycat Chinese chicken dinner, I'll whip up this tasty dish. It's way better than takeout and so easy to make.
Ingredients For Sesame Chicken
Here's the basic list of ingredients you'll need to make homemade Sesame Chicken. As always, you can find the full list of ingredients in the printable recipe card below.
Boneless, Skinless Chicken Breast – you could also use chicken thighs
Vegetable Oil – for frying
Sesame Seeds – toasted
Cornstarch – for thickening the sauce
Baking Powder and Baking Soda – to help give the chicken an extra crispy bite
Soy Sauce – low sodium
Dry Sherry
Chicken Broth – low sodium
Sugar
Rice Vinegar
Sesame Oil – a good quality, light or dark
Sriracha – to add a little bit of spice
Garlic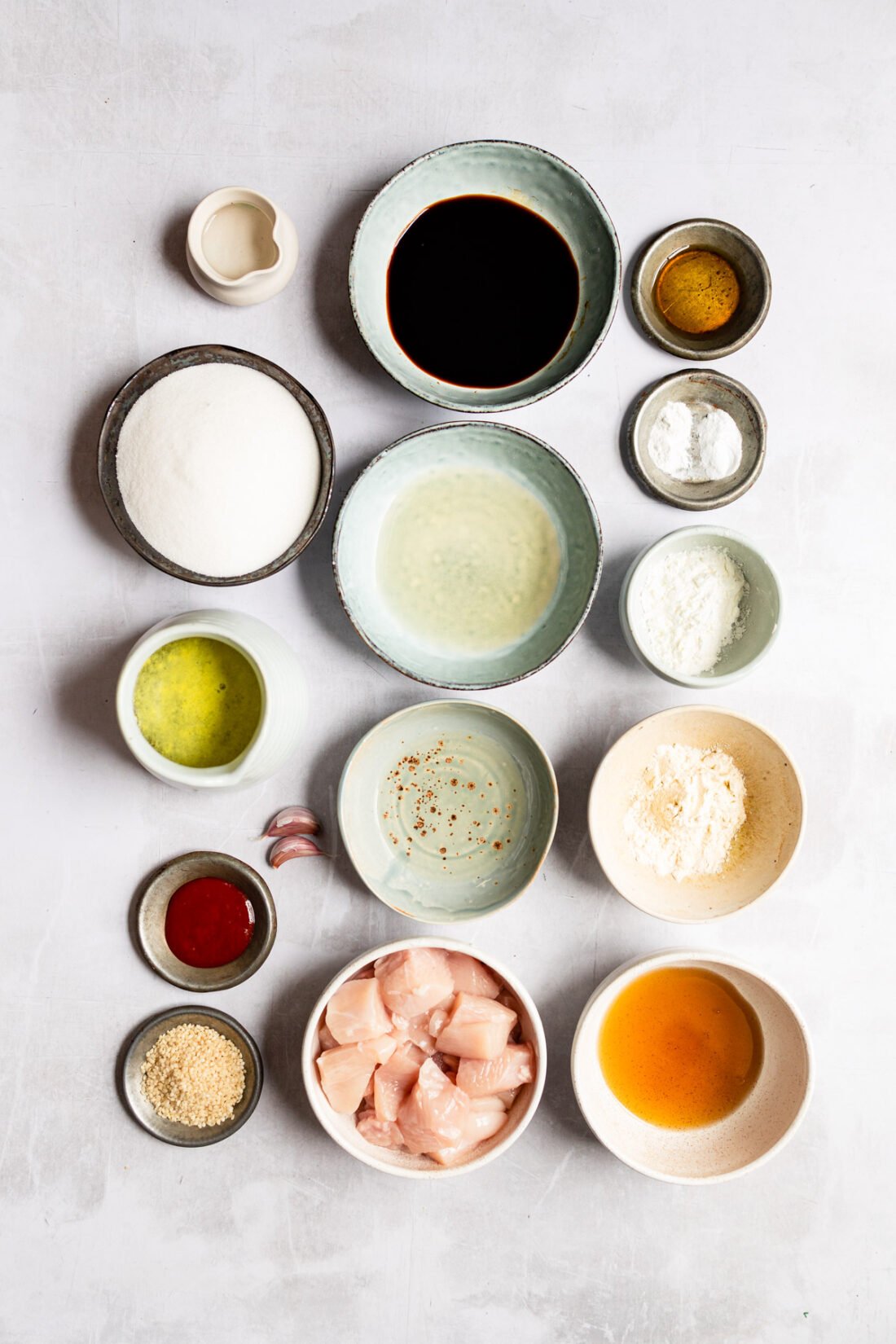 How To Make Sesame Chicken
Sesame chicken is typically a lightly battered, fried chicken piece that's tossed in a sweet and nutty sauce that's thick and sticky. The nutty flavor of the sauce comes from the sesame oil, which is very strong, so not much is needed to give this dish it's signature flavor. Topping the sesame chicken with toasted sesame seeds is also a must for the traditional dish.
COAT CHICKEN WITH BATTER
Start by creating a thick, seasoned batter for the boneless skinless chicken breast to be tossed in. The batter should be thick enough to lightly coat the chicken pieces.
Once the pieces are in the batter, cover and let it refrigerate for at least 20 minutes, up to 24 hours. The longer the chicken can marinate, the more tender and flavorful the inside will become.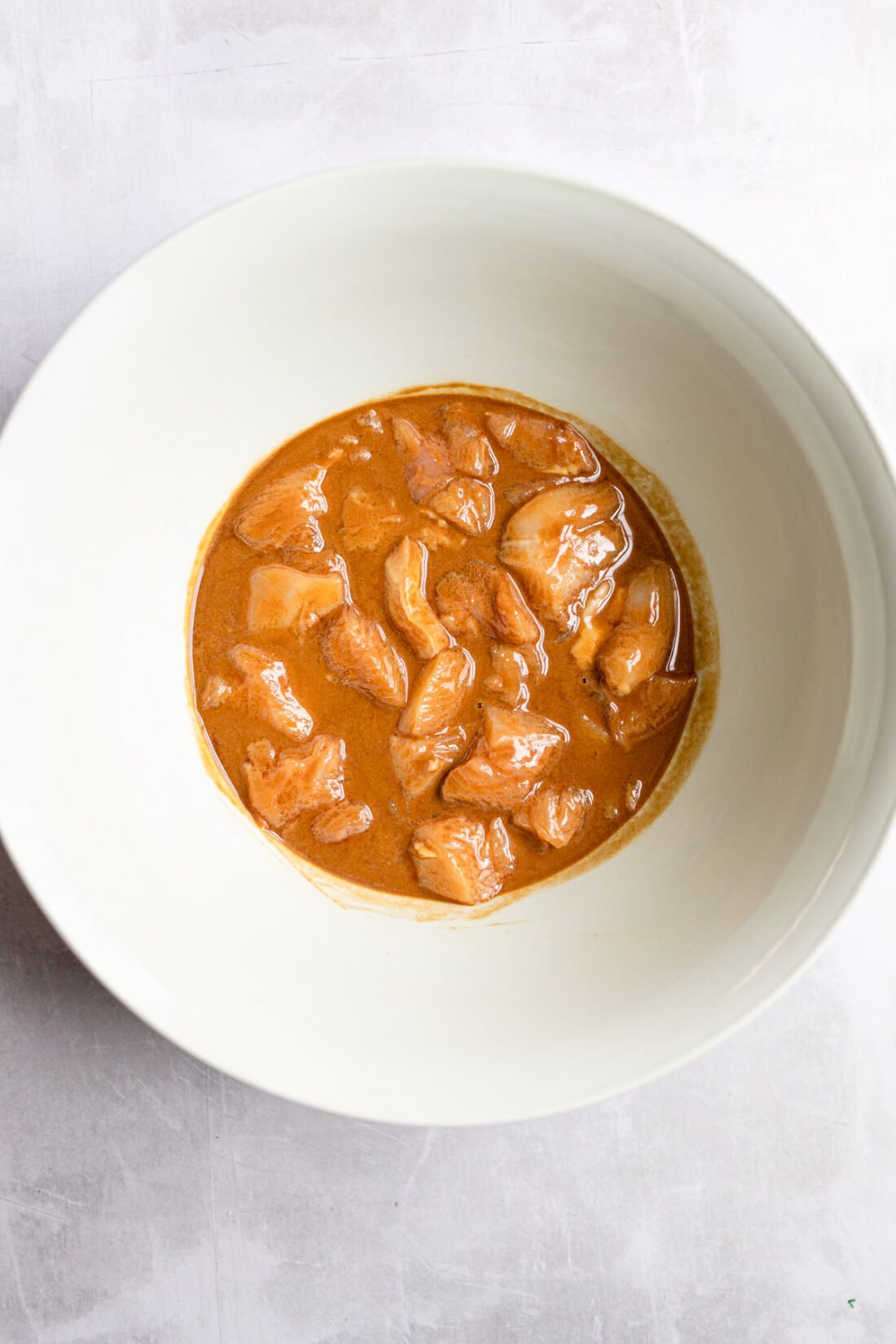 FRY CHICKEN
Using a large wok or deep fryer, filled with either canola or vegetable oil, fry the battered chicken pieces until they're golden brown and crispy.
Make sure your oil is around 375 degrees F before frying the chicken. Cook in small batches to avoid reducing the oil temperature too quickly.
Drain the fried chicken pieces on a paper towel lined plate and set aside.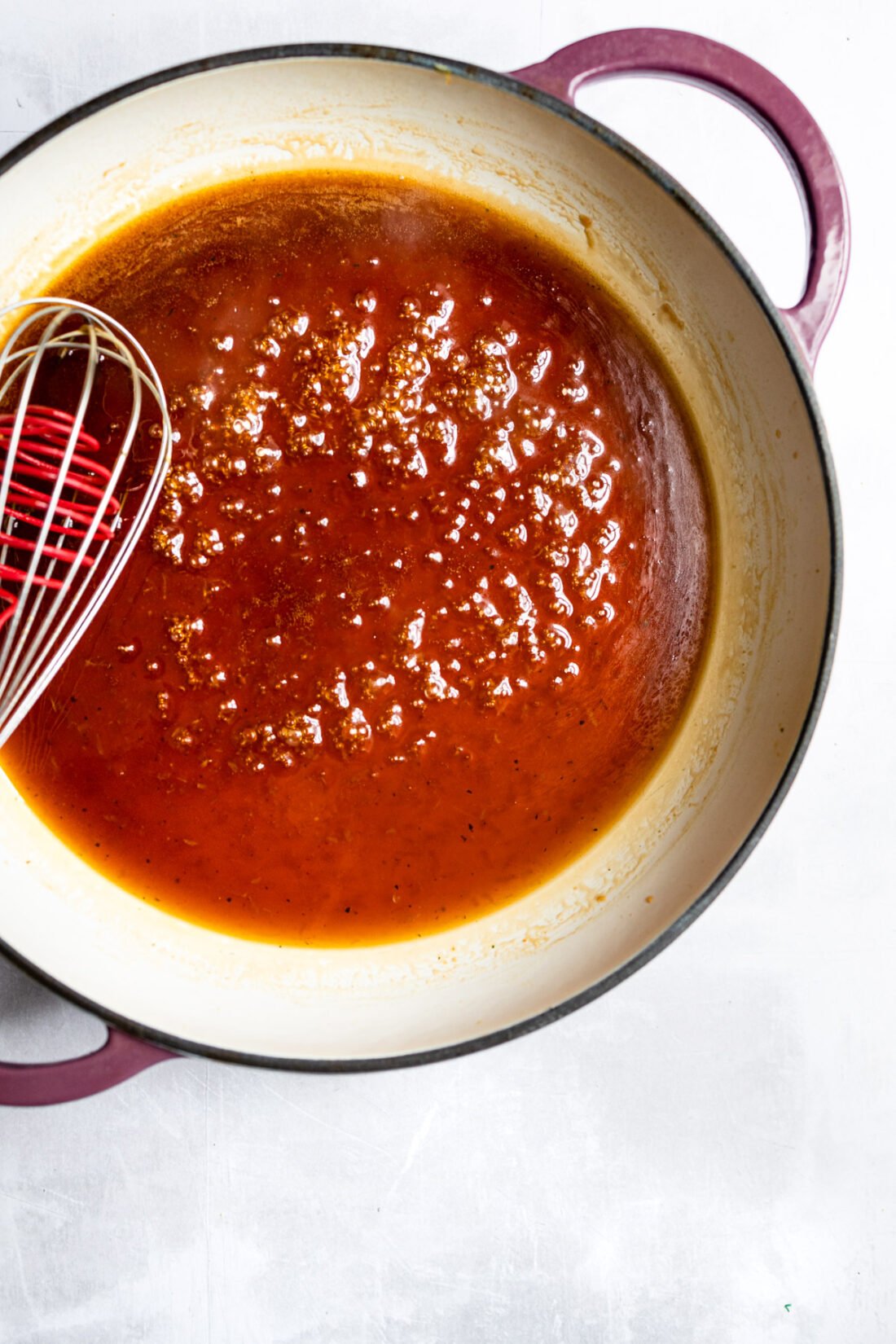 CREATE SESAME CHICKEN SAUCE
While the chicken is frying in batches, use a separate wok or large skillet to cook up the sesame chicken sauce.
Whisk together the chicken broth, sugar, rice vinegar, soy sauce, sesame oil, Sriracha hot sauce and garlic over high heat, until the sugar dissolves completely into the sauce.
THICKEN SAUCE WITH SLURRY
Stir together the cornstarch and cool water until there are no clumps. Pour this mixture (slurry) into the boiling sauce, stirring immediately until the sauce thickens and is nice and smooth.
COMBINE SAUCE AND CHICKEN
Once the sauce is ready, add the crispy chicken to the pan and give it a good toss to coat the chicken.
Top with plenty of toasted sesame seeds and enjoy right away!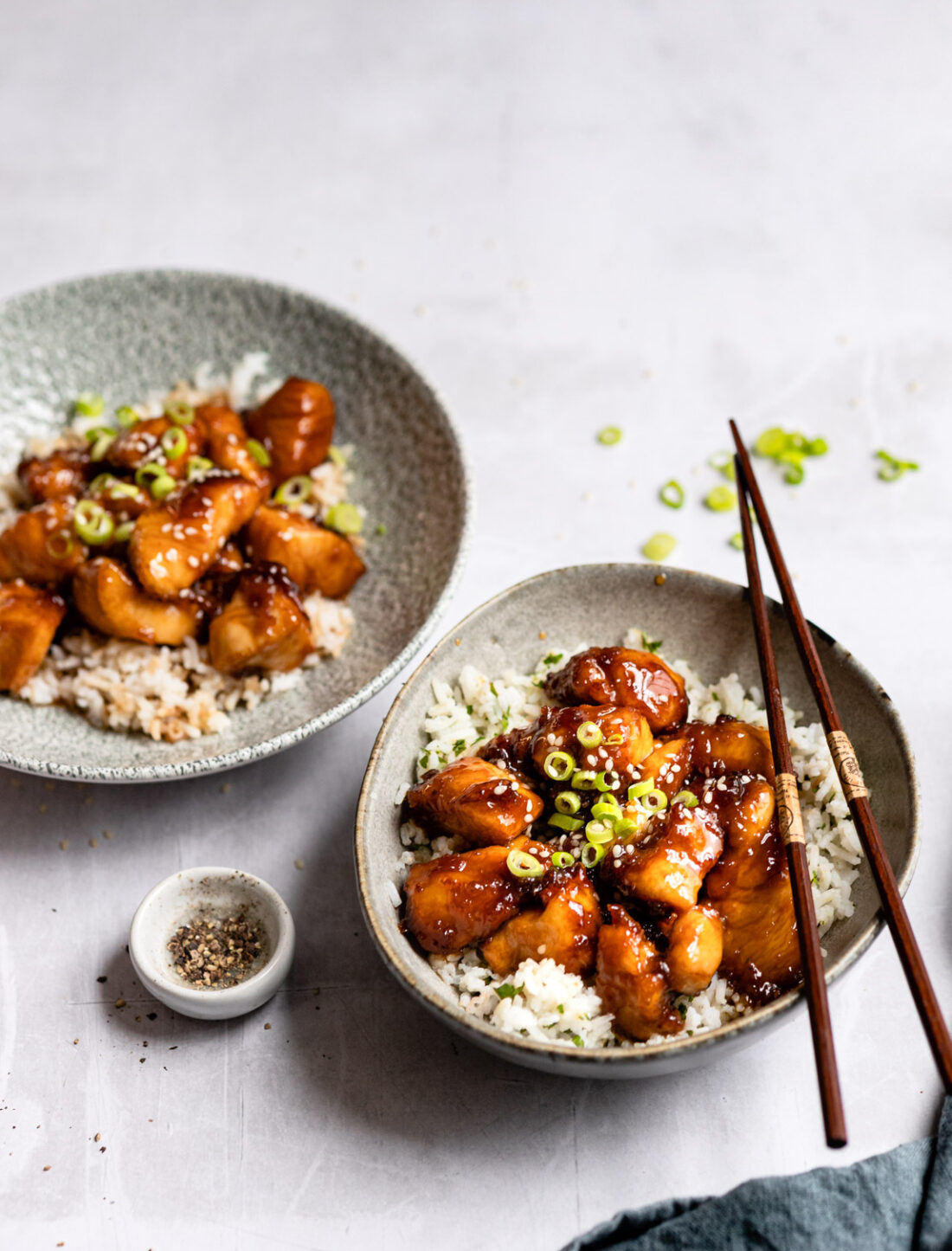 What Is Sesame Chicken Sauce Made Of?
Sesame chicken sauce is a sweet and savoury sauce made up of chicken broth, white sugar (or honey), rice vinegar, soy sauce and sesame oil.
You can add a bit of heat and aromatics by including garlic and Sriracha sauce or chili paste.
The sauce is thickened with a cornstarch slurry to make it coat each piece of crispy chicken.
SUGAR OR HONEY?
You can easily swap out the white sugar in this recipe with honey. Instead of using 3/4 cup sugar, use 1/2 cup honey in it's place.
Don't skip the sweetener, as this is what gives sesame chicken part of it's signature flavor.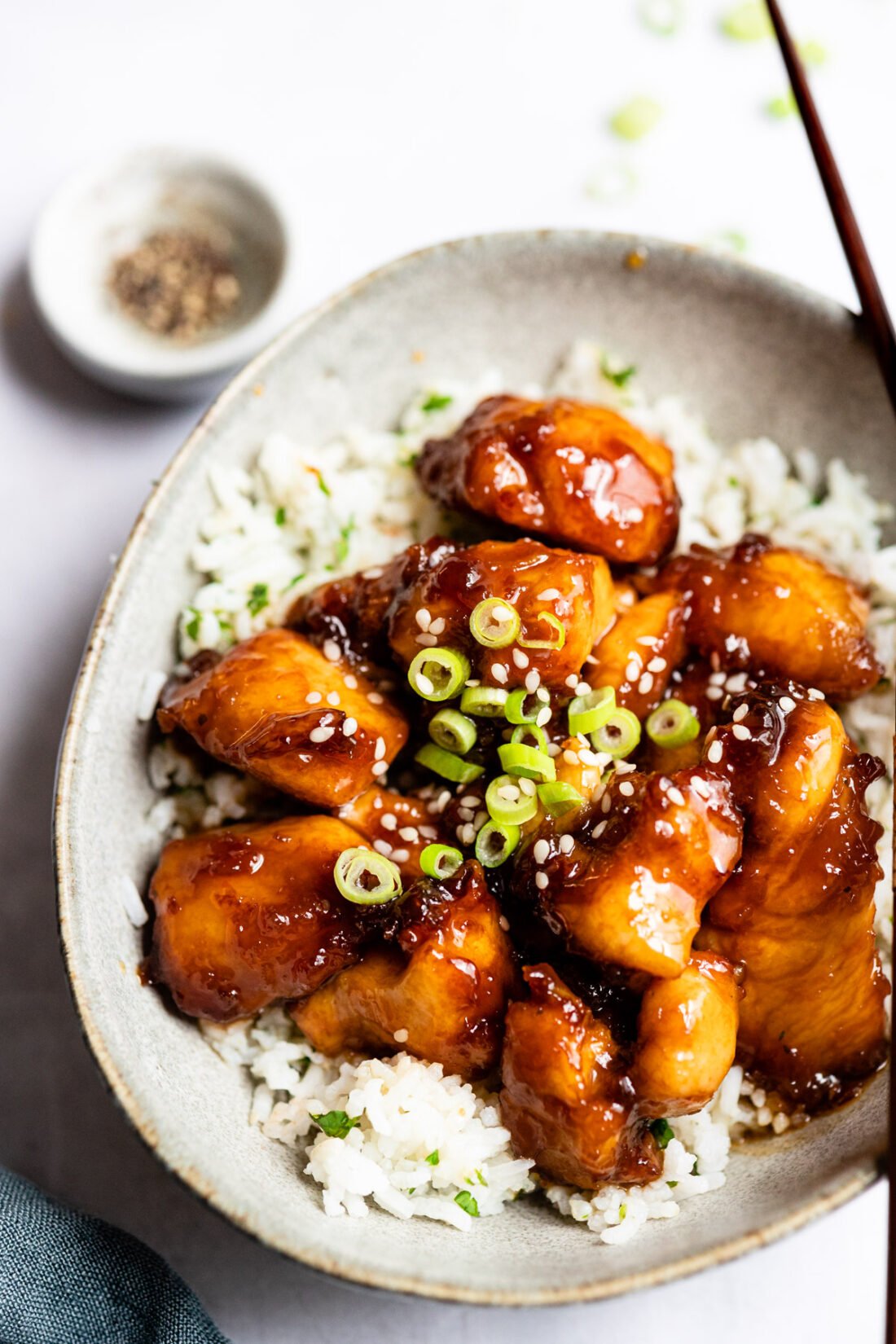 How To Store Sesame Chicken
Sesame chicken is best when enjoyed right away due to the crispy fried chicken. Once the chicken starts to mingle with the sauce, it'll lose it's crispness over time.
However, you can definitely prepare the breaded and fried chicken ahead of time, then freeze and reheat in the oven or air fryer until heated through and crisp again.
Prepare your sauce fresh or reheat and then combine the two right before serving.
Fridge
Store prepared Sesame Chicken in an airtight container in the fridge for up to 3 to 5 days.
Freezer
When the chicken is stored separately from the sauce, it can be frozen for up to 3 months. Reheat chicken in the oven or air fryer until crisp. Prepare sauce and toss to combine.
Due to the nature of this recipe, I would not recommend freezing the prepared chicken and sauce together.
More Easy Asian Chicken Recipes
No need to ever order takeout Chinese food again! These quick and easy Asian Chicken Recipes are better than restaurant quality and perfect for eating on a budget.
I can't wait for you to give this yummy and easy Sesame Chicken Recipe a try! I know you're going to love it!
Sesame Chicken Recipe
This Sesame Chicken Recipe is crisp, tender and juicy. The sauce will knock your socks off. It's beyond restaurant quality!
Ingredients
Instructions
For The Batter
In a medium size bowl combine flour, 2 tbsp cornstarch, baking soda, baking powder and whisk. Pour in 2 tbsp soy sauce, dry sherry, 2 tbsp water, vegetable oil, and a dash of sesame oil; stir until smooth. Stir in chicken until coated with batter, cover, then refrigerate for 20 minutes.

Heat oil in a deep fryer or large saucepan to a temp. of 375 degrees. Carefully drop in the battered chicken pieces, only a few at a time and fry until they turn golden brown; about 3-4 minutes per batch. Drain on a paper towel lined plate.
For The Sauce
Meanwhile in a large skillet or wok, bring chicken broth, sugar, rice vinegar, soy sauce, sesame oil, Siracha hot sauce, and garlic to a boil over high heat. Dissolve 1/4 cup cornstarch into ¼ cup water, and stir into boiling sauce. Simmer until the sauce thickens, about two minutes.

Add the crispy, cooked chicken pieces to the sauce and stir to coat. Sprinkle with sesame seeds to garnish. Enjoy!!
Notes
*Substitute honey in place of the white sugar if desired. Use 1/2 cup of honey in place of the 3/4 cups sugar.
Nutrition
Calories:
299
kcal
|
Carbohydrates:
36
g
|
Protein:
18
g
|
Fat:
8
g
|
Saturated Fat:
1
g
|
Polyunsaturated Fat:
3
g
|
Monounsaturated Fat:
3
g
|
Trans Fat:
0.01
g
|
Cholesterol:
49
mg
|
Sodium:
818
mg
|
Potassium:
366
mg
|
Fiber:
1
g
|
Sugar:
25
g
|
Vitamin A:
25
IU
|
Vitamin C:
2
mg
|
Calcium:
52
mg
|
Iron:
1
mg
Keywords:
Chicken, Garlic, sesame seeds, soy sauce