This super easy Homemade Blueberry Pie Recipe is filled with plump blueberries, fresh lemon zest and a hint of cinnamon in a flakey pie crust. 
It all starts with my perfect pie crust recipe, which will give you amazing results every time. You could also use a store bought pie dough when in a pinch.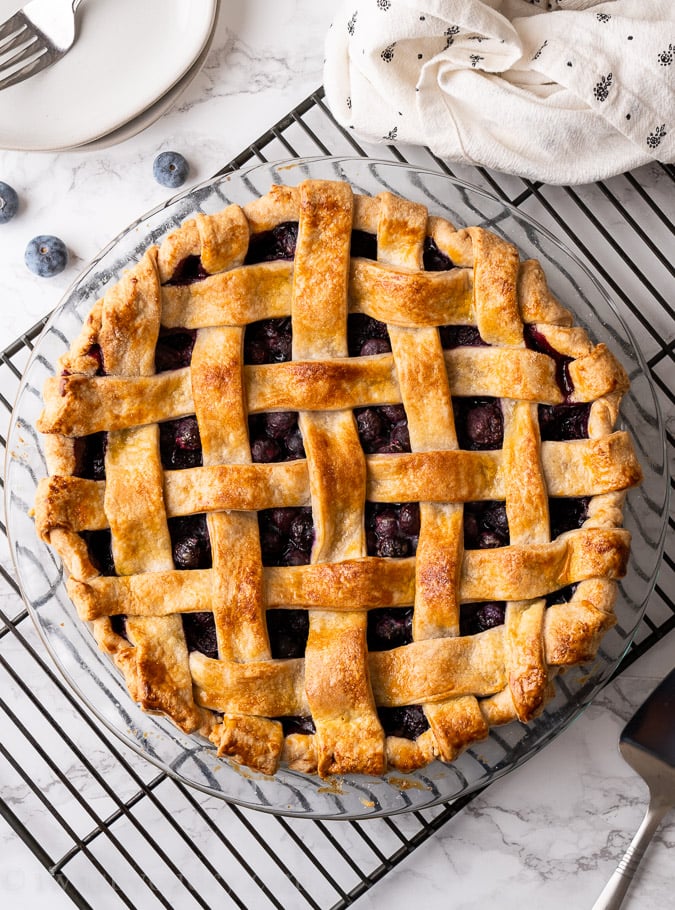 Blueberry desserts happen to be one of my favorites. I especially love this Blueberry Crumble Cream Pie and this Lemon Blueberry Surprise Cake.
But what really gets my heart pumping is a fresh homemade blueberry pie served with a scoop of vanilla ice cream.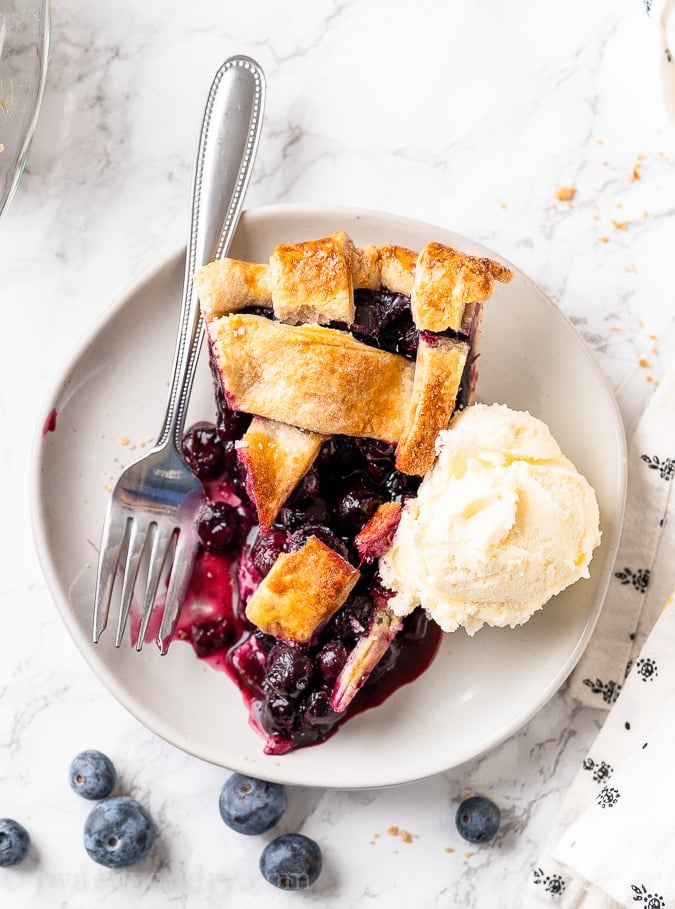 How To Make Homemade Blueberry Pie
In charge of making a blueberry pie? Don't stress! It's actually quite simple with these easy steps…
Line the pie pan with your pie dough
Prepare the blueberry filling.
Top the blueberry filling with more pie dough
Bake and let cool!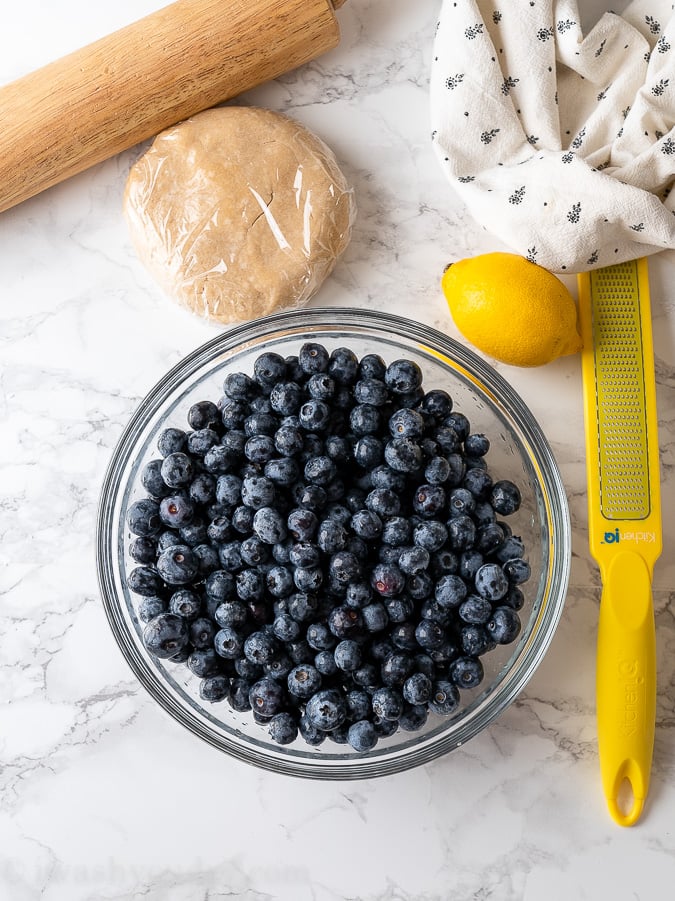 Ingredients Needed for Blueberry Pie Filling
Let's get down to the details on how to make a blueberry pie. First, let's talk about the ingredients you'll need…
Blueberries – we're using fresh blueberries. If using frozen blueberries, make sure to defrost and drain and excess liquid before adding the remaining ingredients.
Granulated Sugar – taste your blueberries and use more or less sugar based on the berries. If the berries are tart, add a little more sugar.
Cornstarch – use plenty of cornstarch to thicken the pie filling while it bakes.
Lemon Zest – the fresh zest of a lemon will help to brighten up all the flavors of those plump blueberries.
Cinnamon – just a pinch of cinnamon will give a nice balance of warmth to the filling.
Butter – dot the top of the pie filling with a little butter to give it a gorgeous shine when baked.
Egg Yolk & Heavy Cream – used to brush on top of the pie crust to give it a nice golden brown color.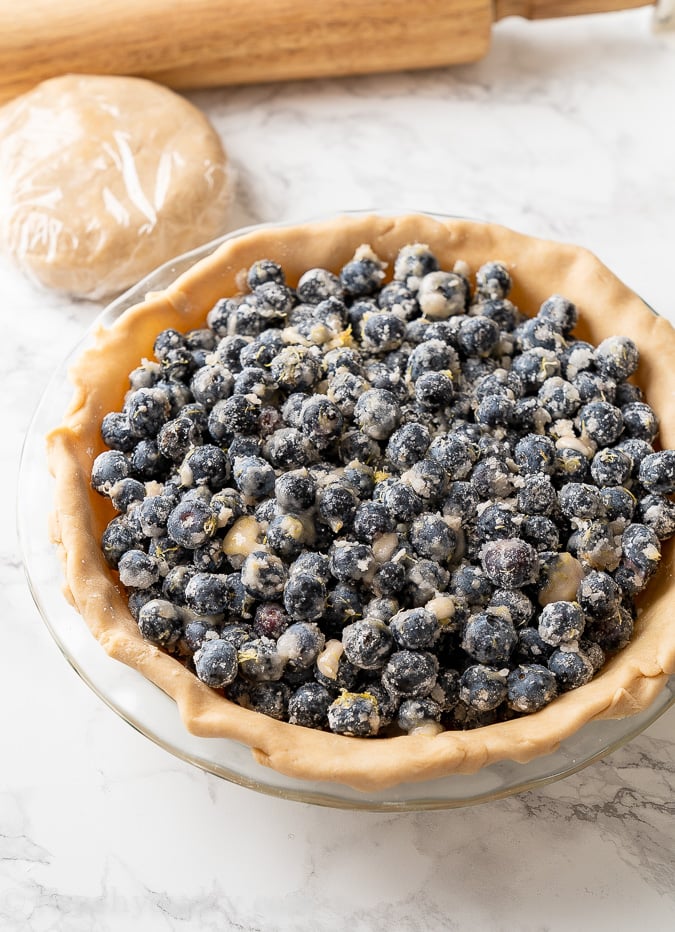 Blueberry Pie From Scratch
Once you've lined your bottom pie crust pop it back into the fridge to keep cold. Then proceed to prepare the blueberry pie filling.
After you've filled your pie crust with the blueberries, pop it back in the fridge again. Now is a great time to start preheating your oven while you prepare the top crust.
How To Make A Lattice Pie Top
Fruit pies generally have some sort of topping over them, whether you use pie dough or top it with a crumble of some sort, it's really up to you.
A lattice topping is when you weave strips of pie dough over the top of the pie and then crimp the edges together. Lattice tops are great because they allow the necessary steam from the pie filling to escape, while also looking very pretty.
Roll out your pie dough to the at least 10″ in diameter.
Use a ruler or eyeball about 1″ strips and cut with a pizza cutter.
Lay 5 strips, about 1 inch apart, going across the pie filling.
Lift strips 2 and 4 up and lay them back on themselves, then place a strip of pie dough perpendicular across.
Replace strips 2 and 4, laying it over the top of the perpendicular strip of dough. Now lift strips 1, 3 and 5 up and lay back on themselves, until it reaches the first perpendicular strip.
Lay another strip across, then replace strips 1, 3 and 5. Repeat this process until all 5 strips of dough are laid out evenly.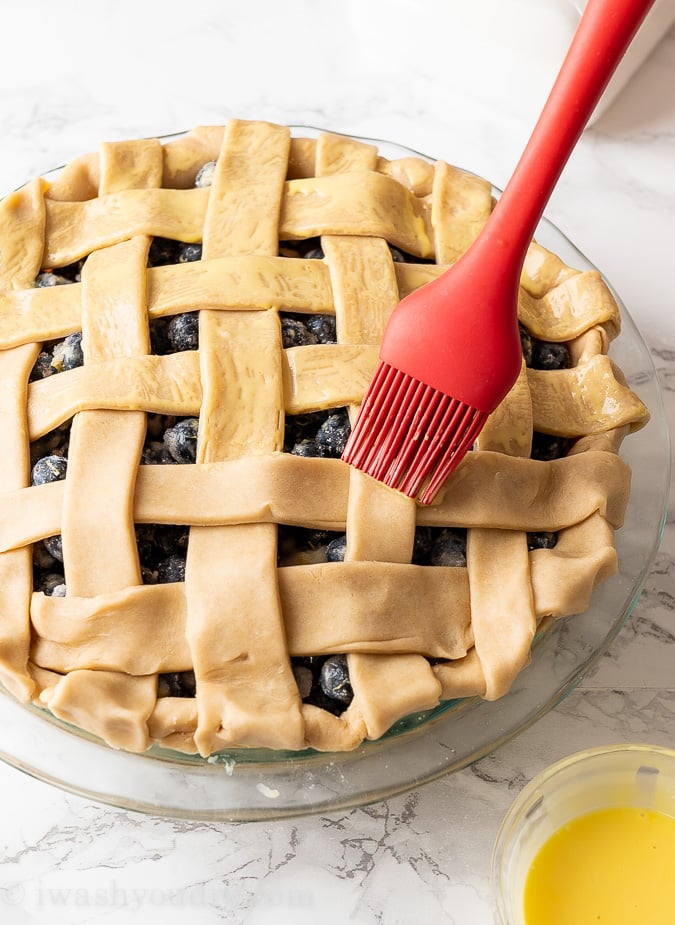 Once you've got all of your strips of dough laid out, trim any excess length and then tuck and crimp the edges of the pie.
Combine one egg yolk with a little heavy cream and whisk this together and brush over the pie dough.
Sprinkle the top of the crust with granulated sugar and then dot the openings of the pie filling with butter to give it a nice shine when baked.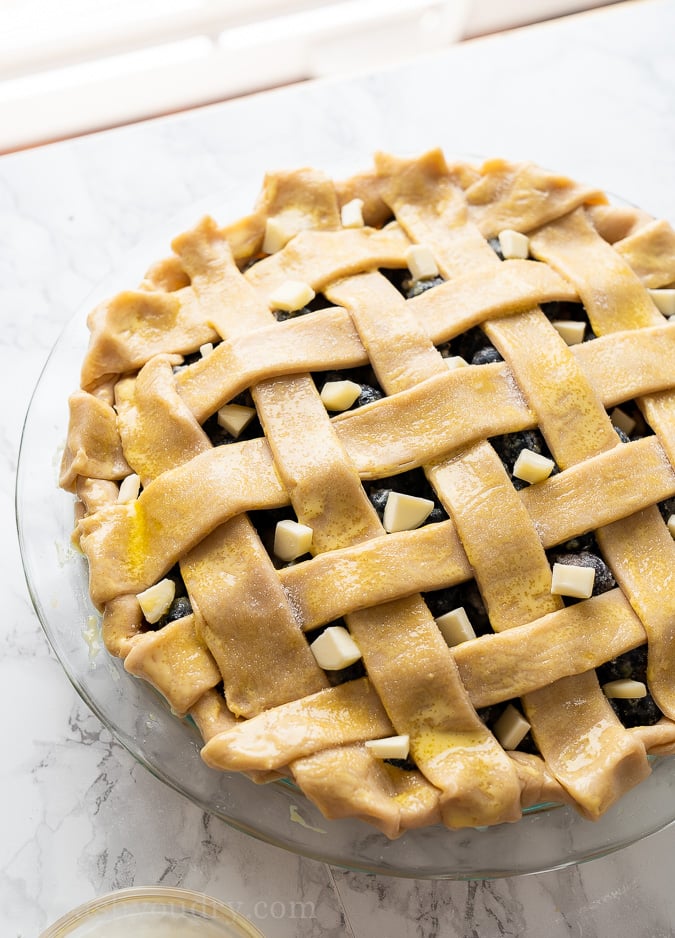 How Come My Pie Filling Is Runny?
It's happened to the best of us. We've made a gorgeous pie, only to find out it's more like pie soup when we slice into it. The worst!
9 times out of 10 the problem is that the pie just wasn't cooked long enough.
How Do You Know When a Pie Is Done Baking?
A good rule of thumb is that the filling in the pie will start to bubble up (even in the center) and start to poke through the top of the crust.
Since all pie pans are not created equal, some more thick than others, this is a good indicator to know when YOUR pie is done.
If your pie crust is starting to brown too much, simply cover it loosely with foil and keep baking until the filling is bubbly throughout.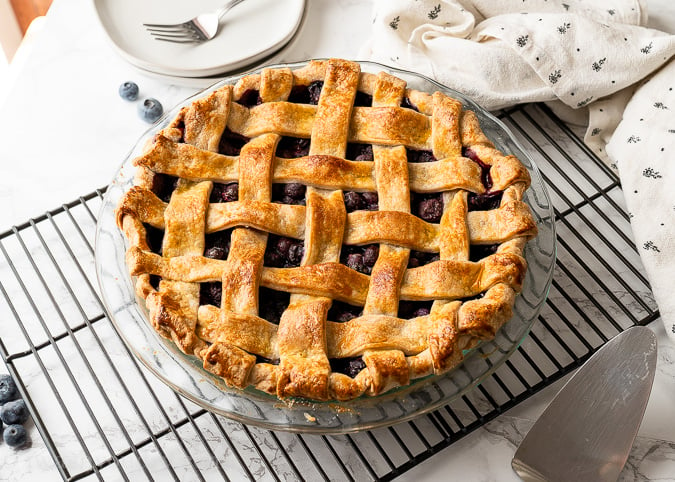 Even I got a little anxious with this pie and took it out of the oven a few minutes too early. It could have gone a little longer to set up even more.
How Store A Fruit Pie
After your fruit pie has baked it's a good idea to let it cool completely before slicing. This will allow the filling time to settle and firm up.
Once it's cooled you can loosely cover and keep at room temperature for up to 2 days. Store it in the fridge for up to 2 more days.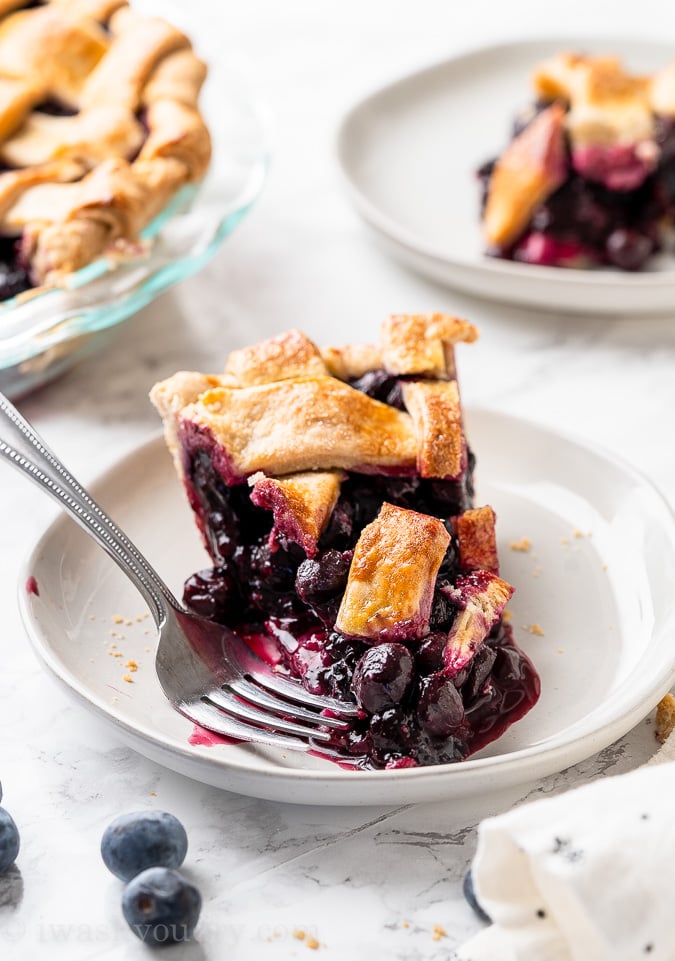 My Top Tips For Blueberry Pie Success –
You can do this! You'll have major success with this recipe and everyone will love it if you follow these simple tips…
Start with my Perfect Pie Crust and make sure you keep the dough nice and chilled throughout the process.
Use fresh blueberries for best results.
Place a lined baking sheet in the bottom 1/3 of your oven and bake the pie on this in case of any bubble-over.
Bake until the blueberry filling starts to bubble up through the top pie crust.
Let cool completely before slicing.
More Easy Pie Recipes To Try
Craving more delicious pie recipes? Don't miss these fruity good ones!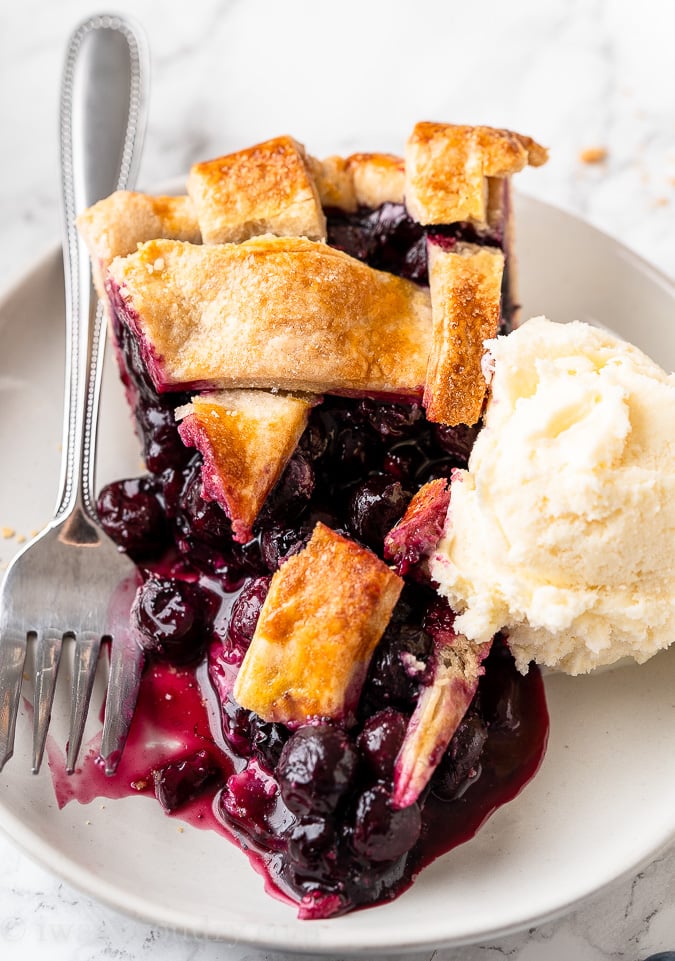 This Homemade Blueberry Pie is perfect for your Thanksgiving or Christmas dinner! Serve with vanilla ice cream for a gorgeous dessert!
Homemade Blueberry Pie Recipe
Homemade Blueberry Pie Recipe with fresh blueberries, lemon zest and a touch of cinnamon make for a perfect dessert!
Ingredients
For the blueberry pie filling
6

cups

fresh blueberries

,

rinsed and drained

⅔

cup

sugar

,

more to taste

¼

cup

cornstarch

2

tsp

lemon zest

¼

tsp

cinnamon

⅛

tsp

salt

1

large

egg yolk

1

tbsp

heavy cream

1

tbsp

butter
Instructions
Position oven rack to lower 1/3 of oven and place a lined baking sheet on the rack. Preheat oven to 400 degrees F.

Roll out 1 disc of pie dough to fit 9 to 9 ½" pie plate with plenty of dough to come up and over sides of pan. Once lined with the dough place the pie plate in the fridge while you prepare the filling.

Combine the blueberries, sugar* (see notes), cornstarch, lemon zest, cinnamon and salt in a large bowl and toss to combine. Pour blueberries into prepared pie pan and place back in fridge while you roll out the second disc of pie dough.

Prepare your top pie dough - making sure you leave some holes for steam to release. If doing a lattice top, see notes in blog post about how to do this.

Combine the egg yolk and heavy cream in a small dish and use a pastry brush to brush the top of the pie crust once it's been placed over the pie filling. Sprinkle the crust with sugar. Use the tablespoon of butter to dot any opening of the pie filling.

Bake the pie on the lined baking sheet at 400 degrees for 20 minutes. Without opening the oven, reduce the heat to 350 degrees F and continue baking for 35 to 45 more minutes, or until the pie filling is bubbling throughout the pie and the top is golden brown.

Remove from oven and let rest for 3 hours, or until cooled. Cover loosely and store at room temperature for up to 2 days, or refrigerate up to 4 days. Enjoy!
Notes
* Taste the blueberries for sweetness. If they are tart, add up to 1/4 cup more sugar. If they are really sweet, feel free to reduce the sugar amount slightly. 
**If using frozen blueberries - make sure to defrost the blueberries first then drain as much excess liquid from them as possible. 
***Since all pie plates are different, please cook the pie until the blueberry pie filling is bubbling throughout. This will be a good indicator to know when YOUR pie is done.
Nutrition
Calories:
267
kcal
|
Carbohydrates:
47
g
|
Protein:
3
g
|
Fat:
9
g
|
Saturated Fat:
3
g
|
Cholesterol:
29
mg
|
Sodium:
139
mg
|
Potassium:
106
mg
|
Fiber:
3
g
|
Sugar:
28
g
|
Vitamin A:
163
IU
|
Vitamin C:
11
mg
|
Calcium:
13
mg
|
Iron:
1
mg
Keywords:
blueberries, blueberry, pie
PIN THIS IMAGE TO SAVE THE RECIPE: