I've been on a mission this month to fill my dinner plate with as much vegetables as possible. I'm trying to be proactive this Holiday Season so I can enjoy things like cookies and fudge.
Well, one night the stars aligned and I whipped up this Curry Roasted Chicken and Brussel Sprouts over a creamy parsnip mash. I wanted something to tie it all together so I made a quick, creamy yellow curry sauce to drizzle over the whole thing and it was absolutely magical.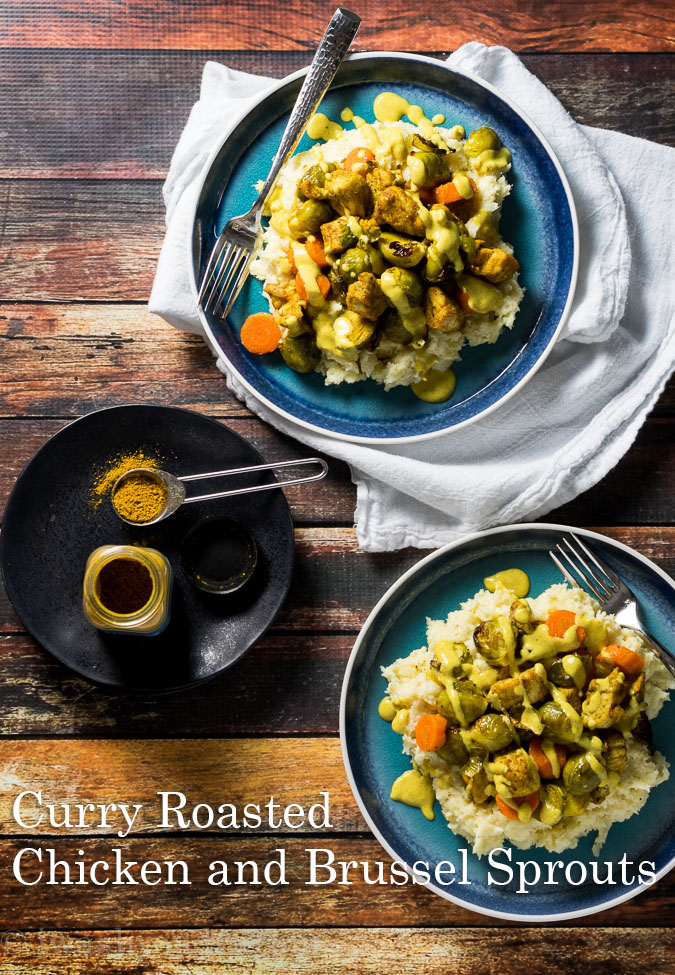 I knew I had to recreate it and share it on ze' blog.
So parsnips… there's a vegetable you don't see everyday. I actually love parsnips because when they're mashed, roasted or pureed, they remind me a lot of potatoes. It's a great way to trick your brain into thinking you're eating a carb loaded meal, when really it's just a root vegetable.
The only thing is that parsnips can have a bitter taste to them. So when I mash them I make sure to add some cream, butter, and even some sour cream to counteract the bitter taste. All the things you would add to regular ol' taters. 🙂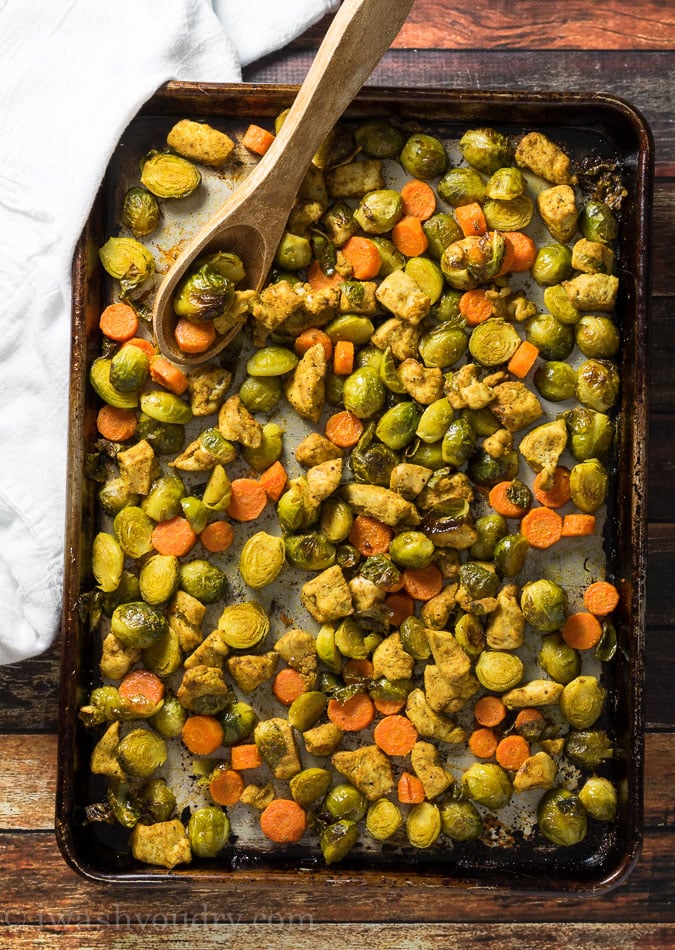 The roasted chicken, brussel sprouts and carrots are simply tossed with some curry powder, a little olive oil and a touch of garlic before being roasted until they're soft and tender.
While the vegetables are roasting and the parsnips are boiling, you can quickly whip up the creamy curry sauce. The first time I made the sauce I wanted to add just a pinch of cayenne pepper to give it a nice kick, but when I tapped my spice jar, a heaping teaspoon fell into the sauce. Oops!
I went with it anyway, and to my surprise it was absolutely delicious! Super spicy… but that's perfect for me. I toned it down for this recipe, but feel free to increase the cayenne to give it more heat if you prefer.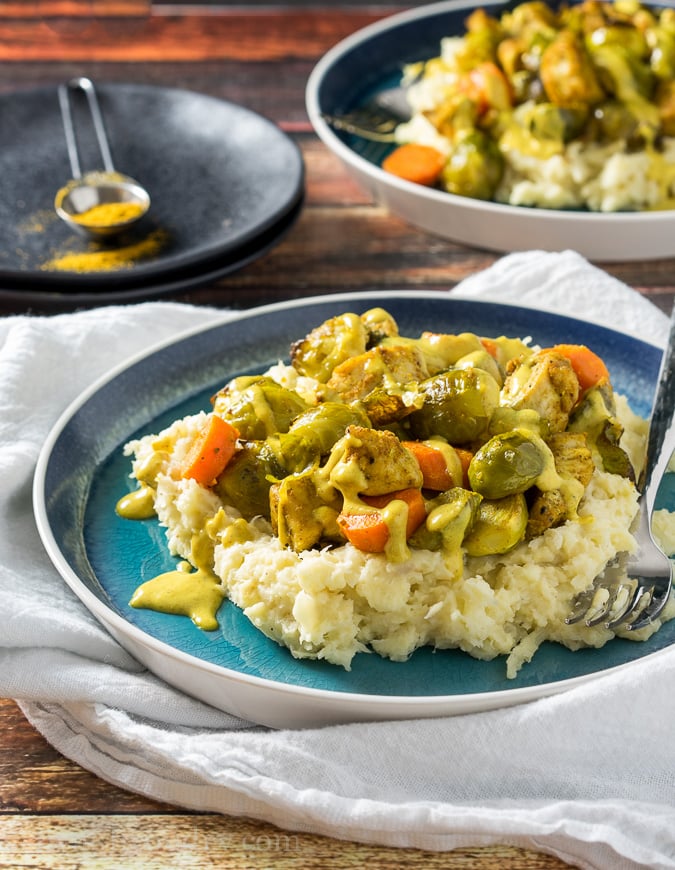 This is a hearty (yet healthy), quick and easy dinner recipe that I think you'll totally adore!
Make sure you don't miss a thing! Follow I Wash You Dry here:
FACEBOOK | PINTEREST | GOOGLE+ | TWITTER | INSTAGRAM | BLOGLOVIN
Curry Roasted Chicken and Brussel Sprouts
Curry Roasted Chicken and Brussel Sprouts is a tasty dinner with creamy yellow curry sauce drizzled over the top!
Ingredients
Instructions
Preheat the oven to 425 degrees F.

Combine the brussel sprouts, carrots, chicken, olive oil, curry powder, garlic powder, salt and pepper in a large bowl and toss to evenly coat. Spread into an even layer on a large baking sheet. Bake for 15 minutes, stir, and bake for an additional 10 to 15 minutes, until nicely roasted.
For the Parsnips:
Meanwhile bring a large pot of water to a boil and add the parsnips. Boil until the parsnips are very tender. Drain and return to pot (turn off heat). Add 3 tbsp of cream, butter, sour cream and garlic powder. Use a potato masher to mash until desired consistency, adding more cream if needed. Season with salt and pepper and keep warm.
For the Sauce:
To make the creamy curry sauce, simply melt 3 tbsp of butter in a small sauce pan over medium low heat and whisk in the curry powder until smooth. Gradually whisk in the remaining ingredients until smooth and let simmer over low heat, whisking occasionally, for 10 minutes. *Stir in the garam masala just before serving if desired.

Place a cup of parsnip mash on your plate, topped with a helping of the curry chicken and brussel sprouts, then drizzle with the creamy curry sauce. Enjoy!
Nutrition
Calories:
585
kcal
|
Carbohydrates:
42
g
|
Protein:
19
g
|
Fat:
40
g
|
Saturated Fat:
16
g
|
Cholesterol:
104
mg
|
Sodium:
510
mg
|
Potassium:
1307
mg
|
Fiber:
12
g
|
Sugar:
12
g
|
Vitamin A:
8504
IU
|
Vitamin C:
93
mg
|
Calcium:
164
mg
|
Iron:
3
mg
Keywords:
brussel sprouts, carrots, Chicken, curry, greek yogurt, Roasted