These delicious no-bake Chocolate Peanut Butter Balls are a quick and easy treat to make for the holidays!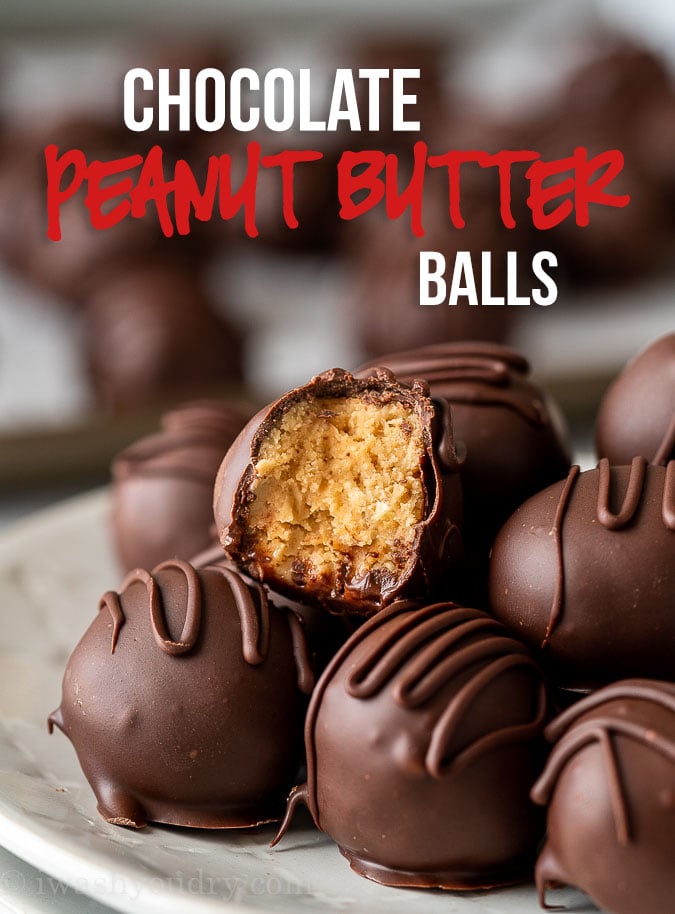 I'm always excited about this time of year because it means I can make all sorts of fun candies, cookies and treats to share with my neighbors, family, teachers and co-workers! Sometimes it can seem a bit overwhelming to try and make something special for everyone, so I like to keep it simple with easy no-bake treats like these peanut butter balls.
No Bake Peanut Butter Balls Ingredients:
All you need are just a few simple ingredients to whip up your very own treats.
Butter – I prefer salted, but you can also use unsalted
Peanut Butter – Creamy, chunky, or even other forms of nut butters would work!
Powdered Sugar
Graham Crackers – Sounds weird, but it gives the peanut butter balls the perfect consistency and a slight crunch!
Semi-Sweet Chocolate – You can use any sort of dipping chocolate or almond bark as well.
*Coconut Oil – This is optional, but helps to give the semi-sweet chocolates a better consistency for dipping.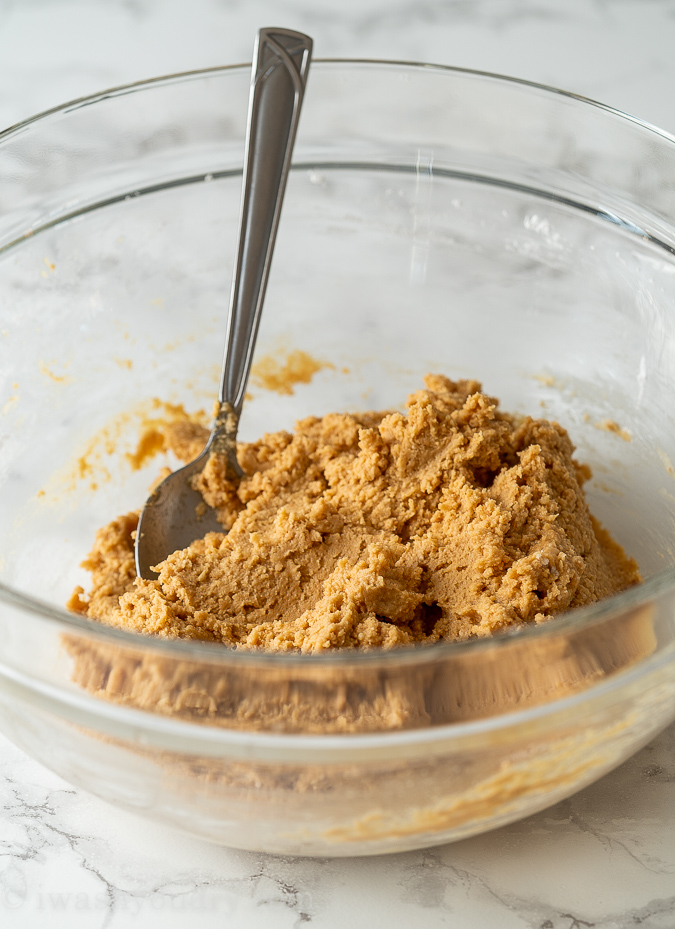 What I love most about this recipe is that you don't need any mixers. Just dump all the ingredients for the peanut butter balls into a bowl and use a spoon to mix it up!
Peanut Butter Mixture is Too Soft and Sticky?
Since all peanut butters seem to have a different consistency, it's best to use this recipe as a guide, and adjust the levels of powdered sugar and graham crackers accordingly.
Add in extra powdered sugar to firm up the peanut butter mixture until it can be rolled into a ball in your hands without peanut butter sticking to your fingers.
Add in extra graham crackers to give it more crunch if desired.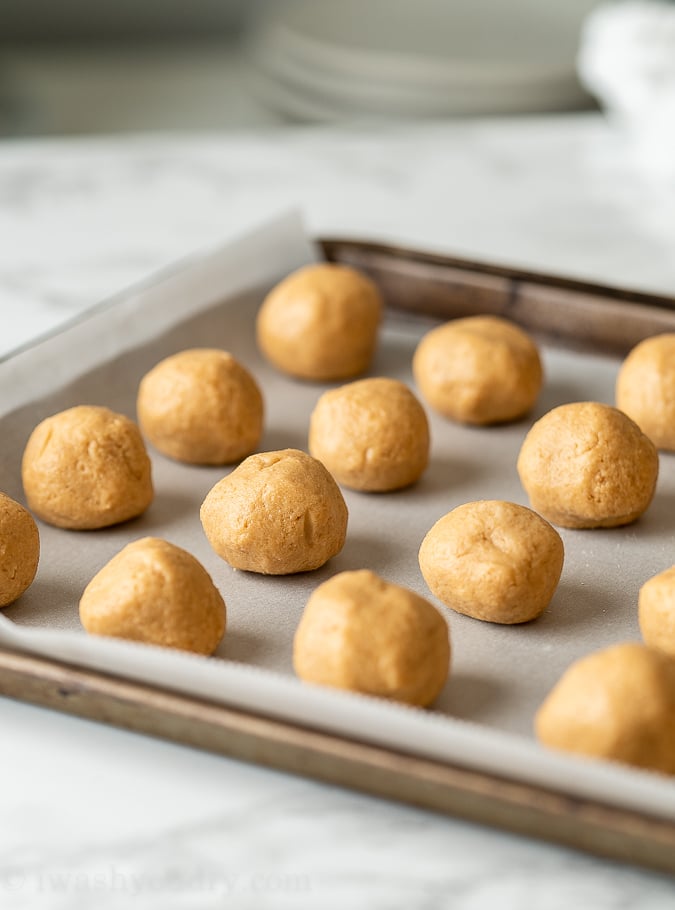 How To Make Peanut Butter Balls:
Shape the peanut butter mixture into 1 inch balls
Place them on a parchment lined baking sheet and pop them in the fridge or freezer till they firm up. (about 20 minutes)
Dip the chilled balls in melted chocolate, then tap off excess and place back on baking sheet to set.
Best Chocolate For Dipping
The ideal type of chocolate to use for melting and dipping is called "couverture" chocolate. Couverture chocolate has a higher ratio of cocoa butter to cocoa, which helps it melt more smoothly. If you can't find couverture, use the best quality chocolate that you can find.
Ghirardelli Chocolates are a great option.
Semi Sweet Chocolates are easily accessible
Almond Bark works great for lots of candy – follow instructions on packaging
Milk Chocolate works great too.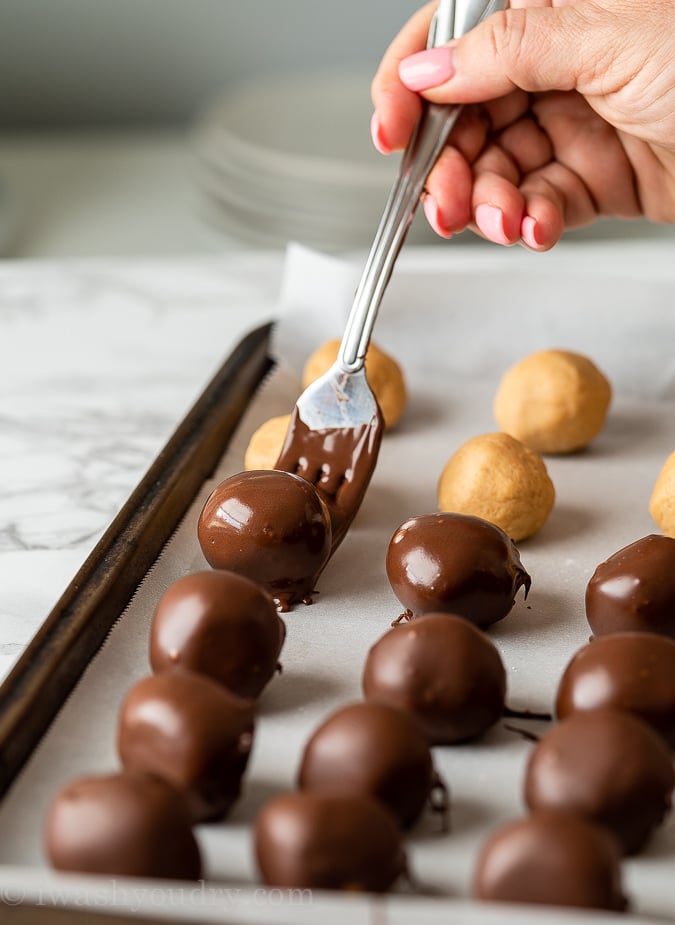 How To Melt Chocolates for Dipping
Double Boiler Method
The best way to melt the chocolates is to use a double boiler method. Place the chocolates in a glass bowl that can rest on top of a small sauce pot without touching the bottom. Bring an inch or two of water to a boil in the pot and place the bowl of chocolates on top. Let the chocolates melt halfway before stirring. Gently stir until the chocolates are silky smooth.
Microwave
When in a pinch for time, you can also use a microwave! Place the chocolates in a microwave safe bowl and heat in 25 second increments, stirring after each time until the chocolates are smooth and melted. Careful not to overcook the chocolates as that will make the chocolate turn hard again!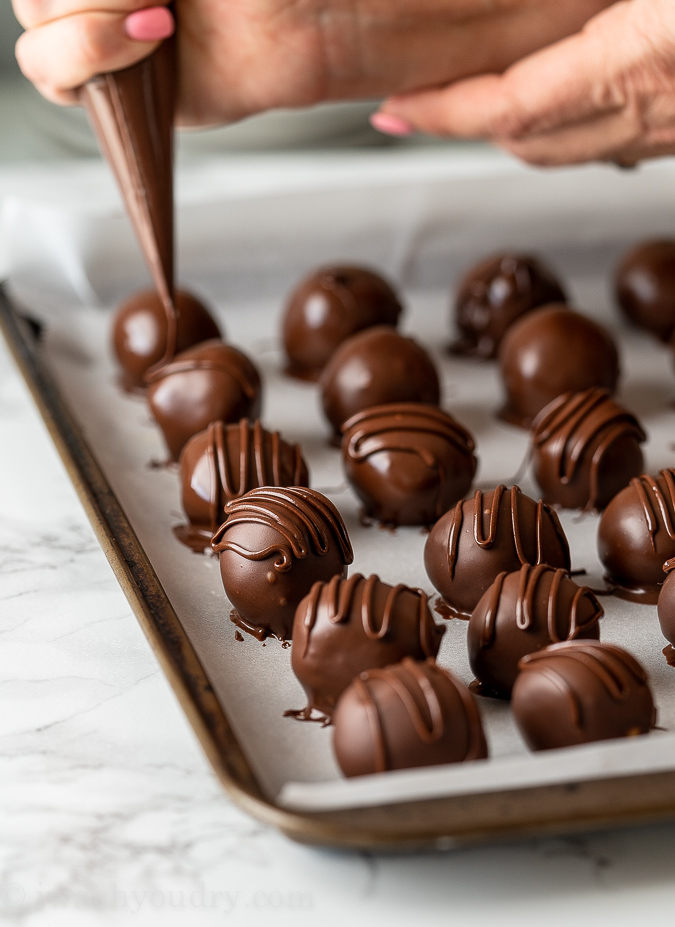 If you have extra chocolate left over after dipping, you can use it to drizzle over the peanut butter balls to make them look real pretty!
Let the chocolate set and then they're all ready to enjoy!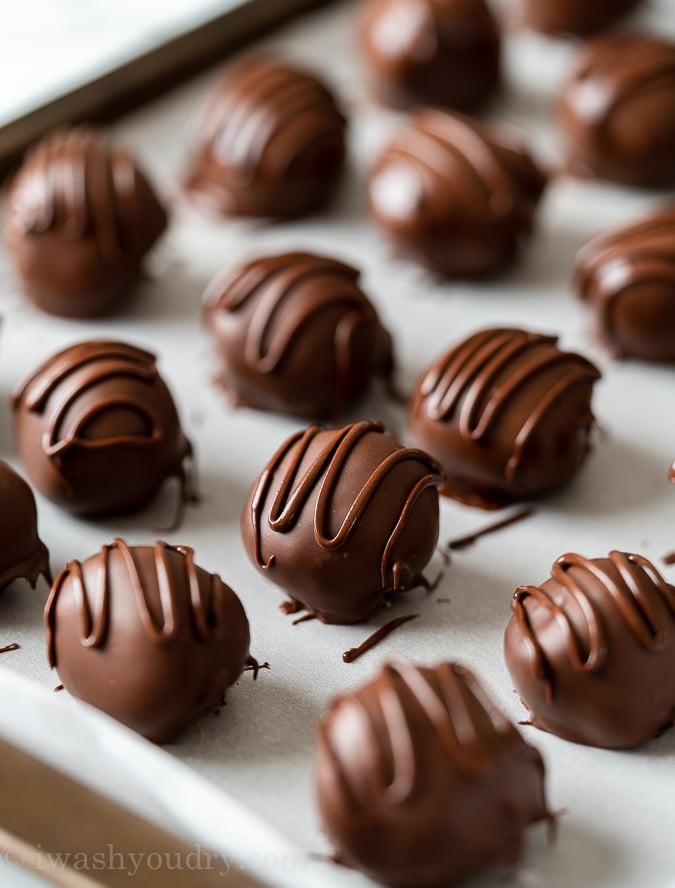 More Easy No Bake Treats: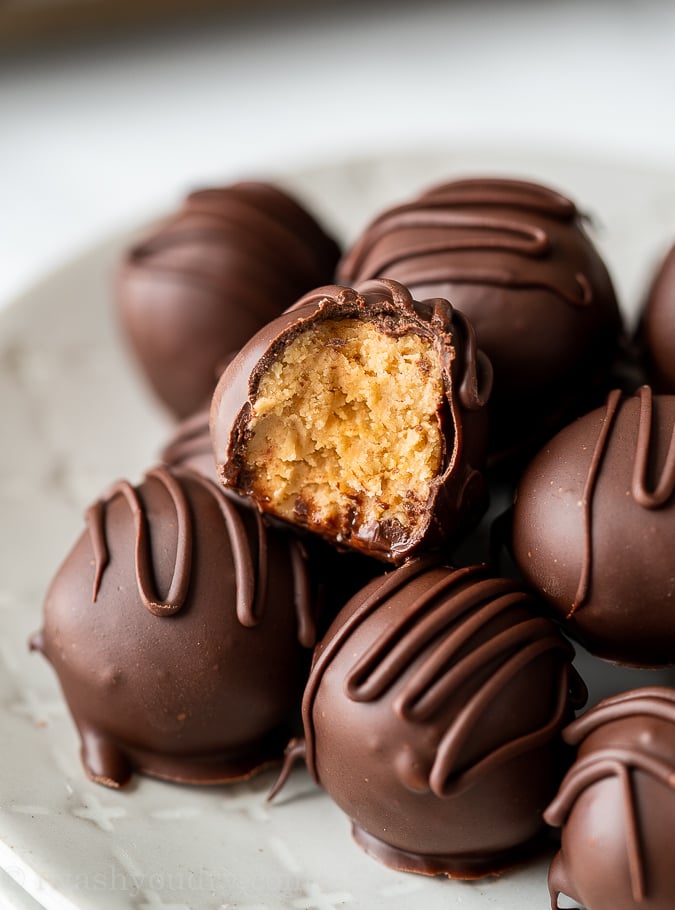 Definitely add this easy treat to your list of goodies to make this holiday season! You're going to love them!
Helpful Products To Make This Recipe:
Last updated on December 5, 2023 8:48 am
Chocolate Peanut Butter Balls
These delicious no-bake Chocolate Peanut Butter Balls are a quick and easy treat to make for the holidays!
Ingredients
1/2

cup

butter

,

melted

1/2

cup

peanut butter

2

cups

powdered sugar

2/3

cups

graham crackers

,

crushed, about 5 sheets

12

ounces

semi-sweet chocolate chips

,

or best quality chocolates for dipping

*optional - 1 tsp coconut oil
Instructions
Combine the butter, peanut butter, powdered sugar and graham crackers in a large bowl and stir until well blended. You can use more or less powdered sugar to make the mixture more or less dry.

Form 1 inch balls out of the dough and place on a parchment lined baking sheet. Freeze the balls for about 20 minutes, or until firm.

Melt the chocolates (*see blog post for preferred methods) in a microwave safe dish at 25 second increments, stirring in between until chocolates are smooth. If chocolates are a bit thick, add in 1 tsp coconut oil to thin it out and make it easier for dipping.

Use a fork to dip the peanut butter balls into the melted chocolate and then tap off any excess chocolate. Place back on the parchment paper to harden. Drizzle with any excess chocolates if desired.
Notes
You can use any sort of nut butter or nut butter alternative in place of peanut butter. Just adjust the powdered sugar and graham crackers to get the desired consistency.
Nutrition
Calories:
118
kcal
|
Carbohydrates:
12
g
|
Protein:
1
g
|
Fat:
7
g
|
Saturated Fat:
4
g
|
Cholesterol:
7
mg
|
Sodium:
46
mg
|
Potassium:
72
mg
|
Fiber:
1
g
|
Sugar:
10
g
|
Vitamin A:
75
IU
|
Calcium:
9
mg
|
Iron:
1
mg
Keywords:
Balls, Candy, Chocolate, Peanut Butter, Treats
PIN THIS IMAGE TO SAVE THE RECIPE: