I may be on a peanut butter and chocolate kick.
Can you blame me?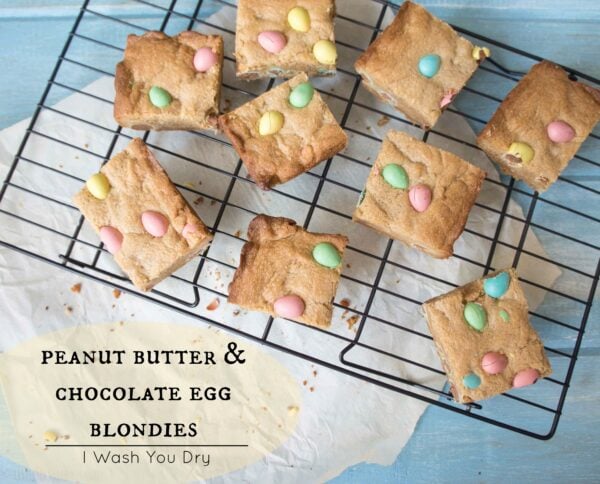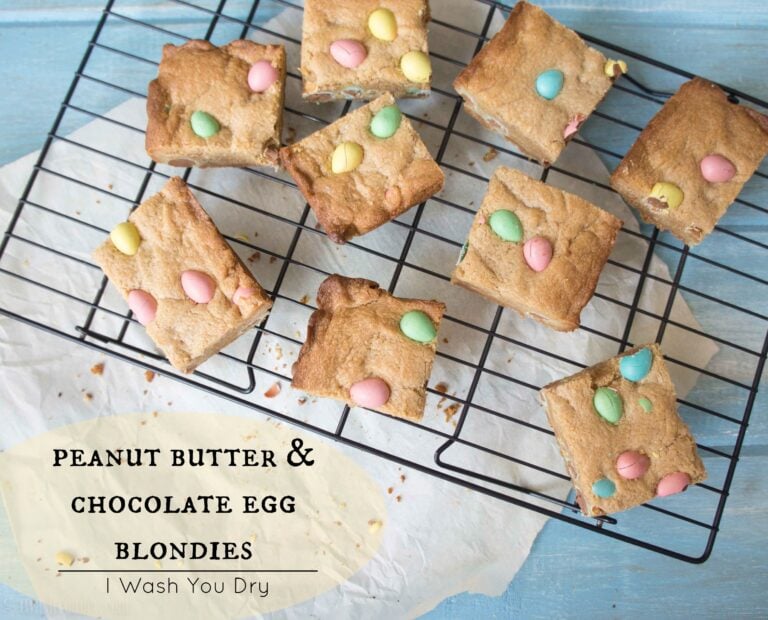 It's only the best flavor combination out there.
I bought these Cadbury mini chocolate Easter eggs a while back with intentions on making something sweet for the blog. They sat on top of my fridge for over a week while I racked my brain on something awesome to create.
They had to sit on top of the fridge because if they were at eye level, they never would have made it into these blondies.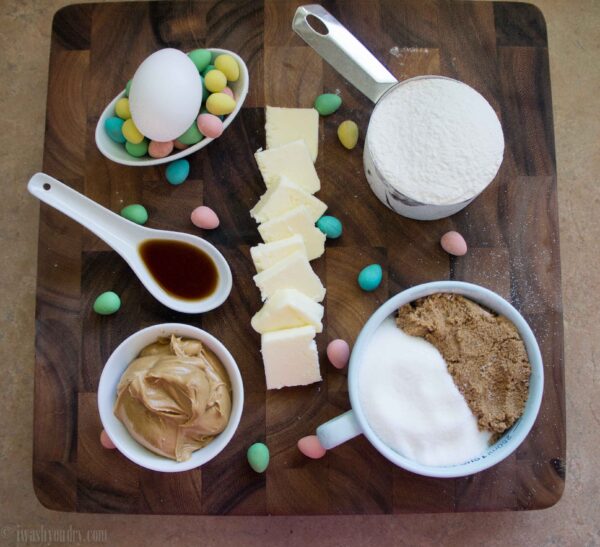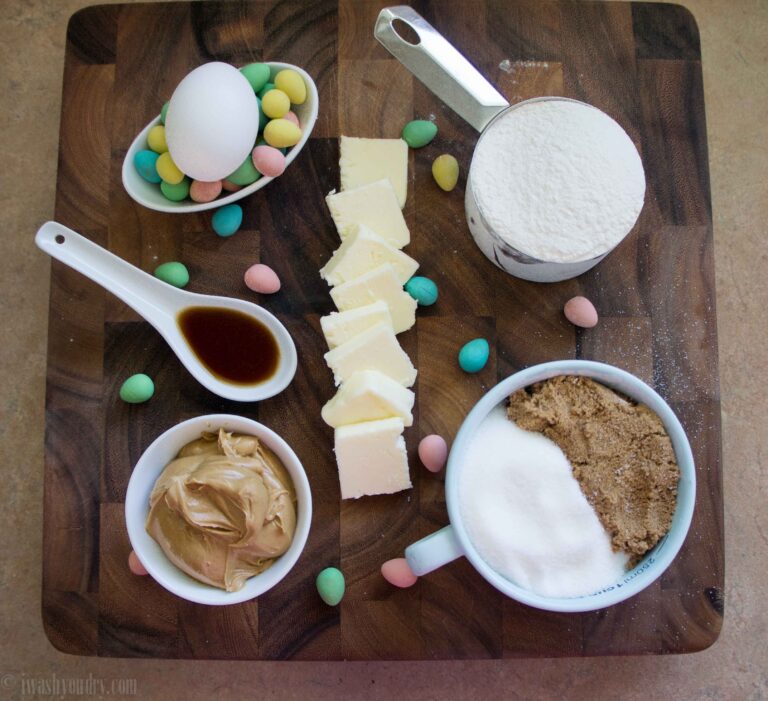 Then this past weekend I got inspired to use them in these delicious Peanut Butter and Chocolate Egg Blondies, and it's a good thing I did. I went to reach for them on top of the fridge and realized they had been opened by my husband. He had been secretly sneaking eggs when I wasn't looking!
The nerve.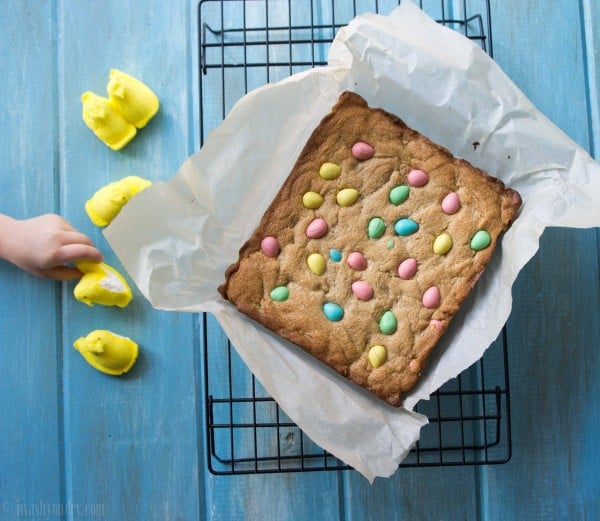 Also on top of the fridge was a pack of Peeps.
I had been meaning to make a recipe using them, but alas, I feel that everyone is probably "peeped" out. Plus my kid's have had their eyes on them since they arrived in our house, so I let them go to town. Obvi- my kids couldn't wait and tried stealing one mid photo shoot.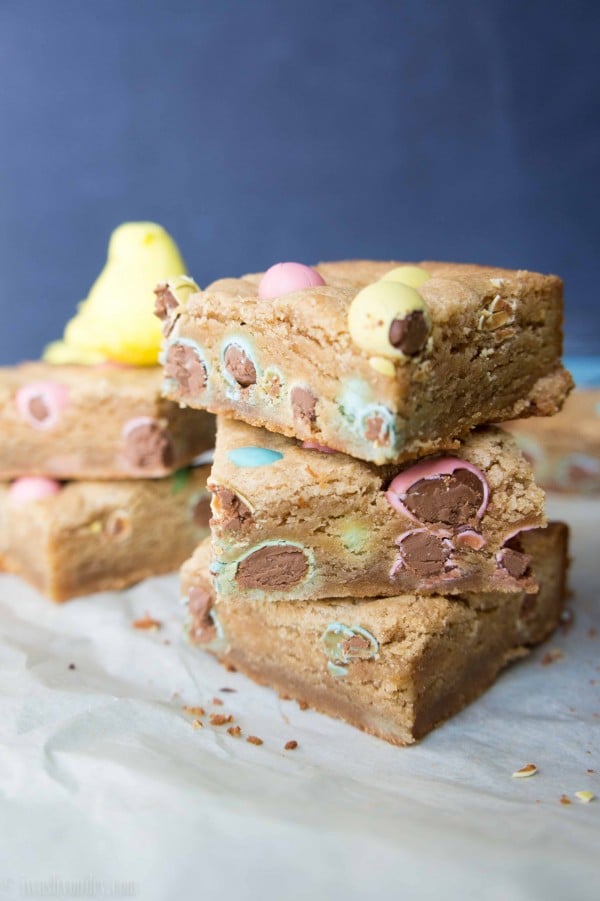 These Peanut Butter and Chocolate Egg Blondies are incredibly rich and delicious. Blondies are the lighter (in color) version to their sister – The Brownie. The addition of peanut butter to this almost cookie-like bar pairs perfectly with the sweet chocolate eggs. If you can't get ahold of the eggs, just use some chocolate morsels or even some M&M's.  Either way, these blondies will seriously rock your sweet tooth.
Peanut Butter and Chocolate Egg Blondies
These Peanut Butter and Chocolate Egg Blondies are incredibly rich and delicious!
Instructions
Preheat oven to 350 degrees F.

Prepare an 8x8 baking pan by lining it with parchment paper or tinfoil, so the paper comes up and over the sides of the pan. Set aside.

In a large bowl cream together the butter and sugars until smooth and creamy. Add in the vanilla and peanut butter and continue to beat until smooth. Mix in the egg, make sure to scrap sides of bowl occasionally.

Add the self rising flour in 3 batches, stirring in between.

Fold in the chocolate eggs, and press the batter into the prepared pan. Bake for 25-30 minutes or until the center of the blondies are set. Let cool on wire rack, use parchment paper to lift blondies out and cut into squares. Enjoy.
Nutrition
Calories:
407
kcal
|
Carbohydrates:
45.1
g
|
Protein:
6.6
g
|
Fat:
24.7
g
|
Cholesterol:
47.8
mg
|
Sodium:
64.8
mg
|
Sugar:
30.5
g
|
Vitamin A:
6
IU
Keywords:
blondies, Chocolate, Peanut Butter