These gooey Birthday Cake Batter Cinnamon Rolls have a buttery vanilla cake flavor baked into each bite.
When you want to take my Classic Cinnamon Rolls recipe to the next level, this is the recipe to bake!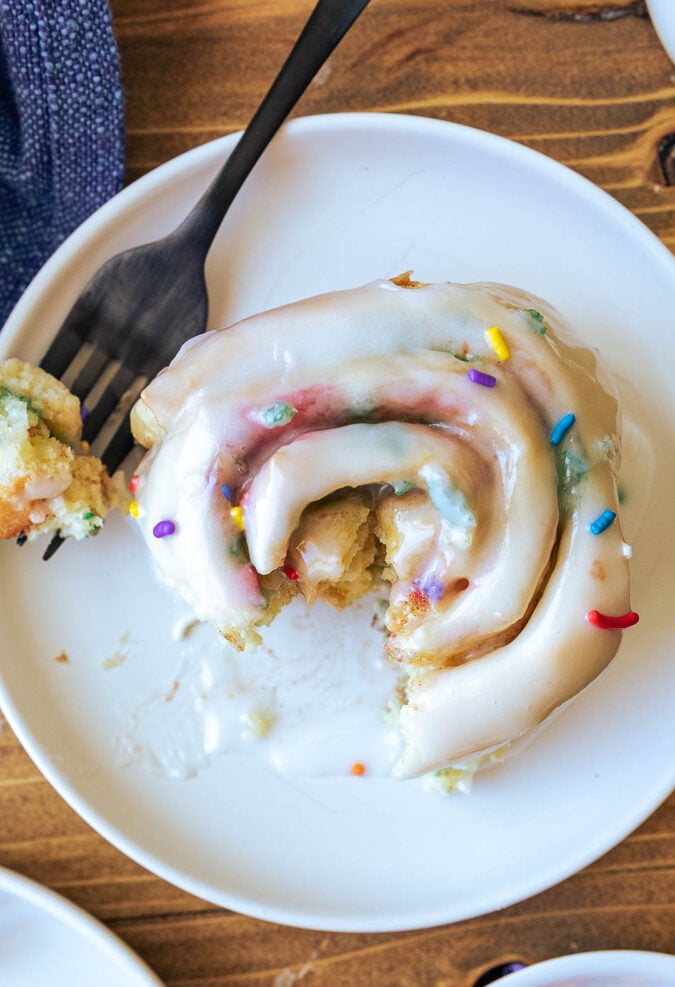 Whether you're celebrating a birthday, holiday, special occasion or just want something fun to bake, these cinnamon rolls are the perfect treat.
Cake Batter Cinnamon Rolls
Soft and tender cinnamon rolls with a delicious buttery vanilla taste throughout… plus plenty of sprinkles! So much fun!
Ingredients Needed
Here's the basic list of ingredients you'll need in order to bake these Cake Batter Cinnamon Rolls. As always, you can find the full list of ingredients located in the printable recipe card below.
Milk
Cream
Sugar
Olive Oil
Active Dry Yeast
All Purpose Flour
Baking Powder
Baking Soda
Butter
Brown Sugar
Cinnamon
Sprinkles – use cake sprinkles to avoid the colors spreading into the dough
Vanilla Cake Mix – just the powdered mix, not prepared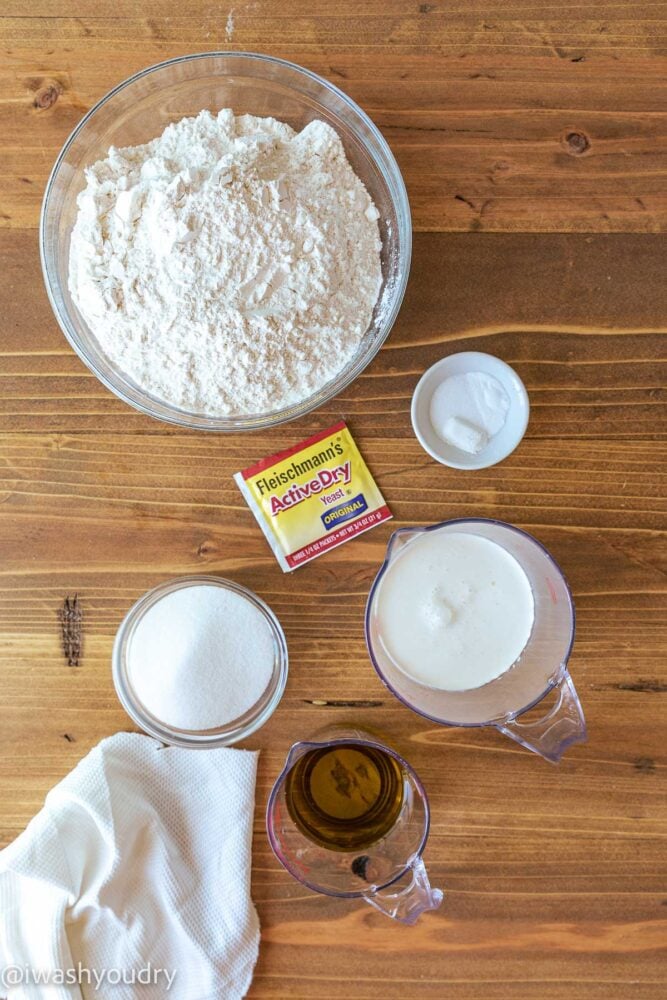 How To Make Cake Batter Cinnamon Rolls
Are they breakfast or dessert? I'll let you make that decision.
Here's a quick run down on how to make the cinnamon rolls. Make sure to check out the printable recipe card below for the step-by-step instructions plus any added notes.
HEAT THE MILK Add the milk, cream, sugar and olive oil to a large pot over medium-high heat and bring the mixture ALMOST to a boil. Stir to dissolve the sugar, then remove from heat and let it cool till it reaches 105 degrees F.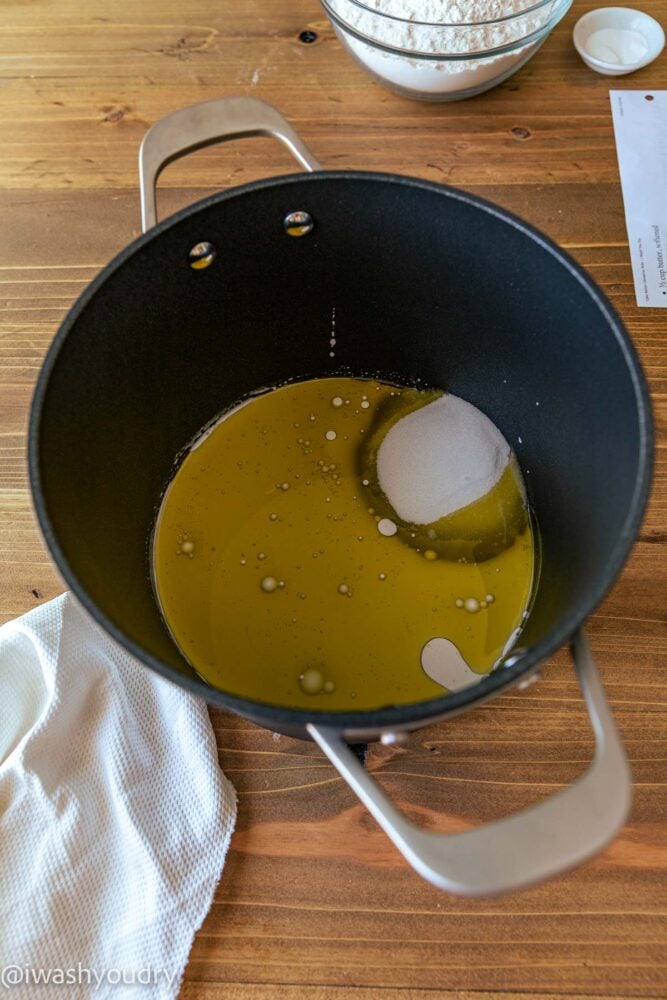 ADD YEAST AND FLOUR Sprinkle the yeast over the warm milk and sugar mixture and let it sit for about 10 to 15 minutes to activate the yeast. Once the yeast is foamy, you can add in the flour and mix it with a wooden spoon until a dough forms.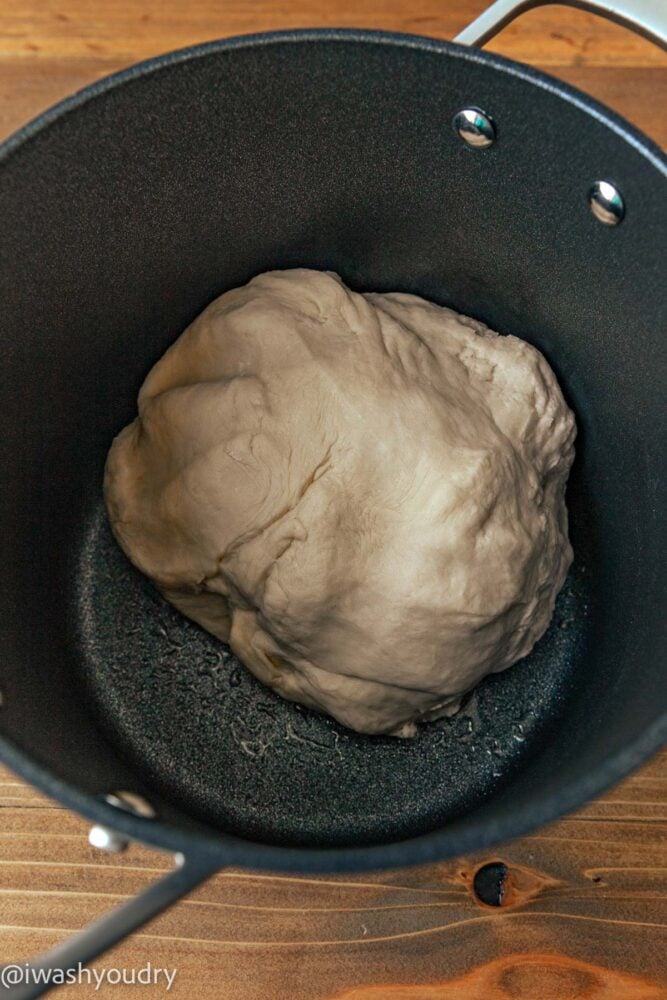 FIRST RISE After your dough ball is formed, cover it with a clean towel or plastic wrap and let it rise for about 1 hour, or until it's close to double in size.
ADD MORE FLOUR Next you'll deflate the cinnamon roll dough and knead in a little more flour, salt baking powder and baking soda, until the dough is soft and tender.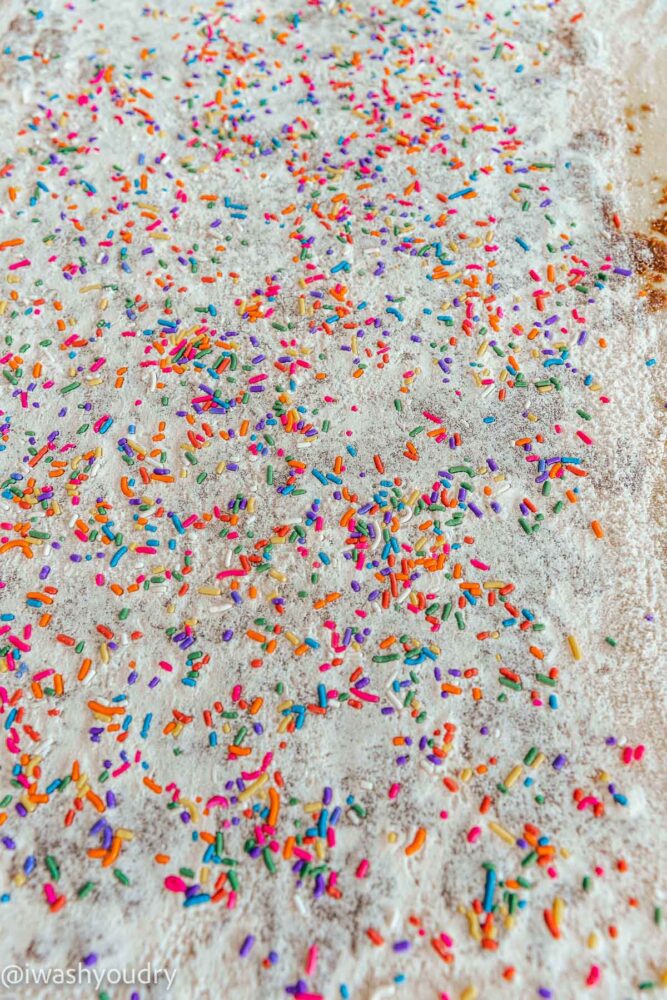 ROLL OUT DOUGH Turn the dough out onto a floured surface and roll into a large rectangle shape. Combine the softened butter, brown sugar and cinnamon in a small dish and spread over the dough.
SPRINKLE CAKE MIX Layer the cake mix and sprinkles over the top of the brown sugar and cinnamon mixture and then roll up tightly. Cut into discs and place in a greased baking dish.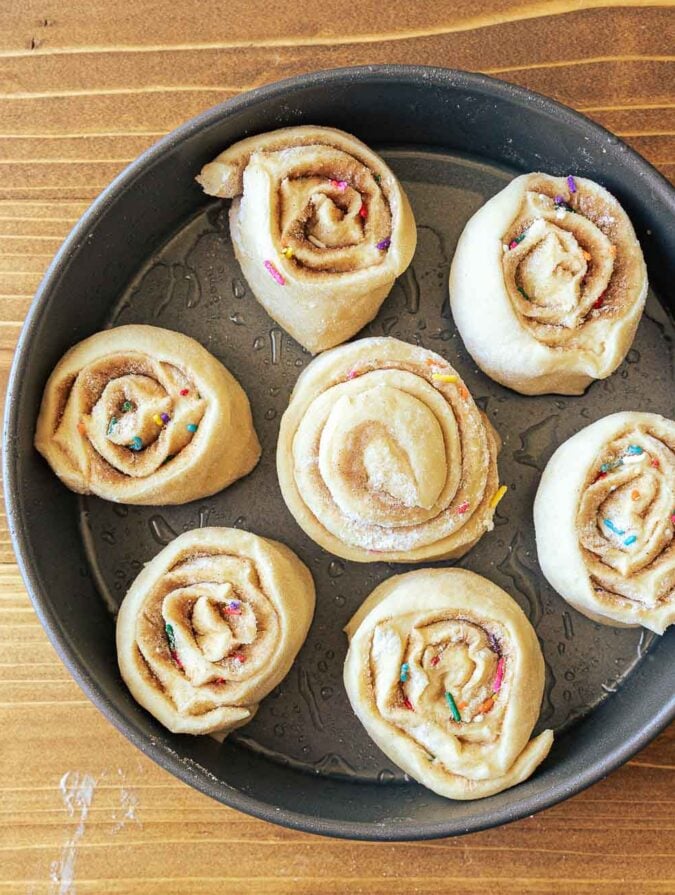 SECOND RISE Cover the cinnamon rolls lightly with a clean cloth or plastic wrap and let rise again for an additional 30 minutes. They should puff up in size before baking.
BAKE Pop the cinnamon rolls into the oven and bake until lightly golden brown around the edges.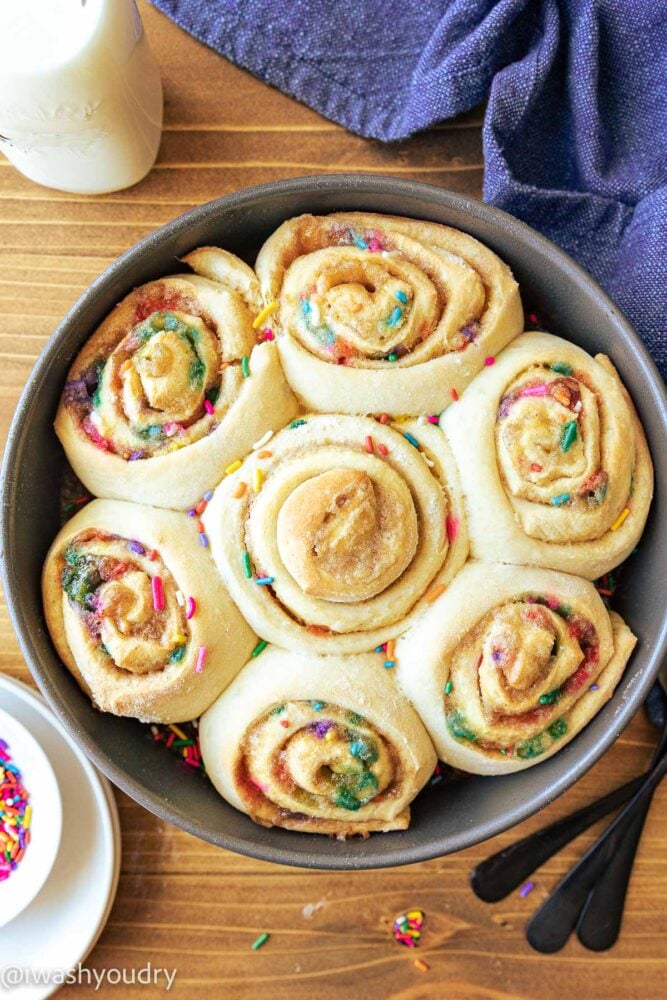 DRIZZLE WITH ICING Whisk up a quick powdered sugar glaze and drizzle it over the warm cinnamon rolls and top with extra sprinkles. These are such a fun and tasty treat!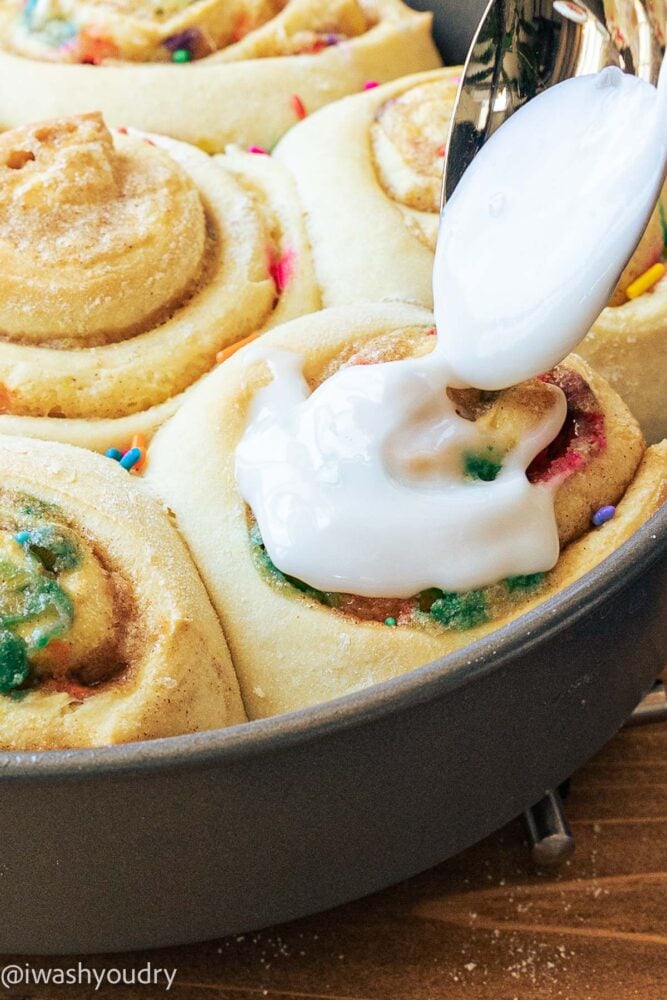 Recipe Tips and Suggestions
Here are a few recipe tips and suggestions for you to help you bake the most delicious cinnamon rolls ever!
YEAST – I'm using active dry yeast, which requires proofing before it can be mixed into the dough. You can also use instant yeast and skip the proof step. Just mix it in with the flour and then proceed to the first rise.
OLIVE OIL – I know it may sound bizarre, but the olive oil in the dough creates a nice rich flavor without being too overpowering.
SPRINKLES – Make sure to use cake sprinkles (or jimmies), which are better for being baked into recipes.
RISE TIME – To give you the most tender and soft cinnamon rolls, it's important to

let them rise twice

. It just creates a softer, more fluffy texture!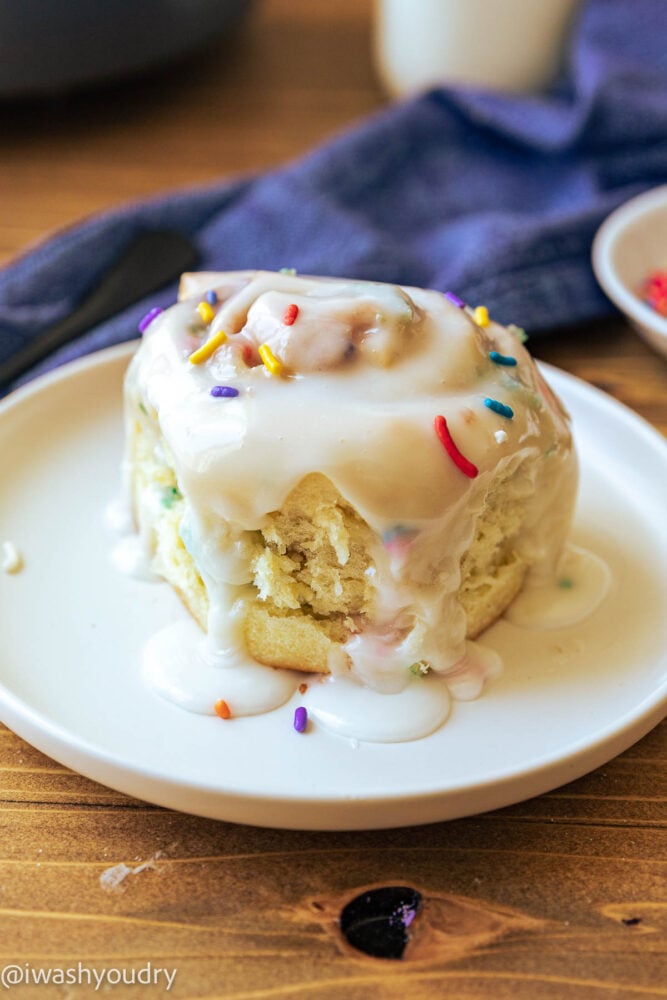 How Do You Keep Cinnamon Rolls Soft and Moist?
The key to keeping your cinnamon rolls soft and moist is how you store them. You will want to pack them air-tight.
Once the cinnamon rolls have cooled, you can individually wrap them in plastic wrap and store them in a zip-close bag.
If you want to keep them in the pan, you can wrap the pan tightly as well.
Can You Freeze Cinnamon Rolls?
Yes! I recommend you bake the cinnamon rolls first, let them cool completely, then wrap tightly and freeze for up to 3 months.
To reheat, simply place in the fridge for 24 hours, then you can unwrap and pop in the microwave for about 1 minute. Soft and gooey cinnamon rolls coming right up!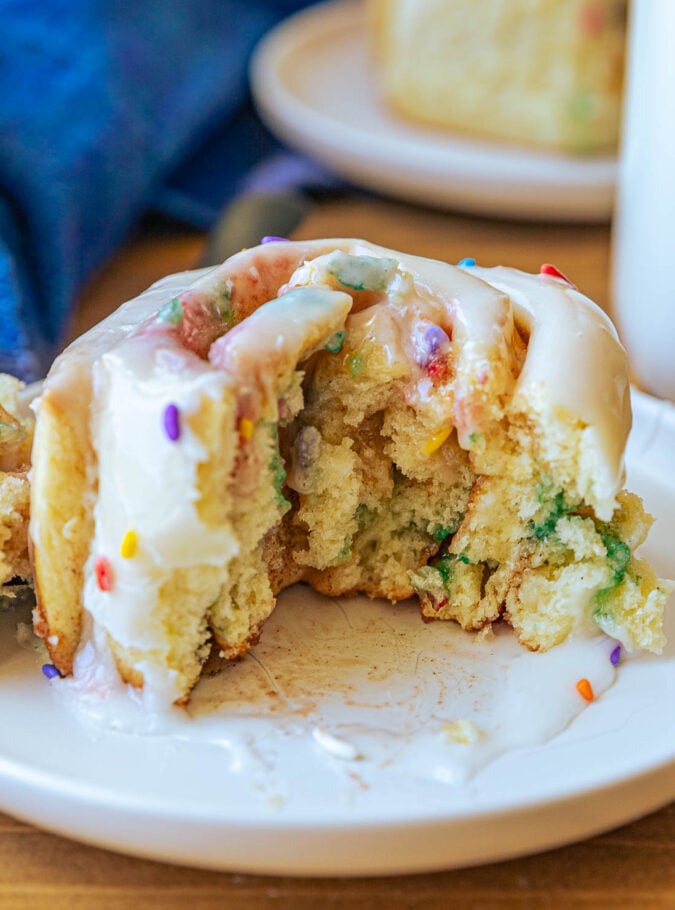 More Fun Birthday Recipes
Sprinkles make everything better! Here are a few more fun cake batter flavored recipes that are sure to jazz up any birthday!
I can't wait for you to give these tasty Birthday Cake Batter Cinnamon Rolls a try! I know you're going to love them!
Cake Batter Cinnamon Rolls
These ooey-gooey, cinnamon rolls are outstanding, with just the right amount of cake batter taste in each bite.
Servings:
14
cinnamon rolls
Ingredients
Instructions
In a large pot combine milk, cream, 1/2 cup sugar, and 1/2 cup oil. Heat on high until just about to boil and then turn off heat. Let the mixture cool to warm (about 45 minutes to an hour).

Add the packet of yeast and let it sit for a few minutes. Then add 4 cups of flour and stir with a wooden spoon till a dough forms.

Cover with a clean towel and let rise for an hour.

After an hour add the remaining 1/2 cup flour, salt, baking powder, and baking soda. Incorporate into the dough, and turn it out onto a floured surface. Roll the dough out into a rectangle shape.
For The Filling
Combine the butter, brown sugar, and cinnamon in a bowl and mix until combined and crumbly. Spread evenly over the rolled out dough, making sure to reach all the edges. Sprinkle the cake mix powder evenly over the dough as well as half of the sprinkles.

Starting with the long edge, roll up the dough, making one long tube. Use a sharp serrated knife to cut the dough into 14 equal size disks. Place into two round 9 inch cake pans that are greased. Cover loosley and let rise for another 30 minutes.

Bake at 400 degrees for 13-15 minutes.
For the Icing:
Combine the powdered sugar, milk and vanilla and stir till smooth. Pour over warm cinnamon rolls and top with the remaining sprinkles!
Nutrition
Calories:
515
kcal
|
Carbohydrates:
86
g
|
Protein:
6
g
|
Fat:
17
g
|
Saturated Fat:
6
g
|
Polyunsaturated Fat:
3
g
|
Monounsaturated Fat:
7
g
|
Trans Fat:
1
g
|
Cholesterol:
22
mg
|
Sodium:
278
mg
|
Potassium:
122
mg
|
Fiber:
2
g
|
Sugar:
49
g
|
Vitamin A:
286
IU
|
Vitamin C:
1
mg
|
Calcium:
82
mg
|
Iron:
2
mg
Keywords:
cake batter, cinnamon rolls, sprinkles
PIN THIS IMAGE TO SAVE THE RECIPE: