These Pumpkin Cheesecake Egg Rolls are the perfect combination between pumpkin pie and cheesecake, all wrapped up and fried until golden brown. It's basically State Fair food all jacked up on pumpkin-pie-spice-crack.
You're welcome.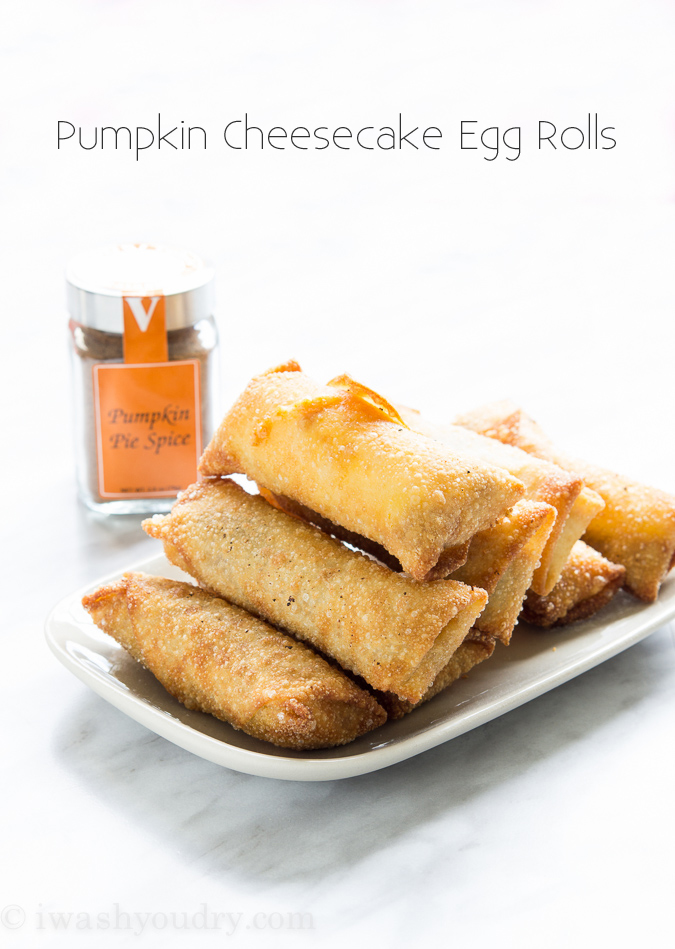 Before we talk about how awesome these egg rolls are, can we discuss my husband's thought process when it comes to doing projects around the house?
You see, my husband works for 5 weeks and then gets 1 week off. Usually when he gets that week off we have a trip planned or tons of little day trips that we take, but this week… we have nothing planned. So he's here, in my work bubble.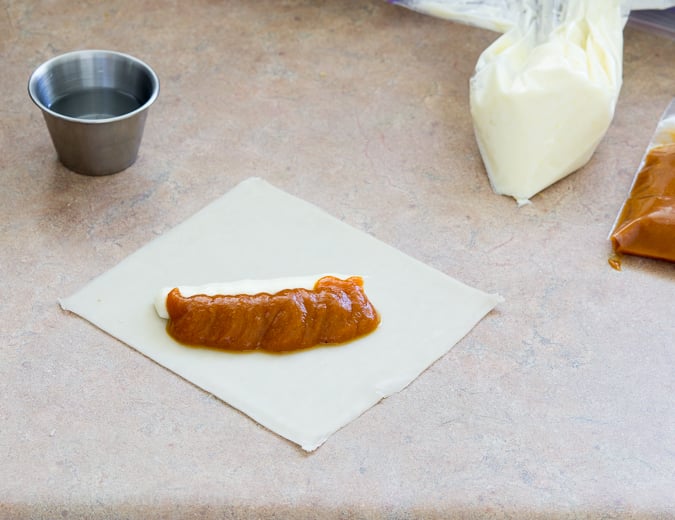 Yesterday he decided that he was going to vacuum the living room, which was awesome, until I realized it was my husband who wanted to vacuum. This is how it went down…
11am: He pulls out the vacuum and plugs it in. Something beeps on his iPad and he sits down on the couch to address the beep, and then gets distracted reading the news, watching youtube, etc.
12:30pm: After some gentle nudging from me, he claims that vacuuming the living room rug is virtually pointless and it needs to be shaken out outside. Then he requires my assistance to do this task.
1:30pm: My 3 year old daughter decides to climb the vacuum that is still sitting out. It falls over on her. She cries, and I rush to her aid. I proceed to tell my husband this wouldn't have happened if he would have just put the vacuum away…
3:00pm: The older kids get home from school. The vacuum is still out and the rest of the living room has still not been vacuumed yet. He tells the kids to pick up all the toys and stuff off the carpet.
5:00pm: He decides to invite one of his work buddies over for dinner. He quickly finishes vacuuming the living room, then asks my son to wind up the cord. The vacuum is left in the middle of the kitchen.
5:30pm: Fed up, I finally put the vacuum back in the closet.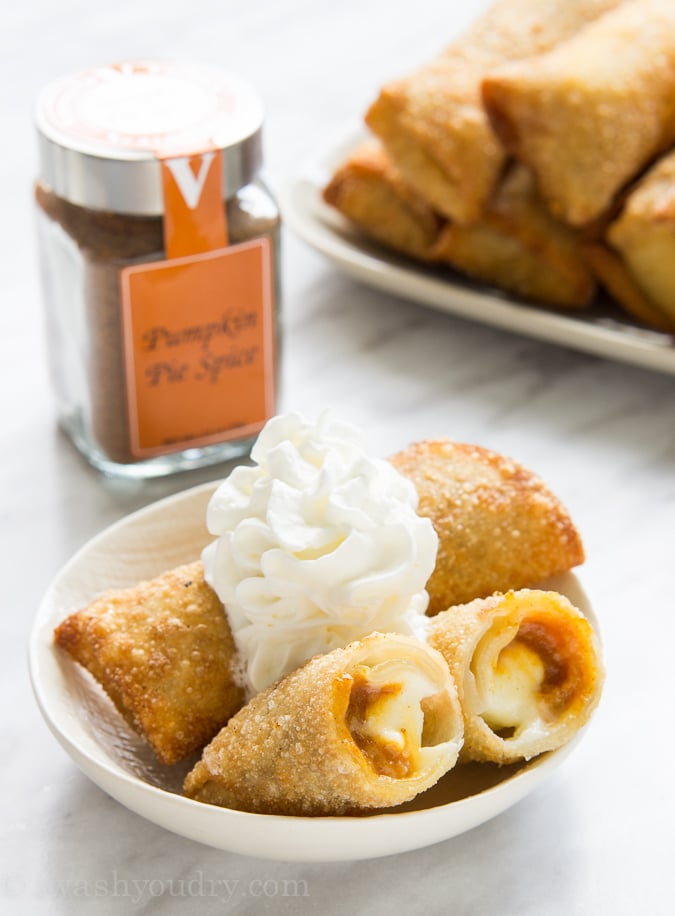 I'm wondering what task he'll choose today… send help.
Also, send me some more of these Pumpkin Cheesecake Egg Rolls! My son actually came up with the brilliant idea of putting cheesecake in egg rolls, although he wanted to use cherry pie filling instead of the pumpkin pie filling. I figured since it's Fall and all I better try using pumpkin… yes!
I found this great recipe for a Cherry Cheesecake Egg Roll from Spend with Pennies that I used as inspiration for this recipe. I whipped up a quick pumpkin pie filling, but if you have any leftover pumpkin pie lying around I would use that instead!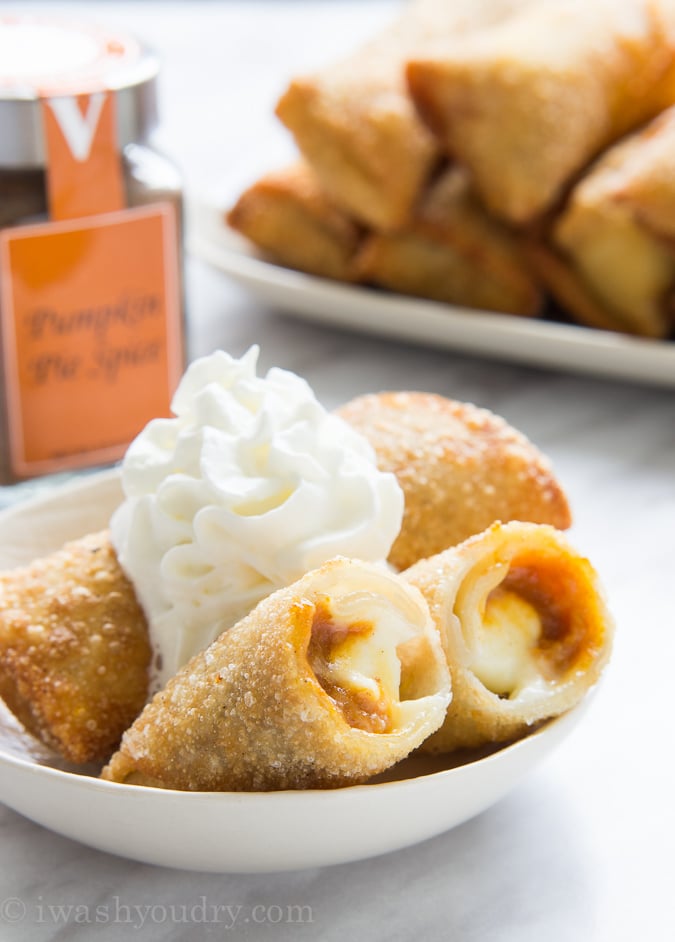 My daughter recommends rolling these guys around in cinnamon and sugar like I did for these Birthday Cake Egg Rolls. I highly recommend serving with some whipped cream on top too!
Make sure you don't miss a thing! Follow I Wash You Dry here:
FACEBOOK | PINTEREST | GOOGLE+ | TWITTER | INSTAGRAM | BLOGLOVIN
Pumpkin Cheesecake Egg Rolls
Pumpkin Cheesecake Egg Rolls are a combination between pumpkin pie and cheesecake all wrapped and fried!
Instructions
Heat 2 inches of oil in a heavy bottomed pot or deep fryer to 375 degrees F.

Meanwhile whisk together the pumpkin puree, 1/4 cup sugar, 1 tsp vanilla and 1 tsp pumpkin pie spice in a small bowl until smooth. Transfer mixture to a zip close bag and set aside.

In another small bowl whisk together cream cheese, lemon zest, juice and 3 tbsp sugar until smooth. Transfer mixture to a zip close bag.

Snip the corner off of the bag with the cheesecake mixture and squeeze a strip of the cheesecake in the center of an egg roll wrapper. Snip a corner off of the bag with the pumpkin mixture and squeeze a strip next to the cheesecake strip. Brush all the edges of the egg roll wrapper with water and fold up the egg roll, sealing it, to prevent any mixture from coming out in the fryer. Repeat with the remaining filling and wrappers.

Fry the egg rolls for 2 to 3 minutes or until golden brown. Remove from oil and roll around in the cinnamon sugar if desired. Let cool for at least 10 minutes before topping with whip cream (if desired) and enjoying!
Notes
If you have any leftover pumpkin pie, you can use 1 to 2 tablespoons of the filling mixture in place of the pumpkin mixture used in this recipe.
Nutrition
Calories:
144
kcal
|
Carbohydrates:
25
g
|
Protein:
2
g
|
Fat:
4
g
|
Saturated Fat:
2
g
|
Cholesterol:
14
mg
|
Sodium:
112
mg
|
Potassium:
64
mg
|
Fiber:
1
g
|
Sugar:
16
g
|
Vitamin A:
3012
IU
|
Vitamin C:
1
mg
|
Calcium:
23
mg
|
Iron:
1
mg
Keywords:
Cheesecake, egg roll wrapper, pumpkin
Disclaimer: I am proud to be a compensated Challenge Dairy Ambassador. All thoughts and opinions stated here are 100% my own. Thank you for supporting the brands that make I Wash You Dry possible.