I have a confession to make.
I love The Walking Dead.
I know, I know… it's gruesome and gross, and complete nonsense… but seriously people… I can't get enough of it!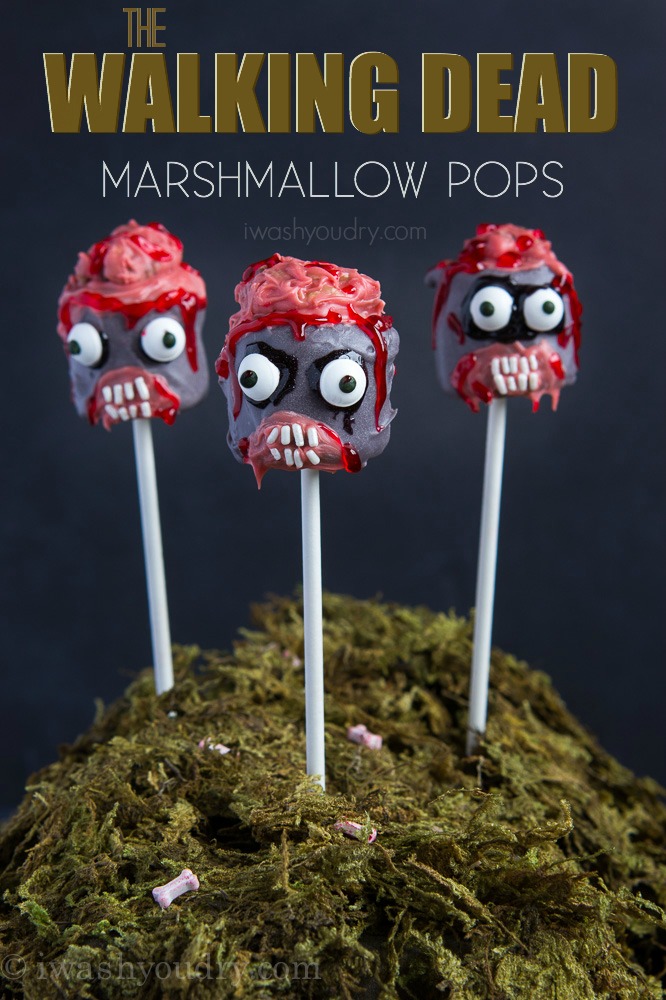 So I made these awesome "The Walking Dead Marshmallow Pops" to celebrate the 5th season of the show, and also because Halloween is right around the corner and I always make marshmallow pops for Halloween.
It's like, my thing.
I wanted to make more cutesy Halloween characters but my husband insisted that I make a Zombie. I made one last year…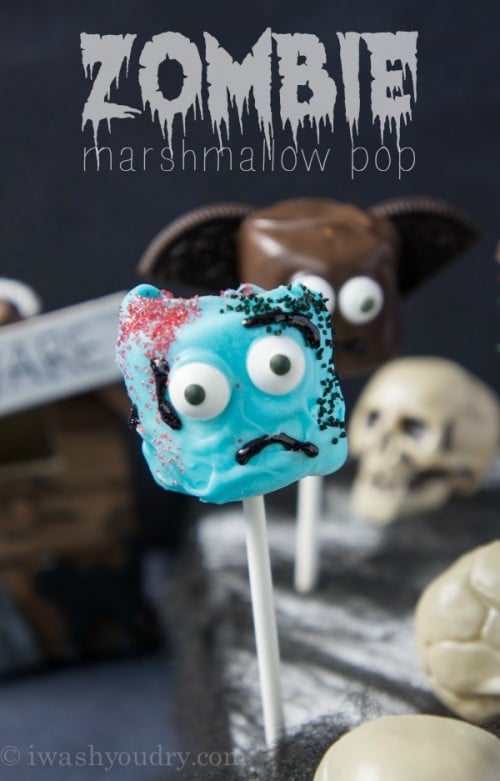 But he wanted more gore, more blood, and nothing too "cartoony," so he looked up pictures of "walkers" online to show me what I should make them look like. Serious stuff here.
To be honest, I get kind of creeped out when I look at these. Is that a win?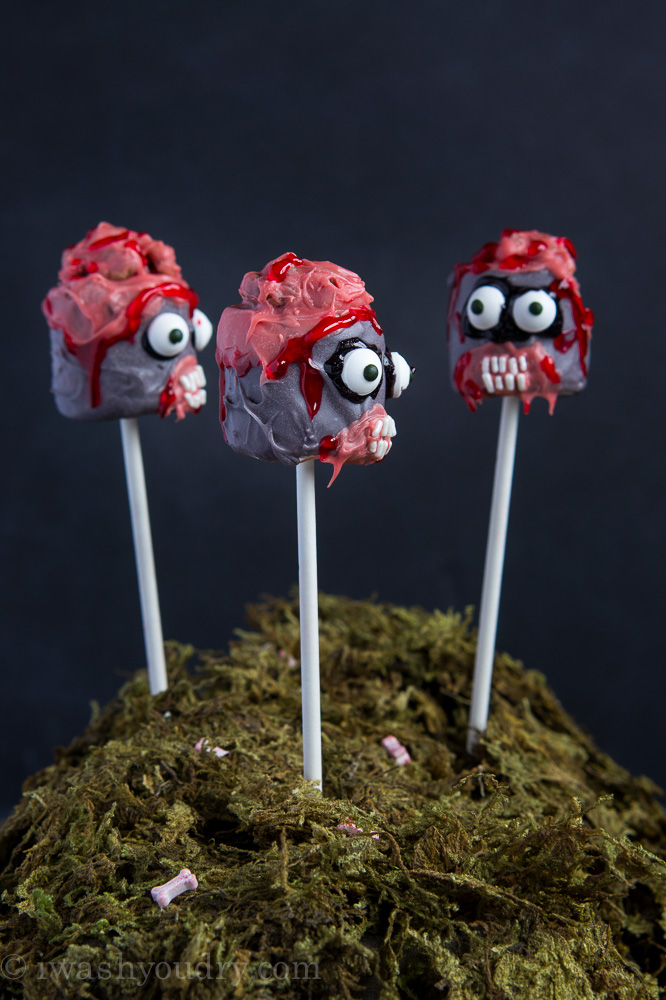 I know it's ridiculous, but after watching this show, I totally feel like I know what I would do if the world got over thrown with zombies. My husband and I talk about this all the time. Like it's a real thing.
Every time a zombie gets killed on the show my husband lovingly turns to me and says, "If you ever turned into a zombie, I'd stab you in the brains to put you out of your misery." And then I reply with a grateful, "thank you."
Also… we need a life.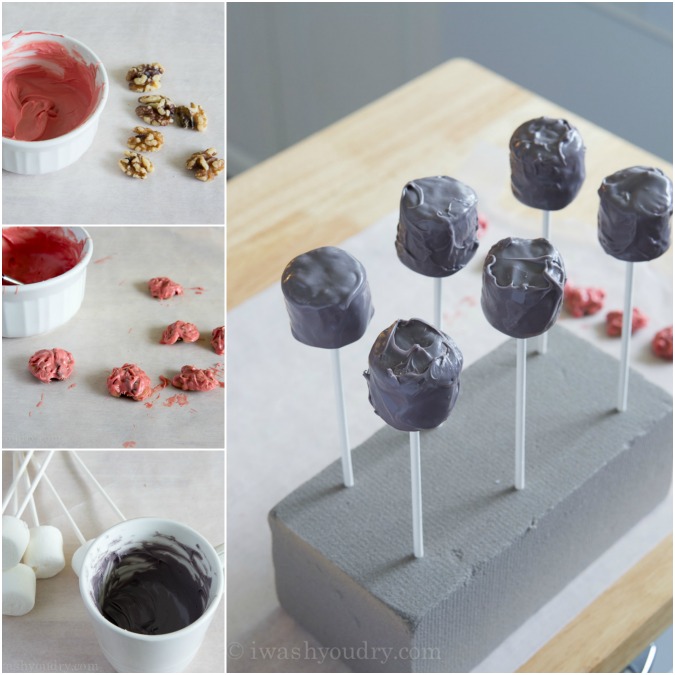 Let's talk about these marshmallow pops! They're actually not too difficult to make, and since they're just zombies, we're not looking for perfection here.
I started by dipping some walnut halves into some pink melting chocolates to make the BRAINS!. I used a small paint brush to give the brains a little more detail. Let those dry and then melt up some gray chocolates. I couldn't find gray specifically, so I mixed white chocolate with a few discs of black chocolate.
Stick some marshmallows on sucker sticks and dip the marshmallows in the chocolate and then swirl it around the cup, hitting the sides a bit, to give it a rough, flesh-falling-off look. Let those dry completely.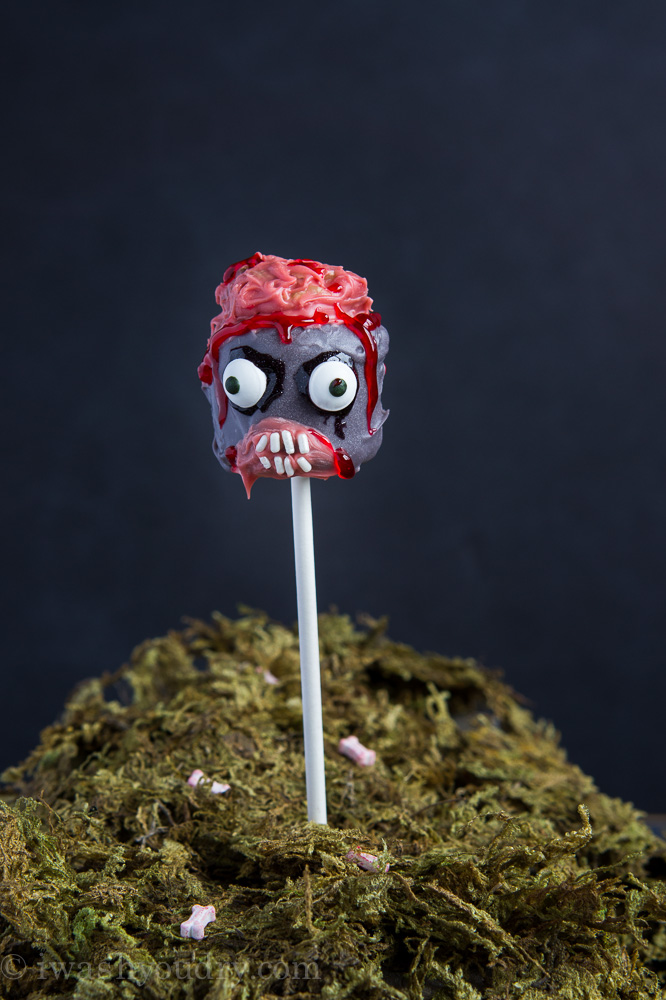 Once the base of the marshmallow pop is dry, dip the top of the pop back into the pink brain chocolates and then stick the walnut brain on top.
Here's where it can get tricky… In order to give the zombies that "Walking Dead" look, I wanted them to have prominent mouths, with teeth that stick out. I used my small paint brush to paint on the mouth part, then I took some tweezers and carefully placed white cake sprinkles in the chocolate for the teeth. You'll have to work fast because the chocolate hardens quickly. Just be prepared before you brush on the mouth.
All that's left is to attach the candy eyeballs with a dab of chocolate and decorate with some black and red cake decorating tubes.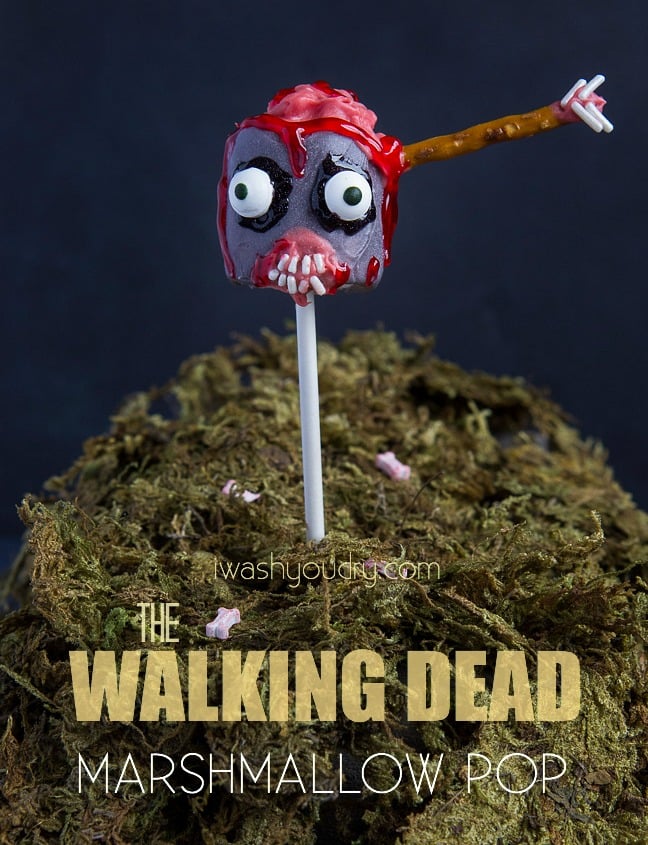 Of course you could always make a little pretzel bow and arrow to kill all them zombies!
Team Daryl 4-eva!!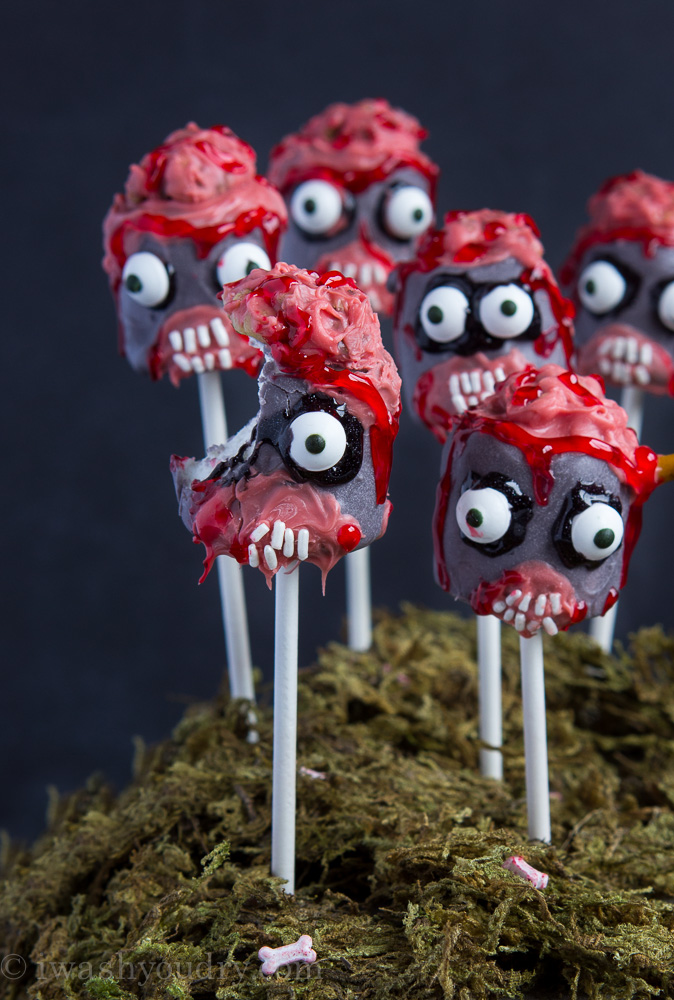 Or you could go with Team Rick and just take a big bite out of them… omg, did you see that episode?! 
Don't forget about all my other totally awesome Halloween Marshmallow Pops (click on the pictures to see the tutorials!).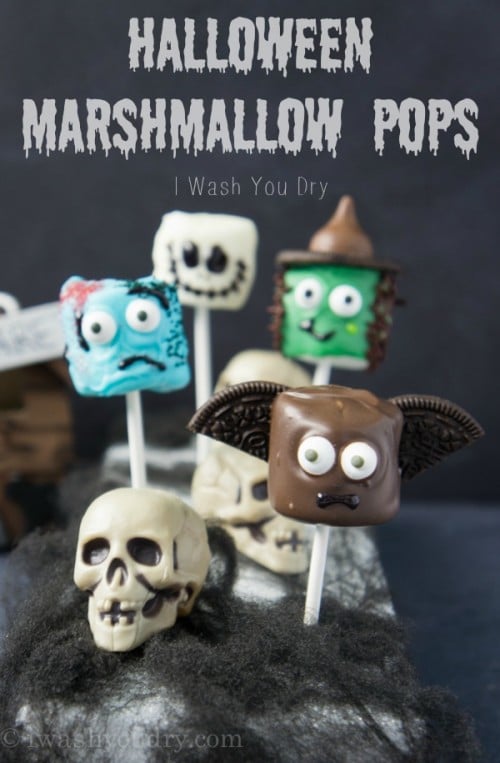 (easy Zombie, Bat, Witch, Skeleton)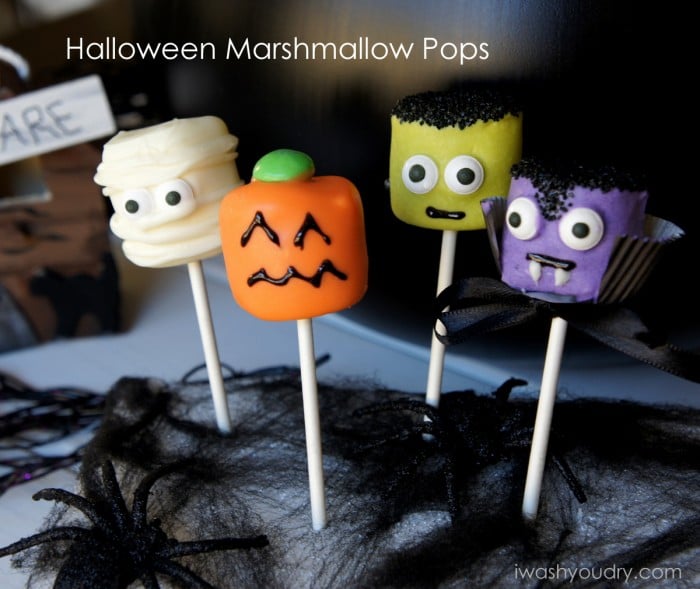 (Mummy, Pumpkin, Frankenstein, Vampire)
HELPFUL PRODUCTS TO MAKE THIS RECIPE:
Last updated on September 23, 2023 12:50 am
Make sure you don't miss a thing! Follow I Wash You Dry here:
FACEBOOK | PINTEREST | GOOGLE+ | TWITTER | INSTAGRAM | BLOGLOVIN