This cake…
It's basically the best thing that has ever graced my kitchen countertops. If you're a fan of cookies, or cake, or chocolate, or peanut butter… do I have your attention now?… this cake is definitely for you.
This No Bake Peanut Butter Cookies and Cream Icebox Cake is a mouthful to say, but to eat… 'tis divine.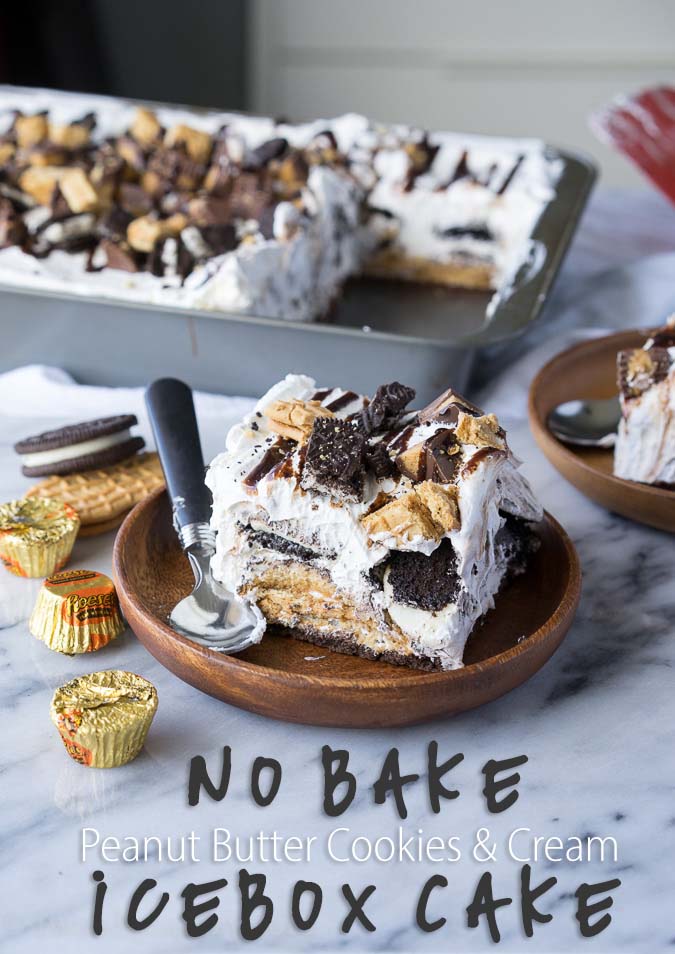 It may not look like the prettiest cake out there, but when you're eating layers of cookies and cool whip, topped with more cookies, candy and chocolate syrup… do we really care about how it looks?
Nah.
I truly love this cake for a couple reasons:
First – it's NO BAKE!
Second – Chocolate and Peanut Butter are best friends that need to be together forever and ever, and this cake respects that.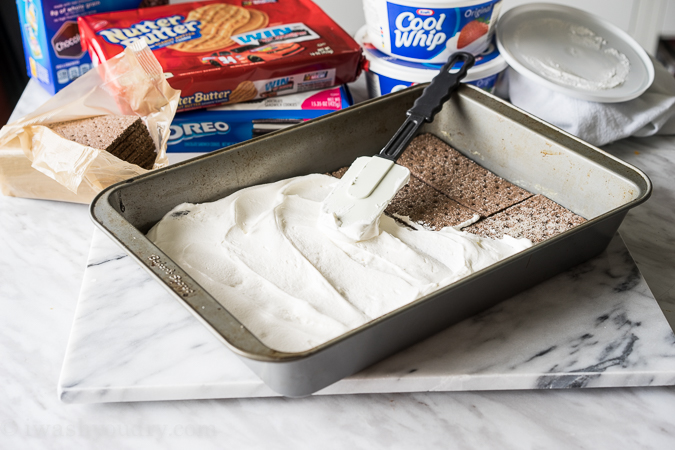 If you've never made an icebox cake before, they're crazy simple. I started with a layer of chocolate graham crackers as the base. I wanted to do this so I would have a nice bottom layer to my cake, which made it crazy easy to serve.
Slather a bunch of cool whip on top of the graham crackers like so…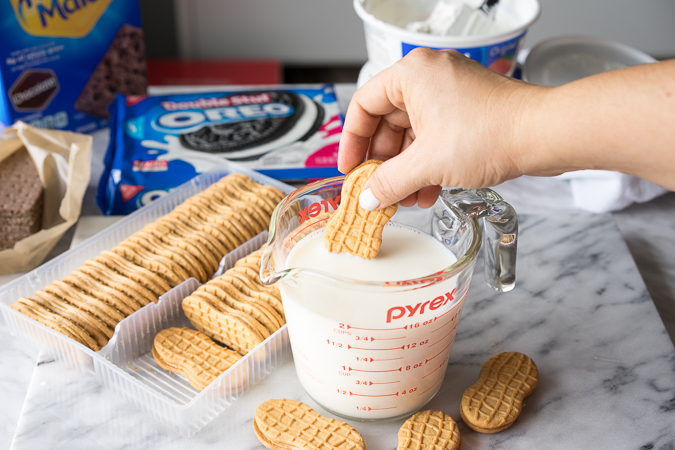 Next you're going to grab a package of Nutter Butters. Dip each and every cookie into a tall glass of milk before laying them on top of the aforementioned layer of cool whip.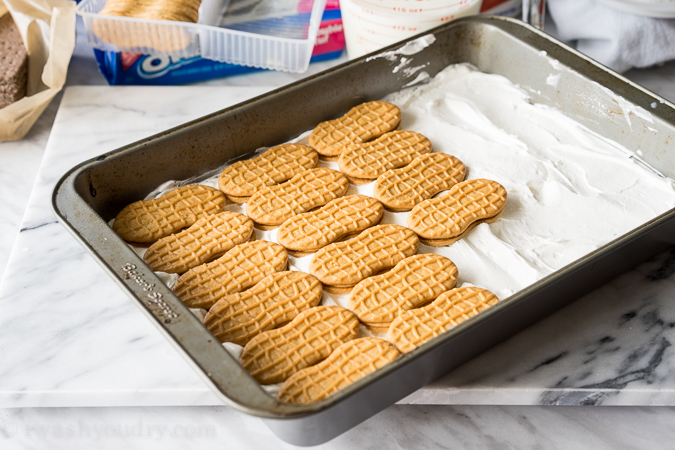 They fit nice and snug in my cake pan!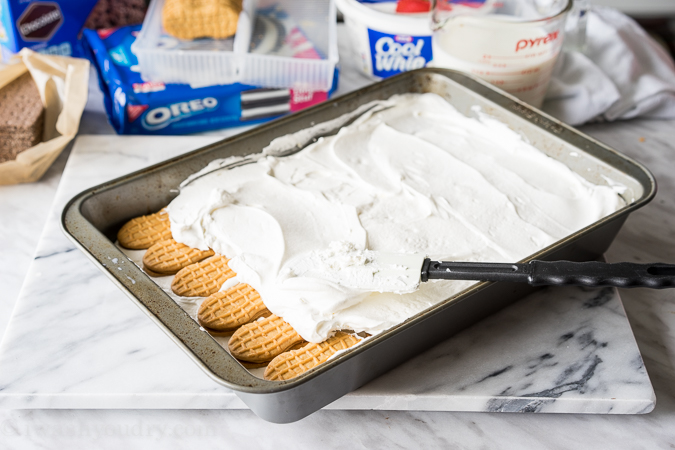 Once your Nutter Butters are dipped and laying down, cover them with more cool whip!
Now comes the Oreos!
Dip each Oreo as well. This helps to gently soften the cookies, which lend to more of a cake-like texture once they have sat in the cool whip for a few hours.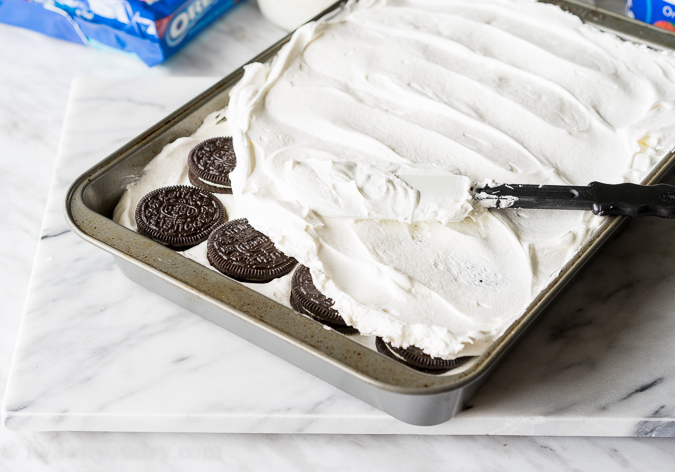 You guessed it! More cool whip!
After that you're all set to pop it in the fridge and let it do it's magic!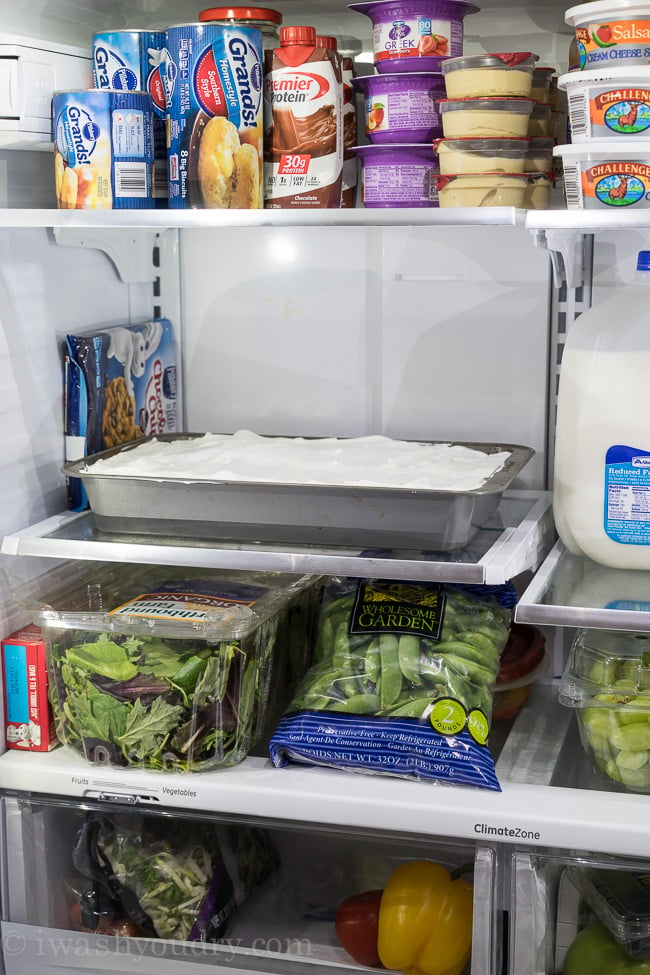 Remember a couple months ago when I shared with you my awesome new kitchen remodel?
Well, waaaaay back in November 2014 I went to the Pillsbury Bake-off in Nashville and happened to meet the awesome team at GE, who was sponsoring the event. They actually provided all the appliances for the whole competition, which was a LOT of stoves, refrigerators and microwaves! I mean A LOT!
Anyways, GE shared their awesome new line of appliances with the media (ahem, that's me) and I instantly fell in love with this new Slate color of appliances.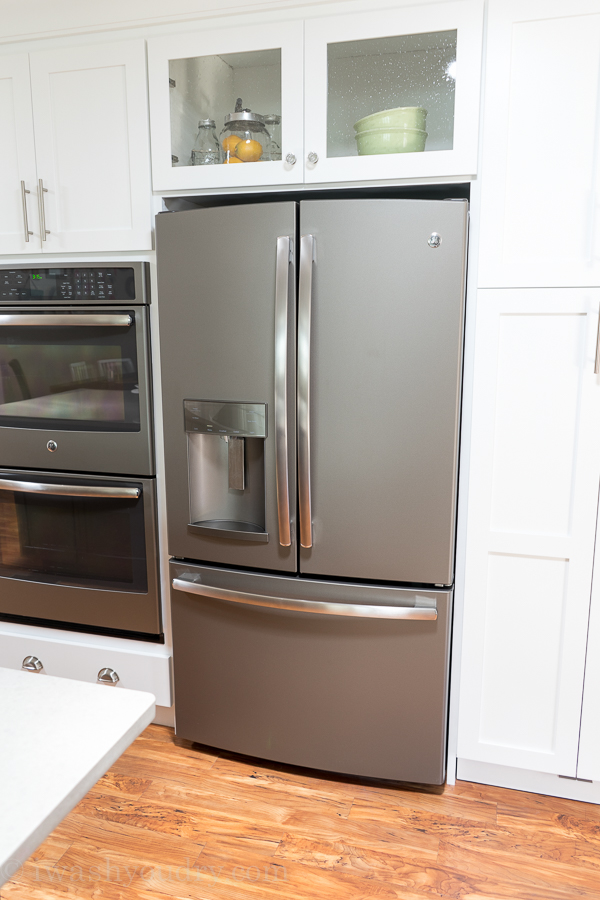 Well, one thing led to another between GE and I and …yada yada yada… eventually I convinced them to fill my kitchen with their awesome new appliances!
Pinch me, is this real?!
So yes, GE was gracious enough to let me pick out some appliances for my new kitchen and of course I jumped at the chance to get everything in Slate.
My husband and I have always wanted a counter-depth refrigerator so we ended up deciding on this Counter Depth French Door Refrigerator. I was worried at first about losing the extra space in the fridge, but once I transferred all my groceries over, I was actually really impressed with how much space it has!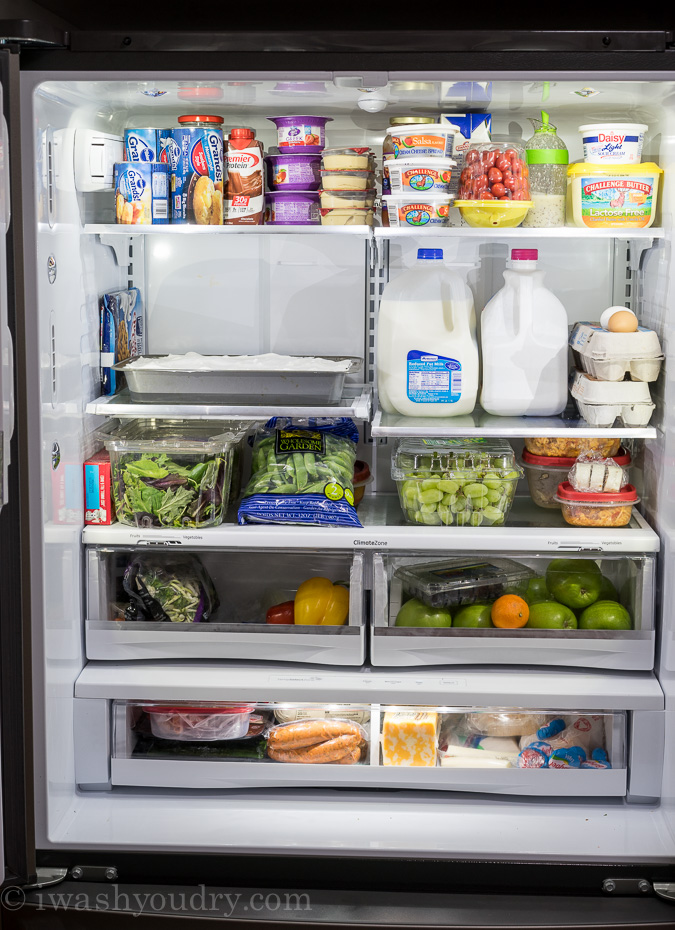 One of my favorite things about the fridge is actually how shallow it is. Now nothing gets lost in the back of the fridge!
The bright LED lights are awesome, especially since our fridge from when we lived in Canada had ZERO lights in it.
I love the bottom drawer too. You can set it to a different temperature based on the contents of the drawer. Right now it's set to "deli" so it's full of our meats and cheese. The lower drawer also lights up with different colors when you first open the fridge, which is kind of fun. There is also a super slim ice machine and water dispenser in the door of the fridge, which is great because it doesn't take up room in the freezer, but still allows for plenty of ice to be made.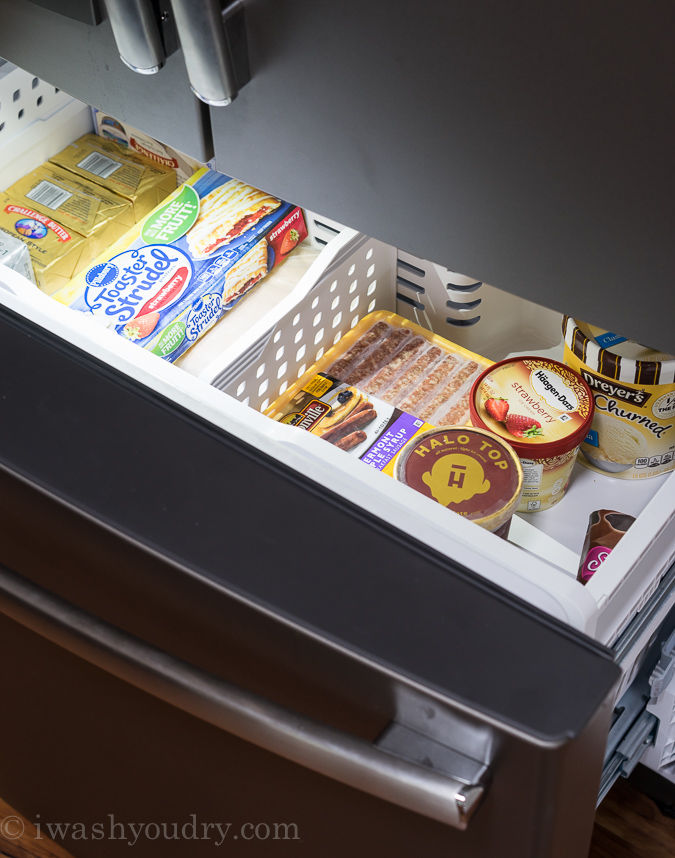 I'm still getting used to a drawer freezer, but I do love how there are separate drawers and compartments to keep things more organized.
Obviously the top drawer is for me…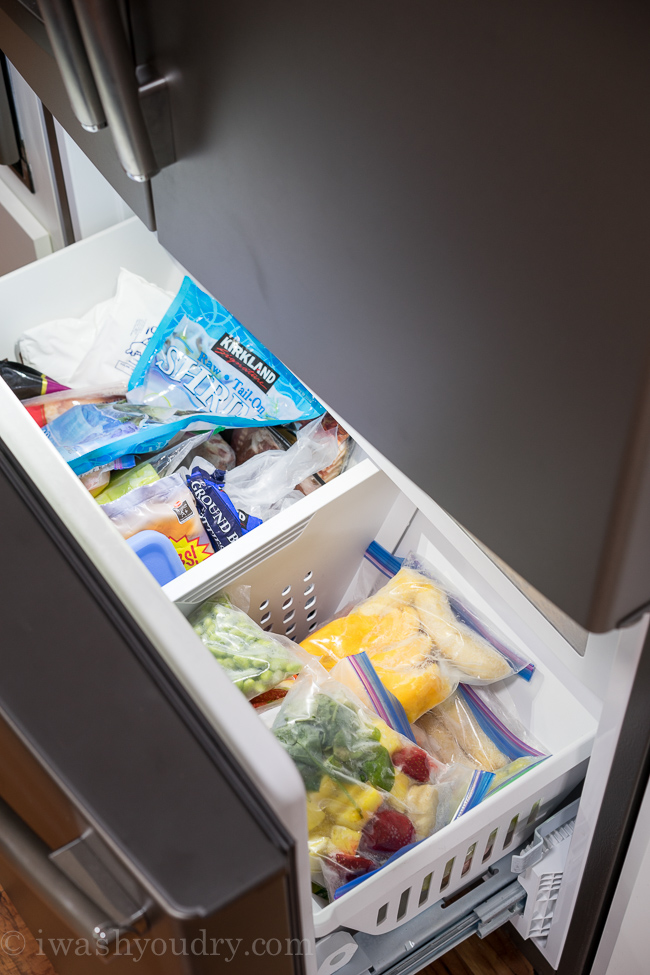 The second drawer… ok, I didn't organize this one for you, I'm just keeping things real.
Overall, I definitely L-O-V-E this fridge.
So if you're in the market for a spacious, yet counter-depth fridge with the beautiful Slate finish, you'll definitely want to check this one out.
BTW- that slate finish does not attract finger prints, which is probably my #1 favorite thing about it!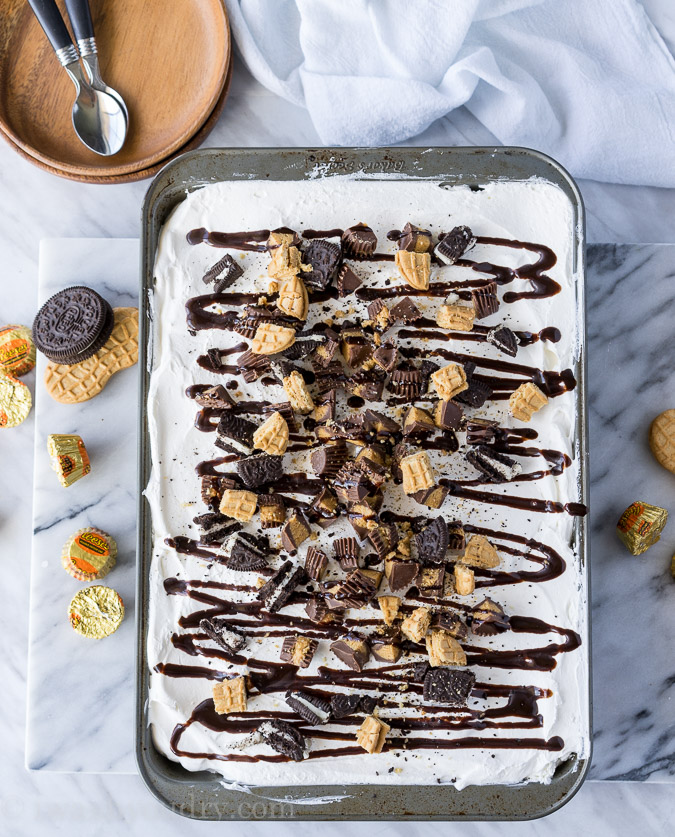 Ok, so once the cake has chilled for several hours (I just leave it over night), all that's left to do is top it with insane amounts of chopped up peanut butter cups, more cookies and chocolate syrup.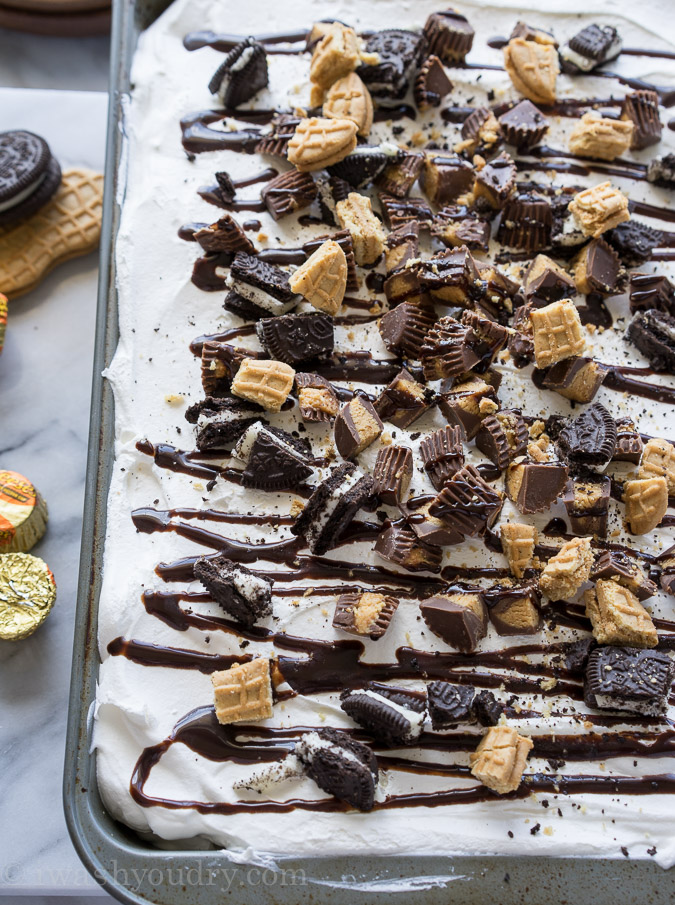 Don't you just want to dive right into that?!
I sure do… and I did.
The cookies soften and become cake-like, with layers of peanut butter and cookies and cream.
It's an indulgent dessert that is sure to impress!
Make sure you don't miss a thing! Follow I Wash You Dry here:
FACEBOOK | PINTEREST | GOOGLE+ | TWITTER | INSTAGRAM | BLOGLOVIN
No Bake Peanut Butter Cookies and Cream Icebox Cake
No Bake Peanut Butter Cookies and Cream Icebox Cake is a dessert with indulgent layers.
Ingredients
1

chocolate graham crackers

,

package, 8 sheets

3

Cool Whip

,

16oz containers, thawed*

1

Nutter Butters

,

about 30 cookies (peanut butter sandwich cookies), reserve 2 for later

1

Oreos

,

about 30 cookies (I used double stuff), reserve 2 for later

1

cup

milk

10

miniature chocolate peanut butter cups

,

coarsely chopped

Chocolate syrup

,

for drizzling if desired
Instructions
Line the bottom of a 9"x13" cake pan with the chocolate graham crackers. Break the crackers up to fill in any gaps if necessary.

Carefully spread a layer of Cool Whip (about 2/3 of a container) over the graham crackers.

Dip each Nutter Butter quickly in the milk and then lay in an even layer on top of the Cool Whip. Cover with another approximate 2/3 of a container for Cool Whip in an even layer.

Dip each Oreo in the milk before laying in an even layer on top of the Cool Whip. Cover again with Cool Whip until completely covered. Cover and chill in the fridge for 6 hours, or overnight.

Before serving top with chopped chocolate peanut butter cups, coarsely chopped cookies and a drizzle of chocolate syrup. Enjoy!
Nutrition
Calories:
52
kcal
|
Carbohydrates:
6
g
|
Protein:
1
g
|
Fat:
3
g
|
Saturated Fat:
1
g
|
Cholesterol:
2
mg
|
Sodium:
42
mg
|
Potassium:
47
mg
|
Fiber:
1
g
|
Sugar:
4
g
|
Vitamin A:
33
IU
|
Calcium:
28
mg
|
Iron:
1
mg
Keywords:
cake, icebox, No Bake, oreos, peanut butter cookie
Check out my full kitchen reveal for more amazing transformation pictures!


Some of my favorite Kitchen Hacks that you need to check out!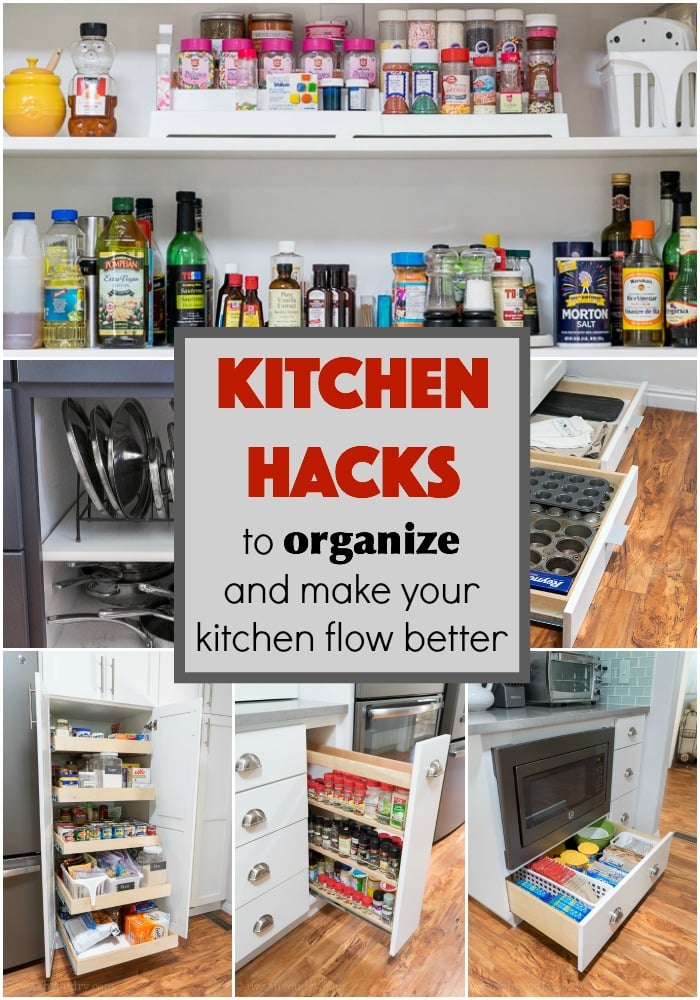 disclosure: GE was gracious enough to provide me with the awesome appliances in my kitchen. All thoughts and opinions are 100% my own. Thank you for supporting the brands that help make I Wash You Dry possible.