Drum roll please…
The time has finally come!! I'm about to POP, I am so excited to share my Kitchen Reveal with you guys today!!
We moved into our house back in January, and I immediately started planning on how I was going to transform the kitchen. No, that's a lie. I was already planning what I was going to do the first time I walked through the house (before we even signed the papers). I drew diagrams (several times), created Pinterest boards with images of kitchen inspiration, organization ideas, and color schemes, and spent hours pouring over home decorating magazines.
Ultimately I wanted a kitchen that was filled with bright natural light, clean lines, timeless and also have a modern/contemporary look. When it was all said and done, it looks exactly like I imagined it would and I could not be more happy with the results.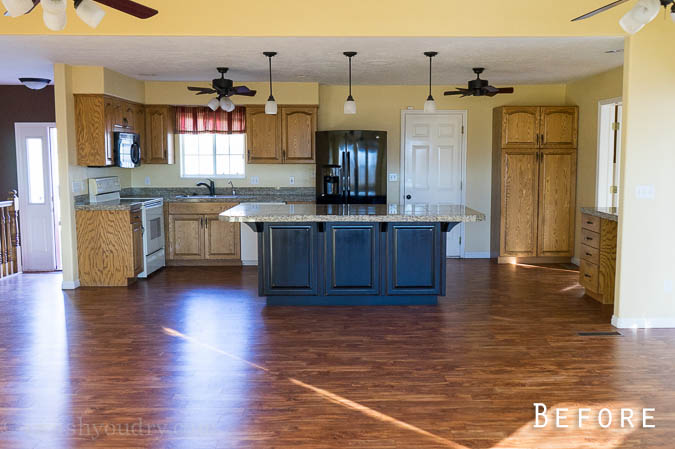 These pictures were taken the day we got the keys to the house. Oh memories…
The previous owners had done a lot of work to open up the original kitchen layout, but that door in the middle of the kitchen went into the garage, which was kind of awkward. It had to be moved…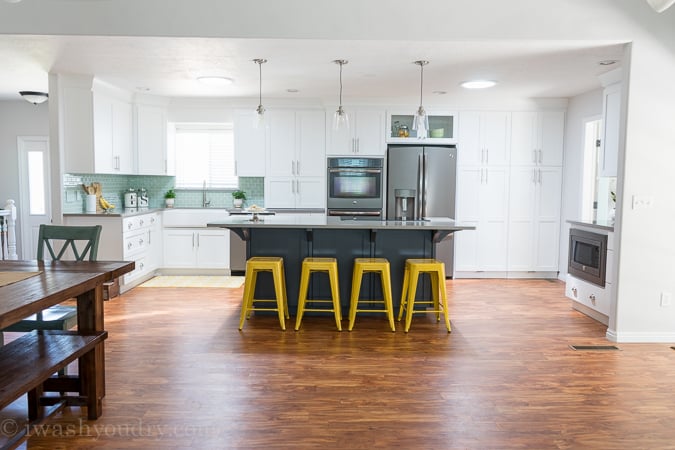 Ta-da!!
How stinking gorgeous is this bright and beautiful kitchen!?!
It doesn't even look like the same place anymore! But yes, yes it is.
We moved that pesky garage door into the laundry room which is located on the right…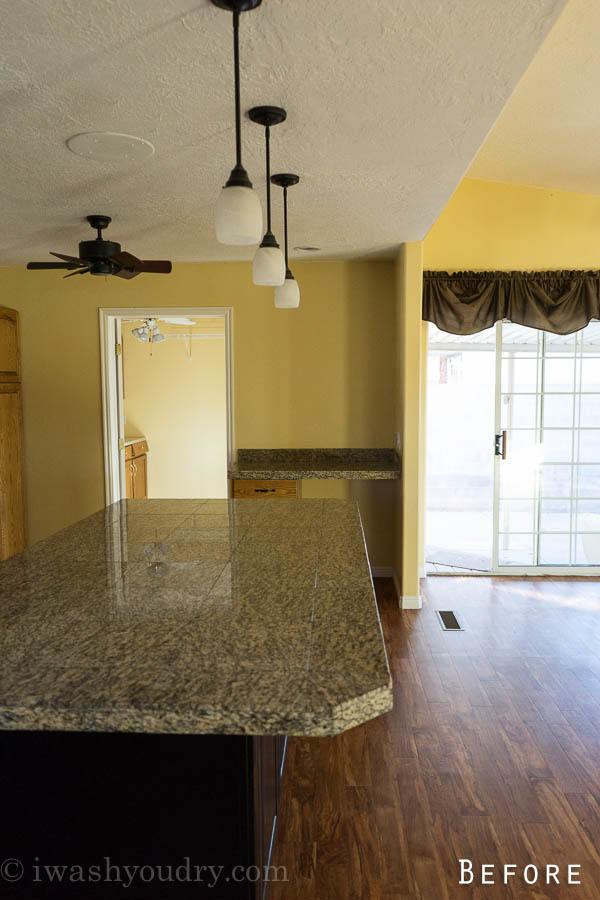 Here you can see the laundry room on the left through that doorway. Those cabinets were removed to make way for the new entrance to the garage.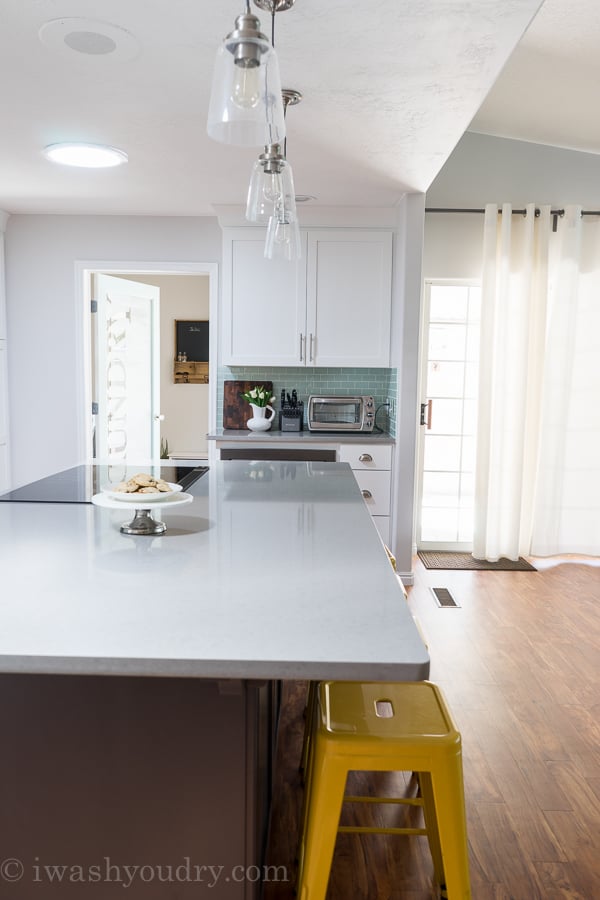 Every wall in the house got a fresh coat of paint, which really brightened up the whole place. I went for a neutral grey color so I could play with more accent colors.
Paint color: "Silver Screen" by BEHR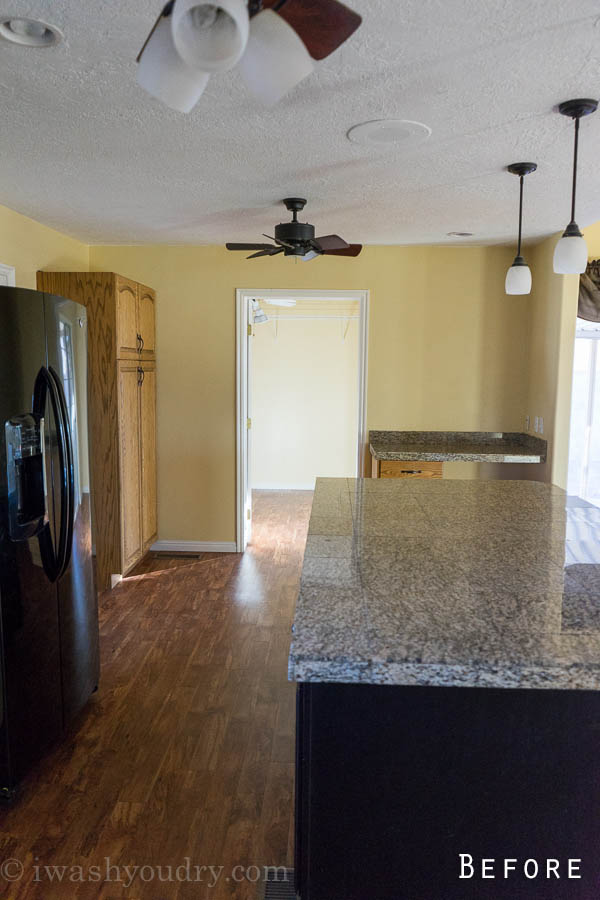 There was a lot of stuff going on up on that ceiling. All the fans hanging down really made it feel cramped. Since I couldn't add any windows to the kitchen, I decided to take out those ceiling fans and add two Solatubes in their place. They're like miniature skylights that reflect a LOT of natural light. They're energy efficient and the cost wasn't too bad ($375 ea.). I did add a light kit to each one so they turn into giant can lights when it's dark outside (for an extra $75 ea.)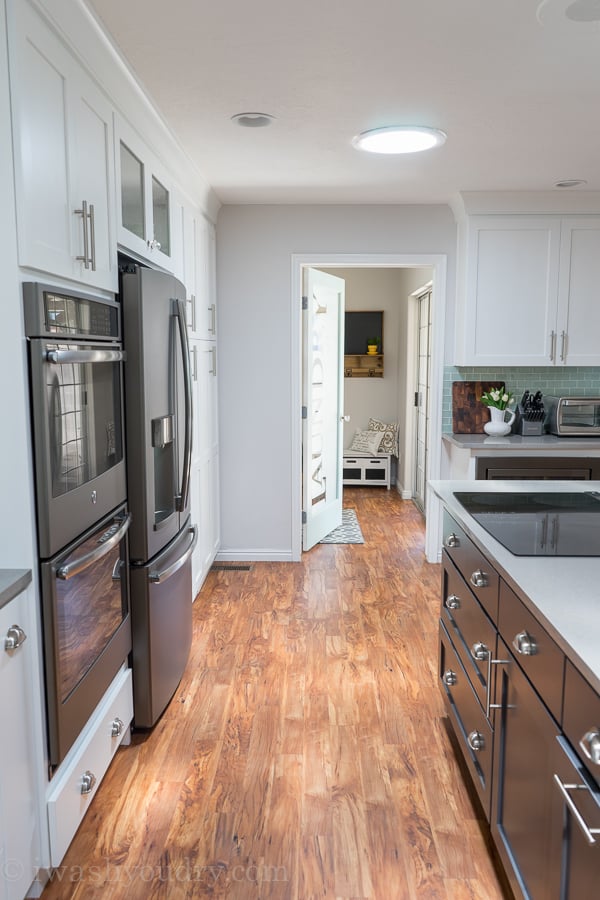 Totally worth it!
It's literally a night and day difference!
I also added one more can light just to make it more symmetrical with the other two can lights that were already there. With those fans out of the way, the ceiling feels so much taller and the kitchen feels so big!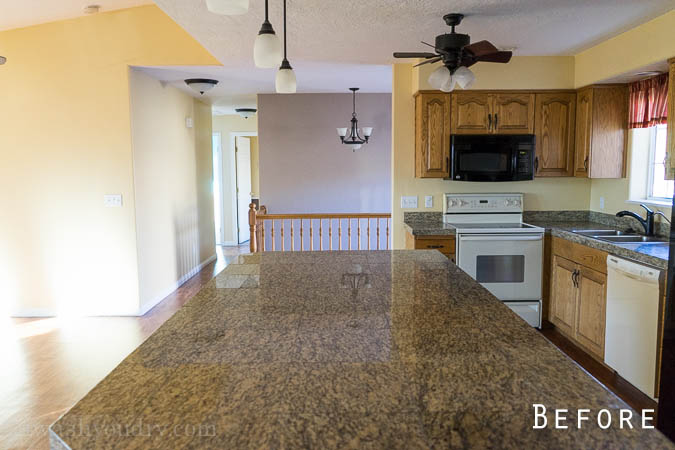 When we originally designed the cabinets I was planning on leaving the range right where it was and putting the double ovens on the wall to the right, next to the dishwasher. My husband convinced me to move the range to our rather large island, but I was hesitant because I didn't want a range hood blocking my line of sight.
After all, I just worked so hard to get rid of those ceiling fans!
GE Appliances to the rescue!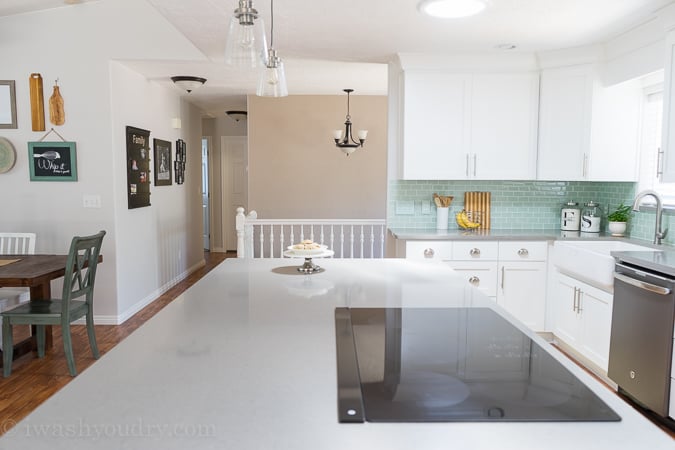 I found GE's super sleek 36″ induction cooktop with their telescopic downdraft system and it was EXACTLY what my kitchen needed.
Now I have the clean lines, no bulky vent coming out of the ceiling and an AMAZING cooktop to boot!
We did need to hire an electrician ($200) and HVAC guy ($417) to come out and get our island ready for the new appliance, but it was worth it. It's probably one of my favorite features of the kitchen!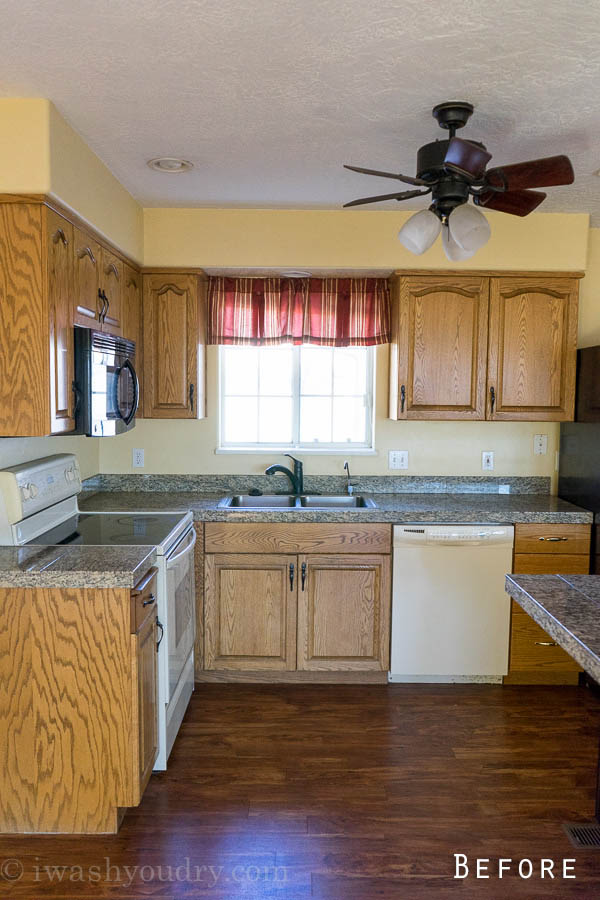 When we took out the cabinets we also took out that drop down ceiling above them.
It really made the ceiling feel so much higher!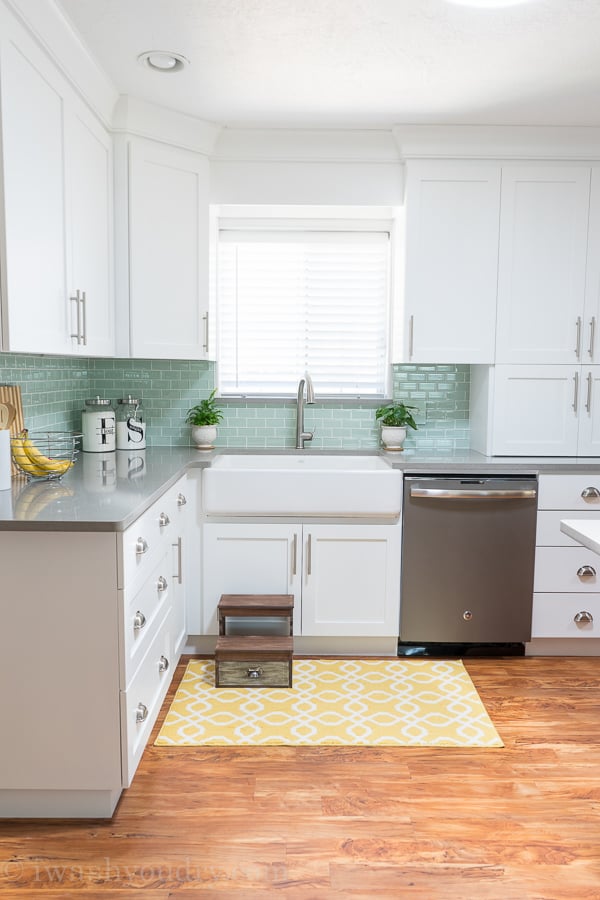 I am lucky enough to have a brother-in-law who owns a cabinetry shop (Cooper Mill, Inc.) in my hometown. He doesn't build cabinets anymore (he focuses on refinishing and interior painting now), but I convinced him to build my new cabinets and I couldn't be happier. The thought and detail that he put into them was exceptional. This is where the majority of our budget went ($12,500).
All of the cabinets and drawers have soft close hinges, plus he added a few upgrades along the way whenever I found something else that intrigued me on Pinterest… hehe.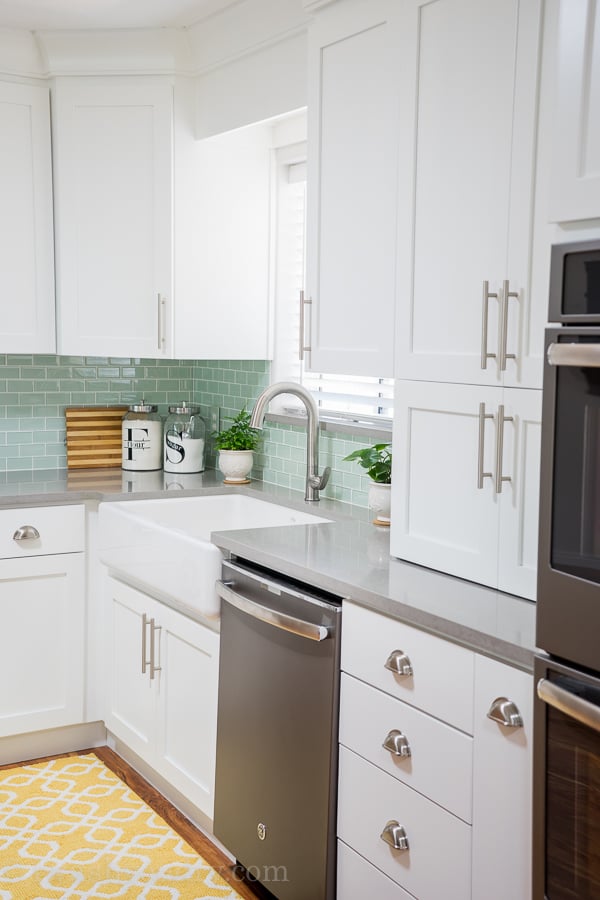 One thing you don't realize (or maybe it was just me) when you're planning a kitchen remodel, are all the small details, like picking out the knobs and pulls for your cabinetry.
I had a hard time with this one! I ultimately chose these satin nickel cup pulls (Overstock: $78) for the drawers and stainless steel 7″ bar pulls (Overstock: $75) for the cabinets, and I am so glad I did. I love them so much!
Sink & Faucet: Kohler
Cabinet Pulls: Overstock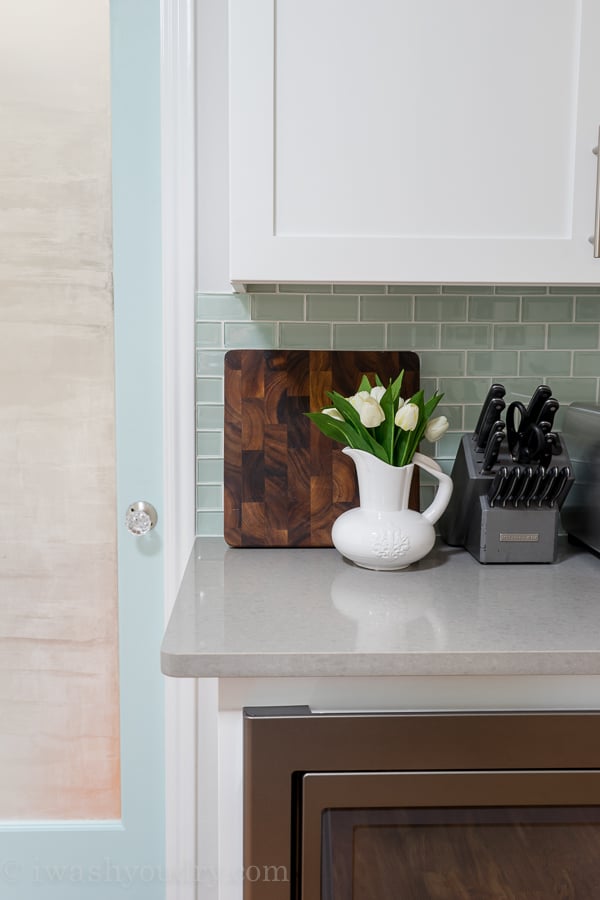 When I started planning my kitchen I had my heart set on concrete countertops. I wanted that cool grey color to coordinate with my white cabinets and cool grey wall color. I searched my town for someone to build me my concrete countertops and came up with nothing.
I was heartbroken.
Then one day I went browsing for something to replicate my dream of concrete and I found this Quartz countertop ($4200) and I literally jumped for joy. Not only did it look like actual concrete, but it is super durable and really easy to take care of!
Countertops: Quartz in "Concerto"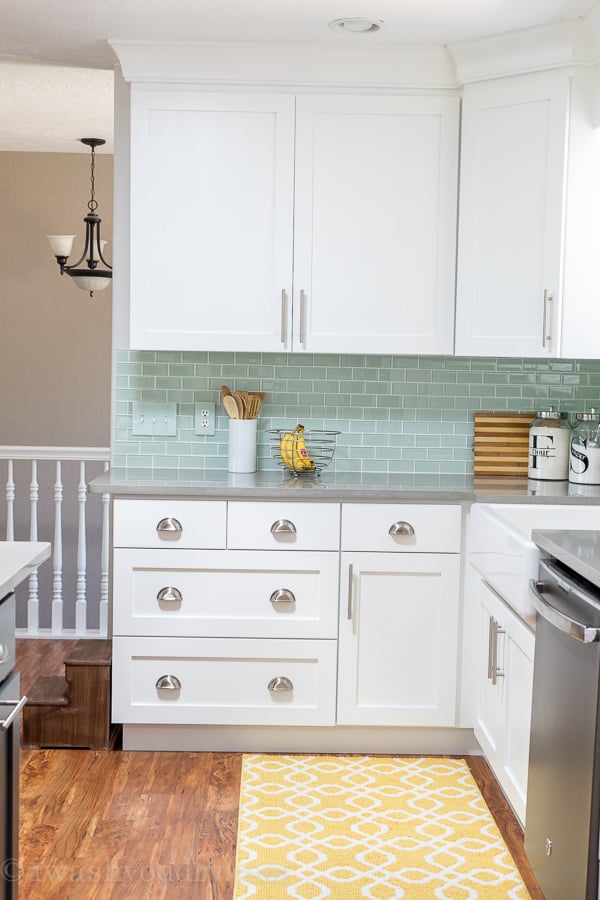 The tile backsplash ($220 + $380 installation) turned out exactly as I had imagined it would. The color really pops against the white cabinets and grey countertops. I love it so much.
Tile Backsplash: Arctic Ice Subway (12×12″ mesh mosaic tiles)
Rug: Target ($50)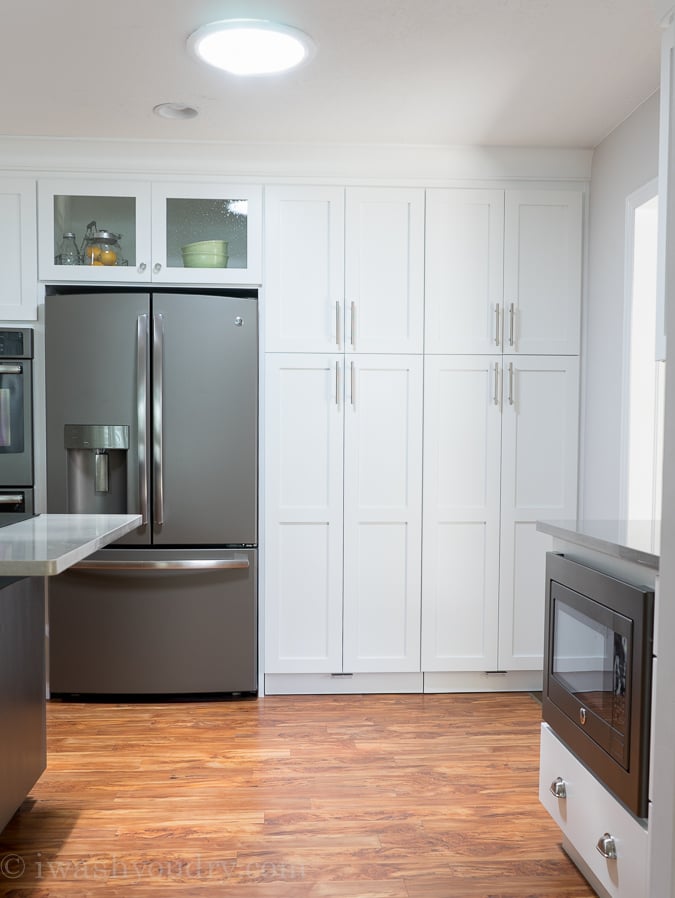 Our small pantry doubled in size and now I have way more room than I know what to do with.
Let me tell you about my new appliances!!!
They're by GE and they are simply amazing! But what I love most about them is their color: SLATE! 
NO FINGERPRINTS BABY!!! 
With 4 little kids running around here, I was definitely NOT in the market for stainless steel and having to constantly wipe fingerprints off of everything. The handles are still stainless steel, so I do give those a wipe down every few days, but other than that, everything stays looking amazing, which takes the edge off of my OCD-ness.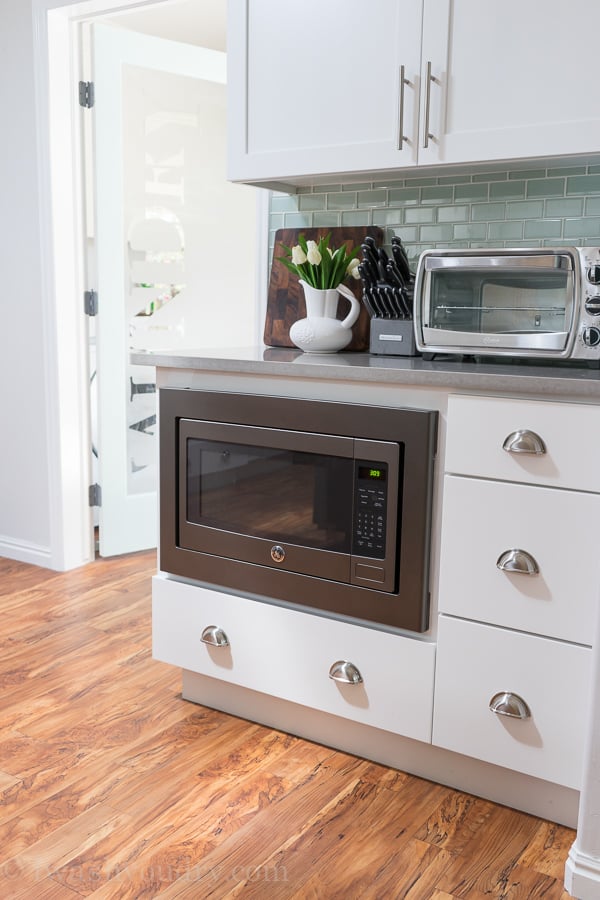 Speaking of those 4 little kids, I decided to put my microwave at their level.
Best. Decision. Ever.
They can easily heat up their food, pop popcorn, make some easy Mac, or a bowl of oatmeal without climbing on countertops or making a huge mess.
See that drawer below it?…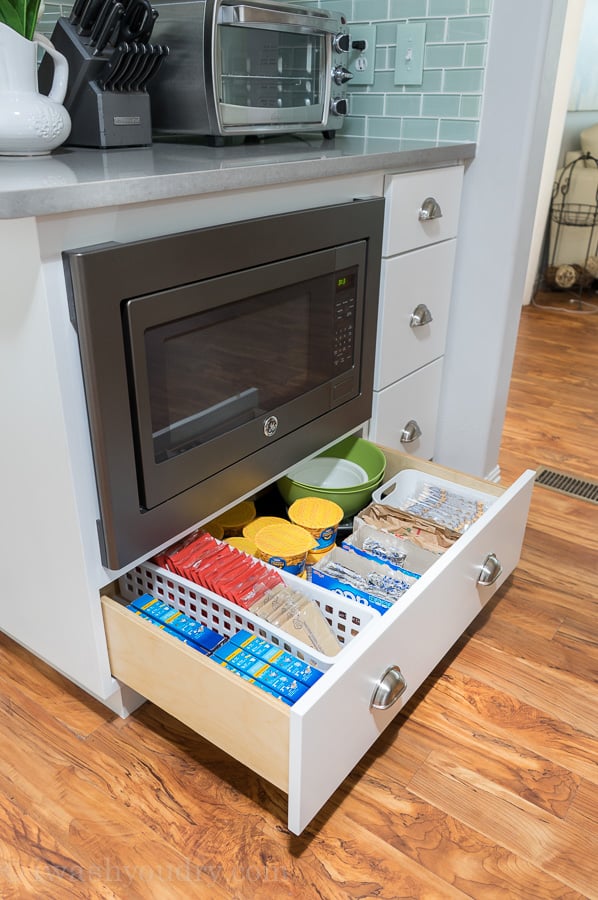 Yeah, it's loaded and ready to go!
My kids are loving having everything they need at a level they can reach.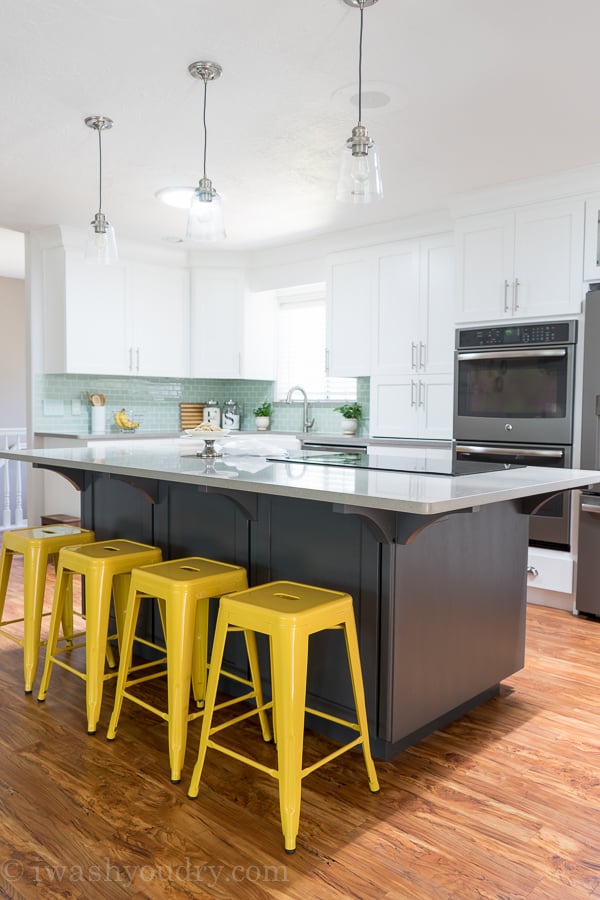 Bar Stools: Target 
Pendant Lights: Capital Lighting (LightingDirect.com)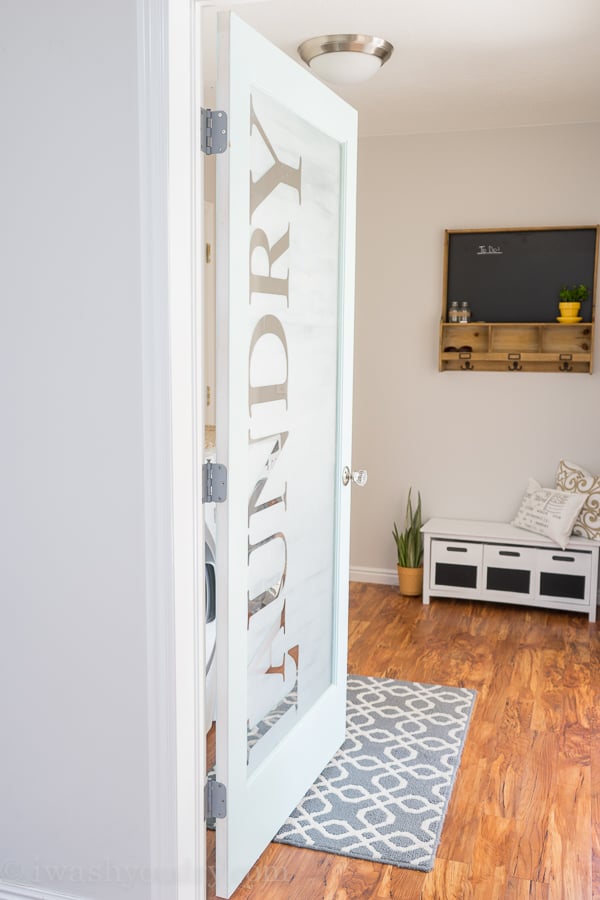 I seriously love my laundry room, which just happens to be right off the kitchen.
We have a sliding glass door just to the right, inside the laundry room, that gets amazing light. With the old door, it was always swinging shut so that natural light always went to waste. I switched out the door for a glass paned one and worked my DIY magic on it. I painted it a light blue, then had a local vinyl shop print me out "Laundry" in large letters. After I applied the letters I used some etching cream to frost the rest of the glass.
I took off the letters to give you just enough to peek into my laundry room, but it also lets in a LOT of light, while still giving my laundry room some privacy in case it's not in tip top shape.
Rug: Target
Bench & Pillows: Tuesday Morning
Chalkboard: Thai Pan Trading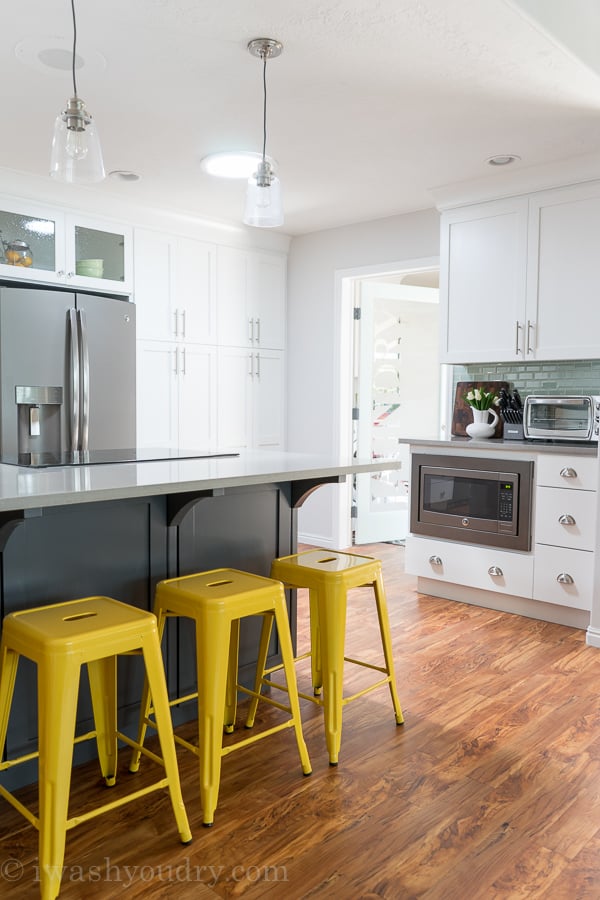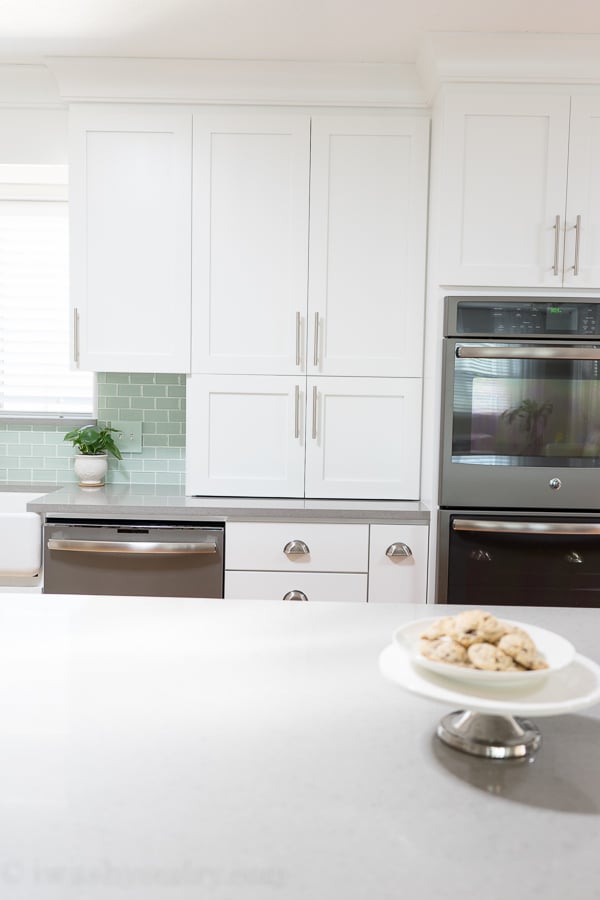 My secret storage spot for my fave small appliances!!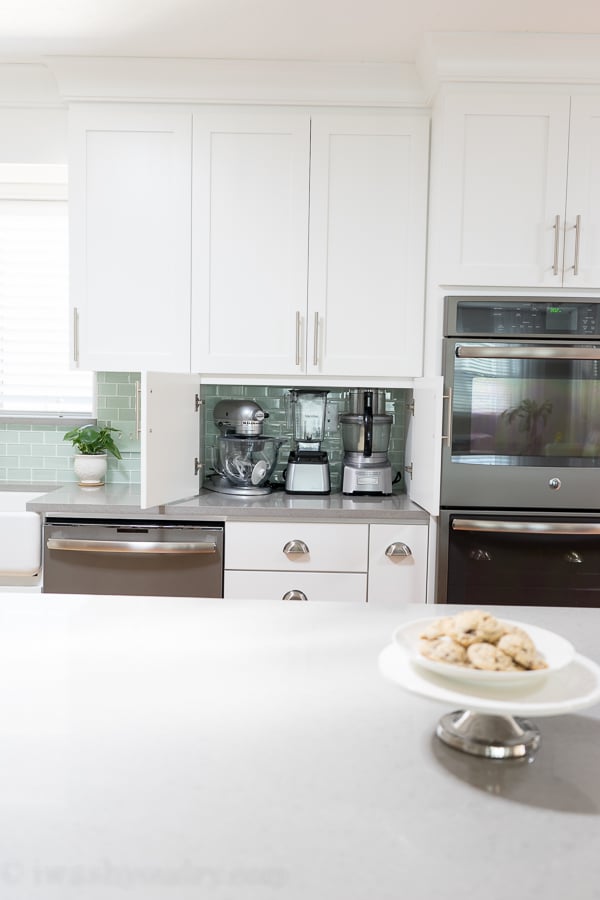 Now I can keep them out on the counter, without it looking all cluttered. LOVE!!
You guys… I'm totally smitten with my new sink and faucet from Kohler!!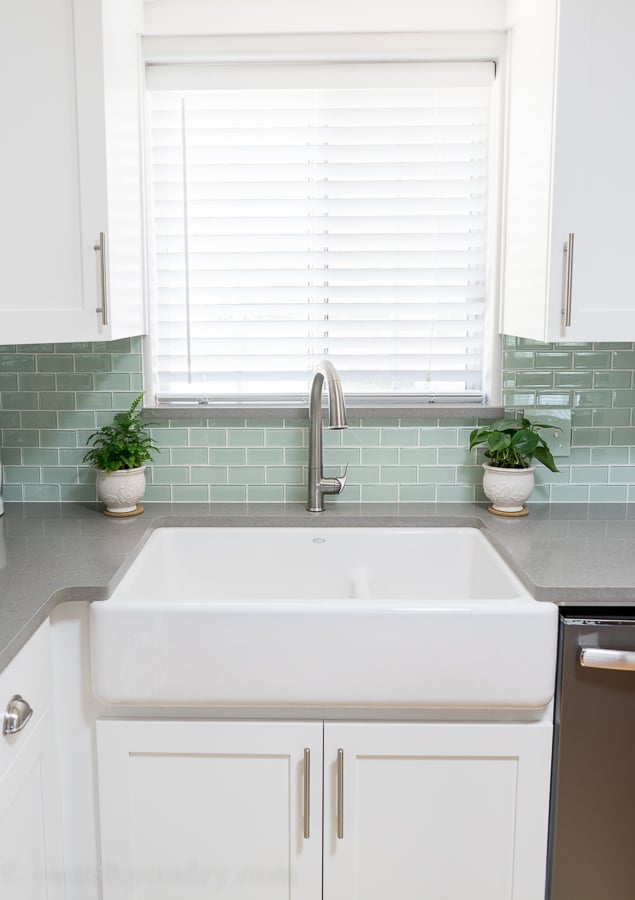 This apron front cast iron enameled sink has a "smart divide" in it, so I can still fill up a small part of the sink if I need to, without having to fill up the large basin and waste water.
The faucet is a touch-less one! It's life changing. Seriously.
I'll share more about these two items later next week. They're just too amazing to not share!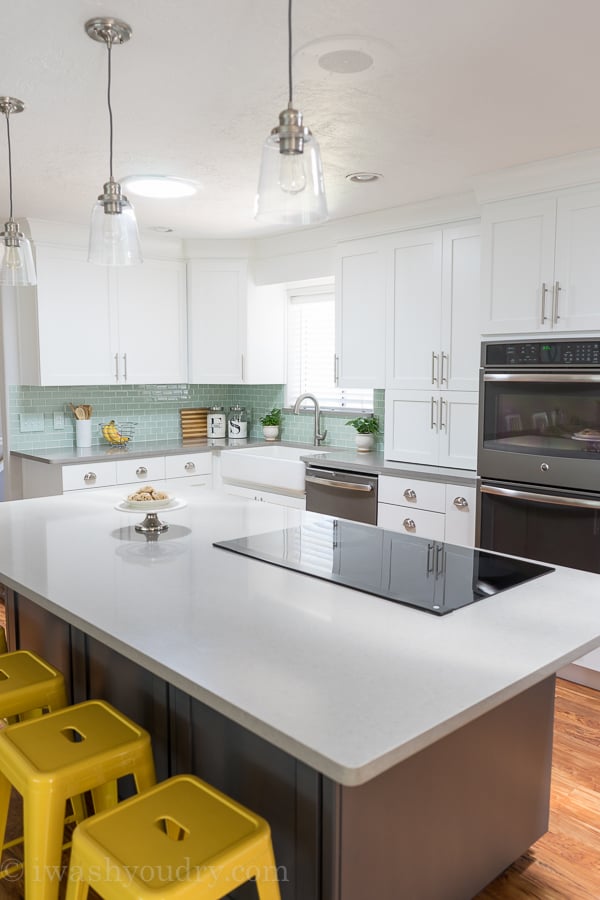 I can't even tell you how much I love my new kitchen. This is where I spend the majority of my day, so I wanted to make it something that was not only gorgeous but also functional. I'll share more of how I achieved that later on.
So for now, here are just a few process pictures to show you how we got here…
First step: Move that old and awkward door going into the garage!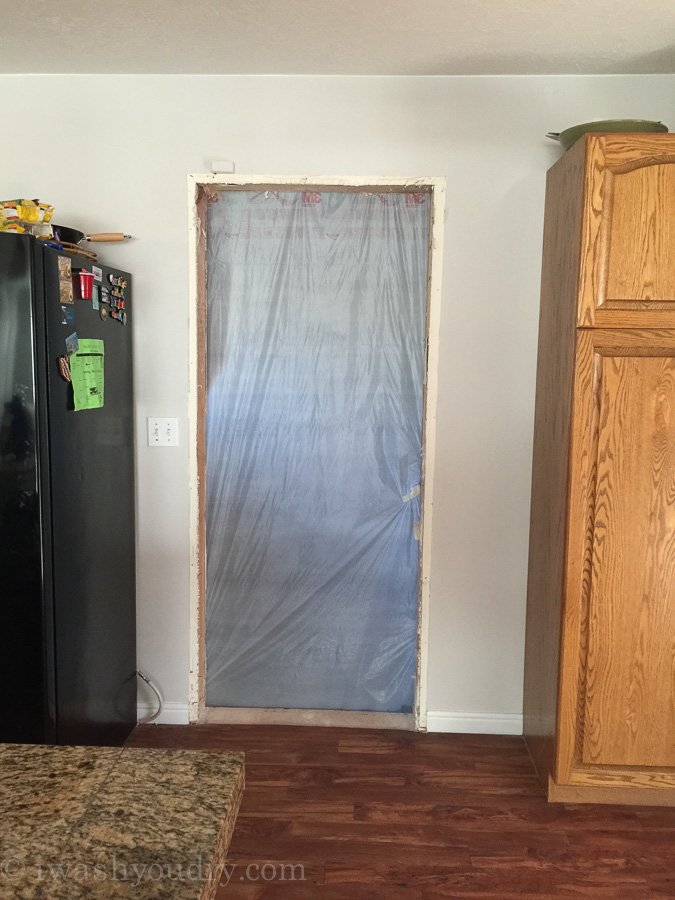 Notice how dark it is before the Solar Tubes are installed? This was taken mid-day!
Electricians working on moving some wires around!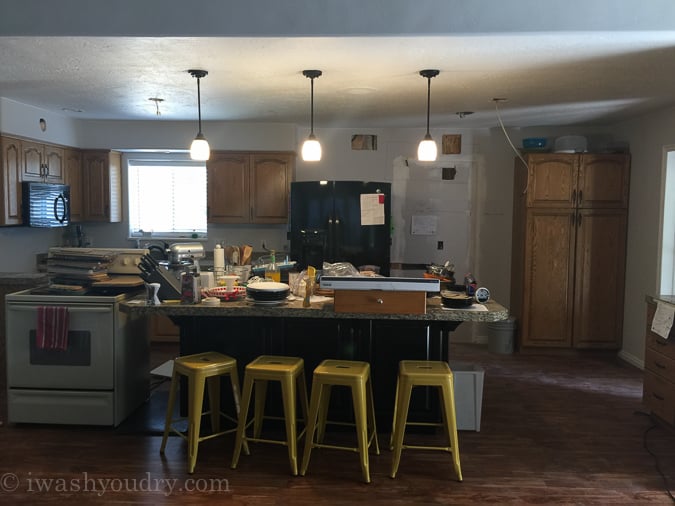 Solar tubes going in! Let there be light!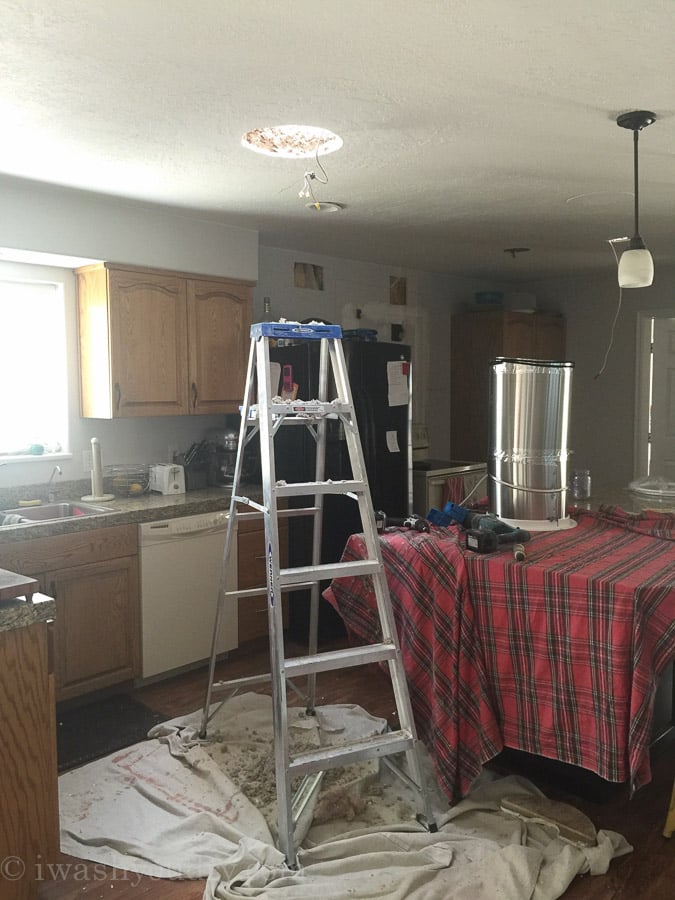 Bye bye old oak cabinets and weird drop down ceiling!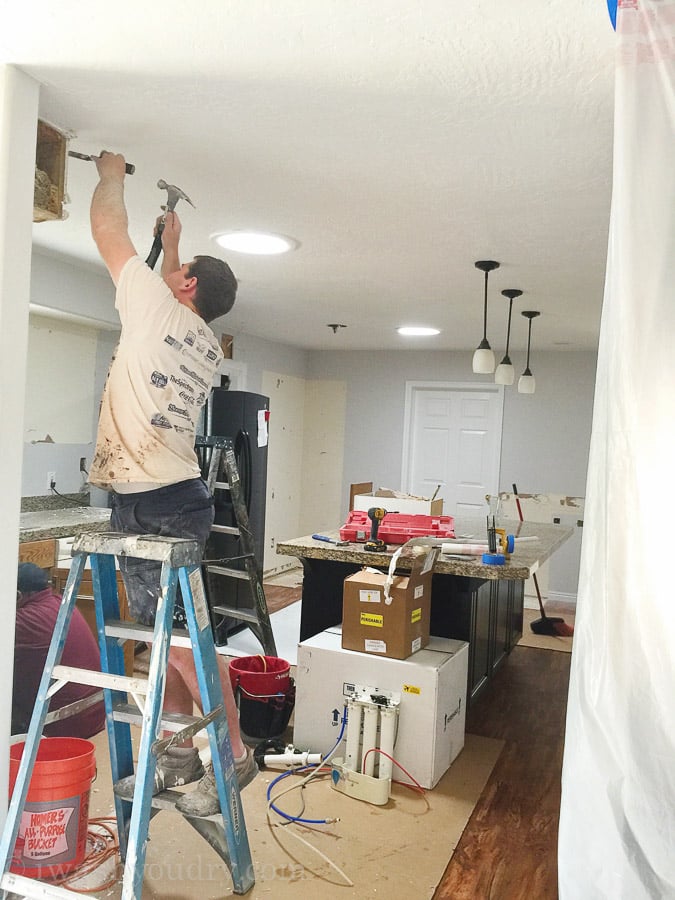 Clean slate! Ready for a facelift!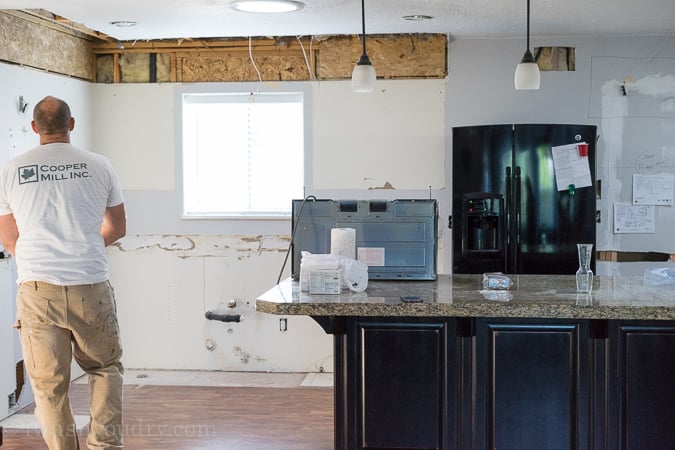 My new custom cabinets arrive! (they're massive!)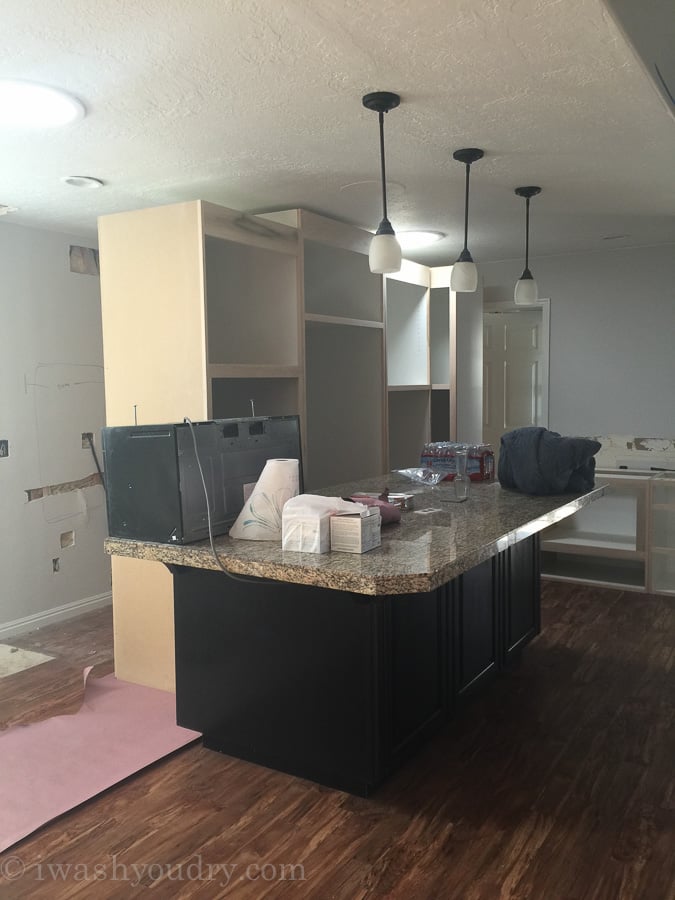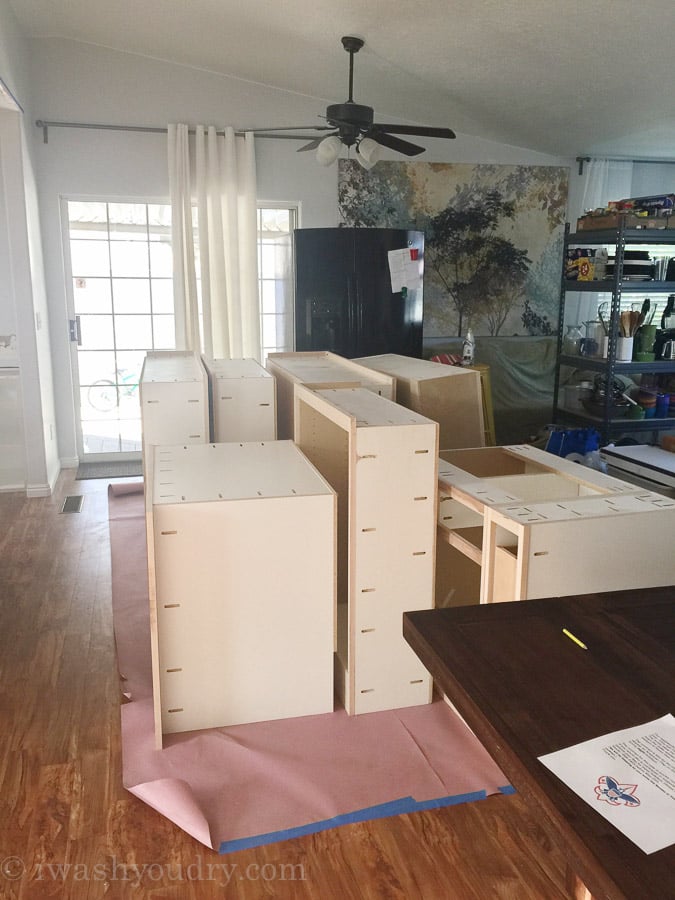 The new cabinets and crown molding are installed!
They get painted white after they are installed (on-site) for optimal coverage.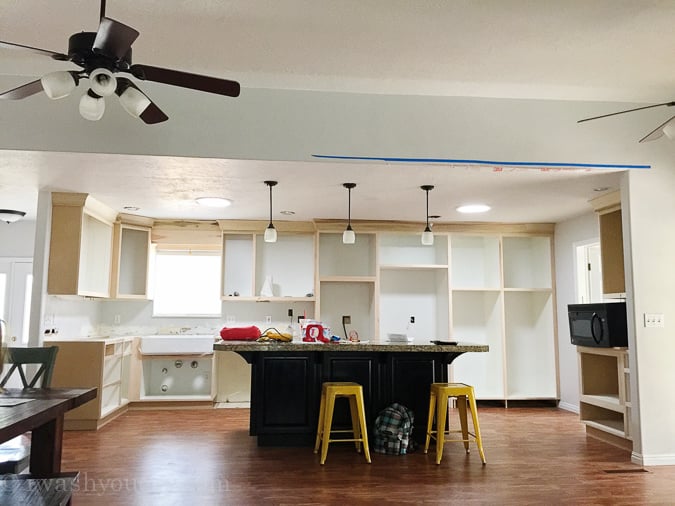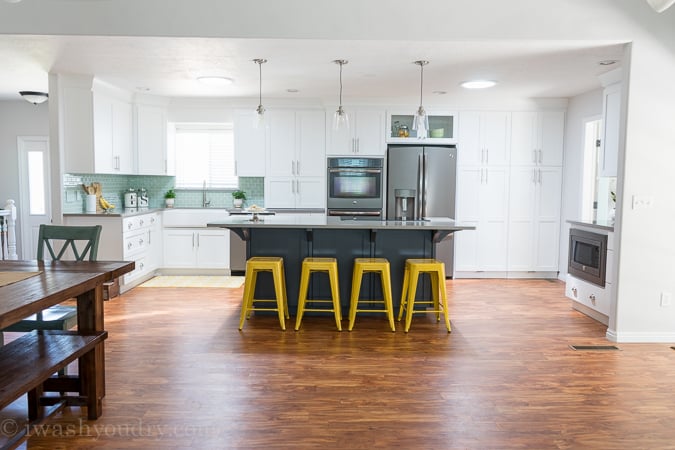 A huge THANK YOU to GE Appliances for providing me with my gorgeous new appliances and Kohler for providing me with my awesome new sink and faucet.
Stay tuned for more reveals (and giveaways) next week!
Thanks for stopping by my kitchen! Let me know what you think! 🙂
Make sure you don't miss a thing! Follow I Wash You Dry here:
FACEBOOK | PINTEREST | GOOGLE+ | TWITTER | INSTAGRAM | BLOGLOVIN