Easy Blender Hollandaise Sauce is a super rich and creamy sauce that goes perfectly with eggs, meats and definitely roasted asparagus.
What Is Hollandaise Sauce?
Hollandaise Sauce is one of the five French "mother sauces". It's a creamy yellow sauce made of melted butter, egg yolks and lemon juice. This delightfully rich sauce is typically served over fish, roasted vegetables and poached eggs Benedict.
This creamy sauce will elevate your brunch to another level, and here's the best news… it's crazy simple to make!
Ingredients In Hollandaise Sauce:
Here's the basic (and very short list) of ingredients you'll need in order to make this sauce at home. As always, you can find the full printable recipe in the recipe card below.
Egg Yolks – just the yolks, no whites needed
Lemon Juice – you can use white vinegar as a substitute
Melted Butter – I prefer to use salted butter
Cayenne Pepper – optional, but adds a great flavor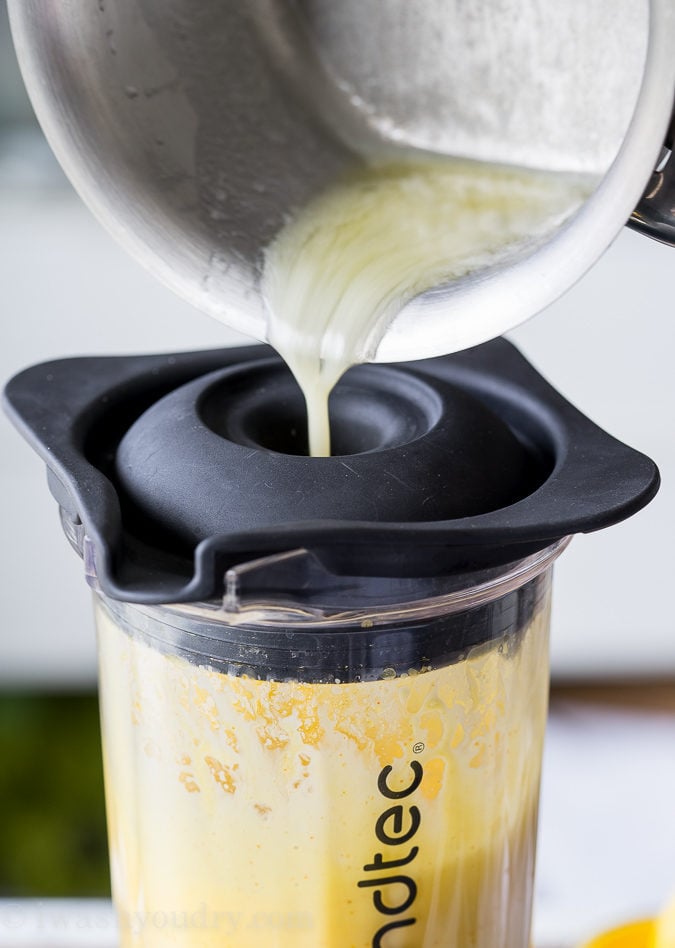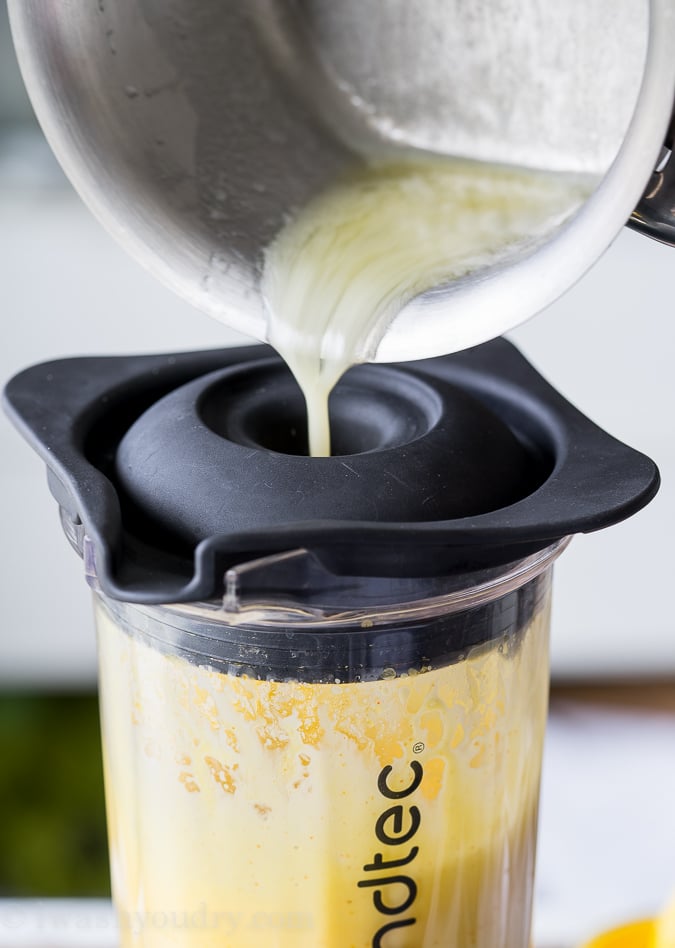 How To Make Hollandaise Sauce In Blender
If you've shied away from making this creamy sauce in the past because you thought it would be too difficult, I beg you to take a second look.
Hollandaise sauce made in the blender is ready in one minute, and it couldn't be easier to make!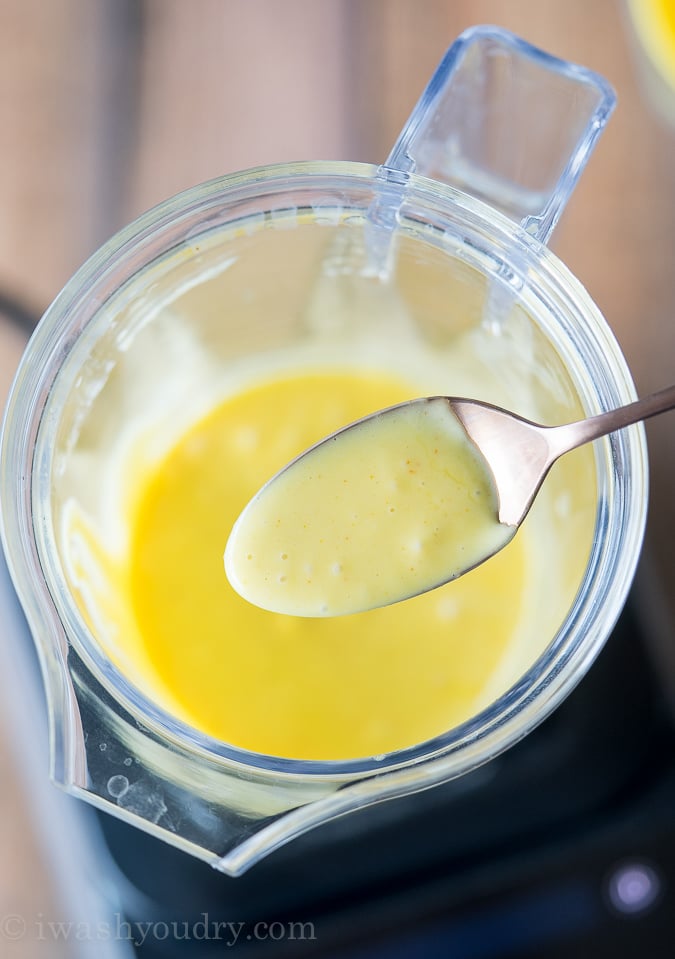 EGG YOLKS ONLY Simply start with egg yolks, lemon juice and a pinch of cayenne pepper in the blender. Give them a few whirls to blend the egg yolks and get some air into them. You're looking for the egg yolks to turn a pale yellow color.
MELTED BUTTER Slowly add in melted butter, while the blender is on low, and the sauce will thicken slightly.
Voila! You're done!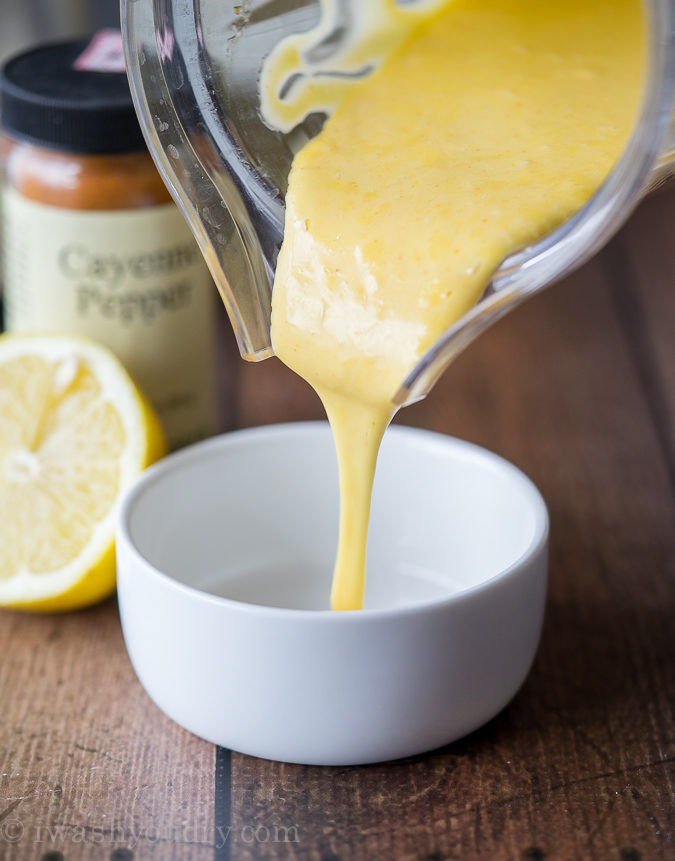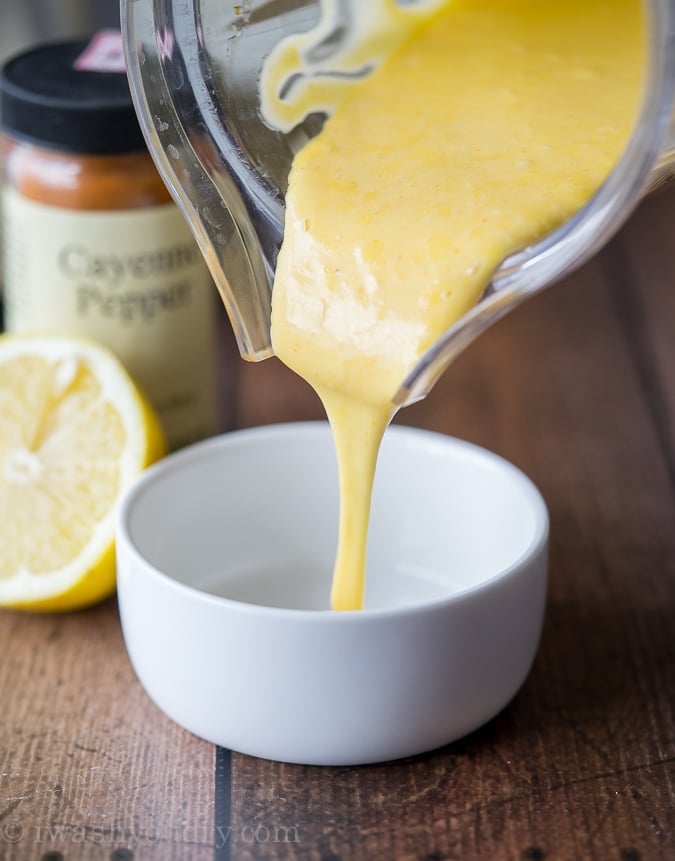 What To Serve With Hollandaise Sauce?
This rich and creamy sauce has just a hint of heat from the cayenne and is absolutely perfect when drizzled over some roasted asparagus! Here are some more great ideas for using Hollandaise Sauce…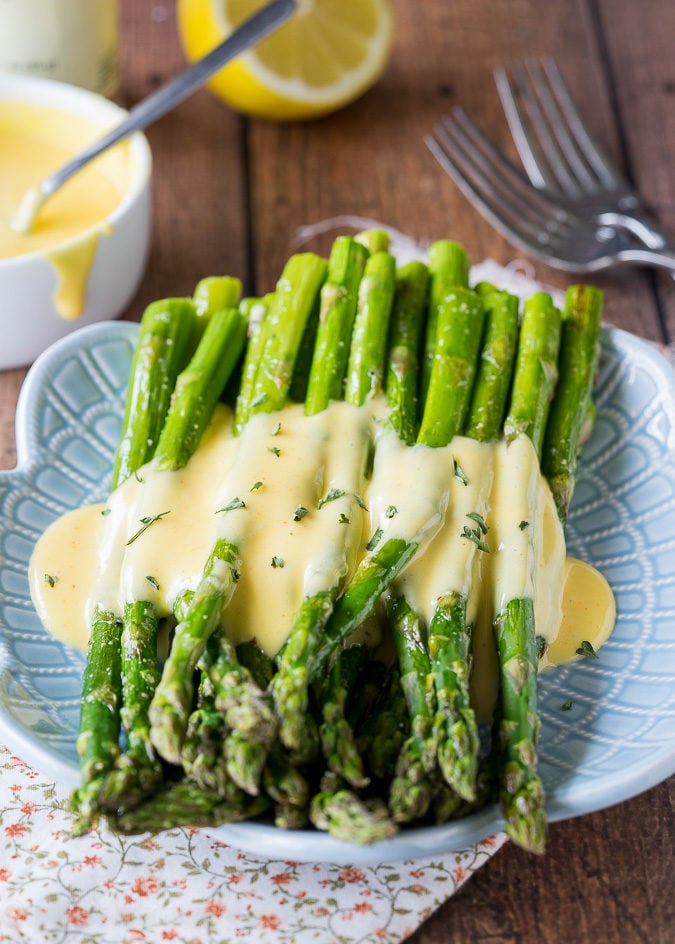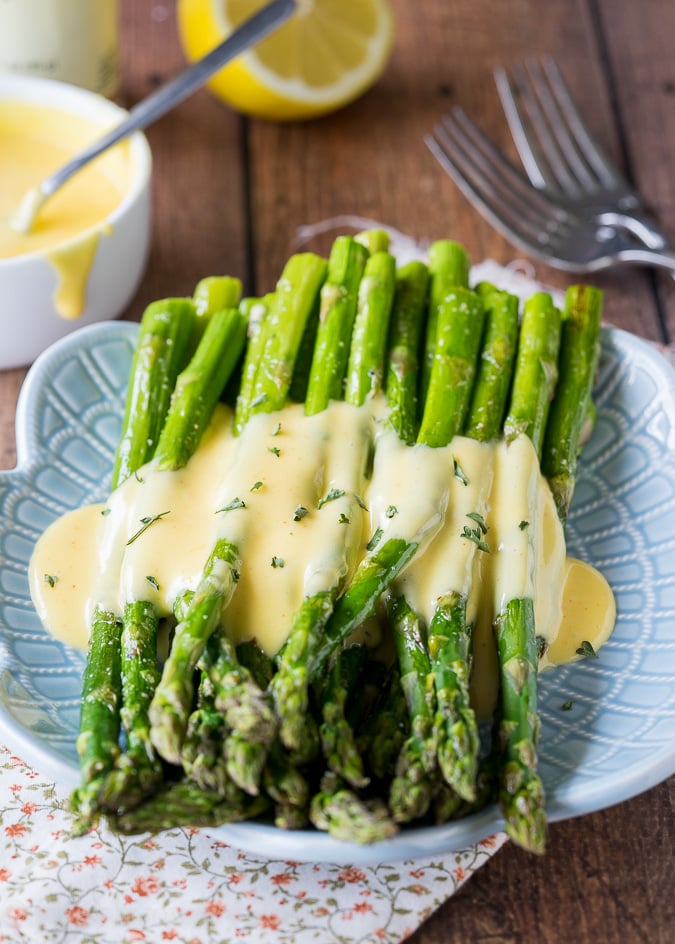 Can You Make Ahead of Time?
Once you make your Hollandaise Sauce you'll want to use it fresh, within the hour. You can prepare the sauce ahead of time, but it does take a little bit longer to reheat than it would to just make it fresh.
Hollandaise Sauce is best when served fresh, but can last in the fridge for up to 2 days.
How To Reheat Hollandaise Sauce:
In order to not "break" the sauce, you'll need to reheat it slowly and gently.
MICROWAVE: heat at 20% power in 15 second increments, stirring in between until the sauce is heated through
STOVE TOP: bring a pot of water to a boil and add the sauce to a glass bowl that fits on top of the pot, without touching the water. This is a double-boiler method. Whisk the sauce gently until it is heated through.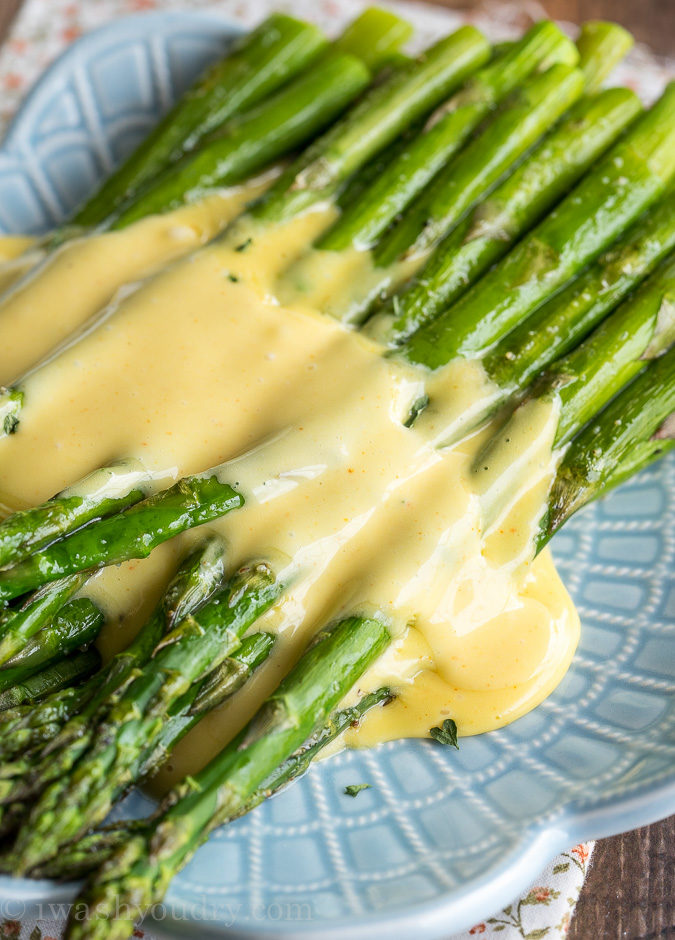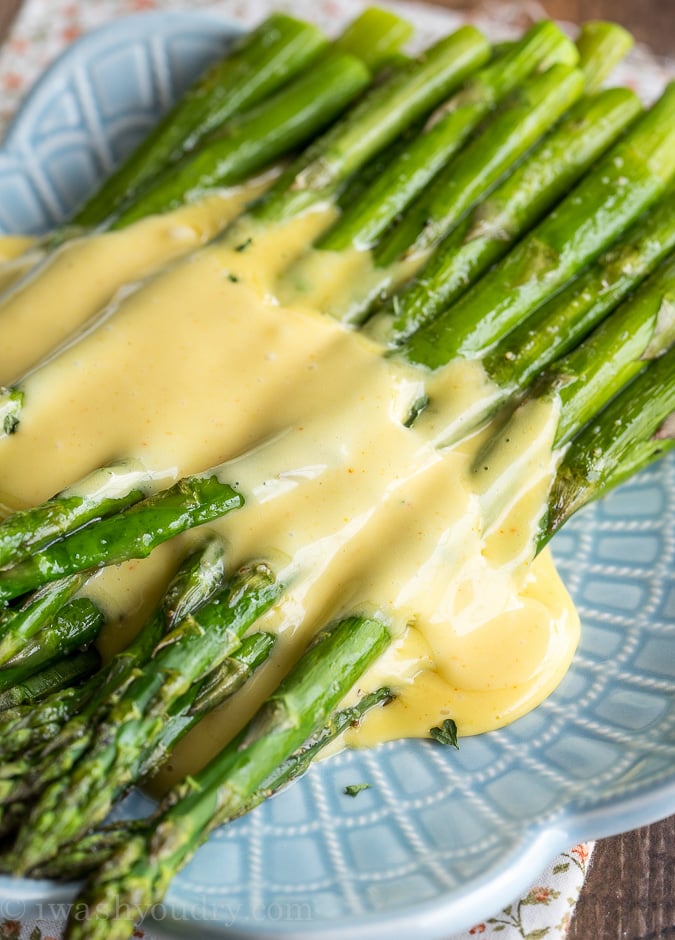 You're going to feel like a true chef with this simple recipe and everyone will be super impressed!
Make sure you don't miss a thing! Follow I Wash You Dry here:
FACEBOOK | PINTEREST| TWITTER | INSTAGRAM | BLOGLOVIN
Easy Blender Hollandaise Sauce Recipe
This creamy sauce is perfect on top of eggs, roasted vegetables and steak.
Ingredients
10

tbsp

butter

3

large

egg yolks

1

tbsp

lemon juice

1/4

tsp

cayenne pepper
Instructions
Melt the butter in a microwave safe dish or in a saucepan over low heat until melted. Try to not let it boil.

Add the egg yolks, lemon juice and cayenne pepper to the blender and blend for 20 to 30 seconds, until the egg yolks turn a light pale yellow. Remove the center of the blender lid and slowly pour in the melted butter, while blending on LOW speed.

Keep sauce in a warm place and use within 1 hour of making. Enjoy!
Notes
Serving Size is 2 tbsp
TO REHEAT HOLLANDAISE SAUCE:
Store in fridge for up to 2 days. Reheat in glass bowl at 20% power for 15 second increments, stirring in between. Repeat until heated through.
Nutrition
Calories:
195
kcal
|
Carbohydrates:
1
g
|
Protein:
2
g
|
Fat:
21
g
|
Saturated Fat:
13
g
|
Polyunsaturated Fat:
1
g
|
Monounsaturated Fat:
6
g
|
Trans Fat:
1
g
|
Cholesterol:
142
mg
|
Sodium:
171
mg
|
Potassium:
19
mg
|
Fiber:
1
g
|
Sugar:
1
g
|
Vitamin A:
740
IU
|
Vitamin C:
1
mg
|
Calcium:
17
mg
|
Iron:
1
mg
Keywords:
asparagus, blender, Easy, hollandaise sauce, Roasted
DON'T FORGET TO PIN THE RECIPE TO SAVE IT!