How do you store all those fabulous recipes that you find online? If your answer is Ziplist, then you're way ahead of the game. If not, you can sign up with Ziplist here.
I wanted to take a minute and introduce you to Ziplist and all it's functions. I'll show you how easy it is to organize your online recipes into a meal planner, automatically generate shopping lists, and even how to find grocery deals in your local area!
Best news, is that I Wash You Dry is now a partner with Ziplist so you can access your account right on my website by clicking the "Recipe Box" tab located at the top of my menu bar.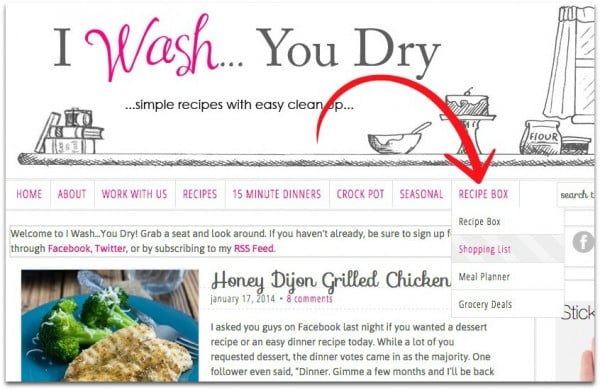 When you hover your mouse over the "Recipe Box" tab (or if you're on a mobile device or tablet you can click "Recipe Box" once) the drop down menu will appear. Here you can access your Recipe Box, as well as your Meal Planner, Shopping List, and Grocery Deals.
Let's take a look at each one a little closer shall we?
Recipe Box
You may have noticed at the top of each of my recipes there is a little blue rectangle that says "Save Recipe", and "Print" right next to it.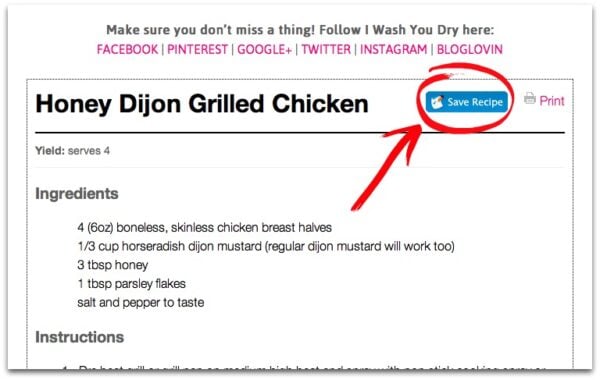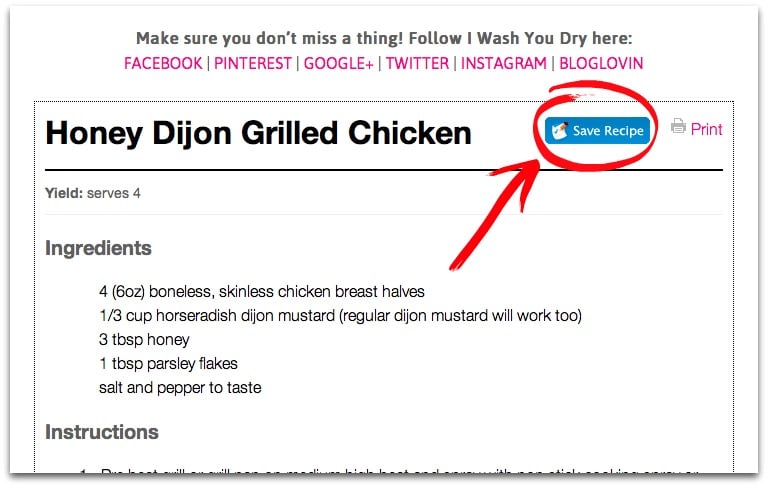 When you click on this button it will automatically store the recipe in your Ziplist account, along with a list of all the ingredients needed to make it.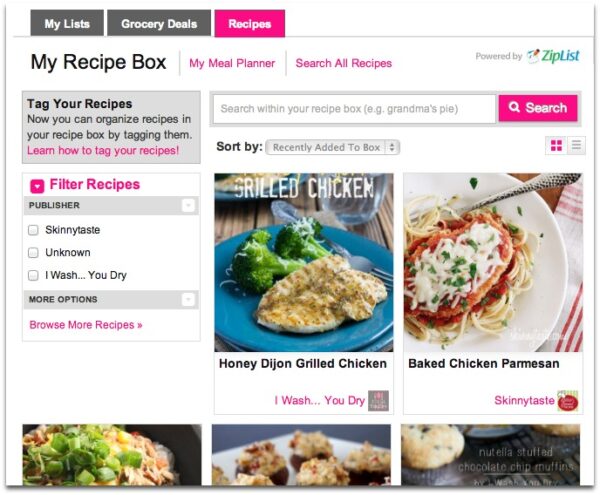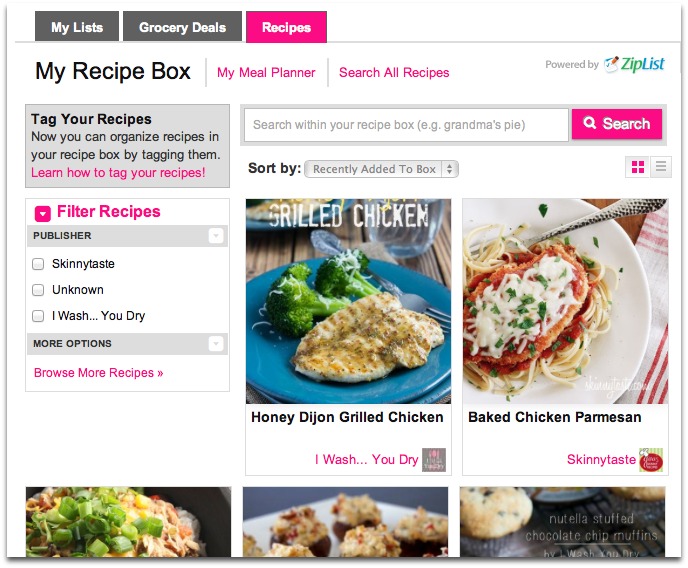 If you come across a website that does not have the "Save Recipe" button, have no fear! Ziplist has a neat little tool called "Ziplist Recipe Clipper" that lets you easily grab recipes from any site across the web!

You simply drag the button to your tool bar at the top of your web browser and whenever you see a recipe you want to keep, you click that button and it will store it for you!
Menu Planner
Now that you have your recipes in your recipe box, it's time to plan your meals! With the Meal Planner function on Ziplist you can quickly and easily schedule out your meals for the week.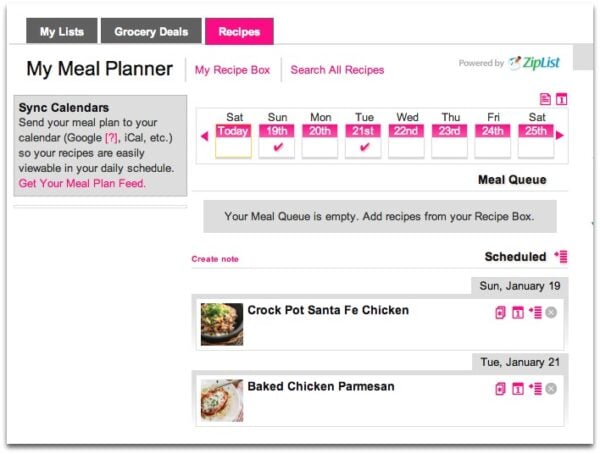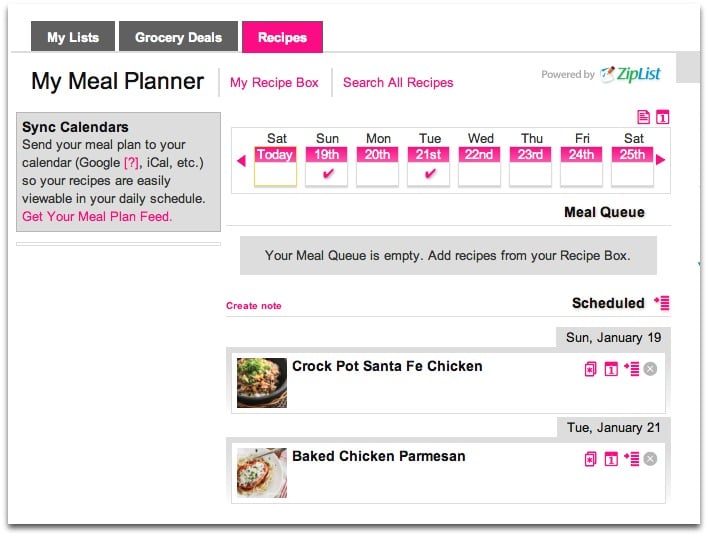 You can even sync your meal plan with your calendar so it's there for you in your daily schedule!
Shopping List
Now that you have your recipes organized and a meal plan ready to go Ziplist will organize all the recipe ingredients into a convenient shopping list for you.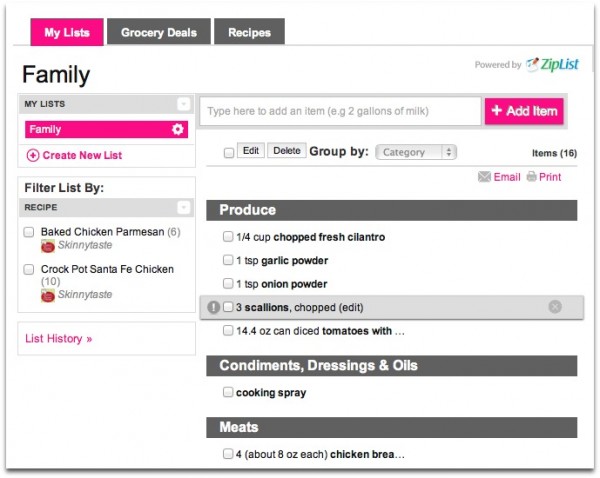 You can modify the list if there are ingredients you already have on hand, and you can always add more too!
Grocery Deals
Quickly search for any deals at the grocery stores near you with this awesome function from Ziplist.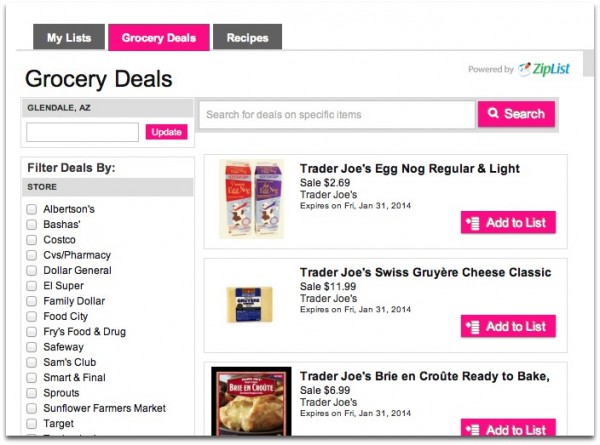 I hope you find this tool useful and take advantage of it. I love it, and I think you will too!
-Shawn
Make sure you don't miss a thing! Follow I Wash You Dry here:
FACEBOOK | PINTEREST | GOOGLE+ | TWITTER | INSTAGRAM | BLOGLOVIN