Last month my oldest child turned double digits.
The big "one-oh!"
Obviously I had to do something mega special for my sweet daughter. Since she's an avid Trix fan we decided to throw her the best Trix party imaginable. I decorated the kitchen the night before her birthday, so when she woke up she got a major surprise!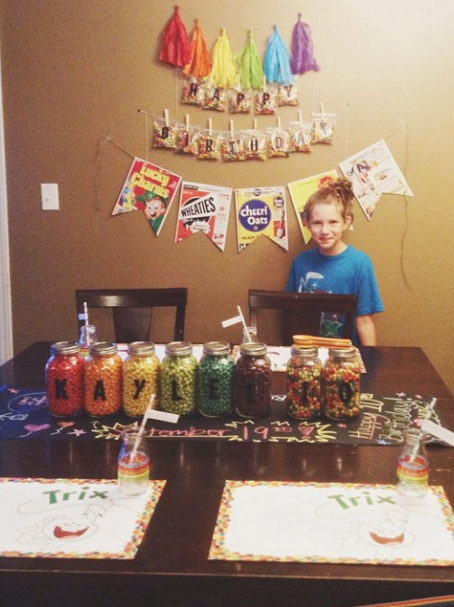 But the biggest surprise was the Surprise Inside Rainbow Cake that I made for her party…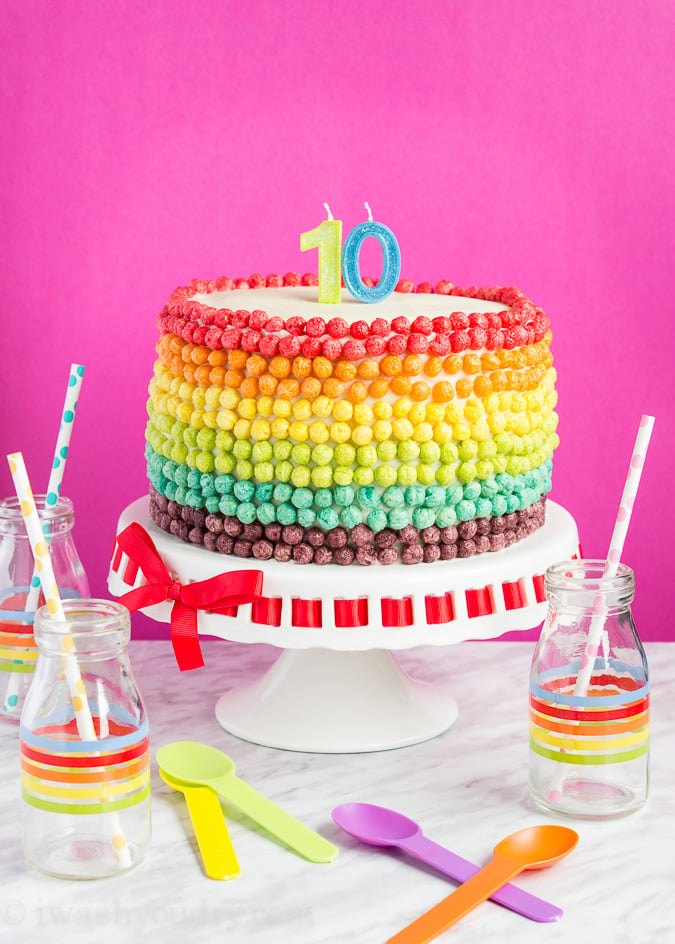 I made this adorable three layer cake and filled it with a special treat!
I decorated the outside of the cake with Trix cereal, all the way around in color order of the rainbow. You don't have to use Trix to make this cake pop, you could also use Sixlets, jelly beans, M&M's, or basically anything colorful that you want.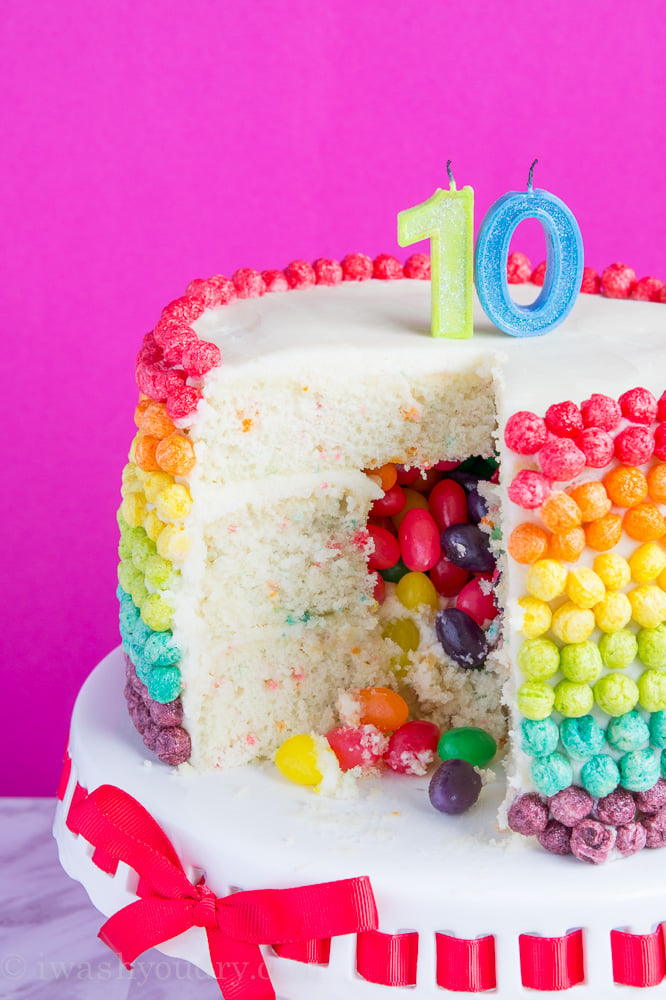 Let me show you how I made this super easy surprise inside cake.
I started with two boxes of funfetti cake mix, and baked them into four, 8 inch rounds. You'll only need three layers though, so you can package up the fourth layer and store it in the freezer for whenever the urge for cake arises. 🙂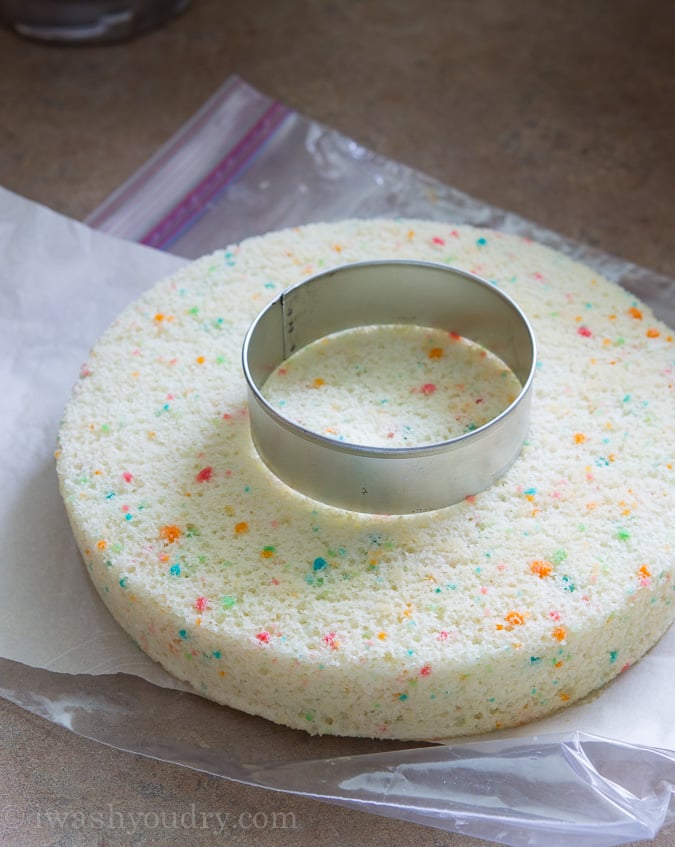 Use a 3 inch or 4 inch round cookie cutter or biscuit cutter and make a large hole in the middle of one of the layers.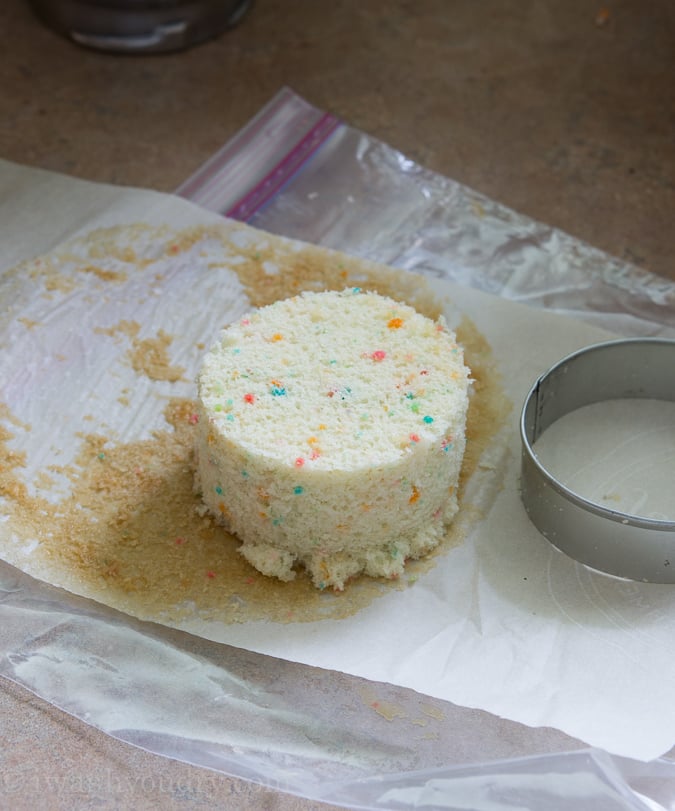 You can use this opportunity to taste test that fluffy cake… mmm…
Next you're going to place on whole layer of cake on your cake stand and frost it. I used my favorite vanilla buttercream frosting for this one.
Take the layer with the hole in it and place it on top of the first layer.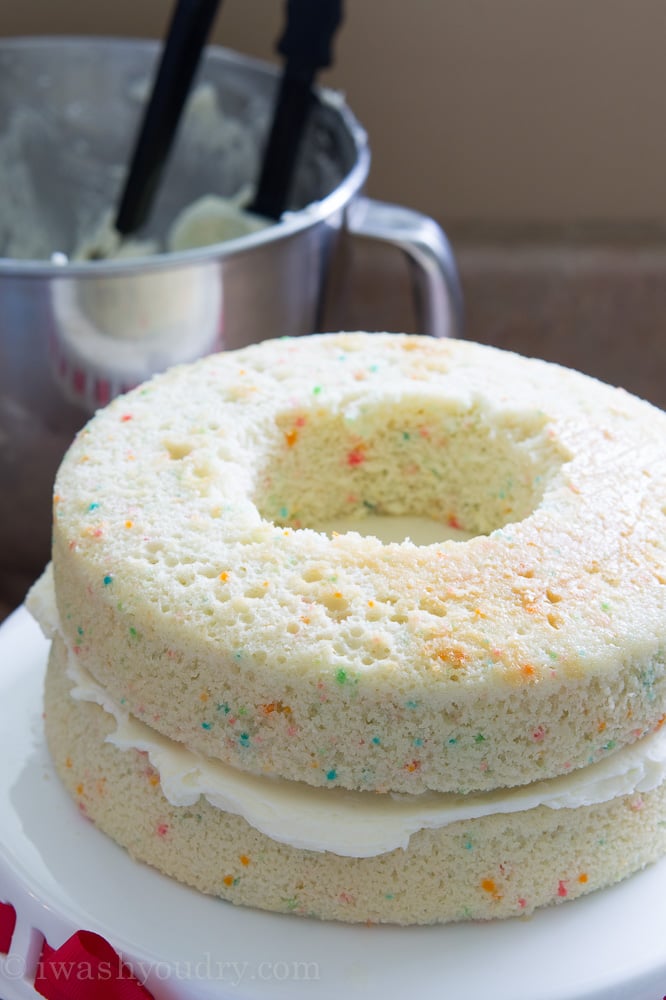 Fill the cake with whatever special treat you want. Here's a tip though… small candies are best for this because they come cascading out of the cake when it's cut into and everyone does all sorts of "ooooh's and aaaah's".
I've used M&M's before, but this time I went with rainbow colored jelly beans. So cute!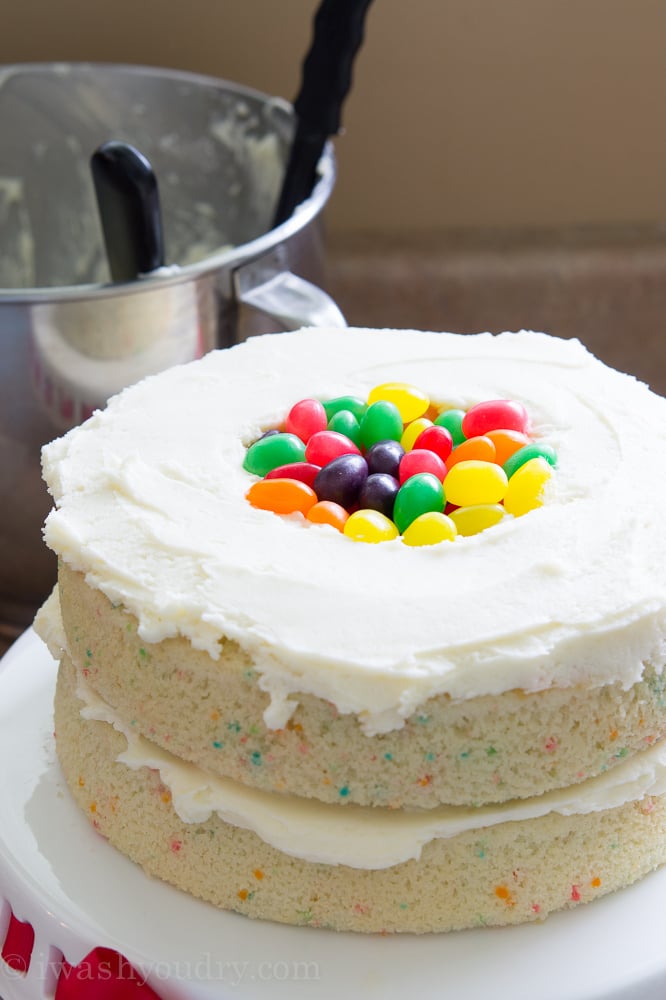 Make sure to pile them in there, nice and high so the top layer has something to rest on.
Frost the middle layer around the jelly beans and then top with the final layer of cake.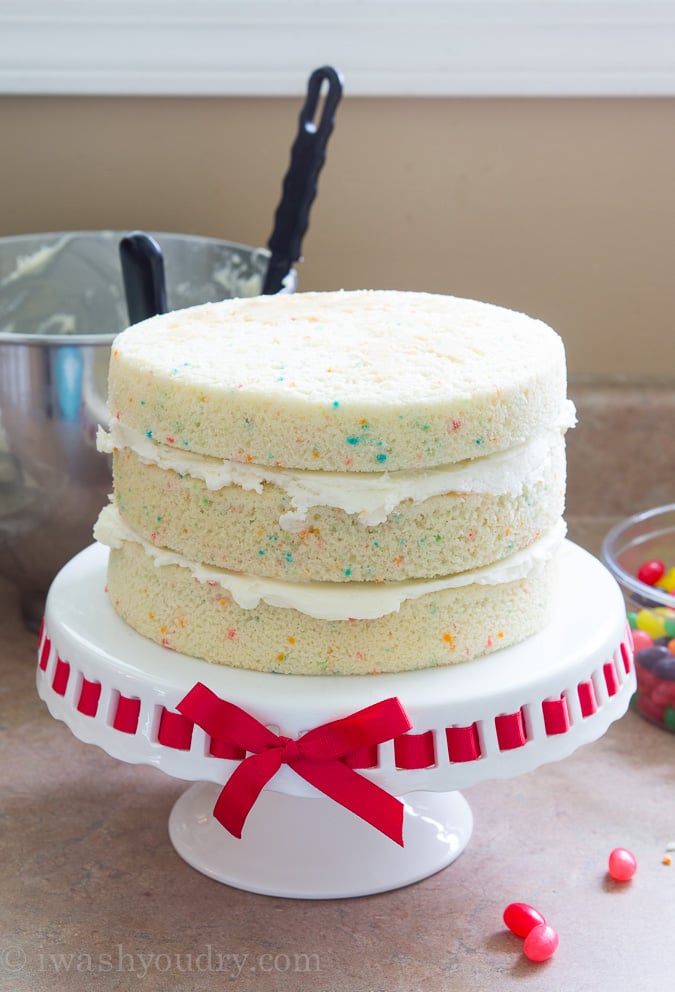 Now you're ready to frost the outside!
MAJOR TIP: If you're going to use Trix to cover the cake, make sure you wait until shortly before serving to put the Trix on. Due to their cereal nature, they can get chewy from sitting in the frosting. So the sooner you serve it after putting the Trix on, the better. That's why it might just be easier to decorate with Sixlets candy instead.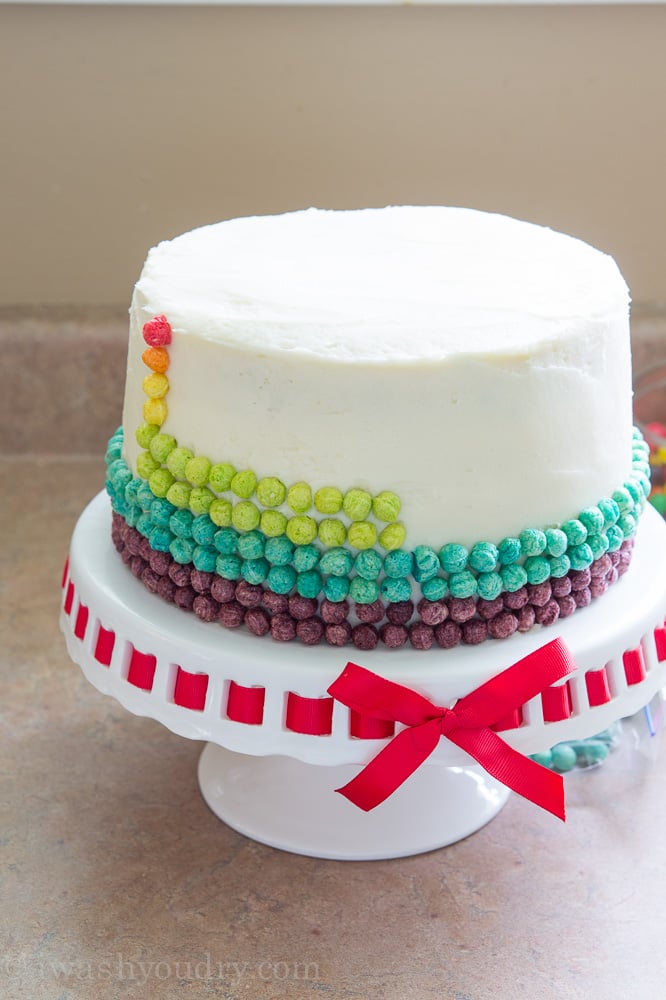 I started by making a straight line going up the side of the cake to give me an idea of how many in each color I should use. Then I started at the bottom and worked my way around the cake in (what was attempted) a straight line.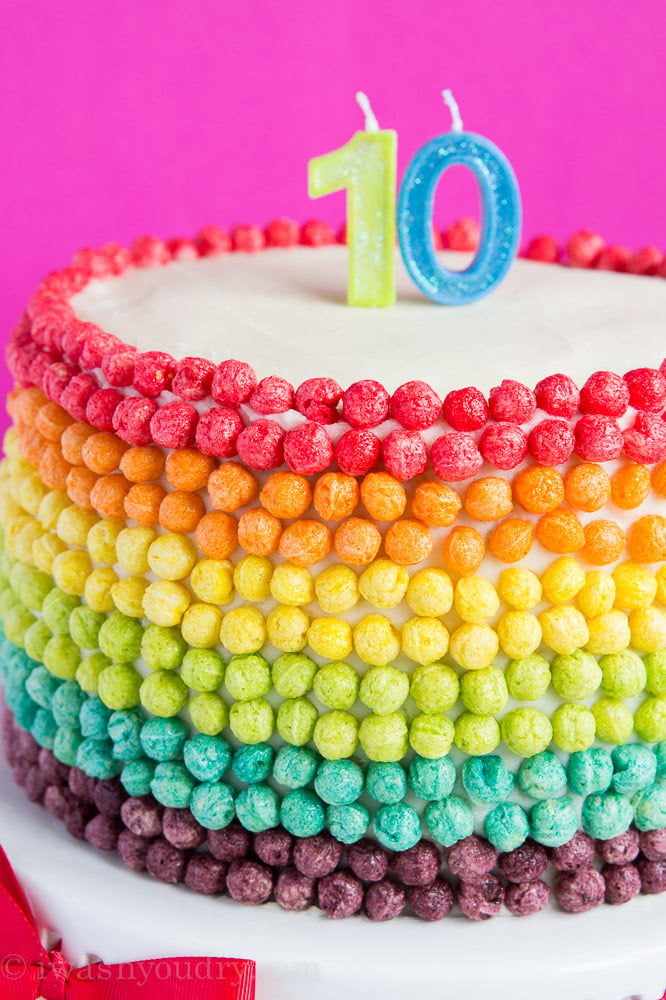 The result was pretty awesome.
My daughter and all her little friends LOVED it.
The delight in their eyes when they saw surprise inside… priceless.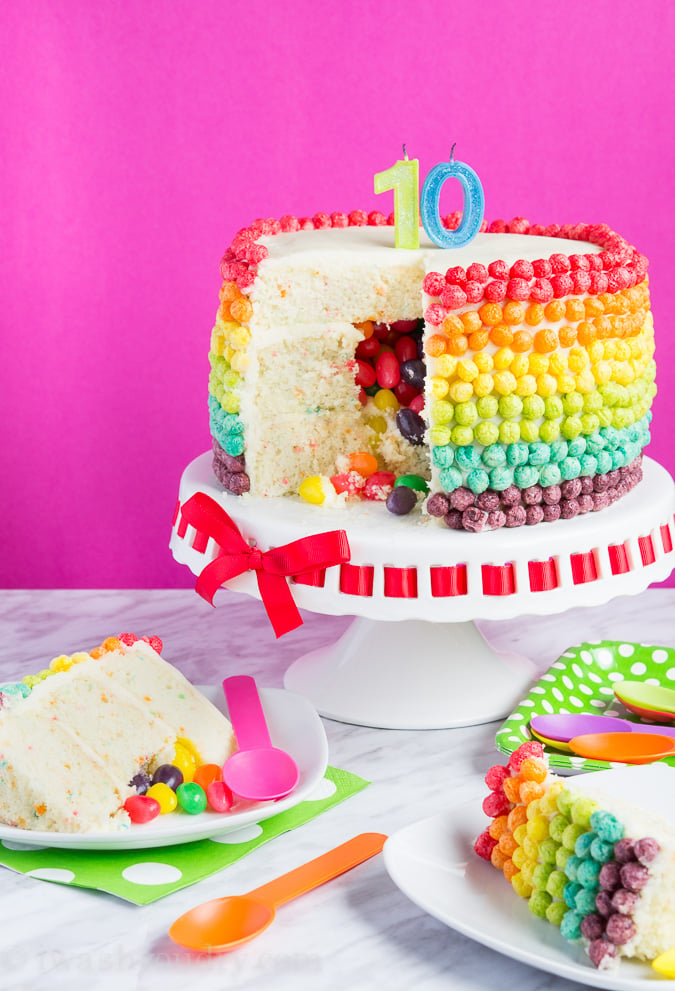 Yup! Everyone enjoyed a nice big slice, along with a helping of jelly beans.
Those jelly beans inside make me think of Easter. Does anyone else associate jelly beans with Easter? Wouldn't this also make a totally cute Easter cake? Ahh… I'm slightly obsessed with cake making these days. 🙂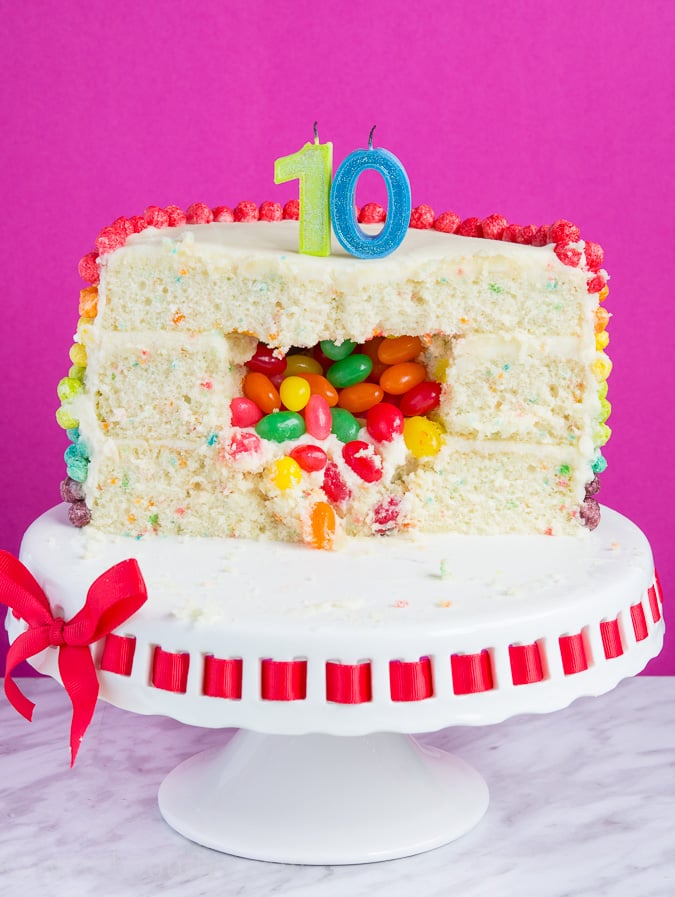 Let me know if you try it! I'd love to hear about it! 🙂