Forget about the cookies, this Samoa Pull-Apart Bread is where it's at.
I've streamlined the process of making time-consuming pull-apart bread so it's quicker and easier for you. You're going to love this simple to follow recipe.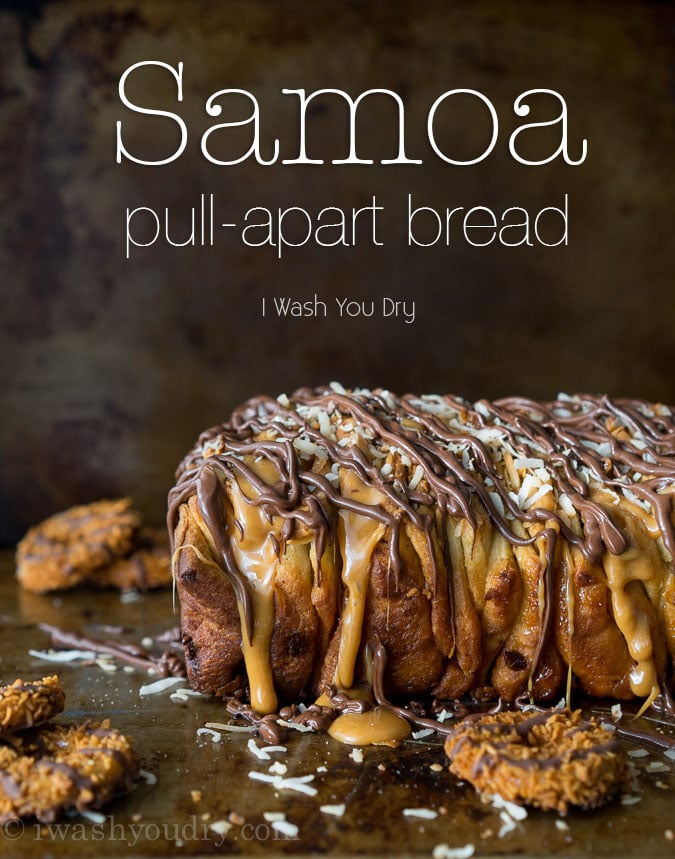 Ok, so Girl Scout cookies… they're amaze balls. Trust me when I say that I've bought my fair share of Samoas and Thin Mints, but I can't tell you how excited I am about this bread. I've been dreaming about it for weeks.
I finally decided it was time to make it and boy was it super easy to put together.
I took step by step photos for you so you can see just how simple it really is. So that way instead of just gawking at this masterpiece, you'll actually make it too.
You're welcome.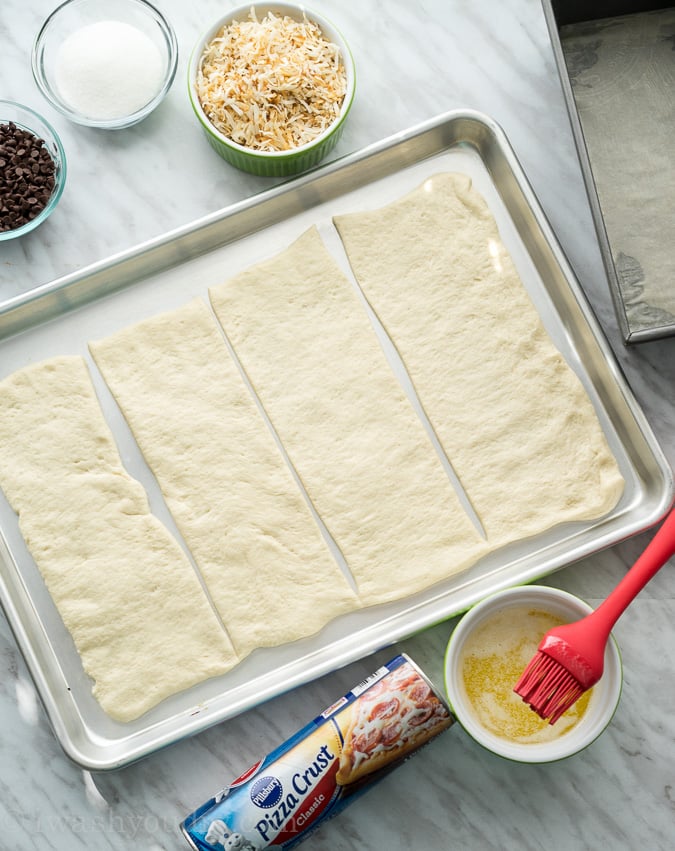 First you're going to want to toast up some coconut. You can do this in a skillet or in the oven. I prefer the skillet because I feel like it goes quicker.
Line the bottom of a 9″ x 5″ loaf pan with parchment paper then lightly butter the sides of the pan. Set this aside for later.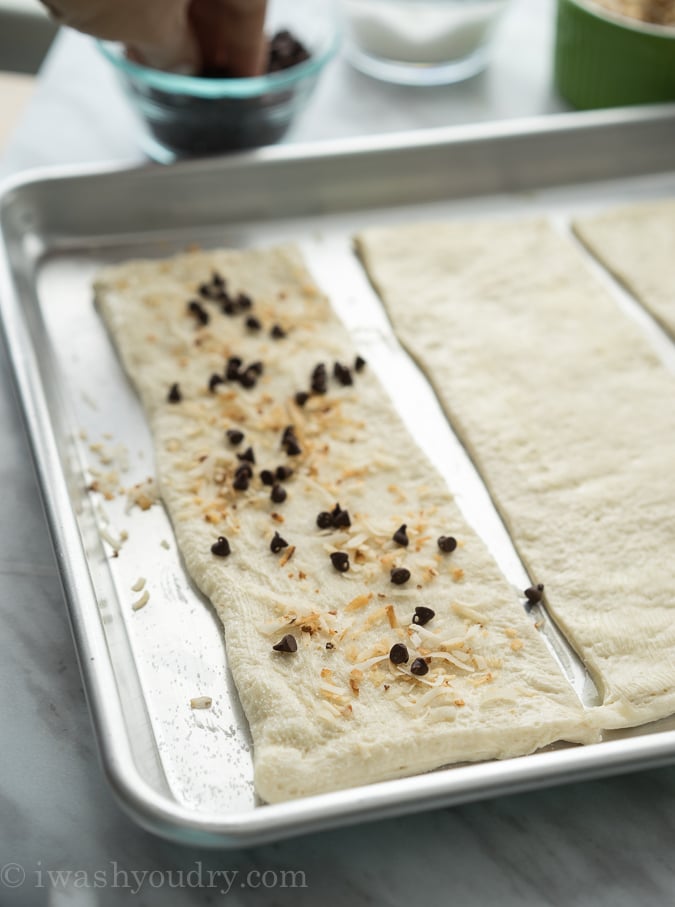 Unroll a tube of Pillsbury pizza dough and press it into a 16″x12″ rectangle, then cut 4 equal size rectangles out of that.
Brush each of the strips with melted butter then sprinkle each with sugar, some of the toasted coconut, and some mini chocolate chips.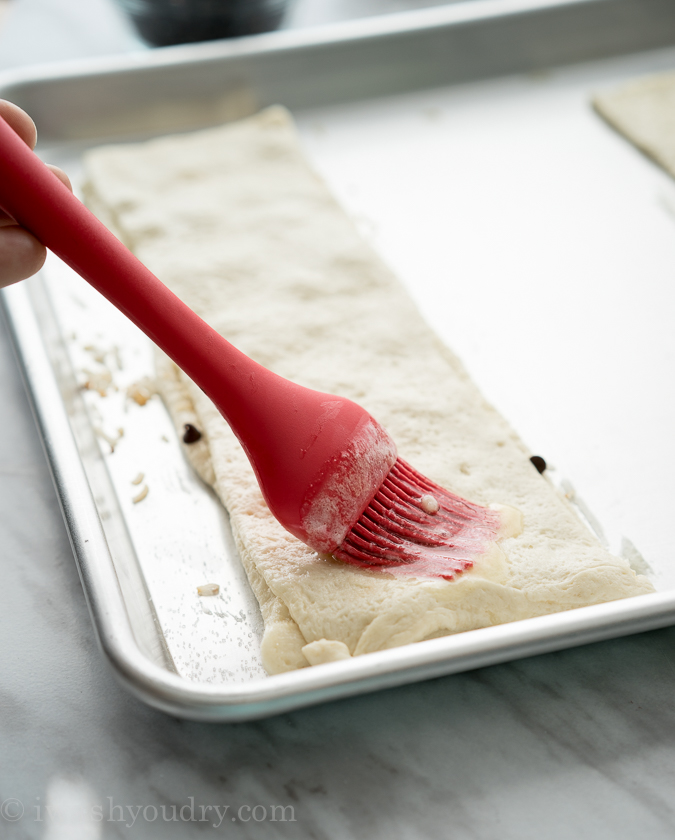 Place a strip of pizza dough (butter side down) on top of the strip you just sprinkled with all that goodness; then brush it with butter and repeat… sugar, coconut, chocolate chips, pizza dough, butter, sugar, etc. etc.
You should end up with a stack that looks something like this…
Take a sharp knife or pizza cutter and cut out 4″ x 2″ rectangles.
Make-a da pizza stacks!! … ignore me.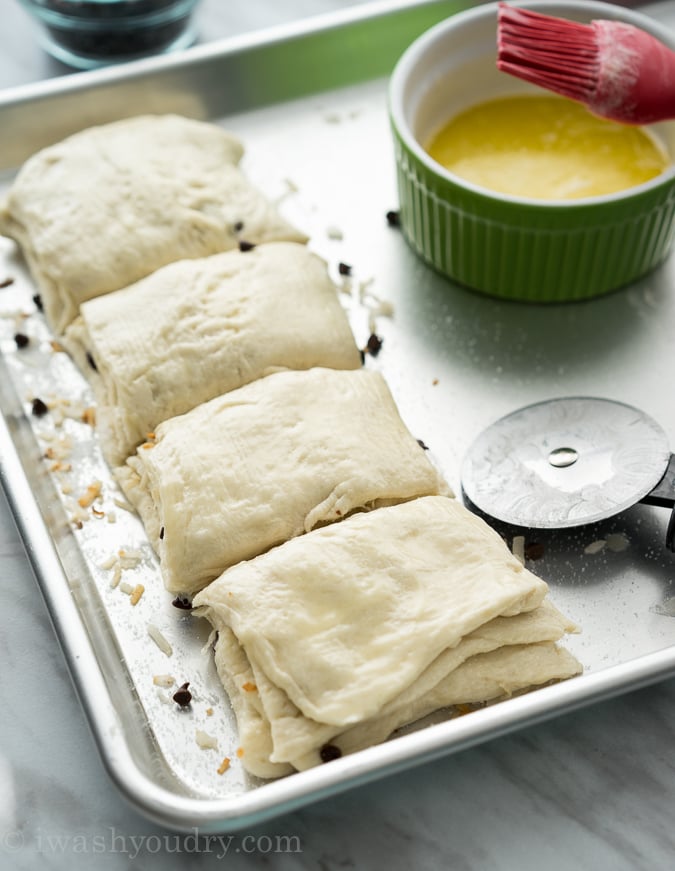 Now you just need to butter each side, sprinkle with more sugar, toasted coconut, and a few chocolate chips and stack them on top of each other to make one mega stack.
It's the leaning tower of pizza!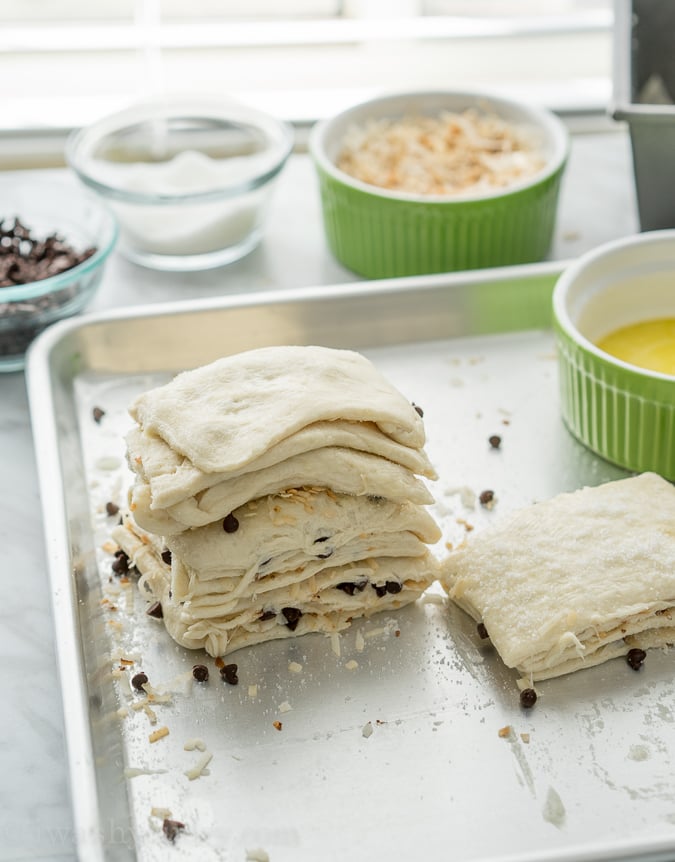 The key is to make sure you put butter and sugar between each slice of dough so that when it bakes up, it will fall apart into individual slices of goodness.
Mmmhmmm…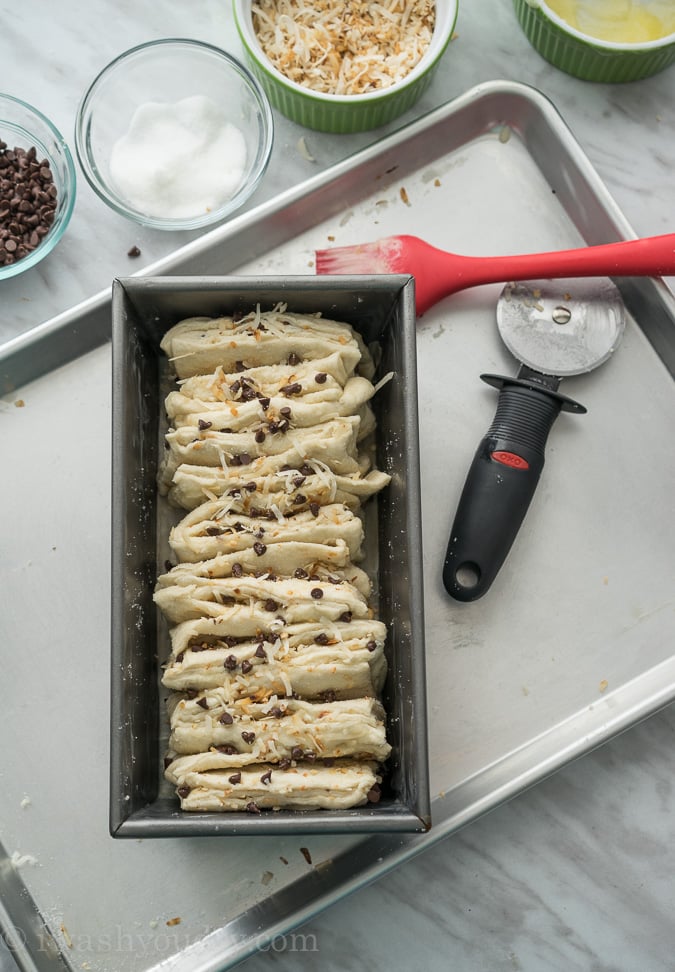 Repeat the process with another tube of pizza dough, then brush all sides with more butter… if you have any extra butter just drizzle it all over.
Butter is our friend.
I also had a few coconut and chocolate escapees when I was putting the bread together so I just sprinkled those on top. Place the bread in the oven and let it bake for 45 to 55 minutes.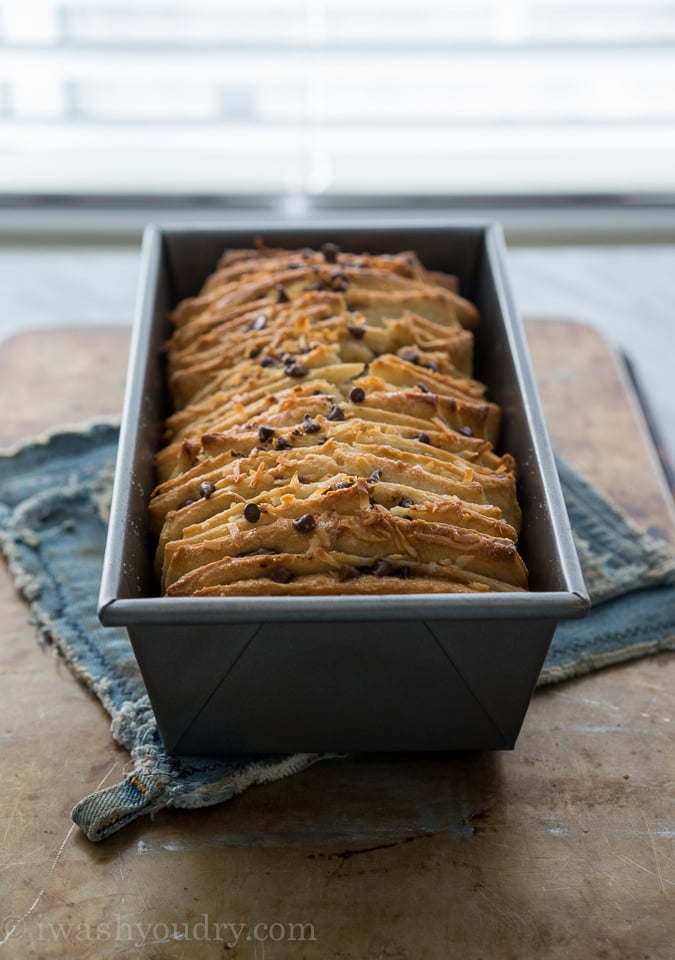 When it's a deep golden brown and looking mighty fine, take it out of the oven and admire how beautiful it is.
Let it cool slightly before taking it out of the pan.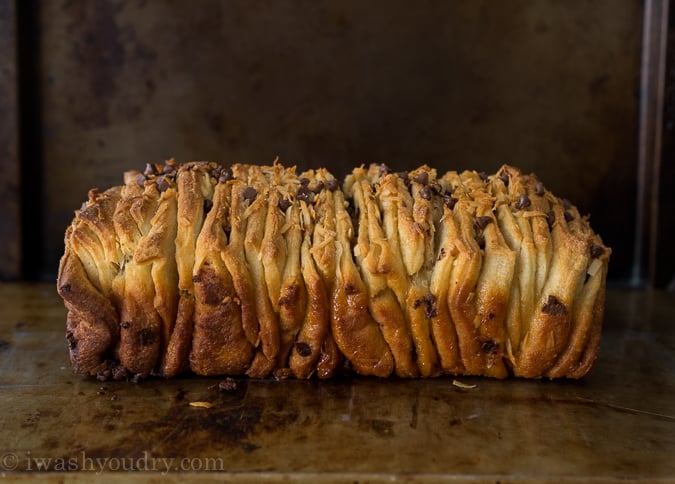 The butter and sugar caramelize slightly on the bottom of the bread and create the most delicious crust that just melts in your mouth.
While it's cooling, whip up some caramel. And by whip up, I mean unwrap some caramels and melt them over a double broiler with a little milk so you're able to drizzle it all over the top. I'm easy like that.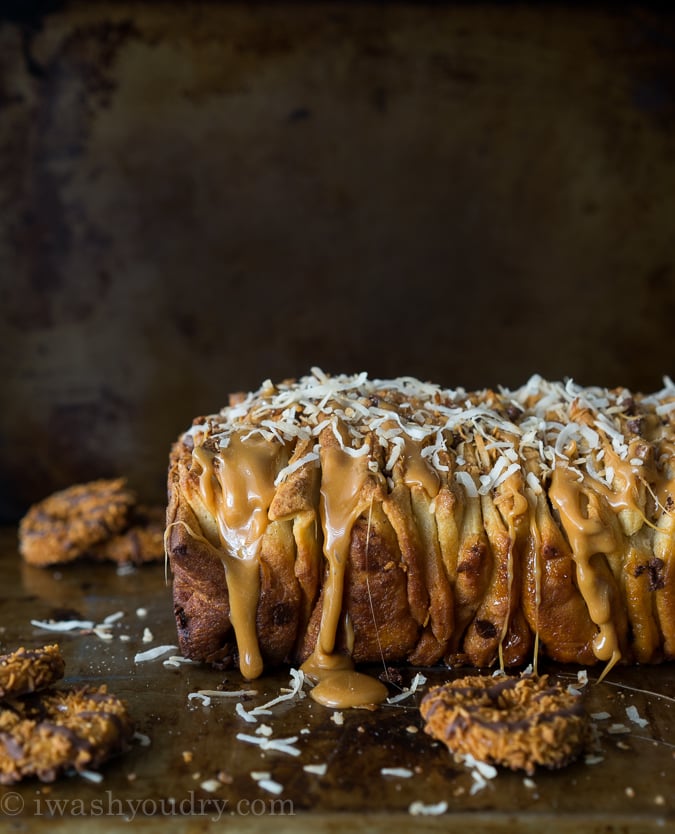 Samoas are not complete without the caramel.
Or toasted coconut. So you'll want to sprinkle a generous amount of toasted coconut on top of the caramel so it sticks on.
Then, just to make sure the coconut doesn't go anywhere, give it a good drizzle of melted chocolate.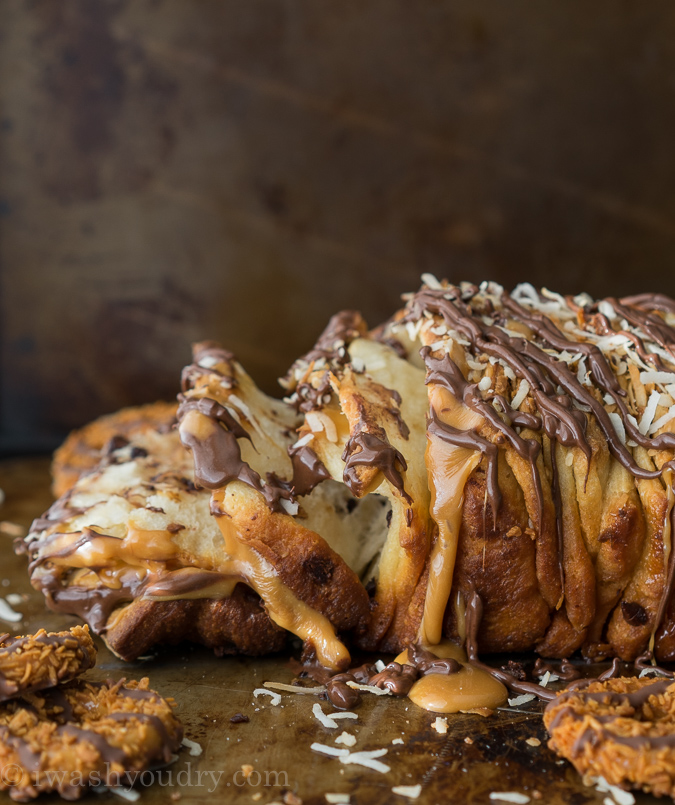 Now just pull off a slice and slip away into heavenly Samoa bliss.
Come to mama.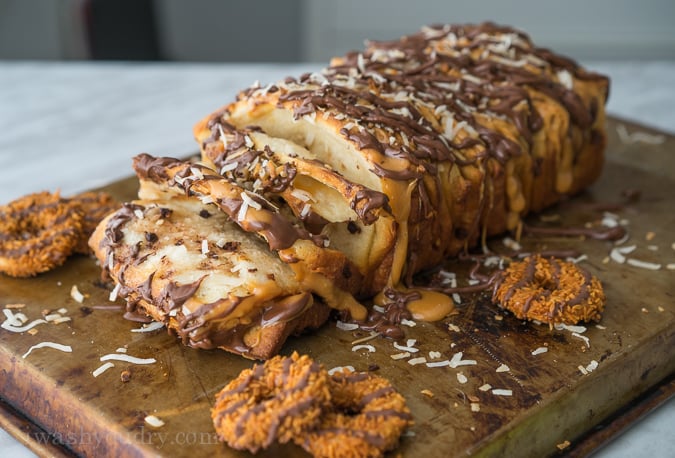 As you can see, it's pretty simple to put together, yet you're going to be praised by many for this gorgeous and decadent dessert.
Do it!
Make sure you don't miss a thing! Follow I Wash You Dry here:
FACEBOOK | PINTEREST | TWITTER | INSTAGRAM | BLOGLOVIN
Samoa Pull-Apart Bread
Coconut, chocolate, and caramel layered between crusts of dough.  Just pull off a slice and slip away into heavenly Samoa bliss!
Ingredients
Instructions
Preheat oven to 350 degrees F. Line the bottom of a 9" x 5" loaf pan with parchment paper, then lightly brush the sides of the pan with some of the melted butter, set aside.

Heat a large skillet over medium heat and add the coconut to the pan. Stir often until the coconut begins to turn a golden brown color, about 5 to 7 minutes. Remove from pan and let cool. Reserve 1/2 cup of toasted coconut for later use.

Unwrap one tube of pizza dough and press into a 16" x 12" rectangle. Use a sharp knife or pizza cutter to make four 4" x 12" rectangles. Brush each rectangle with butter.

Sprinkle one rectangle with sugar (just enough to lightly coat it) then sprinkle with a tablespoon or two of toasted coconut, followed by a tablespoon of mini chocolate chips. Carefully place another rectangle of pizza dough, butter side down, on top of the filling. Brush that rectangle with butter and then sprinkle with sugar, toasted coconut, and chocolate chips. Repeat this process until you place the fourth rectangle on top.

Use a sharp knife to cut the stack into 4" x 2" rectangles. Brush one stack with butter, sprinkle with more sugar, toasted coconut and chocolate chips, then place another stack on top. Keep doing this until you have one large stack. Carefully place the stack in the prepared loaf pan.

Repeat steps 3 to 5 using the remaining tube of pizza dough.

Drizzle any remaining butter over the loaf before baking for 45 to 55 minutes, until the bread is a deep golden brown. Cover with a sheet of tinfoil if the top begins to darken too fast.

Just before the bread is done, unwrap the soft caramels and place in a bowl with the milk and dash of salt. Bring a small pot of water filled with and inch of water to a boil, then place the bowl on top of the pot. Stir until the caramel is smooth. Drizzle the caramel over the bread, then sprinkle with the reserved toasted coconut.

Melt the 1 cup of chocolate chips in a bowl over the pot of boiling water until smooth. Drizzle on top of the bread.

Serve warm with lots of napkins. Enjoy!
Nutrition
Calories:
611
kcal
|
Carbohydrates:
86.6
g
|
Protein:
7.6
g
|
Fat:
27.9
g
|
Cholesterol:
26
mg
|
Sodium:
566.1
mg
|
Sugar:
49.5
g
|
Vitamin A:
5
IU
Keywords:
caramel, chocolate chips, Coconut, pizza dough, somoa
Disclaimer: I am proud to be a compensated Challenge Dairy Ambassador. All thoughts and opinions stated here are 100% my own. Thank you for supporting the brands that make I Wash You Dry possible.