Here's the deal with this Pumpkin Magic Cake – it has a little bit of everything to please just about everyone.
I spent a long time perfecting this recipe. It finally came out just right, and I think you're going to love it!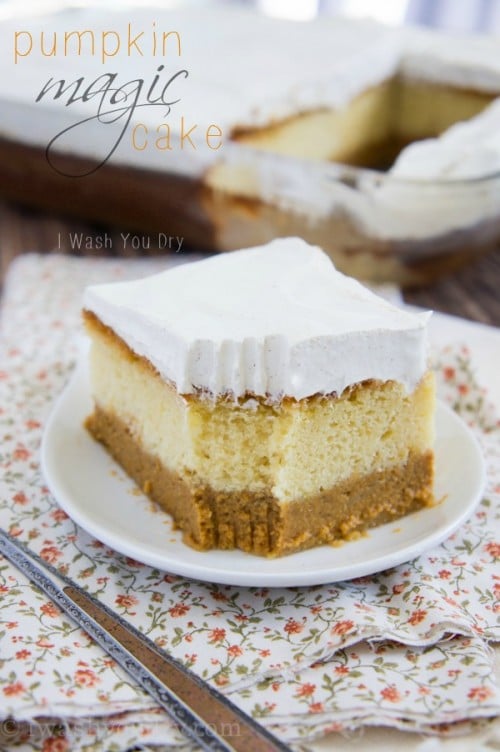 Pumpkin Magic Cake Recipe
It has three layers of dessert goodness going on.
A layer of pumpkin pie on the bottom. A layer of cake in the middle. Finished off with a sweet layer of pumpkin pie spiced pudding/frosting/icouldeatthiseveryday on top.
Ingredients Needed:
Here's the basic list of the ingredients you'll need in order to make this delicious cake. It's perfect for the holidays!
Vanilla Cake Mix – any size box will work as long as it's meant for a 9×13″ pan
Eggs, Oil, Water – called for in the cake mix
Pumpkin Puree – not pumpkin pie filling
Evaporated Milk
Heavy Cream
Pumpkin Pie Spice
Brown Sugar
Vanilla Pudding Mix – you can substitute with sugar free version if desired
Cold Milk
Cool Whip – thawed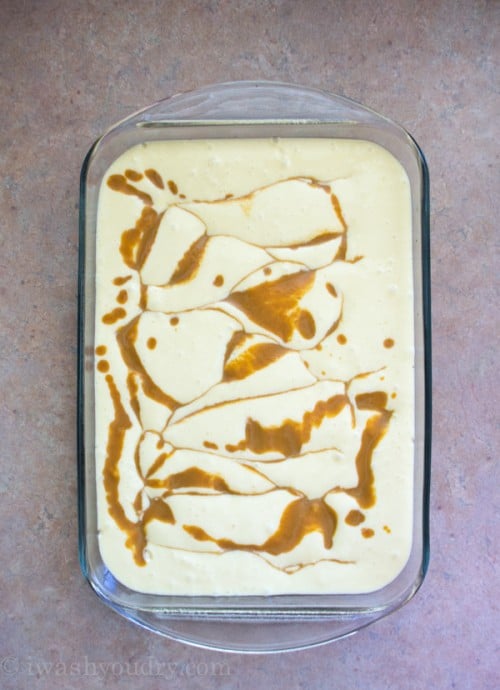 How To Make Pumpkin Magic Cake
What's so magical about this cake?
Start off by mixing up a box of yellow cake mix, just like you normally would. Pour the batter into a prepared cake pan.
Whisk up the pumpkin pie mixture and carefully pour it over the top of the cake batter.
Bake and watch the layers switch place and become perfectly cooked into two layers!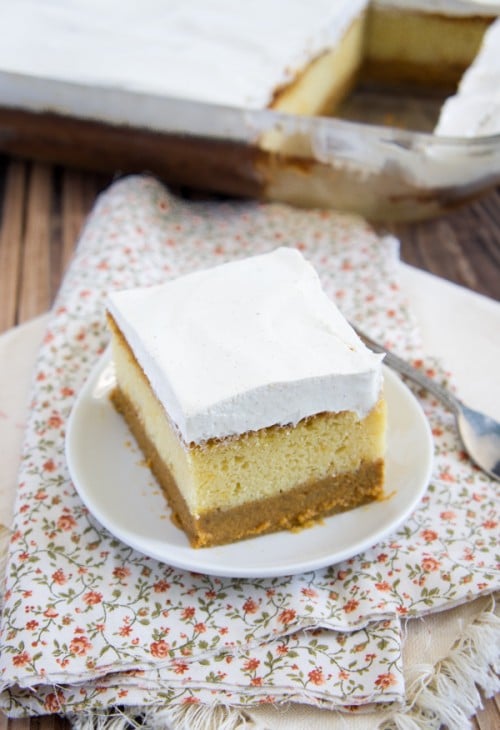 Frosting For Pumpkin Cake
Whisk up the top layer which is just a combination of instant pudding mix, milk, pumpkin pie spice and thawed Cool Whip.
Spread it on top, and you have a multi-level dessert with layers upon layers of delicious fall flavor.
More Pumpkin Cake Recipes
Craving that delicious pumpkin cake flavor? I've got you covered with these tasty recipes…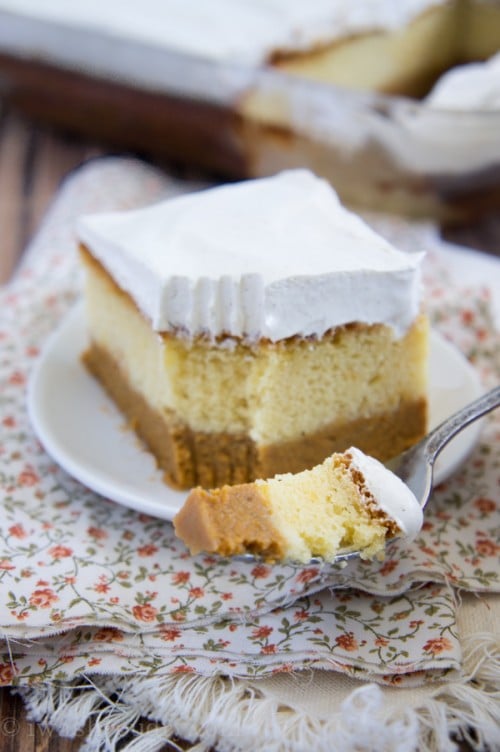 This dessert is a definite crowd pleaser.
Make it!
HELPFUL PRODUCTS TO MAKE THIS RECIPE:
Last updated on August 11, 2022 4:19 am
Pumpkin Magic Cake
Pumpkin Magic Cake has a layer of pumpkin pie on the bottom, a layer of cake in the middle, finished off with a sweet layer of pumpkin pie spiced frosting on top.
Ingredients
Instructions
Preheat oven to 350 degrees F.

Prepare box of cake mix according to package instructions, then pour into a lightly greased 9"x13" cake pan. DO NOT BAKE. Set aside.

In another bowl whisk together the ingredients for the Pumpkin Pie (pumpkin, evaporated milk, cream, eggs, brown sugar, and pumpkin pie spice), until smooth. Slowly pour the pumpkin pie mixture all over the cake mix.

Carefully place cake into the oven and bake for 50-60 minutes or until the center is no longer jiggly, and a toothpick inserted into cake mix comes out clean. NOTE: The cake might be slightly darker than normal, but still tastes great. Let cool to room temperature.
For The Frosting
Place the vanilla pudding mix into a large bowl, add the pumpkin pie spice and pour in the cold milk. Whisk until combined and starting to thicken. Gently fold in the Cool Whip until it's completely combined. Spread on top of the cooled cake.

You can serve now, or chill the cake, and serve when chilled. Either way tastes great. Enjoy!
Notes
Before baking the cake, you can place it on top of a rimmed baking sheet just in case any of the cake spills over the edge of the pan while baking.
FAQ:
After you are done baking the cake, it may look like it did not settle into layers, but it has! Frost it, cut it, and marvel at it's awesomeness.
Cake can be prepared up to 48 hours in advance. Cover and chill in fridge until ready to serve.
Nutrition
Calories:
425
kcal
|
Carbohydrates:
59
g
|
Protein:
7.1
g
|
Fat:
18.4
g
|
Cholesterol:
106.6
mg
|
Sodium:
436.9
mg
|
Sugar:
42.8
g
|
Vitamin A:
22
IU
|
Vitamin C:
5
mg
Keywords:
cake, magic, pumpkin, whipped topping
Now Available!
The Everyday Cookbook
Top Favorite Recipes from I Wash You Dry now available in a hard-cover, spiral-bound book that's gorgeous and perfect for everyday use.
BUY IT NOW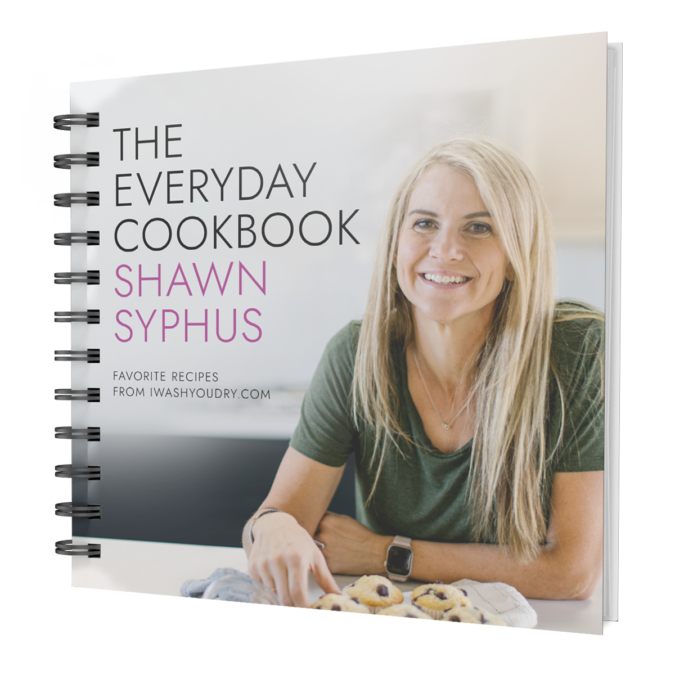 YOU MAY ALSO LIKE: