I've combined two of my guilty pleasures into one out of this world Pretzel Pizza.
Get ready to have your mind blown.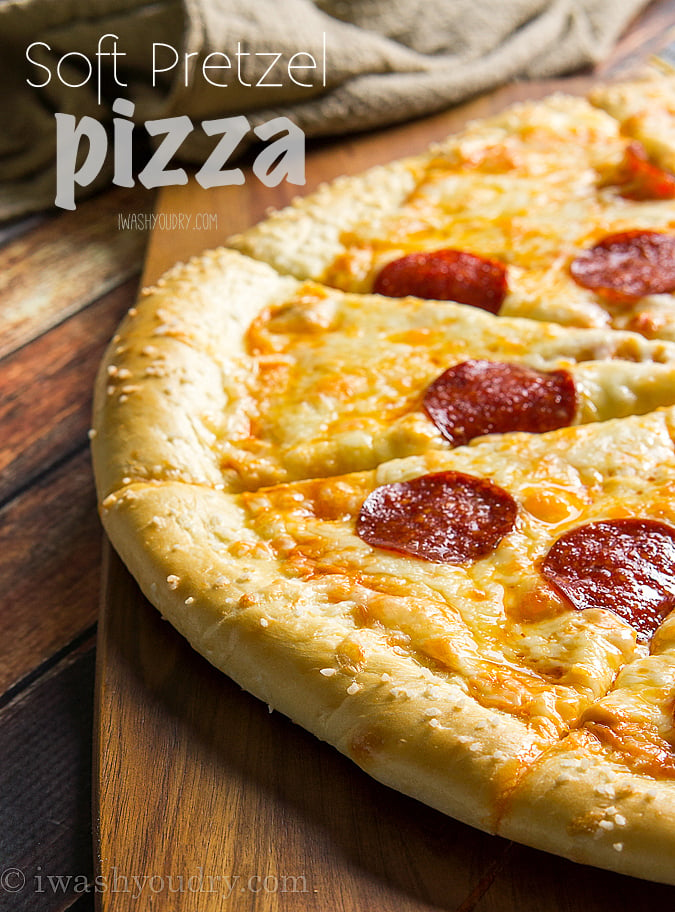 I should be sitting at home right now, preferably in my Lucky Charms pajama pants, snuggling with my kiddos.
Unfortunately, I am at the airport waiting for the next flight home. This past weekend I flew off to Nashville for the 47th Pillsbury Bake-Off (I'll share more about it later). I was scheduled to arrive home last night. One of my connecting flights encountered some mechanical issues, requiring us to leave later than expected, which resulted in me missing my final flight.
The last flight of the night to my small town.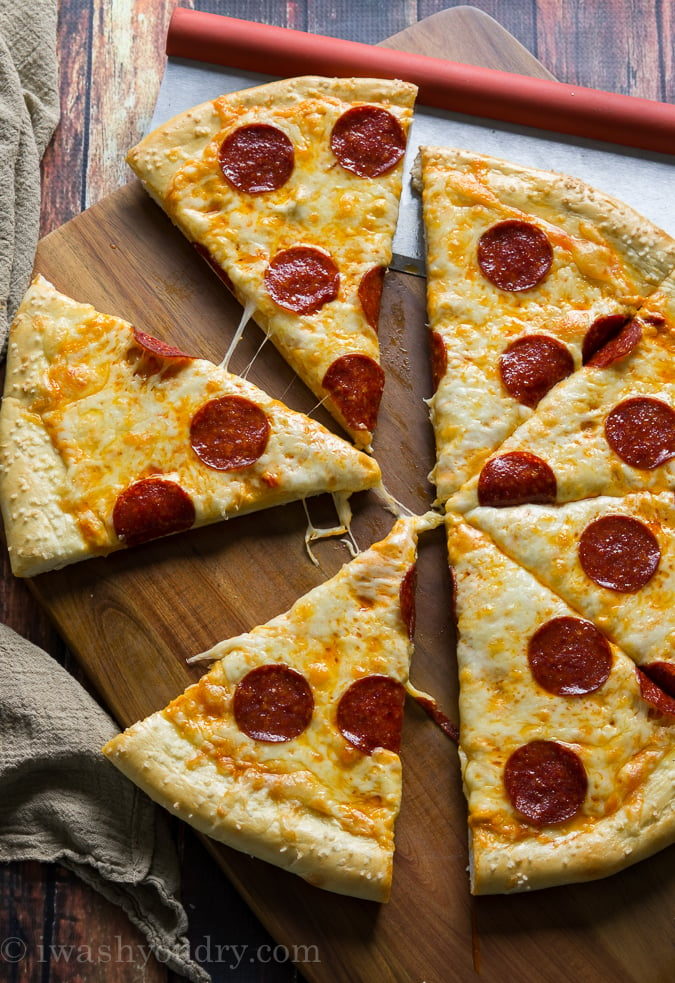 I had to spend the night in a hotel and wait for the next available flight. As I was sitting in my hotel last night, pouting about how I was going to have to wear the same clothes the next day, how I couldn't see my family, and how I had to spend the night in crumby hotel that was not The Omni…
I started thinking.
I thought about how blessed I was to not have encountered any terrible accident from a plane that did not receive the mechanical attention it needed. How thankful I was for a warm bed to sleep in at night and for somewhat clean clothes to wear the next day. Then I realized that I actually have so much to be thankful for.
So I stopped pouting, smiled, and went to bed, determined to have a better outlook on today.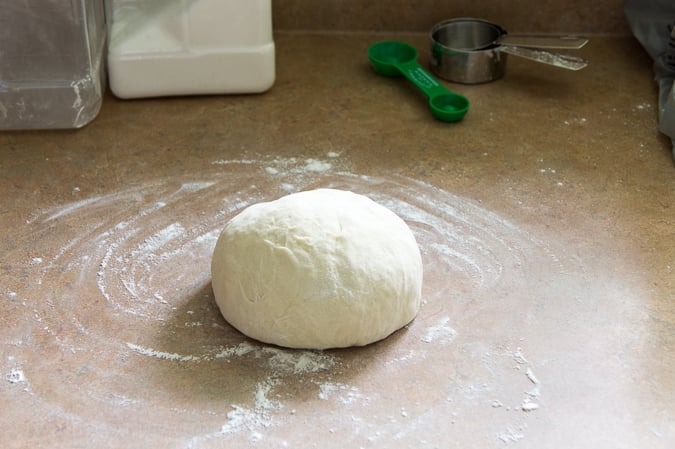 I think we should all take a few minutes each day this November and think about a few of the things we are blessed with, and be thankful for them.
Like… pretzel pizza. I'm thankful for it. It's amazing.
I took this soft pretzel dough recipe that I found over at Sally's Baking Addiction and transformed it into a soft and luscious pizza.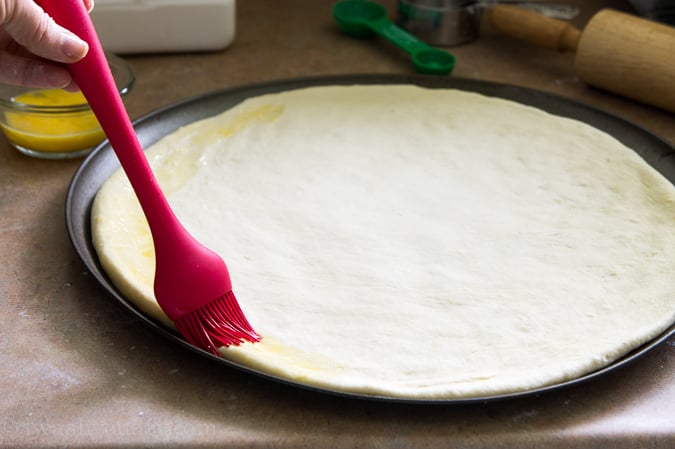 The dough is made with instant yeast, which makes this pizza come together in no time! I rolled out my dough and placed it on my pizza pan, then I brushed the crust with a lightly beaten egg. This will give the outer crust that nice chewy texture you get from those mall pretzels.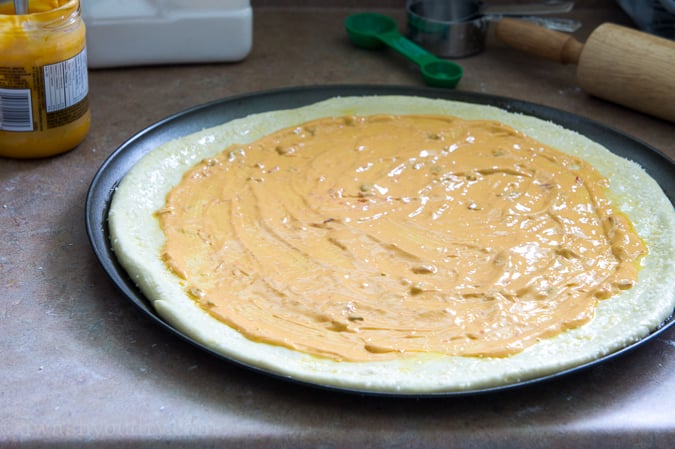 I sprinkled the crust with some coarse salt… because, well pretzels need salt!
Then, like any other crazy pretzel lover, I smeared a bunch of jarred queso dip (aka- nacho cheese sauce) in place of the pizza sauce.
It works people. Trust.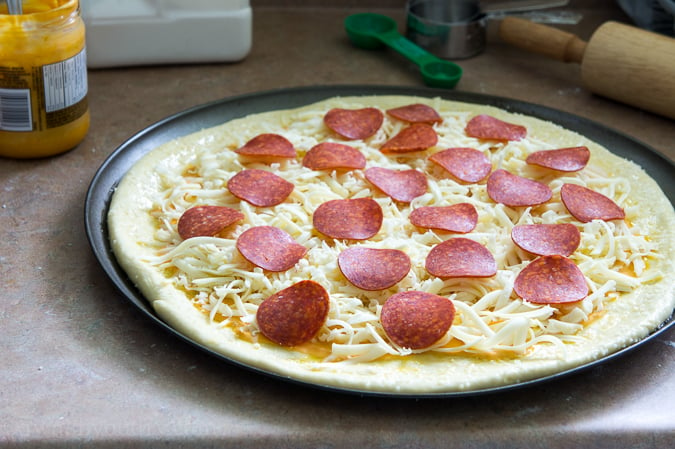 Top the pizza with the rest of your normal pizza toppings – freshly shredded mozzarella and sliced pepperoni!
Then go ahead and pop it in the hot oven to get nice and bubbly.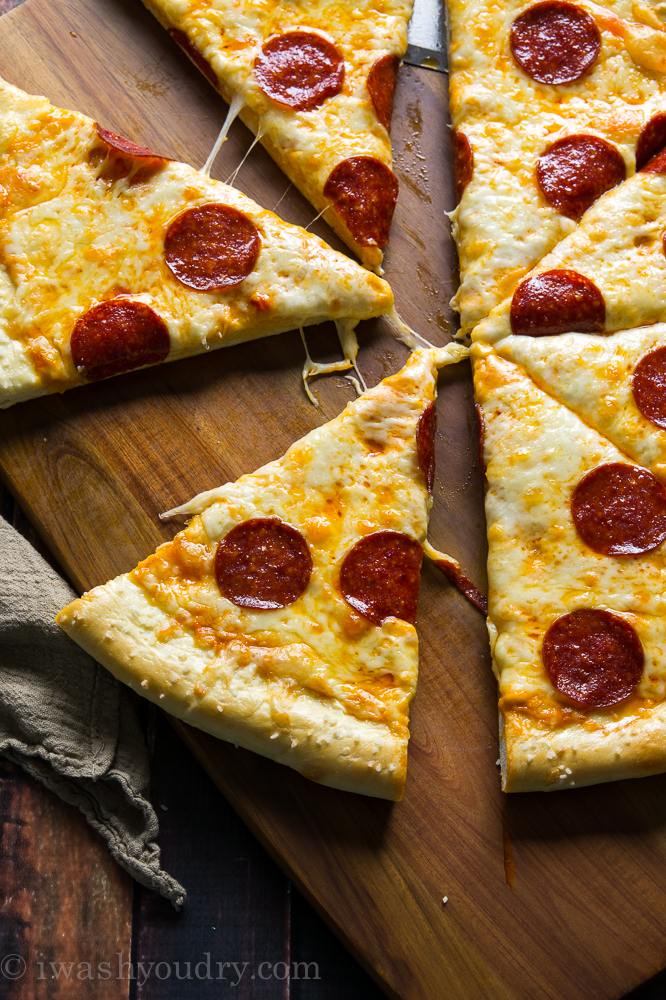 I actually called my husband at work and told him he needed to come home immediately to try this pizza.
After missing the Pizza Cake (twice), he bolted home as fast as he could.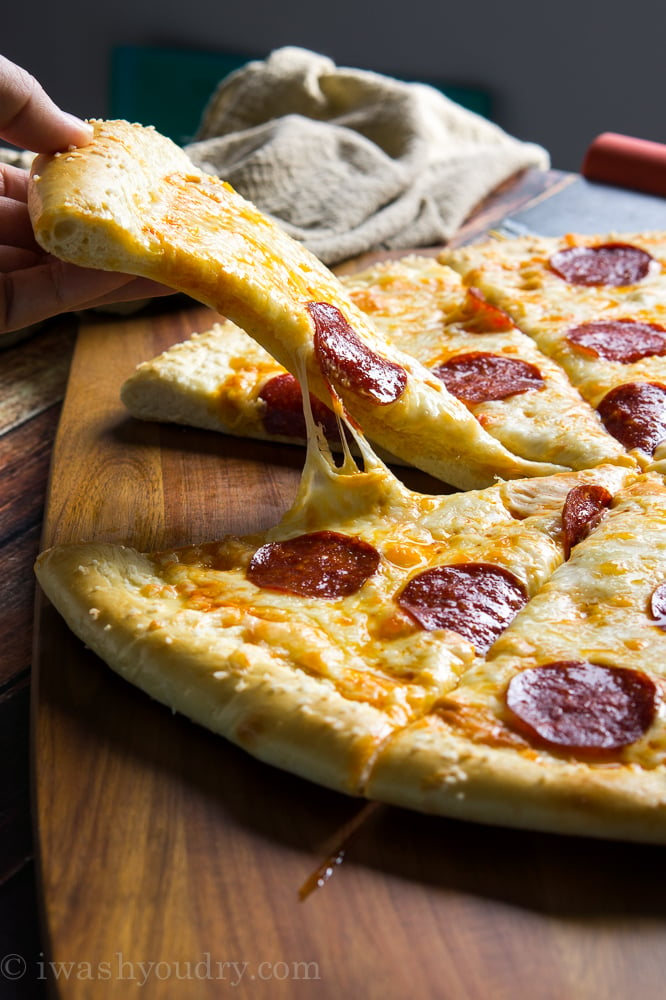 He was extremely happy to taste the Pretzel Pizza. Then we equally scarfed down way more than we should have.
You're going to love this one!
Make sure you don't miss a thing! Follow I Wash You Dry here:
FACEBOOK | PINTEREST | GOOGLE+ | TWITTER | INSTAGRAM | BLOGLOVIN
Pretzel Pizza
Soft Pretzel Pizza combines two delicious favorites (pretzels and pizza) into one fantastic dish!
Ingredients
For the Dough:
1 1/2

cups

warm water

1

packet

active instant yeast

1

tsp

salt

1

tbsp

sugar

3 3/4 - 4 1/4

cups

all purpose flour

1

large

egg

,

lightly beaten

1

tbsp

salt,

coarse
For the Pizza:
1

cup

queso dip

,

nacho cheese sauce

2

cup

mozzarella cheese

,

shredded

1/2

cup

pepperoni

,

sliced
Instructions
Preheat the oven to 425 degrees F.

Place the warm water (not too hold, but a little warmer than room temperature) in a large bowl and add the yeast. Stir with a spoon until the yeast is mostly dissolved, for about a minute (some clumps may remain).

Add the salt and sugar then stir for an additional 30 seconds.

Add 3 cups of flour, one cup at a time, mixing with a sturdy wooden spoon until the dough is thick and sticky. Add an additional 3/4 cup of flour and stir, until the dough is no longer sticky. Add more flour if needed. Poke the dough, if it bounces back, it's ready to knead.

Turn out onto a lightly floured surface and knead the dough for about 3 minutes.

Roll the dough out into a thin 15 inch diameter circle and place on pizza pan or pizza stone.

Brush the edges of the pizza crust with the lightly beaten egg, then sprinkle with the crust with the coarse salt.

Spread the nacho cheese in the center of the pizza, leaving the edge of the crust clear. Top with the shredded mozzarella cheese and sliced pepperoni.

Bake the pizza for 12 to 15 minutes or until the center of the pizza is bubbly and the crust is a golden brown. Let cool for just a few minutes before slicing. Enjoy!
Nutrition
Calories:
673
kcal
|
Carbohydrates:
101
g
|
Protein:
25
g
|
Fat:
17
g
|
Saturated Fat:
9
g
|
Cholesterol:
75
mg
|
Sodium:
1959
mg
|
Potassium:
263
mg
|
Fiber:
4
g
|
Sugar:
4
g
|
Vitamin A:
415
IU
|
Vitamin C:
1
mg
|
Calcium:
271
mg
|
Iron:
6
mg
Keywords:
mozzarella cheese, pepperoni, pizza, pretzel crust