Get ready for the ULTIMATE BREAKFAST!
Forget that trendy avocado toast, these Huevos Rancheros Breakfast Tostadas with Avocado Salsa Verde are where it's at!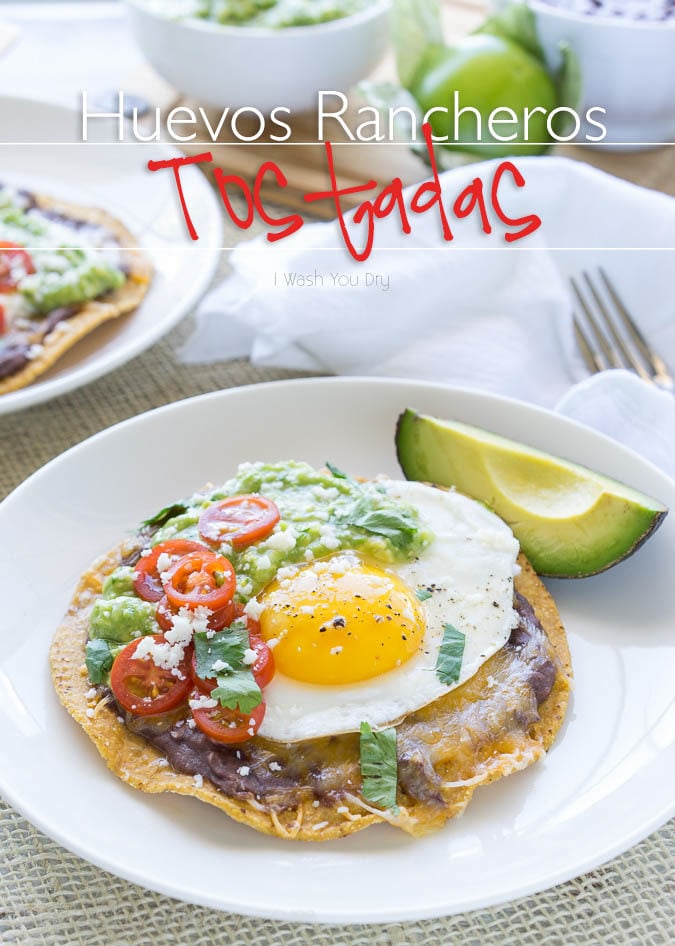 I know I just said to forget avocado toast, but I was being a bit dramatic.
Let's not forget avocado toast. Let's just embrace this tostada awesomeness with open arms.
These tostadas are like your average avocado toasts, but on steroids. But not in an intimidating way, just a more delicious way.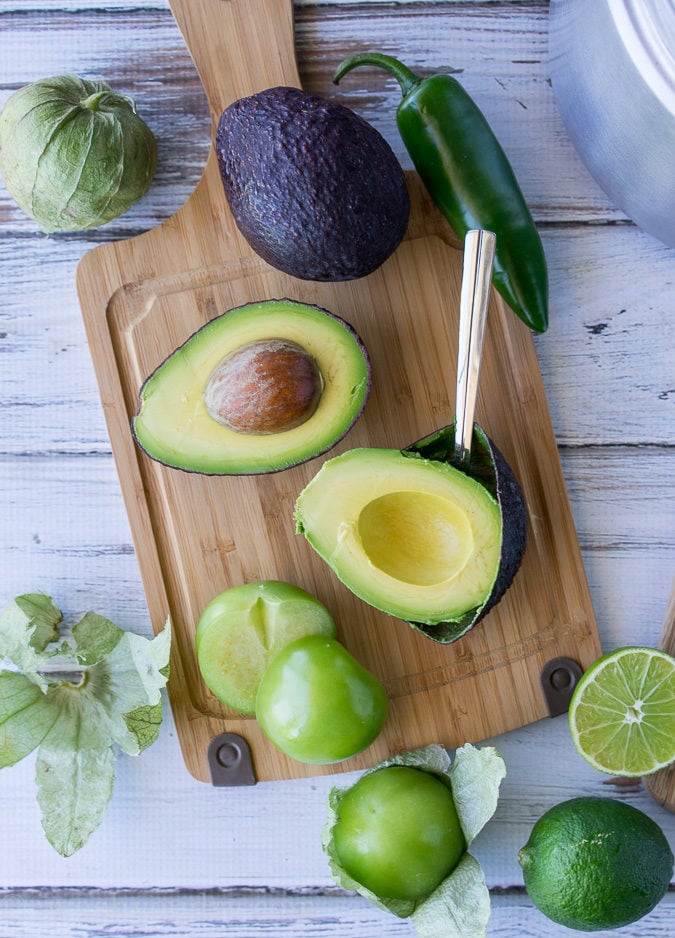 The best thing going on with this breakfast… Avocado Salsa Verde. Exclamation Point.
Those gorgeous California Avocados are the star in this super simple sauce. Check out all that green!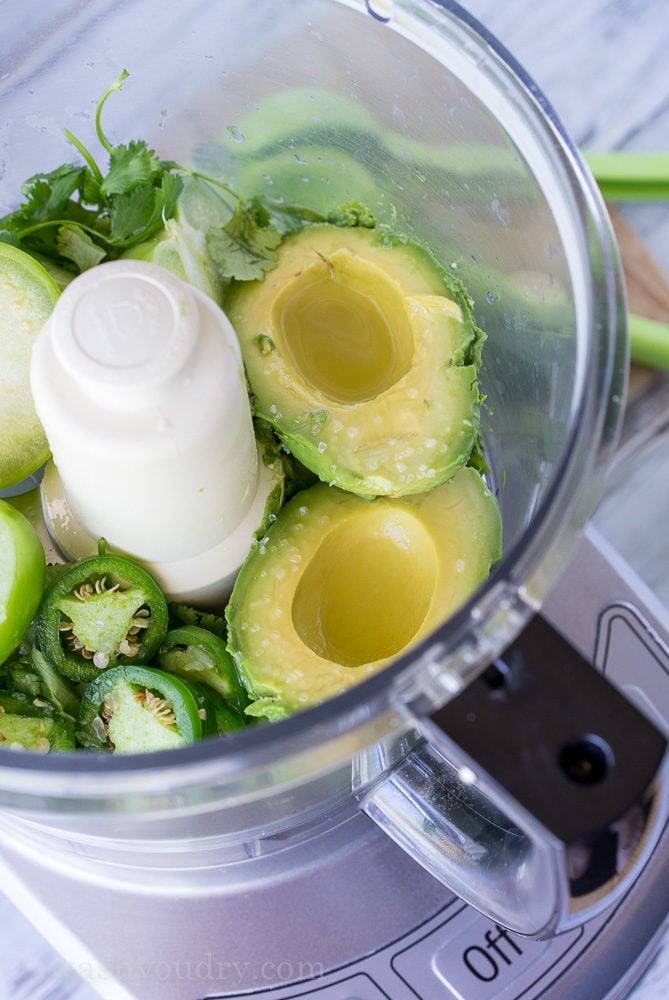 The sauce is full of avocado, jalapeño, tomatillos, cilantro, lime juice and salt. Suuuuuuuper simple.
Just toss it all in a food processor or blender and pulse a few times.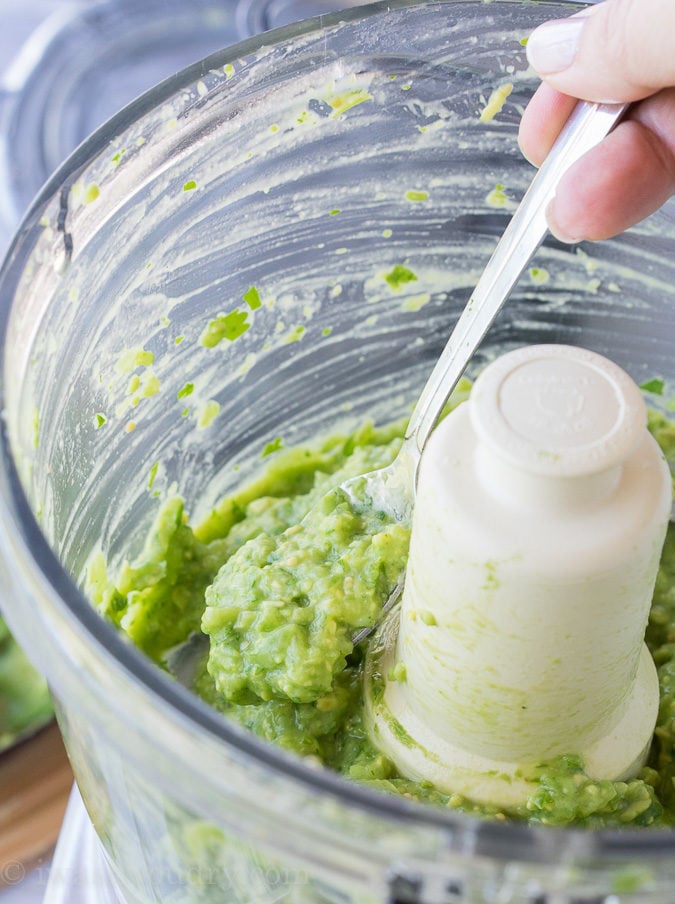 BAM! The tastiest sauce you've ever laid your eyes on.
Obvi it's great on top of eggs, but it's also totes fantastic as a chip dip, or in some saucy tacos. Just sayin'.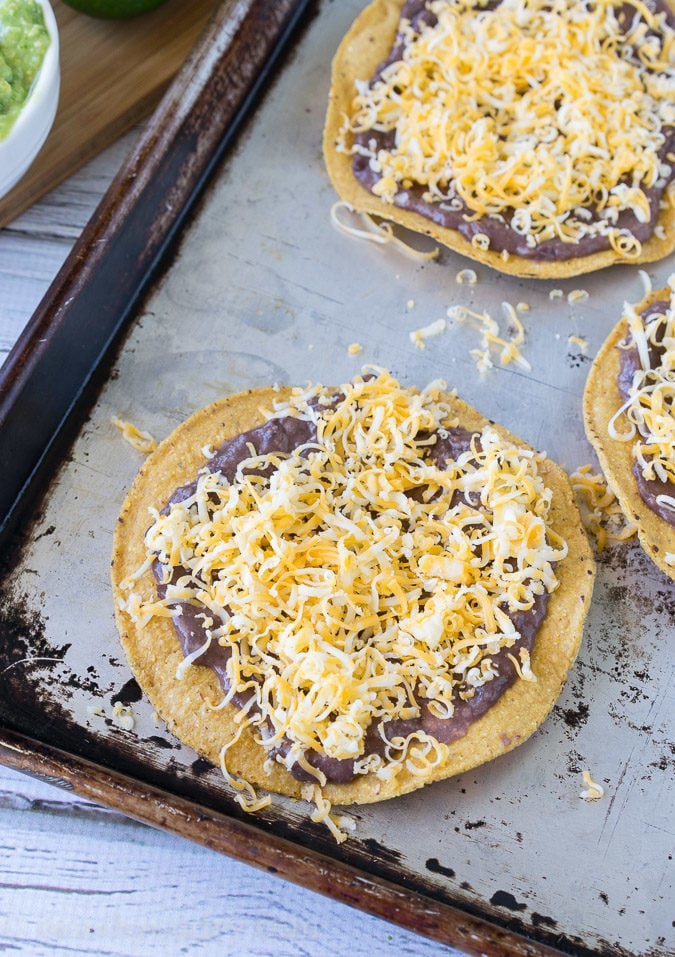 I already have a Huevos Rancheros Breakfast Sandwich recipe on my site (which is fab), but I've been making these tostadas a lot lately, and I neeeeeeeeded to share them with you.
Since our backyard chickens are pumping out eggs faster than we can consume, I'm all about bringing breakfast to the dinner table. That's how these happened.
Then they happened again. And again. And ag- you get the idea.
My husband is what some would call a connoisseur of Mexican food. So when I asked him how he liked these Huevos Rancheros he quickly replied that they are NOT Huevos Rancheros. 
Umm… yeah they are.
No. They are not.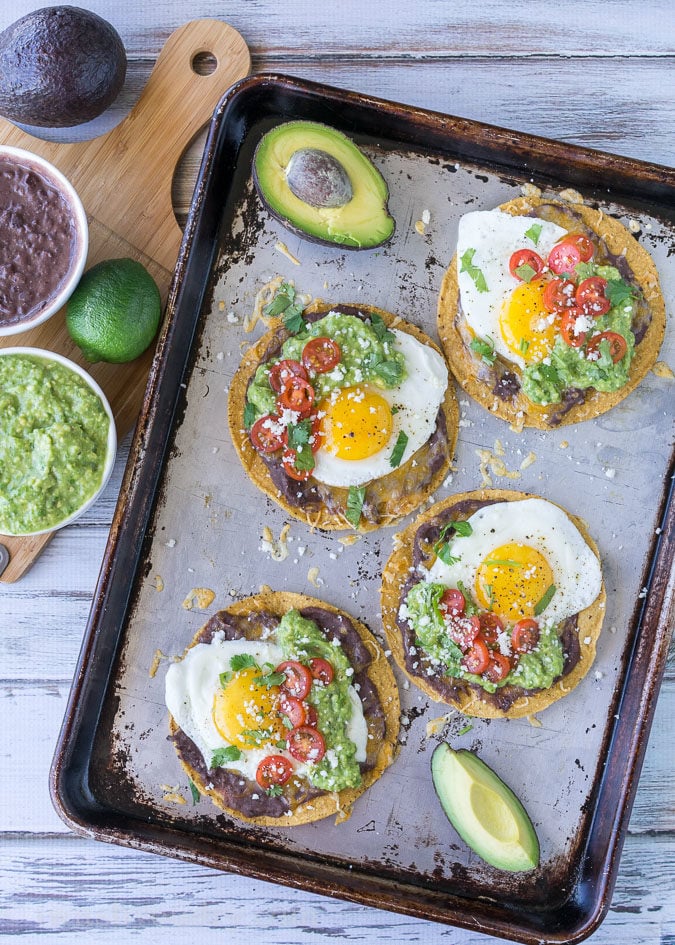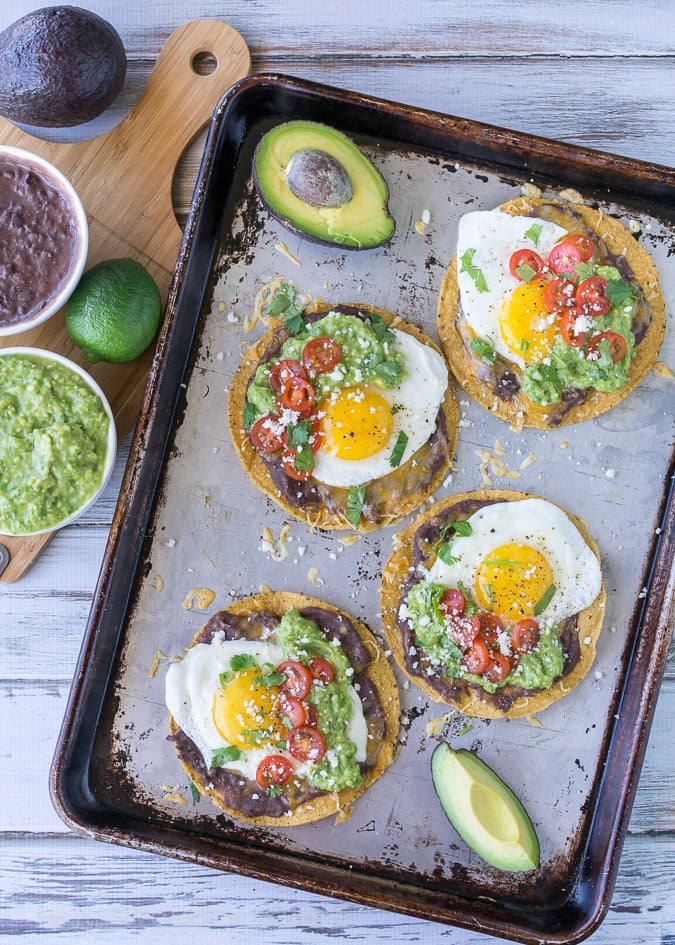 How are these not Huevos Rancheros?!
Because they are on a tostada. They are Huevos Rancheros Tostadas.
<Insert biggest eye roll. ever.>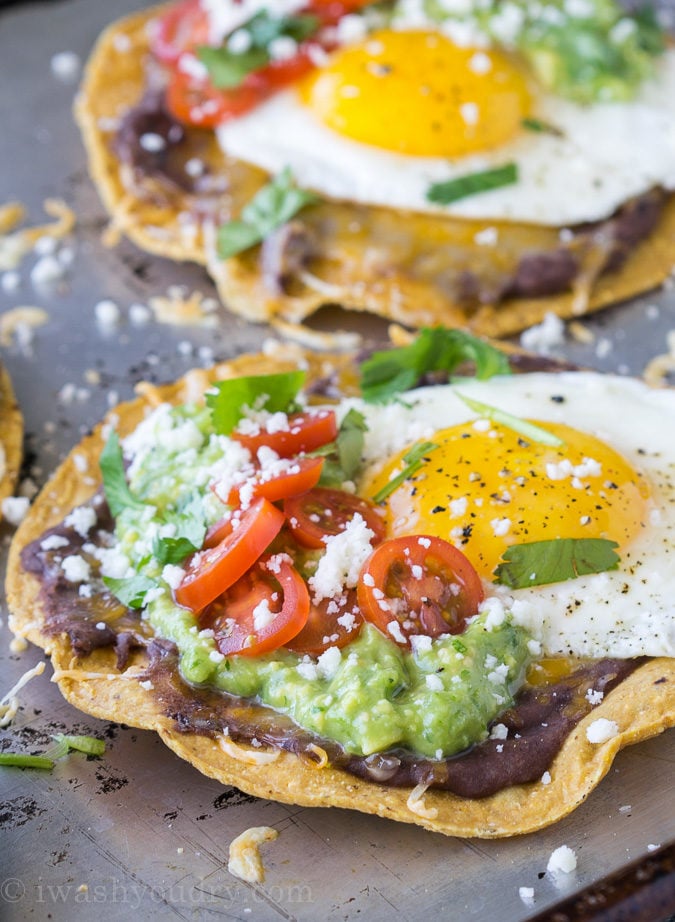 How do you like your Huevos Rancheros Tos-ta-da? 
It's really good. 
You guys… I can't even. This man.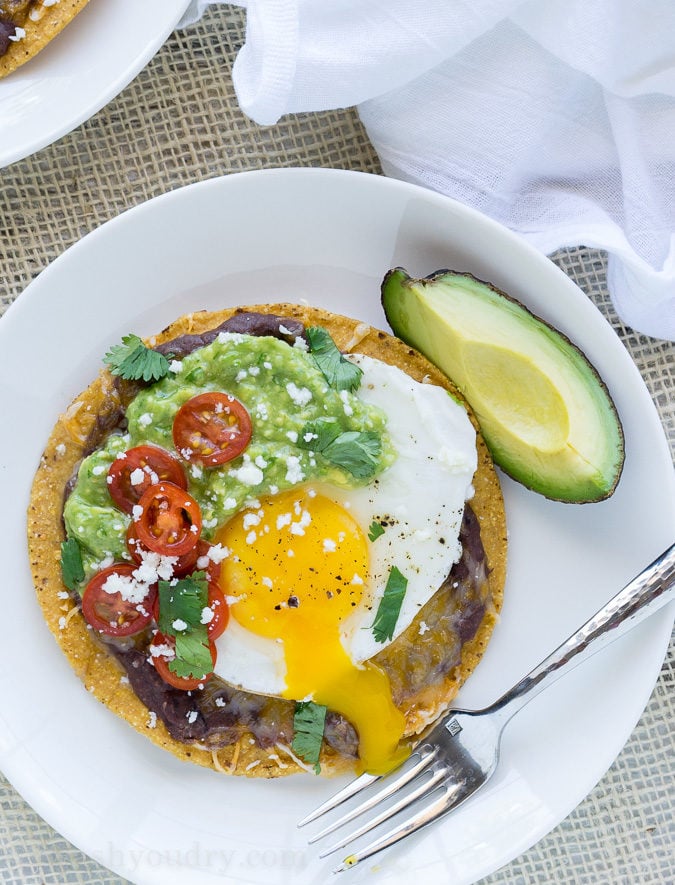 I love him to death. 😉
Just about as much as you're going to love these tostadas! Get it!
Make sure you don't miss a thing! Follow I Wash You Dry here:
FACEBOOK | PINTEREST | GOOGLE+ | TWITTER | INSTAGRAM | BLOGLOVIN
Print
Huevos Rancheros Breakfast Tostadas with Avocado Salsa Verde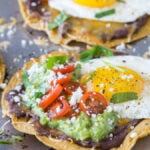 Scale
Ingredients
For the Avocado Salsa Verde:
2

medium tomatillos, husked and rinsed

1/2

jalapeno, sliced (seeds removed if you prefer less spice)

1

large California Avocado, peeled and pit removed

1/4 cup

cilantro leaves, packed

1/2

lime, juiced
salt to taste
For the Black Beans:
1

(14.5 oz) can black beans, mostly drained

1/2 tsp

each: Chili Powder, Garlic Powder, Cumin

1/2

lime, juiced
pinch of salt
For the Tostadas:
8

crunchy corn tostada shells

1 cup

finely shredded cheddar cheese

8

eggs
salt and pepper
cotija cheese
fresh cilantro
sliced cherry tomatoes
Instructions
For the Avocado Salsa Verde:
Combine all the ingredients in a food processor or blender and pulse a few times, until mixture is mostly combined, but still slightly chunky. Set aside. (can be made up to a week ahead of time, store in an air-tight container in the fridge)
For the black beans:
Combine all the ingredients in a food processor or blender and blend until smooth. These can be made up to 4 days ahead of time. (store in an air-tight container in the fridge)
For the Tostadas:
Preheat oven to 400 degrees F. Line a large baking sheet with tinfoil and lightly spray with cooking spray. Place the tostada shells in an even layer on the baking sheet.
Spread about 1 to 2 tablespoons of the black bean mixture over the top of each tostada, then sprinkle with a couple tablespoons of shredded cheese. Bake for 3 to 5 minutes, or until cheese is melted.
Meanwhile cook your eggs to your preference. The eggs pictured are "sunny side up." Lightly coat a skillet with non-stick spray and heat over medium-high heat. Crack the egg into the skillet, season with salt and pepper, and cook for 2 to 3 minutes, until whites have set and yolk is still runny.
Place cooked eggs on top of the hot tostadas, top with the avocado salsa verde, sliced tomatoes, fresh cilantro and a little cotija cheese. Enjoy!
Notes
The Avocado Salsa Verde and Black Beans can be made ahead of time and stored in the fridge for a quick weekday breakfast!
disclaimer: This post is in partnership with California Avocado Commission. All thoughts and opinions are 100% my own. Thank you for supporting the brands that help make I Wash You Dry possible. 
You May Also Like: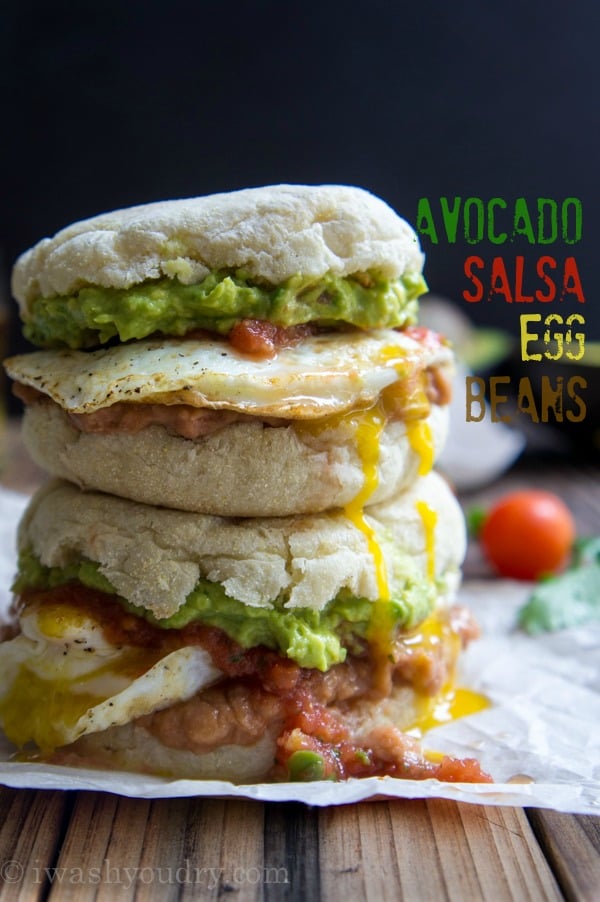 Huevos Rancheros Breakfast Sandwiches