These cheesy Crispy Queso Bites are like inside out nachos! Crunchy tortilla coating a molten lava cheese filling that you can pop in your mouth and enjoy!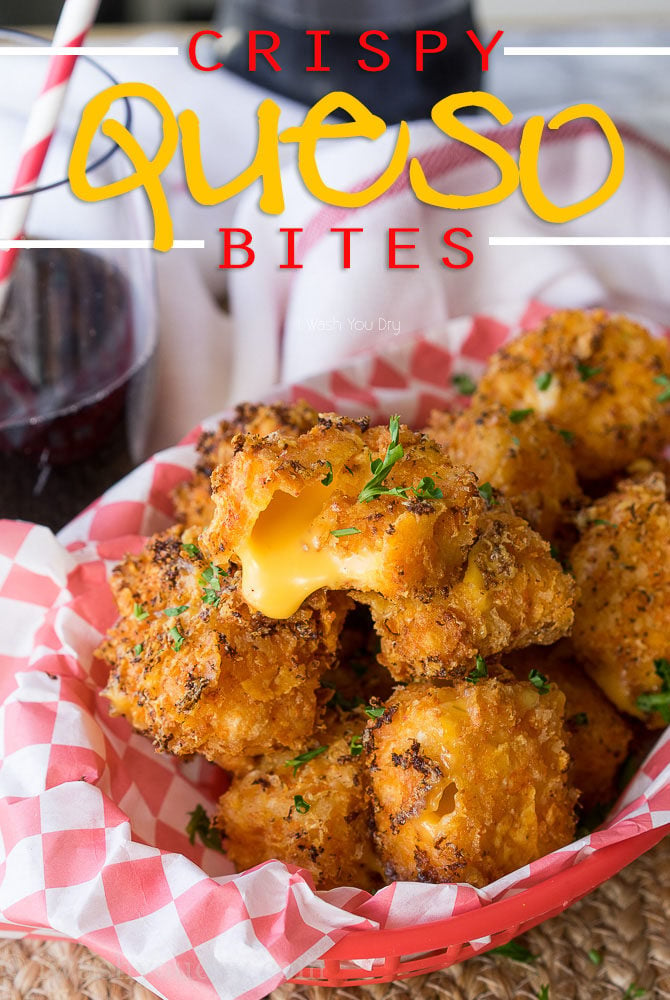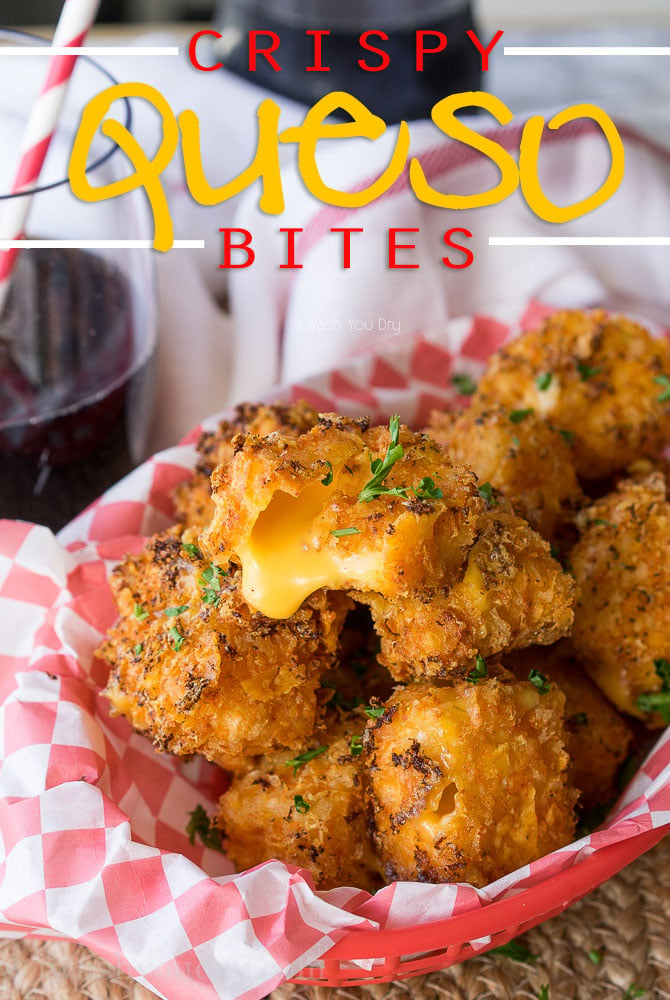 Oh my gosh, you guys! I am seriously obsessed with these cheesy little queso bites! This recipe was another brain child of my wandering the aisles of the grocery store late at night, while hungry.
Why do I always end up at the grocery store when I'm bored?! I need a life.
But on the other hand, it helps me to come up with these outrageously delicious snacks… so…. hashtag winning!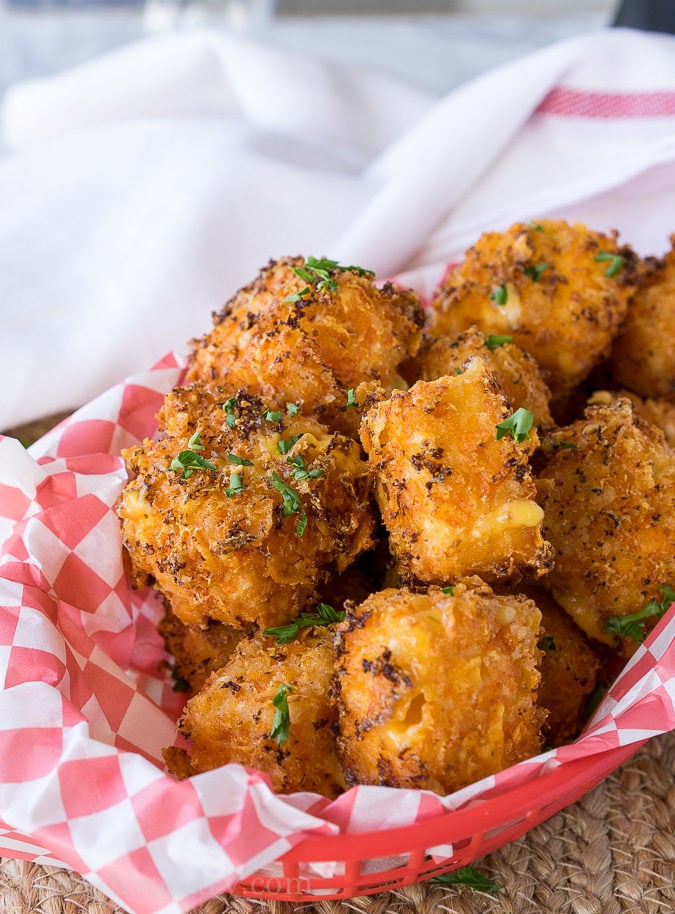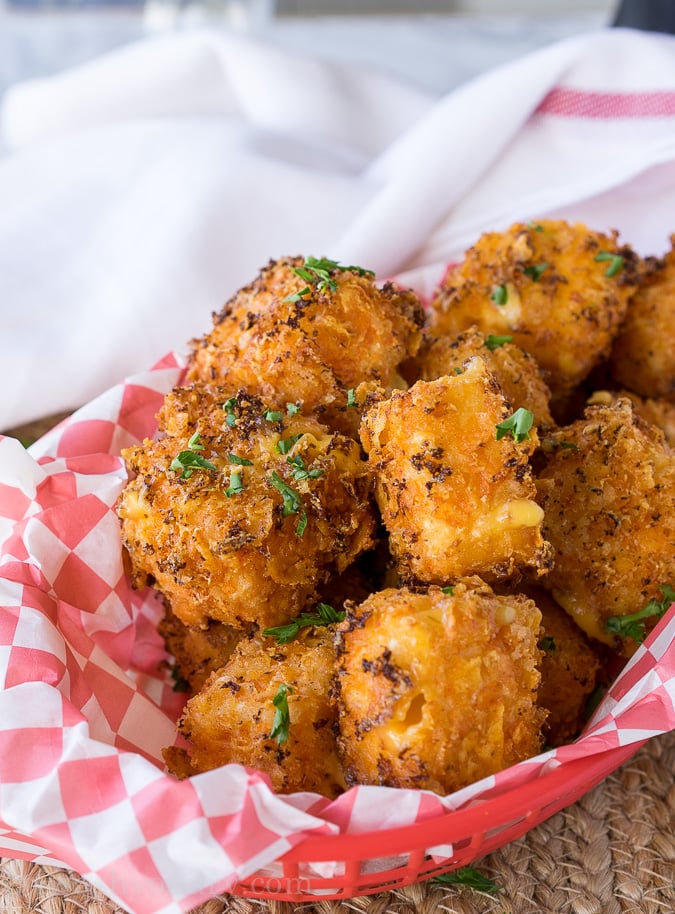 Anyways, with football season in full swing, I'm always looking for the next best thing to serve during the games. I've got a thing for cheese, and chips, so I thought, why not combine the two!
Just watch how easy these bites are to make!
Nachos have been done before. So this is sort of like a reverse nacho!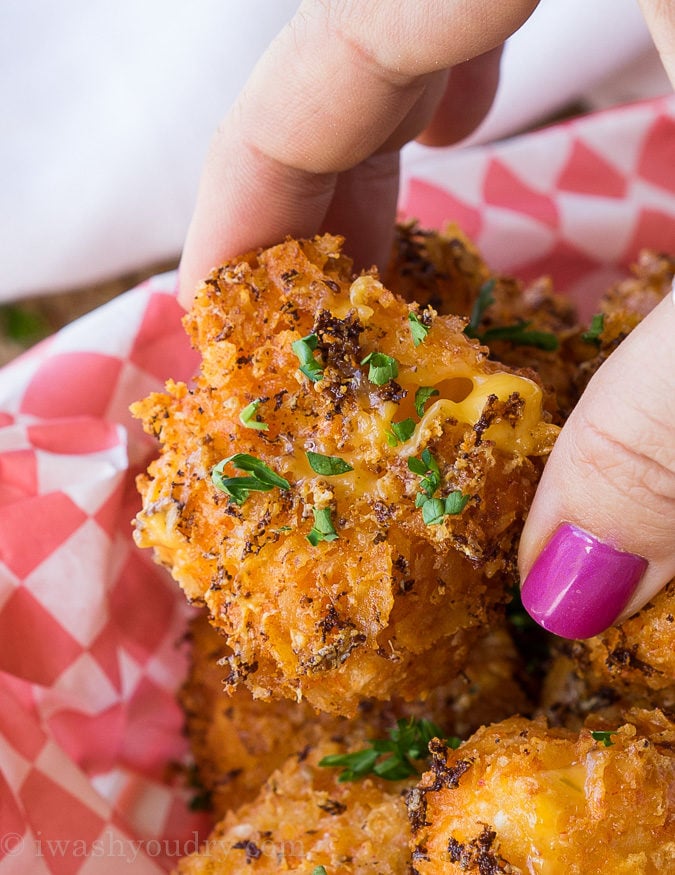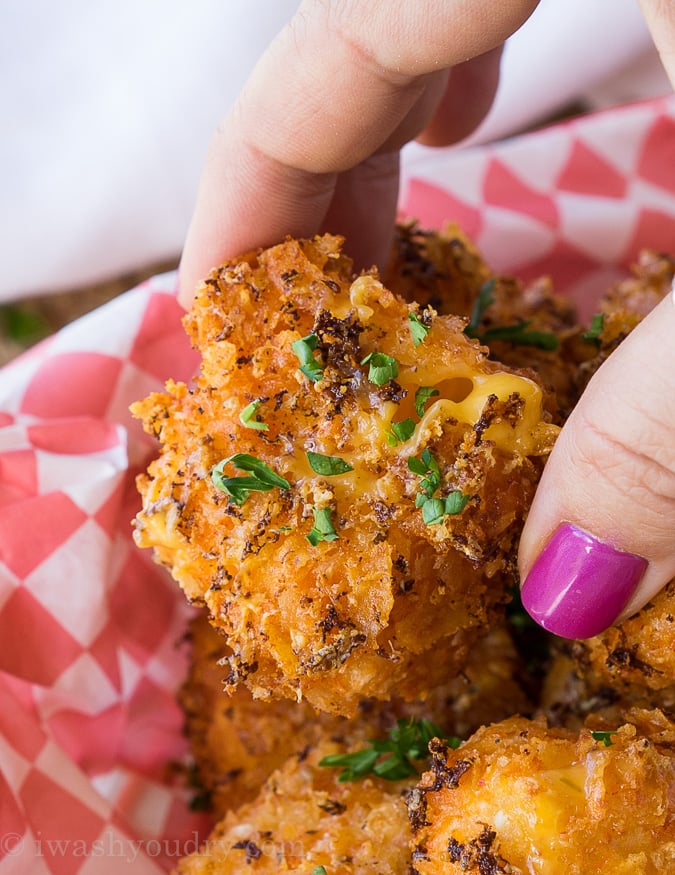 I took some nacho cheese Doritos, crushed them up and used them as a coating to cover some Mexican Velveeta cheese. That's the type of cheese that has the peppers in it, making it taste just like queso, straight out of the box.
All that gooey, melty cheese is just calling your name!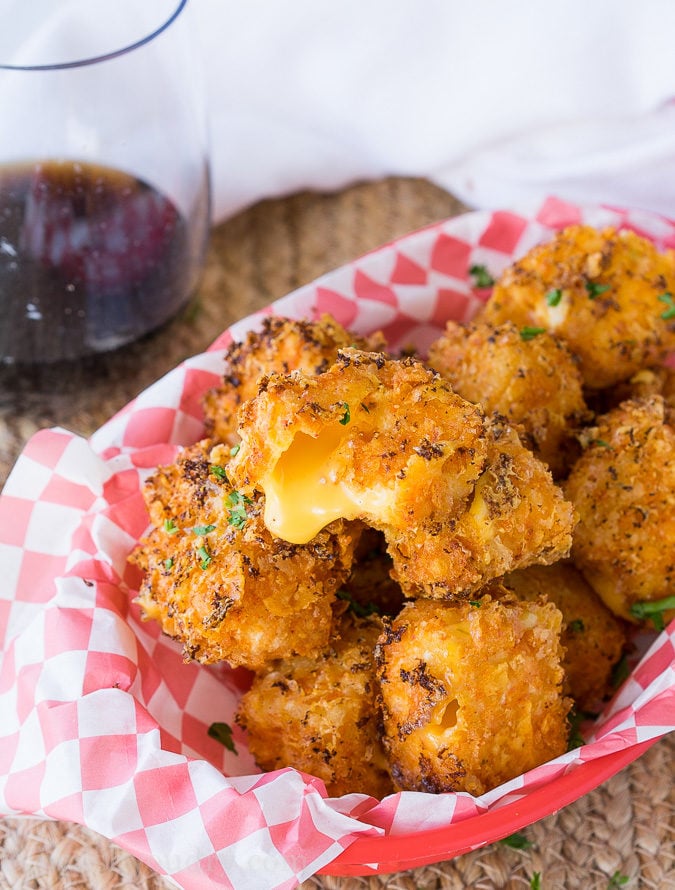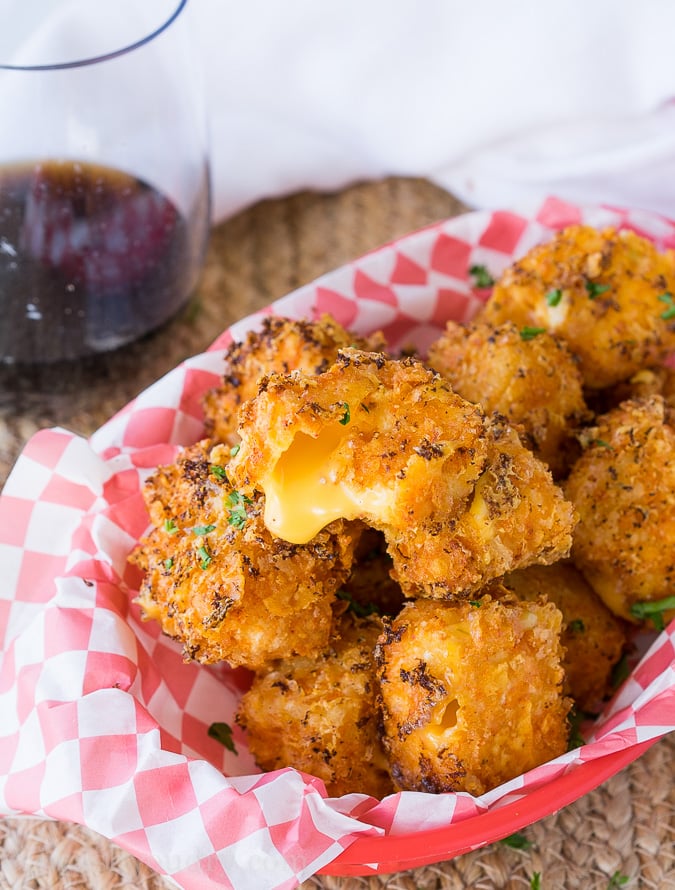 I'm sure you could bake these in the oven if you're not interested in frying them.
I actually reheated the already fried ones in the oven for when we had company over and they turned out great! I'll put instructions on how to do that in the recipe below.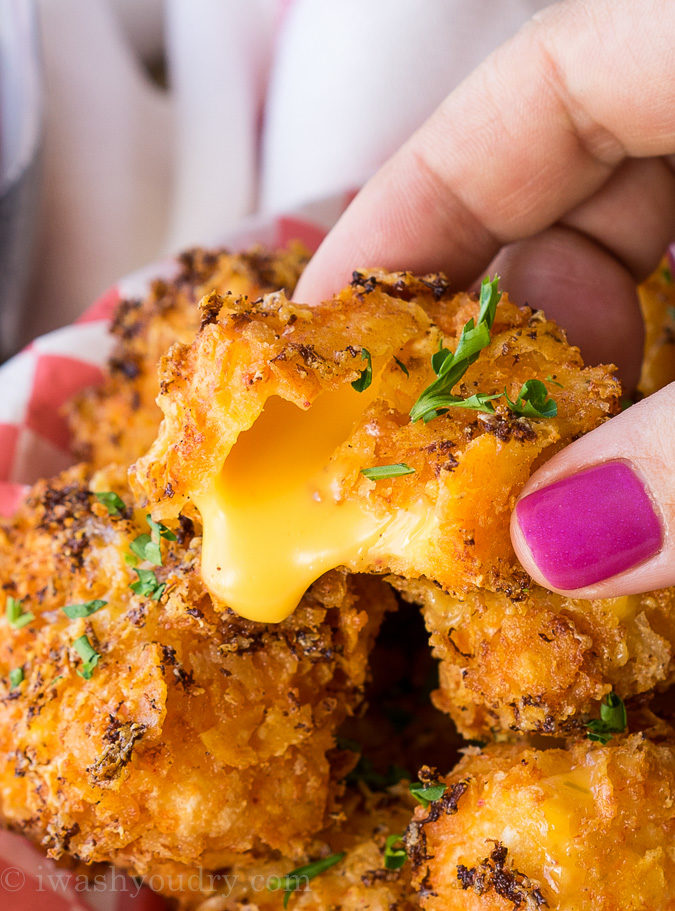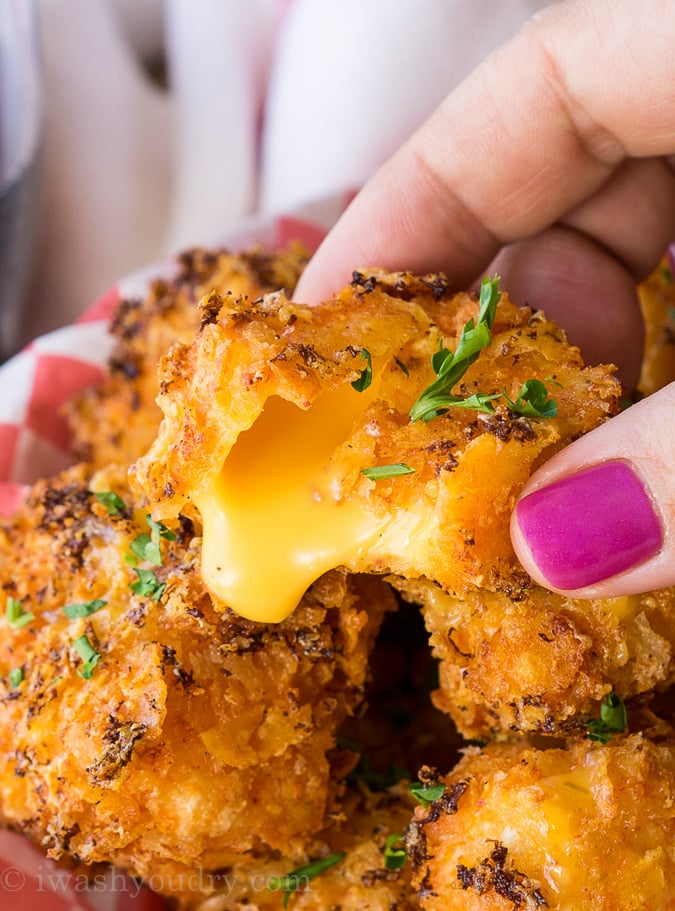 You're going to be the champion when you serve these crispy queso bites at your next party!
Make sure you don't miss a thing! Follow I Wash You Dry here:
FACEBOOK | PINTEREST | GOOGLE+ | TWITTER | INSTAGRAM | BLOGLOVIN
Crispy Queso Bites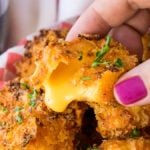 Ingredients
Vegetable or Canola Oil for frying
1 cup finely crushed nacho cheese tortilla chips
1 cup panko bread crumbs
16 oz. Mexican Velveeta Cheese, cubed into bite size pieces
3 eggs, lightly beaten
1 1/2 cups flour
1 tbsp freshly chopped parsley for garnish
Instructions
Heat the oil in a heavy bottomed pot or deep fryer to 350 degrees F.
Combine the finely crushed nacho cheese tortilla chips with panic bread crumbs in a shallow bowl and set aside. Place the lightly beaten eggs in another shallow dish, and the flour in another shallow dish. You should have three separate dishes lined up and ready to go.
Take each cheese cube and dip it in the egg, then coat it with flour, then dip it in the egg one more time, followed by the bread crumb mixture. Set the cheese cubes on a lined tray until you're ready to fry them, or freeze and fry later.
Carefully place the cheese cubes in the oil, a few at a time, and cook until golden brown. Some cheese might ooze out, but there is still plenty of cheese inside the cube. Place fried cubes on a paper towel lined plate to drain. Sprinkle with chopped parsley and enjoy right away.
Notes
BAKE INSTRUCTIONS: Place cheese cubes on a foil lined baking tray and spray generously with non-stick spray. Bake @ 425 degrees for 10 to 12 minutes, or until golden brown on outside.