Creamy Pineapple Sorbet is full of fresh pineapple with just a hint of cream to give it an ultra luscious texture that just melts in your mouth!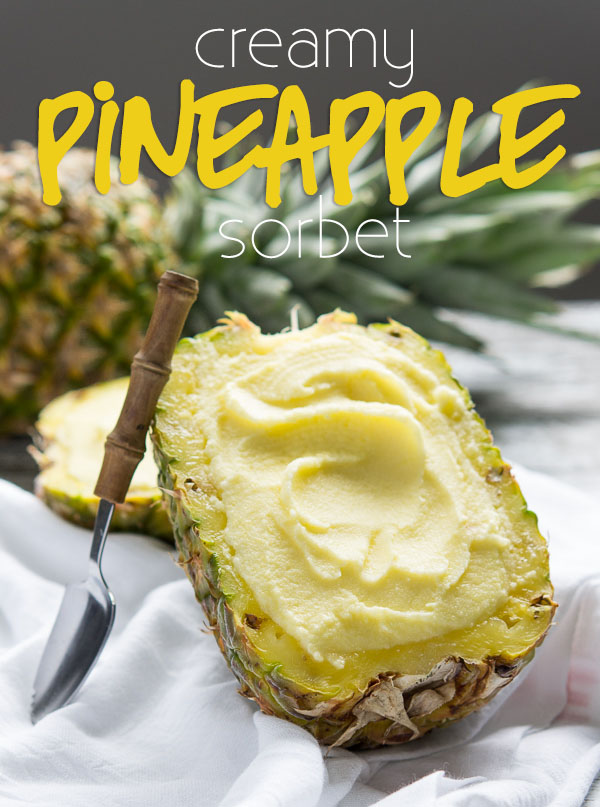 Creamy Pineapple Sorbet does require the use of an ice cream machine, so make sure your bowl is fully frozen before you start to make this recipe.
A couple weeks ago I was in the grocery store and overheard some people near the freezer section talking about these fruit sorbets, and how excited they were that they were back in stock. I had to see what all the fuss was about so I picked up a box and we tried them out.
Yup, definitely delicious. The neat thing about them is that each flavor is served inside it's respected fruit shell. There is a lemon, an orange, a coconut, and a pineapple. I'm pretty sure my kid's favorite is either the pineapple (because it's so large), or the coconut (because they get to keep half of a coconut shell as a toy). Don't ask.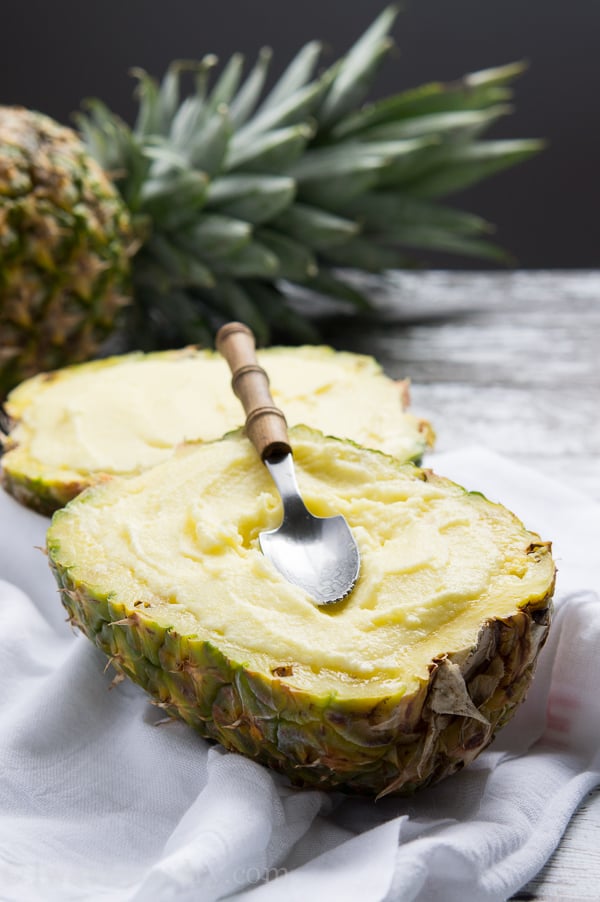 I simply adore the pineapple sorbet. It's creamy and smooth and full of sweet pineapple flavor. I just had to recreate it. So I did!
You obviously don't have to serve it in the pineapple shell, and if I'm going to be completely honest – it was a pain to hollow out the pineapple. I have one of these awesome pineapple corers and slicers, so it would have taken me less than a minute to get all the pineapple out, but because I wanted to put it in the pineapple it took me like 10 minutes to dig it all out. Ain't nobody got time for that.
Seriously, buy a pineapple corer – you'll eat fresh pineapple more often. 🙂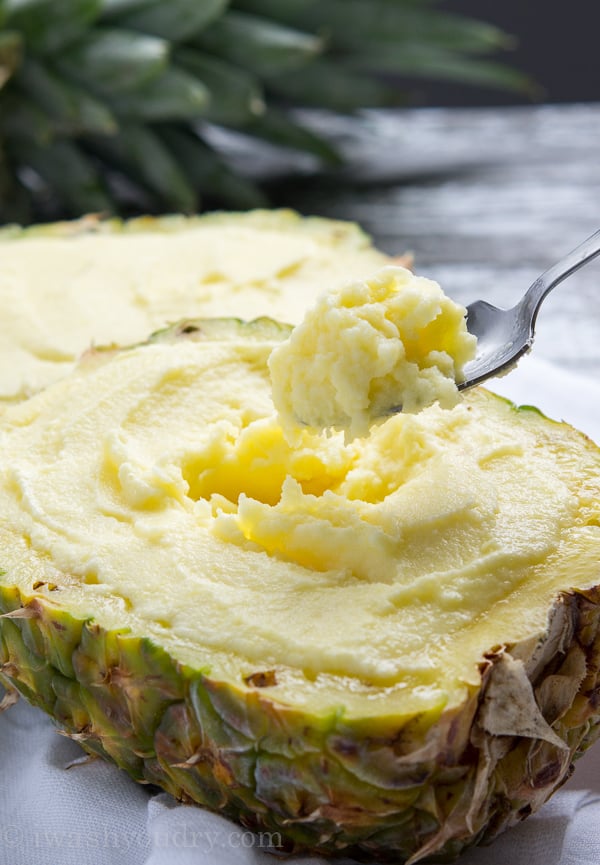 And if you eat pineapple more often then you'll want to make Creamy Pineapple Sorbet.
Definitely make it, your family will love this creamy and cool treat!
Make sure you don't miss a thing! Follow I Wash You Dry here:
FACEBOOK | PINTEREST | GOOGLE+ | TWITTER | INSTAGRAM | BLOGLOVIN
Creamy Pineapple Sorbet
Ingredients
2

cups

fresh pineapple chunks

6

tbsp

sugar

1/4

cup

water

1/4

cup

whipping cream

1

tsp

lemon juice
Instructions
MAKE SURE YOUR ICE CREAM MAKER IS FROZEN AND READY TO GO

Place the pineapple chunks in a food processor or blender with the sugar and water. Process until smooth and no longer chunky. Pour in the whipping cream and lemon juice. Pulse just a few times to incorporate. Refrigerate for 1 hour.

Pour the refrigerated pineapple mixture into your ice cream maker and process according to machine's instructions. Pour the pineapple sorbet into a freezer safe dish, cover and freeze for at least 2 hours or until desired consistency is reached. Enjoy!
Nutrition
Calories:
163
kcal
|
Carbohydrates:
29
g
|
Protein:
1
g
|
Fat:
6
g
|
Saturated Fat:
3
g
|
Cholesterol:
20
mg
|
Sodium:
7
mg
|
Potassium:
101
mg
|
Fiber:
1
g
|
Sugar:
26
g
|
Vitamin A:
267
IU
|
Vitamin C:
40
mg
|
Calcium:
20
mg
|
Iron:
1
mg
Keywords:
Creamy, freezer, pineapple, sorbet
Here are few more great ways to use your ice cream maker: