It is officially hotter than Hades here in Arizona.
And it's only going to get hotter.
Then I remembered that waaaaay in the back of my cupboard I had an ice cream maker.
So I did the logical thing and made frozen yogurt.
Fro-yo is my all time favorite frozen treat. I'm kind of weird like that.
Ice cream is just too creamy sometimes and leaves me begging for a glass of water, and a treadmill.
But Frozen Yogurt is the perfect blend of creamy and tart, and virtually guilt free.
So here's the thing, I love cherries, and chocolate. Chocolate covered cherries are amazeballs. My favorite guilty pleasure at DQ is their chocolate covered cherry blizzard. Have mercy. So when OXO graciously gave me their new Cherry Pitter to try out, I was more than happy to put it to the test.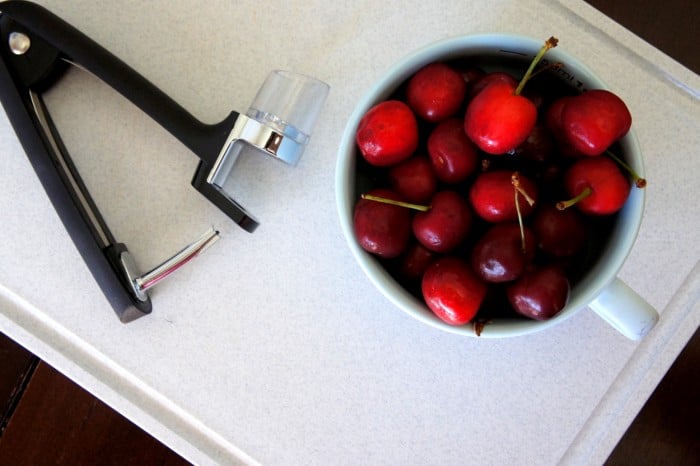 I have spent several summers with a paring knife trying to get around that little pit, only to end up with a giant mess and red fingers.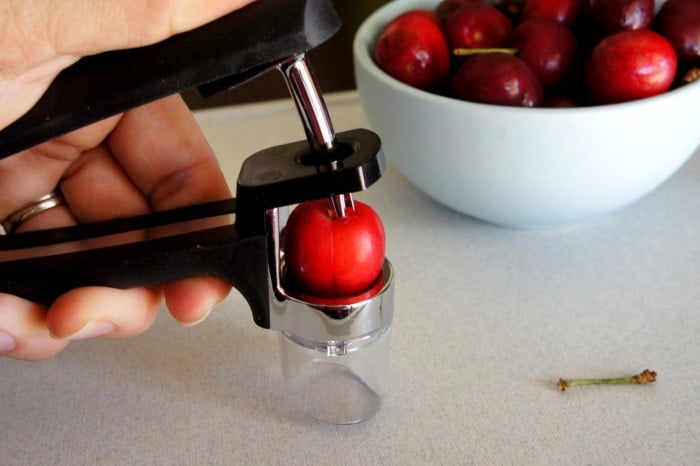 Using this neat little contraption saved me so much time. It was uber simple to manage and worked like a charm.
It's a definite must have for cherry season.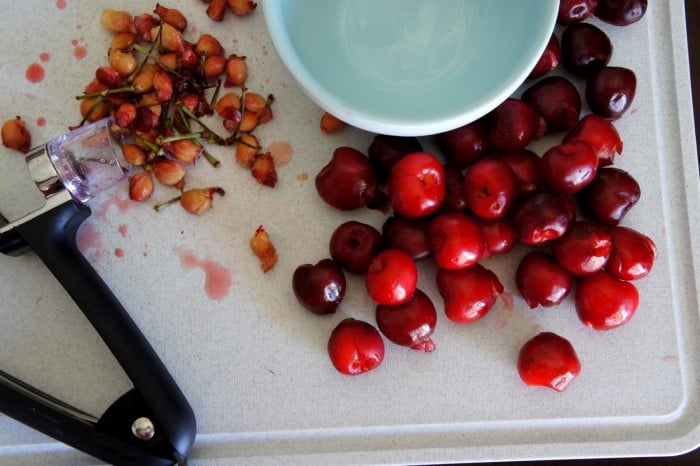 Now that I have this little tool, the cherry options are endless!
I desperately wanted to recreate my fave treat from Dairy Queen, but not feel so guilty about it, so that's what I did.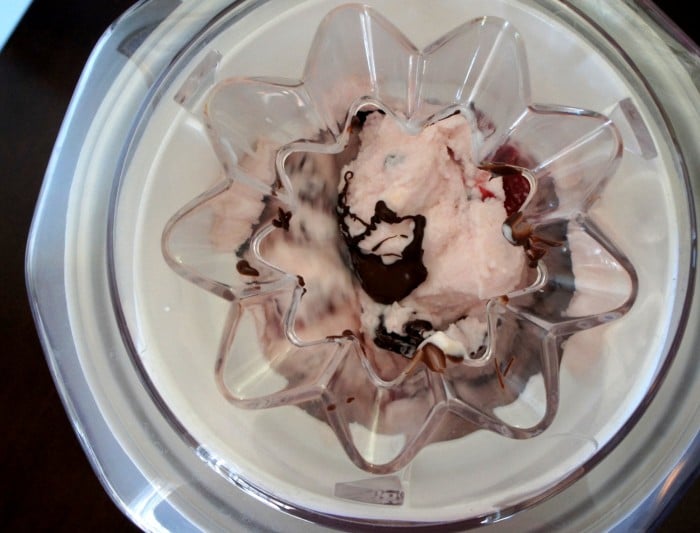 The secret to getting that thin stream of chocolate into your ice cream or frozen yogurt?
Melt down just 1/2 cup of dark chocolate and when the ice cream maker is almost done churning your frozen treat, drizzle it in the top and watch it freeze into thin strips and evenly distribute itself. Magical.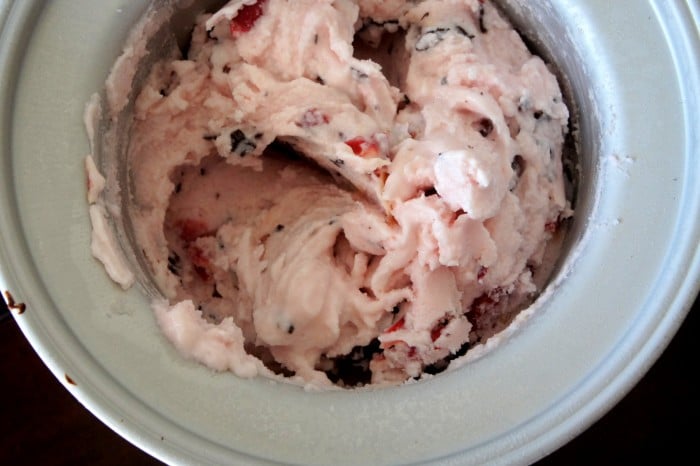 With big chunks of sweet cherry, and ribbons of dark chocolate, this frozen yogurt treat is the perfect way to cool off any day.
It's so hot right now.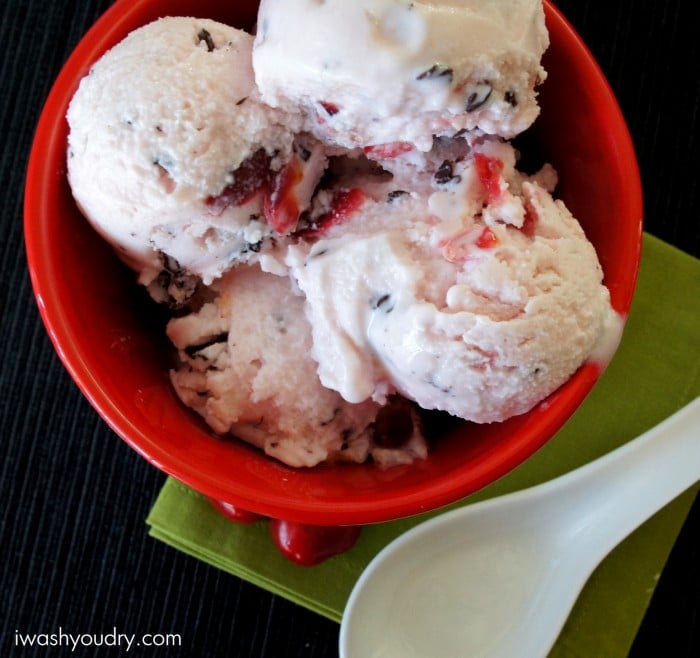 You need this.
You reeeeeeeeeally need this.
Dark Chocolate Covered Cherry Frozen Yogurt
This Dark Chocolate Covered Cherry Frozen Yogurt is the perfect blend of creamy and tart, and virtually guilt free.
Ingredients
1

cup

Cherries

,

pitted

1/2

cup

superfine sugar

3

tablespoons

light corn syrup

2

cups

plain low-fat yogurt

2

cups

plain Greek style yogurt

1/2

cup

dark chocolate chips
Instructions
Cut pitted cherries in half and place in a small saucepan over medium/high heat.

Add sugar and corn syrup to saucepan and stir. Let cook for 5 minutes, until the cherries have softened and the mixture bubbles slightly.

Remove from heat and let cool.

In a large bowl combine the two yogurts with a whisk. Add the cooled cherry mixture.

Follow your ice cream makers instructions to freeze the frozen yogurt.

Once the frozen yogurt is almost done, and still churning, melt down the dark chocolate chip in a microwave safe dish. Heat at 50% power for 30 seconds, stir, and repeat until the chocolate chips are smooth and lump free. Let cool slightly.

Drizzle into the ice cream maker slowly, while it's still churning the frozen yogurt.

Enjoy immediately for a soft serve treat, or place in the freezer for an additional 2 hours to enjoy a more ice cream textured treat.
Nutrition
Calories:
216
kcal
|
Carbohydrates:
32
g
|
Protein:
12
g
|
Fat:
5
g
|
Saturated Fat:
4
g
|
Cholesterol:
6
mg
|
Sodium:
58
mg
|
Potassium:
180
mg
|
Fiber:
1
g
|
Sugar:
29
g
|
Vitamin A:
44
IU
|
Vitamin C:
1
mg
|
Calcium:
157
mg
|
Iron:
1
mg
Keywords:
cherries, dark chocolate, frozen yogurt