This moist and delicious Cranberry Banana Bread Recipe is a festive and flavorful way to use fresh cranberries.
If you have leftover cranberries after making my Amazing Cranberry Sauce, this sweet bread what you want to use them in!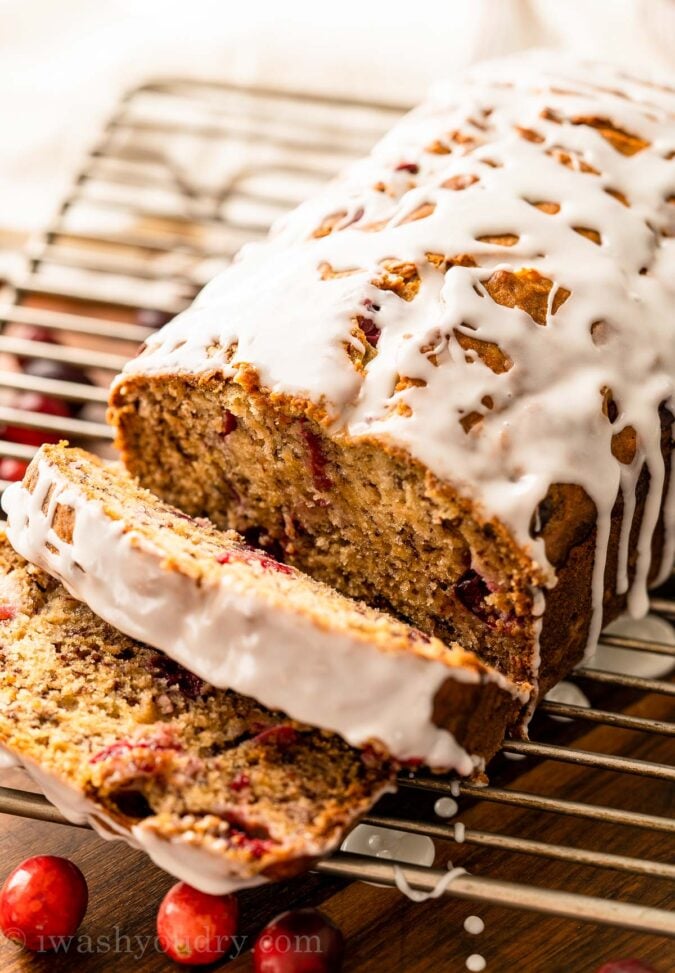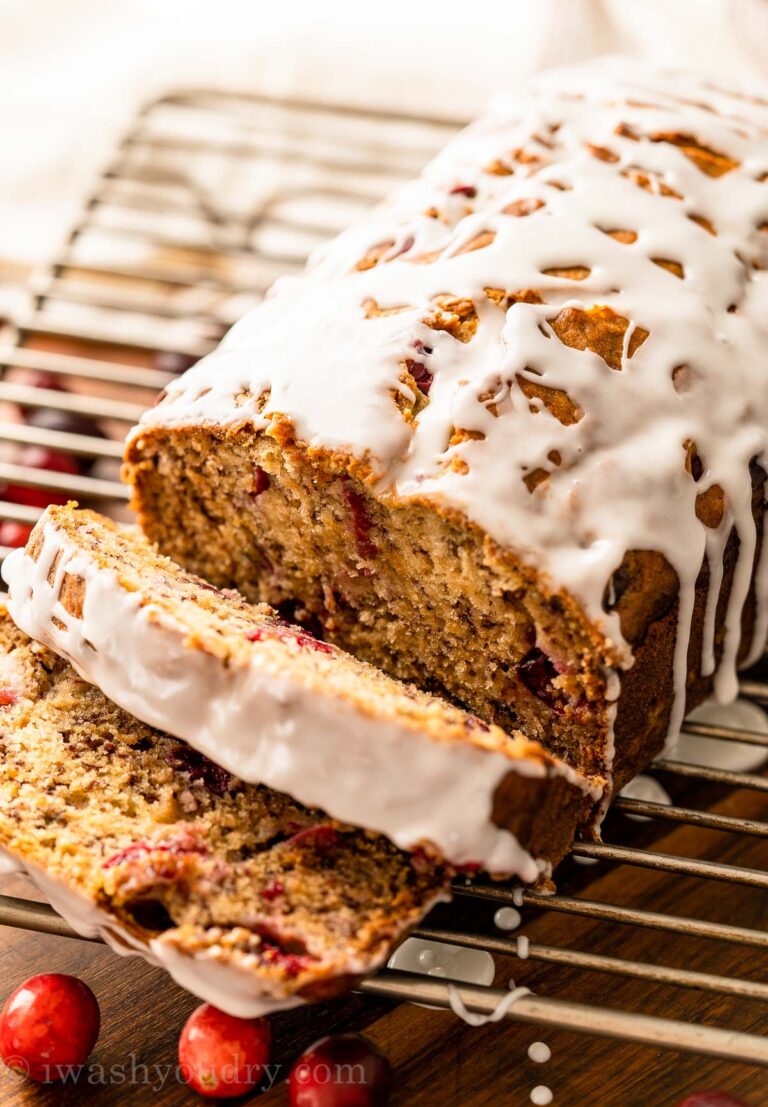 This moist banana bread recipe is a knock-off version from my Chocolate Chip Banana Bread recipe, which is a fan-favorite here.
I've swapped out the chocolate chips for fresh cranberries, added in a touch of orange zest and a dash of almond extract. It's all the flavors I love in the fall and winter months combined together.
Cranberry Banana Bread Recipe
The tart punch from the cranberries is perfectly balanced with the sweet orange zest and creamy flavor from the bananas.
Let your bananas get extra ripe and it will deepen the flavor and sweetness of the bread.
Ingredients Needed For Cranberry Banana Bread
Here's the basic list of ingredients you'll need in order to make this banana bread with cranberries. As always, you can find the full list of ingredients located in the recipe card below.
Ripe Bananas
Melted Butter
Sugar
Egg
Vanilla Extract
Almond Extract
Flour
Baking Soda
Orange Zest
Fresh, Frozen or Dried Cranberries – see below for substitutions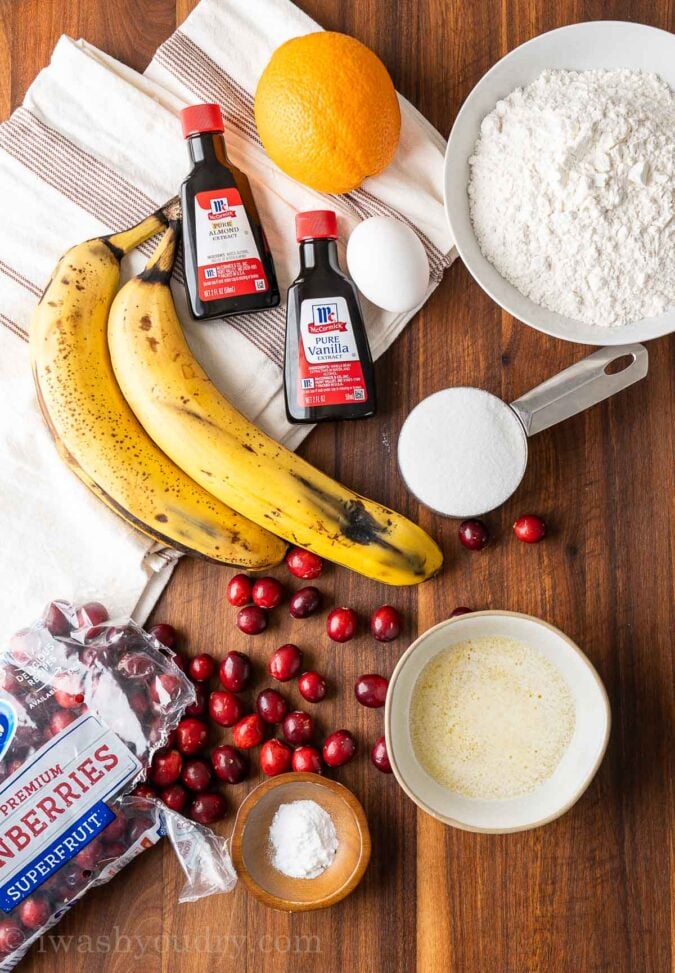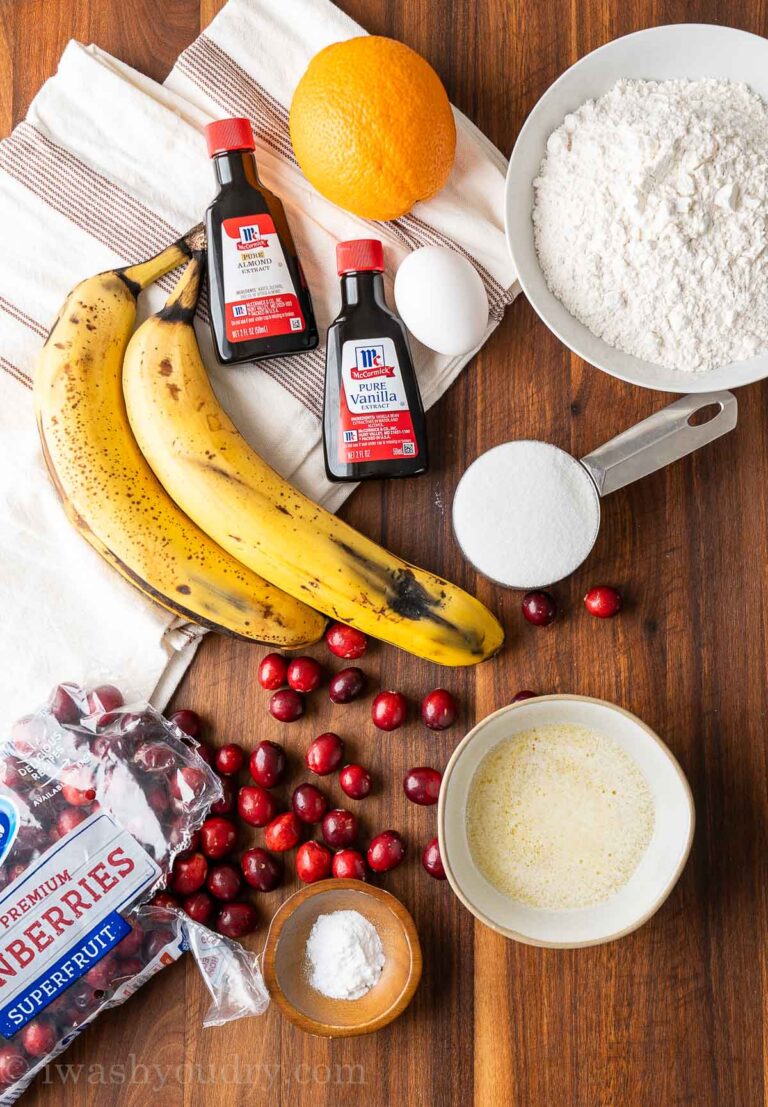 How To Make Cranberry Banana Bread
My favorite thing about this easy banana bread recipe is that it is all mixed together in ONE BOWL, with just a fork.
Yay for less dishes!
You'll be amazed at how quickly this recipe comes together and how wonderful your kitchen will smell while it's baking up.
MASH BANANA Start by mashing the ripe bananas in a large mixing bowl with a sturdy fork. Add in the melted butter, sugar, egg and extracts and mix until combined.
ADD DRY INGREDIENTS Pour your dry ingredients into the mixing bowl and use your fork to combine.
CRANBERRIES Finally, fold the fresh cranberries and orange zest into the batter and pour into a prepared 8″x4″ bread loaf pan.
BAKE Bake the bread at 350 degrees F. for 50 to 55 minutes, until toothpick inserted in center comes out clean.
MAKE SIMPLE ICING Drizzle a simple powdered sugar icing over the top to give the banana bread a little extra sweetness.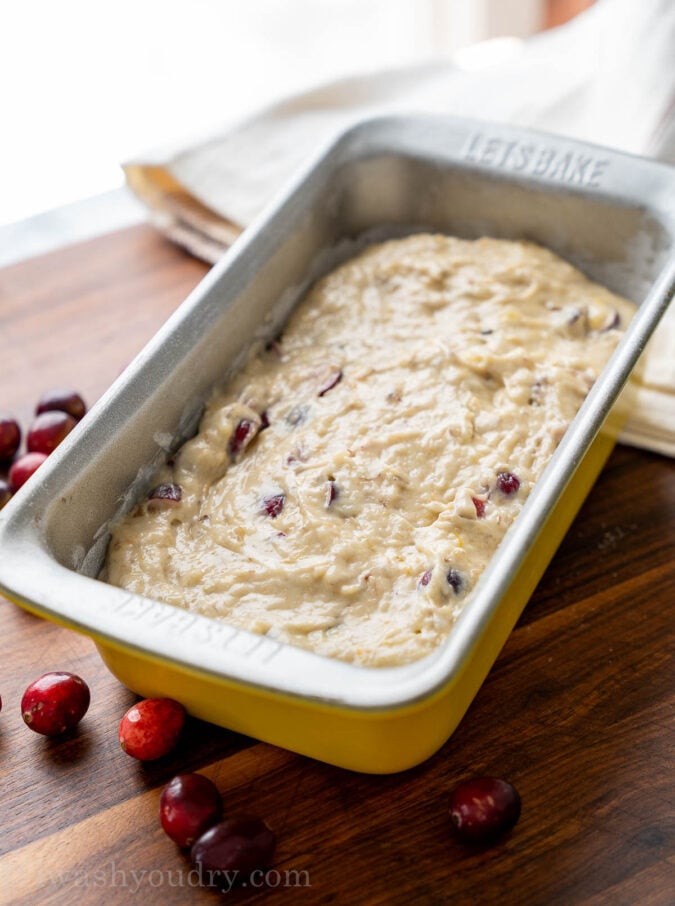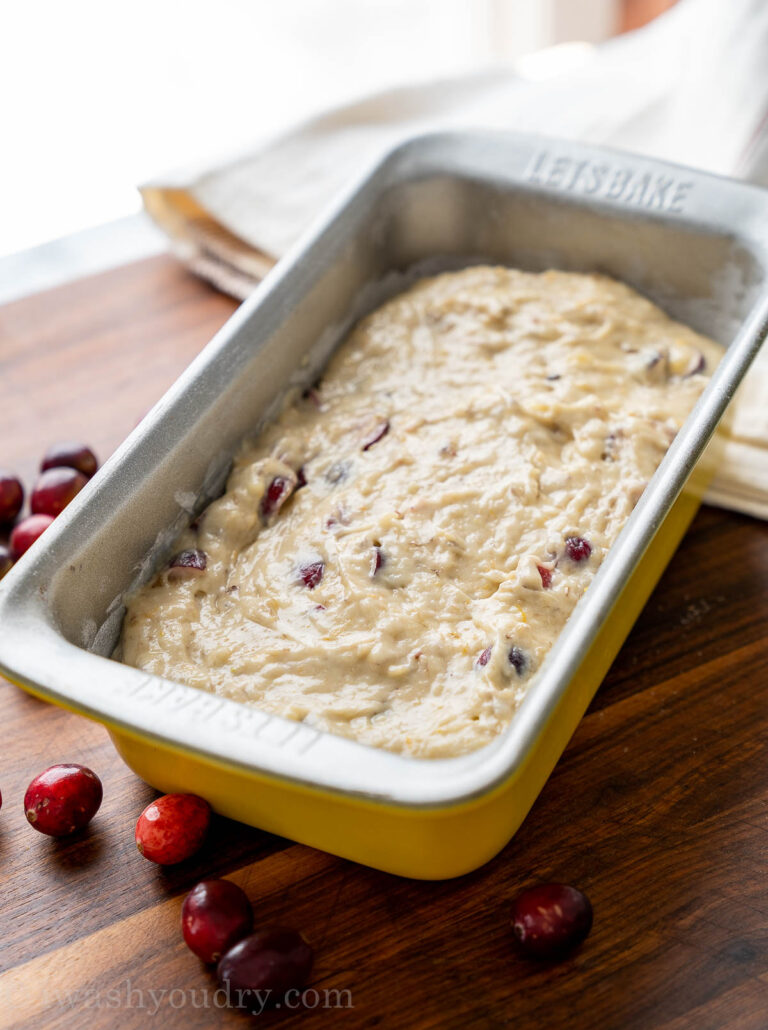 Tips And Recipe Suggestions
This cranberry banana bread recipe makes for a great holiday gift for teachers, neighbors and friends. It's also just a nice pleasant treat to be served with hot cocoa or tea.
Here are some tips and recipe suggestions to keep in mind…
To help prevent your banana bread from sticking to the pan, rub the inside with butter, then sprinkle a little flour in and shake it around to coat the pan. Or you can spray with non-stick baking spray.
The more ripe your bananas are (more brown), the sweeter the bread will be. Feel free to reduce the amount of sugar if you're using super ripe bananas.
Fresh cranberries can be a pain to chop by hand cause they will want to fly all over the place. Try putting them in a food processor and pulsing a few times to give them a nice chop.
The cranberries tend to be pretty tart when freshly baked, but mellow out as the bread cools.
Try adding in a toasted walnut or pecan to give the bread a nice nutty flavor.
Cranberries – Fresh, Frozen or Dried??
The great thing about this recipe is that you can use either variety of cranberries. While fresh cranberries are in season in the fall and winter months, it can sometimes be hard to get your hands on them out of season.
Use ONE of the following…
2 cups FRESH
2 cups FROZEN
1 cup DRIED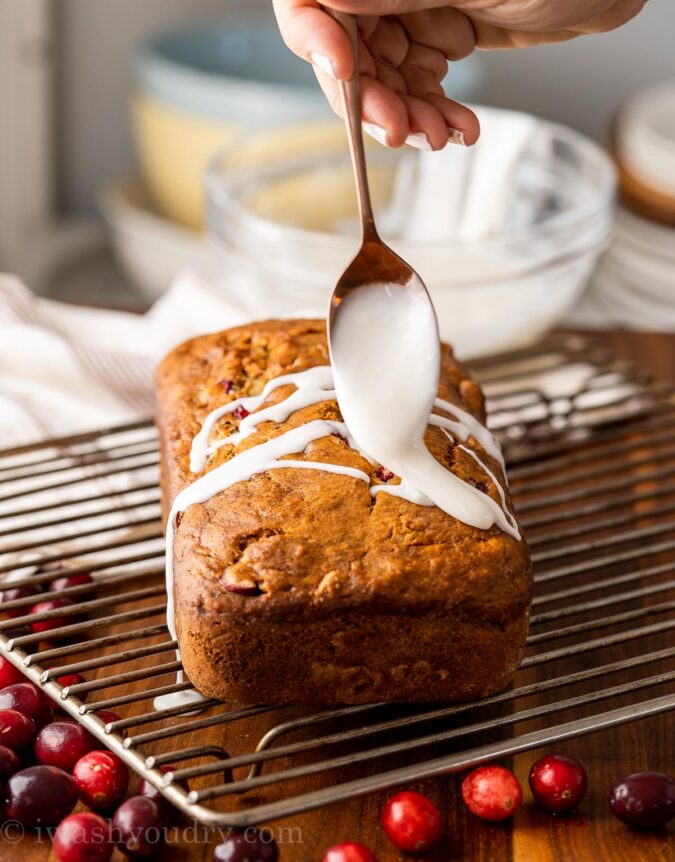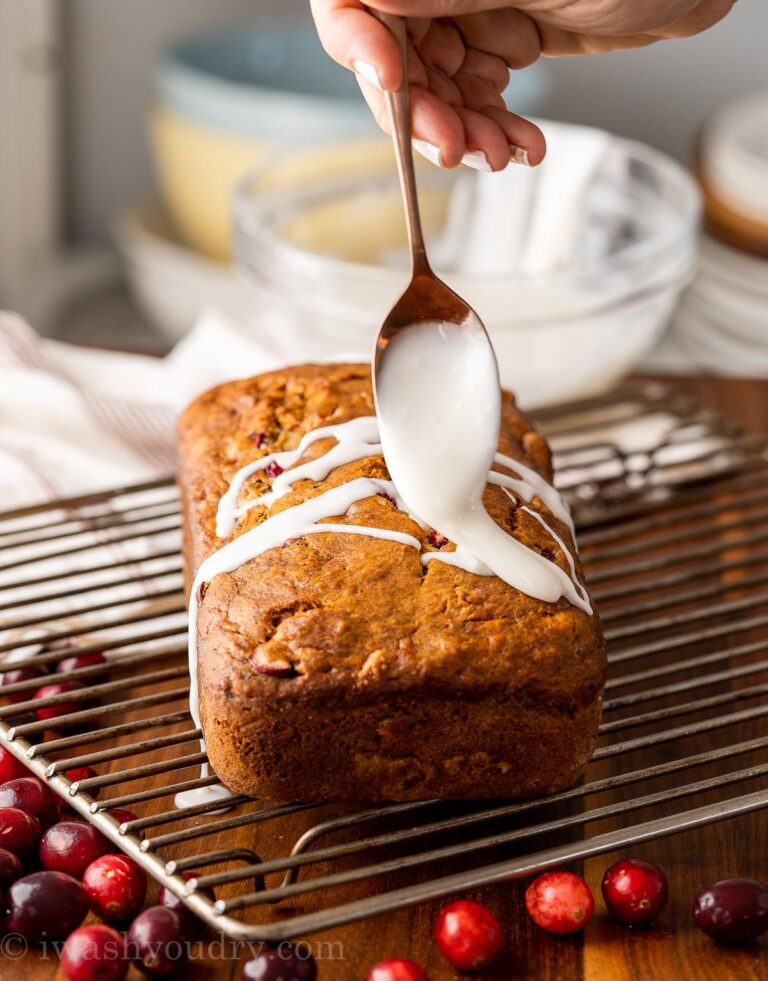 How To Freeze Banana Bread
Great news! This Cranberry Banana Bread recipe is very freezer friendly! Here's what you need to know:
Let your banana bread cool completely before attempting to freeze. If you freeze it when it's still warm it can cause the banana bread to become mushy.
You can freeze the banana bread whole, in half or even in slices.
Wrap the cooled banana bread tightly in plastic wrap, then foil, and place in a zip-close bag and squeeze as much air out as possible.
Freeze for up to 5 months. Remove the banana bread from the freezer and let defrost in the fridge until ready to enjoy.
You can freeze the bread with or without the icing on top.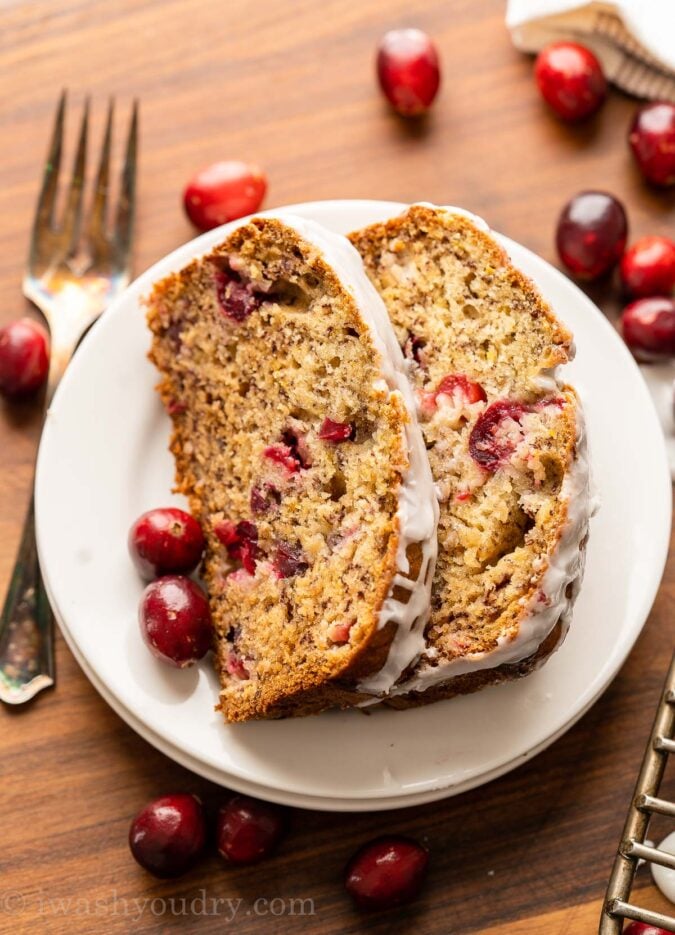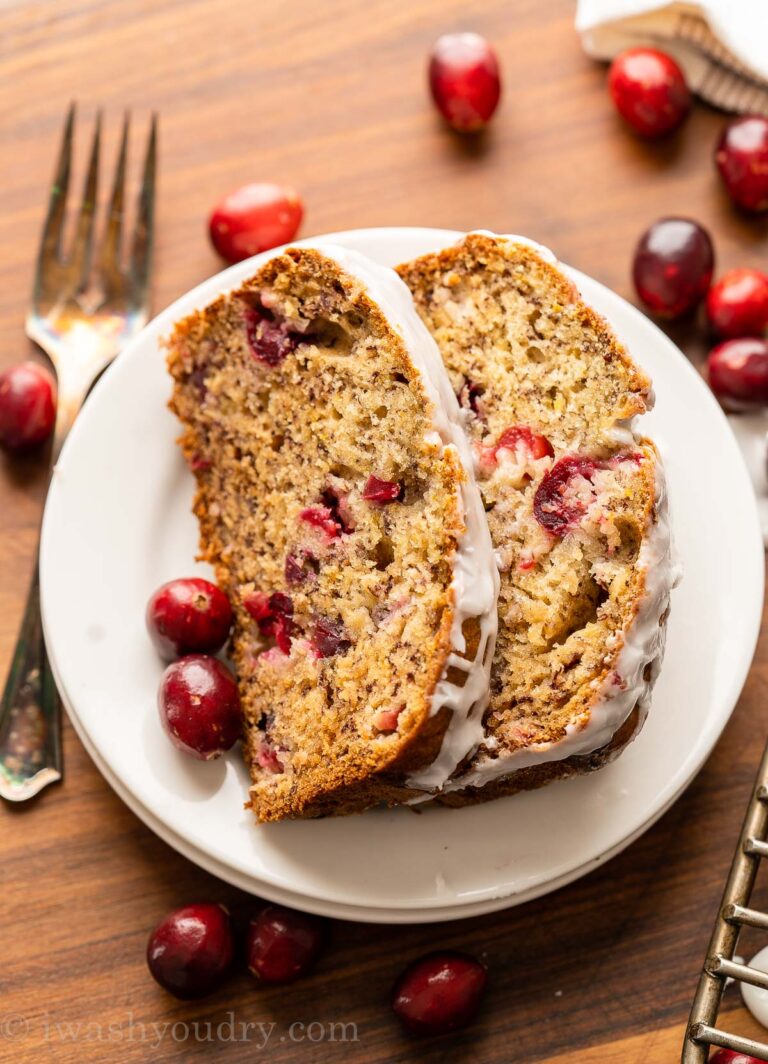 More Sweet Bread Recipes
Sweet breads are one of my favorite things to gift during the holidays. It's a comforting treat that's perfect for any occasion, really. Here are some more of our favorite sweet bread recipes to try…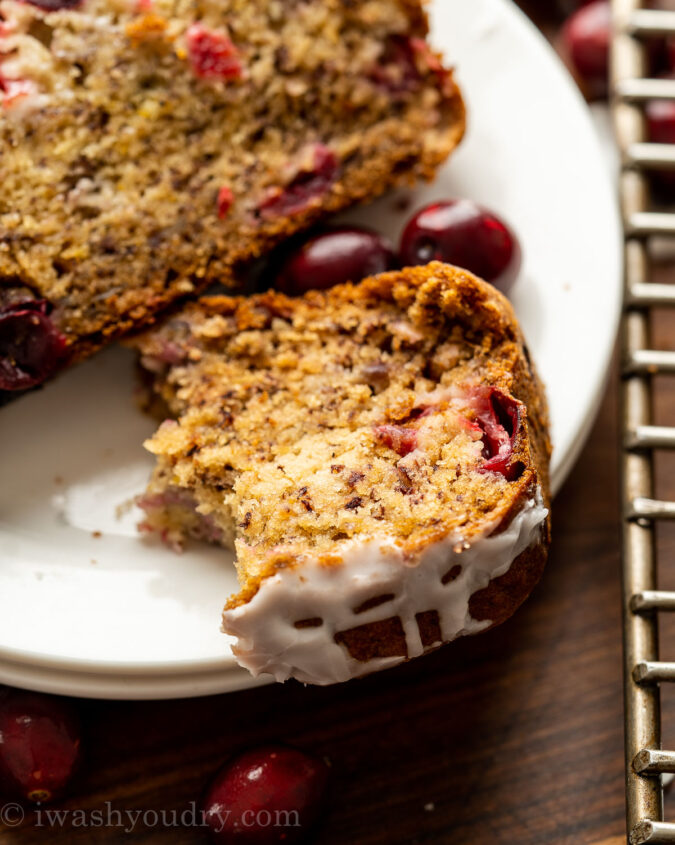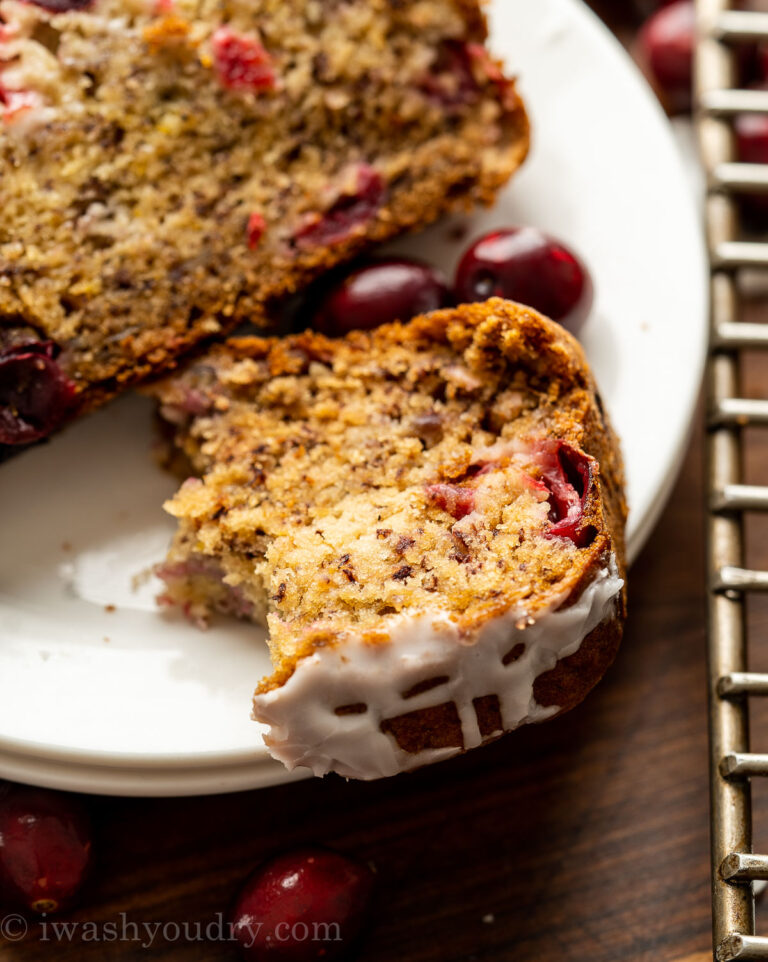 I can't wait for you to give this delicious Cranberry Banana Bread recipe a try. I know you're going to love it!
Cranberry Banana Bread Recipe
This quick and easy Cranberry Banana Bread recipe is filled with ripe bananas, fresh cranberries and a touch of orange zest for a special holiday treat perfect with cocoa or tea!
Instructions
Preheat oven to 350 degrees F. Butter an 8"x4" (or similar size) bread loaf pan and then sprinkle with a little flour, tapping out any excess. Set aside.

In a large bowl place the peeled ripe bananas and use a sturdy fork to mash them until they're smooth in consistency. Stir in the melted butter, sugar, egg, vanilla extract and almond extract until the mixture is combined.

Add in the flour, baking soda and salt and stir to combine again. Finally, stir in the chopped cranberries and orange zest. Pour batter into prepared pan and bake for 50 to 55 minutes, until toothpick inserted in center comes out clean.

Let bread cool in pan for 10 minutes, before removing from pan and letting cool completely on wire rack.
FOR ICING
Combine icing ingredients in a small bowl and whisk to combine. Drizzle over cooled bread. Add more powdered sugar to thicken icing, or add more milk to thin the icing to your desired consistency.
Notes
*You can use fresh or frozen cranberries for this recipe. If substituting for dried cranberries, use just 1 cup. 
Nutrition value is per slice of bread, if whole loaf is cut into 8 slices. 
Bread can be frozen for up to 5 months.

Let cool completely first, then wrap tightly with plastic wrap, foil and place in zip-close bag before freezing. 
Nutrition
Calories:
329
kcal
|
Carbohydrates:
59
g
|
Protein:
4
g
|
Fat:
9
g
|
Saturated Fat:
6
g
|
Polyunsaturated Fat:
1
g
|
Monounsaturated Fat:
2
g
|
Trans Fat:
1
g
|
Cholesterol:
46
mg
|
Sodium:
221
mg
|
Potassium:
220
mg
|
Fiber:
3
g
|
Sugar:
34
g
|
Vitamin A:
343
IU
|
Vitamin C:
8
mg
|
Calcium:
16
mg
|
Iron:
1
mg
Keywords:
Banana Bread, cranberry, dried cranberries, holidays
PIN THIS IMAGE TO SAVE THE RECIPE: