Everyone needs these 5 Smoothie Hacks for making their morning routine quicker and easier!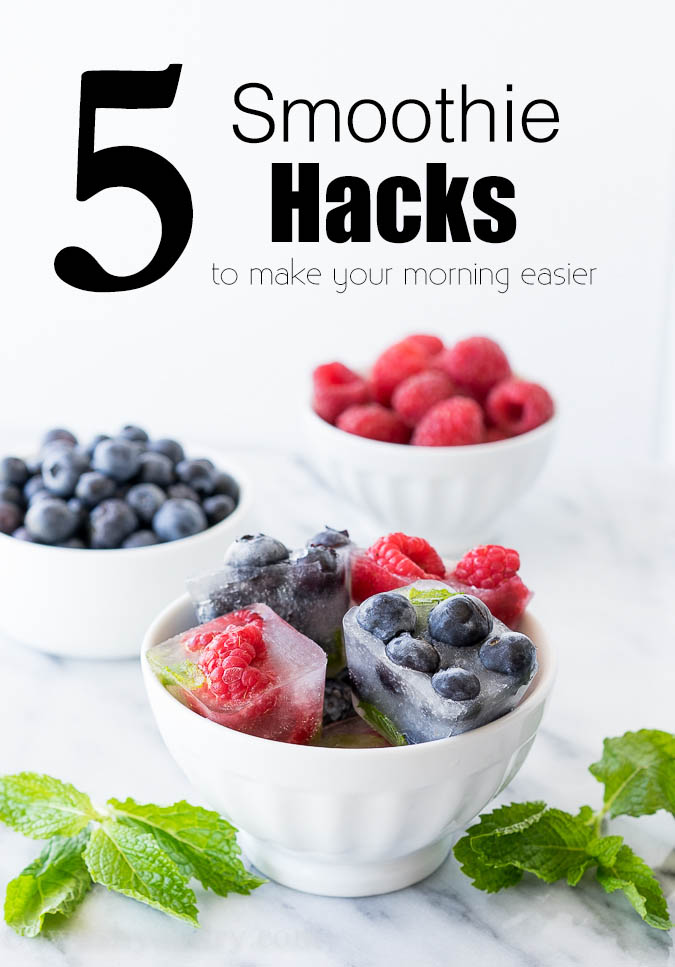 Let's face it, we're busy!
Between carpool, work and the last minute school project that we just found out about, we ain't got time for breakfast!
But hooooooold on!
Breakfast is one of the most important meals of the day. It's a springboard for our attitude. Either we're fierce and can take on the day with a smile, or we're hangry, irritable, and ready to punch our co-worker in the face if he mentions his cat one more time.
Check out these quick and easy Smoothie Hacks to help you get your day off to a better start!
No. 1: Green Ice Cubes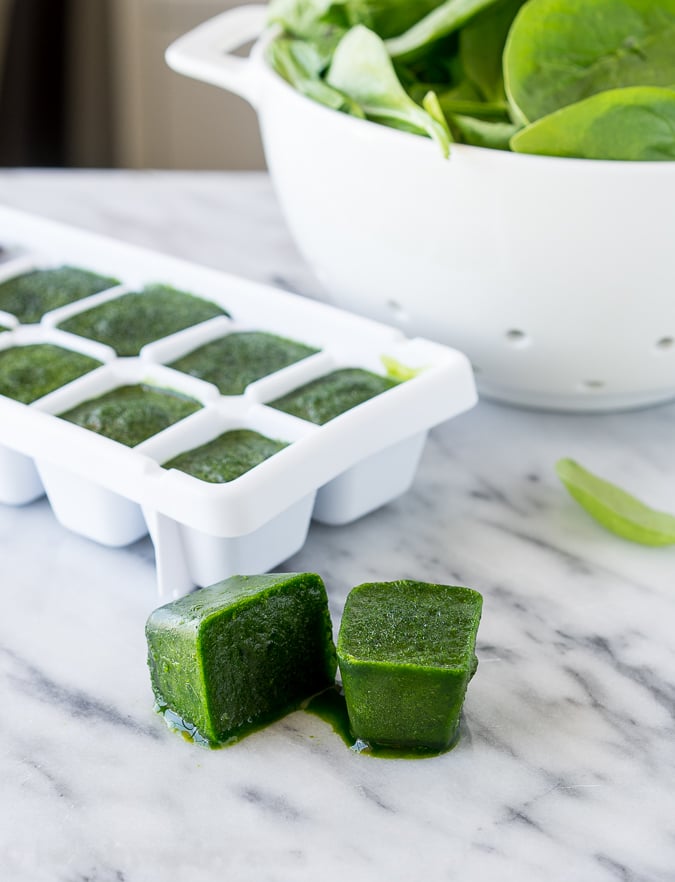 Use these frozen green cubes as a way to boost your veggie and electrolyte intake! We can't always keep fresh greens in our fridge, so this simple trick is a great way to be prepared!
Blend 8oz. of fresh baby spinach leaves with 1/2 cup of coconut water until smooth.
Pour the mixture into ice cube trays and freeze.
Store the cubes in a zip close bag in the freezer until ready to use!
No. 2: Ripe and Ready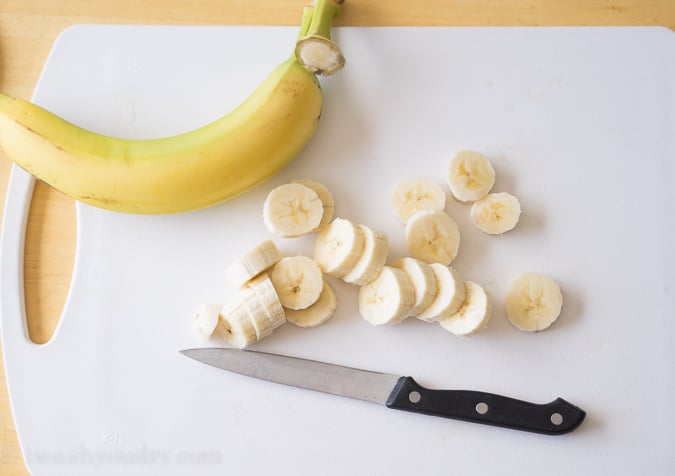 Got some bananas on your counter that are ripe and ready, but you're not ready to eat them? Don't toss them! By freezing ripe and ready fruits and veggies you can easily add them to your smoothies without skipping a beat!
Remove peels from fruits and veggies.
Cut/slice into bite size pieces.
Store in zip close bags in freezer until ready to use.
No. 3: Get Your Protein Fix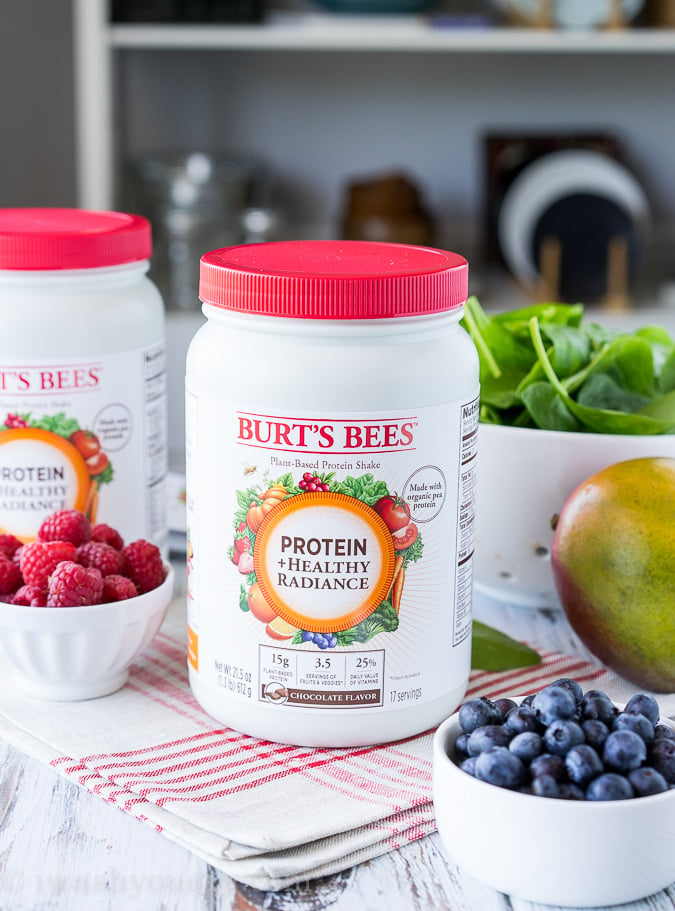 Smoothies that are filled with fruits and veggies are great, but don't underestimate the power of protein! By including a scoop of protein into your blended smoothie you'll feel fuller longer. Burt's Bees Protein +Healthy Radiance protein powder packs 15 grams of protein plus 3 1/2 servings of fruits and veggies* and it's 25% of your daily value of vitamins. This hack is one you don't want to forget!
Add a scoop of protein powder to your smoothie.
Whirl it in the blender like you normally would.
Feel fuller longer and be ready to tackle the day.
No. 4: Smoothie Packets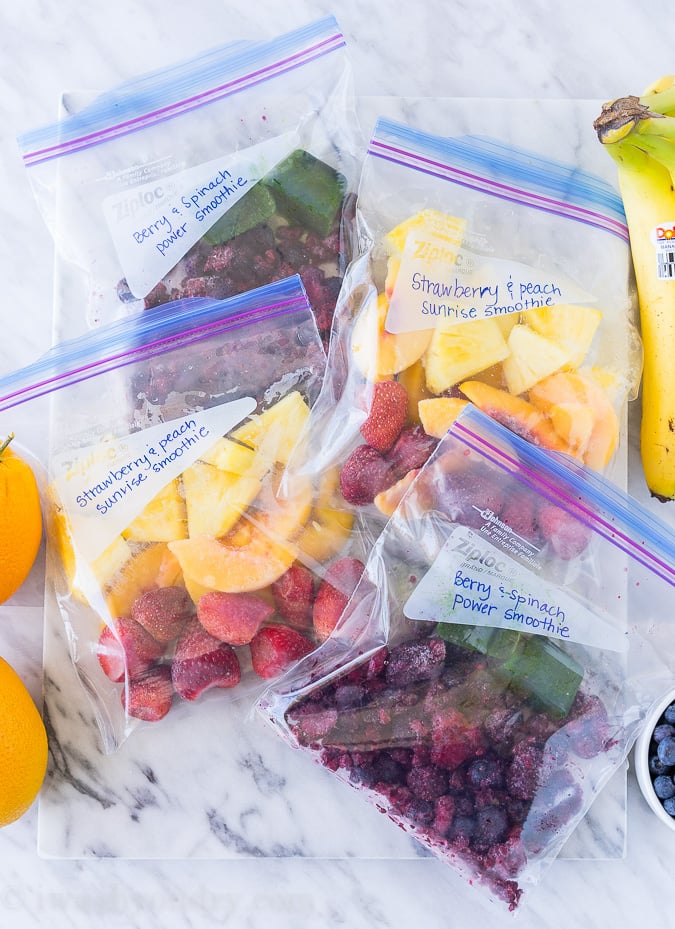 One of my favorite hacks is to make my own pre-portioned, frozen smoothie packs. Now all you have to do is grab a pack from the freezer, toss it in the blender with your liquid and protein powder and you're ready to go!
Strawberry & Peach Sunshine Smoothie Pack:
1/2 cup frozen strawberries
1/2 cup frozen peaches
1/2 cup frozen pineapple
Berry & Spinach Power Smoothie Pack:
1 cup frozen mixed berry blend
2 spinach & coconut water ice cubes (see recipe above)
No. 5: Layering Your Smoothie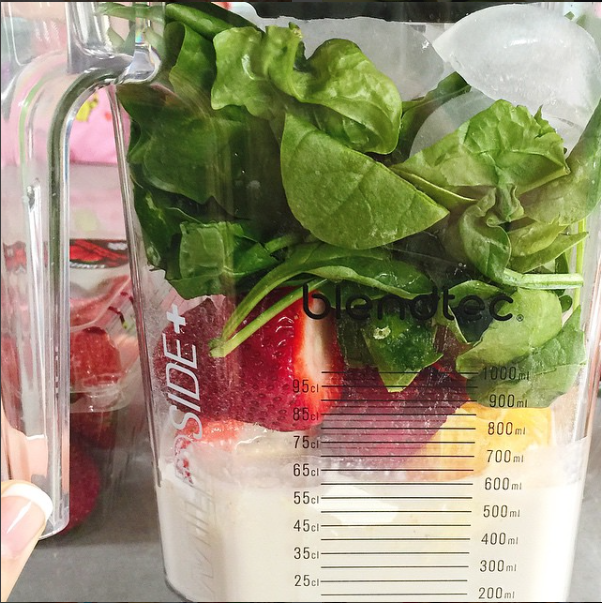 Sometimes blending a smoothie can take for-ev-er because we didn't layer it properly! Did you know that there is an actual science to it? Ok, well I don't know if it's an actual science, but there is a method to ensure quick and easy blending, without having to stop and stir.
Start with 1/2 of your liquid on the bottom of the blender.
I like to add my protein powder in next.
Followed by your fresh or frozen produce.
If you're adding leafy greens, place those on top.
Finish the smoothie with the remaining liquid (I like to add a couple ice cubes on top).
BONUS TIP: Quick Cleaning Blender Hack
Who has time to take apart all the parts of your blender to clean? Not me! This simple trick will have your blender clean in less than 30 seconds and have you on your way!
Quickly rinse the inside of your blender with warm water.
Add 1 cup of warm water and 1 drop of dish soap.
Place lid on blender and blend for 20 seconds.
Rinse and let dry on a drying rack or towel!
You're a smoothie king or queen now! Ready to tackle your day with a filling breakfast in your belly!
Here are some of my favorite smoothie recipes to get you started:
Bring on all the cat stories, co-worker!
Make sure you don't miss a thing! Follow I Wash You Dry here:
FACEBOOK | PINTEREST | GOOGLE+ | TWITTER | INSTAGRAM | BLOGLOVIN
*based on vitamin content; 4.5 servings of fruits and vegetables would be needed to reach 25% DV of vitamins A, C, E, K and the B-vitamins.
This is a sponsored conversation written by me on behalf of Burt's Bees. The opinions and text are all mine.