The Christmas Season is more than just presents, hot cocoa and sled rides.
I'd love to take a minute to share 10 Ways to Lift Other's Burdens this Christmas, so we can all feel the Spirit of the Season even more.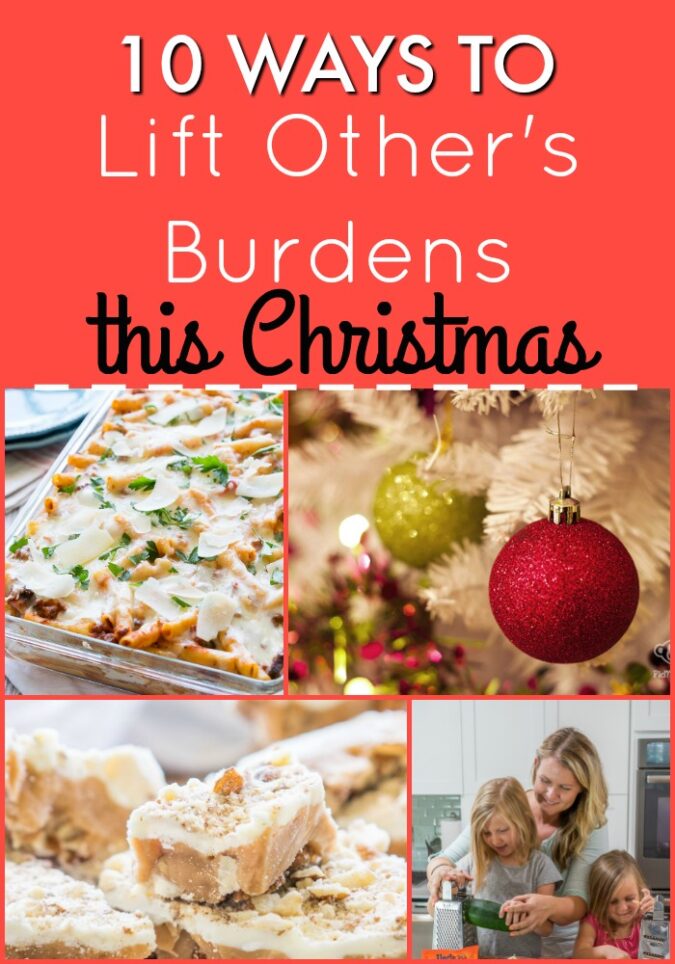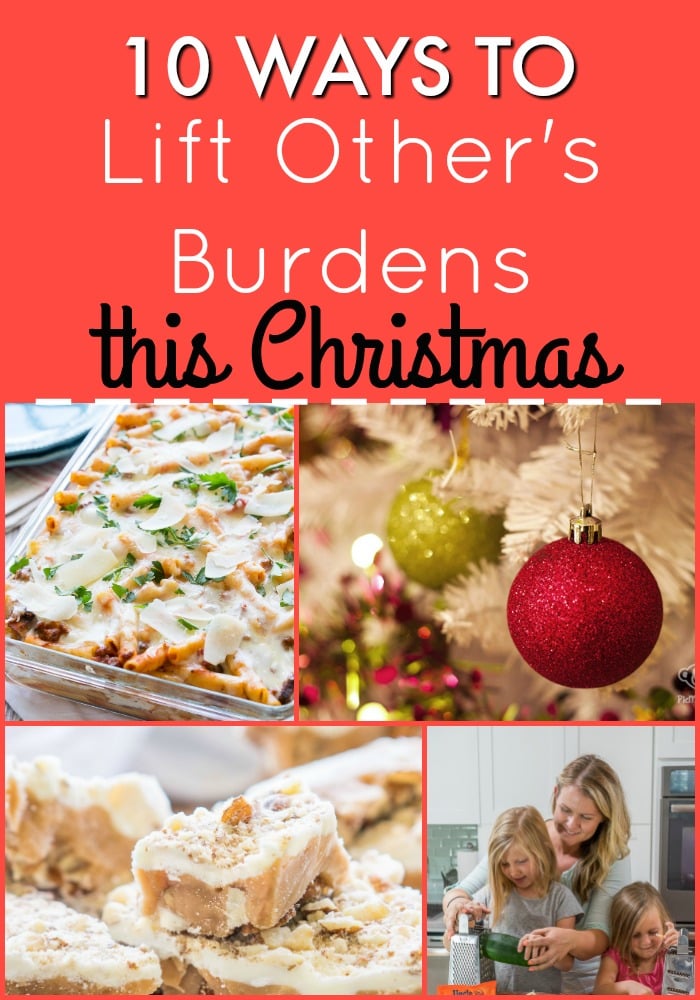 I can't think of a better way to feel our Savior's love than by serving those around us.
I recently heard a talk given in Church where the man was talking about how his wife was preparing a meal for a young mother who had just had a baby. She was meticulously placing tomatoes on top of the casserole she had prepared, taking the time to make sure each one was placed perfectly. The man rolled his eyes and impatiently said to his wife, "Come on sweetie, just throw those tomatoes on and let's get going!"
She stopped what she was doing, looked up at her husband and sweetly replied, "Every time I am given the opportunity to serve others, I treat it as thought I am serving the Lord. If I were giving this casserole to the Lord I would make sure each tomato looked perfect."
The man thought about this for a second and immediately began to help his wife place those tomatoes on the casserole.
When we take the time to serve others and lift their burdens, we are also serving the Lord. What a wonderful feeling it is!
There are so many things we can do to help lift other's burdens. Here are just a few simple ideas you can do on your own or with your family!
10 WAYS TO LIFT OTHER'S BURDENS:
Make a meal for a friend or family member who is ill or just had a baby. (These casseroles are always a hit!)
Shovel snow off the driveway of an elderly neighbor.
Donate gently used household items and clothing to a homeless shelter.
Write a letter to someone you care about and tell them how much they are loved and appreciated.
Give compliments generously. Everyone loves feeling good!
Donate food and/or canned goods to a local food bank.
Share an experience on social media of a time when prayer helped you carry a burden.
Ask a friend if there is anything they need help with, follow through and help them.
Write letters to our service members, encouraging them as they are away from their families and serving our country.
Visit JustServe.org for more ways to #LIGHTtheWORLD in your community (US and Canada).
I encourage you to participate in this month long act of service. Together, we can celebrate His birth by making the world a brighter place. All we have to do is follow Him—His life, His example, and His teachings. In doing so, we can help #LIGHTtheWORLD.
Follow along on Mormon.org each day this December to see new ways we can help. I am doing it with my family, and I can assure you, you'll find extra peace this Christmas by doing the same.
Make sure you don't miss a thing! Follow I Wash You Dry here:
FACEBOOK | PINTEREST | GOOGLE+ | TWITTER | INSTAGRAM | BLOGLOVIN