These aren't just your typical brownies.
These are "in-your-face" brownies.
I am sorry to have to do this to you… these will definitely ruin any diet plan you have going on right now. But trust me, one bite is worth the calories.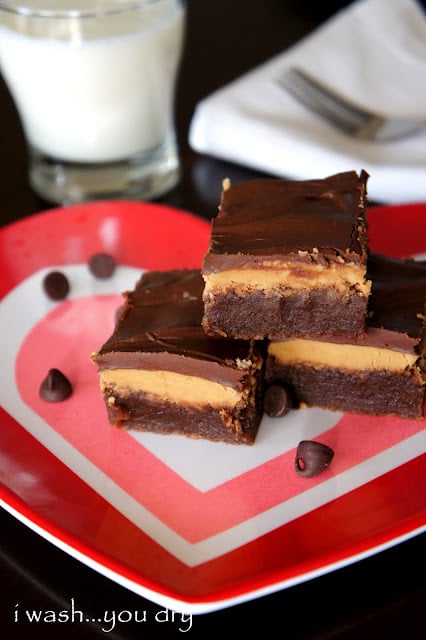 These fudge brownies are rich and ooey-gooey. They are kicked up a notch with a layer of decadent peanut butter filling reminiscent of a Reese's peanut butter cup. Then I send it over the top with a layer of sweet chocolate.
One might call these brownies insane.
Whatever you call them, they are dang good. Just make sure you have a handful of friends in need of a sweet treat or you might catch yourself eating a whole pan by yourself.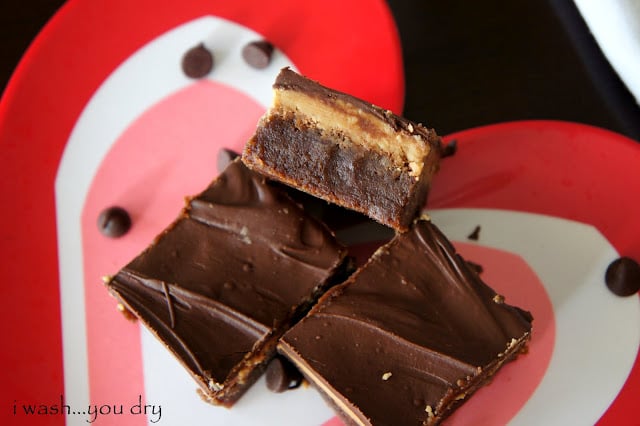 Peanut Butter Cup Fudge Brownies
Ingredients:
for the brownies:
1 cup butter
4 (1 ounce squares) of semi-sweet chocolate
2 cups white sugar
4 eggs
1 cup flour
1 tsp vanilla
1/2 tsp salt
for the peanut butter filling:
1 cup creamy peanut butter
4 tbsp butter
1 cup powdered sugar
for the chocolate topping
1 cup semi-sweet chocolate chips
Directions:
Preheat oven to 350 degrees.
Grease a 9×13 inch baking pan and set aside.
Melt butter and chocolate in a saucepan over low heat and stir constantly until smooth. Remove the pan from the heat and stir in the sugar. Add eggs one at a time and beat with a whisk after each till combined, then stir in the vanilla.
Add the flour and salt to the saucepan and stir till smooth. Pour batter into prepared pan and bake for 35-40 minutes or until a toothpick inserted into the center comes out clean. Let the brownies cool for at least 30-45 minutes before applying the peanut butter filling.
For the peanut butter filling:
In a microwave safe bowl combine the peanut butter and butter and cook in 30 second intervals, stirring in between, until the mixture is smooth. Add the powdered sugar and mix. The consistency should be slightly firm, but still pliable, almost like a soft cookie dough. Use a rubber spatula to carefully spread the peanut butter over the brownies. It helps if the brownies are still slightly warm so the peanut butter doesn't rip up the brownies.
For the chocolate layer:
In a microwave safe dish heat the chocolate chips at 50% power in 30 second intervals. Stirring in between until smooth. Pour over peanut butter layer and use another rubber spatula to spread evenly.
Let the brownies cool completely and the chocolate layer should set up firm. Enjoy with a nice big glass of milk!
You May Also Like...: