If you've found yourself in Maui and you're looking for an amazing dining experience, than you've come to the right blog post! I'm sharing my guide on "Where and What to Eat in Maui Hawaii!"
Whether you're able to make it to just one or all of these selections, you're sure to leave very full and extremely happy!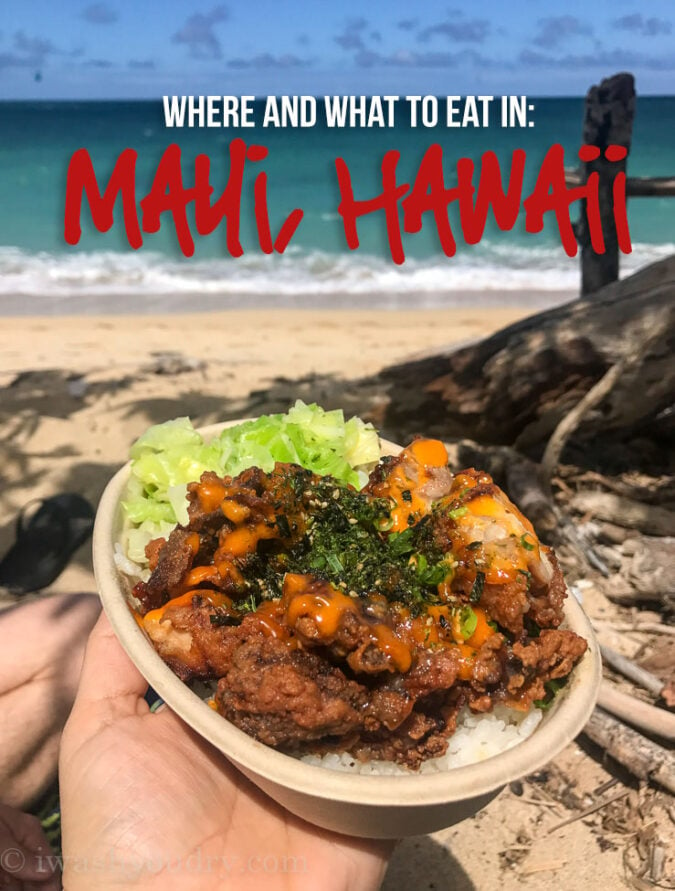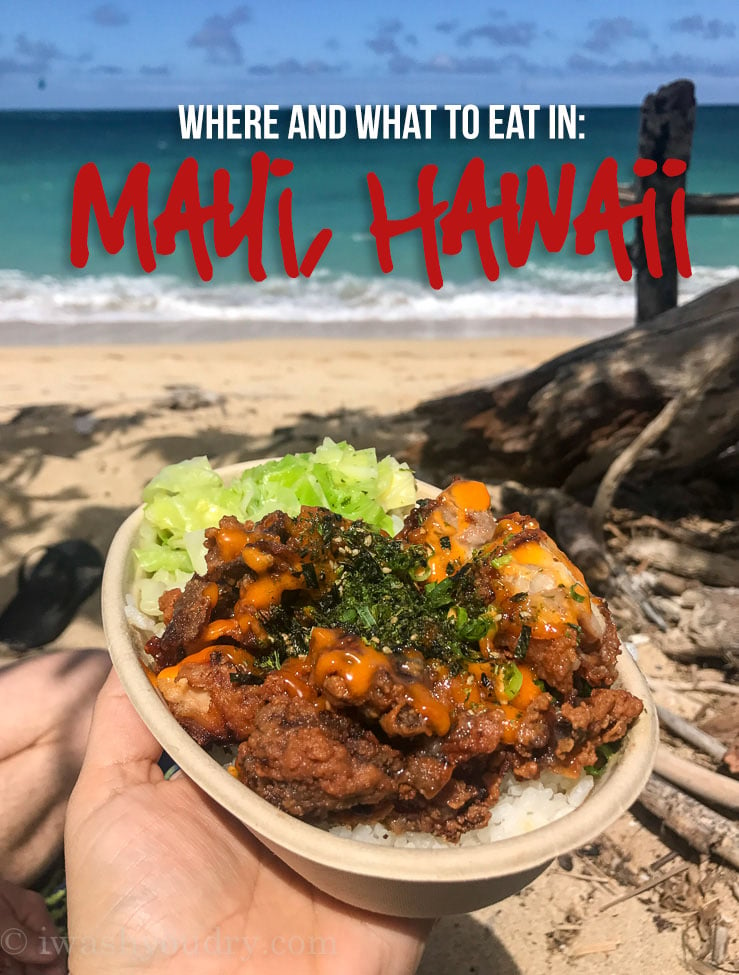 First of all, if you haven't seen my post on What to Do and See in Maui, Hawaii, make sure you read up on that to make the most of your Hawaiian experience.
Now, let's dive right in to my favorite part of every vacation… the food!
We stayed at the Hyatt Regency Maui Resort and Spa for the first leg of our one week journey in Maui, so that's where I'm starting. The dining options are plentiful at the Hyatt Regency, but here are a few of the places that we tried and REALLY enjoyed!
Regency Club –
200 Nohea Kai Drive, Lahaina, Hawaii, USA, 96761-1985
Tel: +1 808 661 1234
Every morning we stopped into the Regency Club to grab a quick breakfast before tackling our many adventures. This was one of our favorite experiences at The Hyatt Regency because it was filled with fresh fruits, baked goods, smoked salmon, and so much more! It was like a continental breakfast on steroids. Delicious steroids.

RECOMMENDED EATS:
The smoked Salmon with fresh cheeses and crackers
Fresh fruit and baked goods
Oatmeal bar with all the toppings
'Ūmalu-
200 Nohea Kai Drive, Lahaina, Hawaii, USA, 96761-1985
Tel: +1 808 661 1234
Located outside by the pool and beach at the Hyatt Regency, you'll find 'Ūmalu. This hopping, modern restaurant is serving things like Green Bean Fries, Poke Nachos, burgers, sandwiches and fresh salads. We enjoyed a private lunch in our beachfront cabana and it was nothing short of magnificent!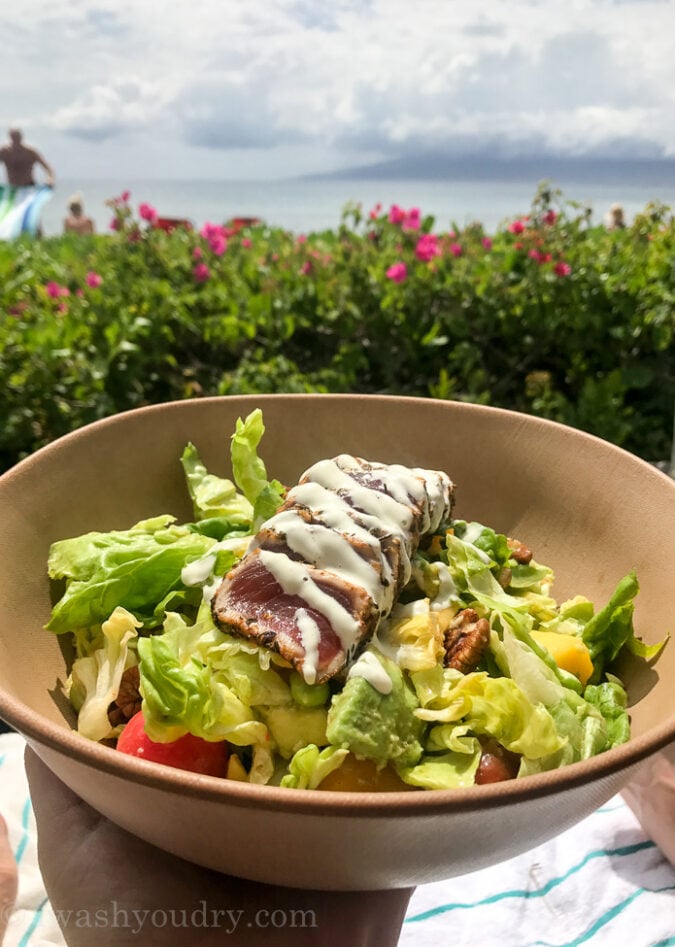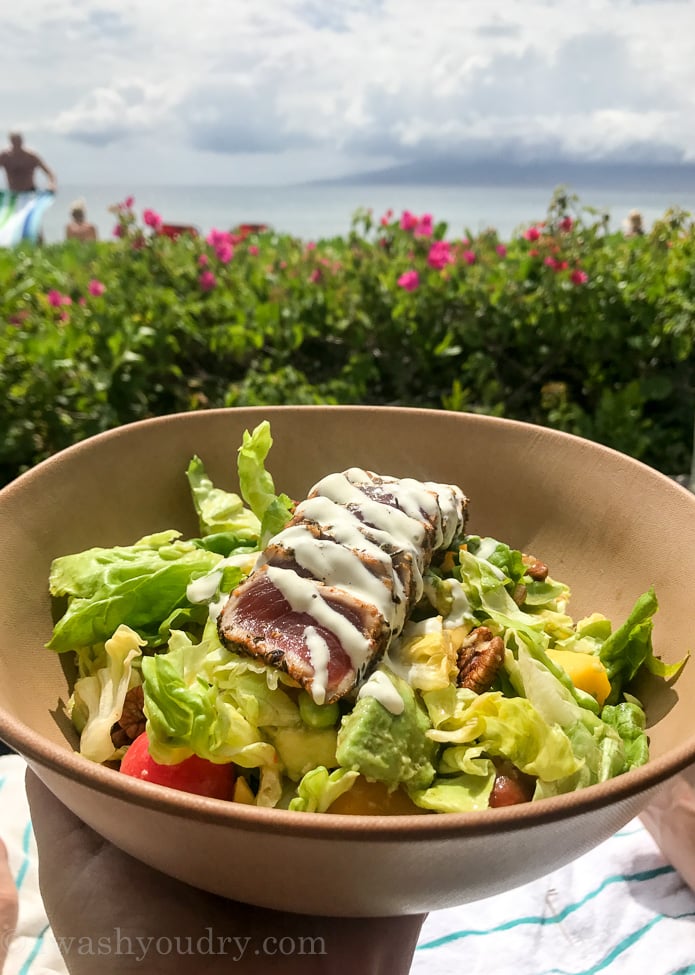 RECOMMENDED EATS:
Green Bean Fries with Wasabi dipping sauce
"Uncle Kimo's" Ahi Poke Nachos
Volano Seared Ahi Tuna Salad (pictured above)
Kalua Pork Fries
Son'z Steakhouse-
200 Nohea Kai Drive, Lahaina, Hawaii, USA, 96761-1985
Tel: +1 808 661 1234
Son'z Steakhouse is a fine dining establishment that boasts gorgeous views of the ocean while swans leisurely swim by in the pond in front of the restaurant. While the prices for this meal were on the high side, we felt the food and experience was well worth it.  Most of the entrees are served alone, with a large list of a la carte sides to choose from. Had we known how large the portions were, we could have split a meal, but oh well! I ordered from the Signature Entree List which did come with sides, so we had plenty to taste and try out!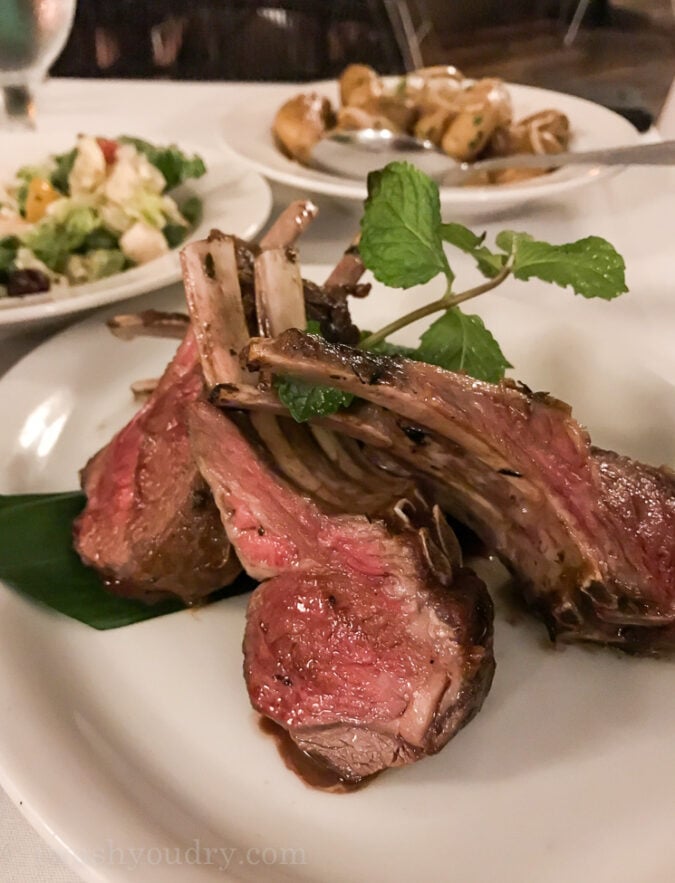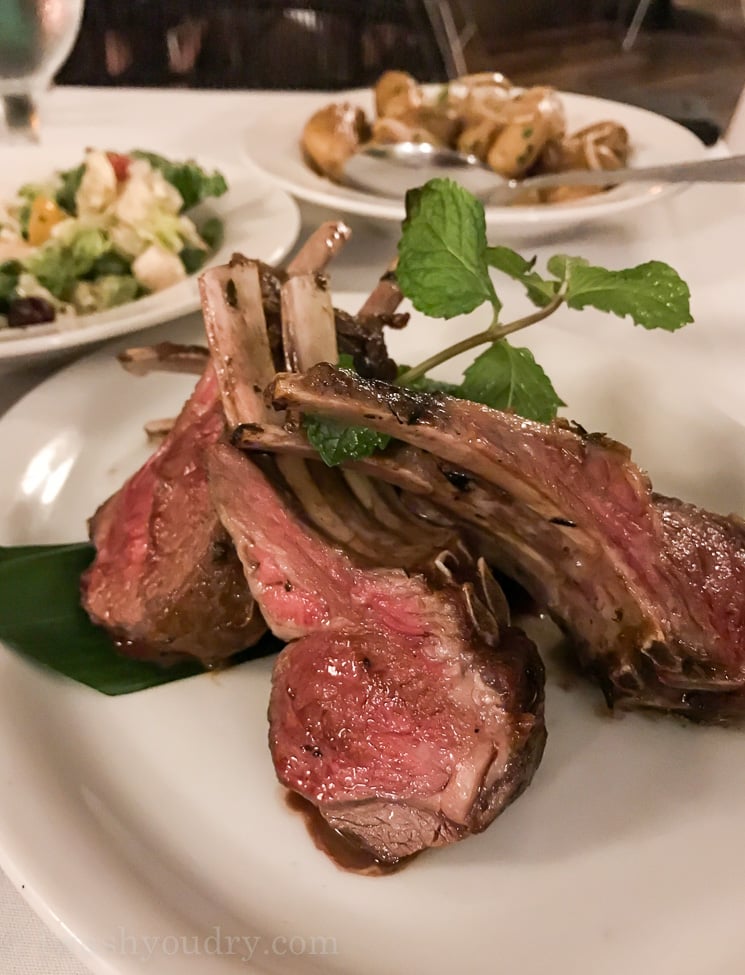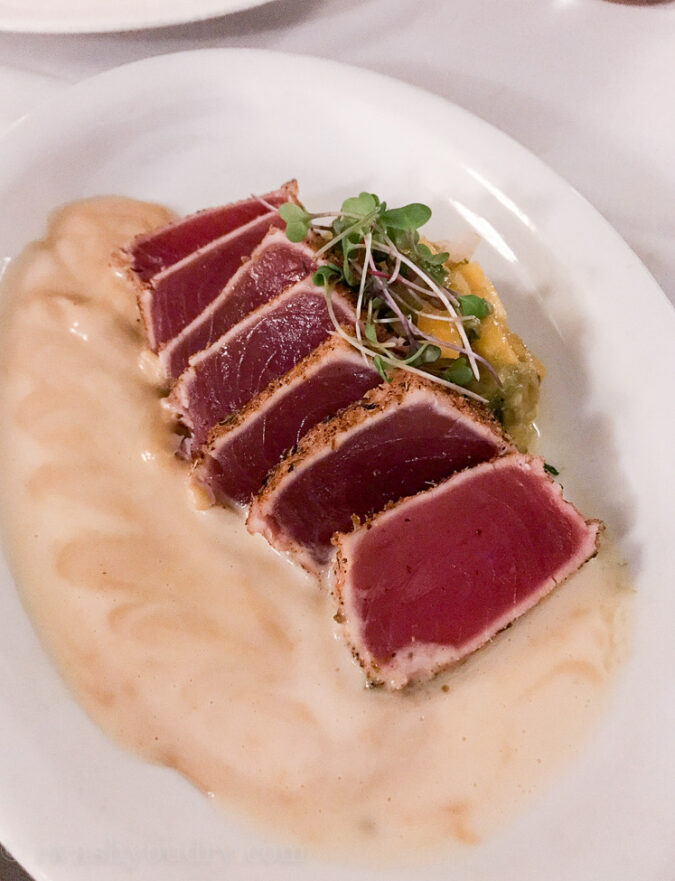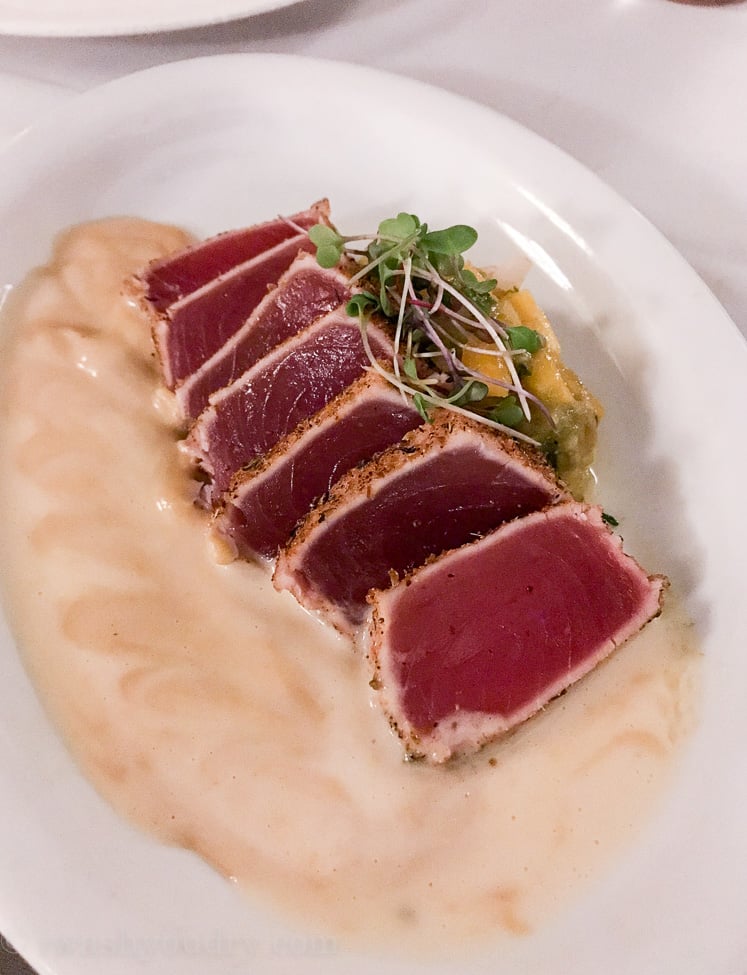 RECOMMENDED EATS:
Black and Blue Ahi (pictured above)
The Wedge Salad
New Zealand Rack of Lamb (pictured above)
Nick's Fishmarket – Maui Island Catch of the Day
Ululani's Hawaiian Shave Ice –
200 Nohea Kai Drive, Lahaina, Hawaii, USA, 96761-1985
Tel: +1 808 661 1234
This fun little Ululani's Hawaiian Shave Ice stand is located right out by the pool at The Hyatt Regency and is by far, HANDS DOWN the BEST Shave Ice we tasted in Maui. And trust me, I tried a bunch. Here's a tip when ordering – always get the ice cream on the bottom! The finely shaved ice gets covered in freshly made juices and flavors and the texture just melts in your mouth.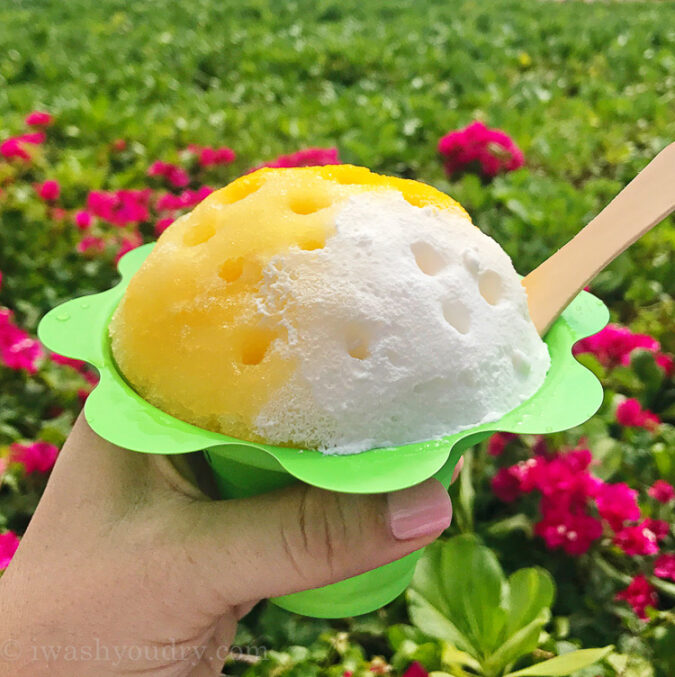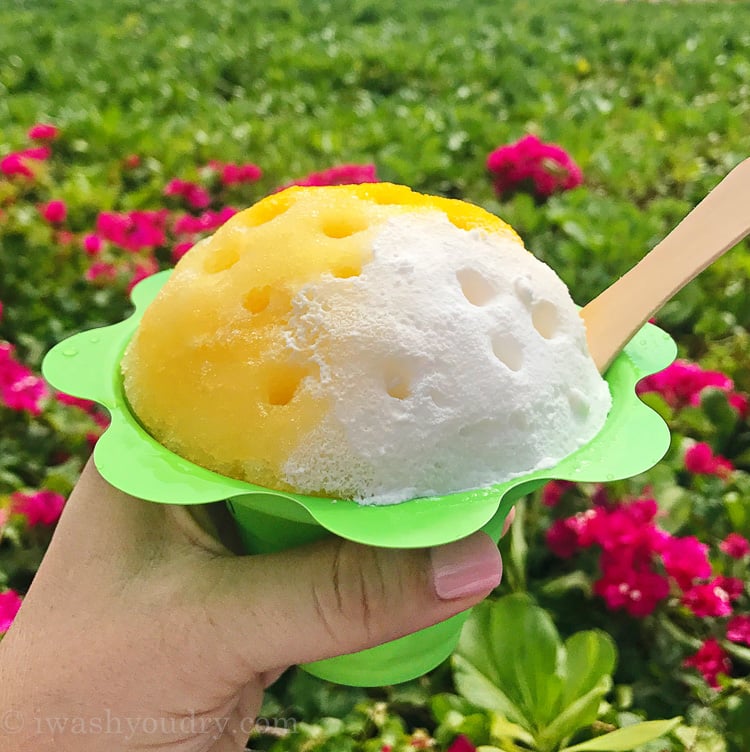 RECOMMENDED EATS:
The Macadamia Nut Ice Cream on the bottom is a must
The "No Ka Oi" (pictured above)
Strawberry and Coconut
Drums of the Pacific Lu'au – Maui –
200 Nohea Kai Drive, Lahaina, Hawaii, USA, 96761-1985
Tel: +1 808 661 1234
On our last night at the Hyatt Regency we enjoyed their cultural celebrations in the Drums of the Pacific Lu'au. While we were entertained with a delightful performance of Hawaiian music and dancing we were treated to a traditional feast, buffet style! Of course I loaded up on everything available because I had to give it all a try… for the blog of course…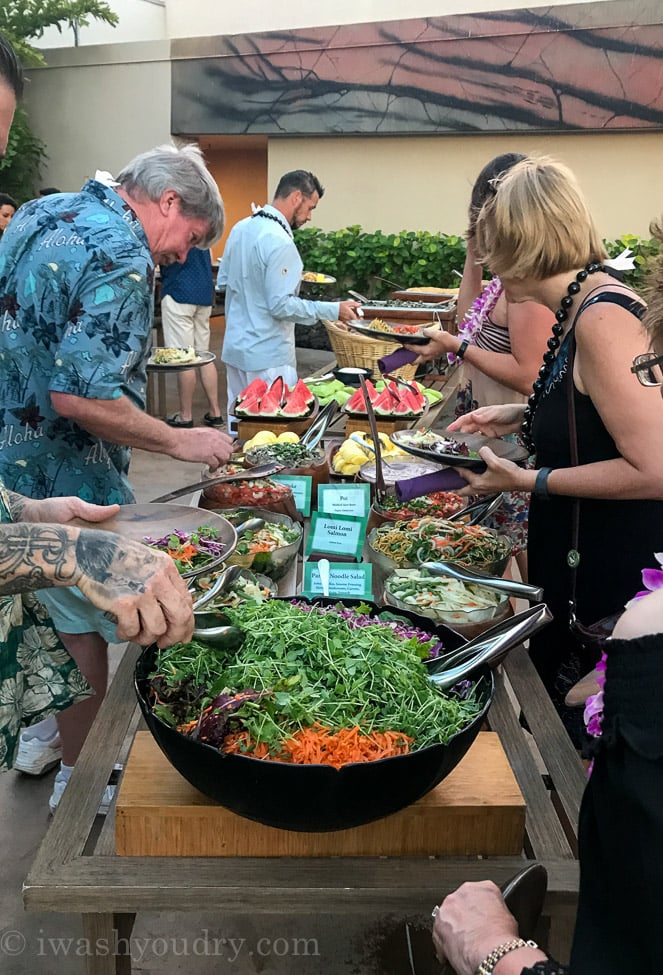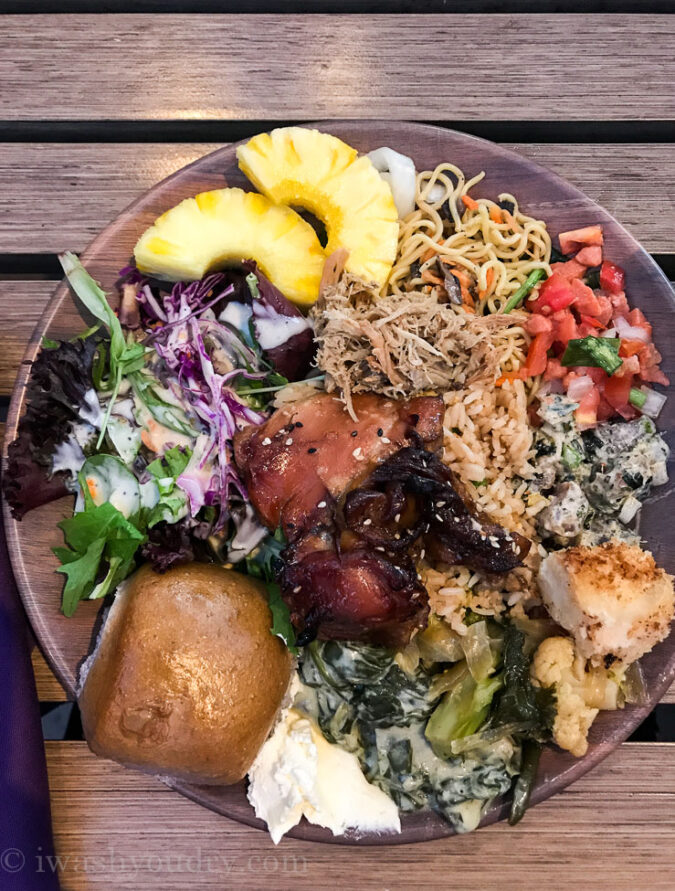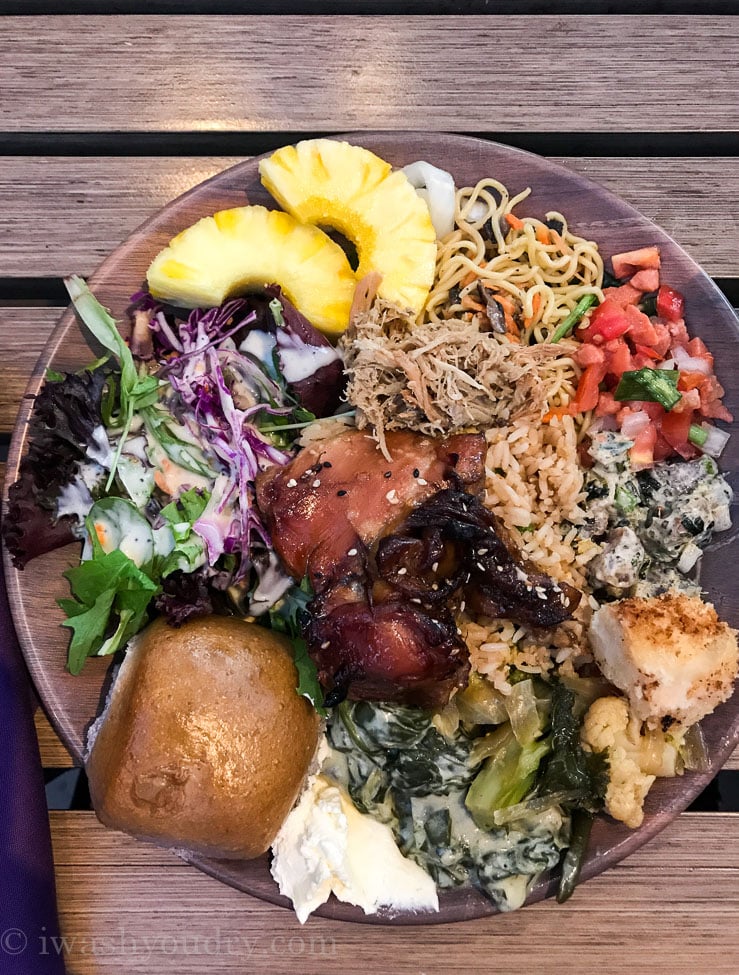 RECOMMENDED EATS:
The teriyaki chicken was by far my favorite
Fried Rice
Kalua Pork
Ahi Poke
Leilani's On The Beach –
2435 Kaanapali Pkwy, Lahaina, HI 96761
(808) 661-4495
Located in the Whaler's Village shopping plaza you'll find Leilani's, a delicious beach-side grill that's serving some delicious and fun eats. We really enjoyed the view of the beach and the happening vibe from this place, not to mention decent prices and out of this world food!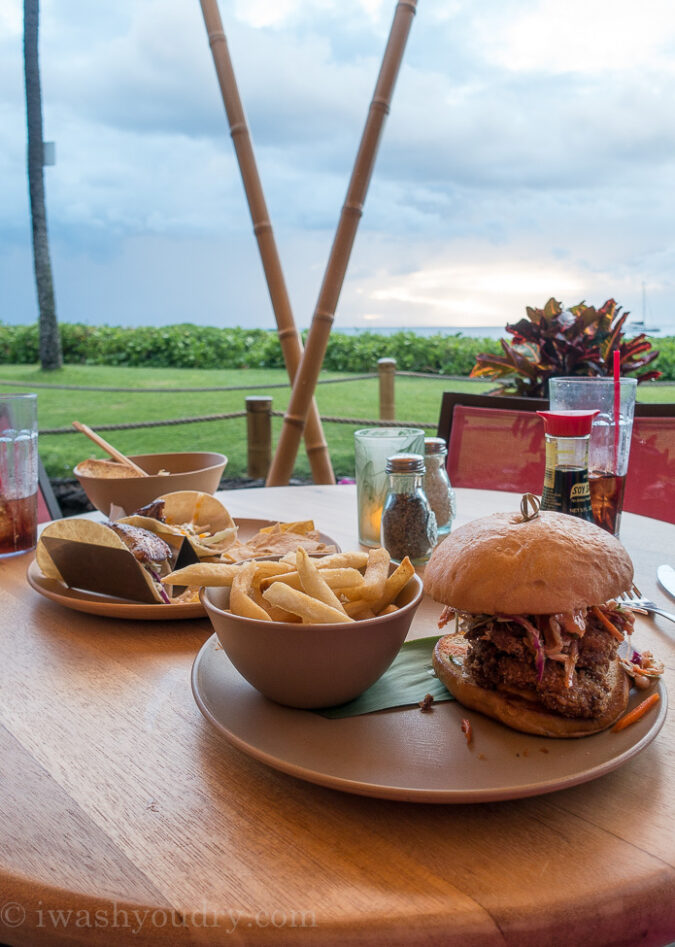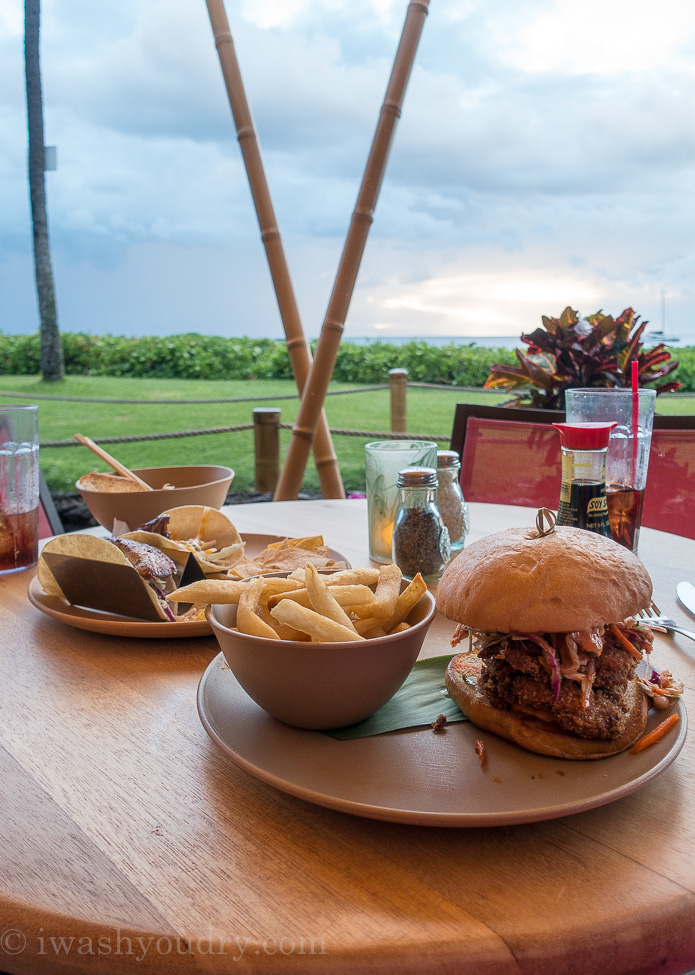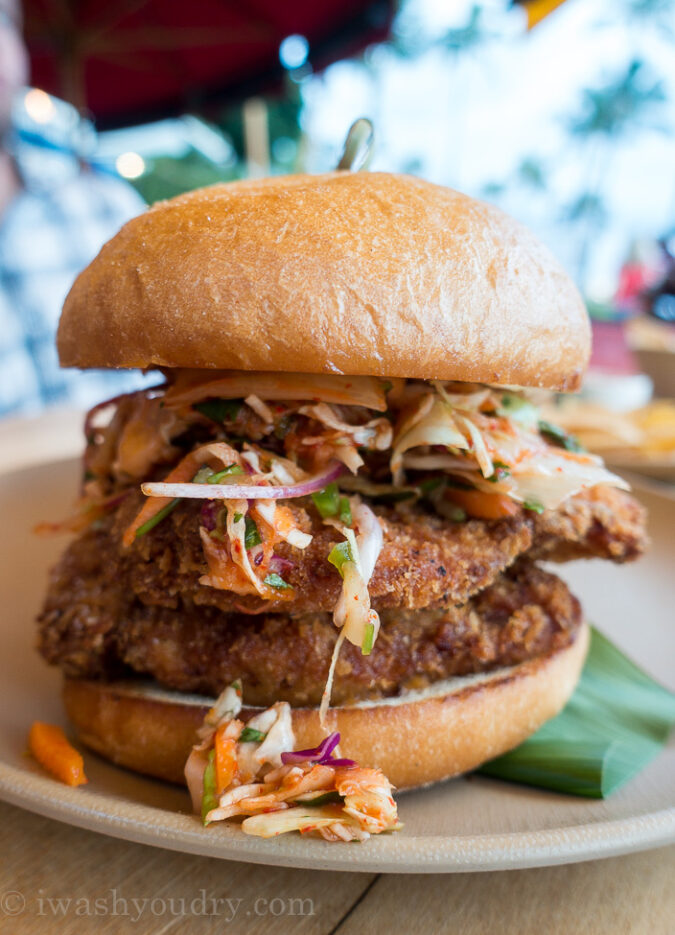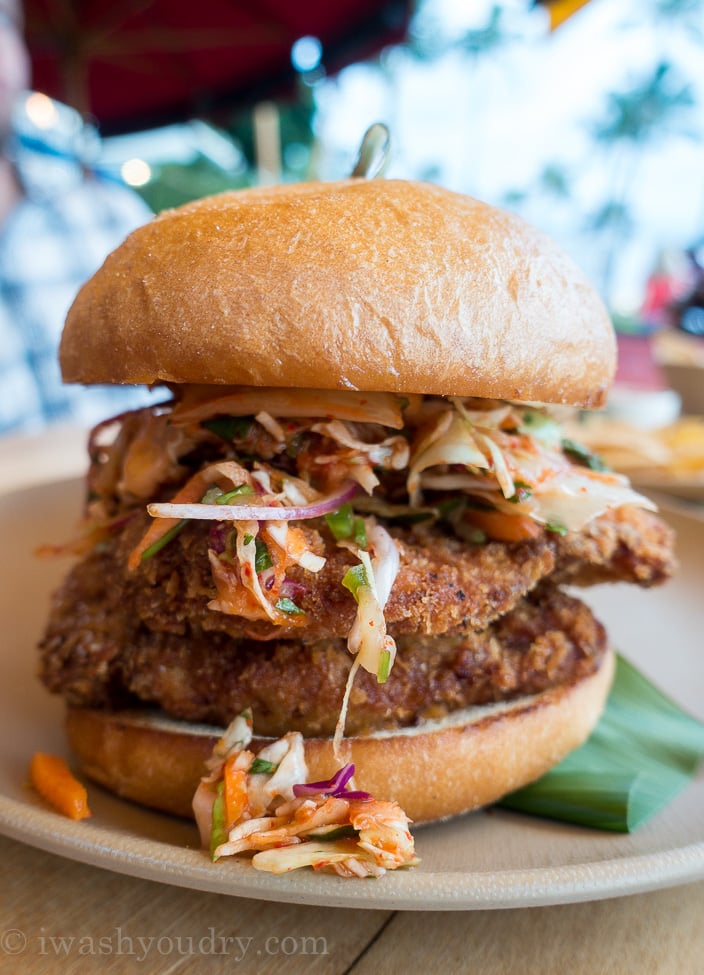 RECOMMENDED EATS:
Korean Fried Chicken Sandwich (pictured above)
Ahi Poke Bowl
Coconut Shrimp
Fresh Fish Tacos
Tif Roof – Maui –
360 Papa Pl, Kahului, HI 96732
(808) 868-0753
If you can't tell by now, I was on a mission to eat all the fresh poke I could get my hands on. Tin Roof is a trendy and hip place, located in an almost industrial-like park, where you know the locals all come to eat. When we got there, there was a line out the door. We ordered our food to go as there isn't really a place to eat inside besides a small bar with tall stools. The prices are very affordable for such amazing food! We took our eats to the beach and enjoyed!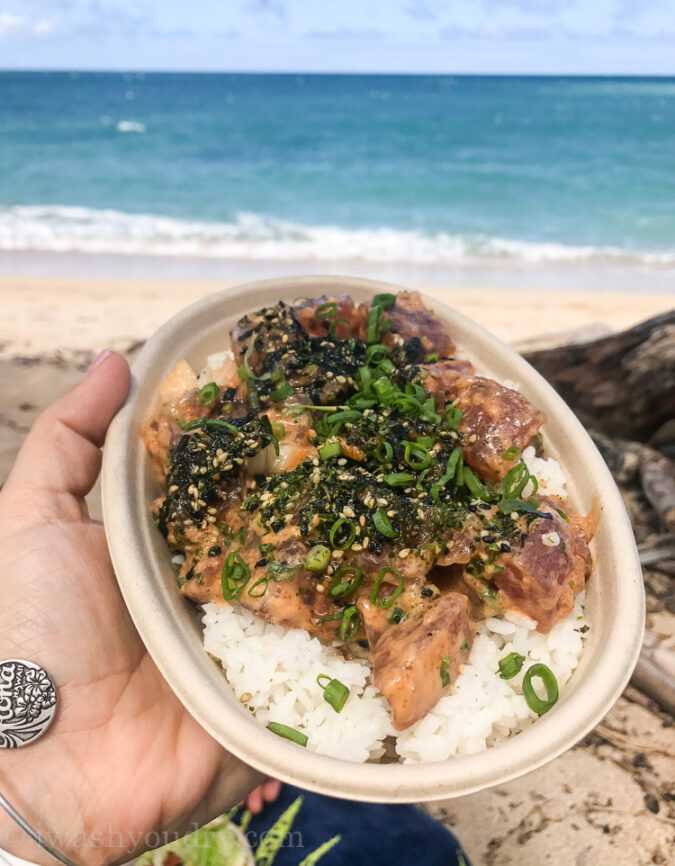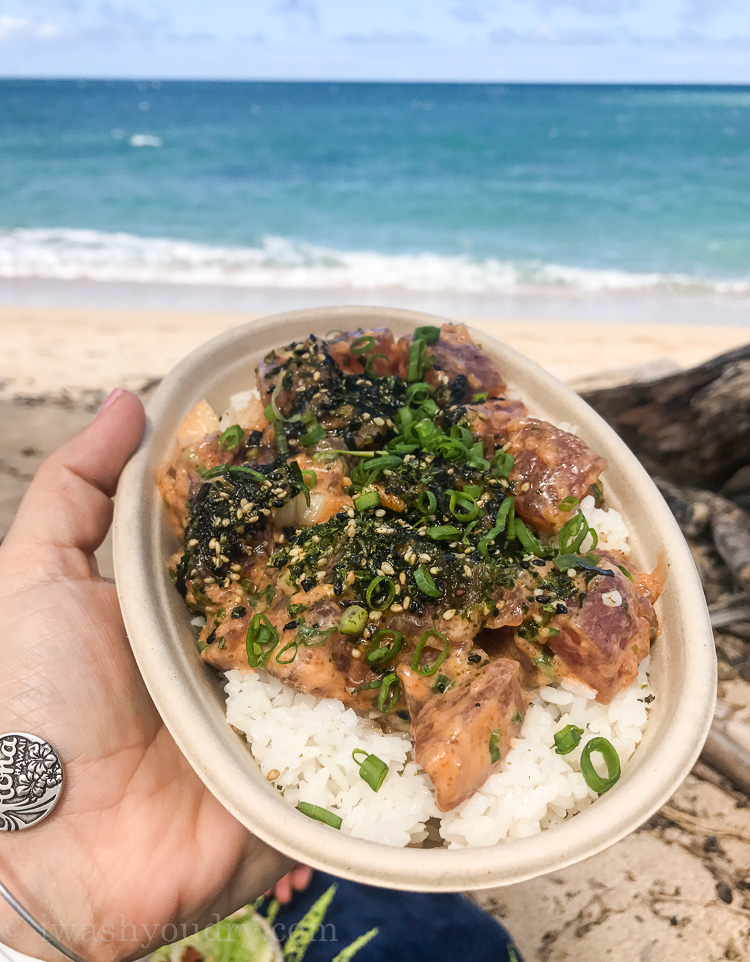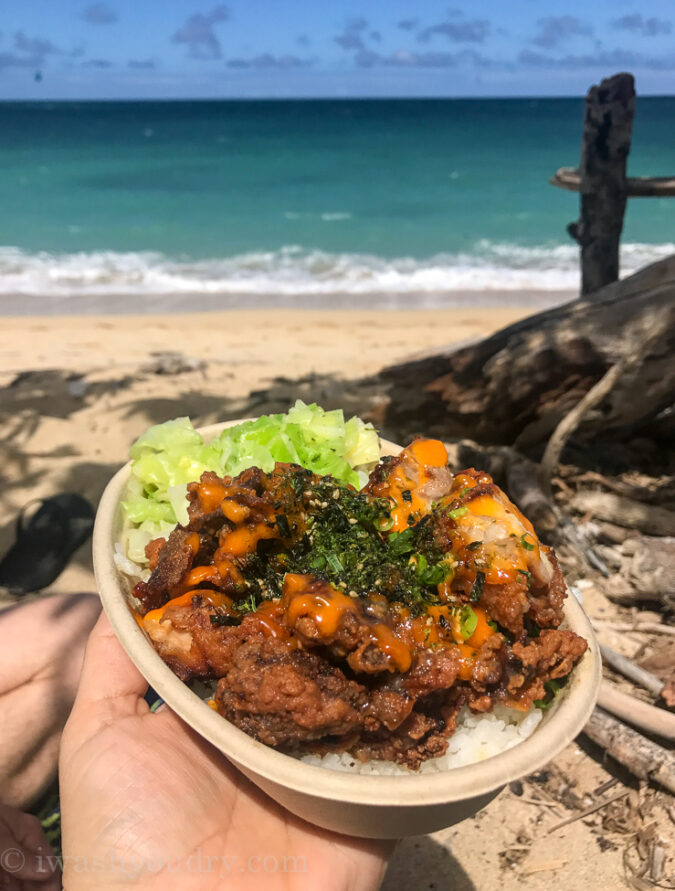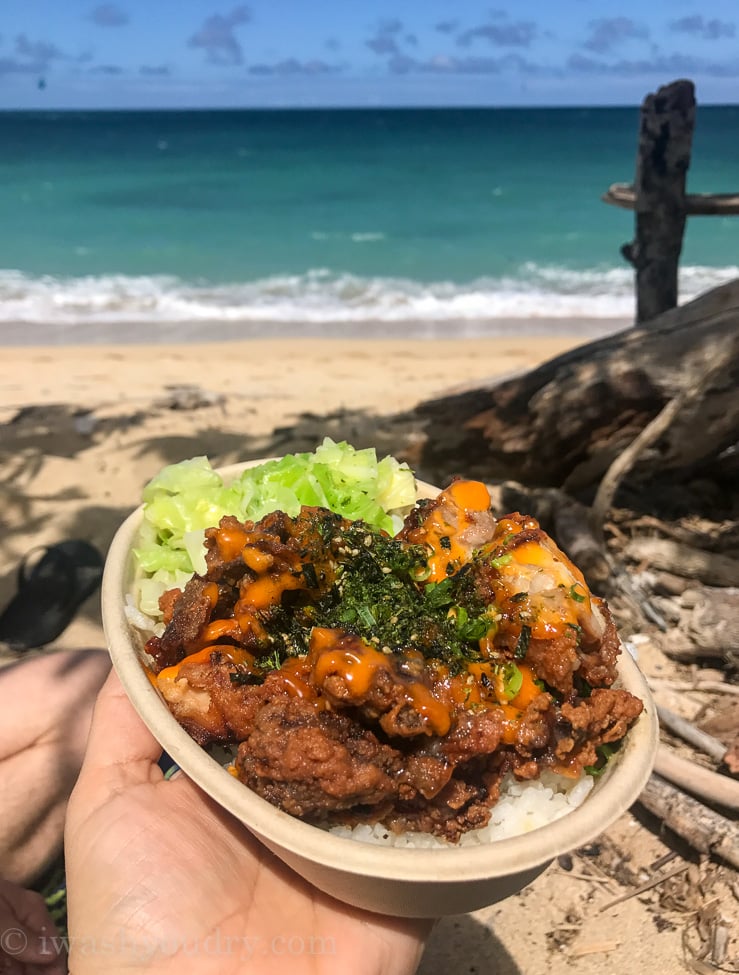 RECOMMENDED EATS:
Mochiko Chicken (pictured above)
Spicy Poke Bowl (pictured above)
We only ate the two items, but I'm sure just about anything on their menu would be a win.
Mama's Fish House –
799 Poho Pl, Paia, HI 96779
(808) 579-8488
I feel like this one is on the list out of necessity. We had so many people recommend Mama's Fish House to us so we made a point to go check it out. While the views are magnificent, the food kinda fell flat for us. When you're paying an absorbent amount of money for food, I kind of expect it to blow me away and I just didn't get that from our experience. That being said, we did enjoy just being in this famous restaurant and taking in the gorgeous ocean views.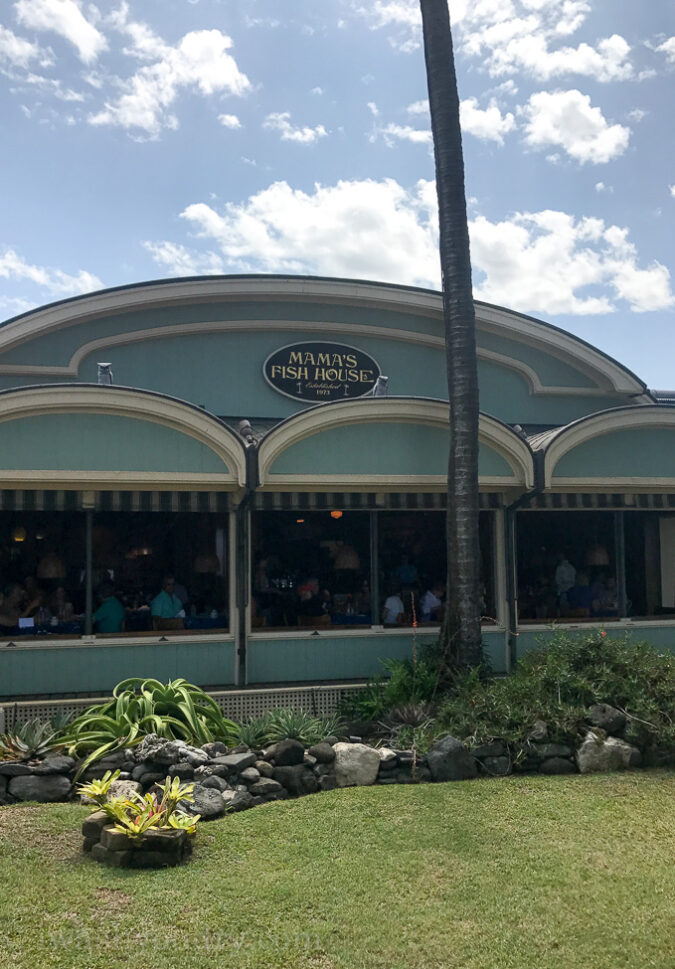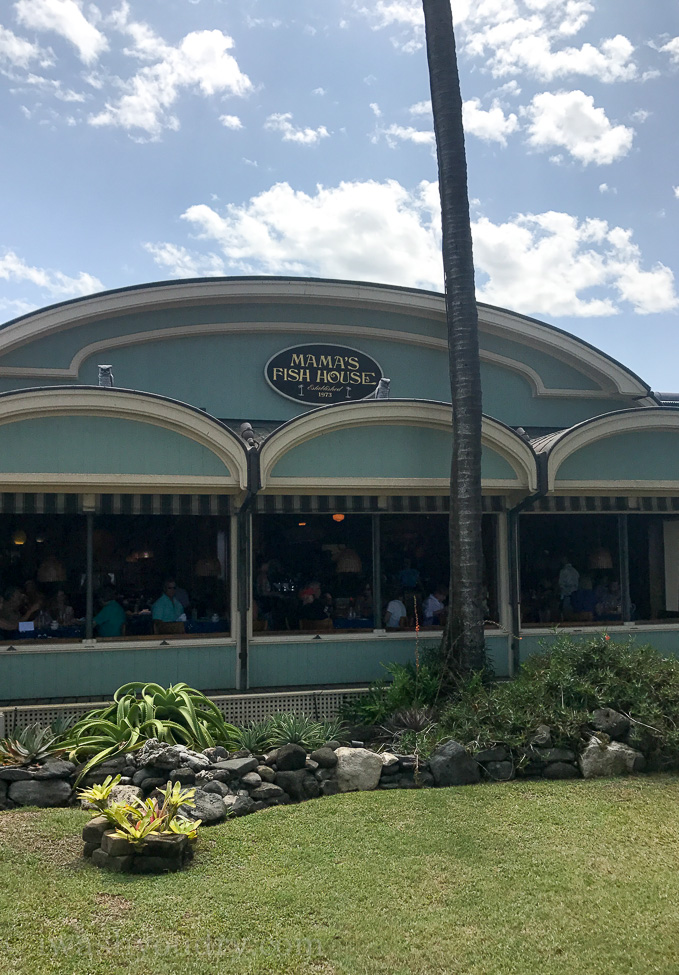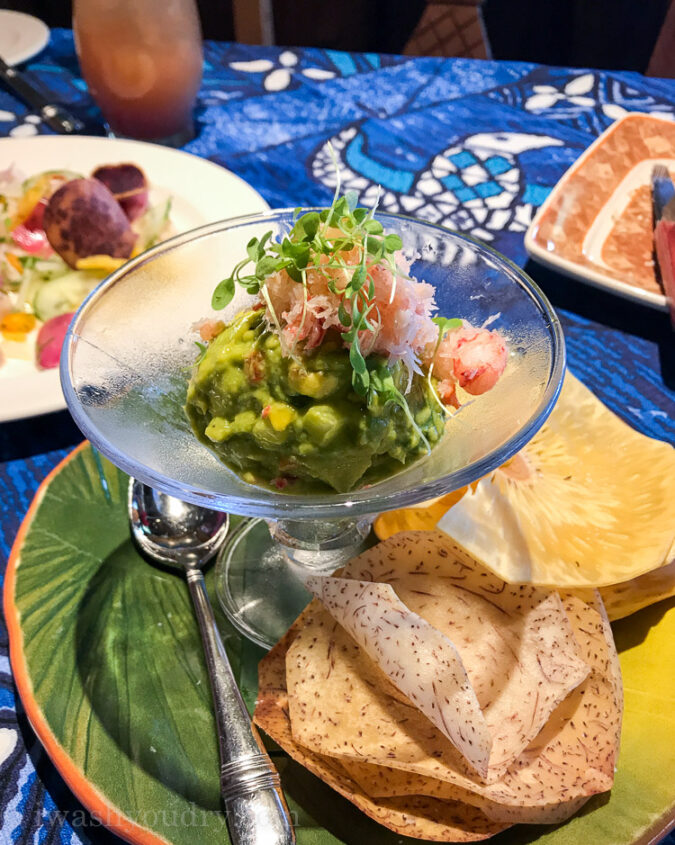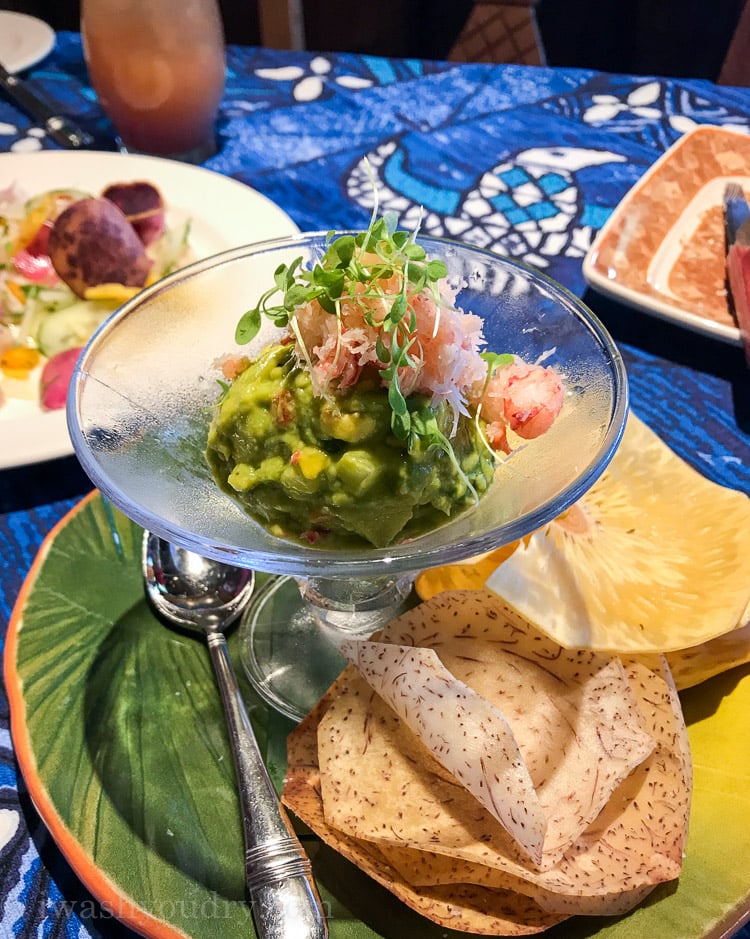 RECOMMENDED EATS:
Kula Avocado and Crab Guacamole
Ceviche
Da Kitchen –
425 Koloa St, Kahului, HI 96732
(808) 871-7782
Similar to Tin Roof, Da Kitchen is in a strip mall type establishment with a line out the door, so we knew this must be the go-to for locals. We waited for about 30 minutes to get a table, but once we did the service was quick and friendly. The portions here are HUGE!! I repeat HUGE!! We barely made a dent in our order and with us staying in a hotel, didn't really get the chance to take our leftovers with us. I wish we could have gone twice because I wanted to try so many more items.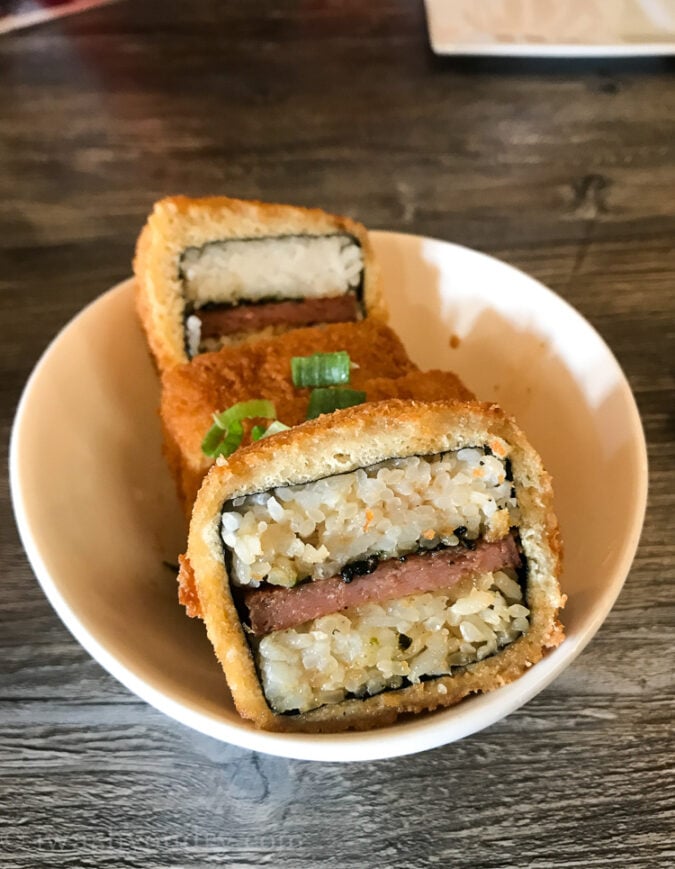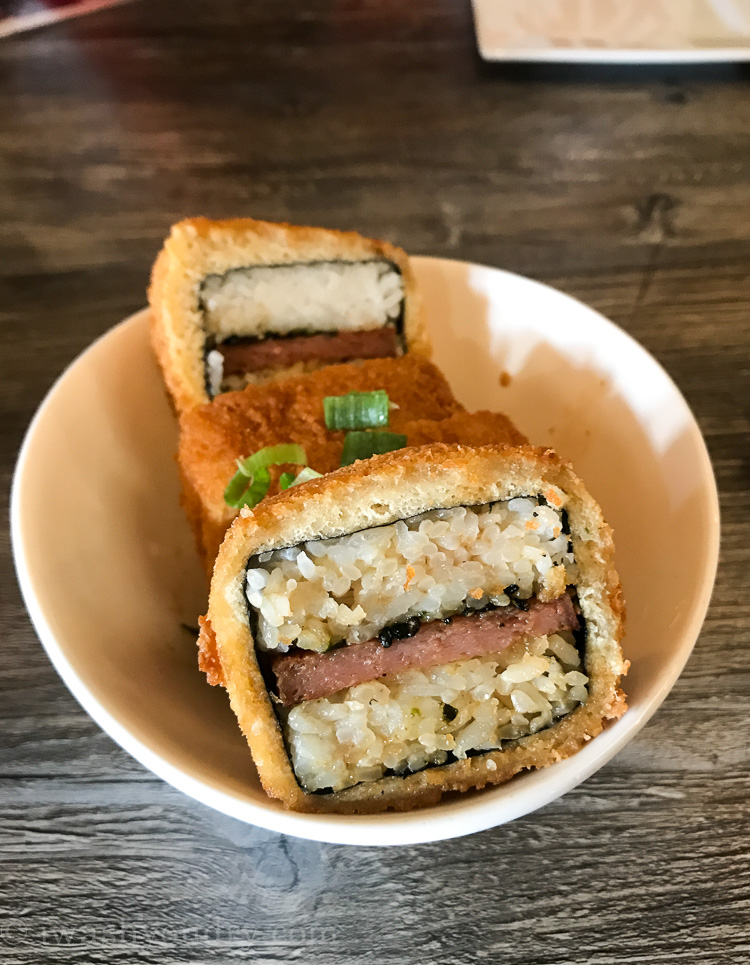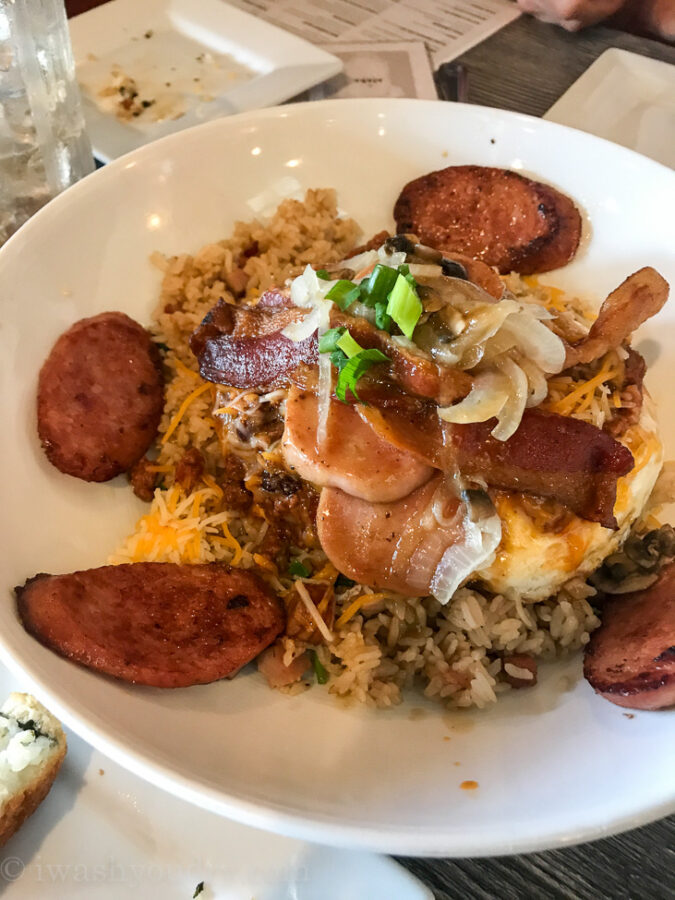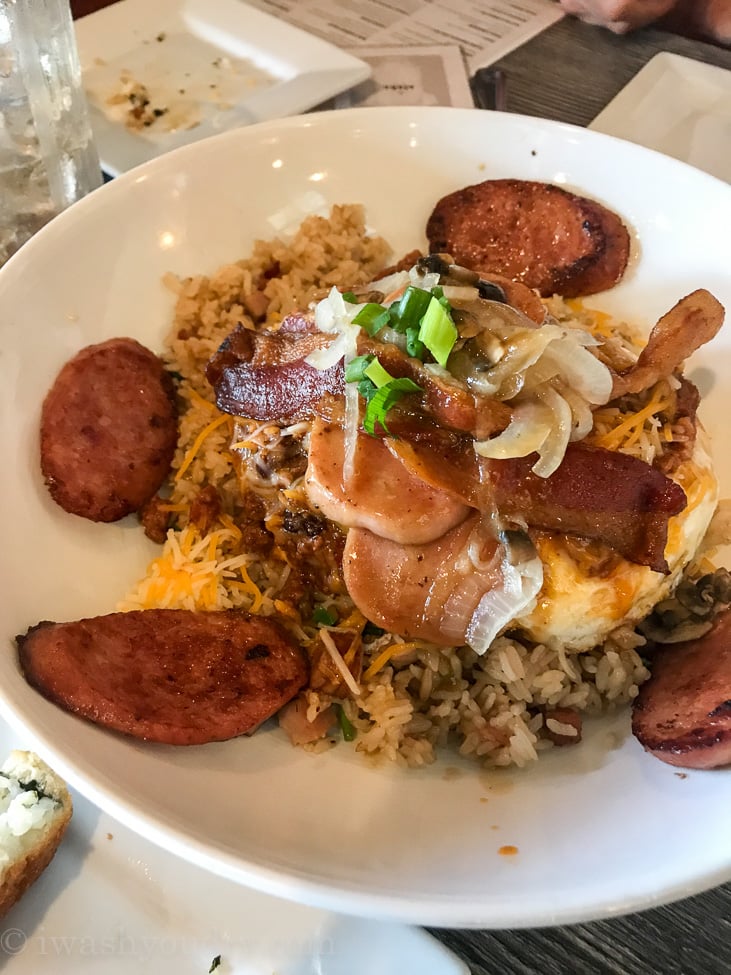 RECOMMENDED EATS:
Fried Spam Musubi (pictured above)
Chicken Katsu Sandwich
Notorious B.I.G. Moco (pictured above)
Poi By The Pound –
430 Kele St, Kahului, HI 96732
(808) 283-9381
Truth be told, we headed to this kitchen-style restaurant because Da Kitchen was a little too crowded on our first attempt. Poi By The Pound is a little hard on the eyes, but don't let that fool you. The food we ate was phenomenal, and in fact, I am still dreaming about the KimChee Fried Rice that I ordered. If you've never tried poi, this is a great place to give it a try. They'll let you taste a little sample before fully diving into the purple gloop. I didn't enjoy it, but my husband liked it with his Poke Bowl.
(Sorry – I forgot to take pictures of this place)
RECOMMENDED EATS: 
KimChee Fried Rice (get the egg over easy and kalua pork)
Poke and Poi (or Rice) Bowl
Ribeye Steak
Monkeypod Kitchen –
10 Wailea Gateway Place, Kihei, HI 96753
(808) 891-2322
We waited well over an hour to get into this fun and trendy Monkeypod Kitchen, but the live music and hopping atmosphere made the time go by quickly. Everything we ordered here was very delicious! You'll find classic foods with a Hawaiian flare.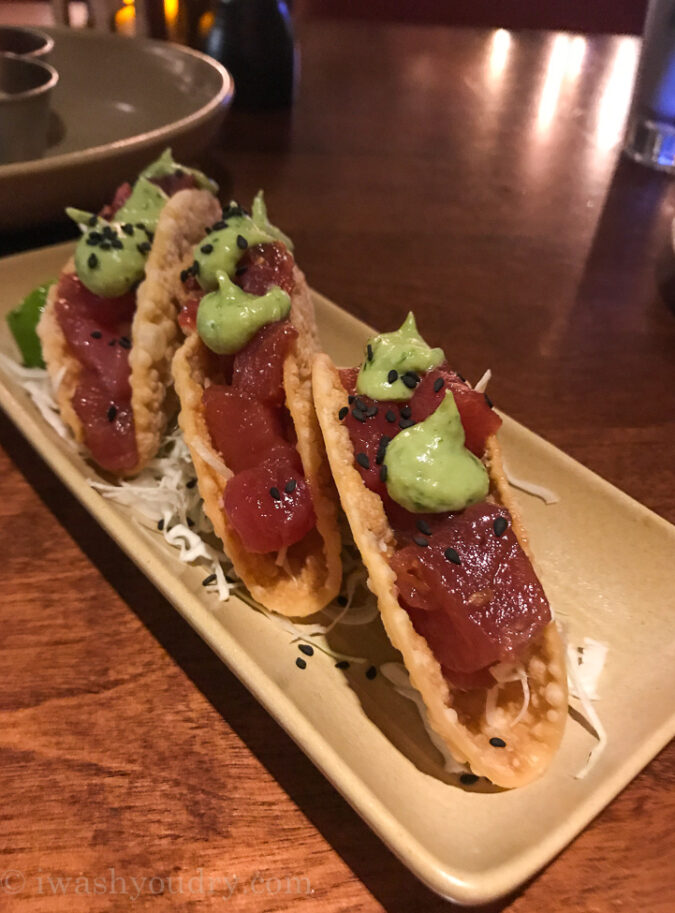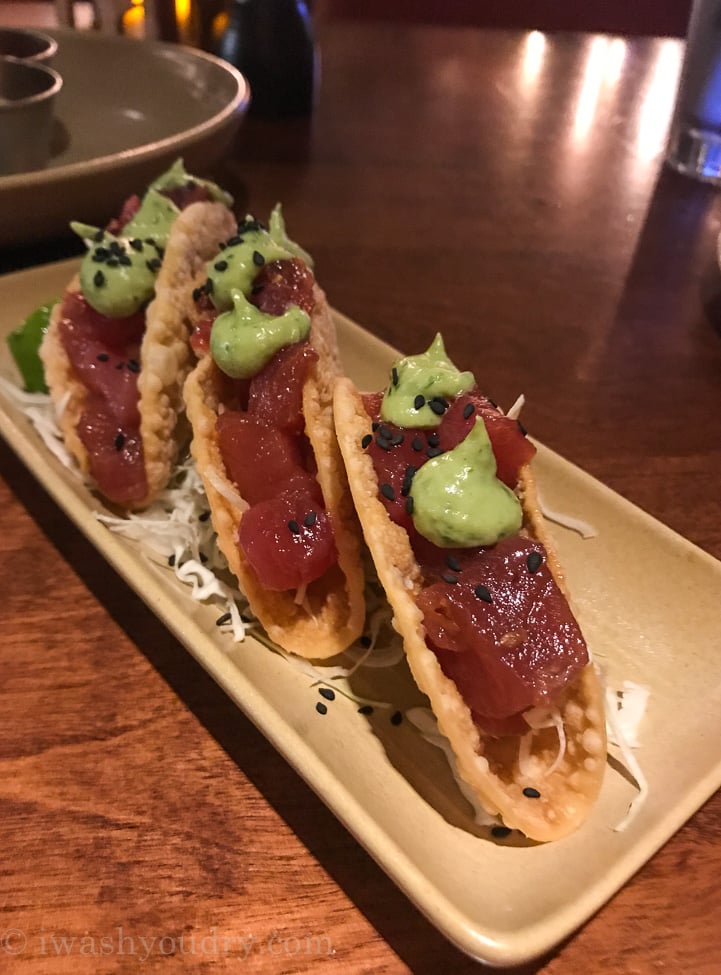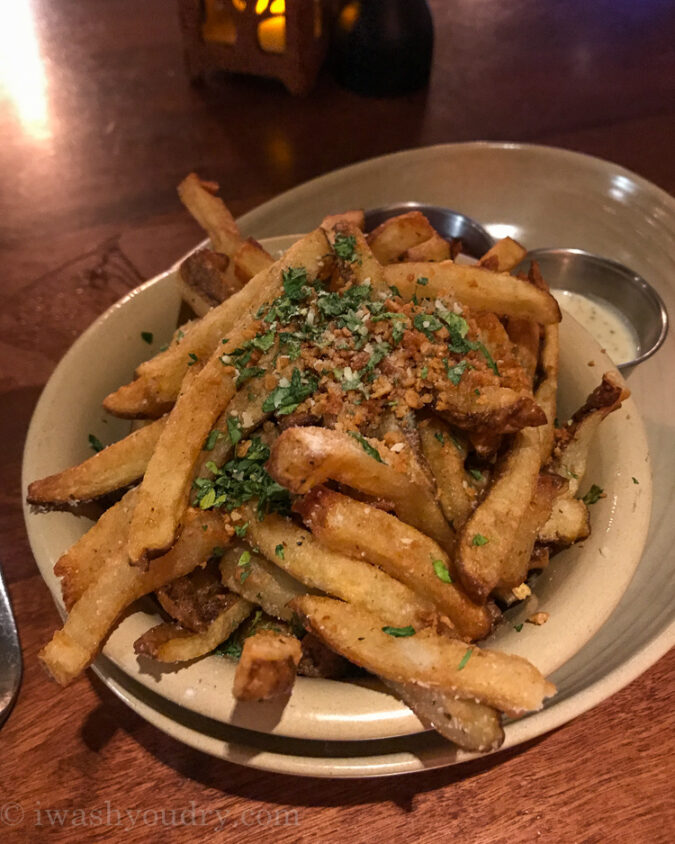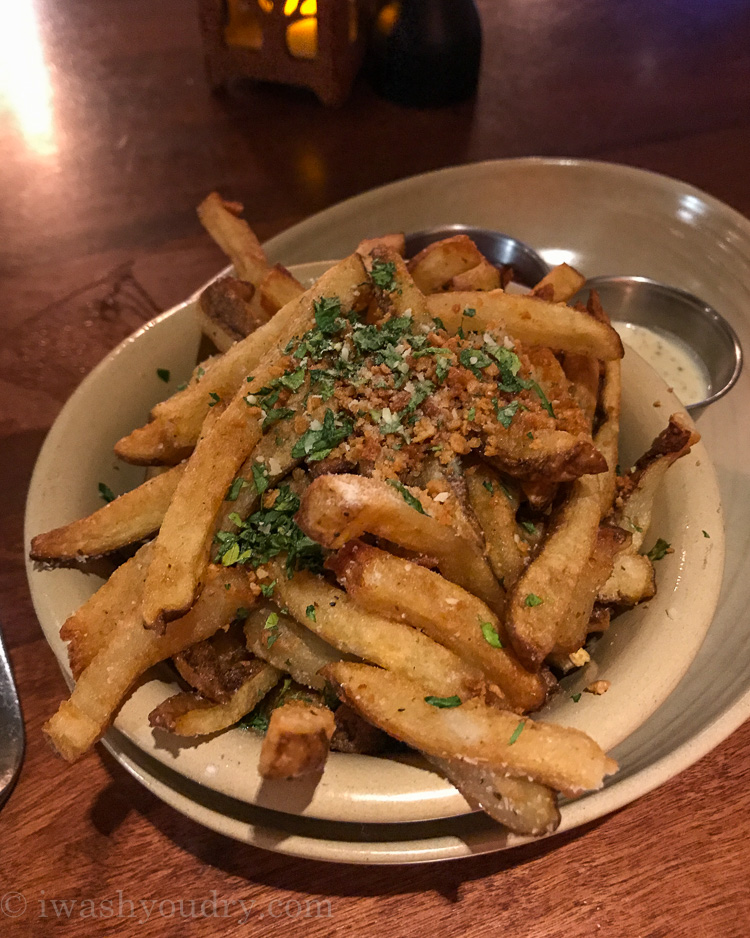 RECOMMENDED EATS:
Poke Tacos (pictured above)
Garlic Truffle Oil Fries (pictured above)
Kalua Pork and Pineapple Wood Fired Pizza
Fresh Gnocchi with Pork Sausage
Grocery Store Finds –
One of my favorite meals was when we went to a local grocery store and picked up fresh tuna poke from the deli, a few containers of pasta salads and green salads, a couple sodas and water and took them to the beach for a picnic. This was a low key dinner, but LOADS of fun as we sat and chatted for hours under the stars, while listening to the crashing waves of the ocean.
Wow! That was a lot of food, but we were there for a full week, so I guess that makes sense. I hope you found a few nuggets of gold here as you plan out your next trip to Maui! Enjoy!