Last month I traveled to Minnesota and had the opportunity to tour a couple of pig farms. That's when I gained a whole new appreciation for where my food comes from. This is what I learned about pig farming…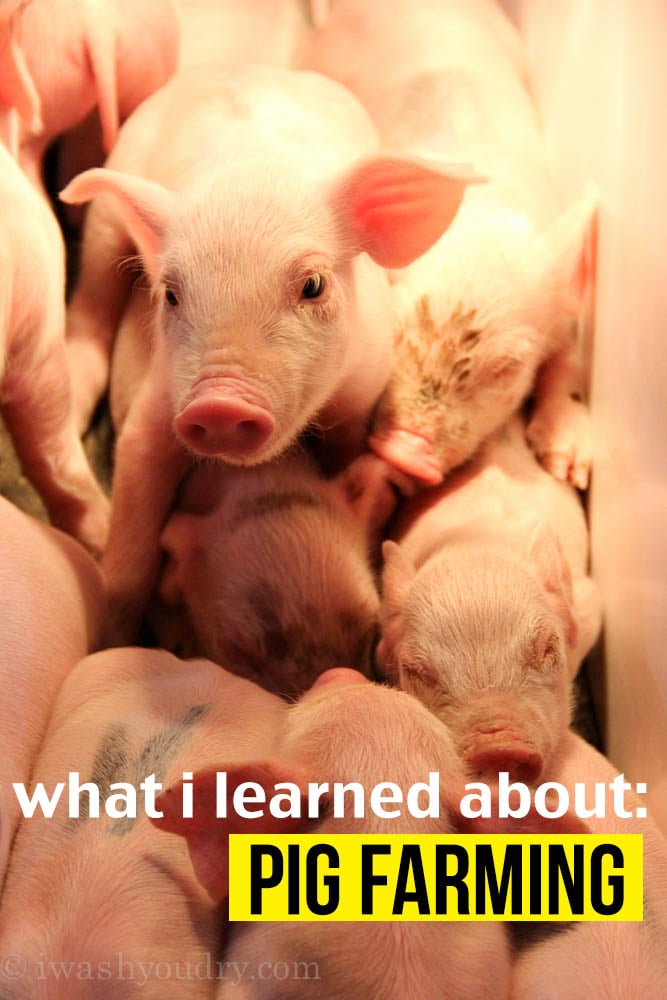 Like many of you, I had seen my fair share of sensationalized documentaries about the pig farming industry. I was eager to see behind the scenes for myself and the farmers were willing to answer any and all questions I had.
I encourage you to take the time to read this post in it's entirety, if you have any questions or comments, please leave them in the comments below.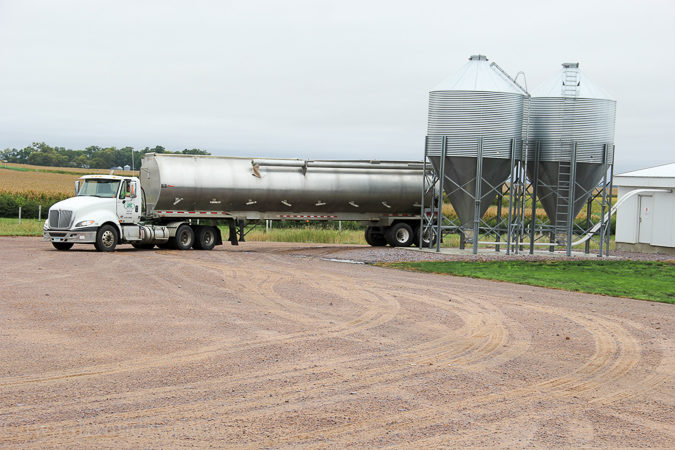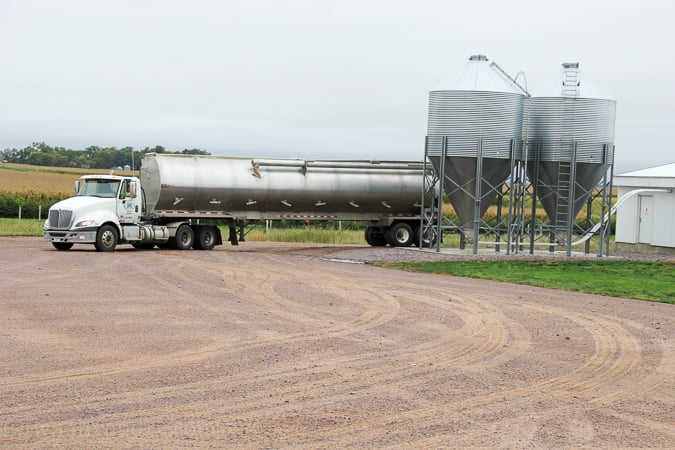 My tour started on the family owned farm, Wakefield Pork Inc. This busy farm is nestled in a small farming community outside of Minneapolis, Minnesota. An adorable couple, Mary and Steve, started the farm back in 1991 with just a small barn in their backyard. Over the years the farm has seen much growth and the company has now spread to over 2400 pigs, with several contractors spread across a few states.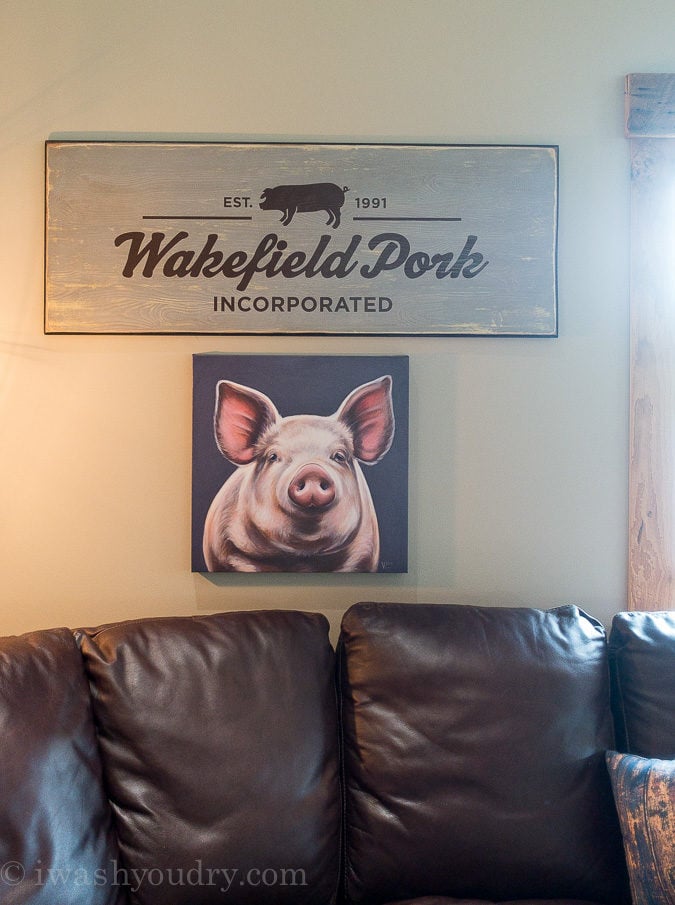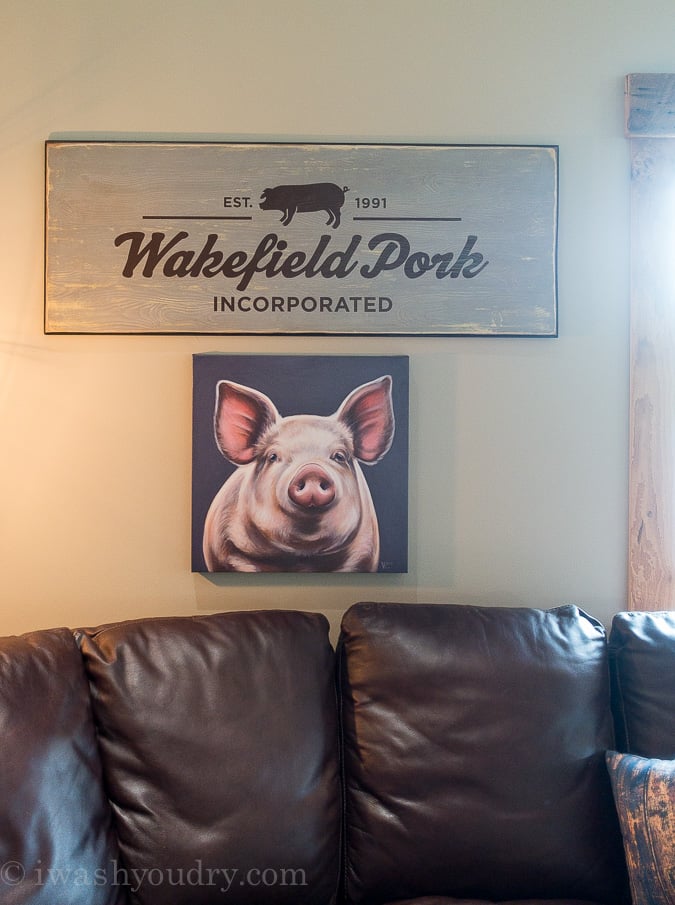 The first day of our tour we entered the Wakefield farrowing farm, but not without completely undressing and taking a head-to-toe shower. WHAT?! 
Yeah, you read that right.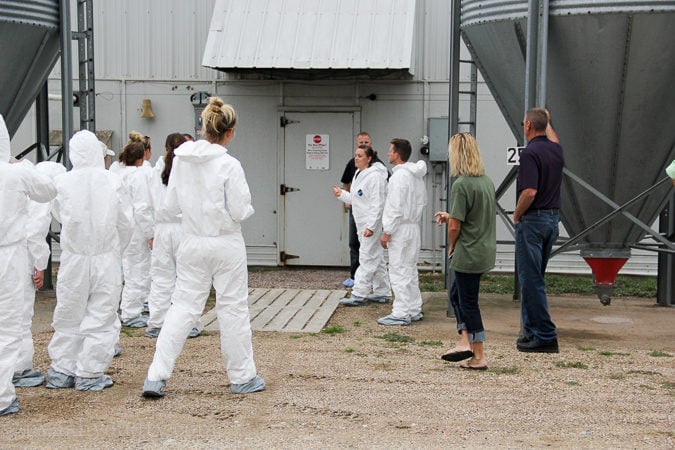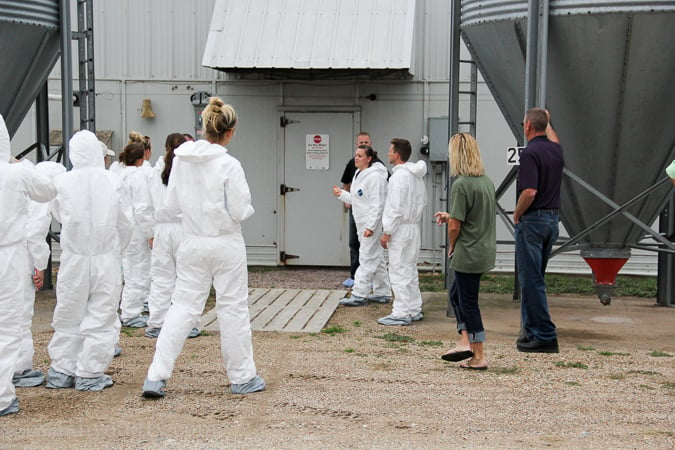 Farrowing farms are for the large sows (adult female pigs) that are bred for making babies. Here, the health and wellness of the pigs is in high priority. No one is let in (or out) without taking a shower first. Think of a maternity ward in the hospital, only a lot more strict. The whole farm is indoors, with heavy duty air vents that are equipped with hepa-filters. These steps for extra cleanliness have greatly increased the survival rate of the baby piglets.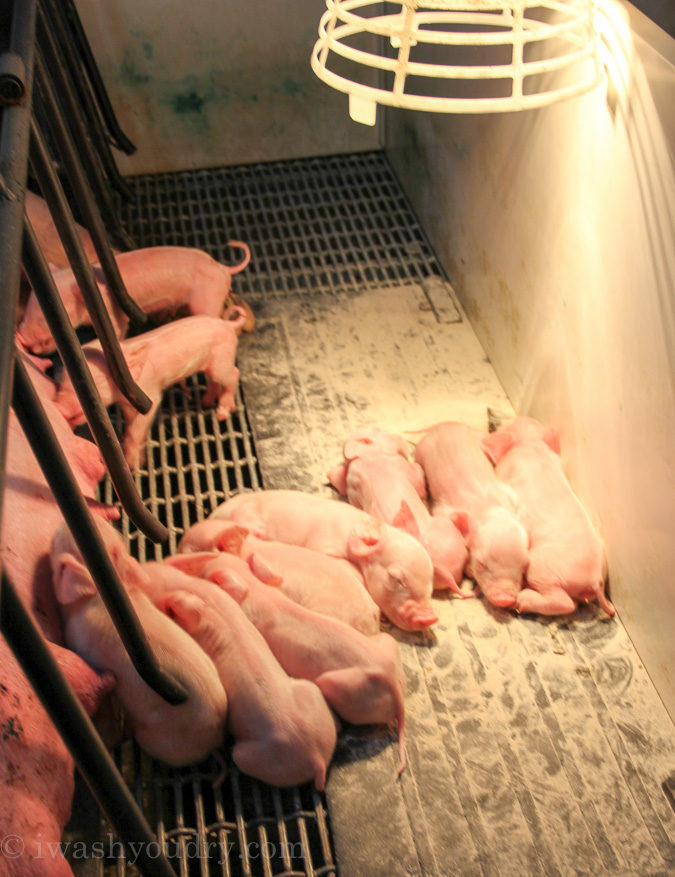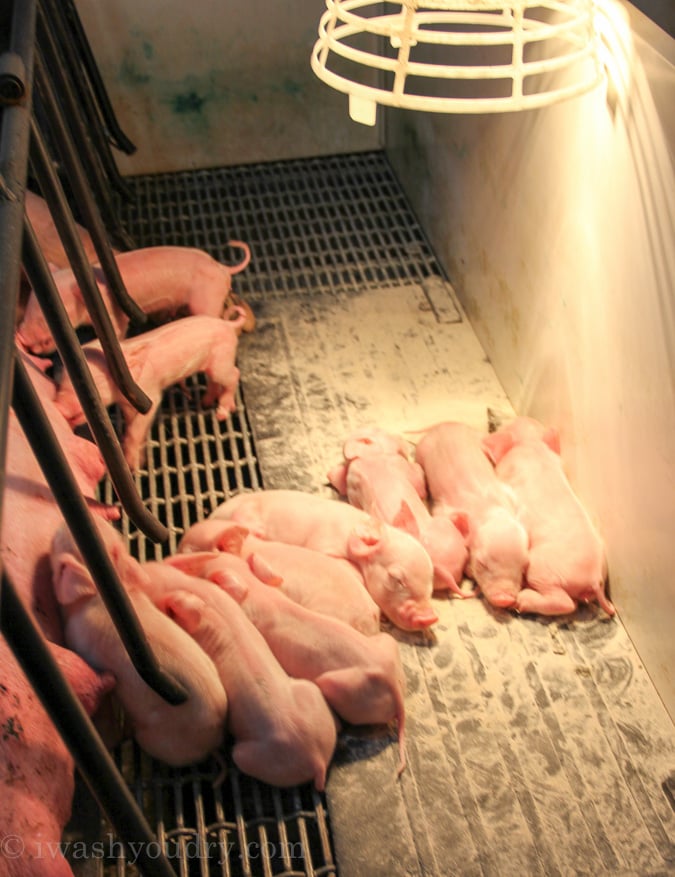 The whole process of farrowing (having babies) is completed at this one location. The piglets are born and kept with their mama until they reach about 18-19 days, then they are shipped off to a "Nursery Farm." The Nursery Farm keeps the pigs until they reach 50 pounds and then they are shipped to a Finishing Farm, where they are kept until they reach approximately 300lbs.
WHY DO THEY MOVE FROM FARM TO FARM?
Back in the day the pig farmers would have the whole process in one location. Farrowing, Nursing, and Finishing. Some still do. The Wakefield farm has been a leader in the pig farming industry by separating this process, and doing it with hugely successful results. Since the 1950's pig farming has increased it's productivity by 50%, while REDUCING water use by 40%, land by 80% and it's carbon footprint by 35%. By separating the pigs in this fashion, they've also reduced the loss of pigs due to disease.
WHY DON'T THEY LET PIGS ROAM FREE IN THE MUD?
This was a question I had, and definitely asked. The pigs are kept inside, in a climate-controlled environment, with what I would describe as small slits in the floor underneath them. These small slits allow the pig's waste to make it's way down to a concrete lined holding tank, keeping the pigs cleaner and healthier.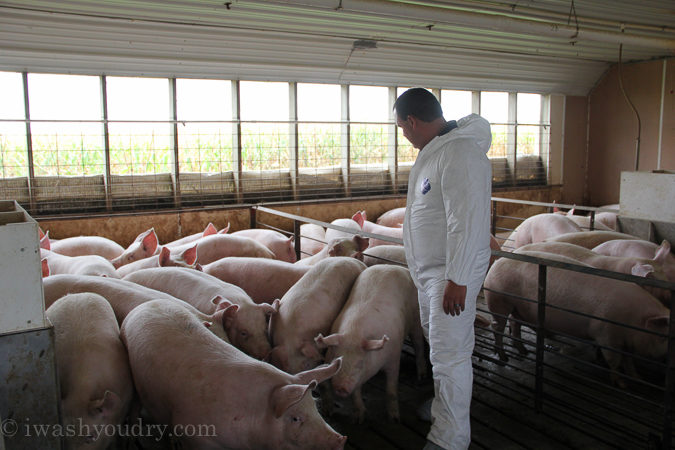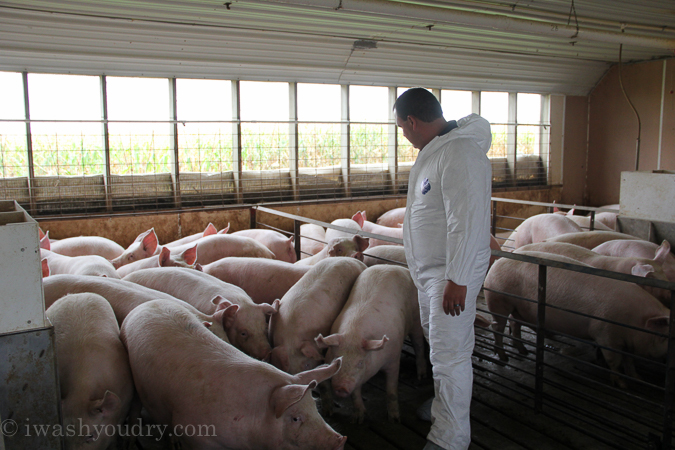 Farrowing sows (pregnant) are usually kept in a solitary pen. This was a little shocking to see at first, and my first instinct was to feel sorry for them. Then we were told about "the pecking order." This is a real thing that happens naturally with animals. I should know, I have 3 backyard chickens and I witness this firsthand on a daily basis. It's natural that the big will pick on the small, and that's exactly what these sows do when they live together. It's like high school all over again. By separating the mamas, they are kept healthier, not injured AND the farmers are able to closely monitor their food and water intake. It's really a happy and cozy studio apartment style pen.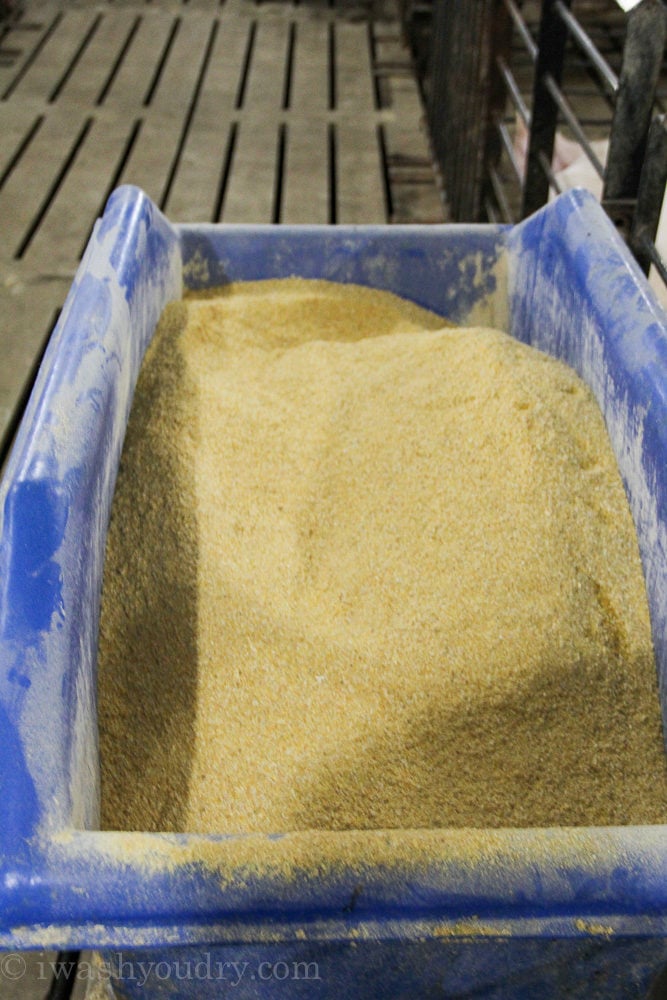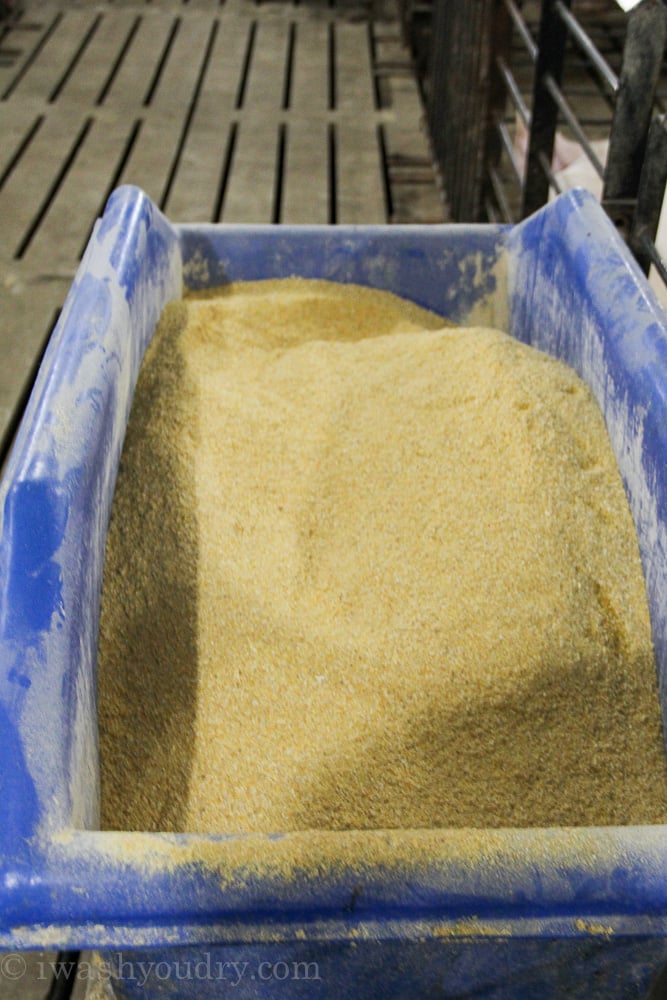 Piglets, nursery age pigs and finishing farm pigs are kept in larger pens together. I asked Steve (the owner of the farm) how he knew the pigs were happy. He said, you can see them almost jump with excitement and curiosity. When we saw the young pigs at the finishing farm, they came right up to us and I could definitely tell they were happy.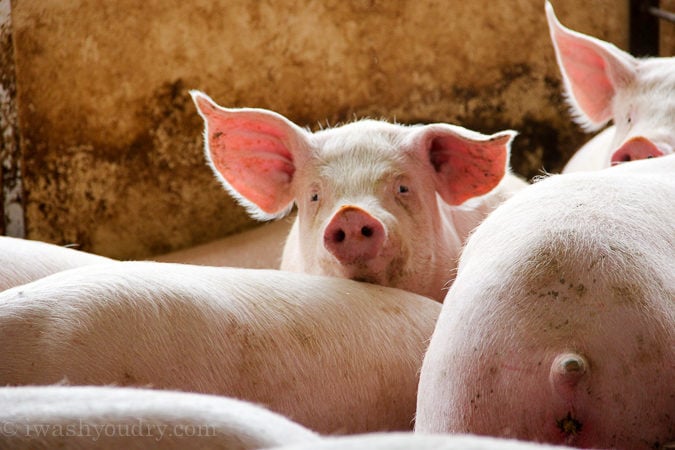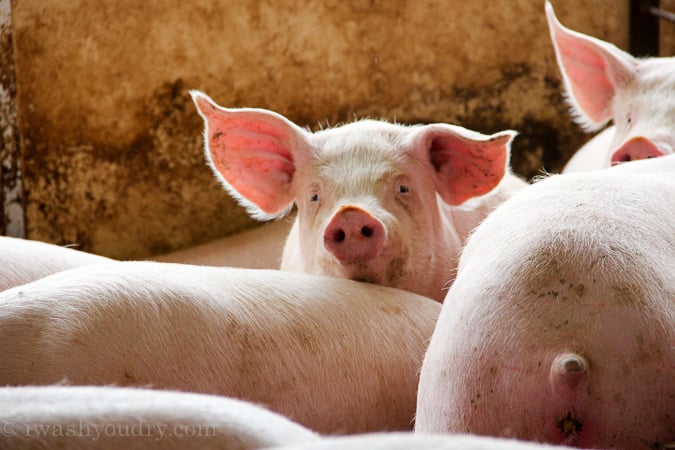 WHAT DO THEY DO WITH THE PIG'S WASTE?
Most farmers who have adapted to the system with the holding tanks underneath the pigs use the waste in its entirety. The waste is treated with enzymes that break it down and liquefy it. It's then pumped out twice a year and used as manure for the crops that are grown to feed the pigs. I asked what they do with leftover waste (if they have any), and was told that it is sold to other farmers who are in need.
It's really a never-ending cycle of sustainability. They feed the pigs corn, the pigs produce manure, and the manure is used to grow more corn!
WHAT HAPPENS TO THE MAMA PIGS?
The sows (mama pigs) are kept at the farrowing farm and produce an average of 6 to 7 litters per sow in their lifetime. At the Wakefield farm their sows are averaging 15.5 piglets per litter. The gestational period for a sow is exactly 114 days. For those that are wondering, that's 3 months, 3 weeks and 3 days! How cool is that!?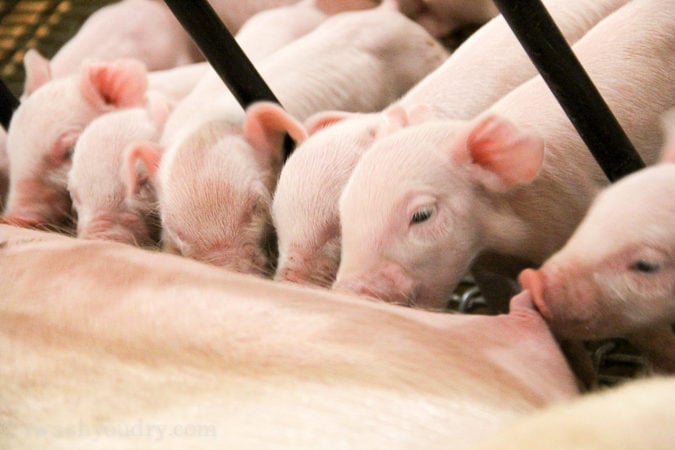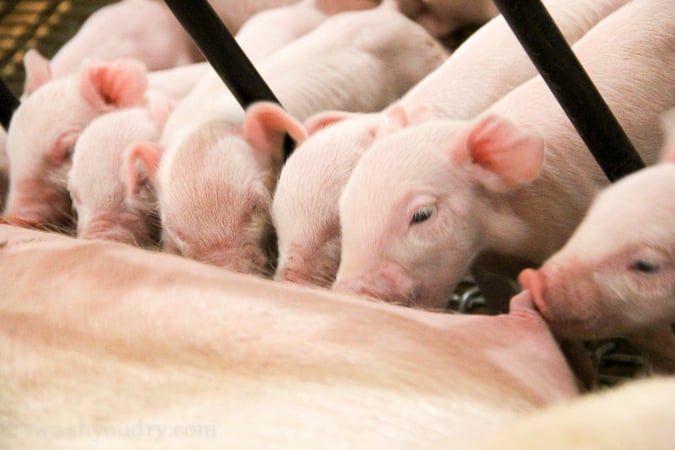 Back in the day they used to have plenty of boars (male pigs) around to impregnate the sows, but this method was costly. One boar to one sow. Wham bam, thank you ma'am. Obviously this wasn't a very efficient method, when there are thousands of sows ready to go. Now the farmers get the ejaculate from one boar (3 times a week) and are able to inseminate 30 sows per collection. This method cuts down on the amount of boars needed to be fed and is much more efficient, ultimately reducing the farm's carbon footprint.
WHAT HAPPENS TO THE PIGLETS?
This was probably my favorite part of the tour. The birthing room! When the sows are ready to give birth they are brought to a quiet room and give a larger pen with room for their piglets. I was able to witness a sow giving birth and even helped in the delivery!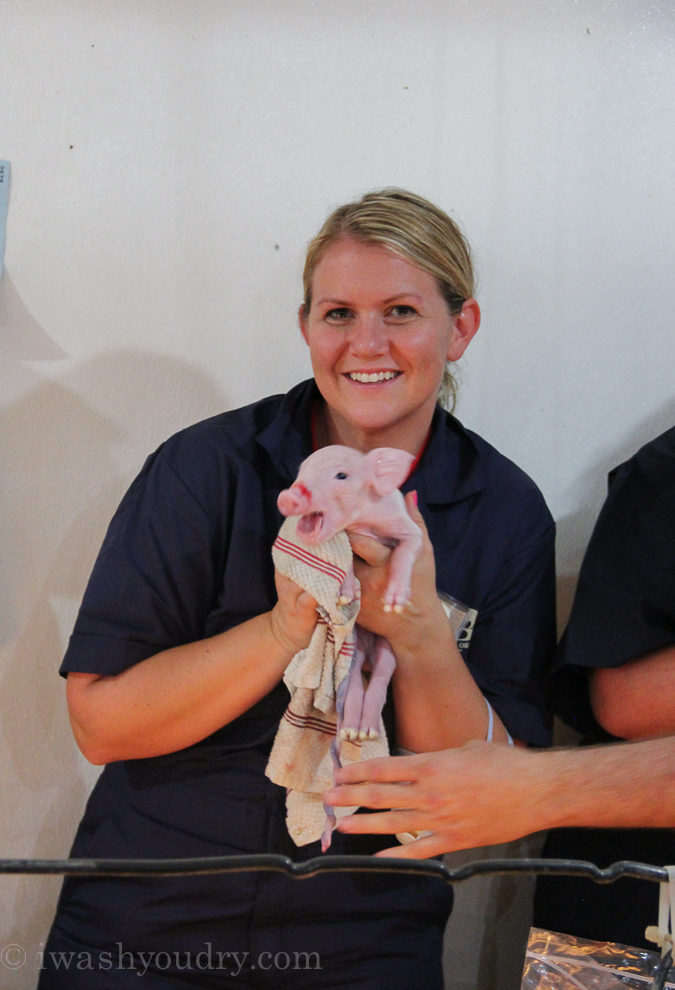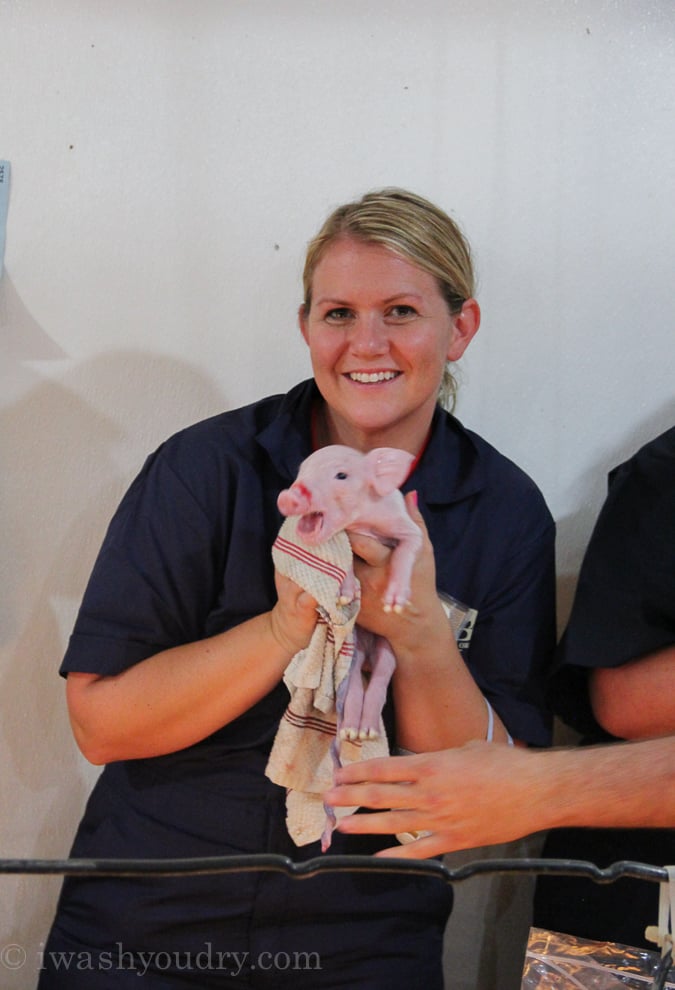 The babies are kept with the mama for 18 days, where they nurse and sleep. Much like any other baby. They are kept warm and are monitored daily for their growth and health. The babies will eat every 40 minutes, so you know that mama is working hard to produce all that milk!
In just a few days the piglets will rapidly gain weight. By the time they leave their mama they will reach up to 20 pounds! From here they are taken to a nursery where they are fed and brought up to 50 pounds, which takes another few months. After that, the pigs are sent to a finishing farm where they play in their climate controlled pens, eat lots of food and enjoy life until they reach about 300 pounds.
WHERE DOES THE PORK COME FROM?
Once the farrowing sows have reached their final days and are no longer producing piglets, they are sold off for meat. Since these sows are so large and have used their muscles for those babies they are used to produce sausage, pepperoni, hot dogs, etc.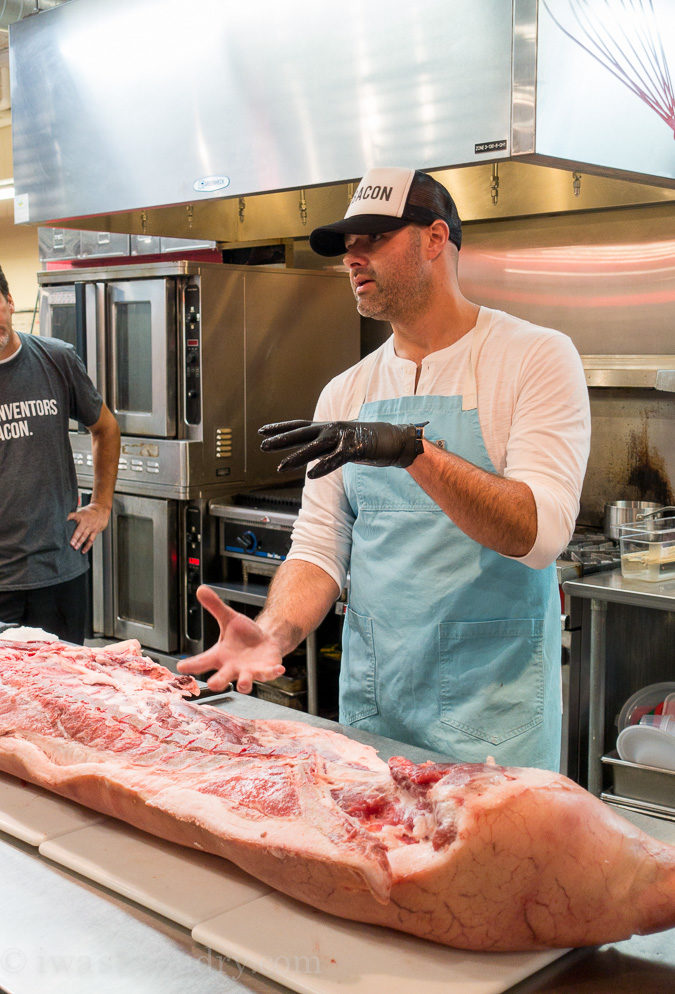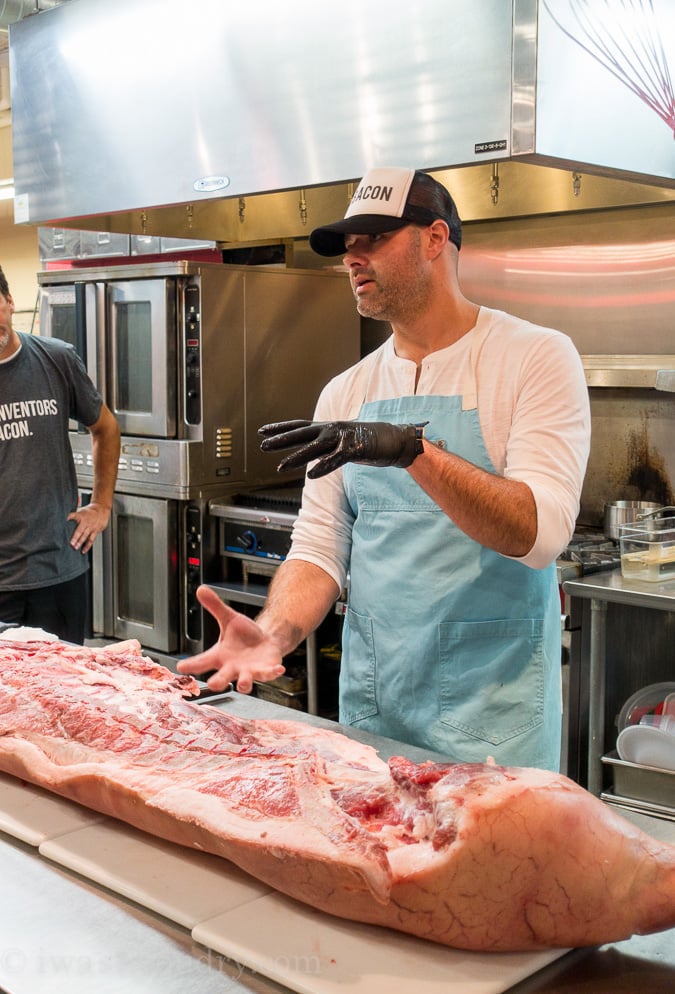 The pigs that were at the finishing farm are used for your typical cuts of pork – chops, ribs, BACON!
We were able to spend an afternoon working with all the different cuts of pork, playing around in a commercial kitchen, and then enjoying all the good food.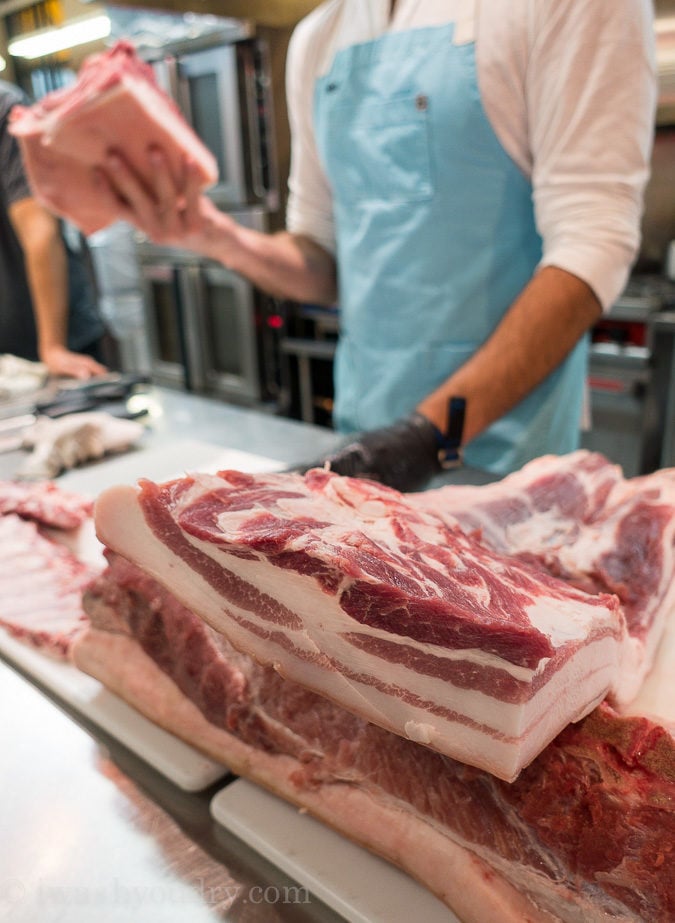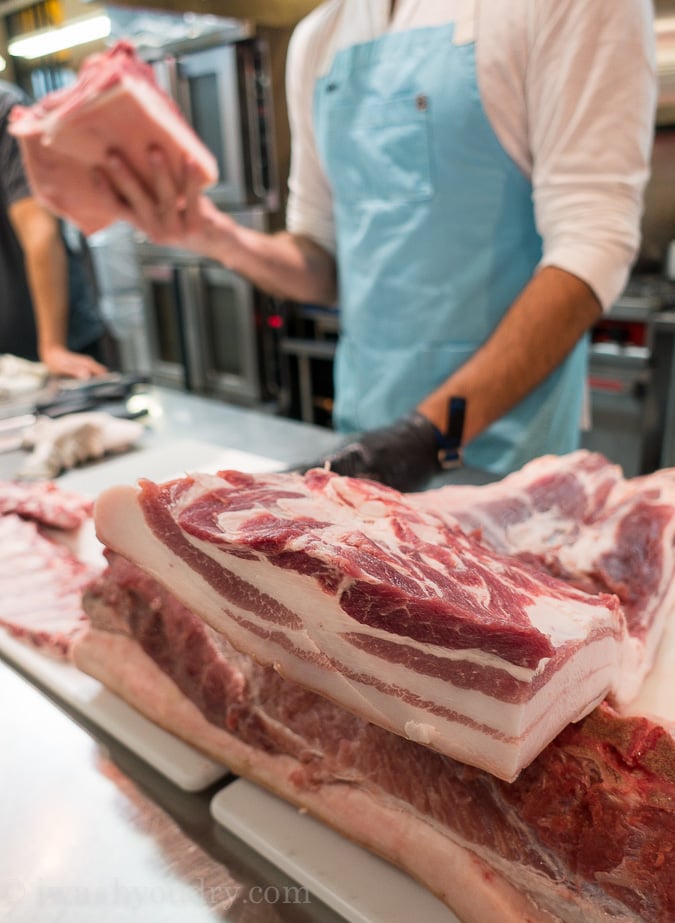 I've really gained an appreciation for where my food is coming from, and the love, science, technology and hard work that's put into it. There is no one that works harder to keep Americans fed than our farmers.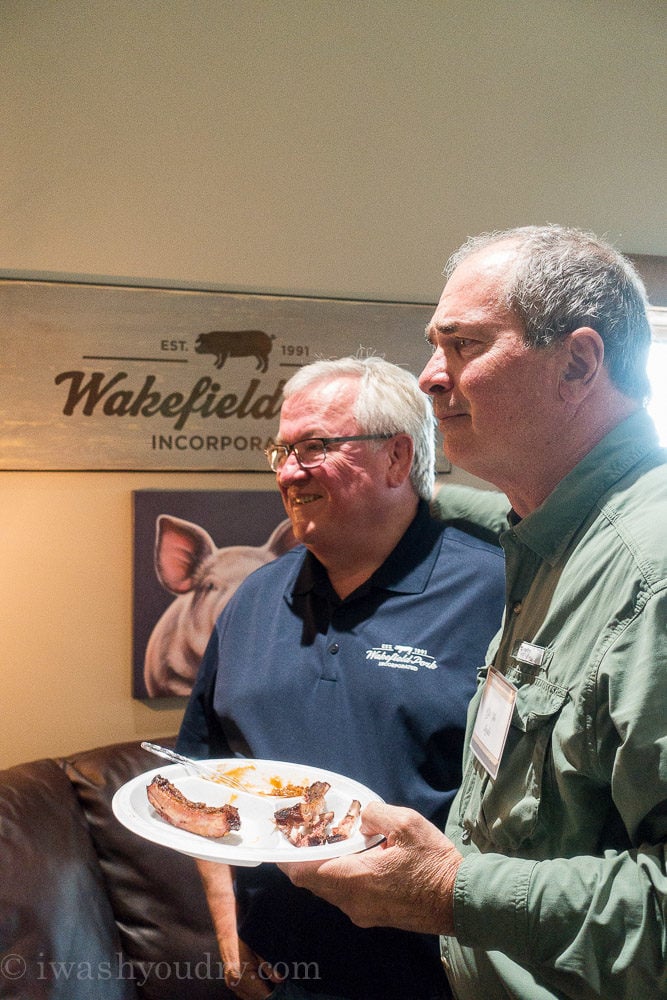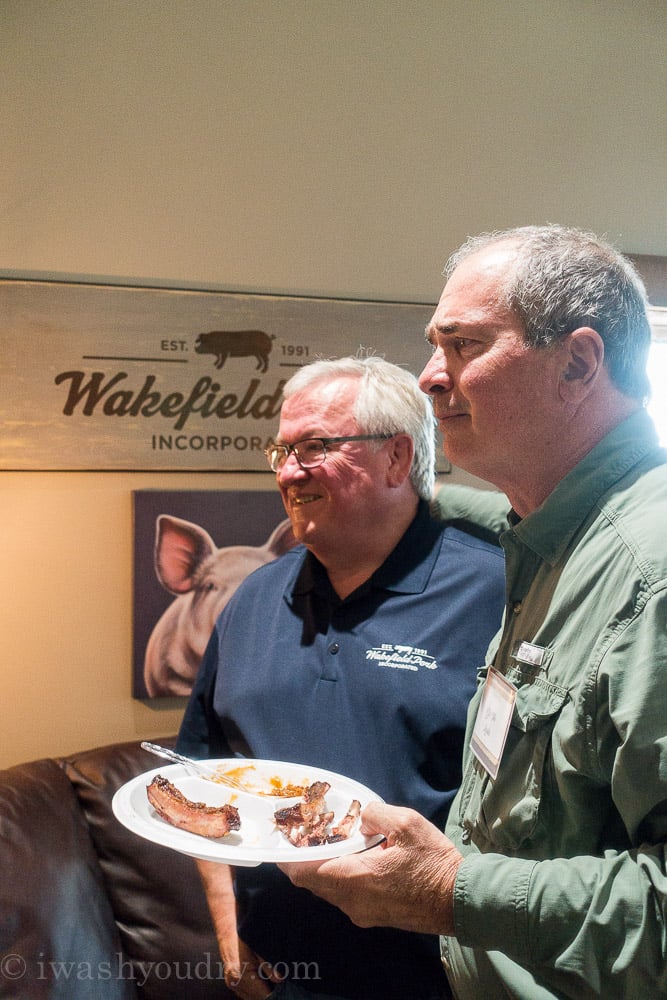 If you have any other questions, PLEASE ASK! I took so many notes, and feel like I could probably write a book on it.
Make sure you don't miss a thing! Follow I Wash You Dry here:
FACEBOOK | PINTEREST | GOOGLE+ | TWITTER | INSTAGRAM | BLOGLOVIN
disclaimer: This post is in partnership with the National Pork Board. All thoughts and opinions are 100% my own. Thank you for supporting the brands that help make I Wash You Dry possible.