These fruity Trix Yogurt Popsicles are made with fresh fruit and yogurt with a creamy milk and cereal center!
Making your own homemade popsicles is a great way to cool off in the summer and have a fun time with the kids.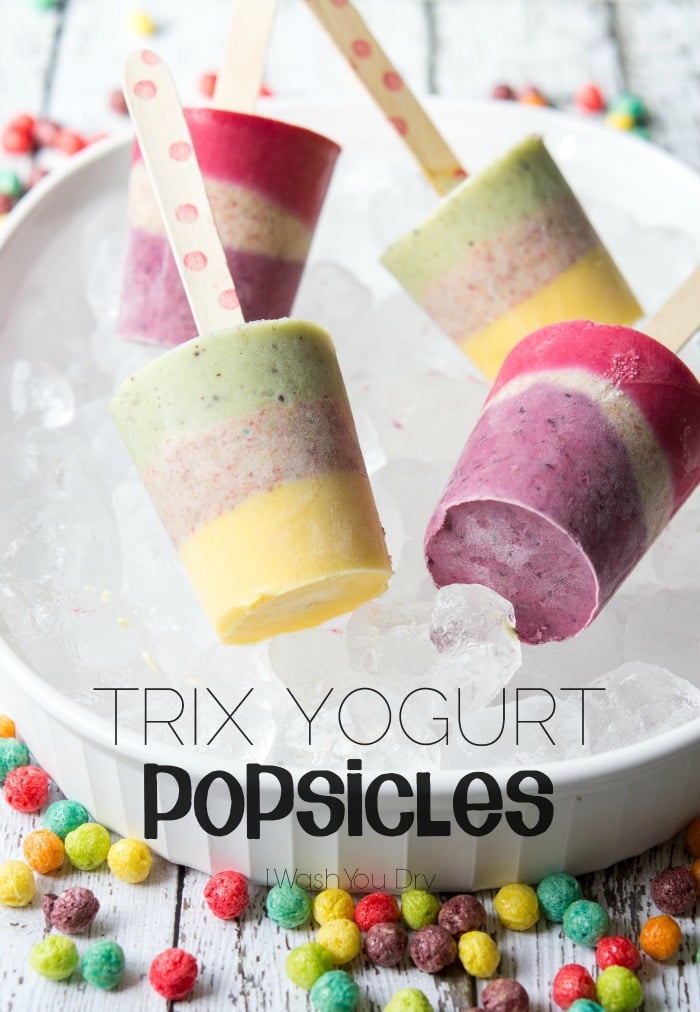 Trix Yogurt Popsicles
I'm head over heels in love with these fruity homemade popsicles!
Imagine fresh fruits and sweet yogurt filled with tiny bits of fruity Trix cereal layered and then frozen to enjoy on hot summer days!
Ingredients for Homemade Fruit Pops
Here's what you'll need in order to make these popsicles at home. As always, you can find the full printable recipe located in the recipe card below.
Fresh Fruits – bananas, blueberries, blackberries, raspberries, kiwi, mango
Vanilla Greek Yogurt
Honey
Trix Cereal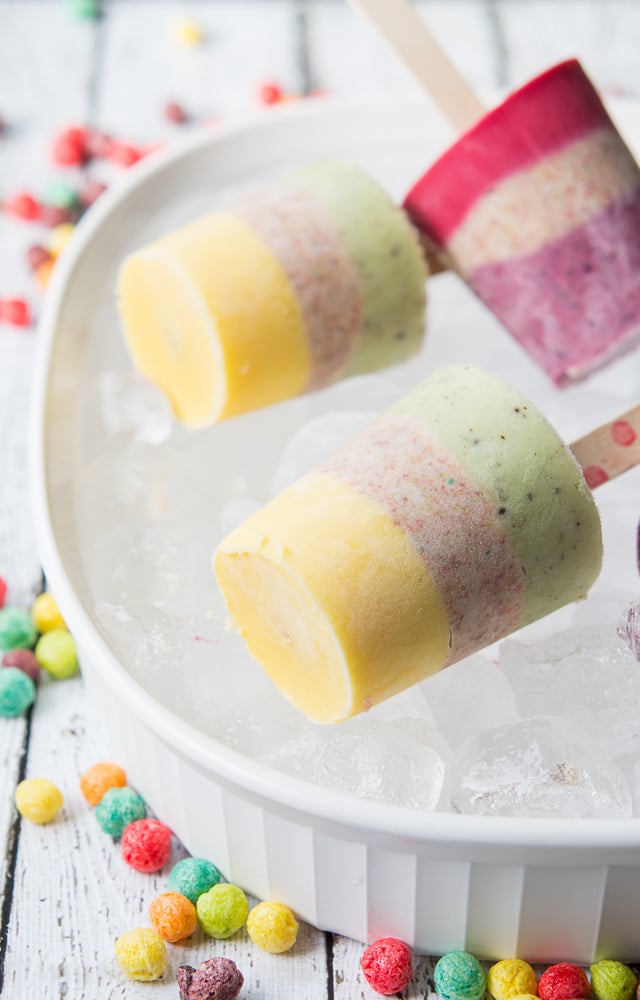 How cool will your kids think you are when you let them eat these popsicles for breakfast?! You can feel totally good about it too because these are literally just fruits, yogurt a little cereal, and just a touch of honey to sweeten them.
How To Make Fruit Popsicles
I made these tasty treats in two varieties – Tropical and Triple Berry. Both with a layer of fruity Trix cereal right in the middle.
CRUSH CEREAL Place the fruity Trix cereal in a clean and dry blender and pulse a few times until the cereal is in fine crumbs. Set the crumbs aside in a new bowl and then blend the banana with some yogurt and honey until it's nice and smooth. Stir in the cereal and set this aside.
BLEND FRUITS Next combine your fruit of choice in the blender with more yogurt and a little honey.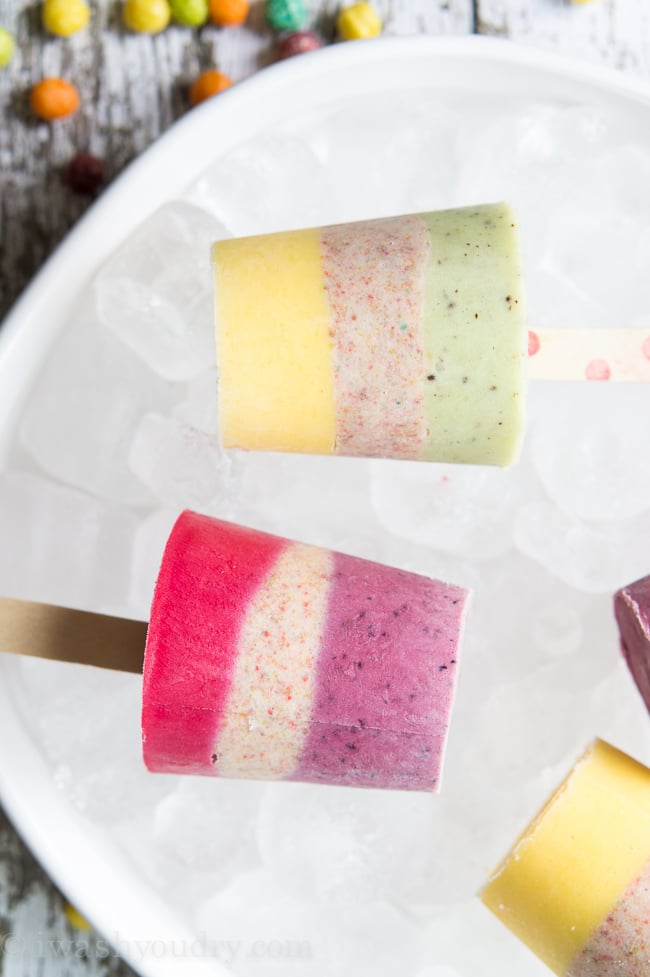 LAYER POPSICLES Once you have your fruity mixture and cereal mixtures all blended, carefully layer them in a small popsicle mold or paper cup. Place a popsicle stick in the center and freeze the pops until solid.
Use a small baking sheet to transfer the cups to the freezer. I like to use the paper cups because I can just cut the paper away and the pops come out easy.
How Long Does It Take To Freeze Popsicles?
Homemade popsicles can take anywhere between 4 to 6 hours to freeze, depending on how cold your freezer is and how big the popsicles are.
When I'm not using the paper cups, I like this reusable popsicle mold to make my fruit bars.
Helpful Tools and Tips
Make this recipe with ease when you use these helpful tools and get perfect results with these easy tips!
Use a blender or food processor to mix up the fruit purees.
A silicone popsicle mold makes it extra easy to remove the frozen popsicles.
Tap the popsicles on the counter before freezing to remove any air bubbles.
Try using different flavors of cereal in the middle or leave it out completely if desired.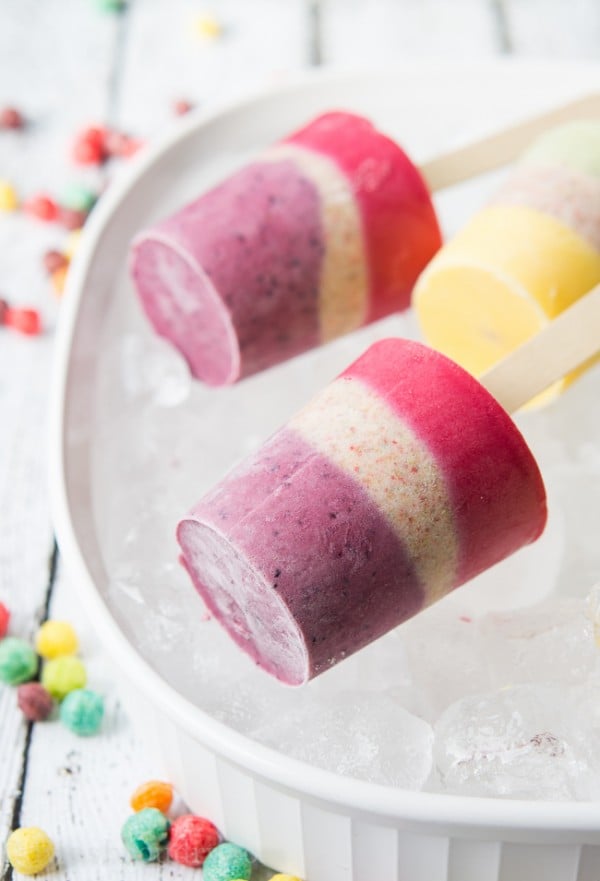 Easy Homemade Popsicle Recipes
Here are a few more refreshing and tasty homemade popsicles that I think you'll really enjoy!
Trix Yogurt Popsicles
Trix Yogurt Popsicles are kid friendly and mom approved! Your whole family will love them!
Ingredients
For the Triple Berry Yogurt Popsicles:
Instructions
Use a clean and dry blender to crush the Trix Cereal into a fine crumb, remove from blender and set aside.

Rinse blender out and add the banana, ½ cup greek yogurt and 1 tbsp of honey. Puree until smooth then pour into a separate container. Use a spoon to stir in the crushed cereal, set aside.

Combine the blackberries, blueberries, ½ cup of vanilla greek yogurt and 1 tbsp honey in the clean blender. Puree until smooth. Fill 6 (5oz) cups 1/3 of the way with the blueberry/blackberry mixture.

Rinse the blender out and add the raspberries, yogurt and honey. Puree until smooth, pour into a separate container and set aside.

Fill the cups another 1/3 of the way with the banana/cereal mixture, then top with the raspberry mixture. Tap the cups gently on the counter to remove any air bubbles, and then insert a wooden craft stick in the center. Place in freezer for 6 hours. Tear paper off popsicles to enjoy.

Repeat the process for the Tropical Pops.
Nutrition
Calories:
134
kcal
|
Carbohydrates:
28.6
g
|
Protein:
4.5
g
|
Fat:
1
g
|
Cholesterol:
2.5
mg
|
Sodium:
40.9
mg
|
Sugar:
22.5
g
|
Vitamin A:
1
IU
|
Vitamin C:
30
mg
Keywords:
popsicles, Trix cereal, yogurt