This Sweet Fire Shrimp Bowl boasts loads of tender crisp veggies, a sweet mango cranberry salsa, shrimp tossed in a spicy chili garlic sauce, and drizzled with a cooling sweet chili yogurt all over a bed of rice.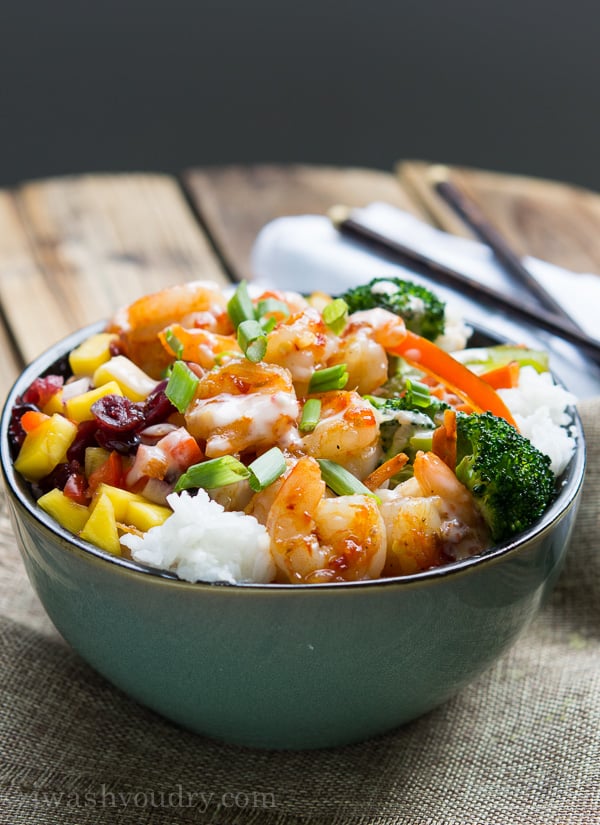 I know I complain a lot about the lack of restaurants in our small town, but this bowl is actually a copycat recipe from the newest steakhouse that opened up here called Mr. Mike's.
The flavors are fantastic. Spicy, sweet, cool, crisp, creamy. It leaves you wanting more, and before you know it, it's all gone.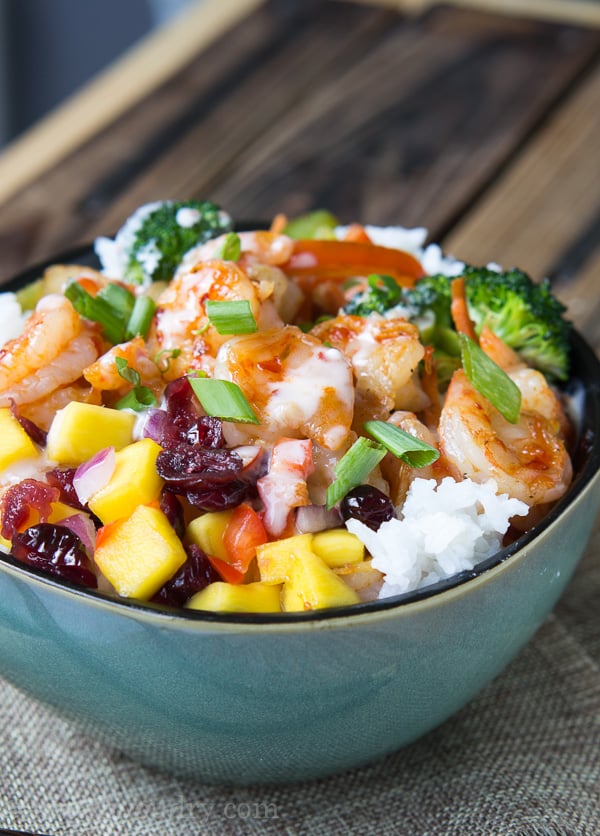 I had to recreate it.
True story – I told my husband that we had to go out on a date so I could examine all the ingredients of this Shrimp Bowl and take notes. He reluctantly agreed. When my bowl came out I sat there with my face probably 5 inches from it, poking things, taking little bites, putting my fork down and jotting down notes on a small notepad. The waitress came back, gave me a weird look then asked if everything was alright.
Yes… this is how I always eat my food. 😉
My husband was so embarrassed.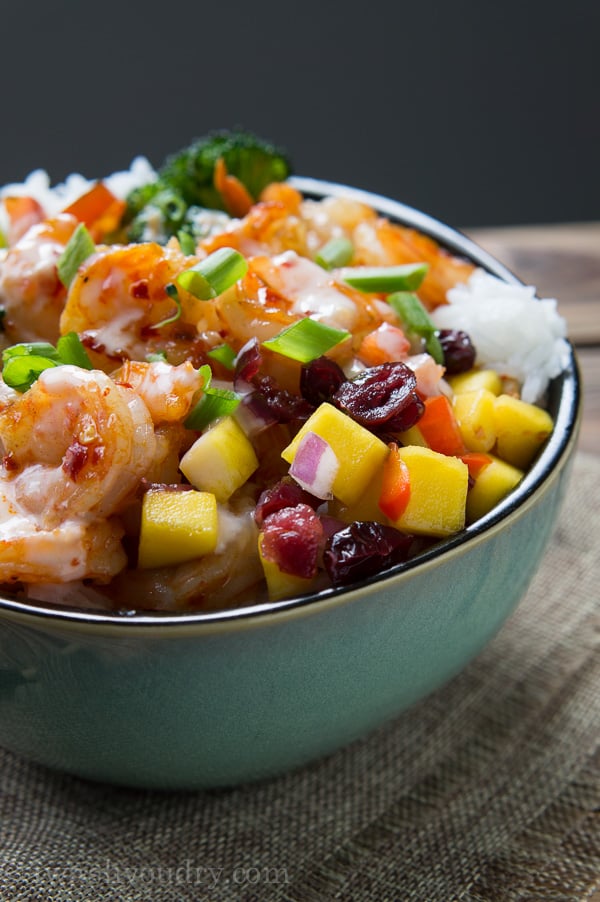 The mango cranberry salsa is amazing, and so so easy to make. I just grabbed some craisins and rehydrated them by letting them soak in warm water for about 20 minutes. While they were soaking I diced up my mango, onion, and a little red bell pepper. I tossed everything together with a little bit of honey and a dash of apple cider vinegar. I could eat that all day.
It's the perfect thing to cool down your mouth after you take a bite of the fiery shrimp.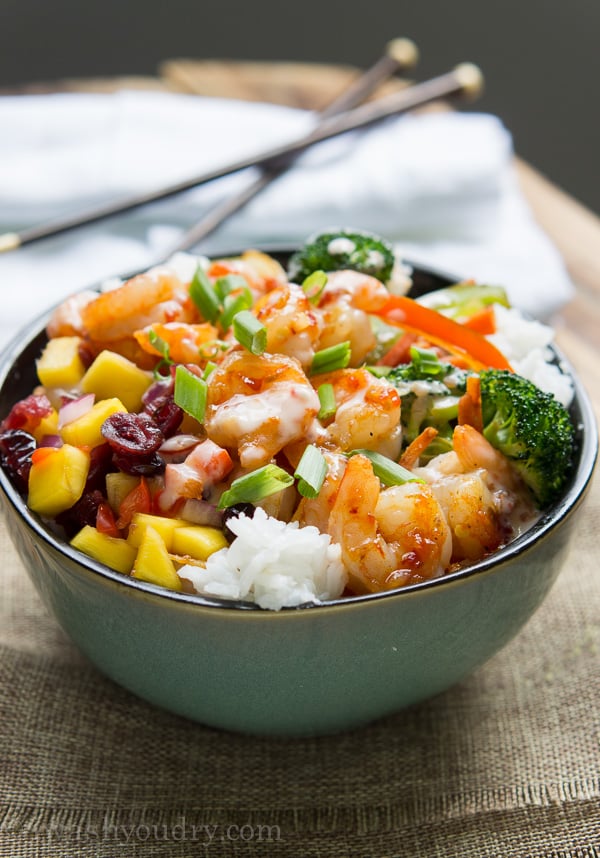 There are a lot of components to this dish, but it's fairly simple to throw together. Sauté the veggies in a little bit of oil, then stir fry the shrimp just until pink and tender. Toss in the sauce and give it a good stir to coat the shrimp.
The creamy sweet chili yogurt sauce drizzled all over is great for cooling your mouth too.
Basically, if you love spicy, you're going to love this dish! But you can control the heat by adding less chili sauce, so it's versatile for those of you that prefer a more mild flavor.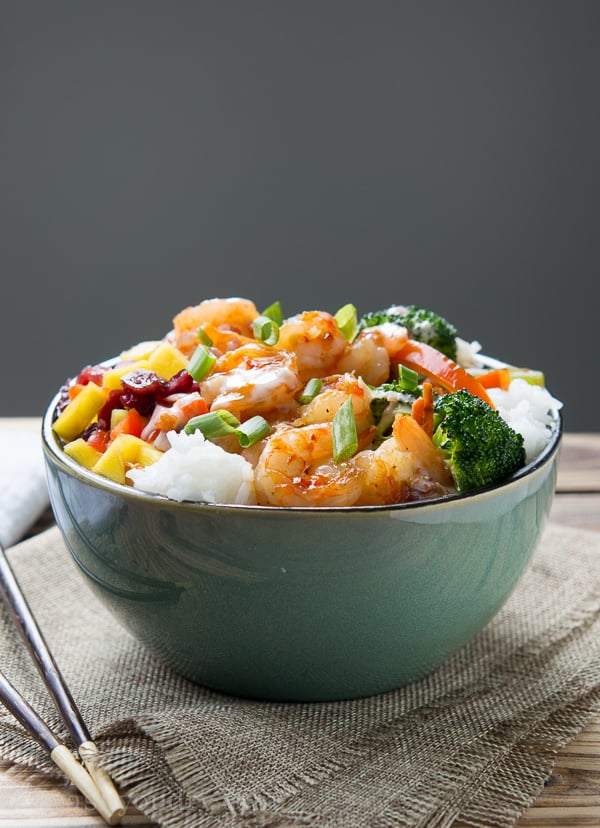 You're going to love this fantastic recipe!
Make sure you don't miss a thing! Follow I Wash You Dry here:
FACEBOOK | PINTEREST | GOOGLE+ | TWITTER | INSTAGRAM | BLOGLOVIN
Sweet Fire Shrimp Bowl
This Sweet Fire Shrimp Bowl boasts loads of tender crisp veggies and shrimp in a spicy chili sauce!
Ingredients
For the Mango Salsa:
For the Veggies:
1

tbsp

olive oil

1

cup

broccoli florets

1/2

cup

onion slices

1/2

cup

red bell pepper sliced thin

1/2

cup

green bell pepper sliced thin

1/2

cup

celery slices

1/4

cup

carrot matchsticks

,

thinly sliced carrots
For the Shrimps
1

tbsp

olive oil

1

lb.

frozen raw shrimp

,

thawed and peeled

2

tbsp

chili paste

,

such as Huy Fong

1

tsp

thai sweet chili sauce
For the Yogurt Sauce:
1/2

cup

greek plain yogurt

1

tbsp

thai sweet chili sauce

1

cup

uncooked rice

,

prepared according to package directions

green onions

,

diced for garnish
Instructions
Prepare the mango salsa by soaking the craisins in 2 cups of hot water for 20 minutes. Drain then combine the remaining salsa ingredients. Toss to coat, set aside.

Heat 1 tbsp oil in a large skillet or wok over medium-high heat and add all the vegetables. Stir fry until the veggies are crisp tender, about 5 minutes. Transfer to a plate to keep warm.

Add 1 tbsp oil to the wok and reduce heat to medium. Cook the shrimps for about 1 minute per side, or until just heated through. Stir in 2 tbsp chili paste and 1 tsp sweet chili sauce and give it a good stir until it's warmed throughout.

Divide the cooked rice among serving bowls. Top with the sautéed veggies, shrimps, and a tablespoon or two of mango salsa.

Combine the greek yogurt and 1 tbsp sweet chili sauce in a small bowl. Drizzle over the tops of the rice bowls. Garnish with sliced green onions if desired. Enjoy!
Nutrition
Calories:
390
kcal
|
Carbohydrates:
50.2
g
|
Protein:
28.7
g
|
Fat:
9.8
g
|
Cholesterol:
187.1
mg
|
Sodium:
549.8
mg
|
Sugar:
32.3
g
|
Vitamin A:
8
IU
|
Vitamin C:
107
mg
Keywords:
bowl, rice, shirmp, Spicy