Lightly fried chicken pieces are tossed in a sweet and spicy sauce along with sugar snap peas and carrot slices. You'll love this Copycat Pei Wei Spicy Chicken recipe!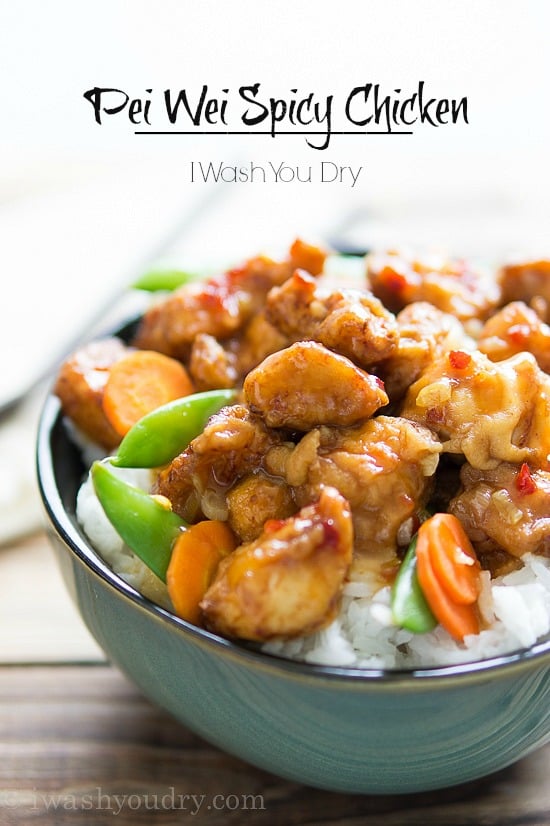 I was standing in line amongst several other hungry travelers, waiting patiently to have my order taken in the busy airport, when I overheard something that changed my life.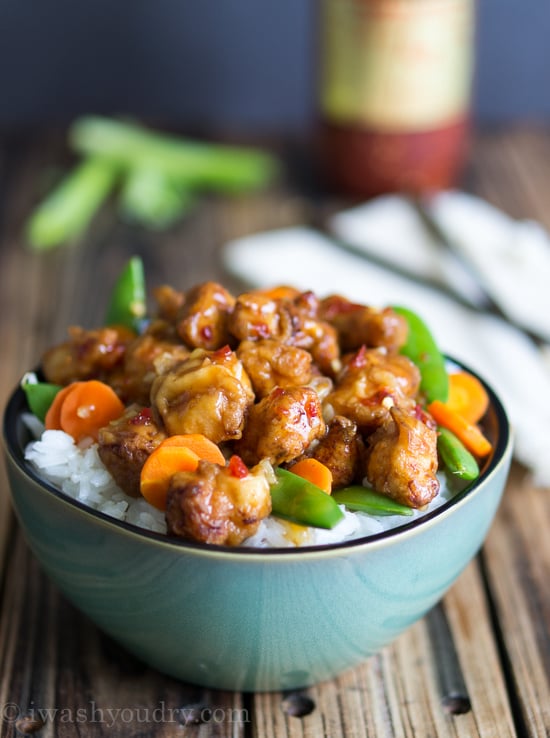 I was hungry, but it was 8am, and I just wasn't in the mood for breakfast. I walked up and down the airport terminal surveying my dining options. I know I'm technically supposed to want eggs, or bacon, or some sort of fluffy pastry, but that wasn't going to satisfy my hunger on this particular morning.
I stumbled upon a Pei Wei, which serves Asian food, and I knew instantly that that was what my stomach was growling for. After surveying the menu, realizing that they not only serve breakfast but also regular food, I spotted their Spicy Chicken.
Oh how I wanted that Spicy Chicken.
But here I am, 8am, with sleep still in my eyes. FOR SURE I'm going to get some eyeballs looking at me like I'm some crazy lady if I order that chicken. Who on earth eats SPICY chicken for breakfast?!
As I'm standing in the forever long line, I'm glancing back and forth, back and forth, back and forth.
I should mention how indecisive I am.
This lady with a notepad and pen starts walking up the line taking people's orders, getting closer and closer.
This quiet guy in front of me who also looked like he was watching a tennis match between the breakfast menu and regular menu, quietly gives his order to the lady with the notepad, "Spicy Chicken."
I'M NOT ALONE!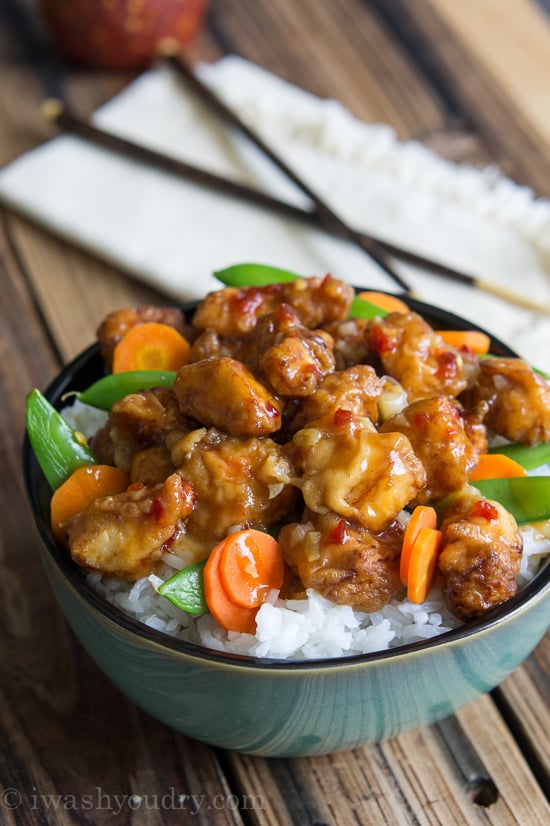 After hearing that, I confidently ordered my Spicy Chicken. I heard 3 more people do the same. After I ate my delicious, and spicy breakfast, I decided that I needed to recreate this recipe and share it with you all.
So one day, you too can eat it for breakfast. Or dinner. What-evs.
The sauce is my absolute favorite. I used a mixture of pineapple juice and chili paste to create an outrageous sweet and spicy sauce that completely mimics the classic Pei Wei dish. I served it with white rice, but I actually had it with brown rice at the airport, so both work perfectly to soak up any extra sweet and spicy sauce.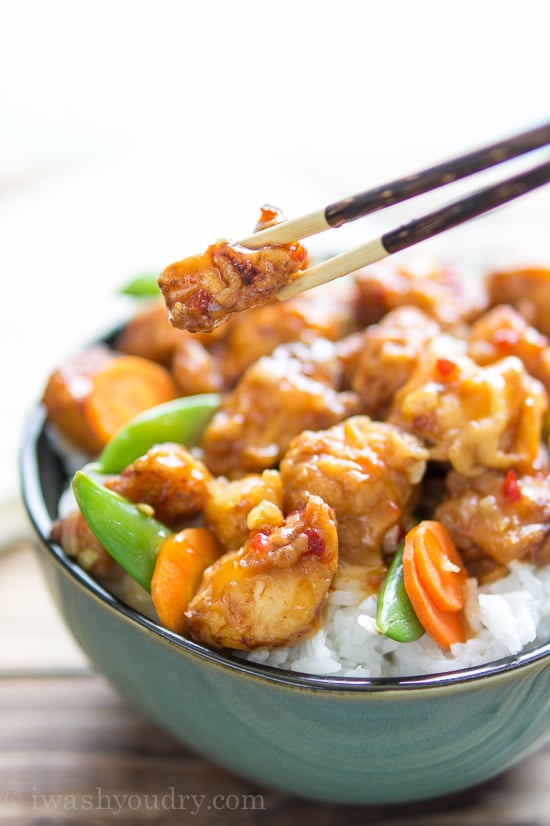 Who needs breakfast for dinner, when you can have dinner for breakfast?
Ok, just eat it whenever you want. No judgements here.
Make sure you don't miss a thing! Follow I Wash You Dry here:
FACEBOOK | PINTEREST | GOOGLE+ | TWITTER | INSTAGRAM | BLOGLOVIN
Pei Wei Spicy Chicken
Pei Wei Spicy Chicken is lightly fried chicken pieces tossed in a sweet and spicy sauce along with sugar snap peas and carrot slices.
Ingredients
Instructions
Whisk together the batter ingredients until smooth, then add the chicken pieces. The batter should be thin and only lightly coat the chicken.

Bring a pot of salted water to a boil and add the carrots and snap peas and cook for just 2 to 3 minutes until they become crisp tender. Drain and set aside.

Meanwhile heat the 2 cups of vegetable oil in a pot or deep fryer to 375 degrees F. Fry the chicken a few pieces at a time, about 3 minutes, until golden brown and cooked through. Drain on a paper towel lined plate. Keep warm.

In a large wok heat the 2 tsp of oil over medium heat and cook the garlic and green onion until fragrant. In a separate bowl whisk together the remaining sauce ingredients, excluding the corn starch and water. Pour into the wok and cook until it lightly bubbles. Mix the corn starch and water together and stir into the sauce mixture. It should thicken up, then add the chicken pieces, snap peas and carrots to the wok and stir gently to combine and heat through.

Serve over rice and enjoy!
Nutrition
Calories:
318
kcal
|
Carbohydrates:
35.9
g
|
Protein:
18.5
g
|
Fat:
10.9
g
|
Cholesterol:
81
mg
|
Sodium:
1269.7
mg
|
Sugar:
11.9
g
|
Vitamin A:
17
IU
|
Vitamin C:
44
mg
Keywords:
Chicken, Pei Wei, Spicy