This is a super emotional week for me. Filled with highs, lows, and uncertainty.
Tomorrow my brother, Bret, goes in for some major surgery to remove his thyroid and 130 lymph nodes from his neck. I can't even put into words what I'm feeling right now. It was just a couple weeks ago that we found out that he was diagnosed with Stage 4a Medullary Thyroid Cancer, and since then the pouring out of support and love for my brother has been overwhelming.
I want to tell you a little bit about my brother. He joined the United States Air Force back in 2000. I believe he was just 19 years old at the time. I was very sad to see my brother shipped off to boot camp, but also extremely happy to be able to drive his 68 Mustang Fastback for a few months while he was away… those were the days. 🙂 He was stationed in Tucson, Arizona, luckily not too far from our home town of Phoenix, Arizona. It was just two years later that Bret made the best decision of his life.
He married my sister-in-law, Erin.
Bret and Erin were transferred to England for a few years, and while they lived there they welcomed two amazing children into this world. After England they were lucky enough to be moved right back to Arizona and were stationed at Luke Air Force base for several years. After a few years in the desert they welcomed their third child to their family. Just recently (this past April) they were transferred once again, but this time to Colorado Springs, where my brother is still currently serving.
But through all this time, even from waaaay back in the beginning, there was always one constant.
My brother's undying love for the Arizona Cardinals. I'm talking, die-hard. Season tickets, custom license plates, sports memorabilia, decked out game rooms in his house, you name it. Through thick and thin my brother has always been a fan.
So when all this cancer crap started happening one of his friends knew exactly what to do.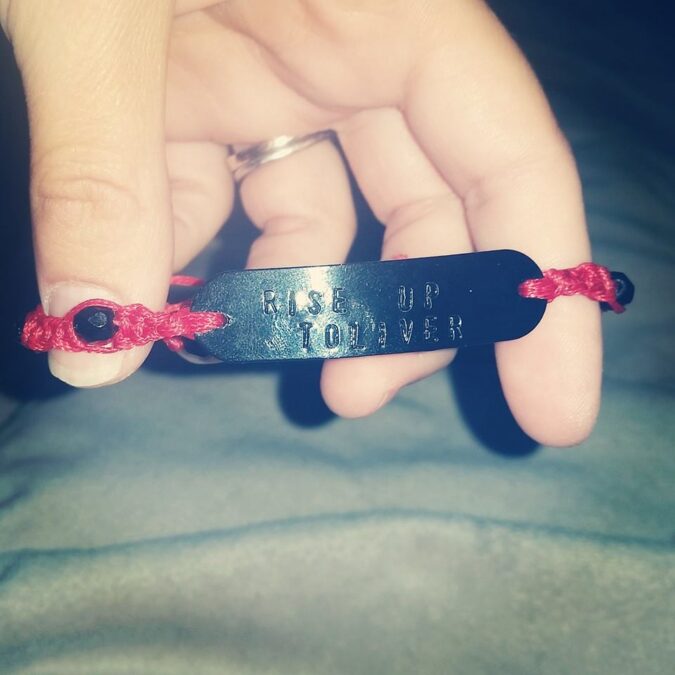 Rise Up Toliver.
"Rise Up, Red Sea" is the mantra for the Arizona Cardinals, and "Rise Up" is the mantra that we are all using to support Bret during his surgery tomorrow and for the weeks of recovery to follow. Just like the mythical Phoenix who rises whole from his ashes, we know that Bret will rise up and defeat this.
I'm so incredibly grateful to his friend who probably spent hours, if not days, working on making these bracelets for my family and my brother's friends. I'll be wearing red tomorrow, you can too if you want! 🙂
I'll be sure to keep you guys posted on what happens next. All your prayers and positive thoughts are always welcome and much appreciated.
Love – Shawn