This past week I flew across the country to Pennsylvania to sell my cookbook on QVC!
It was one of the most exciting/scary things I have ever done, and it was all totally worth it.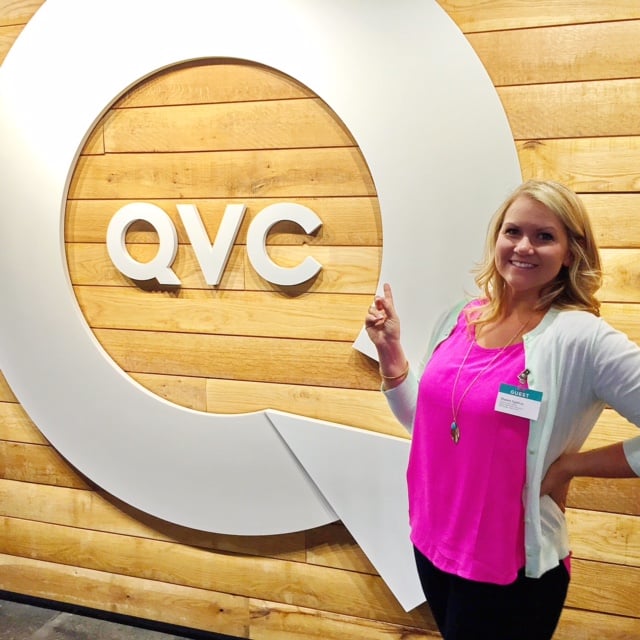 I've known for a couple months that this was going to happen, heck I even went to a training session at the QVC studios just two weeks prior, but it still didn't seem real until I was standing slightly off stage, watching and waiting for my turn to jump on live television.
I was a bundle of nerves the day of the show. Normally, the host, David, has his show at 12pm, but this one was his evening show and it didn't start till 8pm. So I woke up, and practically sat in my hotel room waiting, waiting, watching daytime soap operas, waiting some more, until about 4pm. I felt like a kid on Christmas Eve.
I decided it was probably best to get there in plenty of time before the show. Maybe 4 hours was a little too early. But I didn't want to sit around and wait anymore.
When I got to the studios I checked in at the front desk. The guy at the desk was a little less than helpful in telling me which way to go, but pointed down a long hallway with a red line painted on the floor. He said to follow the red line, and off I went.
Halfway down the hall I saw a rather tall man come out of a door and start walking in the same direction as me. Immediately I knew it was the host, David. Butterflies jumped excitedly in my stomach, but I managed to cooly and calmly say, "I'm going to be on the show with you tonight!" as I pointed my finger at him in a "shooting" motion.
What was that?!? Ugh… nerves make me extremely uncool. 
He excitedly asked, "Are you my cookbook author for tonight?"
I said yes, then he asked if I knew where I was going. He graciously showed me the rest of the way to the studio. He was more than nice, and extremely comforting. Immediately I felt my nerves calm down and I took a seat in the lobby of the studio and waited patiently.
All around the studio are TV monitors with QVC showing on each one. As I would watch all the neat presentations I would see all the people that were just on TV come walking out of the studio and grab a drink, give high-5's, laugh and have a great time. My nerves started to really calm down. This was going to be fun!!
After a while it was finally time for me to meet with the food stylist who was preparing the food from my cookbook for the segment on "In The Kitchen with David." She raved about all the recipes, stating that she had made the Apple Spice Cake with Maple Buttercream Frosting three times because she knew everyone was going to want a slice. It was super cool talking with her and watching her work with my recipes. Some producers walked by and saw the Peanut Butter Fudge Brownies and couldn't resist stopping to have a bite. Everyone loved them.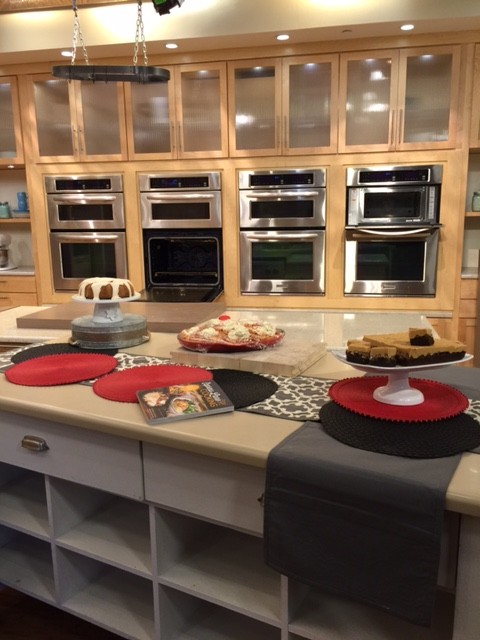 I was still somewhat nervous and had not eaten since earlier in the day and was too nervous to eat anything still. I actually didn't eat a single thing until it was all over. I wish I would have grabbed some of those brownies!
After we got the placement of all the recipes down, I was sent into the salon for some makeup and hair touch-ups. That was really fun, and only makes me wish I had someone to do my hair and makeup every day!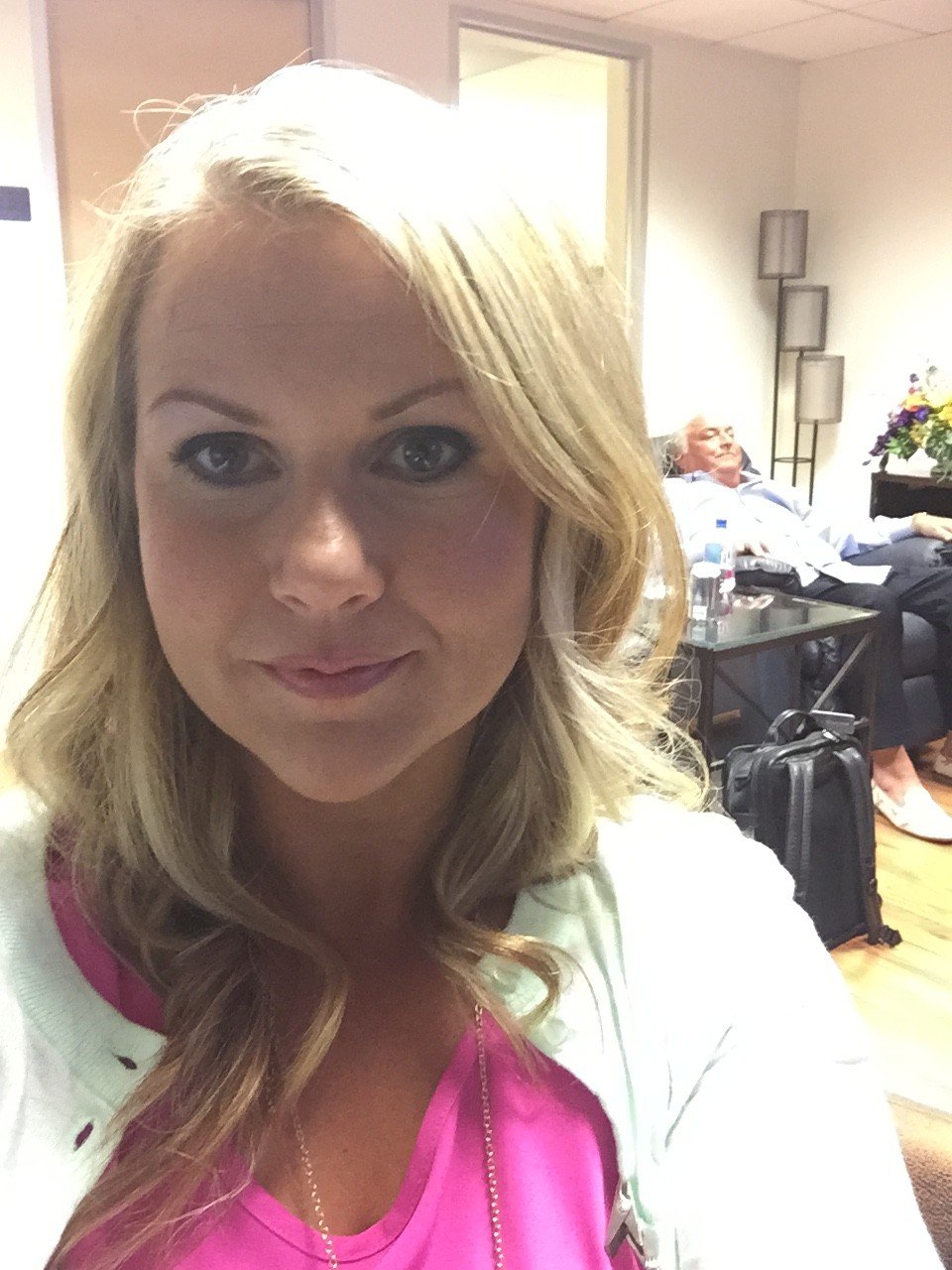 The show was getting close to starting, but I was in the green room waiting for my turn. David started the show standing next to a mini display of my food and cookbook, and within minutes, I could already see the sales of my cookbook start flowing in. What a rush that was!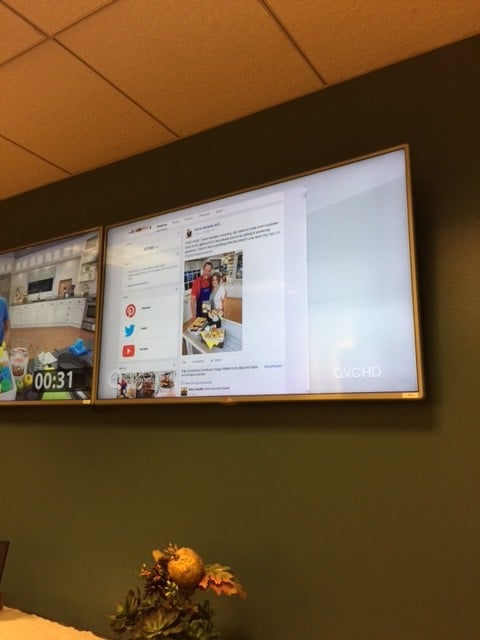 While I was sitting and watching the monitors, one of the producers came in and said that they wanted me to do a small teaser of my segment. Meaning, they wanted to get me all ready to go on and have me stand next to my display and just film me and then let their viewers know I was coming up soon. All of a sudden I got extremely thirsty.
I got my mic on and stepped inside the studio where the filming was taking place. I was standing off to the side of the stage watching David talk with another lady about hamburgers. The producers gave me encouraging sentiments and told me to just go stand behind my display and smile. My throat was so dry!
The camera panned over me, the display, the cookbook… I think I waved, I can't remember now. All I was thinking about was a tall glass of water. As soon as the camera went back to David I jumped off set and asked if I could get a drink of water. I had 8 minutes till my segment so they let me go get a drink. I downed two full glasses before heading back in.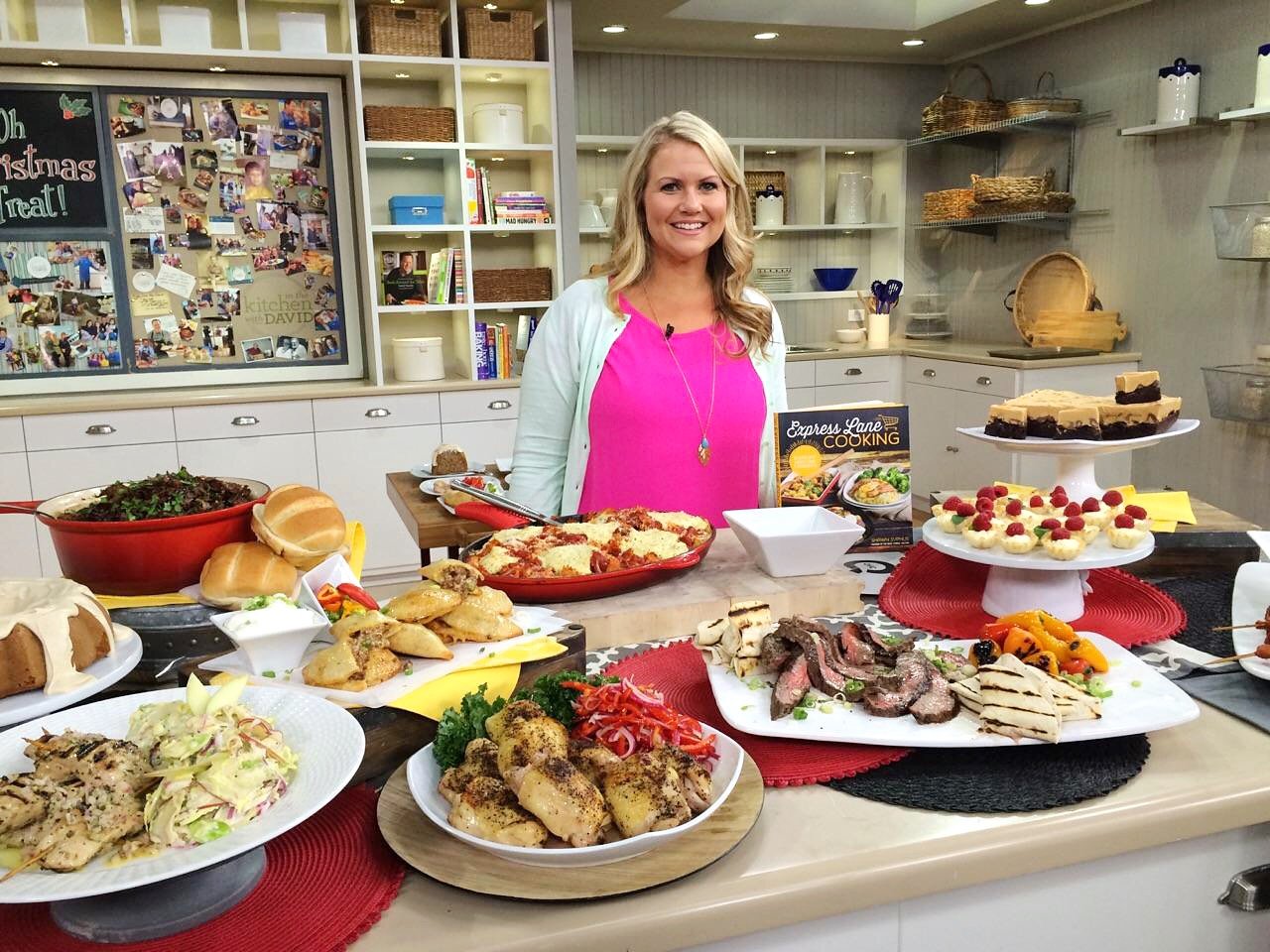 The next thing I knew I was standing slightly off stage watching David talk about me and my cookbook. Then he looked at me and told me to come out…
Everything in my brain vanished.
I'm surprised I made it out there without tripping over my own feet.
I had so many things to say about my cookbook, so many ways that this book will change your life. Make your trips to the store quicker, dinner time easier… the only thing I could say was, "Yes." Or, "Yup!"
David was great. He kept the show moving smoothly and eventually I loosened up a bit. I know the beginning was rough, but towards the end I felt more and more comfortable. The best part about my experience on QVC was that my cookbook sold out!! We actually oversold the book! 5200 copies in total were sold in just 8 minutes.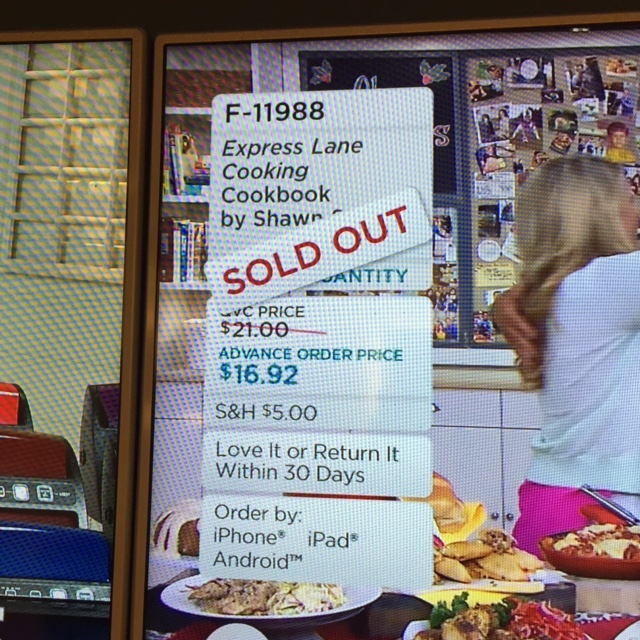 I could not believe it.
I fumbled my way off the stage, a huge smile on my face. I walked through the doors into the waiting room and I was greeted with cheers, high-5's and words of congratulations. This place was truly magical. I made my way into the green room where I finally broke down into tears of joy, relief and gratitude.
I could not, still can't, believe that just happened.
Since then, my book skyrocketed to the #1 spot on Amazon for Hot New Releases in Quick and Easy cookbooks. I've had numerous people send lovely emails, messages and texts.
My heart is full. So full.
Thank you from the bottom of my heart for being such amazing readers and friends.
You can watch the QVC segment HERE!
You can check out THIS POST for all the different ways to order my cookbook (yes, it's still available!).
Make sure you don't miss a thing! Follow I Wash You Dry here:
FACEBOOK | PINTEREST | GOOGLE+ | TWITTER | INSTAGRAM | BLOGLOVIN