I'm going to come right out and say it.
I love McDonald's Sweet Chili Chicken Wrap.
I love that Thai Sweet Chili sauce and I sure as heck love the combination of the sauce, cucumbers and tomato in that delicious wrap. The only problem is that I live about an hour away from the closest McDonald's, so I've been making my own McDonald's CopyCat Sweet Chili Chicken Wrap whenever I get the craving.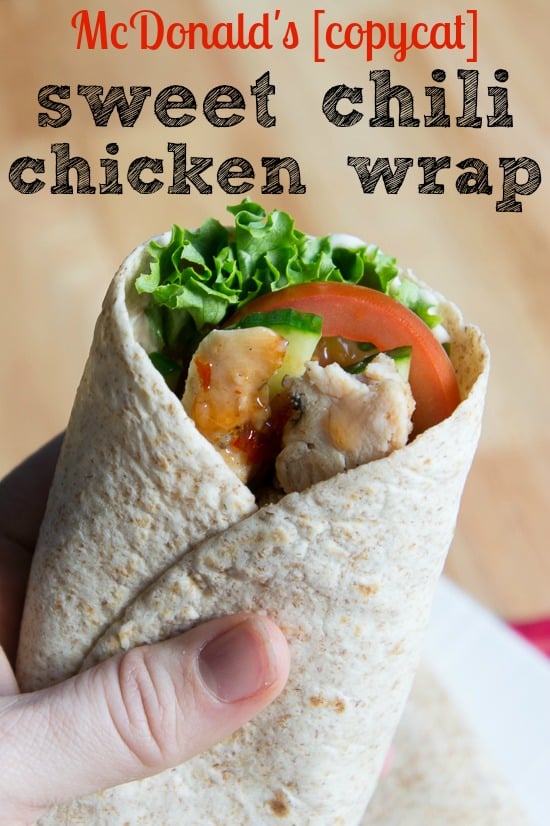 I'm pretty sure my copycat recipe is not only healthier, but it definitely looks more appealing than the wrap that McDonald's actually gives you. You know how their photos are amazing, but when you actually unwrap your food you're like, "WHAAAAAAT is this?!?!?" 
That assembly line of people throwing your food together just don't really care about presentation. Well, this wrap couldn't be easier to put together!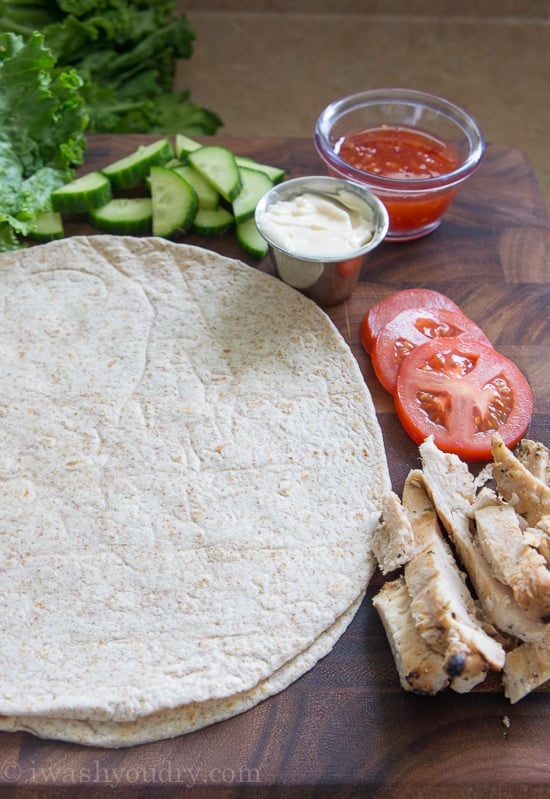 You start with a whole wheat tortilla, then spread about half a tablespoon of light mayo in the center. The mayonnaise when mixed with the sweet chili sauce gives the wrap a delicious creamy texture. I use light mayo, and far less than McDonald's uses because I'm not the biggest mayo fan, so feel free to use more or less if you desire.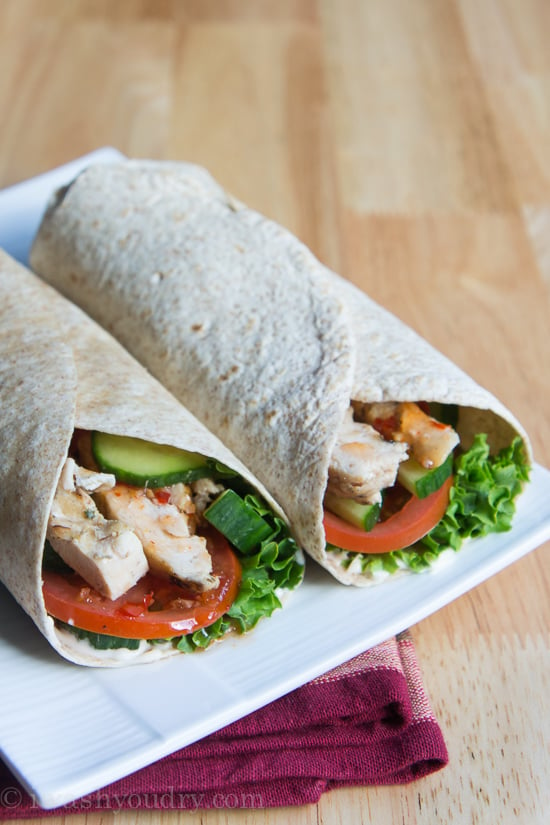 I used some nice lettuce for this wrap, it's a bibb lettuce (green leaf lettuce), but I've also used romaine lettuce before. I'm pretty sure that McDonald's uses an iceberg lettuce which is mostly just water with no vitamins or nutrients at all.
See how much better we're making this wrap already?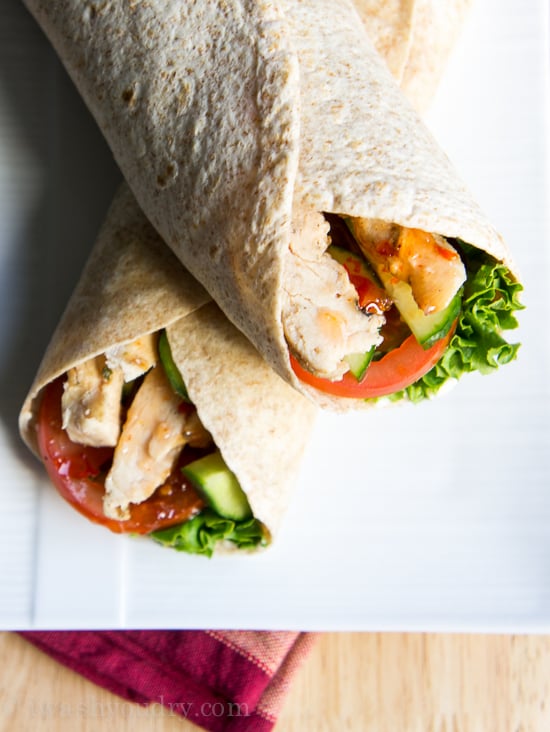 Next comes the tomato and cucumber. I used a hot house tomato and an english cucumber. I'm a huge fan of english cucumbers because the skin is thinner, there are fewer seeds, and they just taste better in my opinion. Leave the peel on, it has more nutrients that way.
Because I like to make this wrap frequently, I use the pre-grilled chicken breast strips. If you want the chicken warm, just heat it up in the microwave for a few seconds before placing in on the wrap.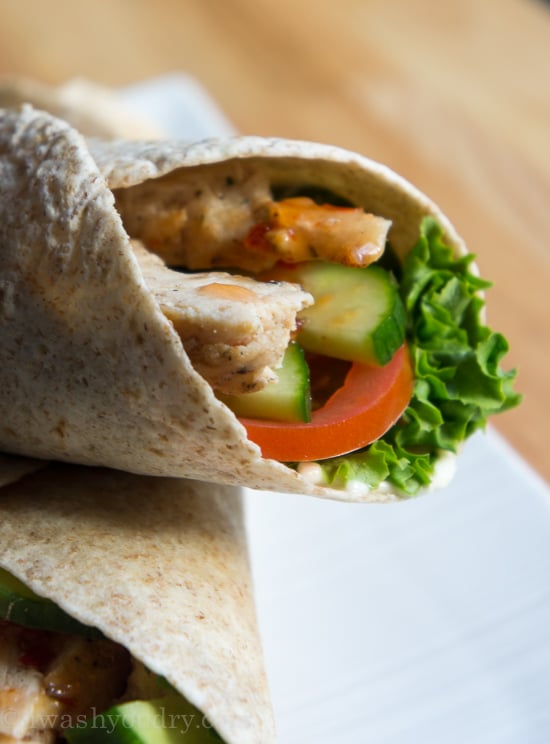 Then just drizzle a little of that delicious Thai sweet chili sauce over it all, wrap it up, and enjoy your copycat McDonald's Sweet Chili Chicken Wrap!
Yum. If you'll excuse me, I have a date with one of these bad boys right now…
Make sure you don't miss a thing! Follow I Wash You Dry here:
FACEBOOK | PINTEREST | GOOGLE+ | TWITTER | INSTAGRAM | BLOGLOVIN
Yields makes 2 wraps
McDonald's CopyCat Sweet Chili Chicken Wrap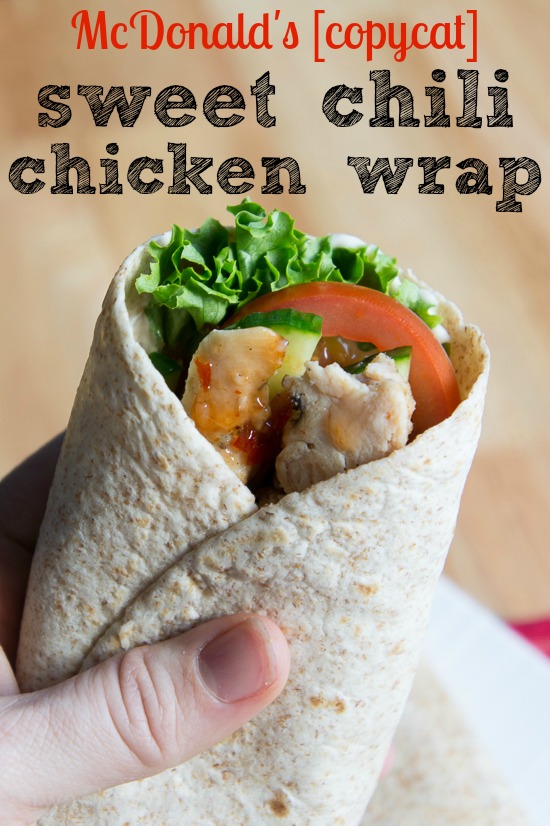 Ingredients
2 large whole wheat tortillas
2 tablespoons light mayo
Bibb lettuce (green leaf lettuce, or romaine lettuce)
6 slices of tomato
10 slices of english cucumber, halved
1 and 1/2 cups grilled chicken breast strips, warmed up if desired
2 tablespoons Thai Sweet Chili Sauce
Instructions
Spread 1 tablespoon of light mayo on each tortilla.
Top with lettuce, sliced tomato, halved cucumber slices, and grilled chicken breast strips.
Drizzle 1 tablespoon of Thai sweet chili sauce over each wrap.
Fold each wrap up, burrito style. Enjoy!
7.8.1.2
906
https://iwashyoudry.com/mcdonalds-copycat-sweet-chili-chicken-wrap/